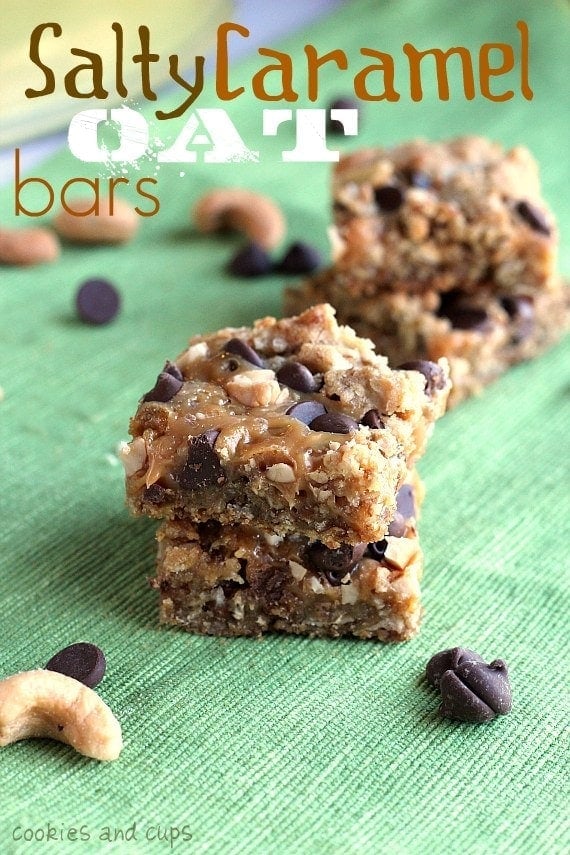 You're gonna love me for these bars. Like be in love with me forever and name your children after me.
Sometimes things are just THAT good. Like Diet Dr. Pepper and Twizzlers. Just good. The end.
Obviously if you have been reading this blog for any length of time you know how I love my bars. AND you know how I love my salty/sweet. Sorry to be so predictable.
I won't bore you with a lot of words today because it's getting late and I haven't made dinner, started laundry or painted my nails.
I have, however, checked Pinterest 3,457 times, gone to hell (Pilates class) and made a fun cocktail for my other site.
ANNND I still have to pack for a trip that I am going on tomorrow with some of the coolest girls in all the land, like her and her and her aaannd her. AND her and her and her and her! It's all to celebrate our friend Georgia's new book. So you see, I have lots of things I should be doing, which means I should stop talking now.
Salty Caramel Oat Bars.
OK, here's what you do…
Mix up the usual suspects in your stand mixer…butter, sugar, eggs, vanilla…
Mix in some newbies, crushed pretzels, oats and, of course, flour…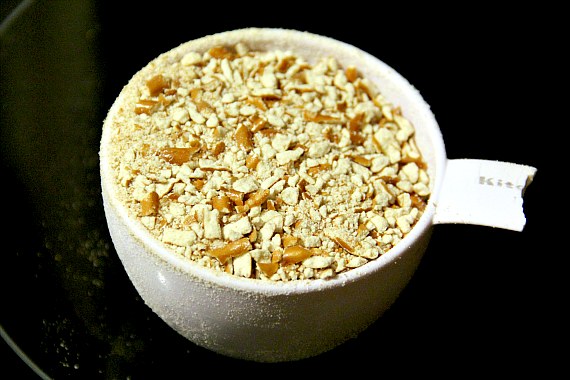 Press that yumminess into a jelly roll pan lined with foil. You need to save about a cup of the mix for later.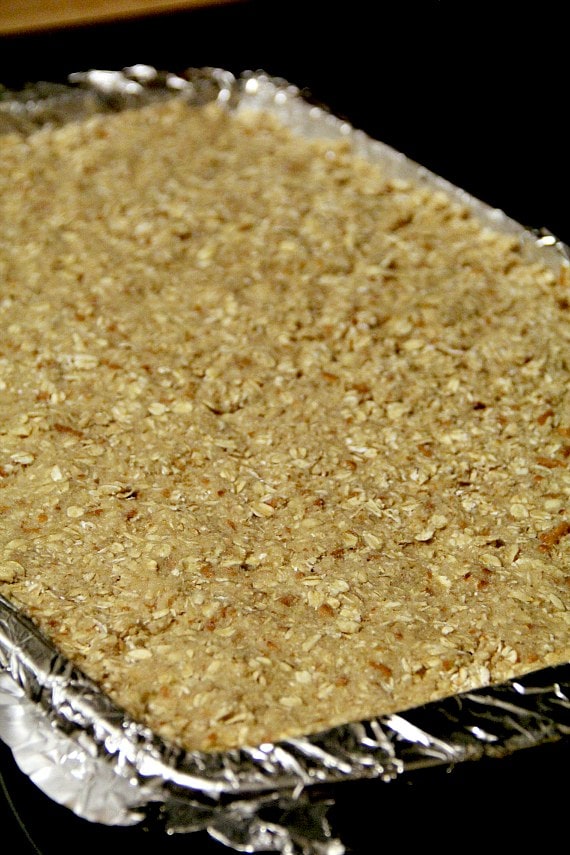 Now melt in a saucepan some caramels and a can of sweetened condensed milk. Yes, it's true.
While it's melting chop up some cashews.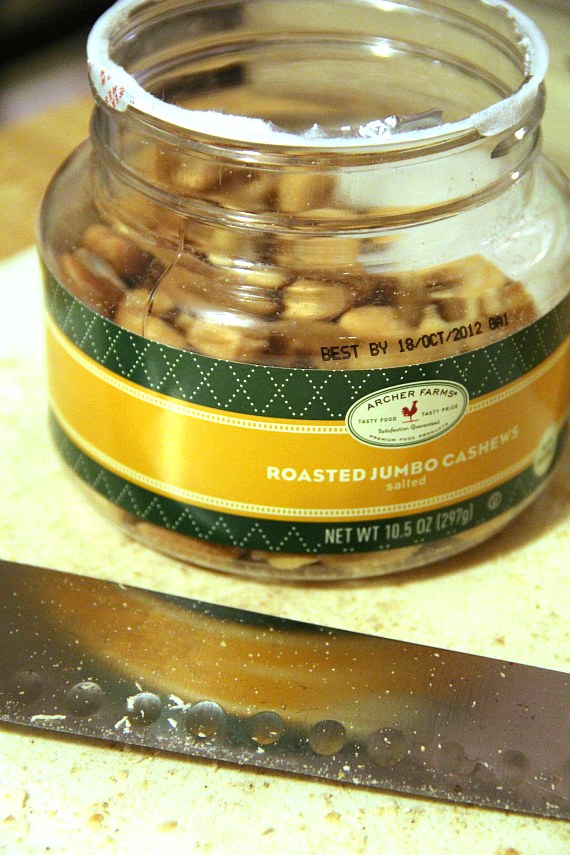 When your caramel is melted pour that over your base, then sprinkle your cashews, some milk chips and the remainder of the oat mixture…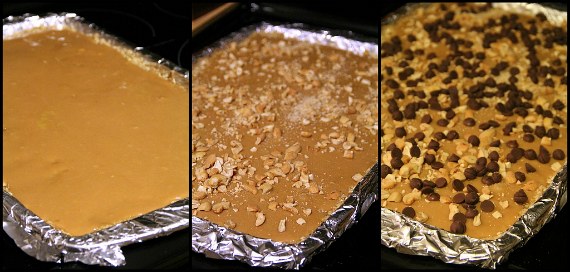 Then bake it up. I am loving my new Frigidaire Gallery Double Oven. The top and bottom ovens are the same size, so you aren't limited to what you can make.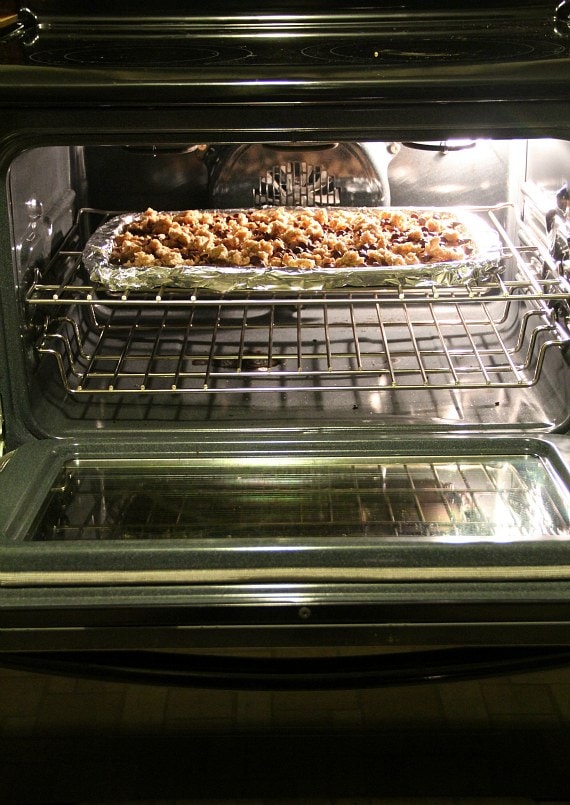 When they're done you have to let them cool. But since you lined the pan, they are easy to remove and cut. This is really an awesome recipe for the holidays because this recipe makes a TON of bars! You can get up to 60, depending on the size you cut them!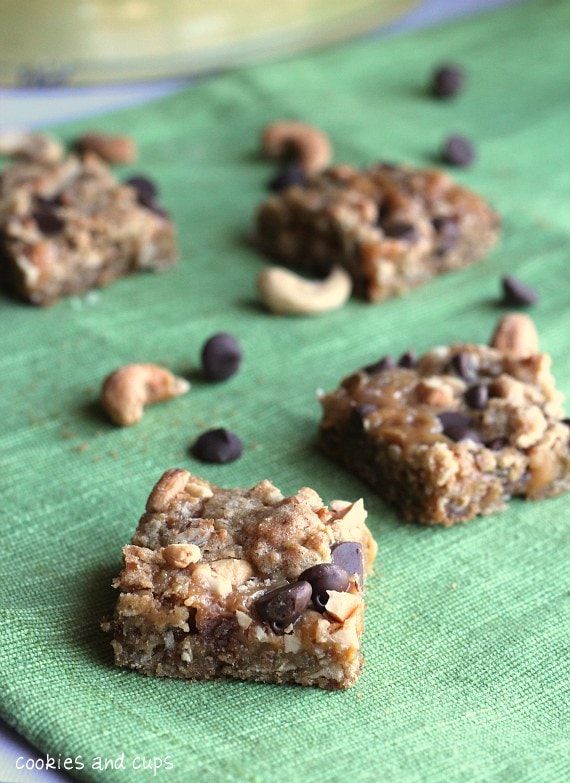 Print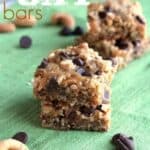 ---
---
1 cup

butter

1 cup

granulated sugar

1 cup

light brown sugar

2

eggs

1 1/2 cups

flour

1 cups

finely crushed pretzels

1 tsp

salt

1 tsp

baking soda

3 cups

rolled oats

1

(14 oz) can of sweetened condensed milk, minus 1/2 cup)

1

(11oz) bag of caramels, unwrapped

2 tsp

vanilla

1 cup

milk chocolate chips

1 cup

chopped cashews

1 tsp

coarse sea salt
---
Instructions
Preheat the oven to 350°
Line a 15x10x1 inch pan with foil
With your electric mixer beat butter and sugars together. Add eggs and vanilla until incorporated.
On low speed add in your pretzels and flour, baking soda and salt. Slowly mix in your oats.
Set aside 1 cup of your batter.
Press remaining batter into prepared pan.
In medium saucepan combine your caramels and sweetened condensed milk over medium heat until caramels are melted and mixture is smooth.
Pour caramel on oat batter. Sprinkle the cashews, chocolate chips and remaining oat batter on top.
Sprinkle your coarse sea salt evenly over top.
Bake for 20-2 minutes until top starts to golden.
Remove from oven and cool on wire rack.
When cool lift bars from pan with foil and cut.
---
Want To Save This Recipe?
Find more recipes like this: