This easy Homemade Caramels recipe makes the best buttery, chewy caramels ever. Perfectly glossy and sprinkled with flaked sea salt, caramel candy is a delicious and creamy salty-sweet treat. Great for holiday gifting!
Chewy Homemade Caramels with Sea Salt
For anyone who's ever made homemade caramels, I think we can all agree: they're pretty special. Maybe it's the nostalgic buttery flavors and soft, chewy texture, or the muscle that goes into stirring the caramel as it cooks. No matter what, a fresh batch of caramels dusted with sea salt is just the BEST and most satisfying homemade holiday treat.
The holidays are truly my favorite time of the year. So many traditions, festivities, and sweet treats! Today I'm sharing one of my most beloved candy recipes to make at home, because it really is a keeper. There's a bit of stirring involved – OK, maybe a lot of stirring – but I can guarantee that these chewy, creamy caramels made from scratch are worth the effort!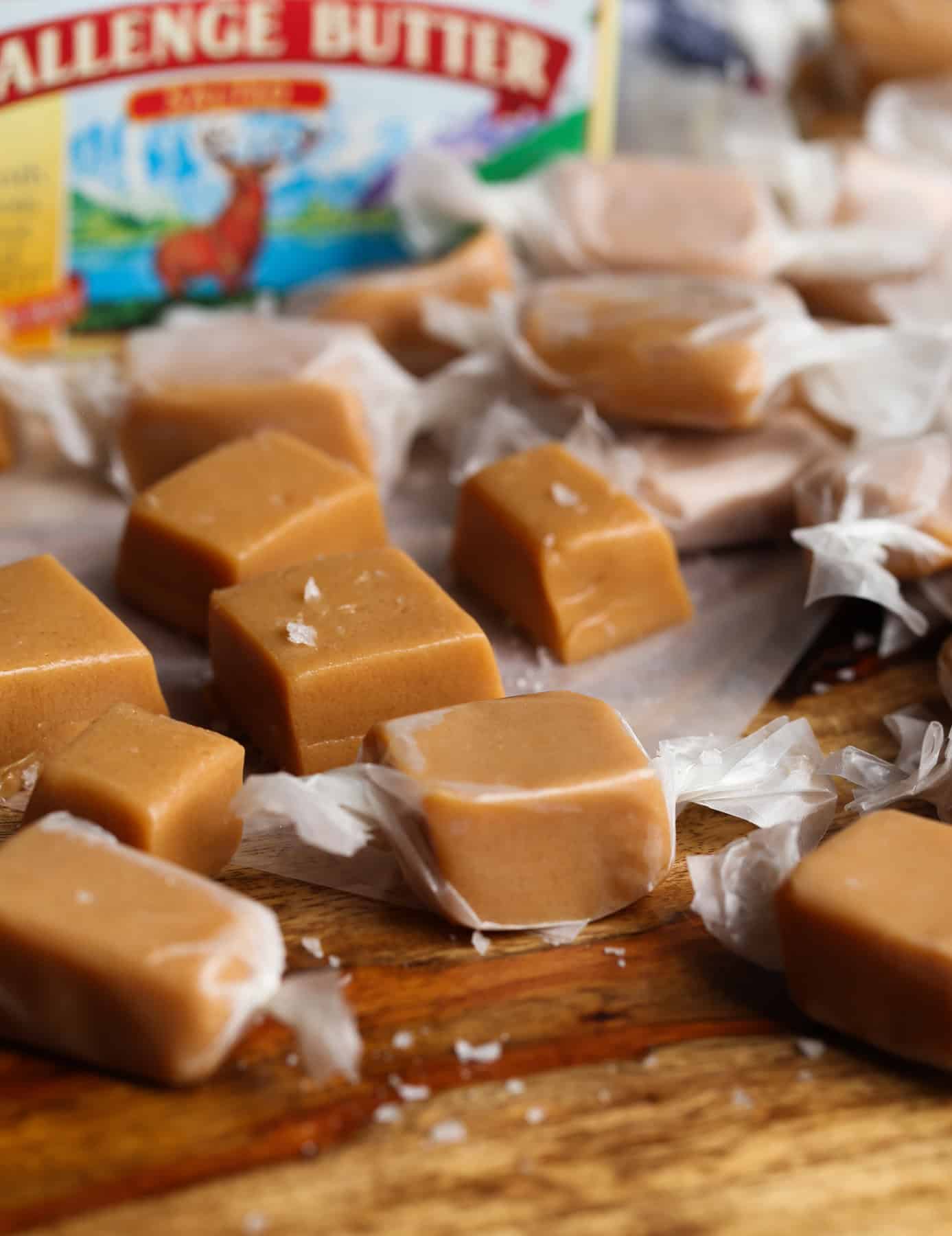 What You'll Need
Time and patience are key to making the perfect caramel candy. On top of that, a candy thermometer that's fast and accurate, like a ThermaPen, will also make the process that much smoother when making homemade sweets.
Once you're ready to start, the recipe itself is actually so easy! There's a very short ingredients list:
Sugar: Both granulated sugar and light brown sugar are needed for this recipe.
Butter: Salted, cubed
Vanilla Extract: Pure vanilla extract for the most natural vanilla flavor.
Light Corn Syrup: To keep the sugars from crystallizing.
Half and Half: For the creamy taste and texture of classic caramels.
Flaked Sea Salt
Do I Have to Use Corn Syrup?
There's a bit of science behind the use of corn syrup in this and many other candy recipes. In simple terms, corn syrup keeps the sucrose in the sugar from crystallizing, for smooth and creamy caramels (crystallization = grainy caramel candy). If you'd prefer to not use corn syrup, you can make your own substitute using sugar, water and a bit of cream of tartar or lemon juice.
How to Make Caramels From Scratch
Get ready to stir! Stirring is the main fixture of caramel candy making. The process takes over an hour – but golden, creamy caramel awaits!
Heat & Stir: Combine both sugars, the half and half, corn syrup, and butter in a heavy saucepan, and stir – forever! Or at least for about an hour. As the mixture heats, it will bubble and thicken and turn amber in color. You'll need to stir constantly until the temperature of the candy reaches 250°F on a candy thermometer.
Add in the Vanilla: Remove the pan from the heat and stir in the vanilla extract.
Pour Out the Caramel: Pour the candy mixture into a 9×9 baking pan lined with foil and coated in cooking spray. After half an hour has passed, give the caramel a sprinkle of sea salt.
Refrigerate: Place the pan, covered, in the refrigerator until set.
Cut the Caramel into Candy Pieces: Take the caramel out of the pan and remove the foil, then let the candy come to room temperature and cut it into pieces. I like to wrap the candy pieces in a bit of wax paper to keep them protected!
What if I Don't Have a Candy Thermometer?
If you don't have a candy thermometer, you can still make these delicious homemade caramels. After the caramel has been bubbling away and is thick and amber colored, drop a spoonful of the hot caramel into a cup of ice water. Pinch the caramel with your fingers into a ball. The caramel is ready when the texture feels firm and pliable!
Tips for Success
There are definitely a few tricks you can keep in mind to achieve the perfect caramel candy:
Use a Heavy-Bottomed Saucepan: I love using my Le Creuset Dutch oven for this, but any other brand will also do the trick. The heat distributes evenly and you have less chance of burning the caramel!
Keep the Focus on Stirring: Be prepared to stand next to your stovetop stirring for a good hour or more! Slow and steady wins the candy making race. Once the temperature reaches 230°F it can jump up quickly, so staying focused on the task at hand is the key to success.
Use the Right Tools When Cutting the Caramel: Make sure you use a sharp enough knife when cutting the caramel into bite-sized pieces. A bench scraper works extremely well if you have one! Caramels are much easier to cut when they are room temperature or slightly below.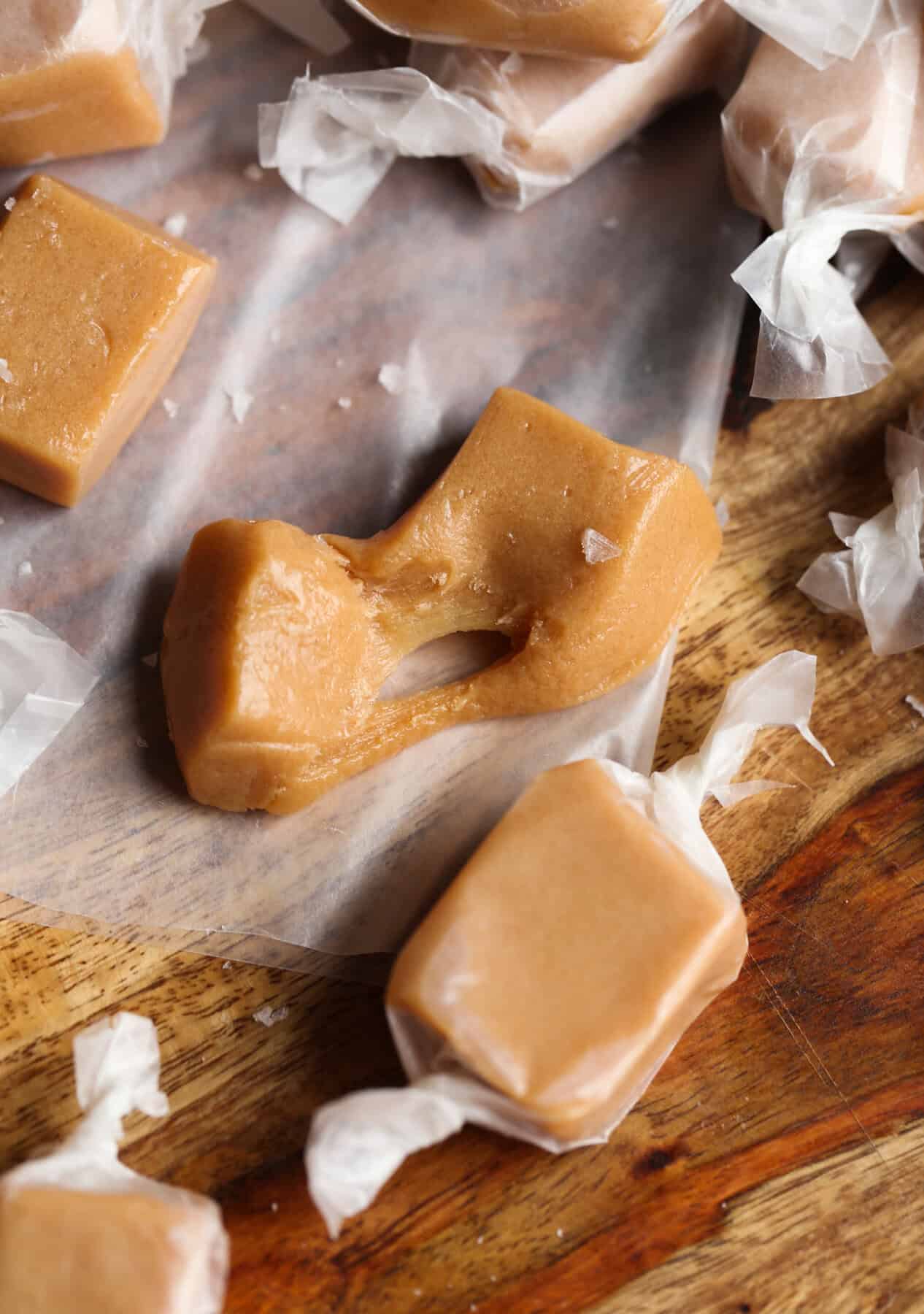 Serving Suggestions
I love giving these caramel candies as holiday gifts. They are adorable when wrapped and look just like store bought, perfect for giving away in decorated jars. They also make a great addition to plates of Christmas Cookies and party platters!
Here are more suggestions on how to serve homemade caramels:
Dip the Caramels in Chocolate: Chocolate and caramel is a match made in heaven. Use a double boiler and combine a bit of vegetable oil with melted chocolate to make an easy chocolate coating for chocolate covered caramels.
Wrap the Caramels in Wax Paper: Cut wax paper squares that fit the size of your caramels, and wrap the candies tightly! This keeps them from sticking and makes them easy to assemble for gifting. You can even make things festive with different paper designs and colors.
How to Store Homemade Caramels
Homemade caramel candy will keep fresh at room temperature for a week or two, and up to one month in the fridge. Store caramels in an airtight container or zip seal bag to keep them from drying out.
Can I Freeze These?
Caramels freeze super easily! Store the wrapped caramels in a resealable freezer bag, and keep them frozen for up to 3 months. Thaw them either in the fridge or at room temperature before serving.
More Easy Candy Recipes
Here are more fun and easy sweet treats to make at home this holiday season:
Print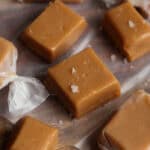 Homemade Caramels
Author:

Prep Time:

5 minutes

Cook Time:

90 minutes

Total Time:

1 hour 35 minutes

Yield:

50

candies

1

x

Category:

Candy

Method:

Stove Top

Cuisine:

American
---
Description
Buttery and chewy Homemade Caramels sprinkled with flaked sea salt are a satisfying and easy candy recipe! Great for holiday gifting.
---
2 cups

granulated sugar

1 cup

light brown sugar

2 cups

half and half

1 cup

light corn syrup

1 cup

(

2

sticks) Salted Challenge Butter, cubed

1 tablespoon

vanilla extract

1 tablespoon

of flaked sea salt (or more depending on your preference)
---
Instructions
Line a 9×9 baking pan with foil and coat with nonstick spray, or butter. Set aside.
In a medium heavy saucepan combine the granulated sugar, brown sugar, half and half, corn syrup, and butter over medium-low heat. Cook and stir constantly until the mixture reaches 250°F on a candy thermometer. The mixture will bubble up and get thick as it cooks, while turning an amber color. The process will take over an hour, so be prepared to stir!
Once it reaches 250°F remove the pan from the heat and stir in the vanilla.
Pour the mixture into the prepared pan. Wait 30 minutes and sprinkle with sea salt.
Cover the pan with foil and place in refrigerator until set.
Remove the candy from the pan with the foil. Gently peel the foil from the sides and bottom of the caramel. Allow the candy to come to almost room temperature before cutting into pieces.
Wrap each candy with a small piece of wax paper.
Nutrition
Serving Size:

1 piece

Calories:

100

Sugar:

16.5 g

Sodium:

183.1 mg

Fat:

3.8 g

Carbohydrates:

17 g

Protein:

0.3 g

Cholesterol:

10.2 mg
Keywords: homemade candy, christmas baking, recipe for caramels
Want To Save This Recipe?
Find more recipes like this: