These Buttercream Pinwheel Candies are the perfect little sweet treat! Fill them with your favorite spread to make them extra special!
So this "candy" is ridiculously sweet.  But I mean, it's CANDY… Well, actually it's buttercream frosting.
It's smooth, creamy and buttery….AND filled with your favorite filling.  Which in my case is TJ's Cookie Butter.. or even Nutella.
You only need a piece or two…and it's SO worth it. They are super "rustic" looking..which is my term for kinda-ugly. But that's ok.  There's charm in rustic…at least that's what I am telling myself! Let me talk you through how I made these Buttercream Pinwheels…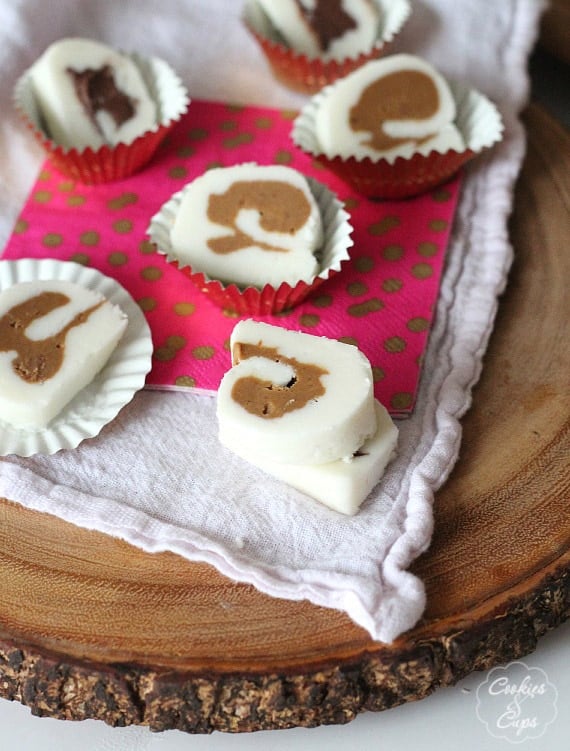 So the base for this candy is a thick sugar/butter mixture…essentially its buttercream with less milk.
Mix powdered sugar, a stick of butter and milk together.  I used my hands to mix it up, but be prepared to get messy!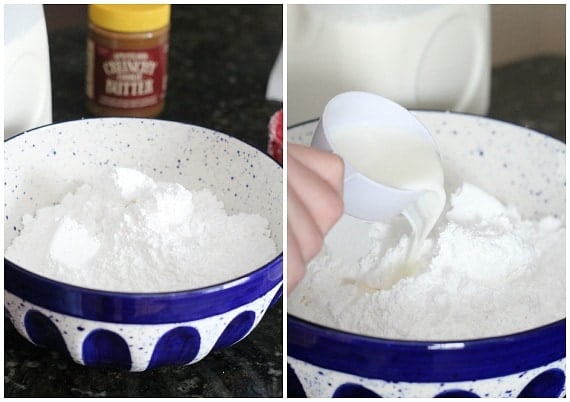 You might need to add a little more powdered sugar if it's too sticky.  I used 5 1/2 cups, and it was perfect…
If it's too crumbly add in a touch of milk.  You can't really mess it up!
Once it's the perfect consistency, form it into a ball and place it on a baking sheet lined with parchment or cling wrap that's lightly dusted with powdered sugar.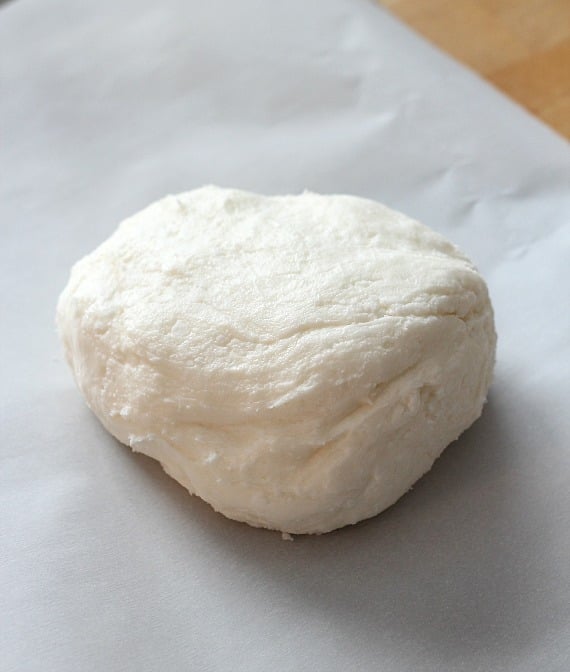 You can try using a rolling pin dusted with powdered sugar… or you can just use your hands to spread it out….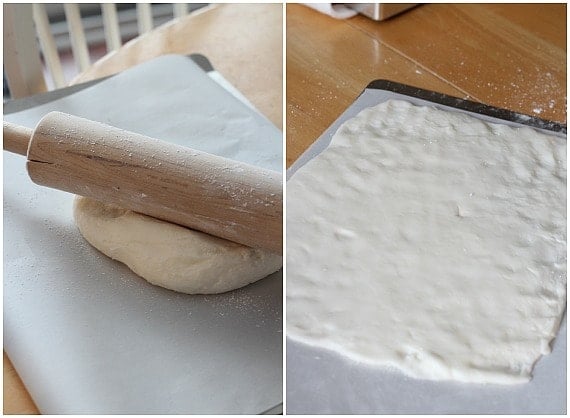 You'll want it to be rectangular shaped, about 1/4 inch thick.
Then slice it into 2 pieces long-ways…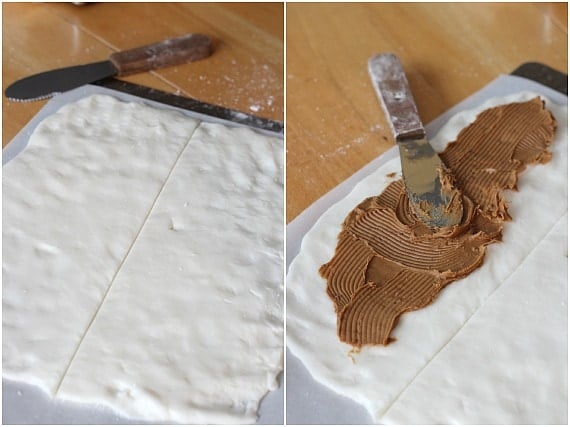 And spread your favorite topping.
Then carefully roll it up, using the parchment or cling wrap as an aid…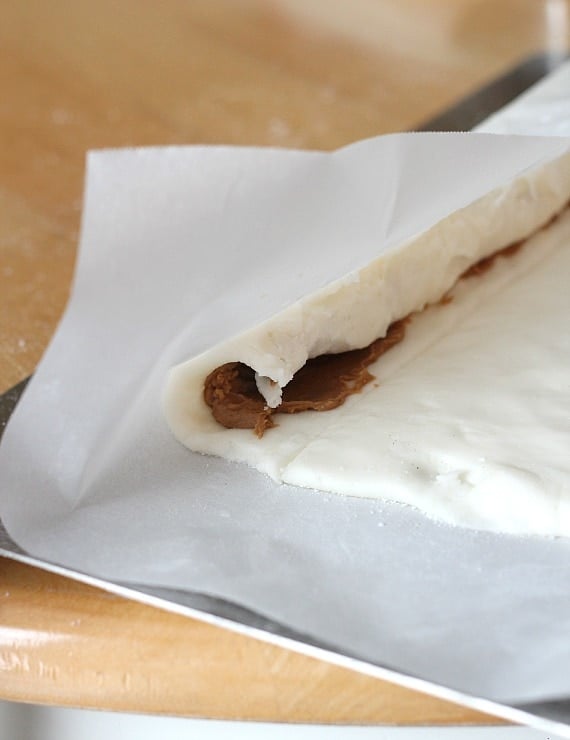 I rolled both of mine inward and then popped them in the fridge (still on the baking sheet) to harden up…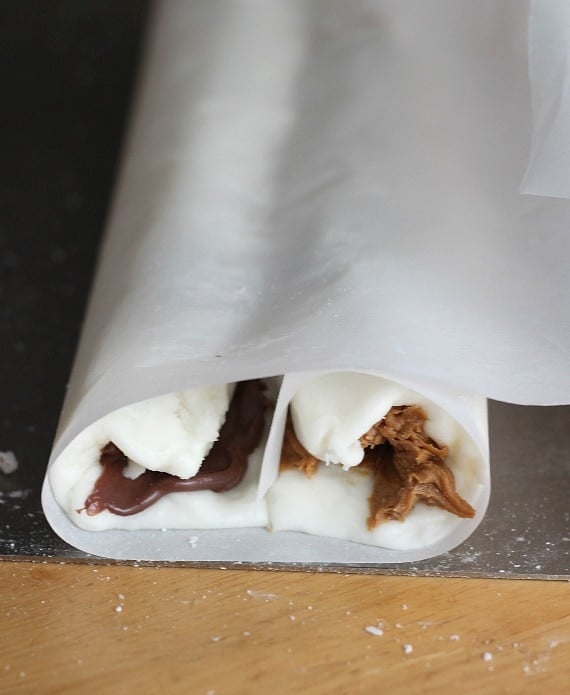 When they are chilled they will slice really easily…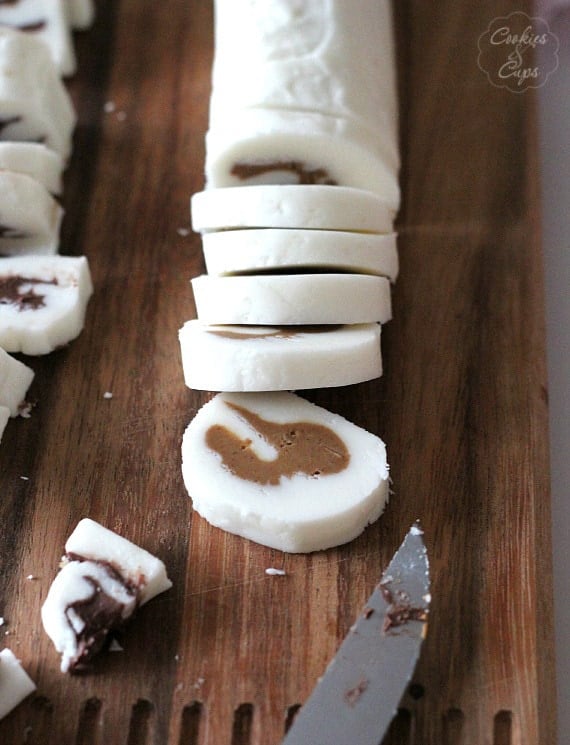 And you can serve them in cute little candy foils or mini cupcake liners.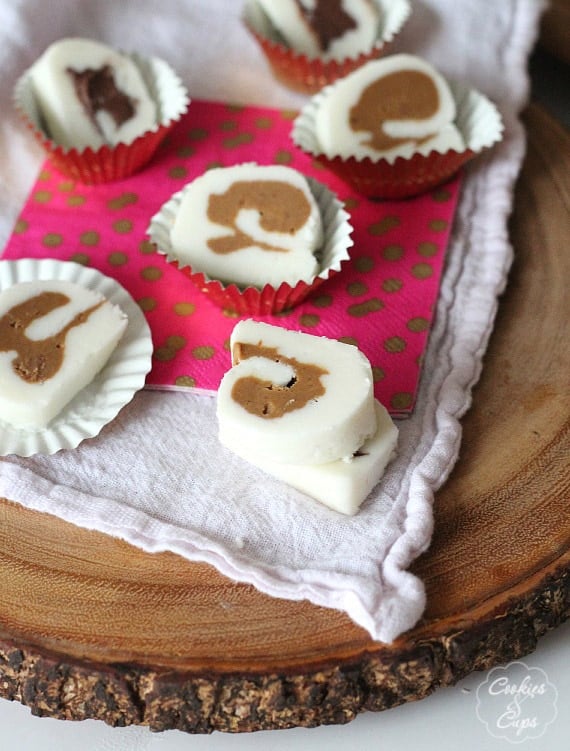 An easy and sweet addition to your cookie tray!
Love these little guys!
Don't forget to sign up for my New Weekly Newsletter!  I highlight all the latest from my week of baking in one fun little email!
Print
Buttercream Pinwheel Candies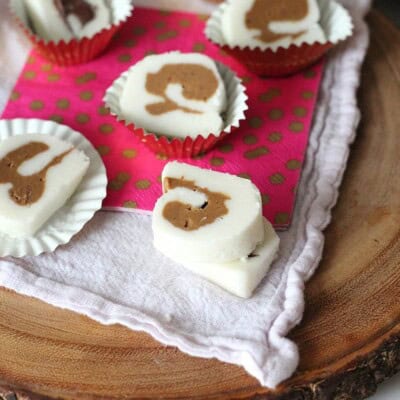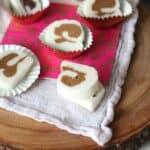 ---
Description:
makes 50 pieces of candy
---
Ingredients:
1/2 cup

butter, room temperature

5

–

6

cups powdered sugar

1/3 cup

milk

1 cup

(approx) of spreadable filling, like peanut butter, Cookie Butter (Biscoff) or Nutella
---
Instructions:
in a large mixing bowl combine butter, powdered sugar and milk. Knead together until it forms a smooth ball. If it's too sticky add a little more powdered sugar, if too dry add milk by the teaspoon until smooth consistency is reached.
Line a baking sheet with cling wrap or parchment and lightly dust with powdered sugar. Press butter mixture into a rectangular shape, approx 1/4 inch thick with fingers, or use a rolling pin dusted with powdered sugar.
Divide in half long-ways. Spread on filling onto each half and then carefully using the cling wrap or parchment roll up, long-ways.
Chill for at least an hour before slicing into pieces, about 1/2 inch thick.
Want To Save This Recipe?