This Homemade Gingerbread Marshmallow Fluff is so good you could eat it with a spoon!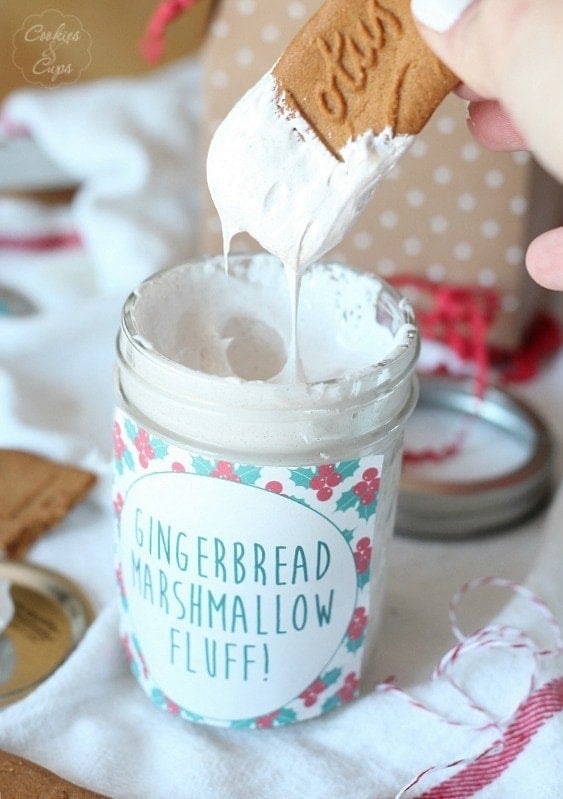 Today we're talking all about gifting. It's almost Christmas if you hadn't heard.
And more specifically we're talking about gifting Fluff.
I mean, COME ON! Present of mah dreams!
As you know from this post, I am obsessed with Homemade Marshmallow Fluff.
Like OB-sessed.
Of course I used the base recipe from THIS BOOK which you guys should go out and get now now now. If you've never had a homemade marshmallow please get on it. Your life will be forever changed.
Actually you should give this Fluff with that book. Best . Present. Ever.
But for today's topic of Fluff, I added in some spicy-spicy to turn the regular old vanilla into gingerbread fluff.
Yes, for real.
I've been dipping cookies, crackers, spreading it on bread and unfortunately dipping and licking my old fangers. I am a gross person. Yes.
And since it's the season to give..I've also included some adorable gift tags that THIS TALENTED GIRL designed for me, so you can make some to pass out!
Seriously, who wouldn't love a jar of Gingerbread Fluff? A person with no soul, that's who.
And since none of us have soul-less friends, let's get to giving.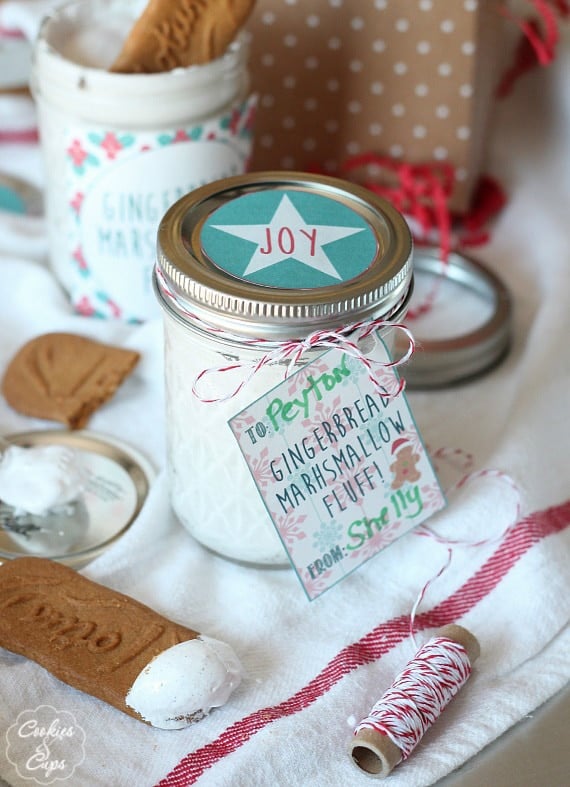 The fluff just takes a few easy steps.
Grab your candy thermometer out…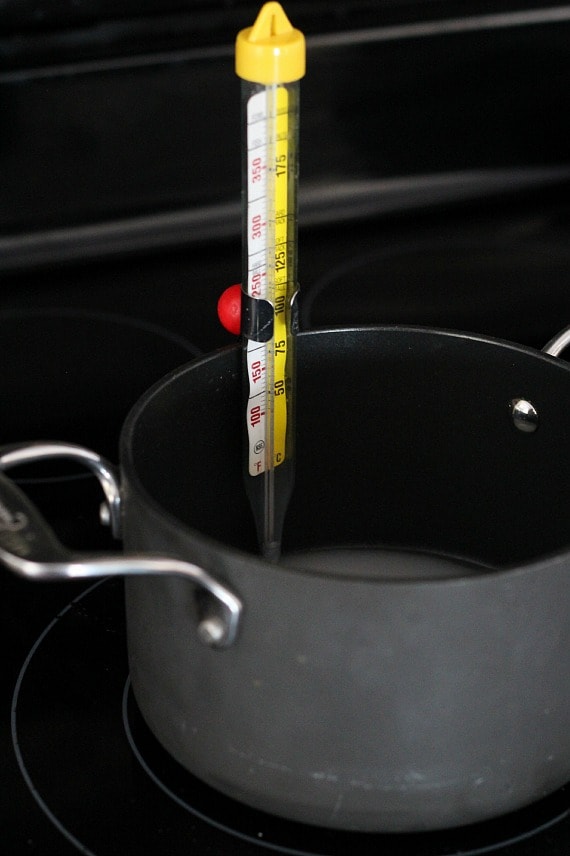 Attach it to the side of a small, heavy pot.
Boil some light corn syrup, sugar and water together…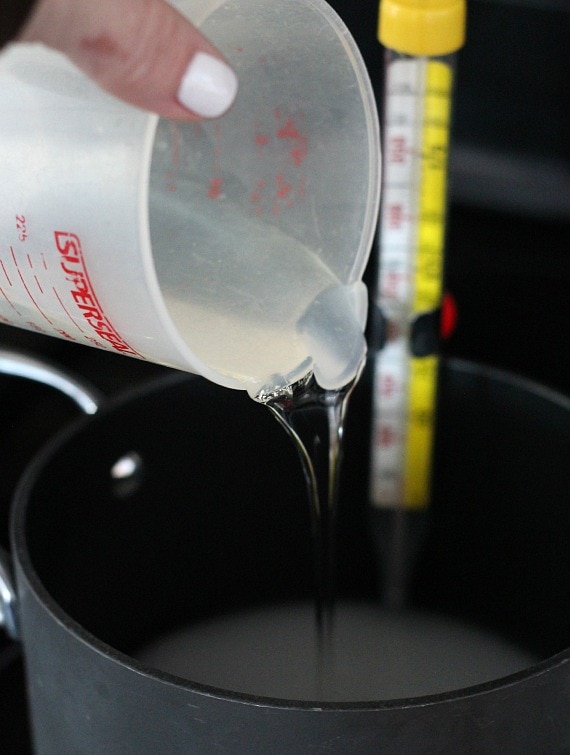 It needs to reach 240°…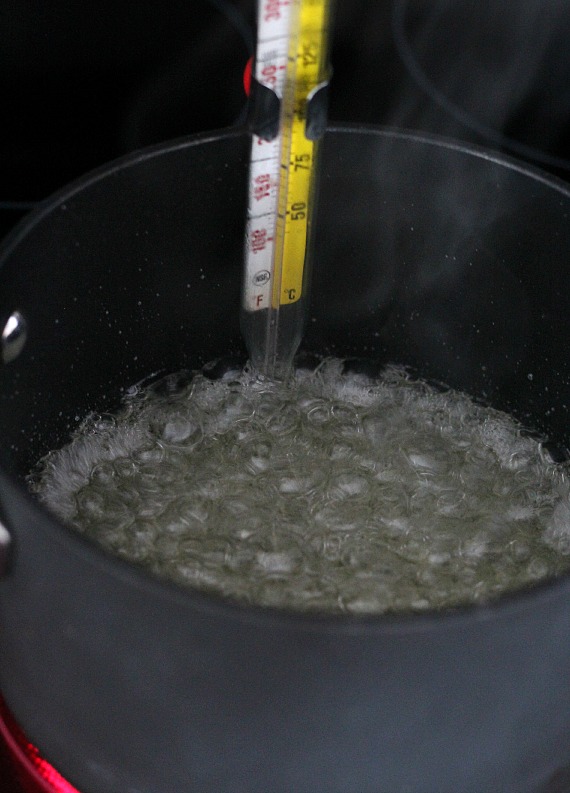 Meanwhile whip together 2 egg whites and some cream of tartar until they reach soft peaks…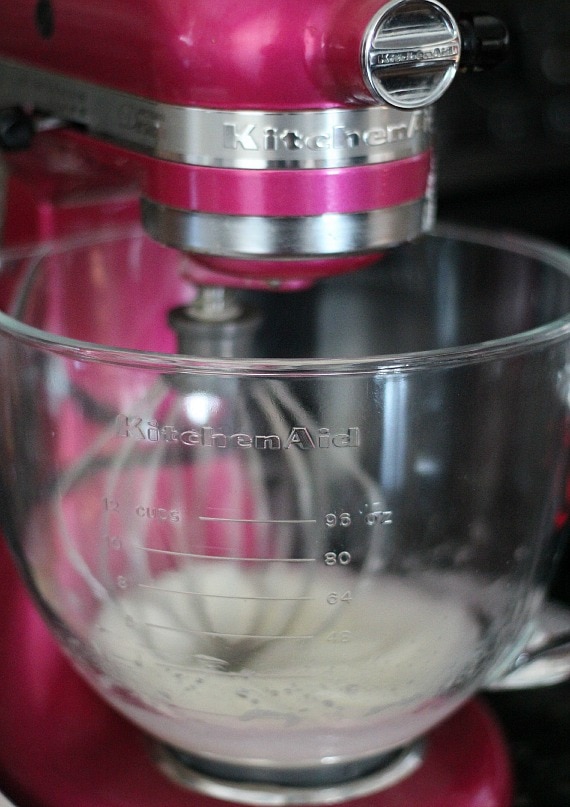 When the syrup reaches 240° drizzle in a little bit into the egg mixture to temper the egg whites…
You don't want scrambled fluff, people.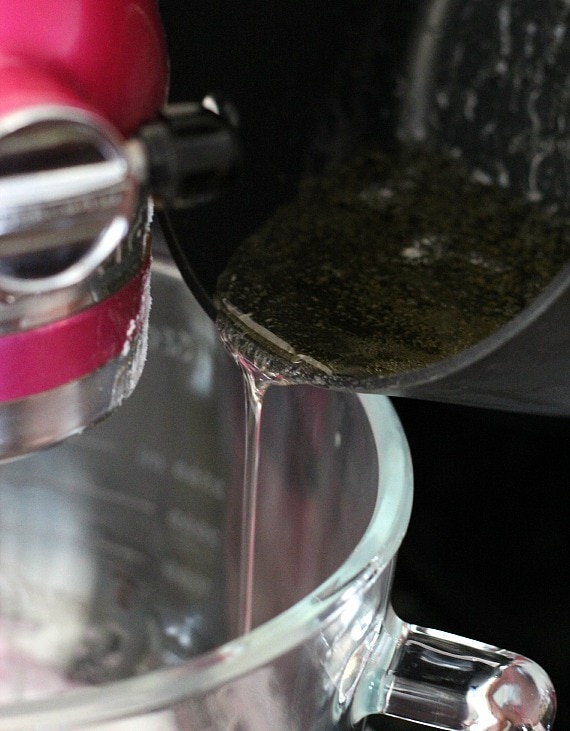 Turn your mixer up to medium high and add the rest of the syrup and your spices. Whip it for about 7 minutes until it's glossy!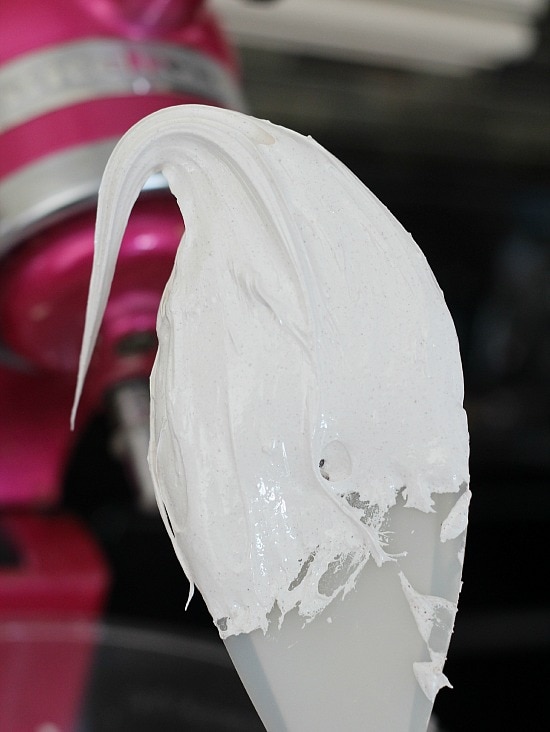 You can make this a few days before you want to put it in jars…or the same day. Whatever works for your schedule.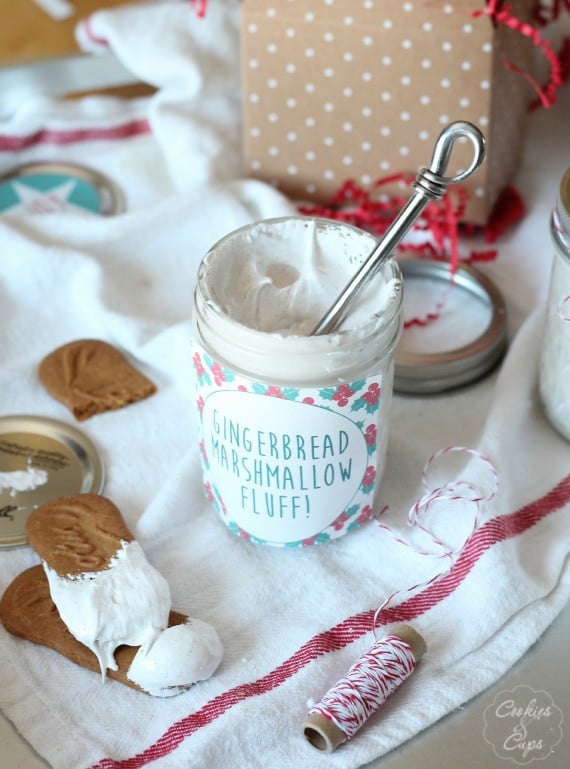 For the printables this recipe will make about 3 cups of Fluff so you can give three, 8 oz jars!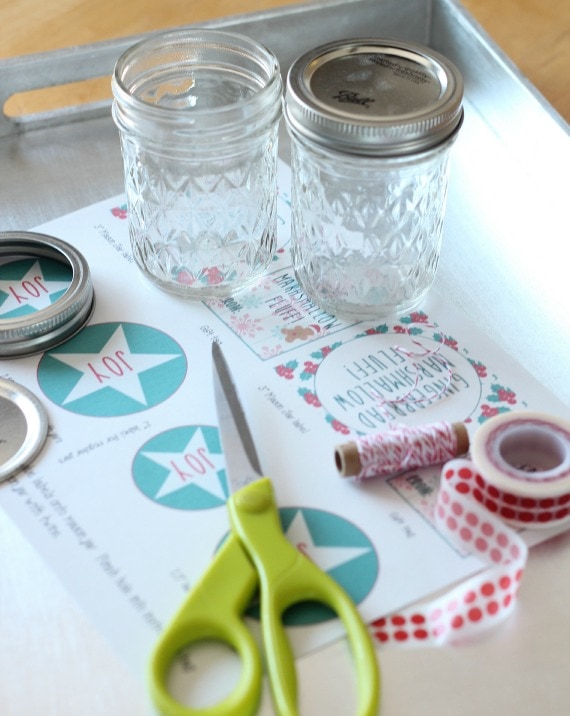 Just fill them up and pass them out!
But make sure to keep one for your own self and your spoon…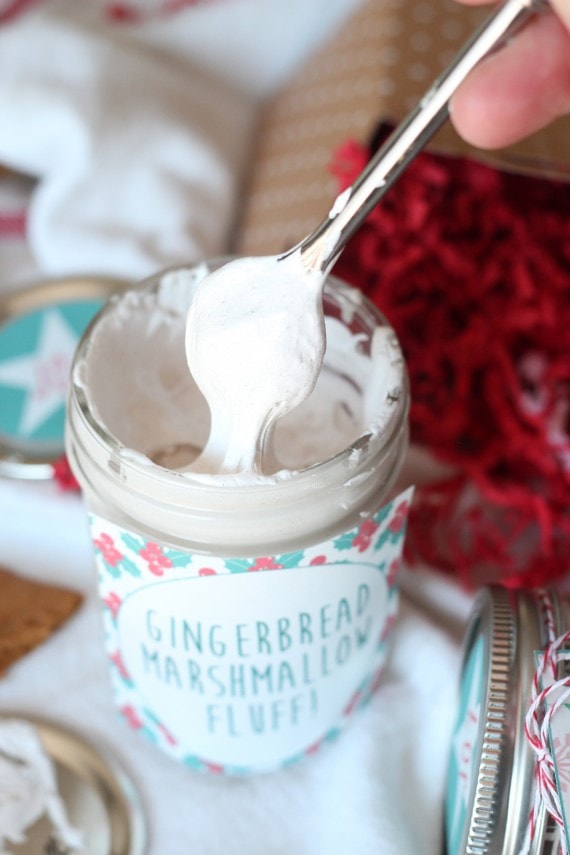 And really quick, I've started a Weekly Newsletter I'd love for you to get! It has all the highlights and things you might have missed here at Cookies and Cups!
SIGN UP HERE!
Print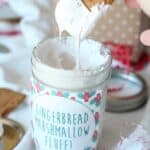 Homemade Gingerbread Marshmallow Fluff
---
Description
makes about 3 cups of Fluff
---
3/4 cup

sugar

1/2 cup

light corn syrup

1/4 cup

water

1/4 tsp

salt

2

egg whites

1/4 tsp

cream of tartar

1 tsp

cinnamon

1 tsp

ground ginger

1/4 tsp

ground cloves

1/4 tsp

ground nutmeg

1 1/2 tsp

vanilla extract
---
Instructions
Combine sugar, corn syrup, water and salt in a small saucepan over medium-high heat. Boil together until a candy thermometer reads 240°.
While mixture is boiling beat 2 egg whites and cream of tartar together until soft peaks form.
When syrup is ready, turn mixer onto low and drizzle the syrup along the side of the bowl slowly combining it into the egg whites.
When all the syrup has been added, sprinkle in all the spices and turn mixer up to medium high and beat for 7-8 minutes until thick and glossy. When there is about one minute left add in the vanilla.
Use immediately or transfer to an airtight container.
---
Notes
store in an airtight container in refrigerator for up to 5 days.
recipe for Fluff adapted from Marshmallow Madness
Want To Save This Recipe?
Find more recipes like this:
Speaking of gifting…Kristan from Confessions of a Cookbook Queen also made a fun giftable treat today: Gingerbread Pancake Mix with some really cute gift tags! I could really go for a Gingerbread Pancake right about now…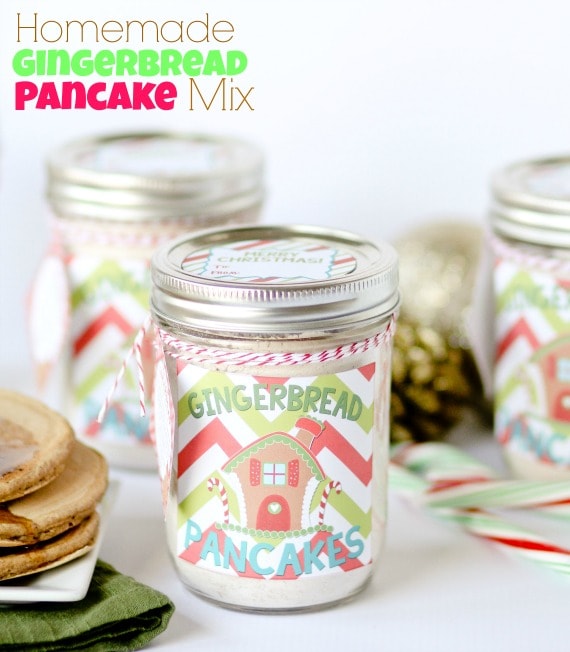 Also, this past week over at my other site, That's What We Said, we've been doing Gift Guides for all the people in your life! There are some fantastic ideas that we have over there!
Here's a peek…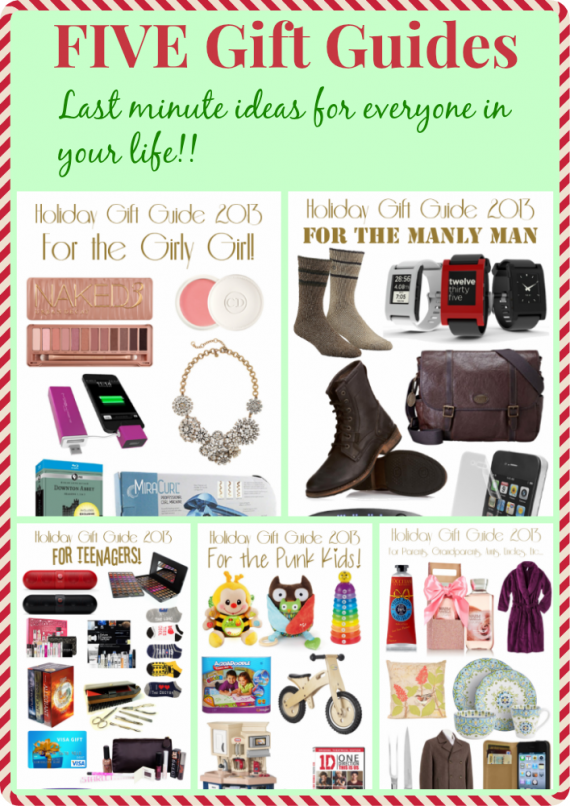 We've got gifts for the girly girl, the manly man, teenagers, little kids and everyone else! There are really fun ideas!
Hop over and take a peek at all the great stuff!
And finally these Rum Soaked Chocolate Covered Cherries…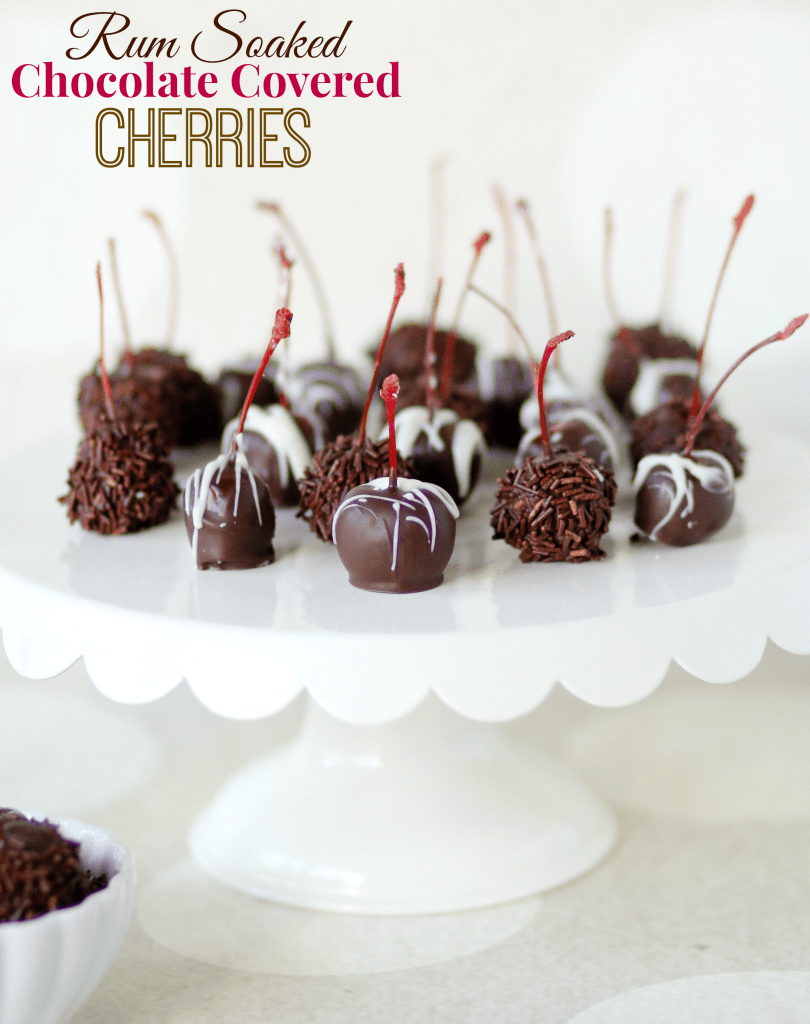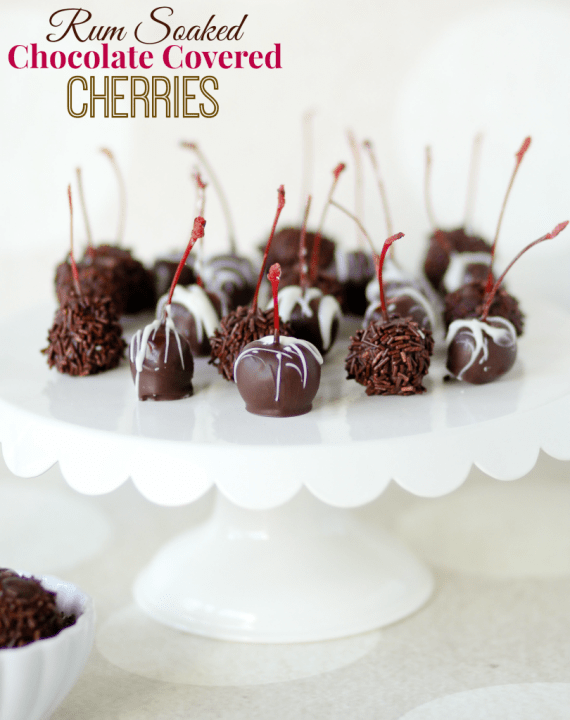 Perfectly festive for the boozy, sweets lover! They'd be such a fun treat to have out at a Holiday Party! Check out the full recipe HERE!
Have a great weekend!