Hi Hat Cookies are a fun spin on the classic Hi Hat Cupcake! Easy to put together and super impressive!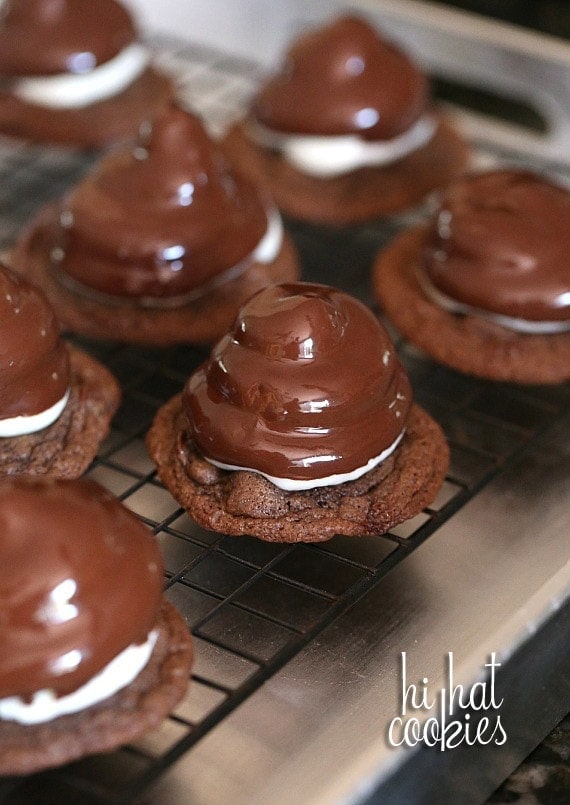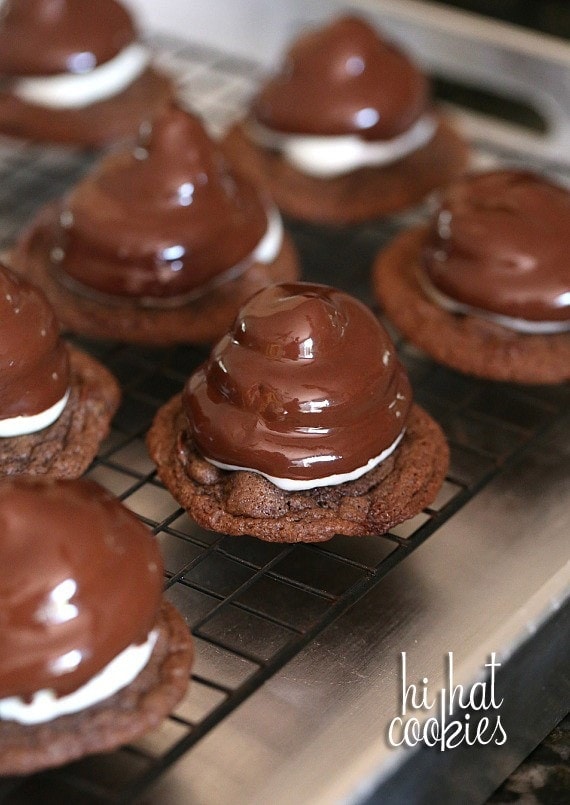 Cookies topped with excessive frosting and then dipped in chocolate. Yes, that's what we're talking about today.
Clearly the size of the swirl is up to you. But really, go big or go home, right?
Yes, these are over the top…but aren't they fun?!
And it's all about the frosting, isn't it?
I mean unless you are one of those people who at birthday parties who asks for a "small" piece…or have ever uttered the words, "too much frosting", "too rich" or "too sweet".
If any of those phrases apply, let's just agree to disagree.
In my life, it's either a corner piece topped with a buttercream rose or nothing.
So here we are. Hi Hat Chocolate Cookies.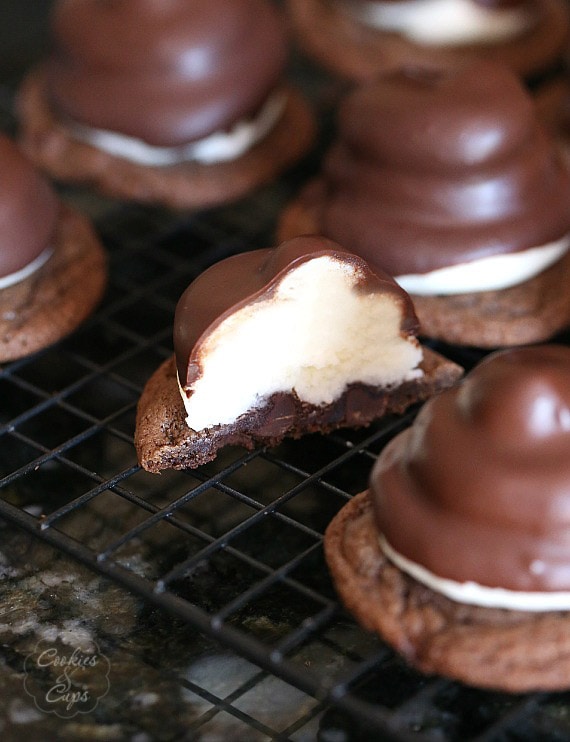 The base cookies that I made for this recipe are actually perfect on their own, if you're looking for a chocolate cookie.
They're a soft chewy chocolate chocolate chip cookie.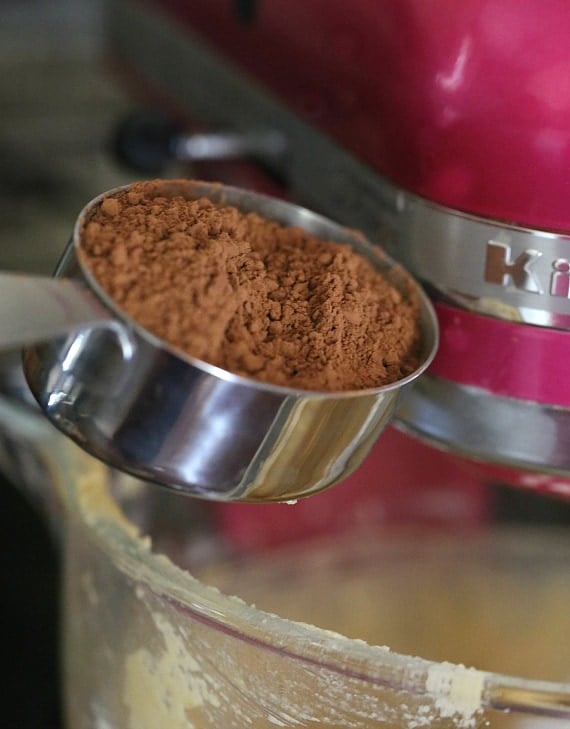 You'll only need a large teaspoon sized amount of dough for each cookie. They spread a decent amount.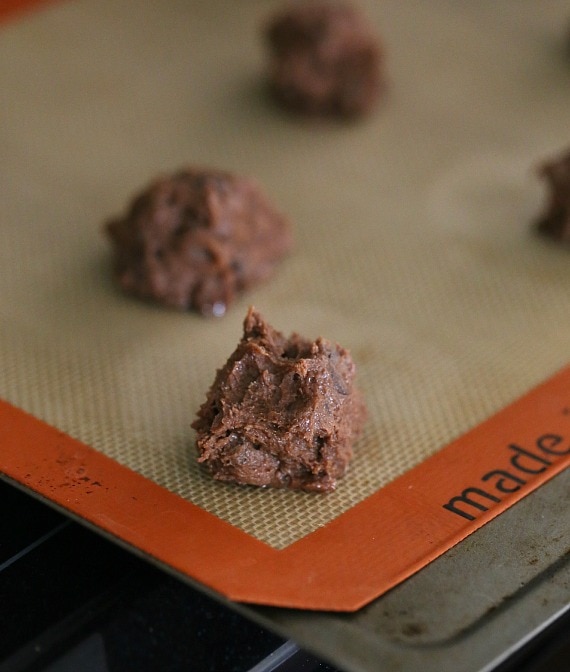 They'll look like this when they're baked…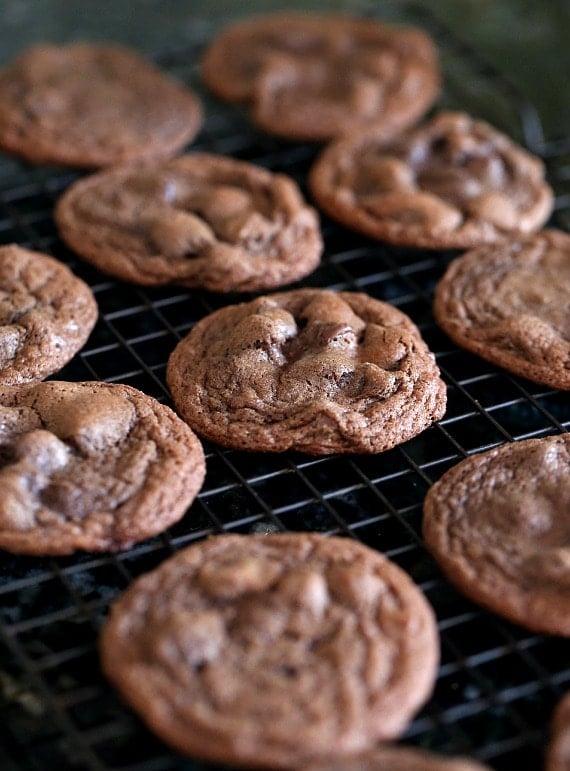 Let them cool and whip up a batch of my Favorite Vanilla Buttercream. I filled a piping bag and attached a large tip to the bag. You could also use a large zip-top bag with the corner snipped off.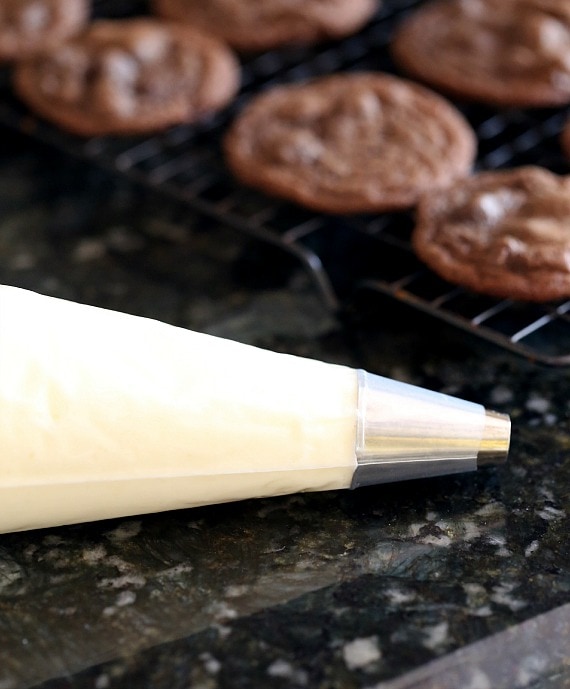 Then pipe the desired amount of frosting up on there…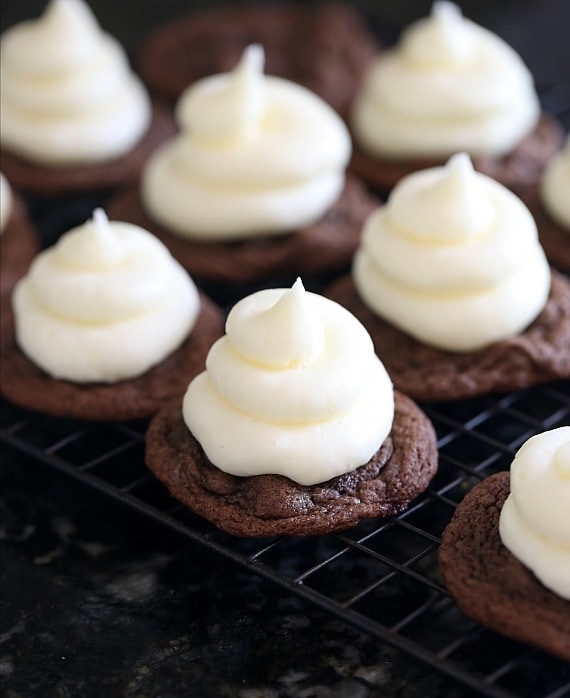 Then chill the cookies while you prepare your coating.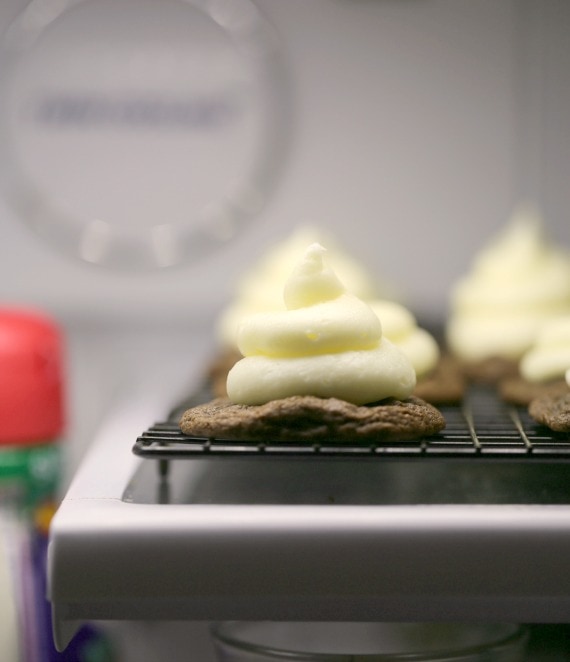 It's just a little vegetable oil and chocolate chips. Melt them together…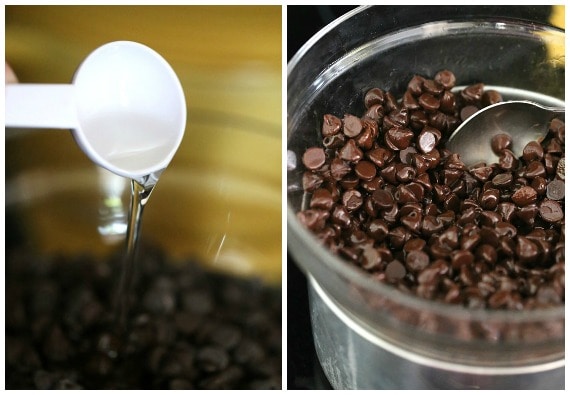 Then get to dipping, allowing the excess to drip off.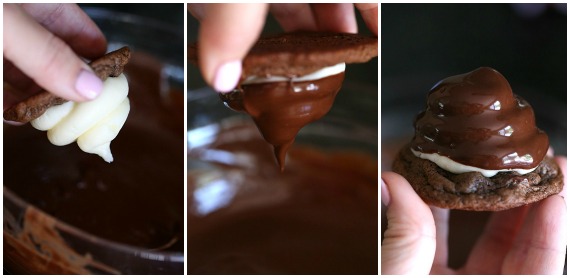 How pretty are these?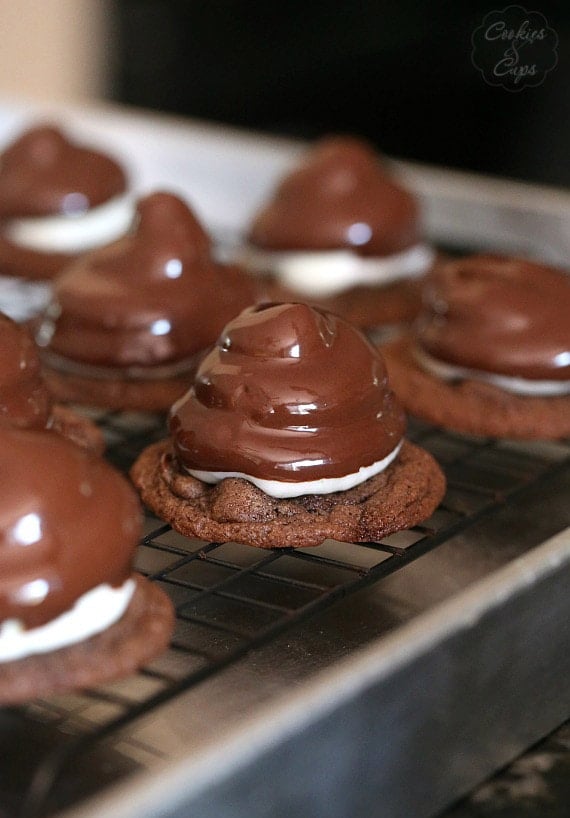 Annnnd if you get bored of dipping, run out of frosting (if you're heavy-handed like me) or are just in a sprinkles mood…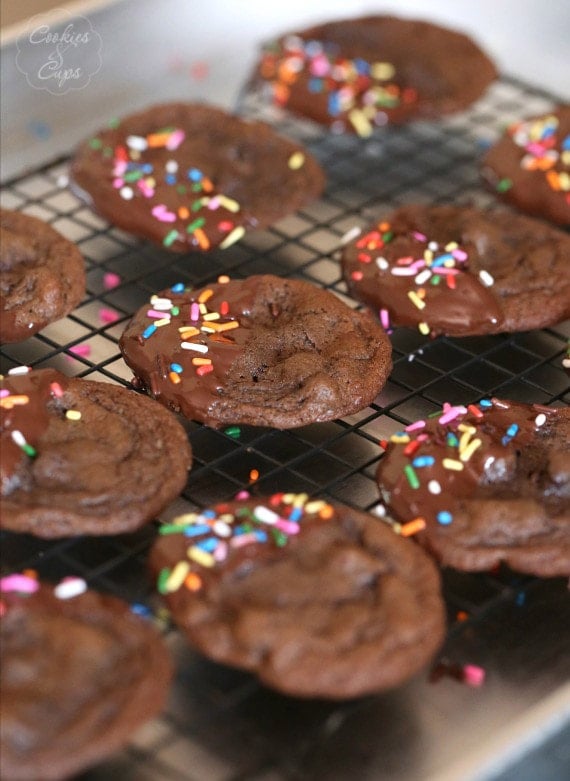 Can't go wrong!
Check out Confessions of Cookbook Queen for my inspiration for these cookies! she did GORGEOUS Red Velvet Hi Hat Cookies for the holidays.
Print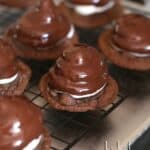 Hi Hat Chocolate Cookies
---
---
Cookies
1 cup

butter, room temperature

1 cup

granulated sugar

1 cup

light brown sugar

2

eggs

2 tsp

vanilla

1 tsp

salt

1 tsp

baking soda

1/2 cup

cocoa powder

2 1/4 cup

flour

1 cup

chocolate chips
Frosting
Chocolate Coating
2 cups

semi sweet chocolate chips

3 Tbsp

vegetable oil
---
Instructions
Cookies
Preheat oven to 350°
Line a baking sheet with parchment paper or a silicone mat. Set aside.
Cream butter and sugars together. Mix in eggs and vanilla until combined, scraping sides as necessary.
Add in salt, baking soda and cocoa powder and mix until evenly incorporated. Mix in flour.
Finally stir in chocolate chips.
Drop cookie dough onto baking sheet in Tablespoon sized portions. Bake for 10 minutes until tops have just set.
Remove from oven and transfer to wire rack to cool completely.
Prepare buttercream frosting while cookies are cooling.
Using a bag fitted with a large piping tip, or a zip-top bag with the corner cut off, pipe a generous amount of frosting onto each cookie. When finished place cookies in the refrigerator to chill while preparing the chocolate coating.
Chocolate Coating
Over a double boiler melt chocolate chips and oil together until just melted. Remove from heat. Remove the cookies from the refrigerator and carefully dip each cookie into the melted chocolate, allowing excess to drip off. Transfer back to wire rack to allow chocolate to set, or place back in fridge to set quickly.
---
Notes
store in cool climate or refrigerator
Cookie recipe adapted from all recipes.
Want To Save This Recipe?
Find more recipes like this: