Candy Cane Pretzel Kisses are a salty/sweet/peppermint treat! We love these so much!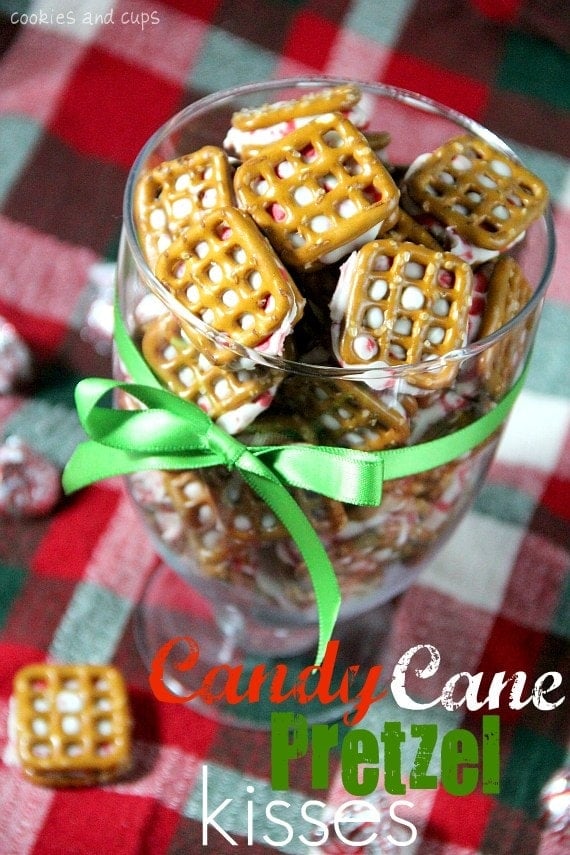 So remember how I joined the gym? You know, for health and all that?
Well, my friends forced me to take a Zumba class. FORCED. As in MADE ME DO IT.
Ok, they didn't actually force me, but they were all doing it and…yeah…I gave into peer pressure. I guess if all my friends jumped off a bridge I would too. Sorry parents.
Well, Zumba is this cardio workout that is a kind of Latin-dance-inspired. I am not of "Latin" origin…and I have significantly less rhythm than the average person, so suffice it to say, Zumba was a challenge for me. The class started off bad and ended worse.
The instructor had hip-action to spare, but was unwilling to loan any to me. Luckily I was smart enough to find a spot in the back with low visibility. When the music started I can say with no uncertainty that the astute words of Gloria Estefan could have never been more wrong. The rhythm most certainly didn't get me.
The women that surrounded me were essentially the Nancy Grace to my Kate Gosselin, but in the moment I felt like their booty shaking rivaled Beyonce. My white girl knee bends and step touches were an embarrassment to the music that blared through the speakers.
Every once in a while I would get a move down and feel proud…until I watched myself in the god-forsaken mirror. It was kinda how you feel if you have had too many margaritas and think you're a JLo back up dancer… I left the class feeling humiliated and sweaty, a combination that I don't recommend.
Everyone says, "No, stick with it, you'll learn the moves." Really now? All I learned in that class is that my childhood disconnect with Cha Cha DiGregrio was not because she was a boyfriend thief, but because she was an expert Merengue-er. It was like a full circle moment.
The combination of not having "moves like Jagger" nor the desire to "sweat 'til I bleed" coupled with my fear of public humiliation mean my Zumba days are over. Please don't try and convince me I am wrong, because I have never been more right…acceptance is the most important step, yes?
Now, sometimes when I feel embarrassed and/or humiliated I try to go to my happy place. So basically the entirety of Zumba class I inhabited said happy place. For me that means thinking about cakes and brownies and sugary food. It's just what I do.
So the idea for these easy treats were basically a coping mechanism to get through the hour of Zumba. I posted THESE a while back. My mom used to make them and they are an all-time favorite snack in our house. I decided to give them a fun Christmas twist.
They couldn't be any easier. Here's what you do…
Unwrap a bunch of Candy Cane Kisses.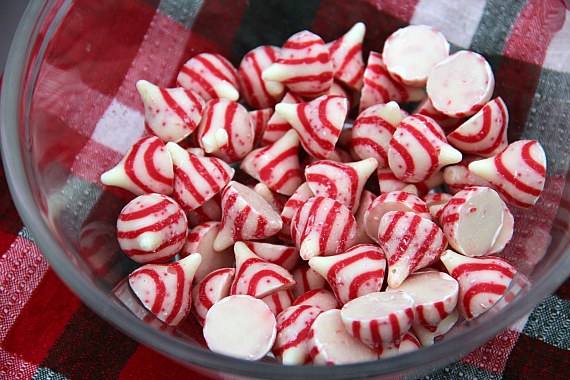 On a parchment lined baking sheet lay out some waffle-style pretzels and place a Kiss on top.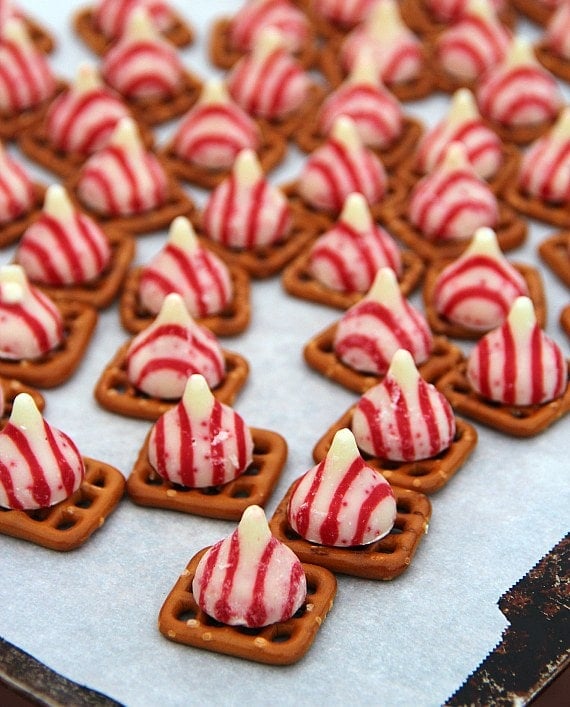 Pop the baking sheet into a 300° oven for 2 – 2 1/2 minutes and remove. Just until the kiss starts to get glossy.
Squish another pretzel on top of the melty Kiss. If the Kiss is still hard in the middle, place back in oven for 20 seconds.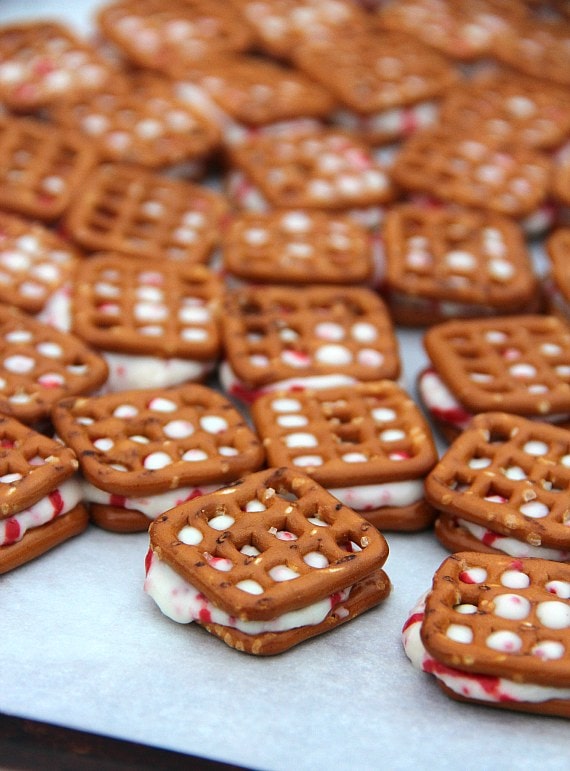 Pop in the fridge for 15 minutes to set. That's it!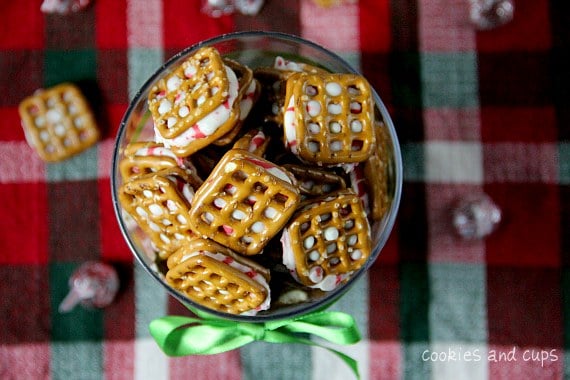 These are perfect to bag up and give as gifts!
Print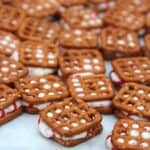 Candy Cane Pretzel Kisses
Author:

Prep Time:

10 minutes

Cook Time:

2 minutes

Total Time:

12 minutes

Yield:

120

candies

1

x
---
2

bags of Kisses (Candy Cane or any flavor), unwrapped

1

(1 pound) bag of waffle-style pretzels
---
Instructions
Preheat oven to 300°
Line a large baking sheet with parchment paper.
Place approx 120 pretzels on a large baking sheet about 1/2 inch apart. (You can use 2 baking sheets if you don't have a large enough one…you don't want them too crowded)
Place unwrapped Kiss on the pretzel.
Place baking sheet in oven for 2- 2 1/2 minutes until Kisses are glossy.
If Kiss is still hard in the middle place back in oven in 20 second increments until soft.
Press another pretzel on top sandwiching the kiss.
Place baking sheet in fridge for 15 minutes to set.
Store in an airtight container for up to 2 weeks.
---
Notes
There are many variation of this, feel free to try another flavors of Kisses.
Want To Save This Recipe?
Find more recipes like this: