This uber indulgent Chocolate Candy Pie is a (nearly) no-bake dessert filled with homemade chocolate pudding, brownie chunks, candy bars, and marshmallows! Topped with whipped cream and – you guessed it – more candy!
Love the idea of chocolate pie? You might also like this Marshmallow Chocolate Pie!
Candy Bar Marshmallow Pie with Brownie Chunks!
Where to begin with this candy pie recipe. I suppose it does start with an Oreo crust. But I can hardly describe how utterly outrageous (and delicious) this take on chocolate pudding pie pie is!
The first time I made this recipe, I was hesitant due to the pudding filling (not much of a boxed pudding fan, I'll admit). But then I made this recipe with homemade chocolate pudding, and it was a game-changer! Life-changing, in fact. I loaded it up with sweets, and the result is a truly over-the-top chocolate pie. I have to resist the urge to stand over the pie plate and eat it with a spoon.
When I say candy pie, I mean it: chocolate pudding, candy bars, chocolate brownie chunks, marshmallows. And that's just the filling! Top that all off with a lush and fluffy layer of whipped cream, sprinkled with M&Ms. It's a candy extravaganza, and you're all invited!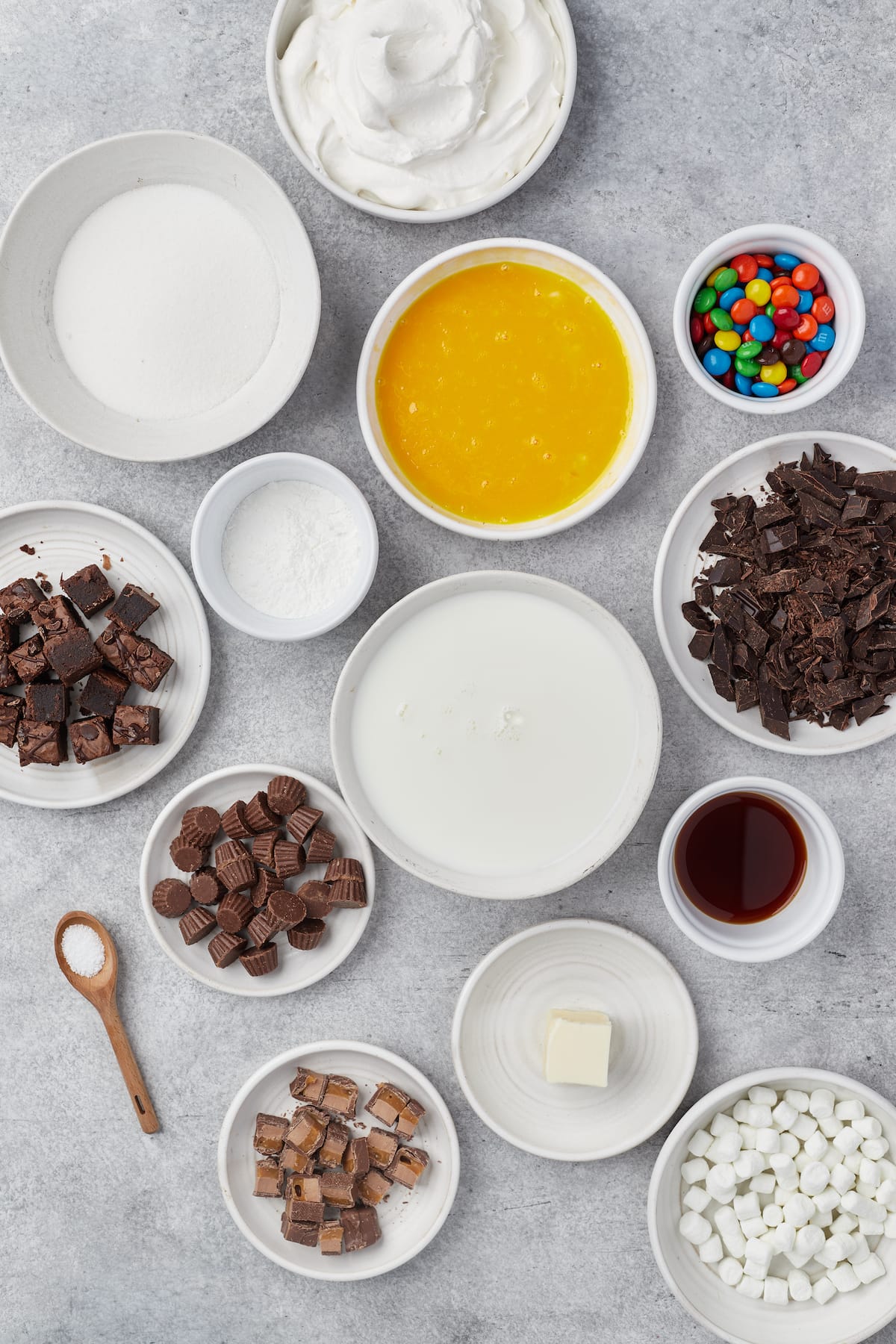 What You'll Need
This pie involves a rich, chocolatey pudding filling that's loaded with candy add-ins. I highly recommend making your pudding from scratch! You can certainly use a boxed pudding mix in a pinch, but in all other cases, I urge you: make the pudding. Here's everything you'll need to make your homemade candy pie:
For the Crust
Oreos: Crushed Oreos make the perfect no-fuss chocolate crust for candy pie. You can always buy a pre-made Oreo pie crust from the store, too (but where's the fun in that?).
Butter: Salted or unsalted, and melted in the microwave.
Milk: For added moisture, if necessary.
For the Filling and Topping
Sugar: Regular granulated white sugar is best.
Cornstarch: Acts as a thickener in the homemade chocolate pudding.
Egg Yolks: The yolks bring just the right amount of richness and a custard-like texture to the pudding.
Butter: For additional flavor and creaminess.
Vanilla: I recommend pure vanilla extract for the best, most natural vanilla flavor.
Chocolate: Unsweetened chocolate, chopped into small pieces. Make sure to use 100% unsweetened chocolate, and not regular or semisweet. Since there's already sugar in the pudding, it will come out far too sweet!
Whole Milk
Salt
Mix-Ins: For this recipe, I add in Mini Reese's Cups (or full size Reese's chopped into pieces), fluffy mini marshmallows, as well as Milky Way candy bars and brownies chopped into chunks. You can bake up a batch of homemade brownies, or use store bought.
Whipped Cream: Use store bought whipped topping, or make your own.
M&Ms: I love the pop of color that M&Ms bring as a garnish. Of course, you can top your pie with any toppings you wish! See more suggestions in my Variation Ideas later on in this post.
How to Make Candy Bar Pie
Prepare your sweet tooth for the pie of it's dreams! Here's how to make this easy, almost no-bake candy pie:
Prep the Crust: Mash up your Oreos and stir in the melted butter and spoonfuls of milk. Next, press the mixture evenly into a 9-inch pie plate and blind bake the crust for a few minutes in a 350° oven. Leave it to cool while you make your filling.
Make the Filling: Whisk the dry pudding ingredients together in a saucepan. Stir in the milk and egg yolks and then bring the mixture to a boil over medium heat (meanwhile, keep whisking!). Next you'll add in the butter a bit at a time, followed by the vanilla. Finally, gradually stir in the chopped chocolate until it's fully melted and smooth, then take the pudding off the heat. Let it cool a little before folding in the Reese's cups and marshmallows.
Assemble: Sprinkle a layer of chopped Milky Way candy bars and brownie chunks over the pie crust. Pour in the pudding mixture, and then cover the pie with plastic wrap. Pop it into the fridge to chill for a few hours – this will also help the pudding set up.
Top & Serve: Before serving, top your candy pie with a generous layer of whipped cream followed by a shower of M&Ms!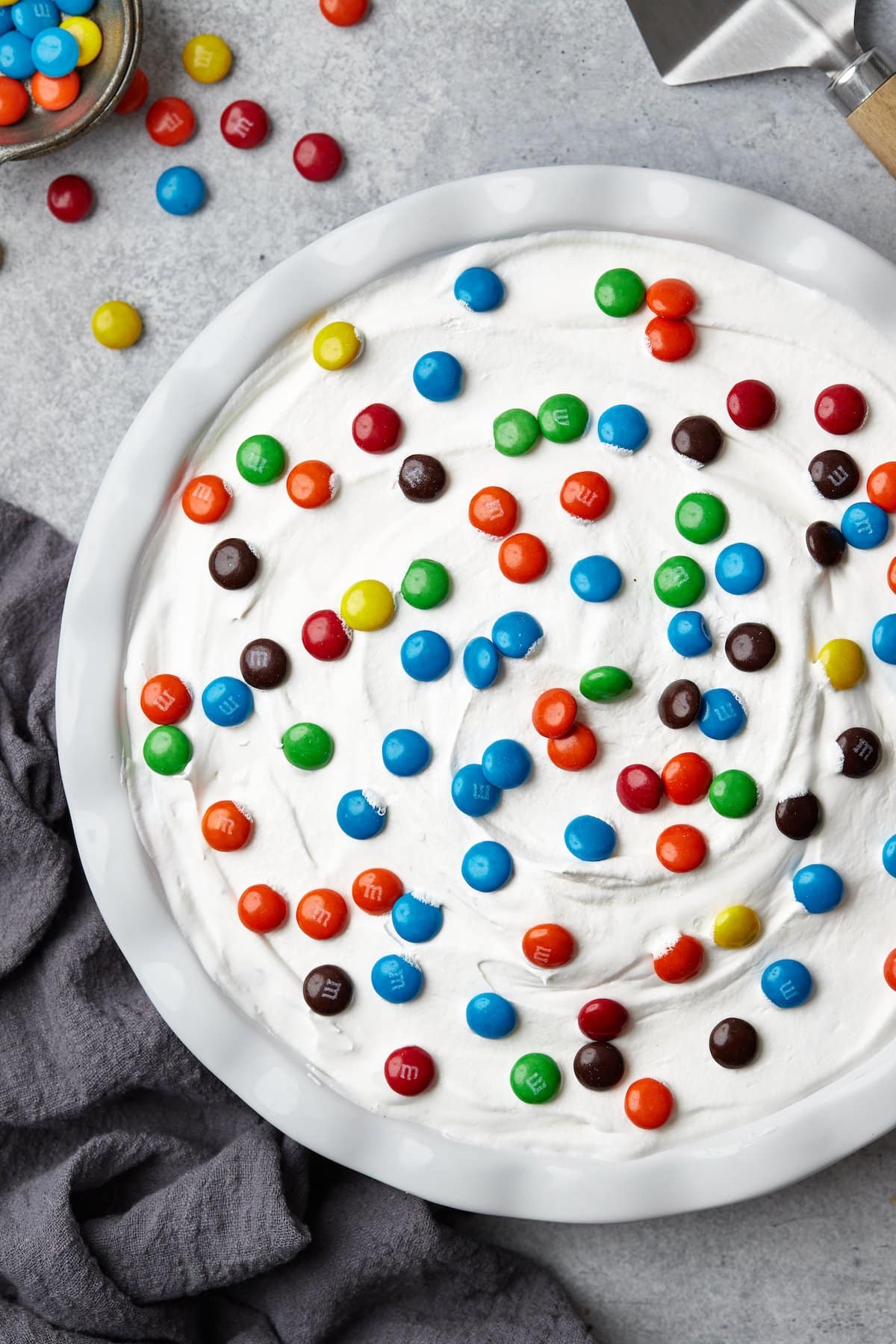 Tips for Success
Don't Skip the Blind Bake: Pre-baking the crust is what makes this recipe an almost no-bake dessert, but it's a necessary exception! Blind baking ensures that the crust won't become soggy once it's topped with all that creamy chocolate filling.
Chill the Pie: Chilling the pudding pie filling is what lets the ingredients set up completely, so that the pie will hold together when sliced. Make sure you budget enough time to chill the pie before topping and serving, otherwise it's a good idea to plan ahead and make it in advance! (See below).
Use the Right Knife: A minor detail, but it does help when slicing up your pudding pie! Use a sharp, thin knife when cutting your pie into slices.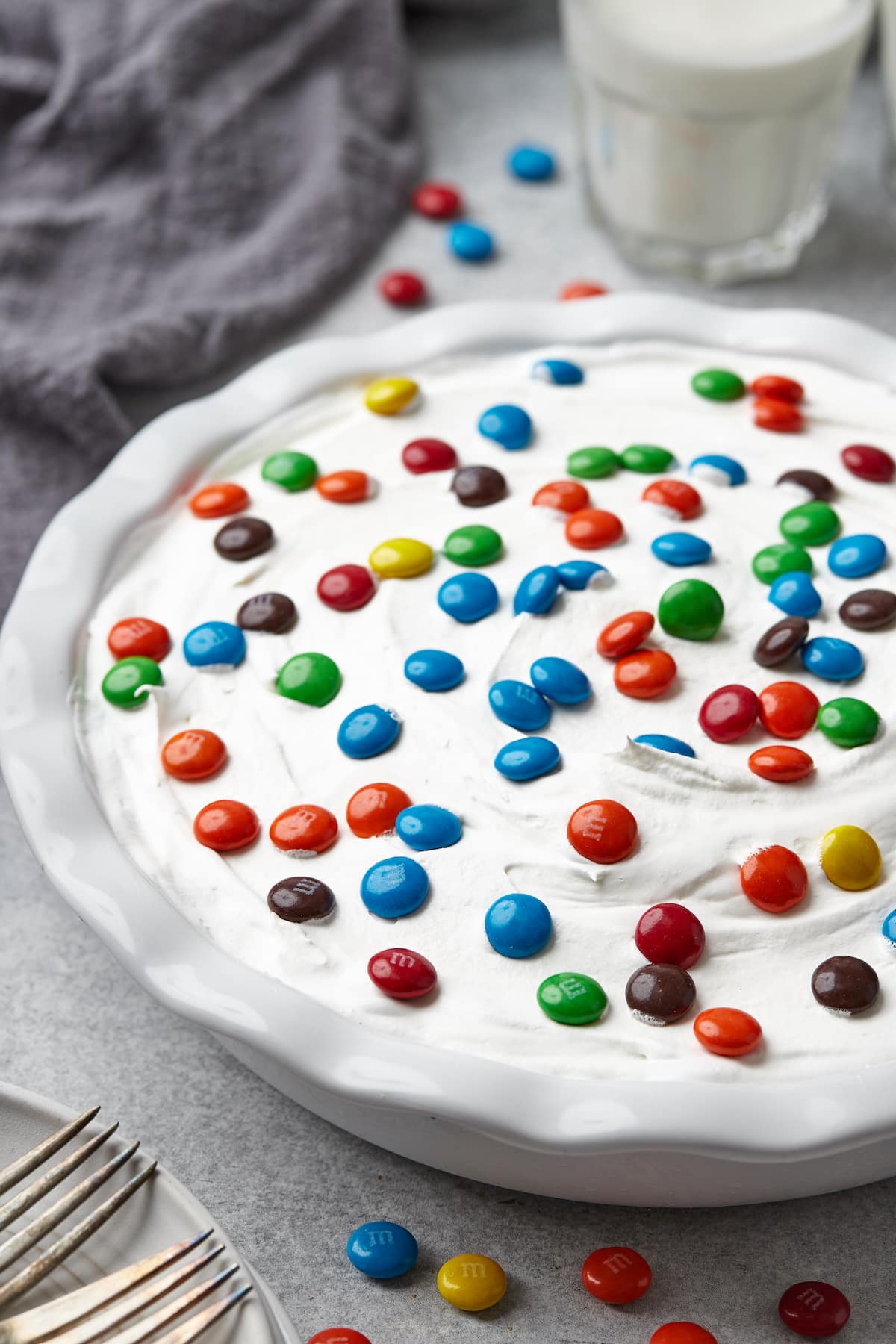 Variation Ideas
Different Crust: This candy pie will work with just about any type of pie crust, apart from pastry. Instead of Oreos, make a Graham cracker crust instead!
Different Candy Bars: When it comes to the candy component for candy pie, the sky's the limit. Make your filling with any chocolate bars you prefer! Other options are Mars bars, Kit Kat, Snickers, Butterfinger, and Rolo candies. This recipe is especially great for using up any leftover candy from holidays like Halloween, Easter, and Christmas!
Swap the Brownies: Change out the brownies in this recipe and use your favorite cookie recipe instead, or cookie bars, chopped into pieces. Try these White Chocolate Macadamia Nut Cookies, Easy Snickerdoodle Cookie Bars or Shortbread Toffee Cookie Bars. You can even use my recipe for Easy Edible Cookie Dough!
Use Store Bought Pudding: If you use store bought pudding mix for this recipe, you can make your pie in any flavor you'd like! Make yours a candy-filled Jello pudding pie with flavors like butterscotch, banana cream pudding, lemon pudding, etc.
Add in Extras: Add in extra mix-ins like chopped almonds, toasted hazelnuts, macadamias, coconut or maraschino cherries.
There are also countless ways to top your pie, instead of or in addition to the M&Ms in this recipe! Here are some ideas:
Cookie crumbs (use leftover crushed Oreos if you have them!)
Rainbow sprinkles
Crushed candy canes
Jelly beans
Skittles
Gummy candy (Gummy Bears, Swedish Fish, wine gums, etc.)
Milk Duds
Chocolate syrup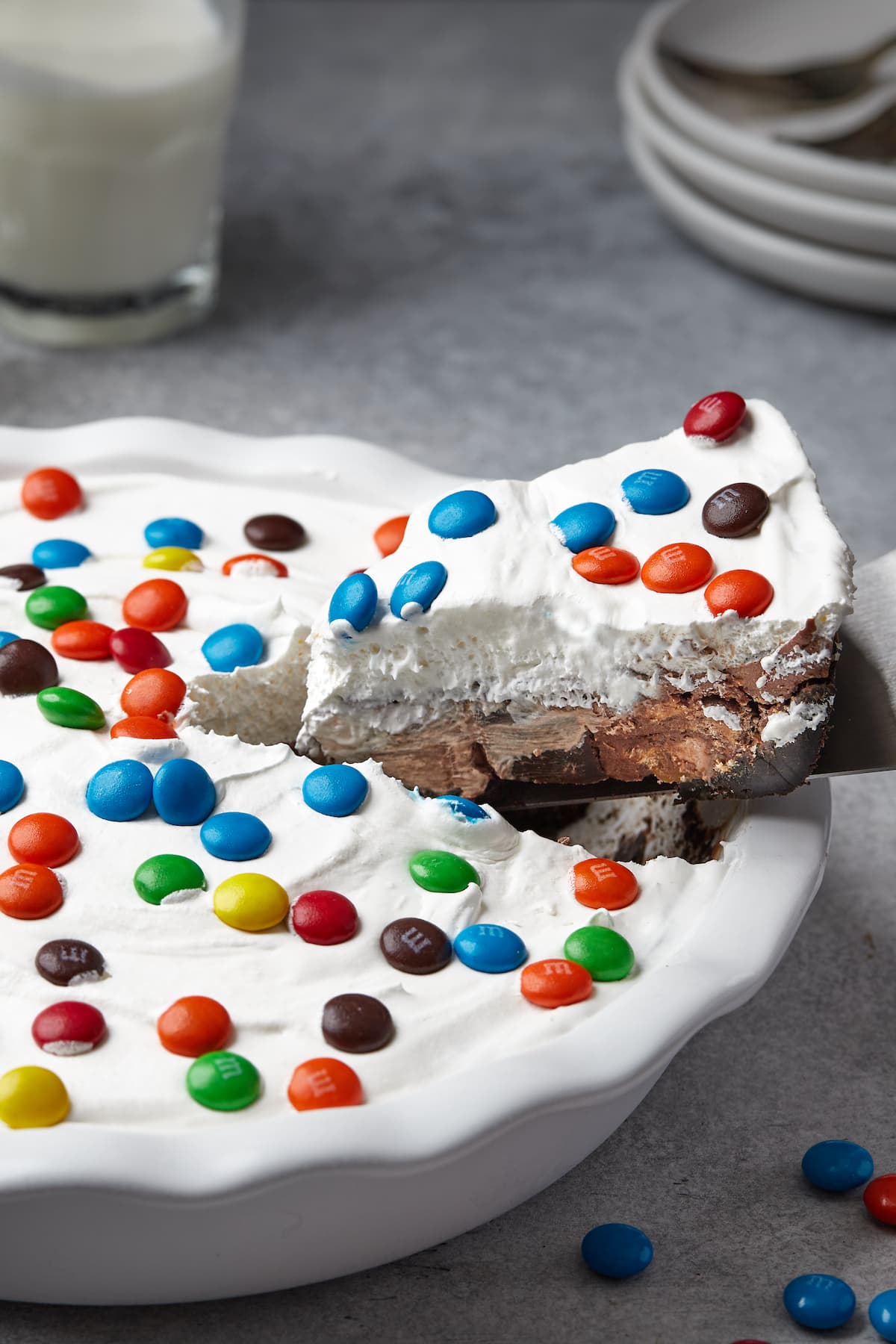 Storage Instructions
This chocolate pie contains egg and dairy and needs to be kept refrigerated. Store your candy pie covered in the fridge for up to 3 days.
Can I Freeze This?
Because of the pudding filling, this pie isn't the best for freezing. If you absolutely want to freeze it for longer storage, you can do so but with a grain of salt: keep in mind that freezing changes the texture once the pie has been thawed.
If you're making this pie ahead, I recommend making it 2-3 days in advance to chill in the fridge instead.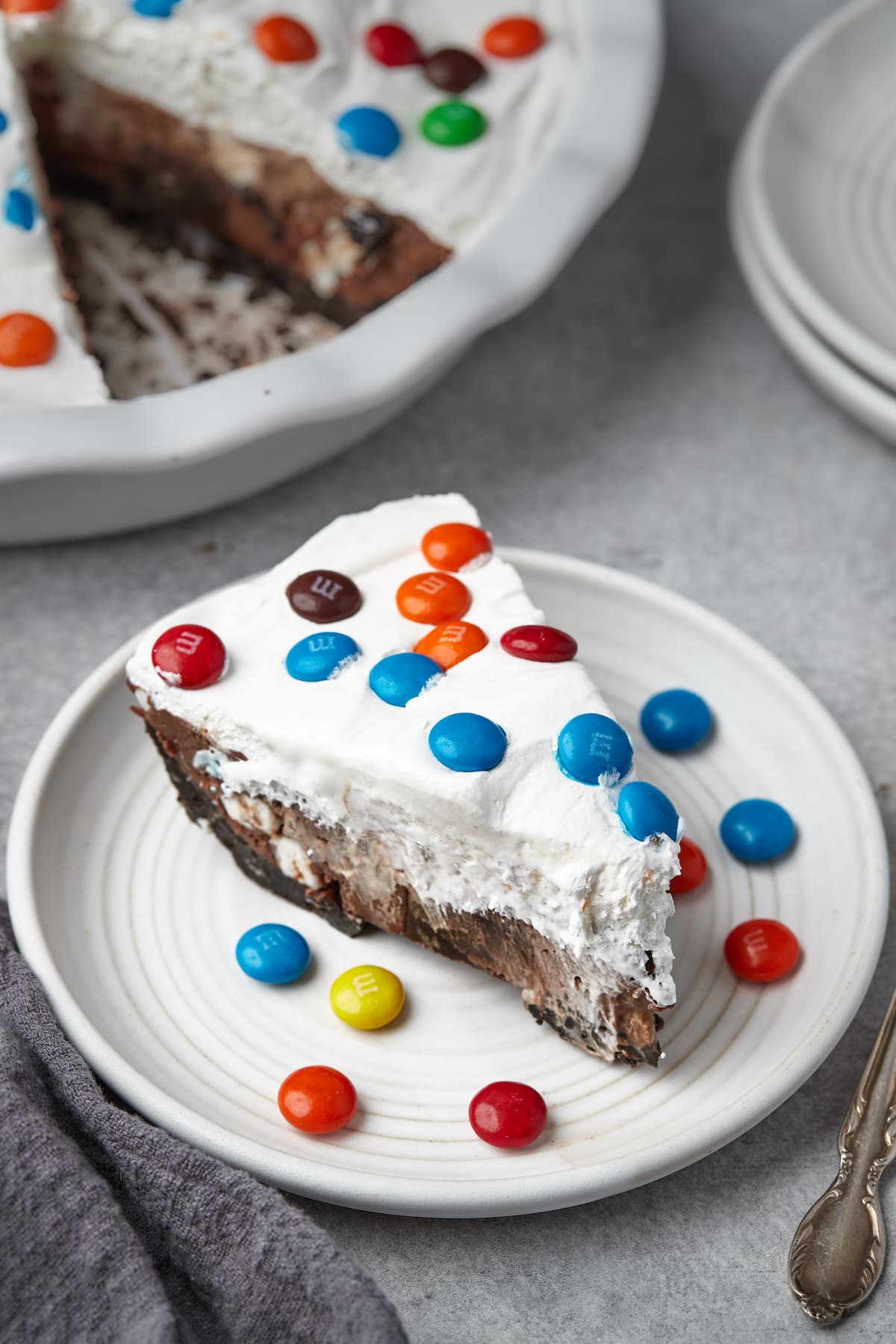 More Indulgent Pie Recipes
Print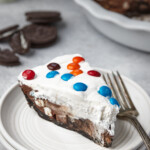 Chocolate Pudding Candy Pie
Author:

Prep Time:

10 minutes

Cook Time:

10 minutes

Total Time:

20 minutes

Yield:

6

servings

1

x

Category:

Dessert

Method:

No-bake

Cuisine:

American
---
Description
This uber indulgent Candy Pie is a (nearly) no-bake dessert filled with homemade chocolate pudding, brownie chunks, candy bars and marshmallows. An easy chocolate pie topped with whipped cream and more candy!
---
Crust
20

Oreos, crushed

2 Tbsp

butter, melted

2 Tbsp

milk
Filling
3/4 cup

sugar

3 1/2 Tbsp

cornstarch

1/8 tsp

salt

2 1/2 cups

whole milk

4

egg yolks

2 Tbsp

butter

2 tsp

vanilla

3 oz

unsweetened chocolate, chopped

1/2 cup

Mini Reese's Cups or

1/2 cup

chopped full size Reese's

1/2 cup

mini marshmallows

1/3 cup

chopped Milky Way bars (approx

1

bar)

1/3 cup

chopped brownies (either store-bought or homemade)
Topping
2 cups

Whipped Cream (homemade or whipped topping)

1/3 cup

M&M's
---
Instructions
Crust
Heat oven to 350° degrees.
Mix your Oreos, melted butter, and milk together and press into a 9-inch pie plate. Bake 5 minutes. Remove from oven and cool on wire rack.
Filling
In a medium sauce pan whisk together sugar, cornstarch and salt. Whisk in milk and egg yolks until well combined. Place saucepan over medium heat, whisking constantly. When mixture comes to a boil, add butter, 1 tablespoon at a time and vanilla. Next add the chocolate a little at a time and whisk until melted. When melted and smooth, remove from heat. Let cool for 10 – 15 minutes and then fold in your Reese's and marshmallows.
Layer your crust with your Milky Way and brownies and then pour pudding mixture on top of that. Cover pie tightly with plastic wrap and place in refrigerator for at least 3 hours.
When ready to serve, remove the plastic wrap and spread your whipped topping or whipped cream on the pudding. Garnish with your M&Ms.
Serve cold.
---
Notes
You can use a store-bought crust, boxed pudding and store-bought brownies if you prefer.
Recipe adapted from: Perfect Pies
Keywords: chocolate pudding pie, chocolate pie, no-bake dessert
Want To Save This Recipe?
Find more recipes like this: