This fast and easy Edible Cookie Dough Recipe is egg free and 100% safe to eat, no baking necessary! We all know that sneaking a taste of the cookie dough is the best part of making cookies. This risk-free recipe lets you indulge in a spoonful of raw chocolate chip cookie dough, anytime!
I'll be the first to admit that I've snuck a taste of raw cookie dough on more than one occasion, luckily without issue. That being said, I'm not so enthusiastic about living on the edge. And every so often, a craving hits for more than just a sneaky taste of delicious, buttery cookie dough loaded with chocolate chips! When that happens, it's best to take food poisoning off the table.
If you've also wished that you could have free reign at a batch of raw cookie dough without the risks, this one's for you. Maybe you've seen tubs of edible cookie dough on the store shelves already. But I'm here to say that you can make your own at home!
This is the easiest recipe for homemade cookie dough that's 100% safe to eat raw by the spoonful. That's right: I'm giving you full permission to skip the baking. So have your spoons at the ready for some serious indulgence!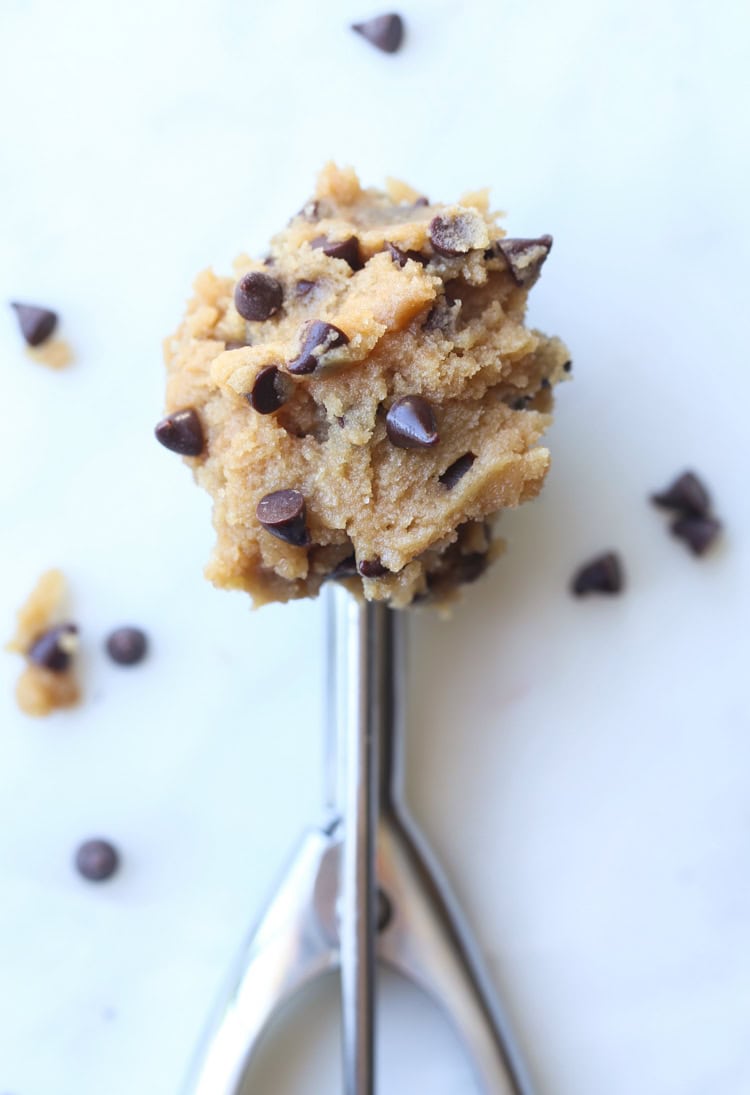 When it comes to the risks of raw cookie dough, most people believe raw eggs are the culprit. And while this is true, it's not only the eggs that are a hazard! The raw flour in many recipes also plays a role in making regular cookie dough unsafe to eat.
The Issue With Raw Flour
Flour is a raw, untreated agricultural product that according to the CDC can carry bacteria like E. Coli, which can make you sick. I, for one, am not ready to have my love of cookie dough ruined by the likes of germs – which is why it's important to treat your raw flour before using it in this recipe! More on this in the sections below.
Raw Eggs Are Also a Problem!
Ah, raw eggs. Also potentially carriers of dangerous illnesses like salmonella. According to the American Egg Board, only 1 in 20,000 eggs actually is contaminated. But IMO, it's just not worth the risk! While pasteurized eggs are an option since they've been treated for bacteria, this egg-free recipe doesn't even need 'em.
How to Heat Treat (Pasteurize Flour)
Here's the cool part: making cookie dough that's safe from bacteria is incredibly easy! It starts with treating your flour with heat to rid it of any harmful germs. The easiest way to do this is in the microwave or in the oven.
Microwave Method
This is the method I use most often. It's super simple! I've also included the steps in the recipe card below. Here's how to heat treat flour in the microwave:
Place your flour in a microwave safe bowl.
Heat the flour on high power in 20 second increments. Whisk in between to avoid clumping and uneven cooking.
Repeat this process until the flour temperature reads in at 160°F on a food thermometer.
Oven Method
The oven method is a good option if you're looking to heat treat larger amounts of flour.
Preheat the oven to 350°F and line a large baking sheet with parchment paper. Alternatively you can use a silicone mat.
Spread the flour evenly over the prepared baking sheet.
Bake the flour for 5-10 minutes in the oven, or until the temperature reaches 160°F.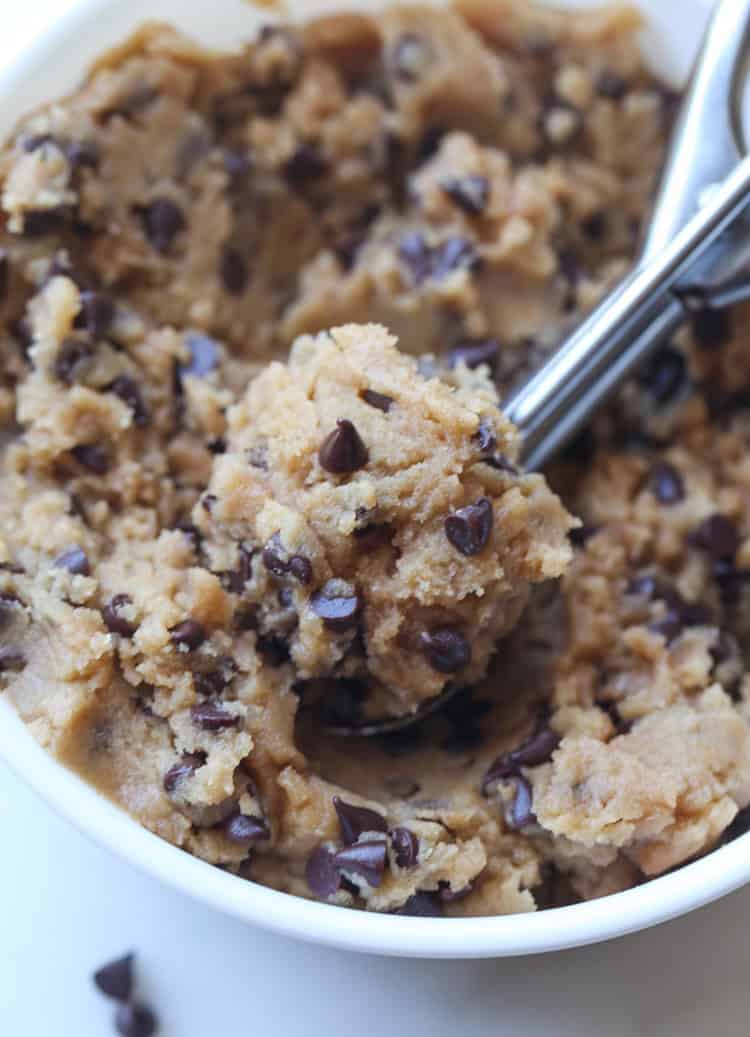 Butter: ​I always use salted butter in my cookies, in which case I don't add additional salt.
All-Purpose Flour: Properly treated to kill any bacteria. See my section above on how to heat treat raw flour so that it's safe to eat!
Sugar: Light brown sugar as well as granulated sugar. I love using a combination of the two in my regular cookie chocolate chip cookie dough recipes, so I stick to it here. If you're looking for an even deeper caramelized flavor, use 100% brown sugar instead.
Vanilla Extract: Pure vanilla extract is best when making edible cookie dough. You will taste it, and the authentic flavor makes a difference!
Milk: Milk is what binds the dry dough together in place of eggs.
Semi-Sweet Chocolate Chips: I prefer mini chocolate chips for edible cookie dough!
Once all your ingredients are at the ready, here's how to make the best edible cookie dough:
Brown the Butter: Melt the butter in a saucepan. Continue to cook, swirling the pan until the butter boils and turns an amber color. Leave the browned butter to cool for at least 20 minutes while you prep the rest of the dough ingredients.
Heat Treat the Flour: Treat your flour using one of the above methods, then leave it to cool as well.
Combine the Ingredients: Once the ingredients have cooled completely, whisk the brown and granulated sugars into the flour. Next, stir in the cooled butter and vanilla, followed by the milk. Lastly, mix in the mini chocolate chips.
Enjoy your edible cookie dough immediately or chill it in the fridge for later!
Tips for Success!
Brown the Butter: You'll notice that I include this method in this recipe. This is my "hack" to achieve the delicious caramelized flavor of baked cookies, without the baking! When heated, the milk fats in butter take on a rich, nutty quality, giving browned butter loads more flavor than butter on its own. Don't skip this step!
Make Double Chocolate Cookie Dough: Add in cocoa powder to make double chocolate chip edible cookie dough.
Add Sprinkles: Make funfetti cookie dough and add in rainbow sprinkles! To avoid too much bleeding, I recommend using jimmies.
Edible cookie dough is a no-go for baking. While great to enjoy raw, this cookie dough is lacking important ingredients it needs to bake into real cookies! Eggs, for one, and also leavening (such as baking soda or baking powder) to hold the ingredients together and help the dough rise. As a result, any attempt to bake this edible cookie dough will literally fall flat in the oven!
If you're looking for an awesome recipe for a baked version of chocolate chip cookies, check out my easy Chewy Chocolate Chip Cookies!
How to Store It
Keep your edible cookie dough stored airtight in the fridge for up to 3 days.
Yes! This cookie dough can be frozen airtight for up to 2 months. Thaw it in the fridge before serving.
Print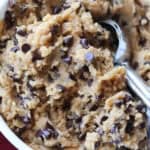 Author:

Prep Time:

25 minutes

Cook Time:

0 minutes

Total Time:

25 minutes

Yield:

serves 6

Category:

Cookies

Method:

No Bake

Cuisine:

Dessert
---
Description
An easy and homemade Edible Cookie Dough recipe that's completely safe to eat, without any worry! The perfect indulgence!
---
1/2 cup

salted butter

1 cup

all purpose flour

1/2 cup

light brown sugar

2 tablespoons

granulated sugar

1 teaspoon

vanilla extract

2 tablespoons

milk

1/2 cup

mini semi-sweet chocolate chips
---
Instructions
In a small saucepan over medium heat melt the butter. Once it's melted continue to cook the butter, swirling the pan constantly. The butter will begin to boil and foam. Continue cooking until it becomes amber in color. Remove it from the heat and allow it to cool at least 20 minutes.
While the butter is cooling place the flour in a large microwave safe bowl. Heat the flour in 30 second intervals, whisking after each, until a thermometer inserted in the flour reaches 160°F. Allow the flour to cool completely, while the butter cools.
When the butter and flour have cooled whisk in the brown sugar and granulated sugar into the flour until evenly mixed.
Using a rubber spatula or wooden spoon stir in the cooled butter and vanilla extract until combined. Add in the milk and mix to combine.
Stir in the chocolate chips.
Chill for later or eat immediately!
---
Notes
Store airtight in the refrigerator for up to 3 days
Nutrition
Serving Size:
Calories:

296

Sugar:

27 g

Sodium:

152.8 mg

Fat:

13.5 g

Carbohydrates:

42.9 g

Protein:

4.3 g

Cholesterol:

0.5 mg
Keywords: chocolate chip cookie dough, how to make edible cookie dough
Want To Save This Recipe?
Find more recipes like this: