These bars aren't necessary in your life.
Actually they are completely unnecessary.
I mean, why MAKE a candy bar, when you could just go buy one?
Annnd these aren't cheap bars to make.
Have I talked you out of them yet?
Ok, let me do damage control now.
Although they are unnecessary, they are completely, freaking NECeSSary!
Because there's chocolate chip cookies in them. And peanut butter. And Twix. And Kit Kat. ANNND Nestle Crunch bars.
So basically per every bite, you are getting at least 4 desserts.
FOUR DESSERTS IN EVERY BITE!
That has to be like a world record or something.
So you can think that you don't need them, but you really do. I mean, who doesn't want to break a world record AND eat a candy bar at the same time?
The Olympics may be over, but there are still records to be had.
I don't know how we got here, but these candy bars apparently equal Olympic Gold, so…
Icebox Candy Bars.
Make them. Unnecessarily.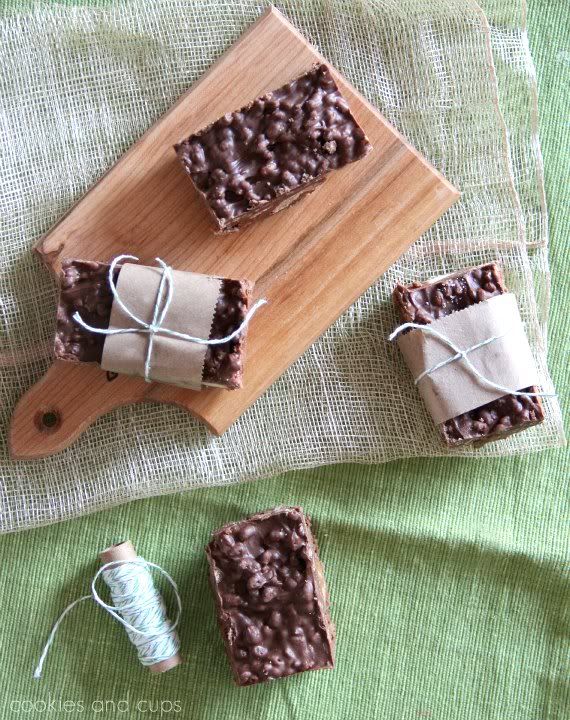 So here's what you do…
Get some chocolate chip cookies and crush them up.
I had some helpers in the kitchen with me and this was the perfect treat for little hands.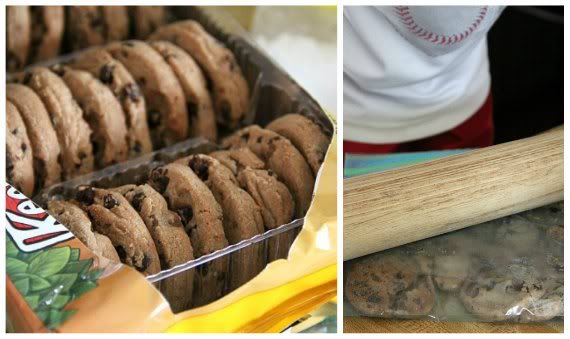 Add some powdered sugar into the crushed cookies. We gave the bag a shimmy-shake.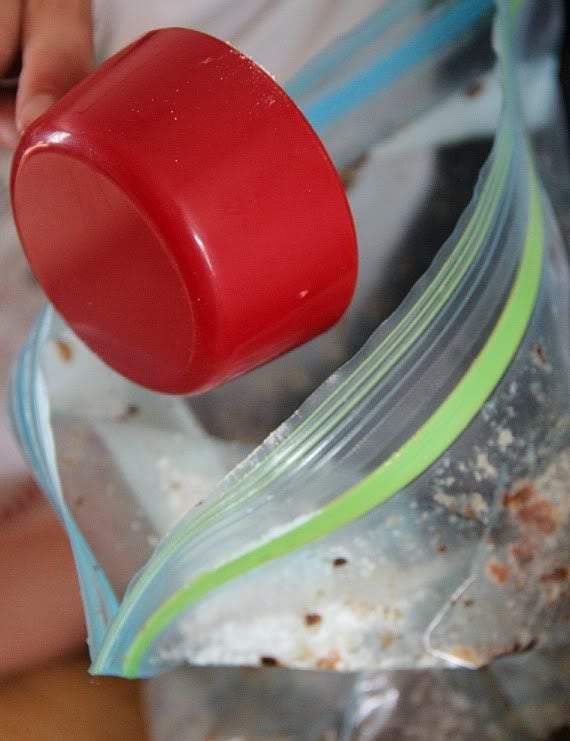 Now get your peanut butter ready and melt it in the microwave. Pour that all over your crushed cookies.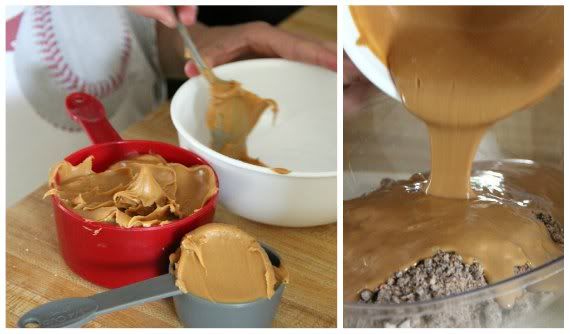 And stir.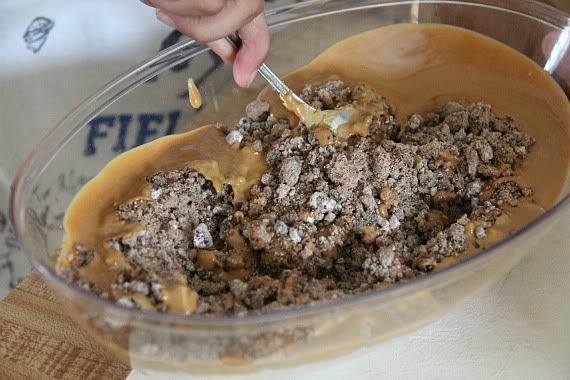 Next chop up some Twix bars. You could really use whatever candy bar you like best here…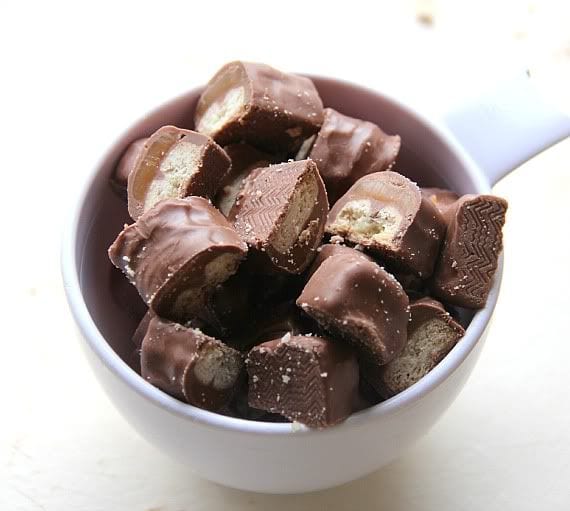 And then chop up some Kit Kat. They are nice in these bars because they give you some crunch, but honestly you could adapt away!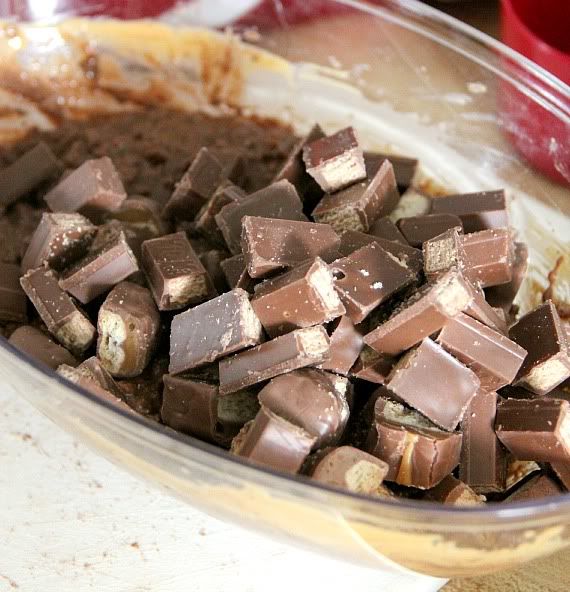 Stir all that into the peanut butter/cookie mess and pour it into a lined and greased 9×9 pan.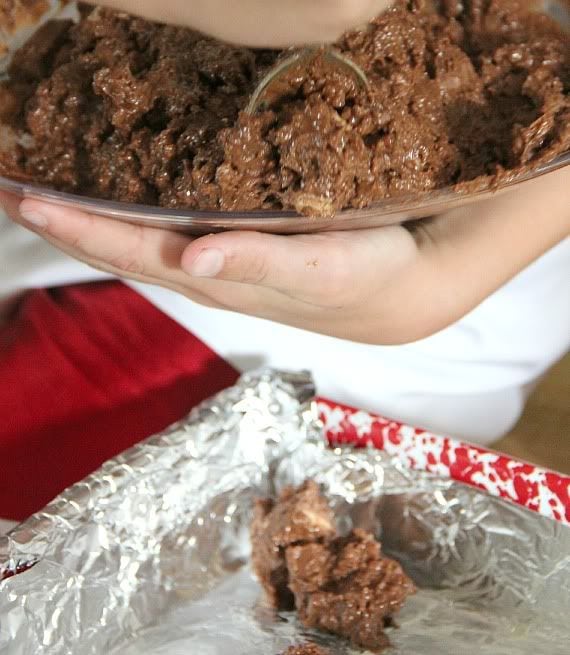 Spread it and chill it.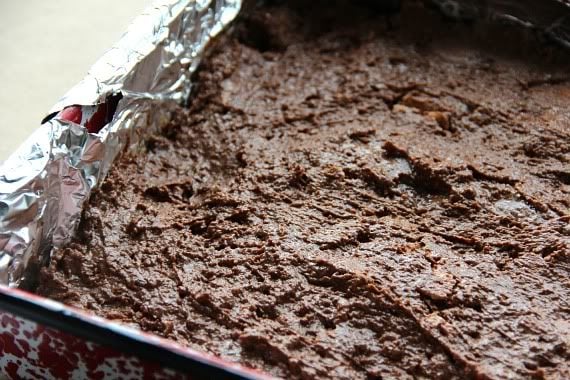 The next step is a beautiful mess.
Take a whole bag of mini Nestle Crunch bars and melt them. Yes, I know it kinda looks like poop, so you don't have to remind me of that in the comment section. I know you guys…
Then spread the melted crunch bars on top of the chilled peanut butter base.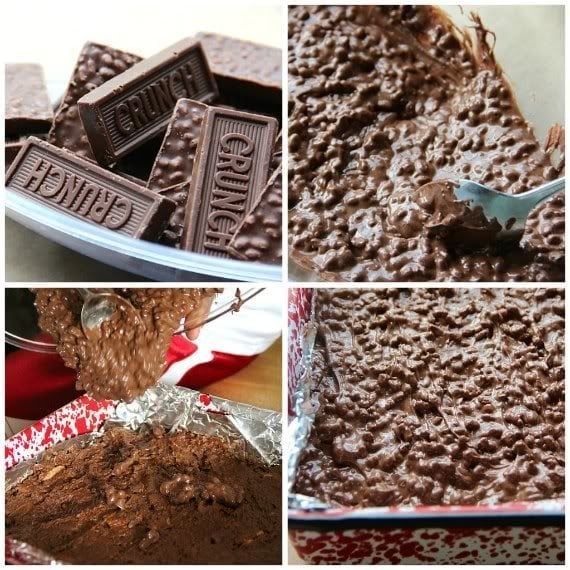 Then chill it again. For for a bit.
And that's it.
Completely unnecessary, necessary candy bars.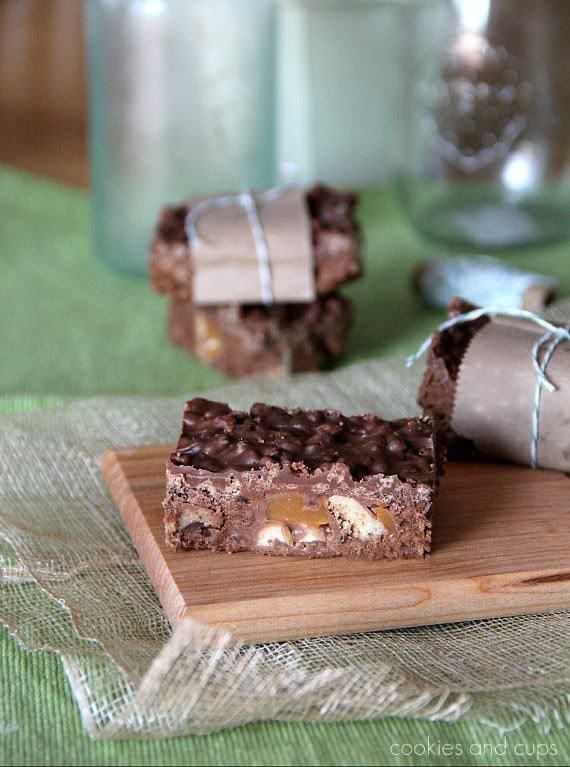 Go get your gold!
Print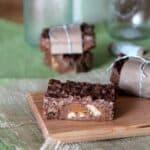 Icebox Candy Bars
---
---
3 cups

crushed crunchy chocolate chip cookies, such as Keebler or Chips Ahoy (approx

24

cookies)

1/2 cup

powdered sugar

1 1/4 cup

peanut butter

1 cup

chopped Twix bars, approx 12 mini bars

1 cup

chopped Kit Kat (3/4″ pieces) about 8 snack size packs.

1

(11.5 oz) bag of mini Nestle Crunch Bars
---
Instructions
Line a 9×9 pan with aluminum foil and grease lightly with butter
Crush your chocolate chip cookies in the food processor or in a ziplock bag until they are a fine crumb.
Mix in your powdered sugar with the cookie crumbs.
In a microwave safe bowl melt peanut butter for 1 minute. Stir.
Pour peanut butter over your cookie crumbs and stir until evenly coated.
Set aside to cool for approx 10 minutes.
Meanwhile chop your Twix and Kit Kat bars. When mixture is cooled, fold in your chopped candy bars.
Dump this mixture into your prepared pan and spread evenly. Refrigerate this until set, about 30 minutes.
When chilled, place unwrapped Nestle Crunch bars into a microwave safe bowl and heat for 30 seconds. Remove and stir. If not melted continue heating in 15 second increments until chocolate is melted.
Remove pan from fridge and pour melted Nestle Crunch bars on top, spreading evenly.
Place back in refrigerator for 20-30 more minutes until top layer is set.
Remove from fridge, and let sit for 10 minutes at room temperature before slicing into squares or bars.
---
Notes
Feel free to use other candy bars in place of the Twix.
recipe adapted from Martha Stewart
Want To Save This Recipe?
Find more recipes like this: