This Rolo Cake is decadent, delicious, and the best piece of cake that will ever enter your mouth. Made with Rolos and milk chocolate caramel frosting, this easy cake recipe should be your go-to for birthdays and more!
The Best Birthday Cake Recipe
So Friday was my birthday.
It's ok you didn't get me anything, I mean…
I really don't NEED anything, honestly.
So yeah, don't feel bad at all that you didn't get me a gift.
Really, I swear it's fine.
Ok, now I feel bad that you feel bad.
So since you insist, I really want this, and these and maybe these?
Since you're asking and all.
I totally know how embarrassing it is when you forget someone's most special day.
My boys went to the mall all by themselves and picked out a present for me. No coaching from my husband either.
Wanna know what they got me?
A cheese grater.
Sometimes I feel like no one really gets me.
And just to let you know, I had to make my own birthday cake.
Which I am almost positive is against the law.
And you know what I didn't use when I was making my cake?
My new cheese grater.
But it's all good.
Ok, eww, I just said, "it's all good". Now you hate me.
What I mean is, it all turned out ok in the end.
Because I decided to get a little jazzy with my cake. You know since I was MAKING IT MYSELF FOR MY MOST SPECIAL DAY.
I made Rolo Cake. Which is my new invention.
It a butter cake, swirled with caramel, topped with milk chocolate, caramel frosting.
Right?
And I may or may not have sprinkled some flaked sea salt all up on my slice.
You know I did.
You should too.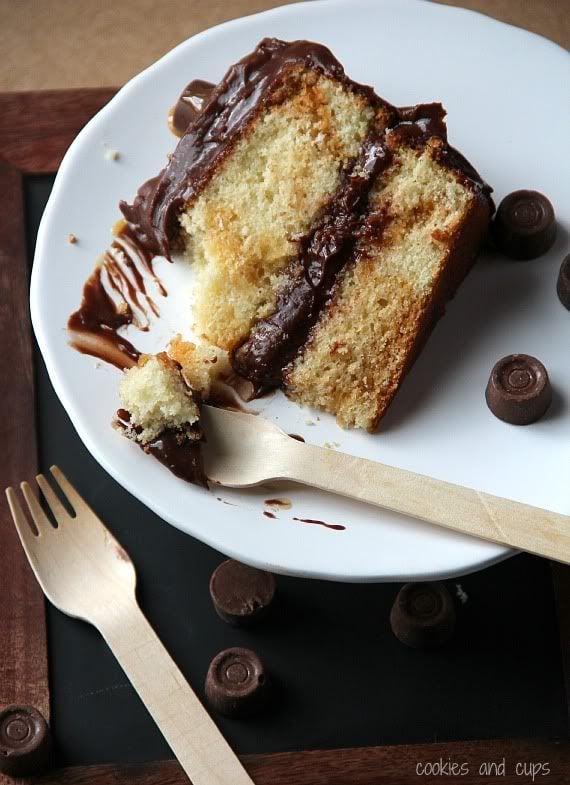 How to Make a Rolo Cake with Caramel:
So let's begin.
I used THIS recipe from my friend Amy's site, She Wears Many Hats. Do you know Amy? I love and adore her.
Annnd her yellow cake is one of my most favorites.
So yeah, I made her cake exactly like she says.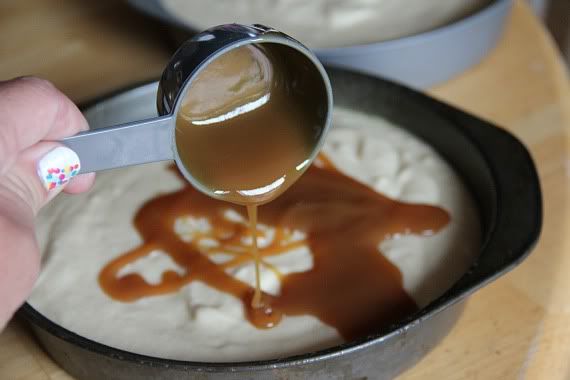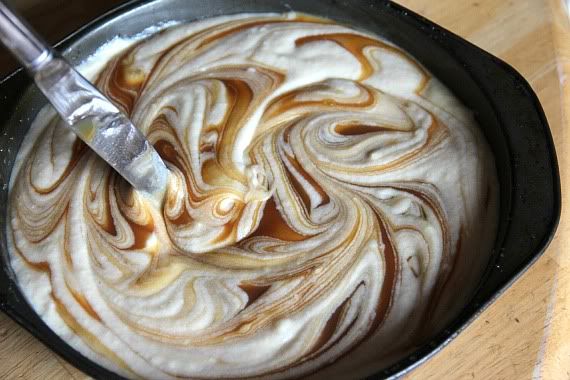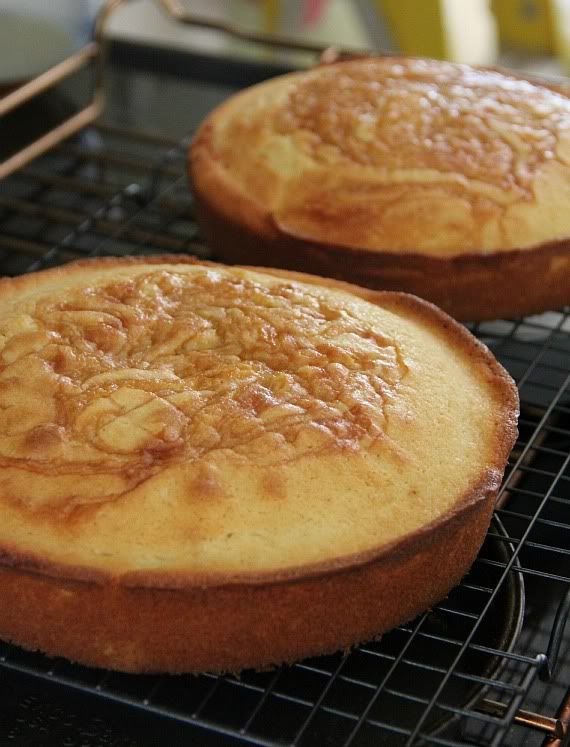 Except…right before I baked it I drizzled 1/4 cup of caramel sauce into each layer.
Then I swirled it around…
So after they were baked, they looked like this:
Homemade Milk Chocolate Caramel Frosting Recipe:
Beautifulllll.
Next, the frosting.
This is where I took matters into my own hands.
I wanted to mimic the flavors of a Rolo candy, so I decided on milk chocolate, caramel frosting. Milk Chocolate Caramel. MILK CHOCOLATE CARAMEL!
Get excited people!
Tips on Making Chocolate Caramel Frosting: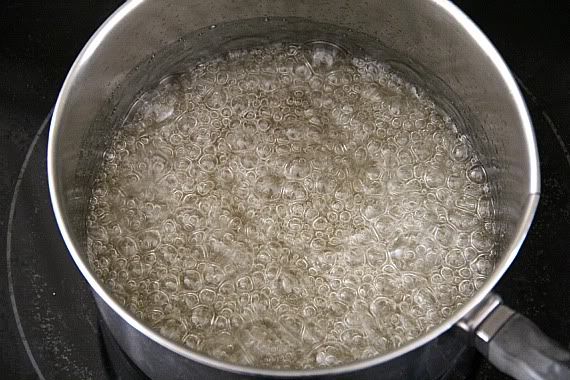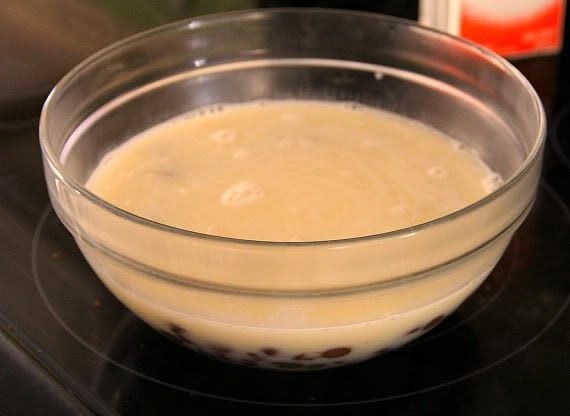 First I boiled some sugar and water together. And get this…NO CANDY THERMOMETER NECESSARY!
Praise Jesus!
I just let it boil…
Just like that for about 10 minutes. It will get a nice amber color.
Here's where it gets serious…I poured in some heavy cream and stirred that together until it was smooth.
Then pour that whole situation over a bowl of chocolate…
*note ~ the photo above is deceiving…the color of the cream and caramel mixture was darker than the picture appears. I had some weird lighting going on*
Ok, moving on…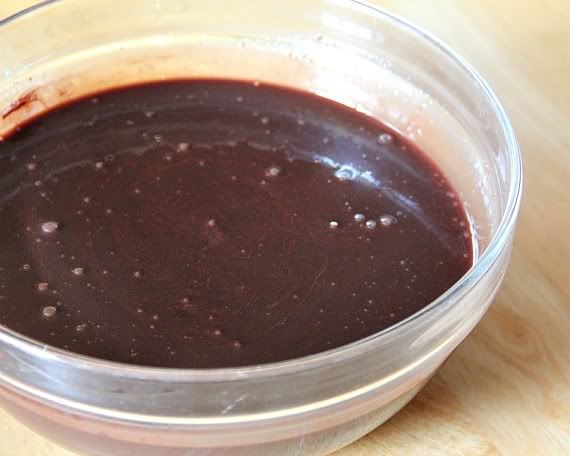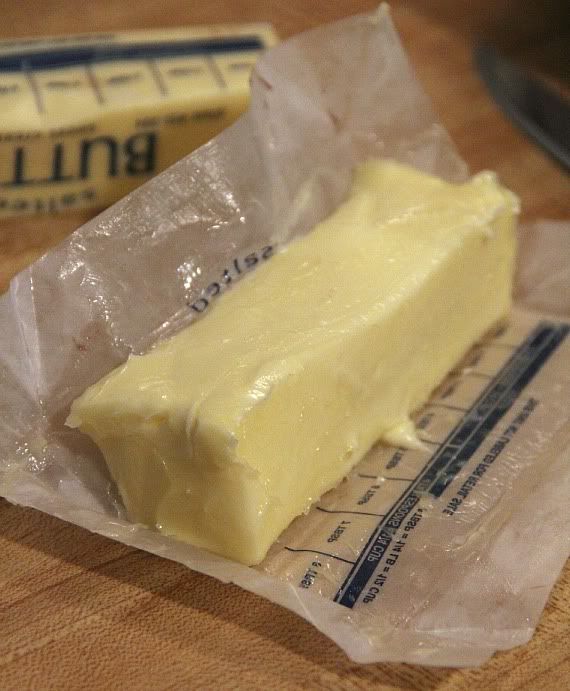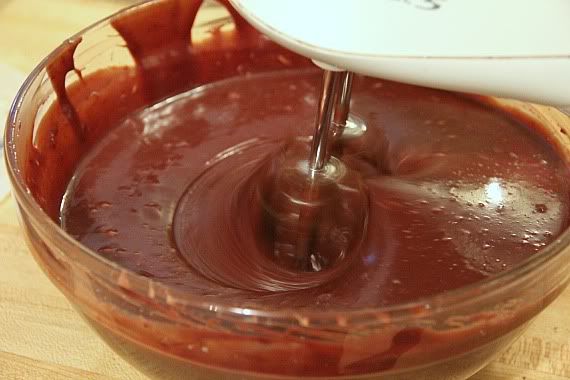 Now just stir the chocolate mixture up. The heat of the caramel will melt the chocolate and you will have a glorious bowl of this…
Sigh.
Now here's the hard part.
You have to stick that in the fridge for at least an hour, until it's cooled.
It's a long hour.
I stirred it a few times when it was in there, so it cooled evenly.
When it's finally cool, get some butter ready. Room temperature please…
And cut it into cubed pieces and mix it in the bowl of chocolate.
Sigh, sigh.
Sorry to do this to you again, but it needs to chill some more…about an hour, but I left mine overnight.
*Just let it come up to room temperature before frosting your cake!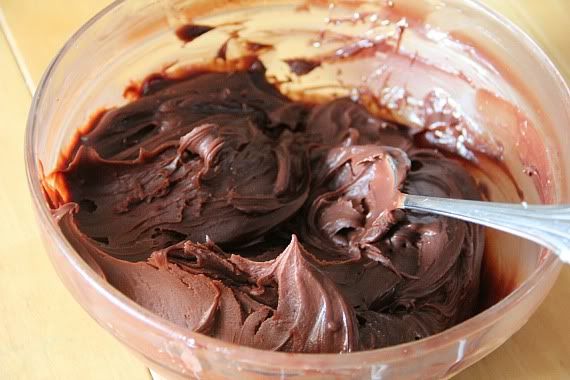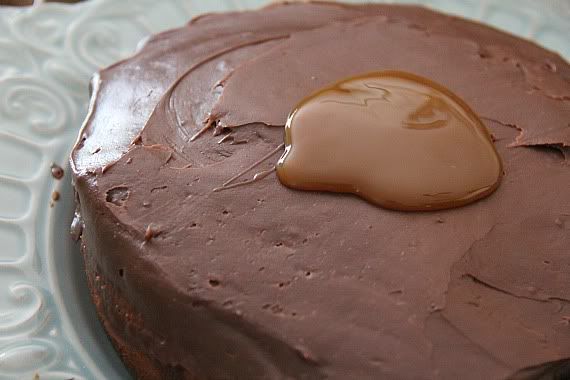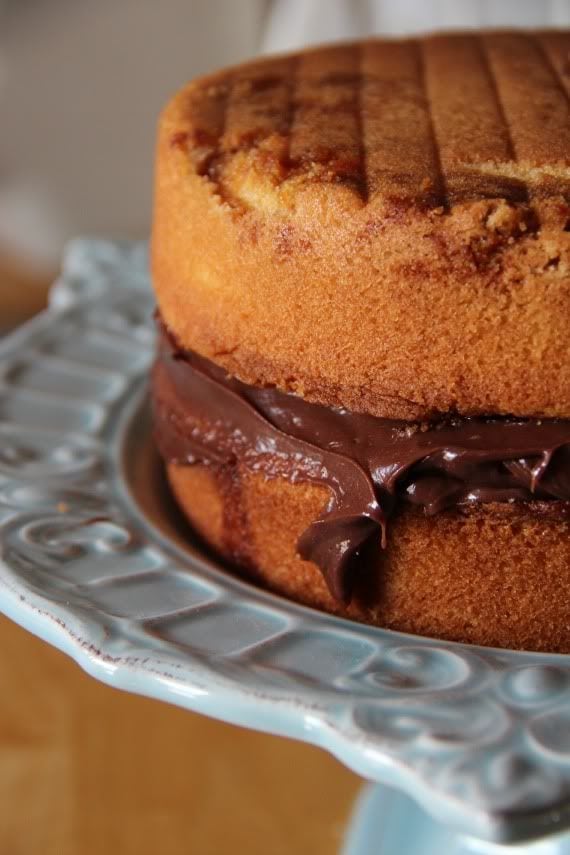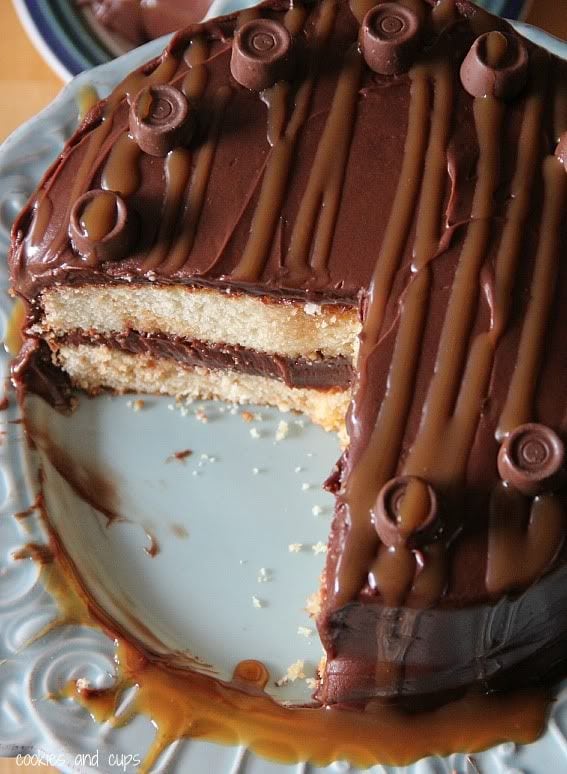 When you're ready to frost your cake, give the frosting a good stir…
I spread the bottom layer with a generous helping of frosting and spread it evenly over cake.
Then, for good measure I spread about 2 tablespoons of jarred caramel sauce over the frosting, extending it about an inch away from the edge.
I placed the other layer on and frosted the entire cake.
I garnished the cake with some Rolo candies and then, since I had a little extra caramel, I decided to give it a drizzle.
Why not, right?
Happy Birthday to me!
Cake recipe HERE with the addition of 1/2 cup caramel, divided into each layer and swirled before baking.
I also used 2 Tbsp of jarred caramel sauce in the middle of the layer cake, as per instructions above, as well as a little extra for drizzling.
Print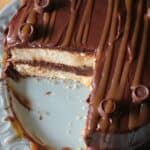 Milk Chocolate Caramel Frosting
Author:

Prep Time:

20 min

Cook Time:

15 min

Total Time:

2 hr 35 min

Yield:

Frosts a

9

" cake

1

x

Category:

Dessert

Method:

Stovetop

Cuisine:

American
---
Description
This Rolo Cake is decadent, delicious, and the best piece of cake that will ever enter your mouth. Made with Rolos and milk chocolate caramel frosting, this easy cake recipe should be your go-to for birthdays and more!
---
18 oz

milk chocolate chips (about

3 cups

)

12 oz

semi sweet chocolate chips (about

2 cups

)

1 1/2 cups

granulated sugar

1/2 cup

water

2 1/4 cups

heavy cream

1 1/2

sticks room temperature unsalted butter, cut into cubes
---
Instructions
Pour your chocolate chips into a large bowl and set aside.
In a medium sauce pan combine water and granulated sugar on medium heat. Bring to a boil and boil for 10 minutes until it turns an amber color.
When mixture reaches amber color turn heat down to medium low and slowly pour in your heavy cream. Stir continuously until it incorporated and smooth.
Pour caramel mixture over your chocolate in the bowl.
Stir until all the chocolate is melted and the mixture is smooth.
Place bowl in refrigerator for an hour, until chocolate is cooled. I stirred mine a few times within the hour, to help it cool evenly.
When chocolate is cooled, remove from fridge and mix with a hand mixer until the chocolate becomes a spreadable consistency. Don't over-mix at this point.
Add in you butter and beat until frosting is smooth. Place frosting back in refrigerator at least another hour, or overnight.
Let frosting come back to room temperature when ready to frost cake.
---
Notes
I made the frosting the night before I made the cake, since there is some chilling time necessary.
recipe adapted from epicurious
Nutrition
Serving Size:

1 slice

Calories:

532

Sugar:

47.4 g

Sodium:

37.9 mg

Fat:

36.3 g

Carbohydrates:

51.8 g

Protein:

4.3 g

Cholesterol:

67.8 mg
Keywords: rolo cake recipe, how to make a rolo cake, milk chocolate frosting recipe, caramel frosting recipe, milk chocolate caramel frosting, how to make milk chocolate caramel frosting, best birthday cake recipes, easy frosting recipe, how to make chocolate frosting, chocolate frosting recipe
Want To Save This Recipe?