These Karamel Sutra Cupcakes are inspired by the Ben & Jerry's ice cream flavor. They're super moist and decadent chocolate cupcakes with a caramel sauce filling and a chocolate buttercream caramel swirl frosting!
Chocolate and Caramel Swirl Cupcakes
Ben and Jerry's Week is still a-go.
Round one was fun with What A Cluster Bars, Cherry Garcia Cake and Phish Food Pie.
Round two, we're getting a little scandy.
Karamel Sutra? I mean, Ben. And. Jerry. I'm blushing.
Let me explain what Karamel Sutra Ice Cream is. Think chocolate and caramel ice cream with fudge chips surrounding a giant core of caramel.
Let's have a look-see…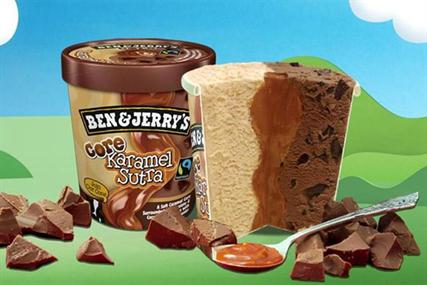 Can you even believe that is a real thing?
So when we were deciding on B&J flavors to replicate this week, there was no way I wasn't choosing the completely inappropriately named Karamel Sutra.
Here's my spin: A devil's food cake cupcake, filled with caramel sauce, topped with a chocolate buttercream & caramel frosting swirl, garnished with completely optional, but not optional at all chocolate curls. Basically the best Chocolate and Caramel Swirl Cupcake you will ever have.
It's a lot of steps for one cupcake, I understand…and certainly there are ways to cut corners…so dissect it the way you'd like, anyway you do it, you will not be disappointed.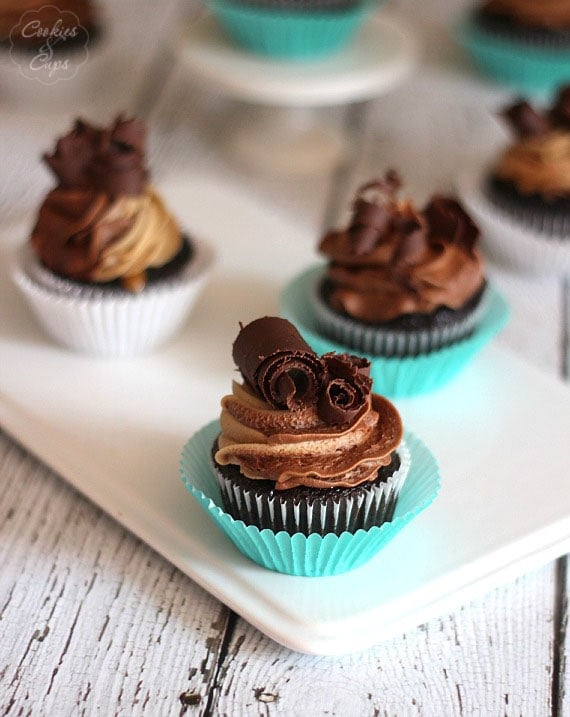 How to Make Karamel Sutra Cupcakes
I actually started by making the caramel filling and the frostings the day before. I did this because there is a bunch a cooling time needed for the caramel, and thought it would be easier.
I started by making the caramel filling. Annnd I also completely forgot to take pictures. It's pretty easy, just boiling some sugar and butter together for a bit, add some cream, stir and cook more and then cool. Got that? Sorry, the full instructions are in the recipe.
*If you're feeling like you don't want to make caramel filling, you could totally use the wrapped caramels. Rule of thumb for me is 1 pound caramels + 1/2 cup heavy cream melted together make a good consistency for caramel filling.
Next up I made the chocolate buttercream. This frosting, by the way is my new favorite chocolate frosting ever ever ever. I think I might devote an entire post to it next week.
All you do is melt some butter and chocolate chips together. Yep, that's it.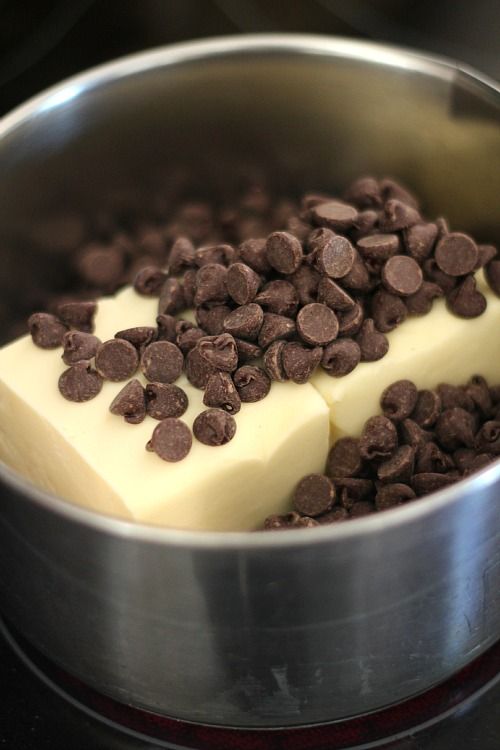 Let that cool completely. Honestly I stuck mine in the fridge and let it chill overnight until I was ready to use it.
When it is chilled it will form a solid block. Don't worry. Just use a hand mixer, or stand mixer and beat it up. It will magically become the softest, fluffiest chocolate frosting ever.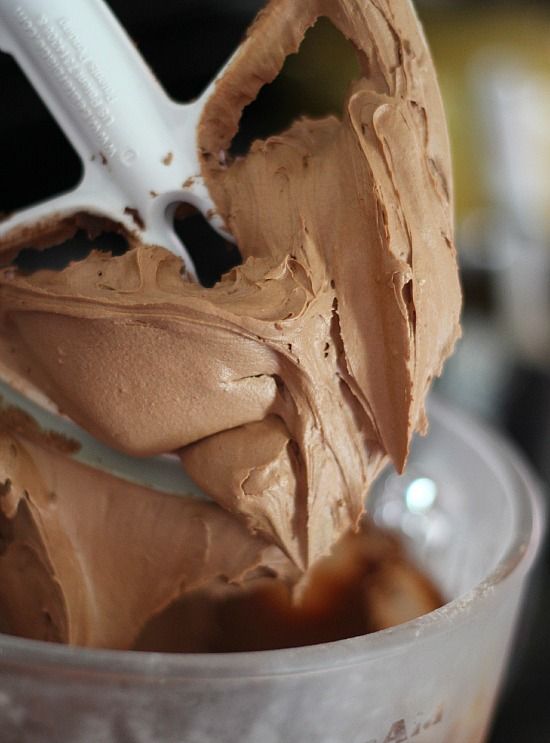 I also made the caramel frosting the day ahead, but that's, again, because it will need to cool at least an hour before you are able to add the powdered sugar.
And also because I have been all plan-aheady lately. I don't know what's wrong with me.
Just melt your butter and sugar together, add milk, boil some more…let it cool…add powdered sugar and that's it!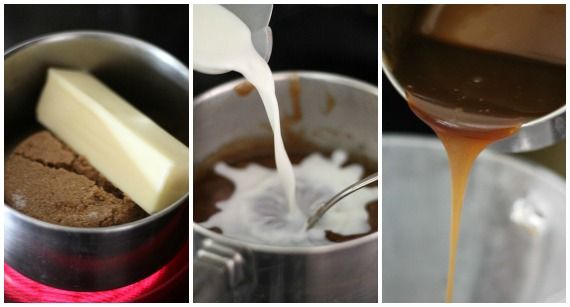 Finally when you're ready to bake, make your super simple devil's food cake cupcakes.
And by super simple, I mean literally add all your ingredients in a bowl and then mix. No creaming, no gradually adding, no alternate dry and wet.. just add and mix. The end.
Your batter will be runny, but it's ok.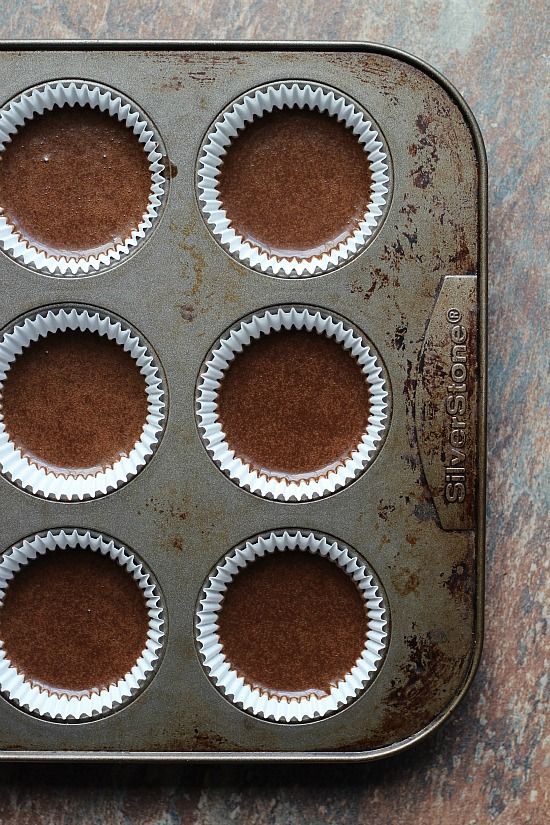 When they are baked and cooled hollow a little bit out and fill them with the caramel sauce you made earlier…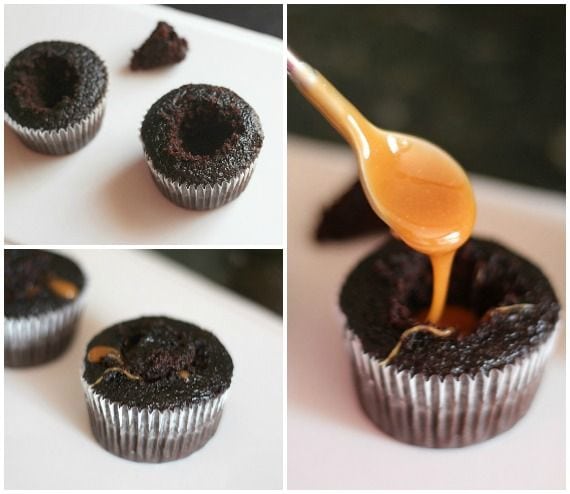 Then fill your piping bag with frosting. I filled my piping bag with chocolate frosting on one side and caramel on the other…and squeezed a bit out until they swirled together.
There you go.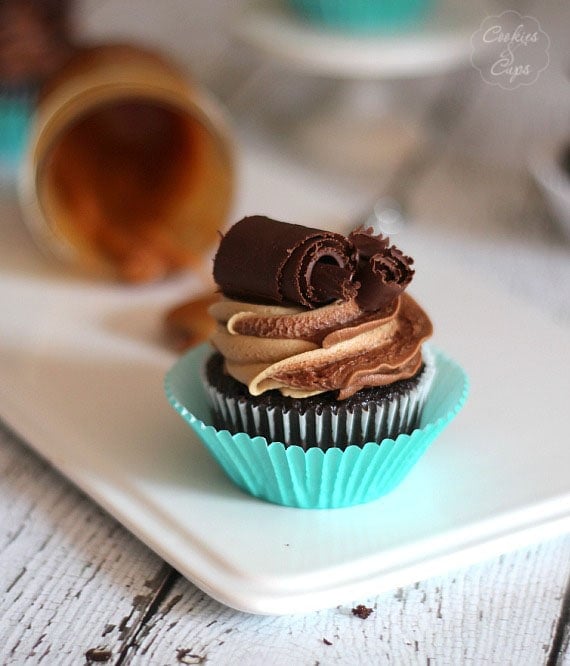 And in case you were wondering what it's guts looked like…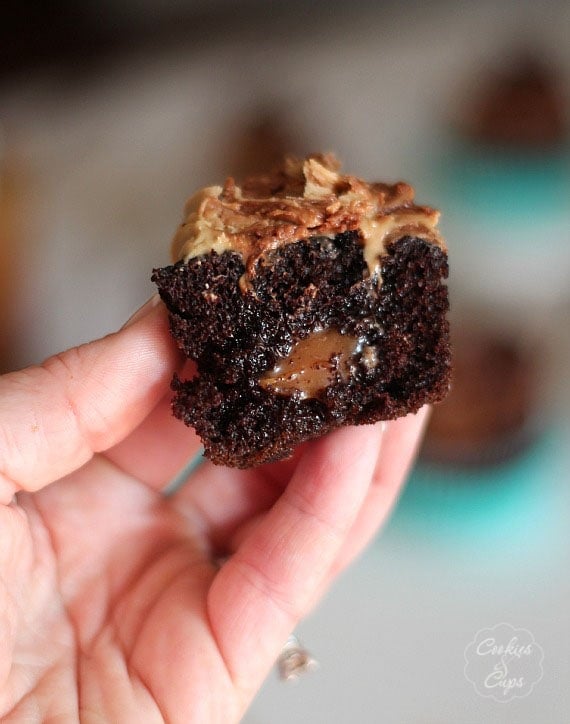 Now, let's talk about some more Ben and Jerry's, ok?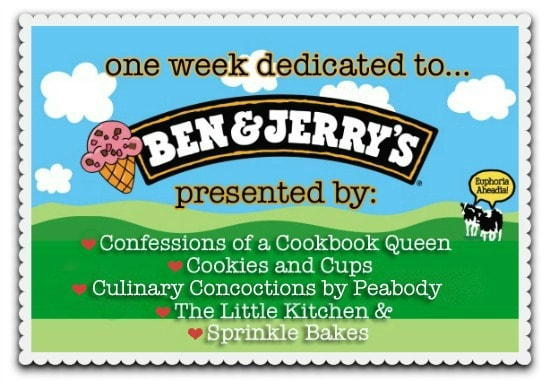 Kristan is doing some crazzzzy Everything But the…Brownies. Yes, sir.
Julie is making magic with Americone Dream
And Peabody is also doing Everything But the… but in a totally different way.
Hop over and say hi to each of these girls, they are fan-freaking-tastic!
Print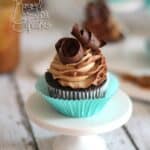 Karamel Sutra Cupcakes
Author:

Prep Time:

40 minutes

Cook Time:

2 hours 20 minutes

Total Time:

3 hours

Yield:

15

cupcakes

1

x

Category:

Dessert

Method:

Oven

Cuisine:

American
---
Description
These Karamel Sutra Cupcakes are inspired by the Ben & Jerry's ice cream flavor. They're super moist and decadent chocolate cupcakes with a caramel sauce filling and a chocolate buttercream caramel swirl frosting!
---
Caramel Filling
1 cup

butter

2 cups

granulated sugar

2 Tbsp

light corn syrup

1 cup

whipping cream
Chocolate Frosting
Caramel Frosting
1/2 cup

butter

1 cup

dark brown sugar

1/4 cup

milk

3 cups

powdered sugar

1 tsp

vanilla
Devils Food Cake Cupcakes
1 cup

cake flour

1/2 tsp

salt

1/2 tsp

baking soda

1 tsp

baking powder

1/2 cup

cocoa powder

1 cup

granulated sugar

1/2 cup

vegetable oil

1/2 cup

brewed coffee

1/2 cup

buttermilk

1

egg

1 tsp

vanilla
Chocolate curls (Optional)
1/2 cup

semi sweet chocolate chips

1 tsp

vegetable shortening
---
Instructions
Caramel Filling
Melt butter in heavy saucepan over medium low. Add sugar and corn syrup and cook 6-8 minutes until mixture is a deep caramel color, stirring constantly. Add cream slowly while stirring and cook 2 minutes more until smooth. Remove from heat and allow to cool completely (about 2 hours).
Chocolate Frosting
In a large saucepan melt butter and chocolate chips together until smooth. Allow to cool completely. (I let mine sit in the fridge overnight) It will become solid. With hand mixer beat the solid chocolate until it becomes light and fluffy.
Caramel Frosting
In medium saucepan melt butter and sugar together. Bring to a boil and then add milk, stirring until smooth. Allow mixture to come back to a rolling boil and boil for 2 minutes. Remove from heat and allow to cool. When caramel is cool beat in powdered sugar and vanilla.
Cupcakes
Preheat oven to 325°
Put all ingredients into stand mixer and beat for 3 minutes.
Fill cupcake liners 1/2 way full and bake for 20 minutes until the centers spring back.
Allow to cool completely.
Assemble cupcakes:
Cut out small portion of center of the cupcake with a paring knife. Fill cupcake with approximately 1 Tablespoon of caramel. Place cored piece of cupcake back on top.
Fill a piping bag with frosting fitted with a large tip. Spread caramel frosting on one side of the bag and chocolate on the other, so when you frost the cupcakes, the frostings will swirl together.
Chocolate curls
Melt chocolate chips and shortening on a small saucepan over low heat. Once melted, spread chocolate thinly on a baking sheet. Freeze chocolate for 5-10 minutes until set and using a sharp spatula push the chocolate slowly along the edges to form the curls.
Garnish cupcakes with curls.
---
Notes
The chocolate curls are totally optional. You could also garnish with mini chocolate chips.
Keywords: salted caramel cupcakes, chocolate cupcakes, chocolate cupcakes recipe, chocolate cupcakes from scratch, caramel cake, caramel cake recipe, chocolate caramel cake
Want To Save This Recipe?
Helpful Tip… Out of buttermilk?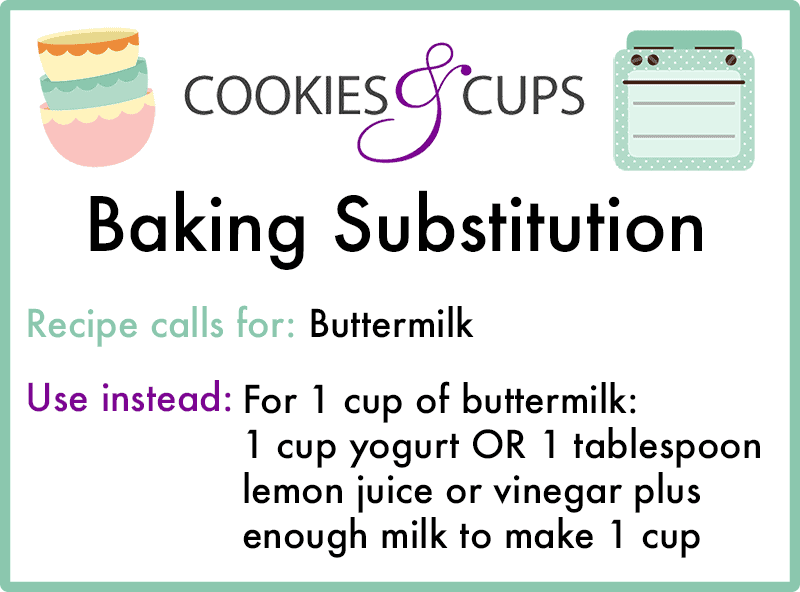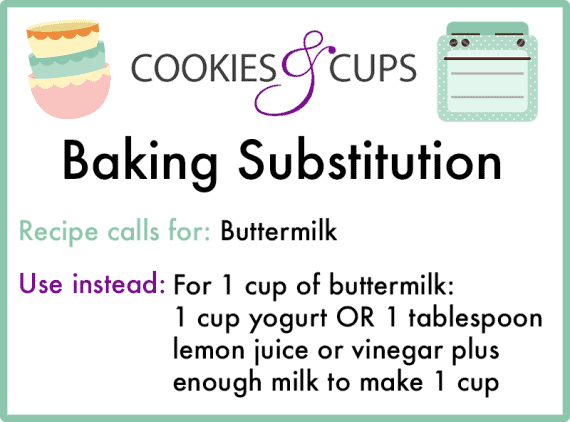 Save