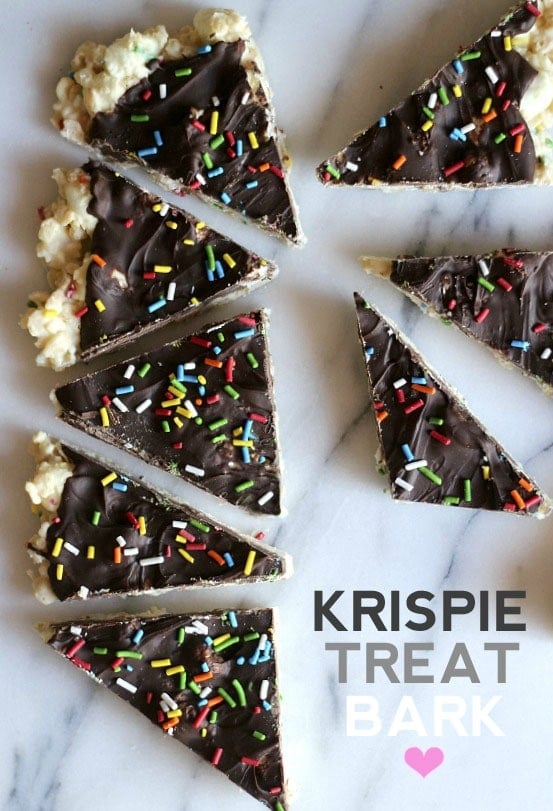 This past week I went and got my taxes done. Which is one of those adult things you have to do that scares the bajeezus out of me.
Trying to explain blogging as a job is like, pretty hard you guys.
He's all, "You own a bakery?"
No sir.
"You bake cakes for people?"
Well, not exactly.
"Do you deliver?"
Umm, no.
"So, you bake things for invisible internet people to enjoy?"
Yes, that's kind of it.
"And you get paid for this?"
Well, yes, that's the idea.
Hmmm…
So while I felt super adult getting my taxes done, I also felt like a total noob for calling myself a "blogger" and expecting him to take me for a serious adult person.
I mean, having a job where I get to make things like Krispie Treat Bark for a living and then expecting all you internet people to leave me comments here telling me what a great person I am, and how great it looks, and how smart I am…I suppose it's slightly self indulgent.
But really I do it for you guys. And your bellies.
So I should change my title from blogger to "Completely-selfless-dessert-idea-person".
I don't think my accountant would find that confusing at all.
Ok. back to the bark.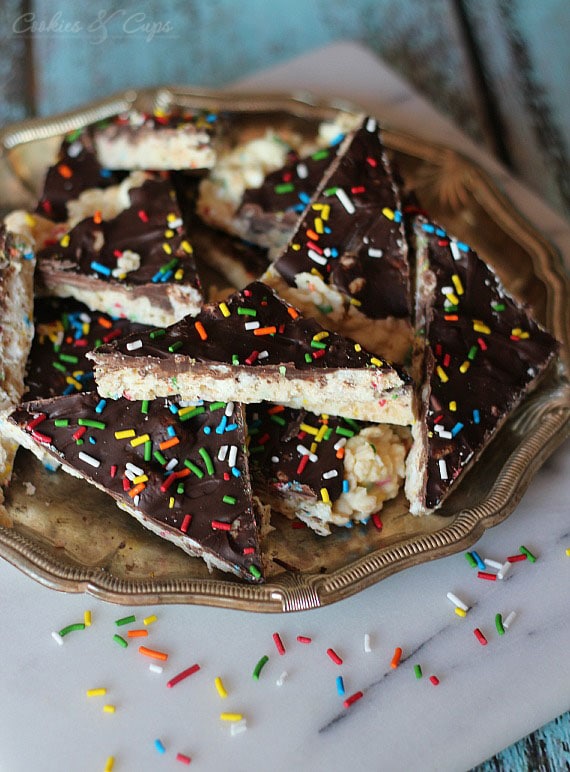 First let me point out that the idea and basic recipe came from one of very favorite people, Bridget.
She made this Conversation Heart Bark a few years back and I have had it stored away in my brain files for a while now.
I took her recipe and switched up just a few things…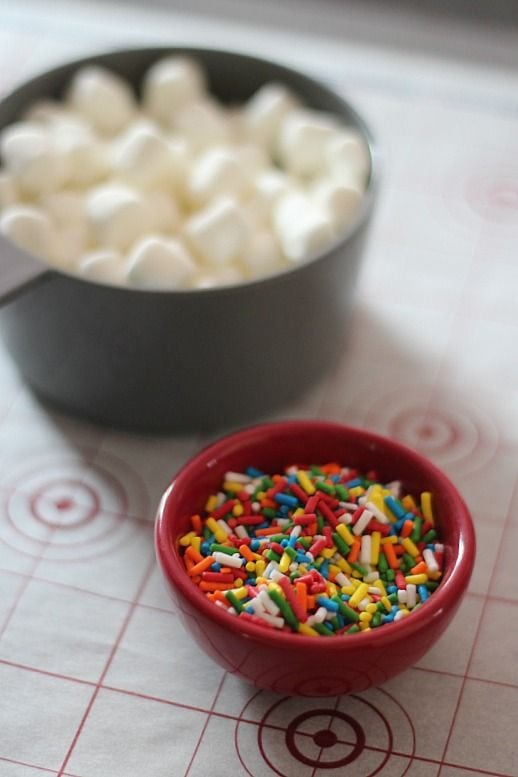 Let's discuss.
You really only need a few things for this…Rice Krispie cereal, white chocolate, mini marshmallows, sprinkles and semi-sweet chocolate…oh yeah, and more sprinkles.
First melt your white chocolate over a double boiler and then mix in your Krispies. Once those are mixed in add in your marshmallows…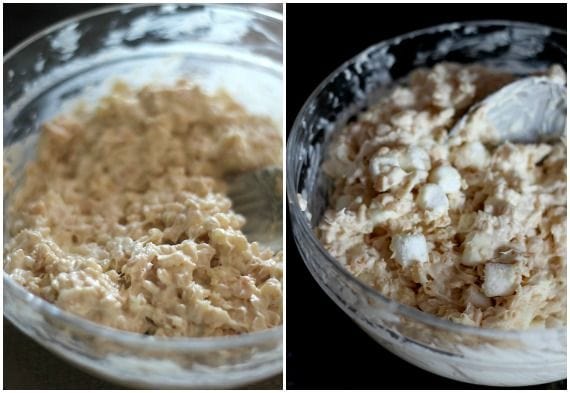 Then finally your sprinkles…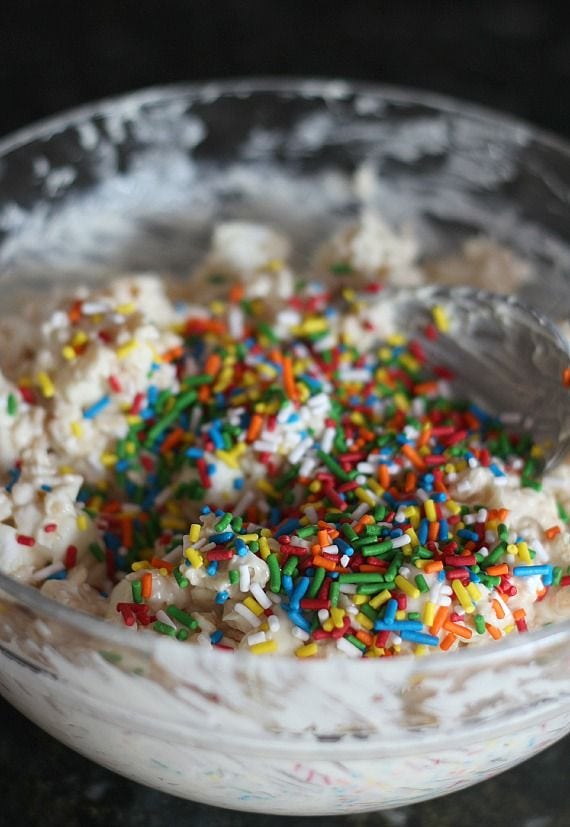 Spread that whole concoction out onto a parchment lined baking sheet…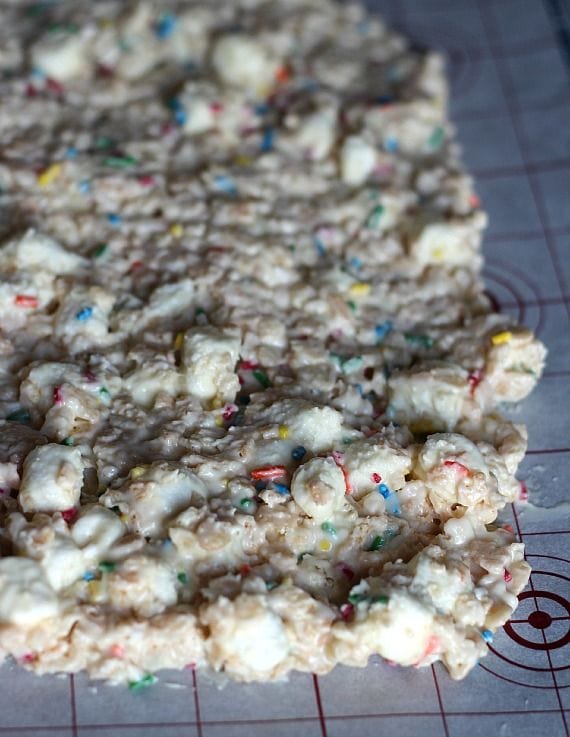 Chill it for a bit to set it up and then melt some chocolate chips and spread that bidness all up on there…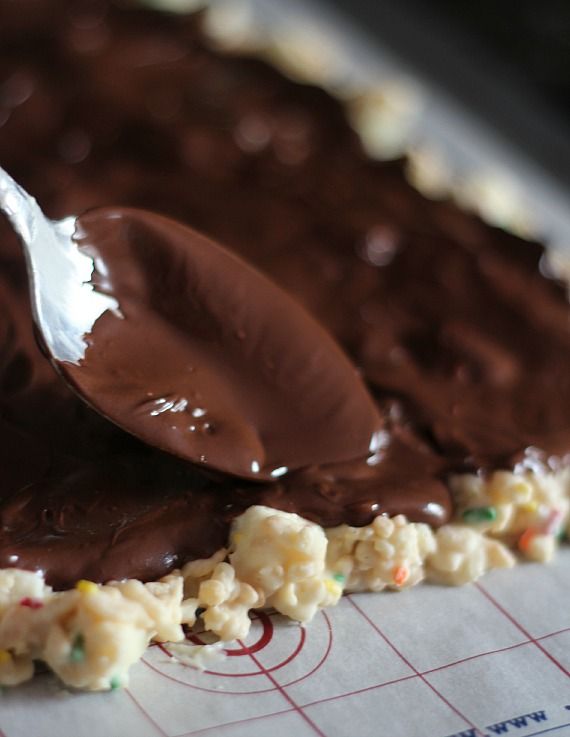 And of course, more sprinkles…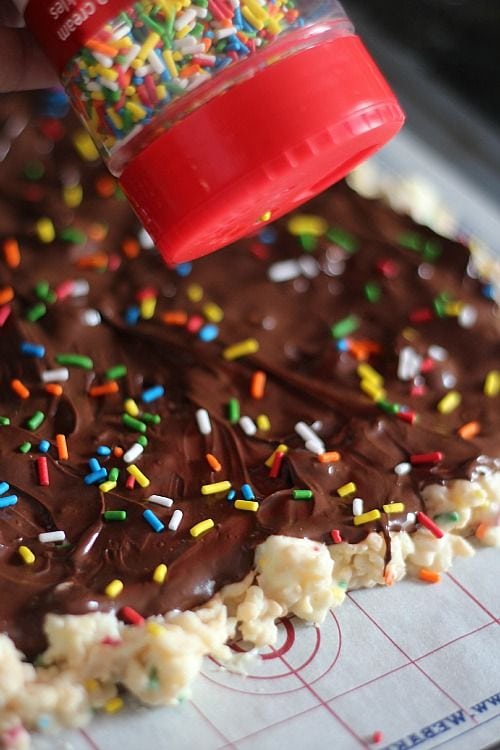 Pretty, yes?
Chill that pan of jolly for a little bit so the chocolate sets up and then cut it into pieces.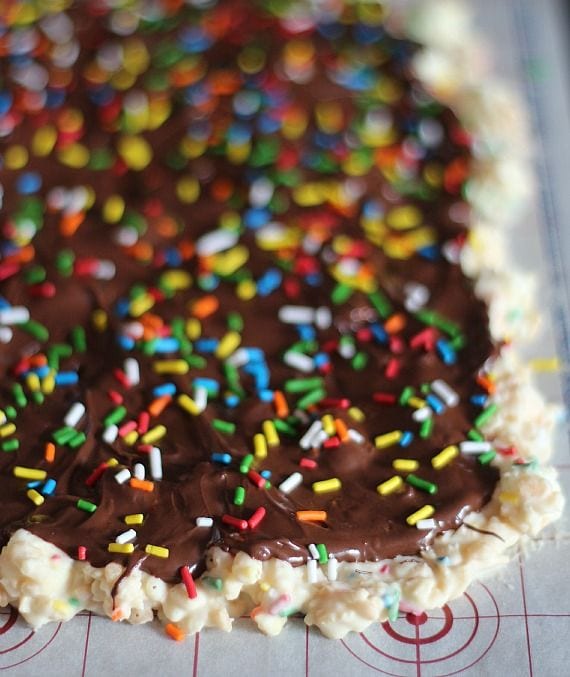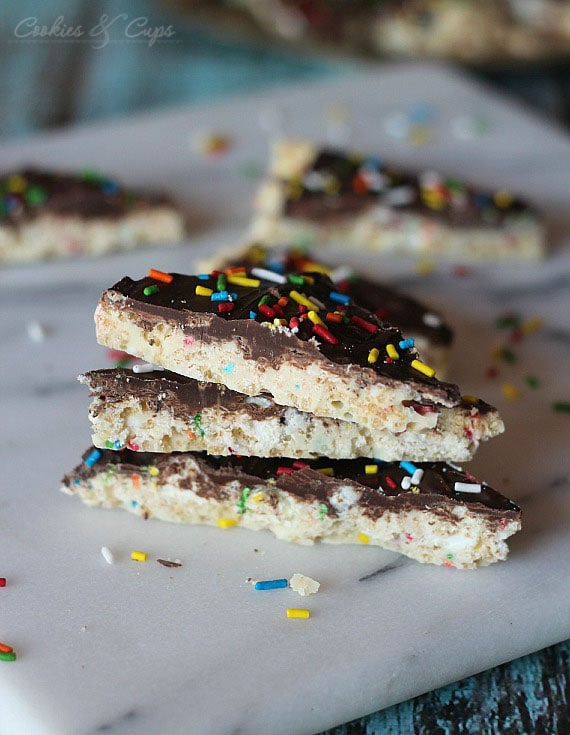 Isn't it something?
Enjoy internet friends!
Print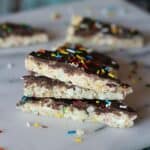 Krispie Treat Bark
---
3 cups

white chocolate chips

2 cups

Rice Krispie Cereal

1 1/2 cups

mini marshmallows

1/4 cup

sprinkles, plus more for garnish

2 cups

semi-sweet chocolate chips
---
Instructions
Line a baking sheet with parchment paper, set aside
Over a double boiler, melt white chocolate until just melted. Remove from heat.
Stir in Rice Krispie Cereal until coated completely.
Stir in mini marshmallows and then 1/4 cup sprinkles.
Spread immediately onto lined baking sheet, about 1/4″ – 1/2″ thick
Place in refrigerator for about 10 minutes to set white chocolate.
Melt semisweet chips over double boiler.
Spread the melted chocolate over the white chocolate layer and sprinkle immediately with extra sprinkles to decorate.
Place back in fridge until chocolate is set.
Cut into pieces.
---
Notes
recipe adapted from Bake at 350
Store airtight for up to 5 days
Want To Save This Recipe?
Find more recipes like this: