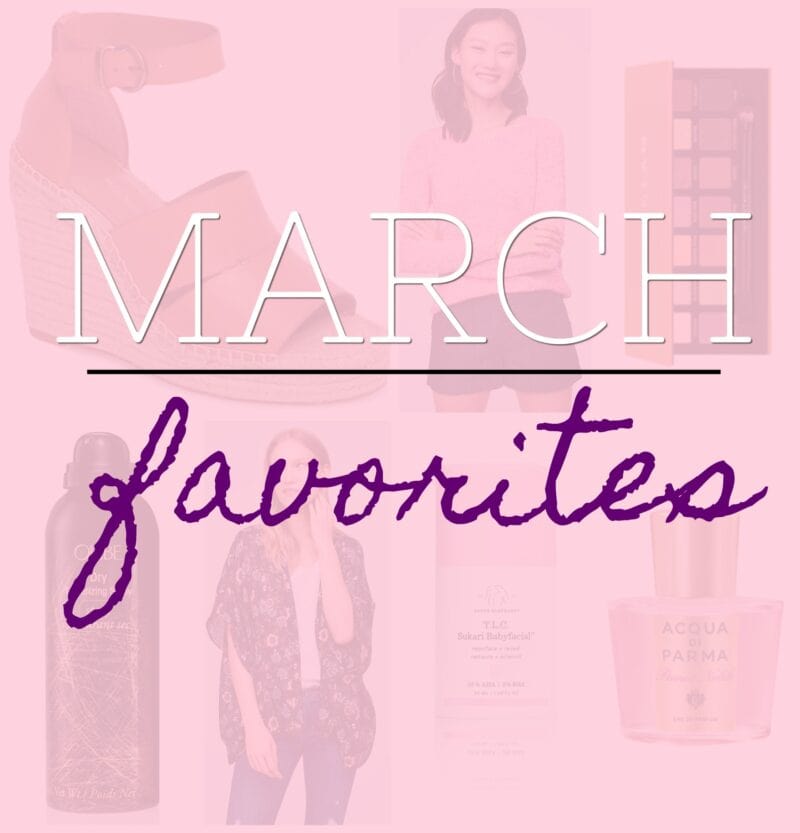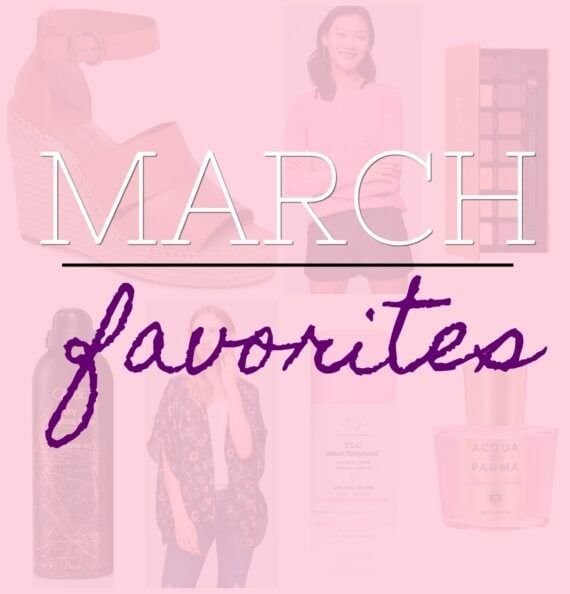 I've put together a list of everything I was loving in March that (mostly) didn't have to do with food! If you follow me on my Instagram stories, or subscribe to my newsletter, you know that I am a shopper, a make up junkie, and the girl always on the search for the perfect pair of jeans (even when I think I've found them).
Let's talk about some fun girlie stuff.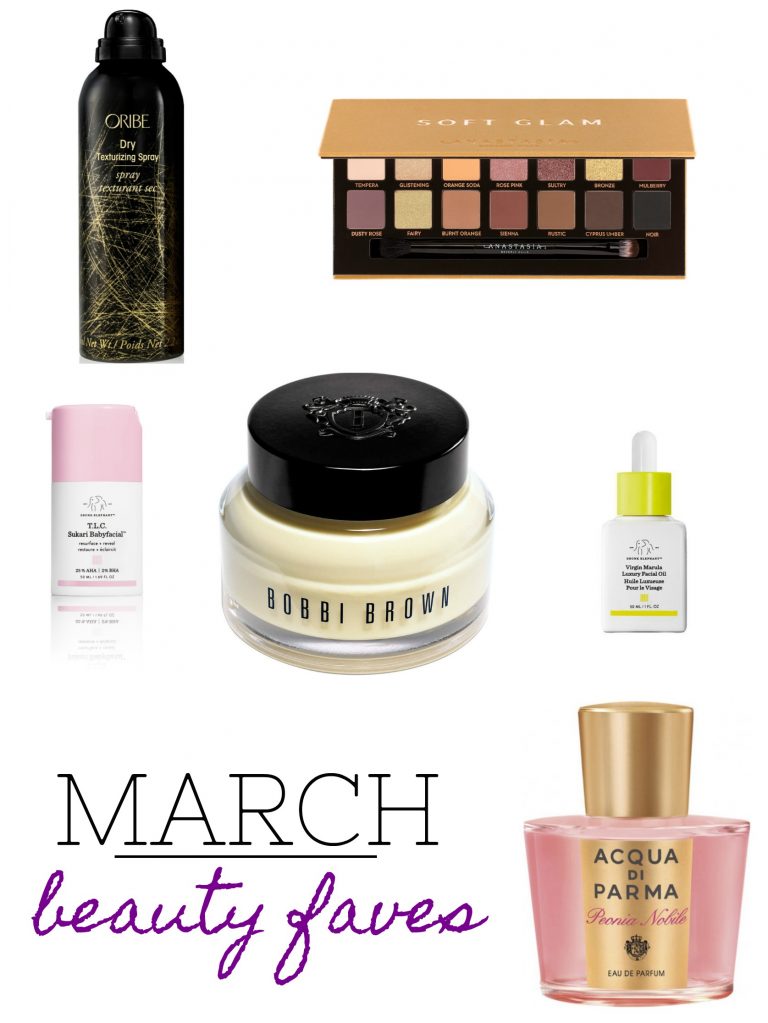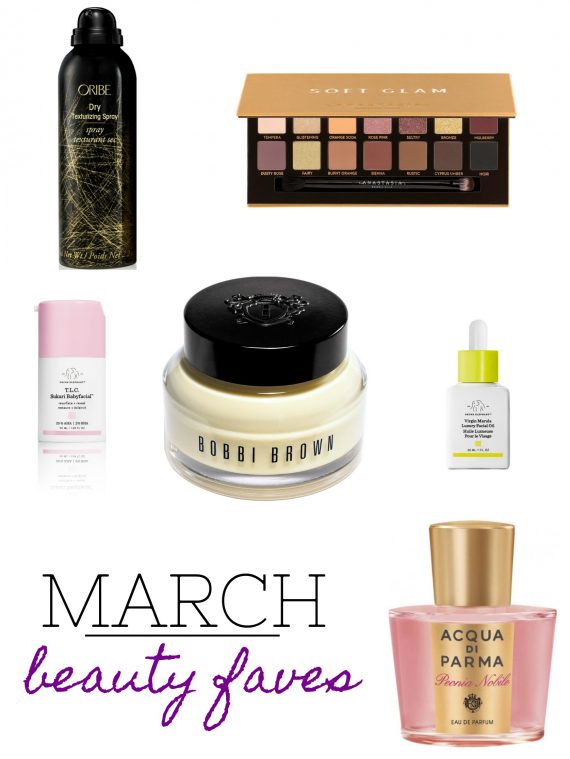 Dry Texturizing Spray / Soft Glam Palette / T.L.C Sukari Babyfacial / Bobbi Brown Vitamin Enriched Face Base / Marula Oil / Aqua Di Parma Peonia Nobile
I didn't buy a TON of new beauty stuff this month, but I did get a few things, that I wanted to share! I am really still loving the Primer Oil/Lancome foundation combo that I talked about in my January faves. I swear primer oil has been a game changer for me this winter. It provides the perfect base for my long-wearing foundations, and doesn't leave my (dry) skin looking even drier.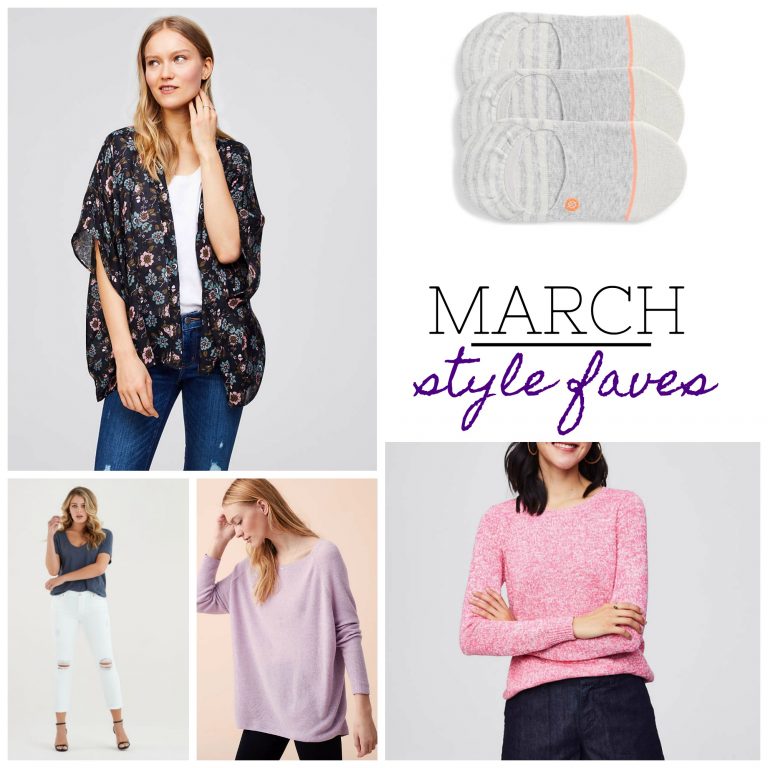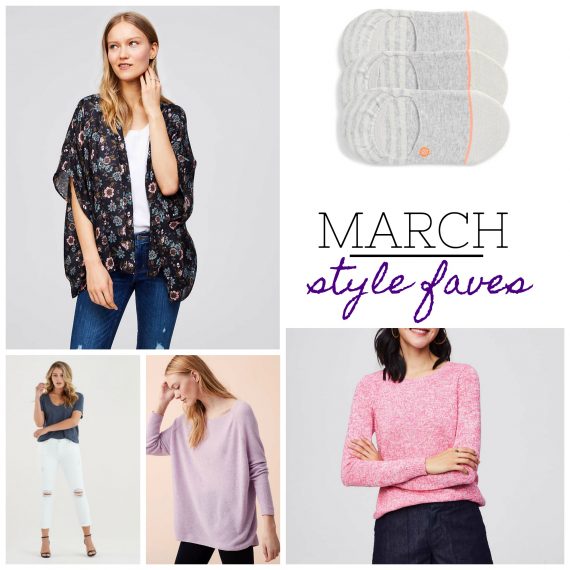 Floral Kimono / No Show Socks / Best White Jeans / Dolman Sleeve Sweater / Pink Heathered Sweater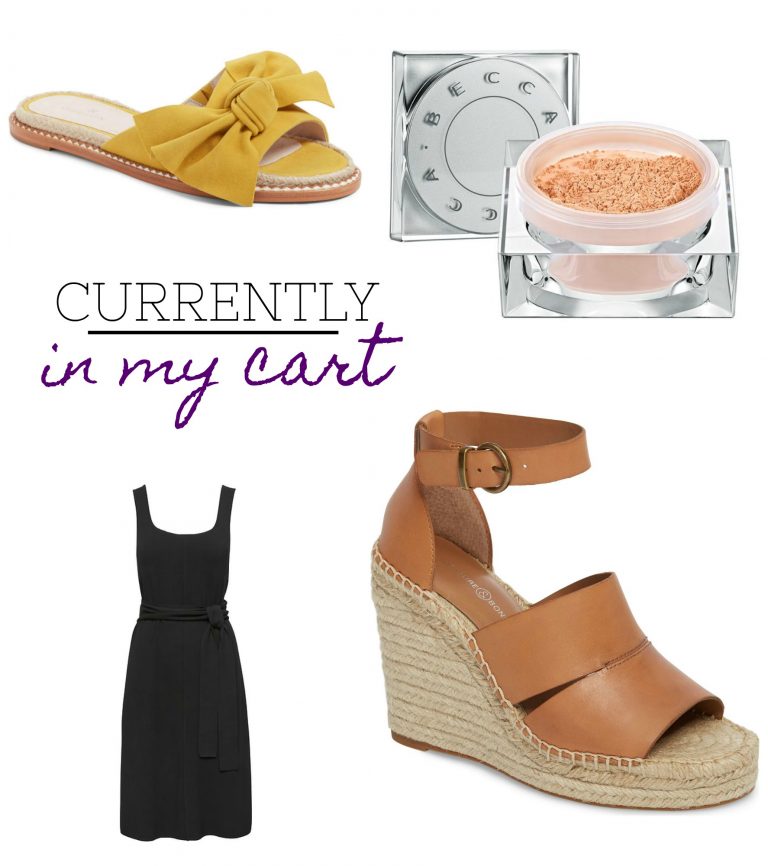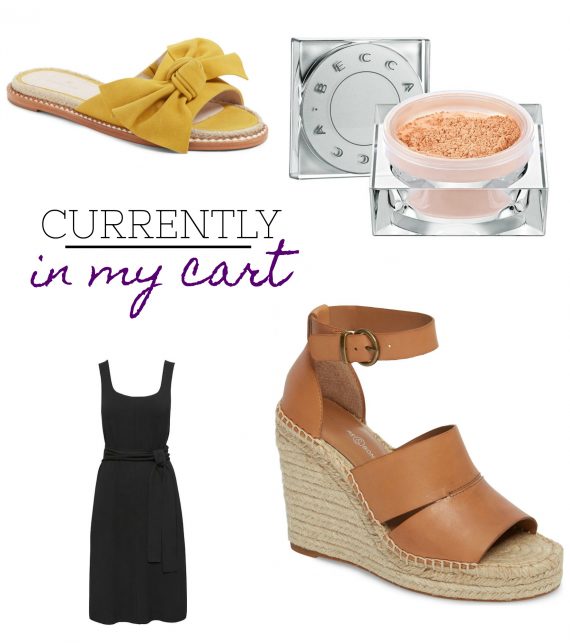 Yellow Bow Sandals / Becca Hydramist Powder / Black Midi Dress / Wedge Espadrille Sandal
I know you do it too…load your online shopping cart with all the things…sometimes you need to sit on things a minute before you pull the trigger. It's a technique that saves me loads of money 😉 Most of the time I come back to things and realize I don't want them anymore, but then sometimes I wait a few days and decide I need them in my life. Here are 4 things I am close to pulling the trigger on. Let me know what you think…do I NEED them?
And some totally random things I am loving…
THIS Mac and Cheese recipe is why I'll never be able to quit carbs!
I ordered a new notepad last week and I love it! I'm not a "planner" girl, being more of a phone calendar girl, but I do love a notebook to jot lists, ideas, recipes, etc. Plus, if you can personalize something, I'm into it.
Kinda really loving these "Smart Cakes". I have been trying to make healthier choices lately, still trying to get the holiday pounds off. I've been doing pretty well. I mean, I'm not on any huge crazy diet…I make too make delicious treats to cut all that out. But I have been really liking Smart Cakes…I mean, they're not an Otis Spunkmeyer muffin, but they're a decent substitute when you want a sweet treat, but don't want to blow all your calories/carbs in one place. Each muffin is like 38 calories, which is bananas!
Anyway, that's all for March…bring on April and warmer temperatures! I'd love to know what YOU'RE loving this month!!!
xo
**Nothing in this post is sponsored, and I purchased everything with my own money. There are some affiliate links included via reward style and amazon, and the very small commission I make on items purchased help fuel my online shopping addiction, in hopes to bring you more favorites!