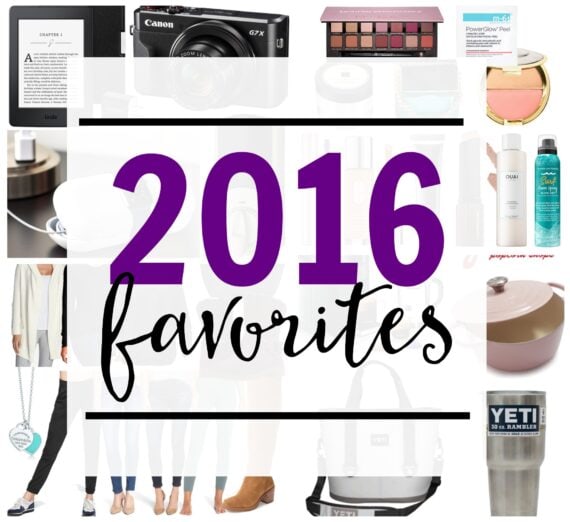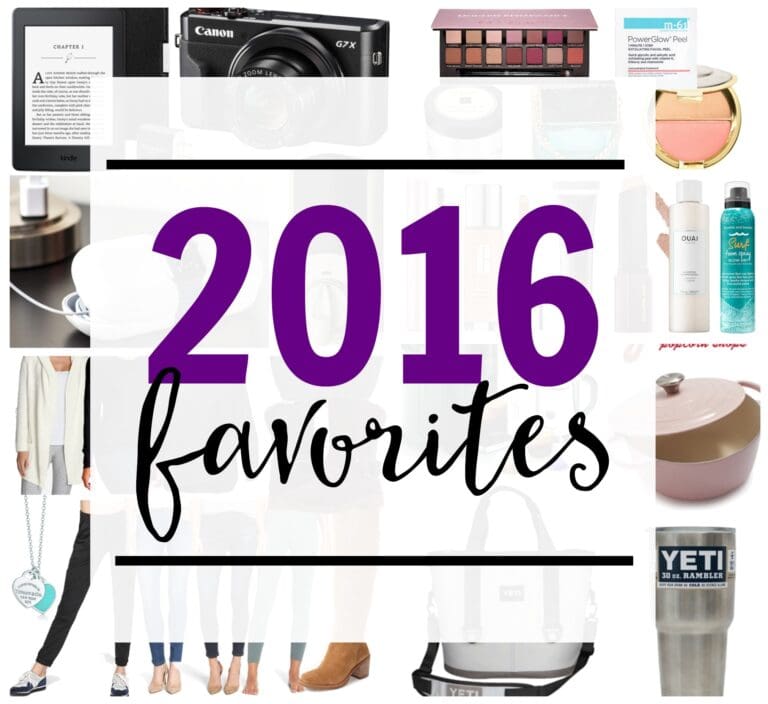 Oh yes, I'm a little late. I mean who does a gift guide AFTER Christmas? Makes no sense. But alas, here we are. I, of course, meant to post this early December, but then I got busy/lazy and didn't. BUT I've decided it's worked out better, because I got a few things for Christmas that I HAD to include on the list…
Plus, everything is on sale now…so I'm really doing you a favor. And don't we all have gift cards to use? Let's have a look at things that I have loved in 2016 and will continue to use and love in 2017!
I do want to mention that NONE of this is sponsored. These are all things I love and have purchased with my own dollars. Some of the links (amazon) are affiliate links, but that's the extent of it.
Of course I will start with some of my favorite foodie stuff. I am not going to include the obvious items like my mixer or my Instant Pot because I've talked about them a million time over…I really am trying to include all new items!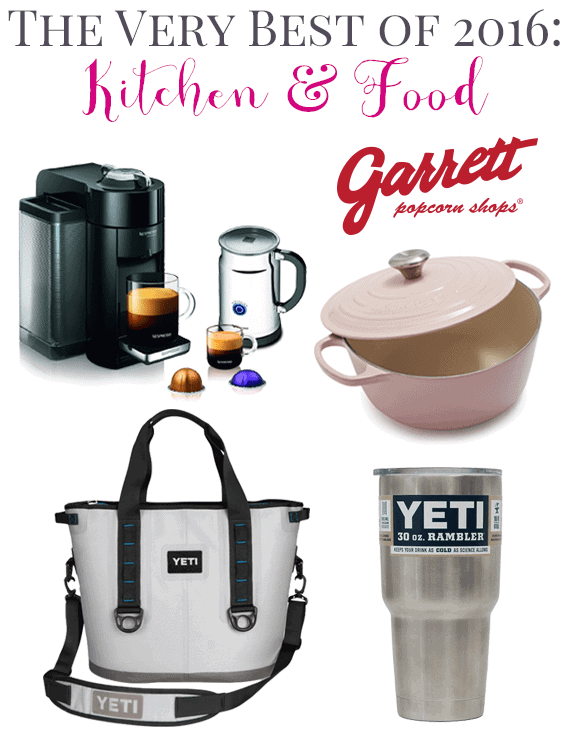 I don't have a ton of new kitchen favorites this year…I have found myself trying to simplify a bit and not invest in items I don't need. I went through a period of time where I bought every gadget and single-use appliance on the market. Of course I quickly ran out of space, as one does… so 2016 for me was a year I got RID of a ton of kitchen items.
I ended up getting rid of my coffee pot AND my Keurig in 2016, replacing them with a Nespresso VertuoLine Evoluo Delux Coffee and Espresso Maker (with the milk frother). I had heard all the raves about Nespresso machines for YEARS, but up until recently they didn't make a machine that made both coffee and espresso. My husband loves espresso, but I am mostly a coffee in the morning gal, so I didn't want to give that up. But I was in Crate & Barrel one day and they had this model out making samples and I was instantly a fan. First off, the coffee is legit. I freaking love it…it makes my Keurig coffee seem oh so sad. Second, the milk frother is LIFE. I have become a super annoying coffee snob who doesn't like coffee without frothy milk any longer. I'm completely ridiculous, and I am fully aware of it. The only downside to the Nespresso is they don't sell the pods in the supermarket. At first I thought this would bother me, but I have the Nespresso app and it's insanely easy to order my pods on there…and usually they show up in 1-2 days. This is by far my most used and most loved new purchase of 2016.
The second thing I am in love with is my new Le Creuset 7 1/4 cup pot in Hibuscus. Chris got me that for Christmas and if it isn't the prettiest pot in all the land, I don't know what is. I have a few Le Creuset items and they are the BEST. I have also had a knock off Le Creuset and it was not that great. Yes, they are pricey, but they are totally worth it in my book. I have been wanting the pale pink for so long, so I felt super lucky to get it for Christmas.
Ok Yeti. I profess my undying love. I am obsessed with my 30 ounce rambler and I splurged on the Hopper (the soft sided cooler) this summer. I also bought my kids the 36 ounce bottles for their sports. Seriously these are the best ever…my water just tastes better out of my Yeti.
Finally Garrett's Popcorn. I went to Chicago a few times this past year and I love it so much. I always bring my kids back the Chicago Mix of Garrett's…and we even order it online for special occasions. It's a favorite snack around here for sure! Speaking of Chicago, I had the BEST pizza of my life there this past December…from Giordano's. I am telling you THE BEST. And we found out that you can get the pizza shipped to you. This is another special occasion treat, but if you can't afford to fly to Chicago every time you get a craving (I can't) this is the next best thing!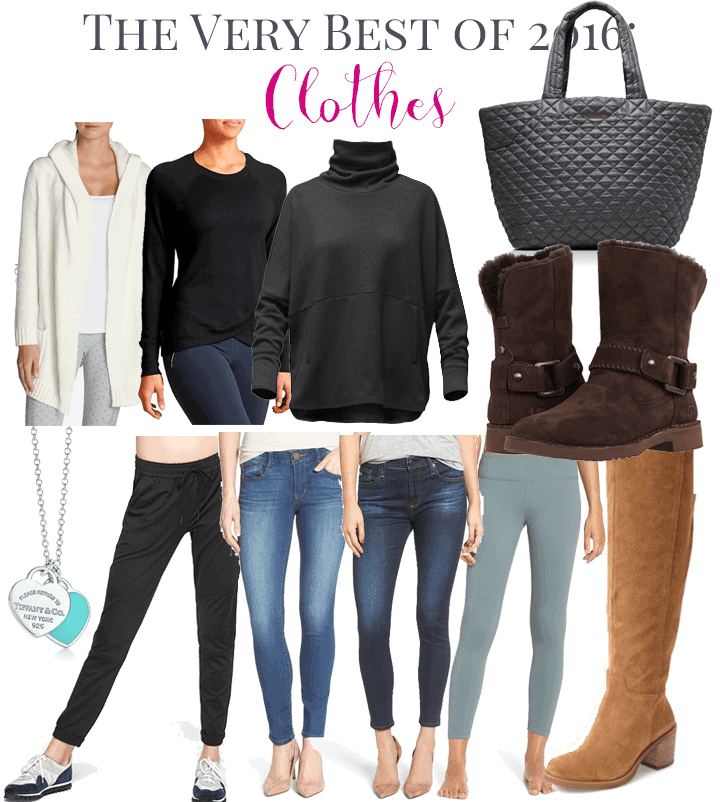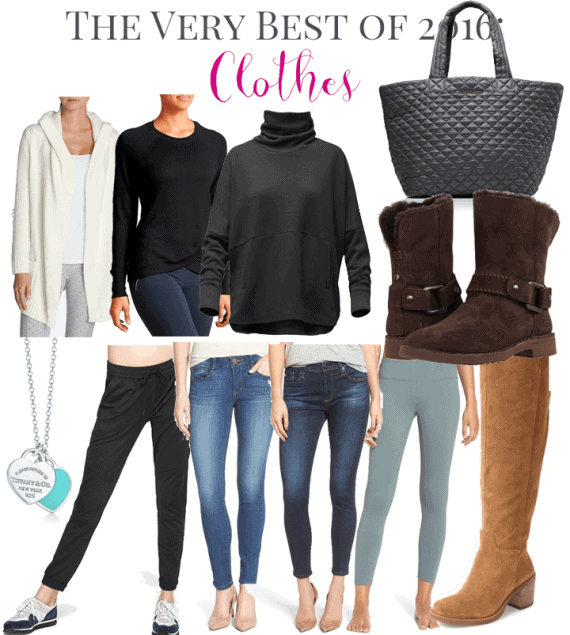 Ok let's talk about clothes. Clearly comfort is king in my world. (And yes, I can see that most of my favorites are cold weather items).
Eddie Bauer Sleep Cardigan. I think I have mentioned this sweater before…but I freaking LOVE it. I wear it almost everyday of my life…it's cute enough that you don't look like the crazy lady in her robe, but I literally sleep in it too… My husband likes to keep it -20 degrees in our room at night so while I have on fifteen layers, he wears basically underwear. So this sleep sweater saves my marriage 🙂
Another key comfort item is my favorite Criss Cross Sweatshirt. I have it in black and white and it's a staple. It RIDICULOUSLY comfortable and I actually wear it with jeans, boots and some jewelry and it looks super put-together and cute. Oh, and I also wear it with leggings to bed. So…. It's a super favorite and has been for years.
I got this North Face Poncho this year in black…and I have worn it basically 2-3 times a week since I got it. It's comfortable, cute and looks great with both jeans and leggings. It's not a typical poncho, in that it isn't crazy flowy, or have bat arms, but it's roomy and perfect for layering, while still looking adorable.
My MZ Wallace tote is another long-time favorite. I have worked with MZ Wallace before, and actually own a few of their bags, but before a trip to St. John in November I needed a large tote and invested in their Large Metro. I have a medium tote and a few other bags, but their large tote is PERFECTION for traveling. I have used it SO much for yoga, weekend trips, sports games, beach trips… I got it in Magnet Oxford, which is a slightly metallic gray that couldn't be more perfect. I freaking love these bags. They are so lightweight and I throw them right in the laundry (not sure if you're supposed to), but I do and they come out perfect.
OK, ok… UGGs. You either love or hate them. I actually love them, and have a few pairs, but none that are dressy enough to wear for more than running errands. Enter the Cedric. I have been wearing these boots nonstop since I got them. They feel much like a regular UGG in comfort, but look cute and not as bulky as the UGGs we all know. The little buckle, the heel and the slimmer toe all while feeling like an UGG. Prayers answered, girls. I got the chocolate brown and they are fantastic!
I got these sweet Tiffany necklace for Christmas and am obsessed with it. My husband bought it for me and it's precious. I haven't taken it off since Christmas morning.
So I am basically wearing leggings or jeans on any given day. But when I want pants that don't stick to my skin I wear these RIDICULOUSLY soft "Weekender Sweats" from Outdoor Voices. They are so comfy you basically never want to take them off. I want to get them in all the colors, but I'm afraid I would never wear anything else. They aren't anything super sexy, but they are cute on, and so comfortable you won't even care. Also, they look cuter IRL than they do in the pictures. I have charcoal and am obsessed.
Ok Jeans…let's talk for a second. I am 5'2″, so my selections might not work for everyone. I have hips and "athletic" calves (I think that's how they describe them). I typically wear a size 6 or 8 (28 or 29) in most denim. But I have trouble finding skinny jeans that aren't too long. I HATE petite sizing, as it never fits me right, so I have cut so many jeans at the ankles I can't even tell you. The Prima Crop by AG fits me perfectly. They come to my ankle, but if you are tall I am sure they will be cropped on you. The fit is perfection. I have a few pairs of AG and yes, they are pricey, but they are the jeans I reach for more than any other. I also have the AG Legging Ankle (which I still have to cuff) and do love those too. But if you're a shorty like me, the Prima Crop is the perfect length!
My other favorite jeans are a way more affordable pair…Wit & Wisdom Ab-solution Stretch Skinny. Oh my friends, go buy these now and thank me later. Size one down on these than your normal jean size. They are literal jean perfection. The material is soft and comfortable, with a waistband that hold you in. I ADORE these jeans.
As for leggings, I have tried them all. My all time favorite are the Zella Live-In leggings. Specifically the Zella Live-In "Midi" legging, because they hit me at my ankle. The regular Zella live-ins are a little long on me, but I still love them. Right now it looks like Nordstrom is sold out of black and only have green left in the midi-length, but keep watching because they are worth it. I have Athleta, Lulu…and Zella are my favorite by far. They stay put without being too low, or rolling down. The material is soft and perfect.
And lastly…I usually get a new pair of tall boots every season and this season I picked up these Lucky Suede boots on sale. I ADORE THEM! They are cute and casual, but they could be dressed up too! I wanted a boot with a round toe and a block heel this year and these Lucky boots are amazing. I find them to be comfy, I sized up a half-size, as the reviews said to and they fit great. They even come in wide calf sizes for those who need a little extra room! I got the black, but I totally want another color…we'll see!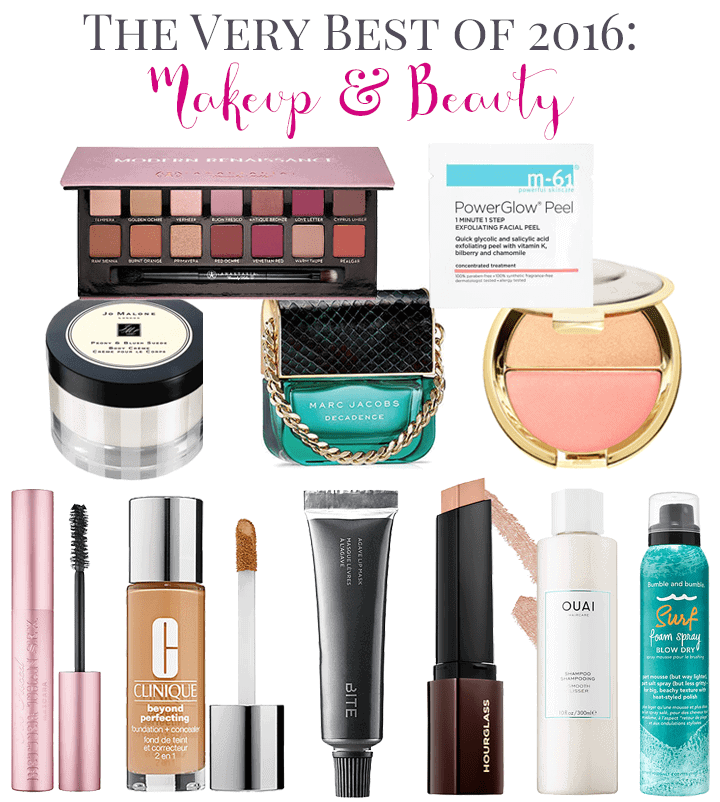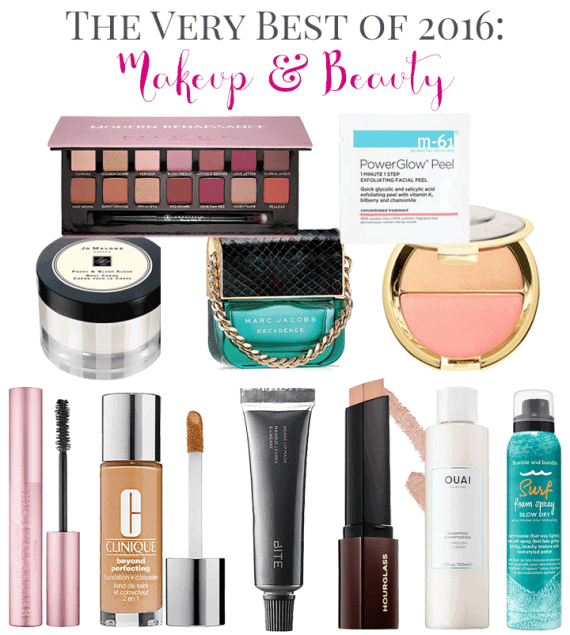 Oh make-up, how I love thee. If you follow me on Snapchat, you know I do Sephora hauls a lot (and purges too). This year I have some favorites that I think are pretty universal.
The Anastasia Modern Renaissance Palette is a MUST. A MUST. The colors are gorgeous and the formula is super pigmented. You can do a light application or heavy super easily. I have to say, once I started using this palette when I go back to my Urban Decay Naked3 it just seems so weak! Like I have to put so much more shadow on to make an impact. Seriously think about investing in this one, you won't be sorry!
For skin care I pop from one line to the next…but my always and forever product are the m-61 PowerGlow Peel Pads from Blue Mercury. My friend got me hooked on these almost 2 years ago and I use them every single day of my life. I used to get dry patches and have more uneven skin, but these pads have been life changing for me. I adore them.
Jo Malone Peony and Blush Suede has been my splurge body cream this year. I ADORE the scent, it's soft and subtle, and warm and a tiny bit floral. Plus, it's a great layering scent, so it goes well with most perfumes if you choose to wear that too!
Speaking of perfume…my favorite right now is Decadence by Marc Jacobs. I LOVE it. It's warm and slightly amber, but it smells fresh and caramel-ly too. It's such a great cool weather scent.Stop by your perfume counter and give it a spray.
I love Becca highlighters and when Youtuber, Jaclyn Hill, came out with her blush/highlighter duos this year I was all over it. I love the pigment of the blush and Champagne Pop highlighter is truly universal!
I am a huge mascara junkie…I dare you to name one I haven't tried…I seriously have tried them all. Right now, though, I am loving Better Than Sex by Too Faced. It's giving my lashes a full volume, but also not clumpy. Honorable mention, though are Marc Jacobs Velvet Noir Major Volume and Shocking by YSL.
This must-have came as a surprise to me, honestly. I haven't bought a Clinique product in YEARS, but I got their Beyond Perfecting foundation and concealer as a sample and fell in LOVE. It is SO great. It's a full coverage foundation, or a spot concealer. I am telling you this one has been a game changer for me. When I want a light face, I use it under my eyes and anywhere I want a little coverage, OR I use it all over (with a blush or beauty blender) for a full face. I LOVE LOVE this! (I use #9 Neutral shade).
Also I have just been introduced to the Hourglass Stick Foundation and I am really loving it. I had read so many great things about this product, but held out, because I wasn't buying the hype. Anyway, when I went into my store and the sales girl applied it on my face I quickly became a believer. You swipe a little on and the finish it gives your skin, while being full coverage is so light and gorgeous! The only thing here is you really need to use a brush (specifically the brush they sell) to get the perfect finish. I bought their brush, and it is really great, but it's also a little pricey. But the finish is so stunning I almost don't even mind. Plus, I converted over to using a brush for my foundation a few years ago and haven't looked back. This one gives you a natural looking, weightless full coverage that I haven't found anywhere else. It's like you're not wearing makeup!
Bite Agave Lip mask is another ridiculously perfect product. Your lips will thank you for this. It's a thick and rich vanilla and agave lip treatment. You can use it overnight, or anytime really. I have multiple tubes and everyone in my family uses it.
I bought Ouai Shampoo and Conditioner on a whim during the last VIB Sephora sale and I can tell you this is the best shampoo I have used in a LONG time. I have been using it since October and my hair is noticeably softer and smoother without being at all heavy…and I get at least an extra day out of my blow out. I am using the SMOOTH line.
Lastly on my Beauty Favorites is the Bumble and Bumble Surf Foam Spray. I have always been a fan of the beach wave, but traditional Sea Salt Sprays have never worked for me…even the super popular Surf Spray by B&B. BUT when they came out with the Surf FOAM Spray my prayers were answered. My hair stylist introduced this to me and it's SO GREAT for my hair. It doesn't weigh it down, and make it feel dirty, which all the other sea sprays did. It gives it great texture but volume! I use this on days when I curl my hair and it holds the curl all day. Can't recommend this stuff enough!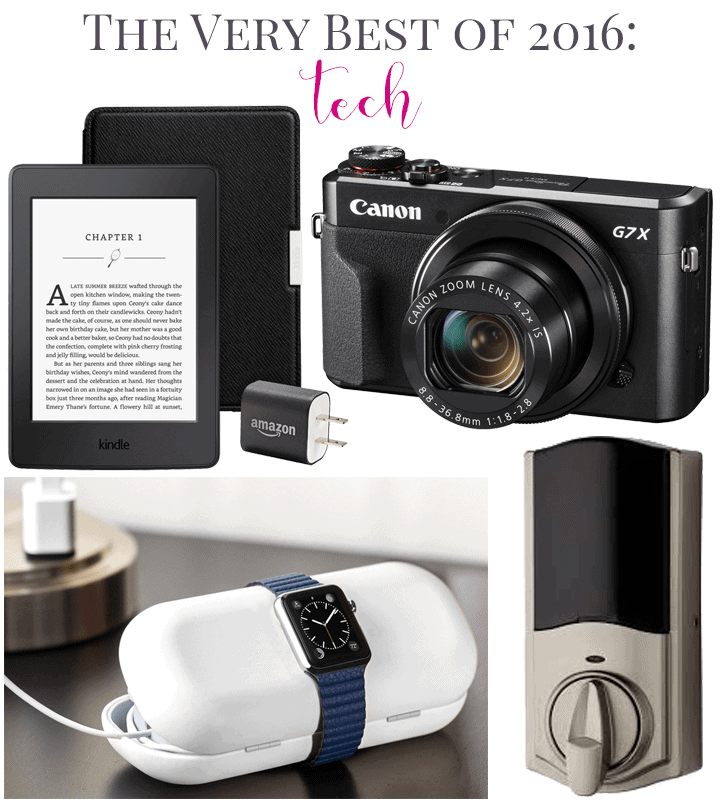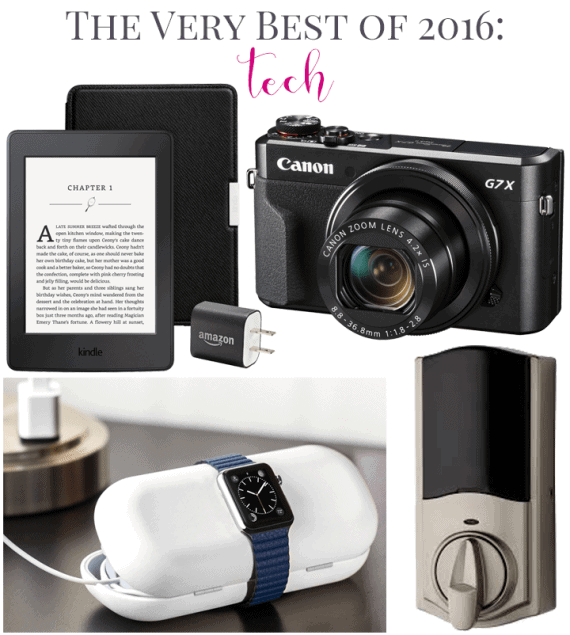 Techy gadgets. I didn't spend a lot of money on gadgets this year. I think I have mentioned my earbuds in the past which a definite must, but I wanted all new items on this list.
And first I have to give a shout out to my Kindle Paperwhite. I know this has been out forever, but I adore mine. If you are a reader and don't have one, get it now. You won't regret it. Reading on an iPad is horrible in comparison!
This fall I bought a new travel camera, because my old one was acting a little glitchy. I investigated and read and watched reviews and videos and finally decided on the Canon G7 X Mark II. I use a small camera to travel and shoot video, and this one really fit the bill. I LOVE this camera. LOVE. IT has tons of settings, a great flip screen for vlogging, video or selfies and the pictures are fantastic, even in low light. Love this little powerhouse!
I have had an Apple Watch for about a year and a half. At first I wasn't sure if it was something I needed, but the longer I have used it the more I have come to rely on it! Anyhow, the only annoying thing about the watch for me has been traveling with it. It needs to charge every night and carrying another cord and all that is just something else to remember. So I found this awesome Travel Case and charging stand. I keep everything in the case and pop it in my bag when I travel. I LOVE this, even at home on my dresser to keep everything in one place!
And lastly, my husband bought me this keyless entry door lock for Christmas. I know, this seems weird, but I have been obsessed with this idea since I first heard about it. I am a major brat when it comes to stuff like this, but when I have ALL THE GROCERIES and I am trying to get into the house, digging through my purse to find the key is the most annoying thing EVER. (My car has a push button start so I never really have my keys out). Anyhow, I know this is a super diva item, but all I have to do is use the app or pop in my code to unlock the door. FREAKING LOVE! Plus, it still has a place for the actual key if you want to be old fashioned and use that.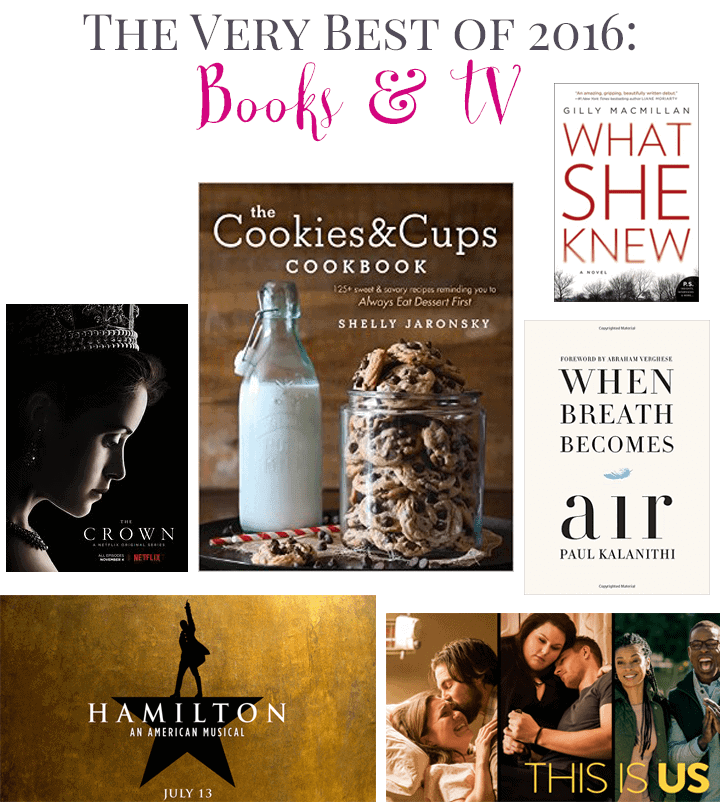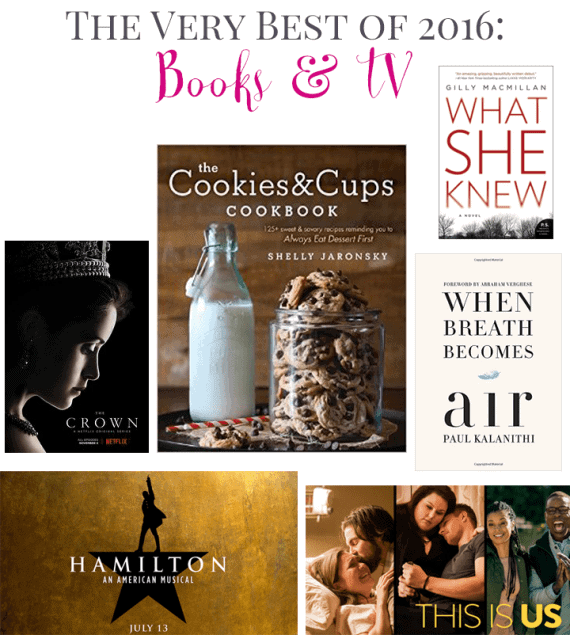 Finally I am closing my favorites out with entertainment stuff. I had a hard time with this category because I haven't loved a lot of movies, books or shows this year. Womp. Womp. I mean I've LIKED some, but I can't say that I have had a lot of "Favorites".
Anyhow, we'll of course start with my book, because it's my personal favorite 🙂 And I will continue to talk about it forever and ever.
Next, I just got done watching The Crown on Netflix and LOVED it. LOVED. Also I binged ALL seasons of Gilmore Girls, so I could watch Gilmore Girls A Year in the Life and I have to say I loved that too!
I read When Breath Becomes Air and this is the book that stayed with me the longest this year. I did read a bunch of books over the summer too, but none that I can say are favorites. I did just get done reading What She Knew and really liked it.. It's a stretch to say it's in the favorite category, though. I listened to a lot of books this year too and find myself loving memoirs this way. I would love some good recs on memoirs I can listen to. Lauren Grahams is up next on my list!
Speaking of TV, this is a major no brainer, but This Is Us is a clear favorite for TVs shows in 2016…and I am sure for years to come. If you haven't watched it…go now. CATCH UP!
So this year I had the fortune of going to see Hamilton both on Broadway in NYC and in Chicago. This is BY FAR my most favorite musical of all times. ALL TIMES. The spot had been held by Wicked and before that, Rent. I am telling you I can't imagine anything ever beating Hamilton. I went when I was in Chicago on business, and the tickets were less expensive than in NYC, so I decided to see if it lived up to the hype. It did AND BEYOND. I had listened to the soundtrack a lot before going and knew I already loved the music, but I am telling you I loved it so much I went home and bought tickets for my family to see in on Christmas Eve in NYC. Yes, it was a major splurge, and bought them re-sale, but they are sold out through September 2017 I think. It was so worth it. My entire family loved it. If you ever have the chance I have to say this is a MUST.
Ok, so this post is hella long and took me forever to write, but I hope you enjoyed it. I love "favorites" lists, so if you have anything that you ADORED in 2016 leave me a comment and tell me!
I hope your 2017 is off to a great start. Love you people. xo