This Old Fashioned Banana Pudding recipe is the best I've ever had! Creamy, rich and almost mousse-like banana pudding that tastes just like Grandma used to make. I know you're going to love it!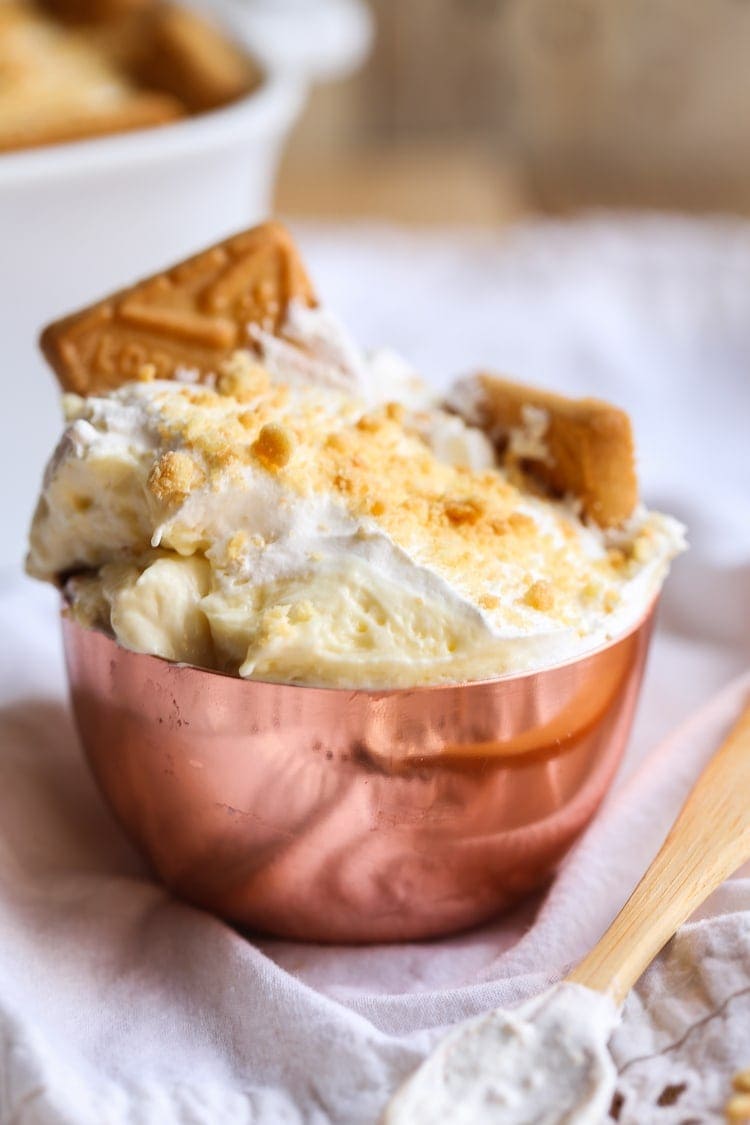 Old Fashioned Banana Pudding
I have held out on you…and I feel awful about it. This recipe has been sitting in my Grandmother's recipe index card holder for years. I don't know why I haven't ever shared it here with you. Well, maybe I do… You see, I don't really love bananas. They're just not my favorite. So banana pudding is never really front and center in the dessert vortex of my brain.
But my Grandma used to make Banana Pudding Pie when I was little and I really loved it. Which seems weird… like why do I like banana pudding, but not bananas? Maybe it's the same idea as I hate onions, but love a White Castle Burger with onions.
Also, please forget I just said that I love White Castle. I am ashamed.
Anyhow, this pudding is probably a version of the same Banana Pudding you grew up eating. My Gram was a notorious recipe clipper. So many of her recipes are from 1980's magazines, or ones that her friends would all share. But I have tried other Banana Pudding recipes and nothing comes close to this one. That is a promise. Whether you think you will like this recipe or not, I URGE you to try it. She made it in a pie crust sometimes and served it like pie, but for sure you could make it in a trifle dish as well. More times than not, we had it in a simple 9×13 pan, like i made it today.
The Best Banana Pudding is unassuming, innocent, old fashioned and completely perfect.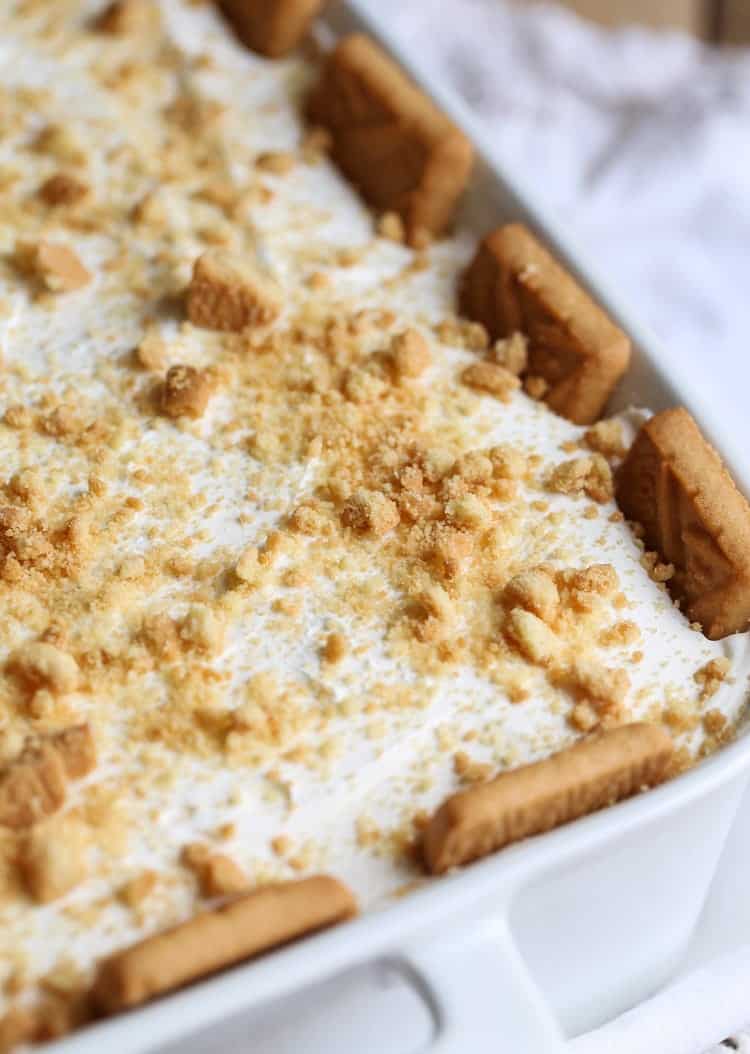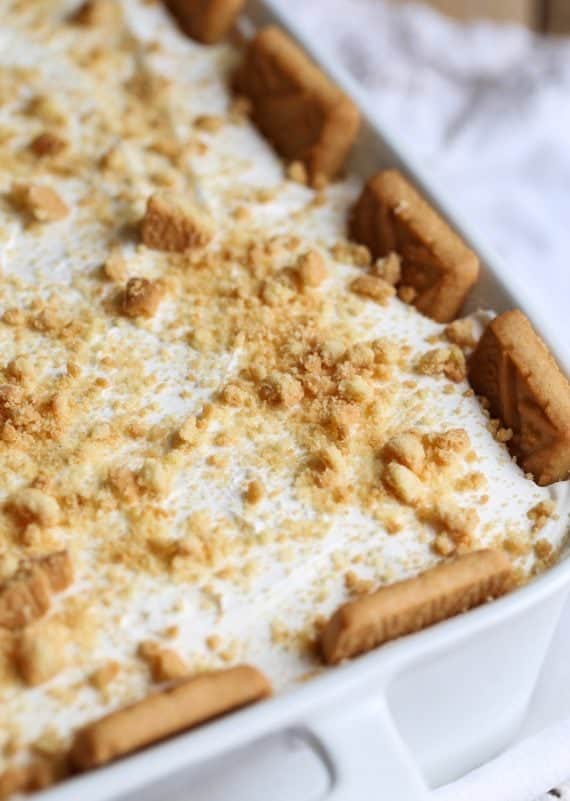 Tips for Success
The ingredients for this banana pudding recipe are indulgent and simple. All you do is mix some cream cheese and sweetened condensed milk together to start.
Make sure the cream cheese is room temperature. If it's cold it won't mix up smooth, and you'll probably have little cream cheese lumps.
Use instant pudding. Next mix in vanilla pudding mix, milk, and vanilla extract. Make sure you buy INSTANT pudding, that way it will thicken up right on the spot and you don't have to heat it. I have been asked if this recipe can be made with (non instant) pudding and the answer is no, unfortunately.
Take the time to beat your mixture well. Beat the pudding mixture on high speed for about 5 minutes using the whisk attachment on your mixer. You want the mixture to thicken up nicely.
Use Cool Whip or Whipped Cream. In my recipe I use Cool Whip. You fold that right in the cream cheese mixture to make the texture mousse-like. Now, if you don't love Cool Whip, you can ABSOLUTELY use whipped cream in its place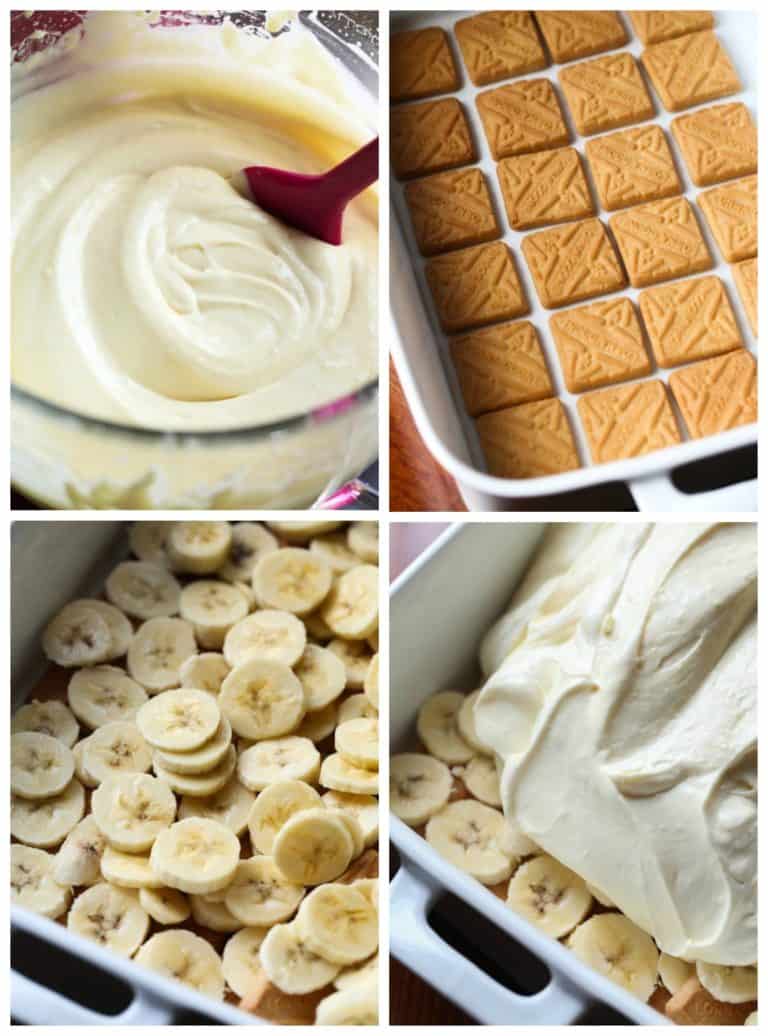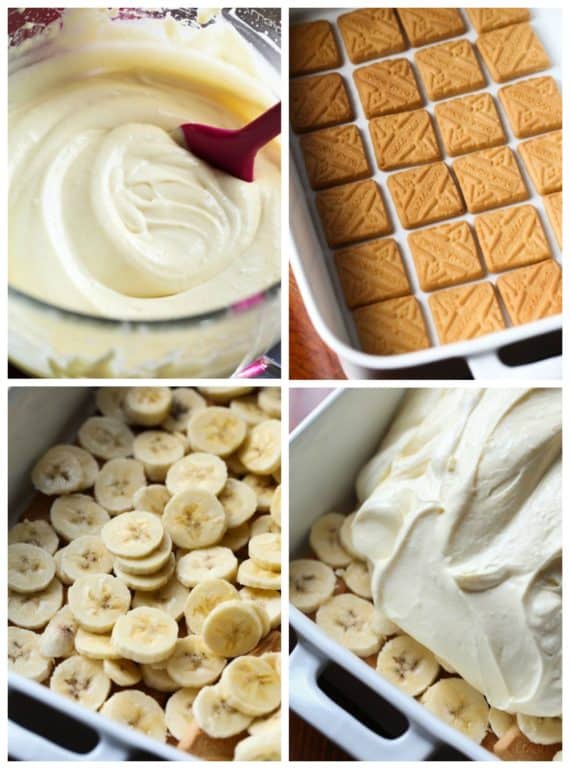 How to Make Banana Pudding
Essentially all banana pudding is, is layers of cookies, bananas, and pudding! Here are the steps:
Make the quick pudding mixture, which consists of cream cheese, sweetened condensed milk, vanilla pudding, milk, a little vanilla extract, and whipped topping, like Cool Whip!
Once you have the pudding mixture made, you will layer cookies on the bottom of a 9×13 dish. Top those with banana slices, and then spread the pudding all over the top!
I like to spread a little more Cool Whip or whipped cream on top, but that's optional! Then if you have some extra cookies lying around, crumble some up and sprinkle the cookie dust on top. Or press some cookies into the pudding as decoration. Or do both like I did.
Then LET IT CHILL! It will need at least 4 hours in the refrigerator. You want the cookies to soften, so I really recommend letting it chill overnight! It's worth the wait!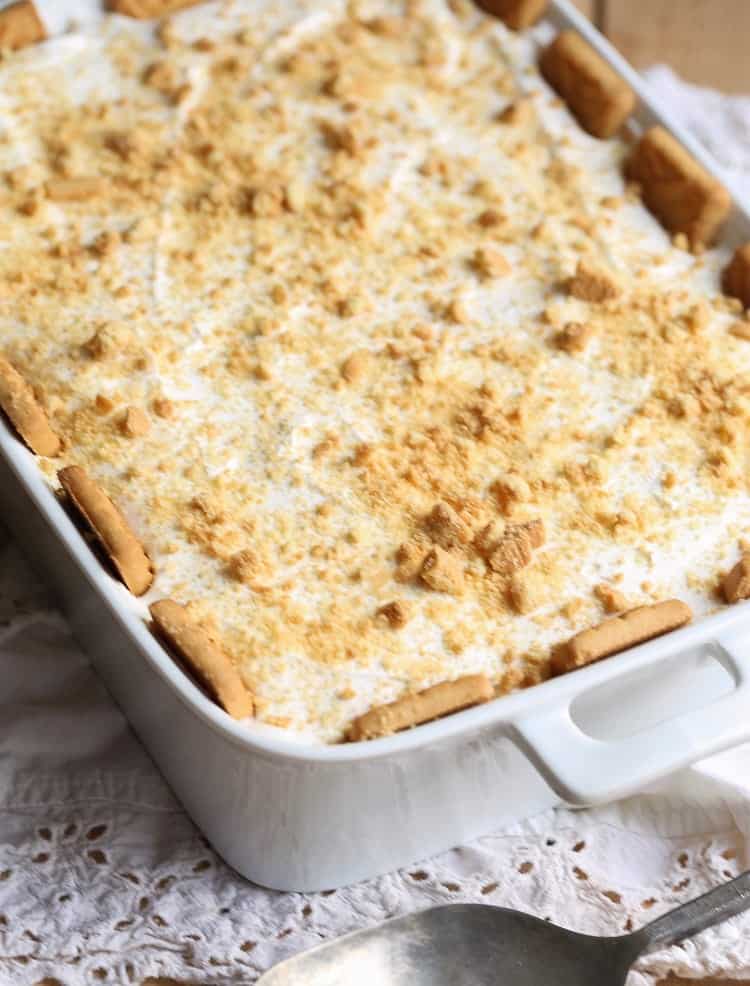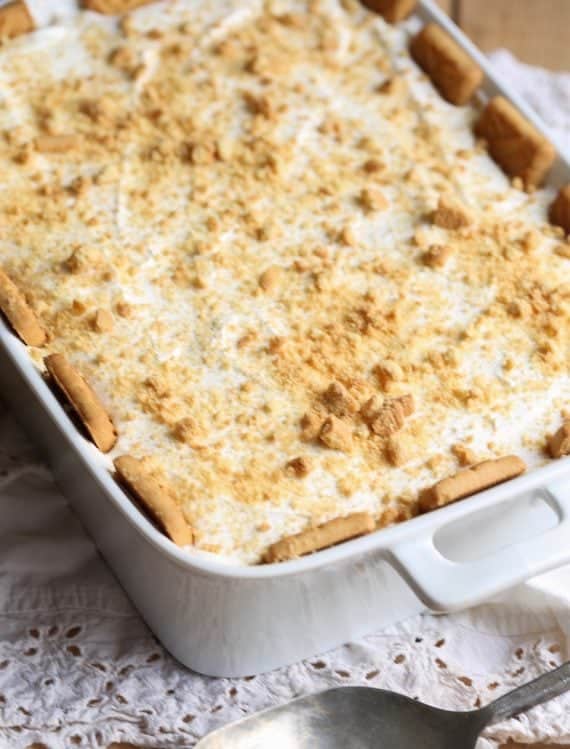 Can You Make Banana Pudding Ahead?
Yes! That's what's so great about this recipe…it is PERFECT for entertaining because making it ahead not only is easier, but it TASTES better the longer it sits! The cookies get softer and the flavors just combine more.
You can make this up to 2 days in advance!
Can You Freeze Extras?
I actually don't recommend freezing this, due to the delicate ingredients. The pudding will get a little mushy and thin out as it thaws.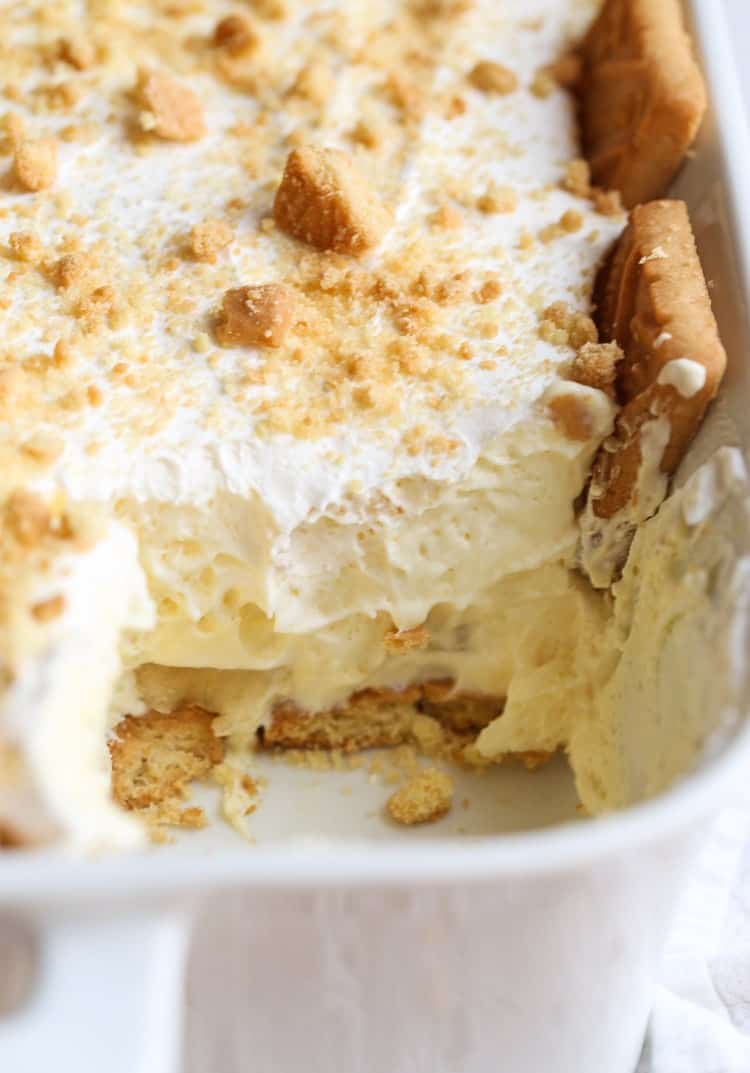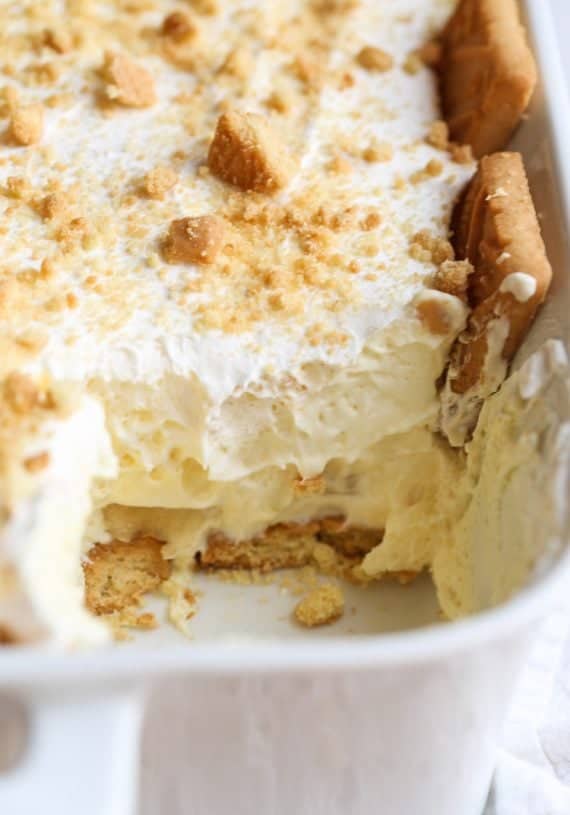 Can I use Nilla wafers instead of shortbread?
Yes, you can ABSOLUTELY use Nilla Wafers. I just prefer shortbread. To assemble the dish, just line the bottom of a baking dish with shortbread cookies.
Also, don't get too hung up on how many cookies you add. I just cover the bottom of the dish. You could really add as many, or as few cookies as you want.
Why do you use vanilla pudding in this recipe?
My Grandma always used just vanilla, so that's what I do. But if you are a real banana lover, you can absolutely use banana pudding mix in place of the vanilla…OR use a a combo of vanilla and banana.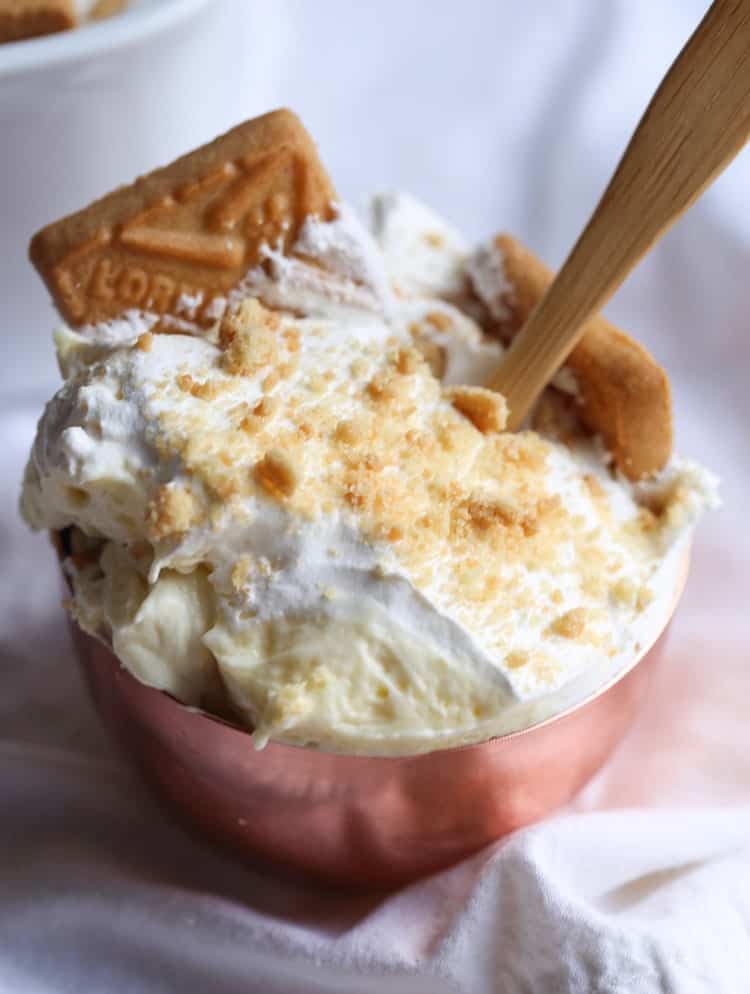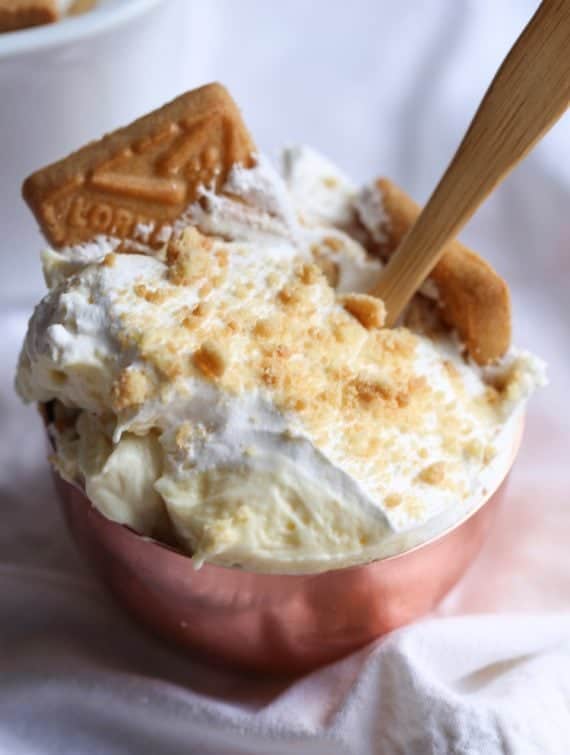 Serving Suggestions
Of course you an serve this right in the 9×13 pan you made it in with a spoon. Little bowls work great to portion it out into, which is why it's such a fantastic potluck option! But if you're looking to get a little more creative, here are some ideas:
In individual ramekins, jars…or even shot glasses! You can make these ahead in individual portions to a grab and go dessert idea. The serving size might vary based upon the size of the jar you use, but it's an adorable option!
In a trifle dish! This can be a great centerpiece dessert if you prepare this in a large trifle dish! You can add in a middle layer of cookies and bananas to give it that layered look!
I've even seen "Walking Banana Pudding" where you serve the pudding right in the individual little bag the cookies came in (if you use Nilla Wafers) just like a "Walking Taco". That would be a great tailgating dessert idea!
ENJOY!!
Print
Easy Old Fashioned Banana Pudding Recipe
Author:

Prep Time:

15 minutes

Total Time:

3 hours 15 minutes

Yield:

12

1

x
Category:

Pudding

Method:

No Bake

Cuisine:

Dessert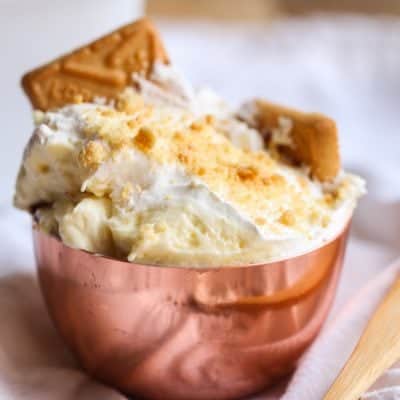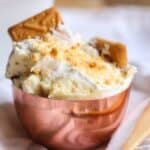 ---
Description:
This easy Homemade Banana Pudding recipe is the best I've ever had! Creamy, rich and almost mousse-like banana pudding that tastes just like Grandma used to make. I know you're going to love it!
---
Ingredients:
1

(8 ounce) block cream cheese, room temperature

1

(14- ounce) can sweetened condensed milk

1

(5 – ounce) package instant vanilla pudding

2 1/4 cups

cold milk

2 teaspoons

vanilla

1

(8 ounce) container Cool Whip, or

8 ounces

heavy cream, whipped

4

bananas, sliced

10 ounces

shortbread cookies or Nilla Wafers
---
Instructions
In the bowl of your stand mixer fitted with the whisk attachment mix the cream cheese and sweetened condensed milk together until smooth, scraping the sides of the bowl as necessary, about 2-3 minutes on medium speed.
Add in the dry pudding mix, milk and vanilla.
Begin mixing on low for 30 seconds, slowly turning up the speed until you're on high speed. Mix this for 4-5 minutes until thickened and smooth, again scraping the sides of the bowl as necessary.
Fold 4 ounces (half) of the Cool Whip (or whipped cream) into the pudding until combined.
Line the bottom of a 9×13 dish with as many shortbread cookies as you can fit. Evenly place the banana slices on top of the cookies. Spread the pudding on top of the bananas. Spread the remaining Cool Whip (or whipped cream) on top of the pudding.
Crumble any remaining cookies on top of the Cool Whip and/or place more cookies around the edge of the pan for decoration.
Cover with Cling Wrap and chill

at least

4-6 hours.
---
Notes:
You could use a small package of instant vanilla pudding and a small package of banana pudding in place of just the vanilla for a more banana flavored pudding.
You can serve this in any dish you prefer, like a trifle dish, individual dishes etc.
Store airtight for up to 3 days
Keywords:: easy banana pudding, best, old fashioned, simple
Want To Save This Recipe?
Save