My Creamy Rice Pudding recipe is made with just a handful of pantry staples for an easy fall or wintertime treat. It's a cozy and comforting dessert idea that's easy to customize!
Make sure to try my Bread Pudding and Banana Pudding recipes, too!
Easy Old-Fashioned Rice Pudding Recipe
A simple rice pudding is one of our all-time favorite, old timey comfort foods. It's really the perfect balance of sweet, creamy, and cozy all at once. The warm and sweet flavors of this recipe make it a wonderful fall or winter treat, though it's great to serve chilled, too.
I tell you, there's a reason that rice pudding has stood the test of time. Traditionally an Asian dish made from rice that's cooked in milk, it's is now a popular dessert from one cuisine to the next. And it's definitely a staple in our house, around the holidays and then some!
My easy rice pudding recipe is flavored with ground cinnamon and pure vanilla extract, but there's soooo much you can do with this deliciously rustic dessert. You're going to love the way the flavors just melt together into something special.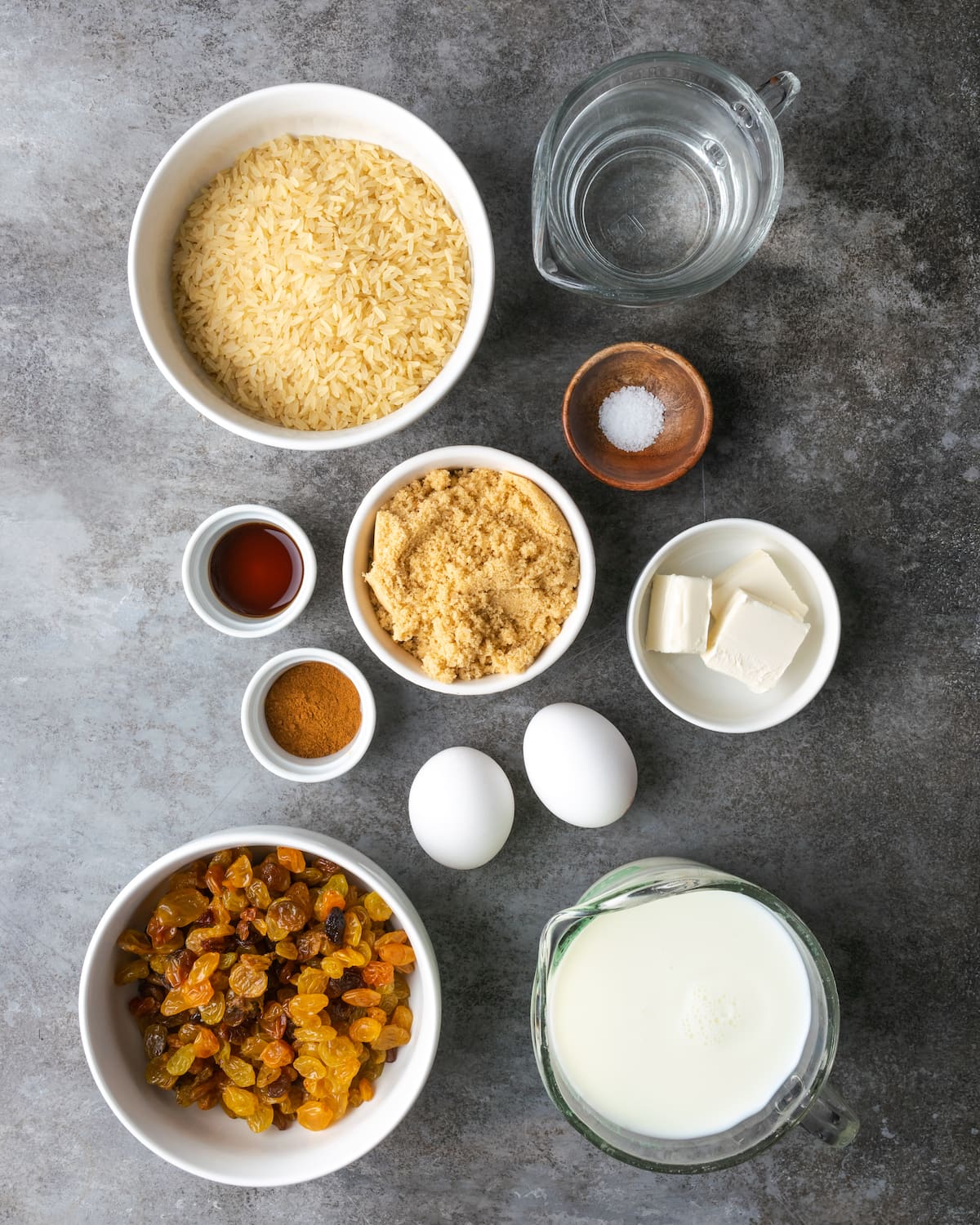 What You'll Need
Most people are familiar with the sweet version of rice pudding, made from tender rice, whole milk, and spices. Here's what you'll need to make it at home (full amounts are included in the recipe card below):
White Rice: This recipe calls for long grain white rice that's uncooked. Rice pudding is also a good way to use up leftover rice – see the section below!
Milk: I use whole milk for the richness it brings to the pudding.This recipe will also work with 2% milk.
Brown Sugar: I use light brown sugar, as I find it just the right amount of sweet and caramelized. If you'd prefer a deeper caramelized flavor, use regular brown sugar instead.
Salt
Eggs
Cinnamon: I love the warmth and flavor of ground cinnamon in my pudding. If you're not a fan of cinnamon, cardamon or nutmeg are equally cozy alternatives.
Raisins: For this classic rice pudding recipe, I add in golden raisins. Alternatively you can toss in some regular or black raisins, Sultanas, or currants, or leave them out altogether if that's not your thing.
Butter and Vanilla Extract: Butter and vanilla bring the finishing touch to this creamy dessert. I stir these in at the end for extra creaminess and flavor.
Can I Use Leftover Rice?
Yes! Making this rice pudding with cooked rice is an easy way to level up your leftovers. Just simmer the leftover rice with a splash of milk and sugar until it's nice and fluffy, then proceed with the recipe as directed (after the step for cooking the rice, obviously).
How to Make Creamy Rice Pudding
This extra-creamy rice pudding is easy and delicious to make as a dessert around the holidays. Or you can pretty much whip together a batch whenever you feel like something sweet and comforting. Here's how you do it:
Prepare the Rice: Get things started by bringing water to a boil, then adding the rice. Once it comes back to the boil, reduce the heat and simmer on low for about 20 minutes or so, until the rice is done. Give it a fluff with a fork.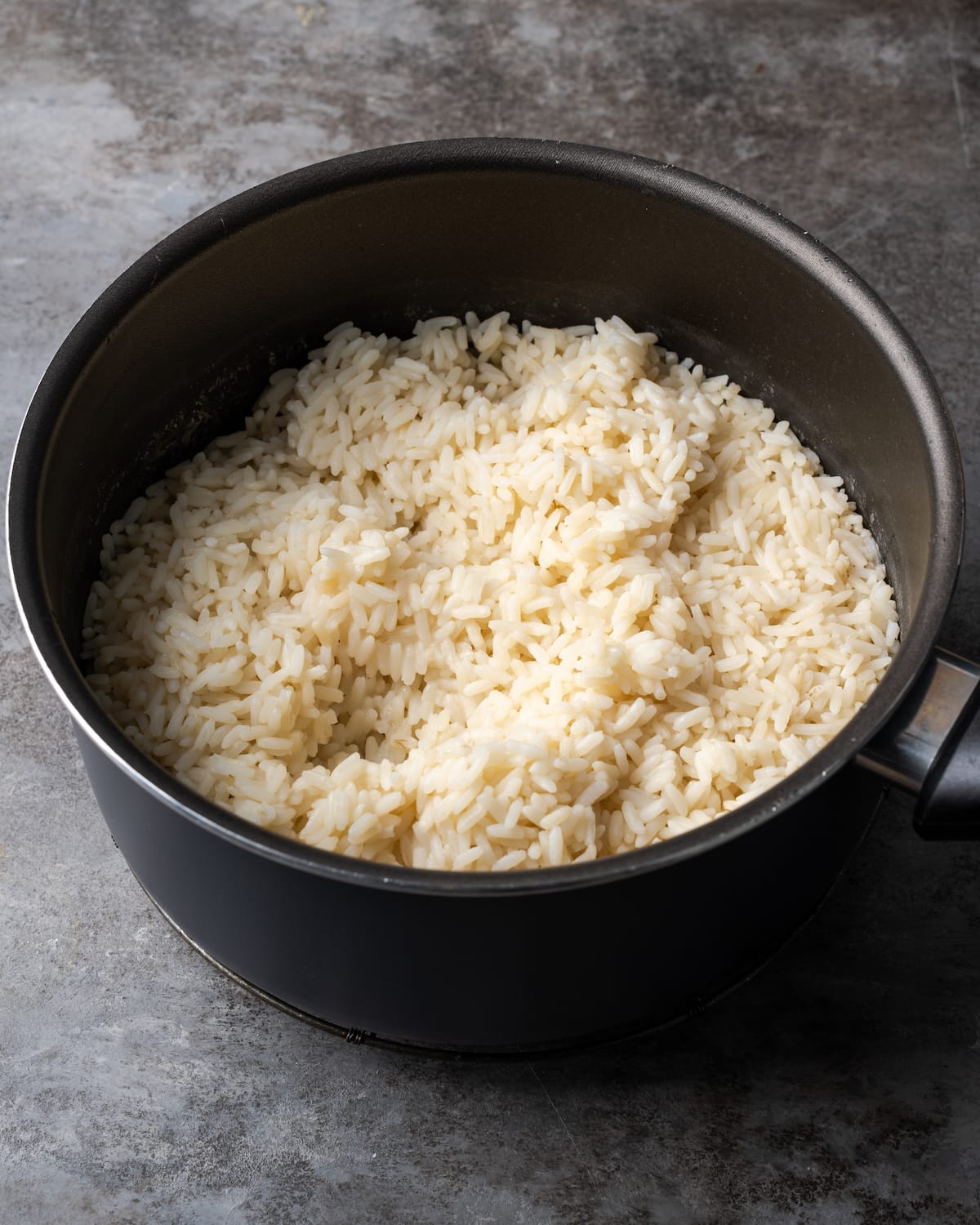 Add Milk and Thicken: Next, stir in three quarters of the milk, along with the sugar and salt. Bring everything back to a boil and cook until the pudding is thick and creamy.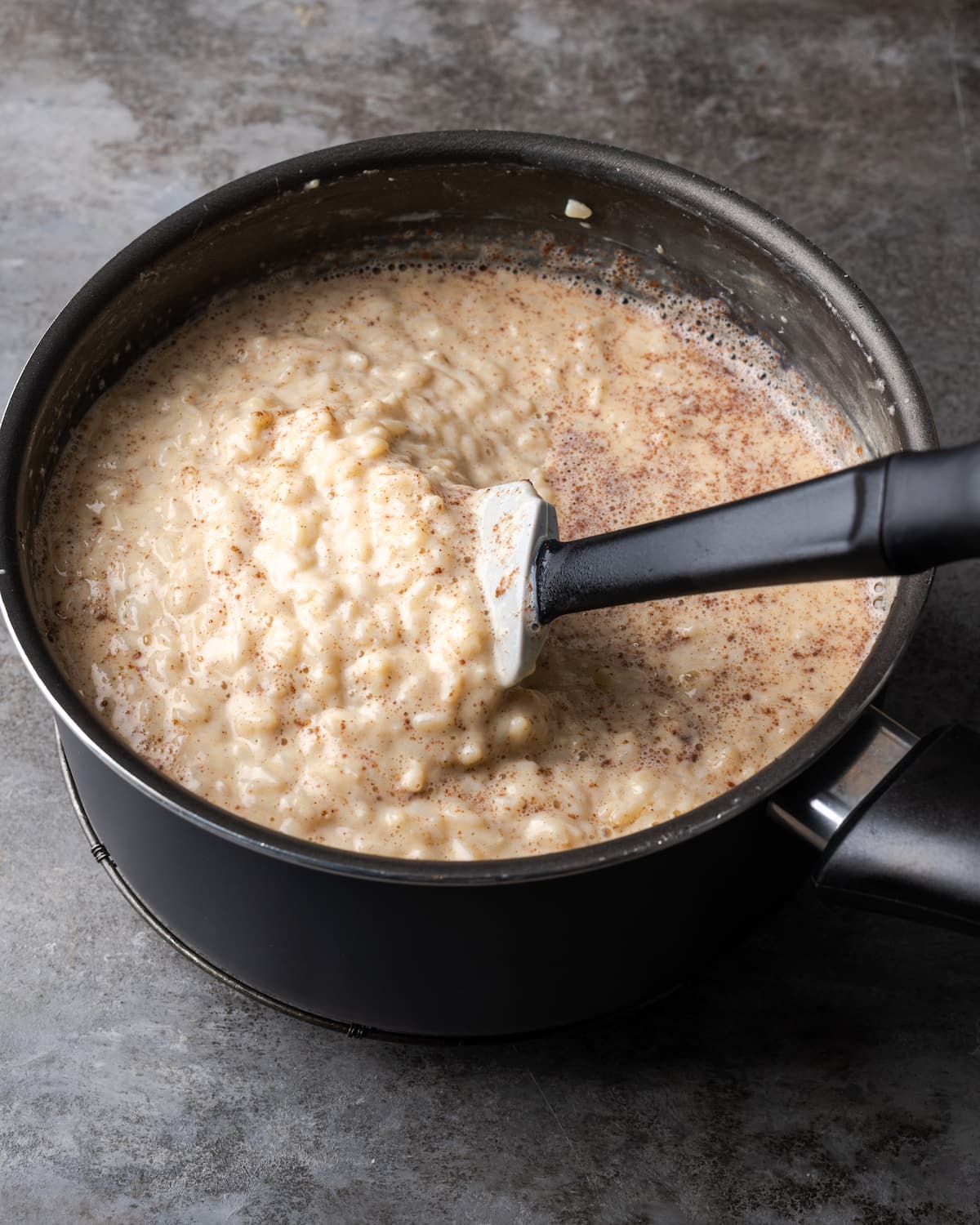 Add in Remaining Ingredients: Whisk the eggs and cinnamon together with the remaining milk. Slowly add the egg mixture into the rice pudding while continuing to stir (you want to avoid scrambling the eggs!). Finally, stir in the raisins.
Finish and Serve: Finally, take the saucepan off of the heat and stir in the butter and vanilla to finish. Serve your rice pudding warm right away, or leave it to cool and then pop it into the fridge to serve cold.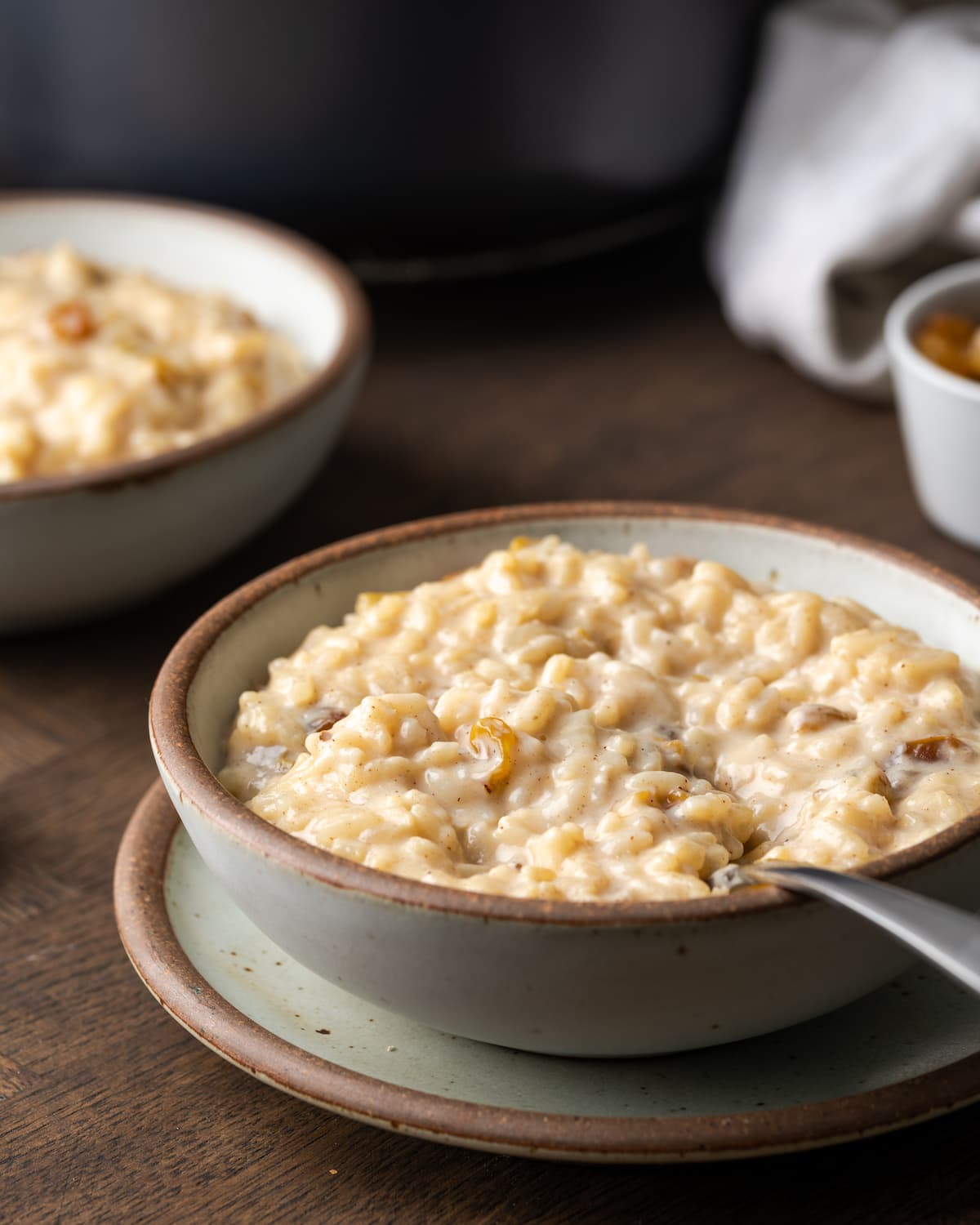 Tips for Success
This is one of my best dessert recipes and it's nearly impossible to stuff it up! Here are some tips for the perfect rice pudding, every time:
Use Rice That's Fully Cooked: Make sure that the rice you're using is 100% cooked. I wouldn't recommend adding milk to rice that's still a bit firm, in the hopes that it will finish cooking along the way. Since rice doesn't absorb the milk the same as it does water, there's a chance it won't end up with the right texture! You want the texture of the rice to be soft, and almost melty for the best rice pudding.
Stir Well: Be sure to stir your rice pudding continuously as it cooks. One, because you want it to reach the right consistency, and secondly because you don't want your eggs to scramble when you add them to the pan!
Check the Consistency: Rice pudding should have a consistency similar to regular pudding. Once it reaches a smooth and creamy consistency, that's when you'll remove it from the heat to stir in your butter and vanilla (to make it even more smooth and creamy, obviously).
Don't Overcook: Don't wait too long to take your rice pudding off the burner. Overcooking can cause the pudding to become dry and chewy.
Let Cool: Let your rice pudding sit out and cool for at least 10 minutes before serving. Not only to avoid the inevitable "hasafashahashafasa" situation while trying to blow on hot food that's already in your mouth! It also helps the flavors develop.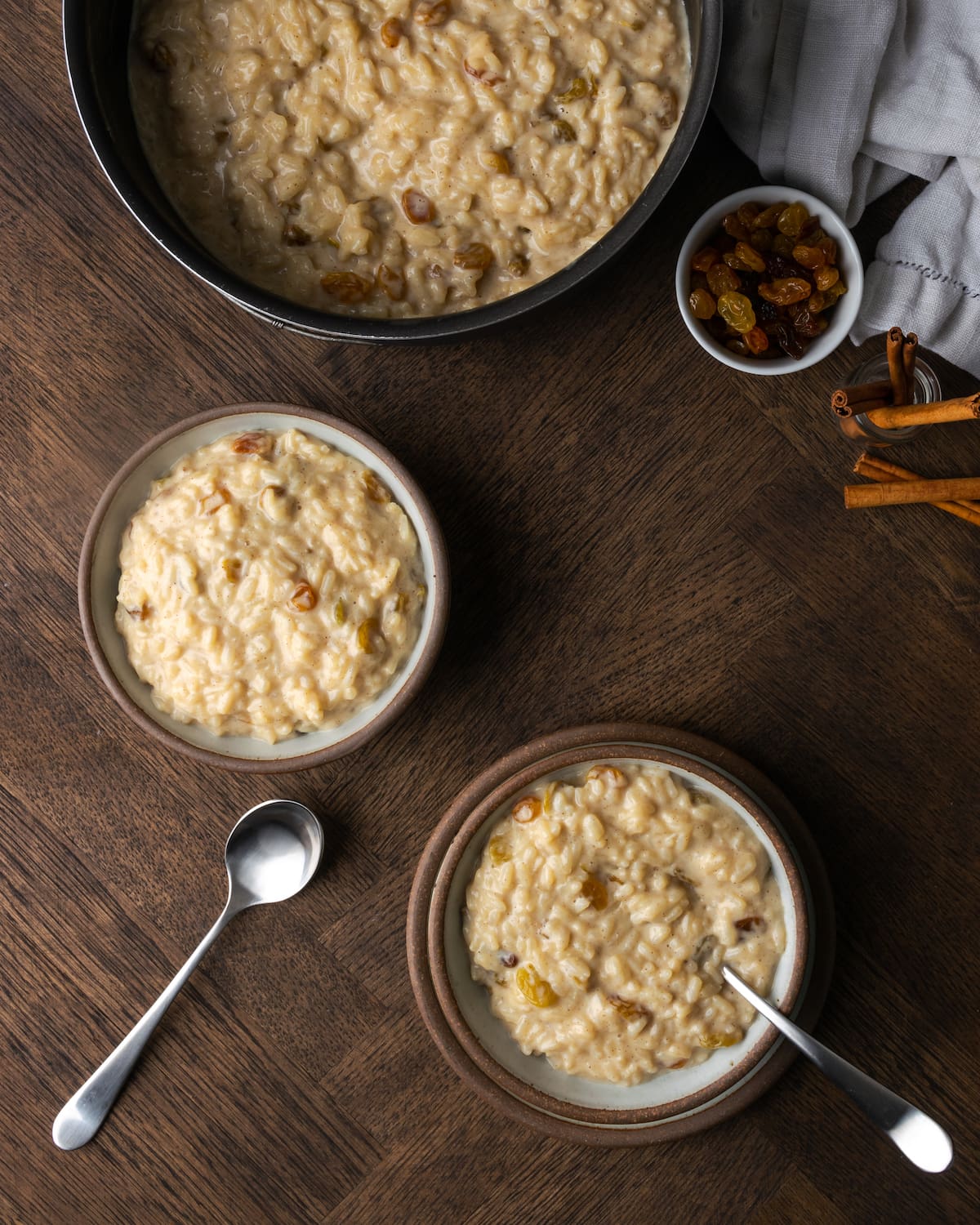 Topping and Serving Ideas
I like adding golden raisins to my pudding, but it tastes just as scrumptious with fresh fruit or a dollop of jam. Rice pudding is one of the easiest things to make your own! Here are some more ways to top and serve it:
Fresh Fruit: Turn your rice pudding into a summery treat by serving it cold with fresh fruit like chopped or sliced peaches, apples, bananas, or mixed berries.
Jams and Preserves: This simple recipe is delicious with a spoonful of blueberry, strawberry, or raspberry jam stirred in. Peach or orange preserves are also great options! Or, try it topped with Homemade Strawberry Syrup.
Spices: In the cooler months, I like to sprinkle my rice pudding with a bit of additional cinnamon, nutmeg, or ginger. You can also top it with mixed spice (a.k.a. Pumpkin pie spice), allspice, or cinnamon sugar.
Caramel Sauce: If you're a sweet tooth (like yours truly), go ahead and top your pudding with quick and easy Homemade Caramel Sauce. And in the fall, why not try it with Pumpkin Spice Caramel Sauce or Apple Cider Caramel Sauce.
Whipped Cream: Serve your rice pudding with a dollop of whipped cream or chantilly cream. If you're serving your pudding warm, you can even go all out and top it with a scoop of vanilla ice cream!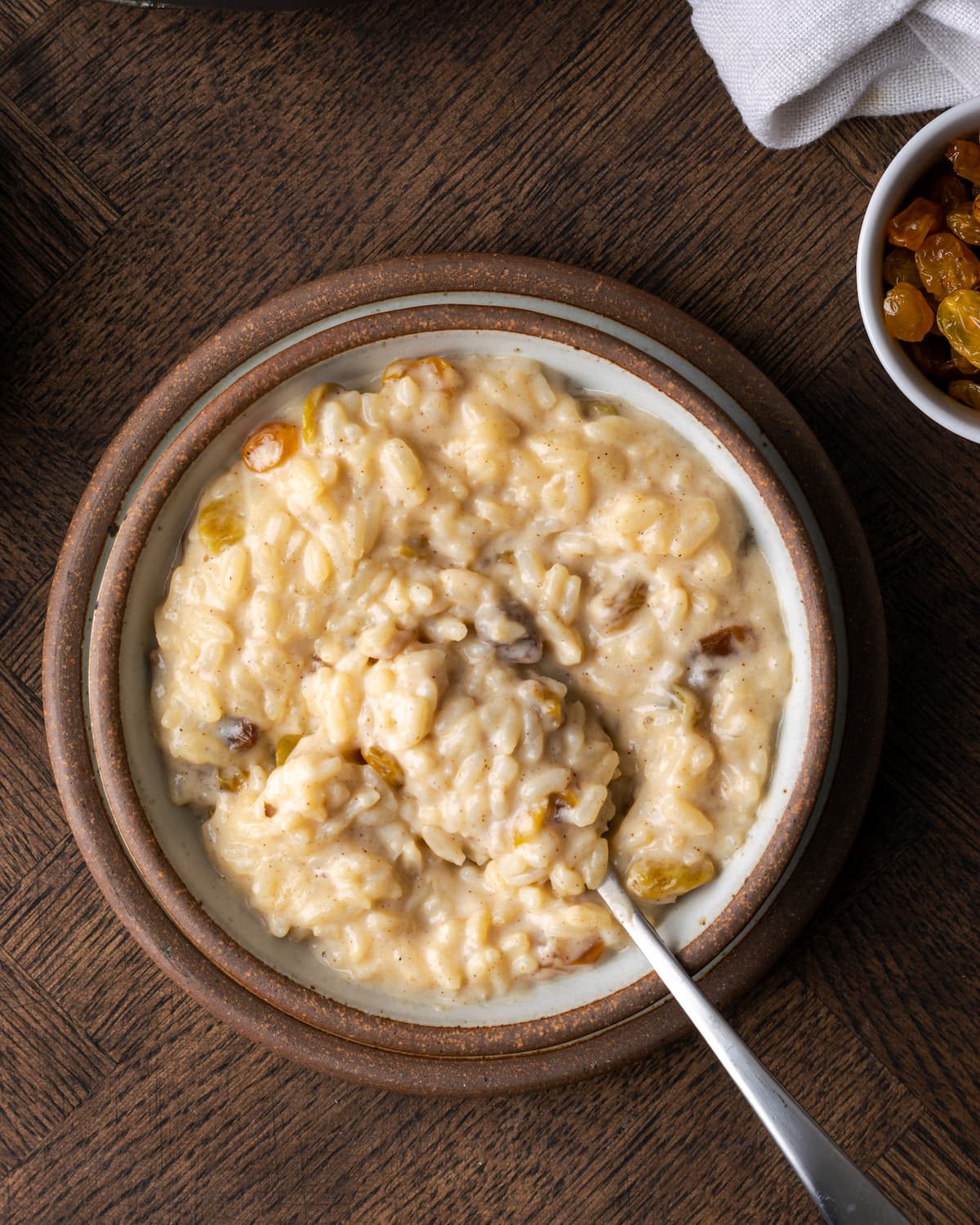 How to Store and Reheat Extras
Leftover pudding can be kept in an airtight container in the fridge for up to 3 days.
Reheat rice pudding on the stove or in the microwave, with a splash of milk to bring back the creaminess. If you're using the stove, stir your pudding as it heats. When reheating rice pudding in the microwave, heat in bursts and stir in the milk after 30 seconds.
Does Rice Pudding Freeze Well?
Rice pudding is best enjoyed fresh, so I would only advise freezing it as a very last resort. If you do decide to freeze your rice pudding for later, I recommend thawing it in the fridge and then reheating it on the stove on low heat. Stir the pudding well along the way, and be sure to add some milk to get it creamy again.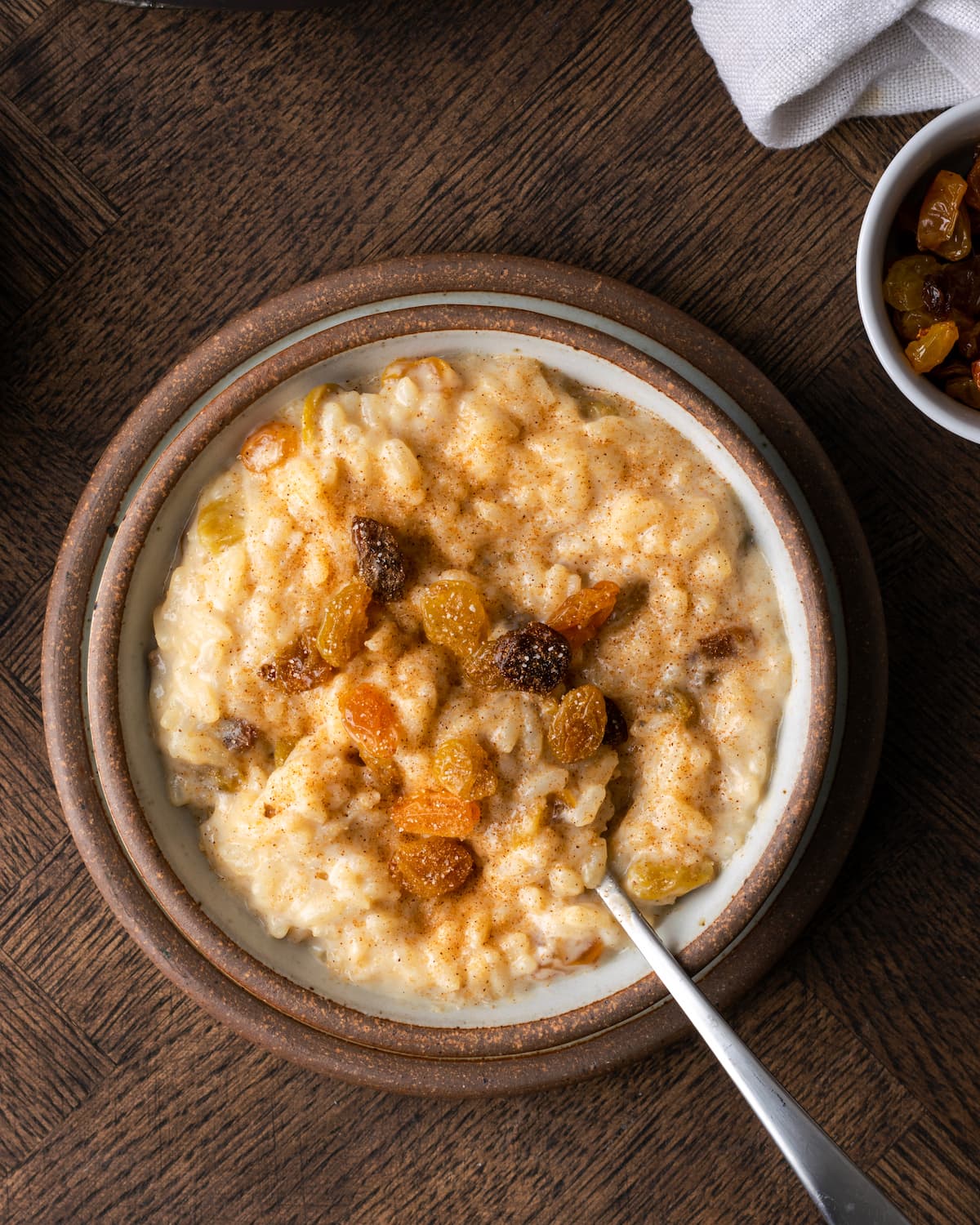 More Comforting Desserts to Try
Print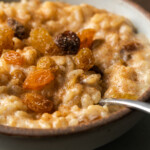 Creamy Rice Pudding
Author:

Prep Time:

10 minutes

Cook Time:

35 minutes

Total Time:

45 minutes

Yield:

8

1

x

Category:

Dessert

Method:

Stove

Cuisine:

Asian
---
Description
This creamy Rice Pudding recipe is made with just a handful of pantry staples. It's a cozy and comforting dessert that's easy to customize!
---
1 1/2 cups

long grain white rice, uncooked

3 cups

water

4 cups

whole milk, divided

2/3 cup

light brown sugar

1/2 teaspoon

kosher salt

2

eggs

1 teaspoon

ground cinnamon

1 1/2 cups

golden raisins

3 tablespoons

butter

1 1/2

teaspoons vanilla extract
---
Instructions
In a medium saucepan, bring water to a boil. Add in the rice, bring back to a boil, stirring constantly, and then reduce heat to low. Cover and allow to cook for 20 minutes, until just done and the water is absorbed. Stir the rice to fluff.

Add in 3 cups of the milk, sugar,and salt to the rice. Stir to combine. Increase the heat to medium and bring to a boil. Once boiling, cook for 15-20 minutes, stirring frequently, until thick and creamy.

Whisk together the remaining milk, eggs, and cinnamon. Slowly add this mixture to the rice, stirring constantly as you add it so the eggs don't scramble. Add in the raisins and cook for 2 more minutes, stirring constantly.

Remove from heat and stir in the butter and vanilla.

Serve warm or cold!
---
Notes
Store airtight in the refrigerator for up to 3 days.
Keywords: how to make rice pudding, easy rice pudding recipe, best rice pudding recipe
Want To Save This Recipe?
Find more recipes like this:
PIN for later: