Nutella Filled Chocolate Chocolate Chip Cookies. Basically the perfect cookie ever invented.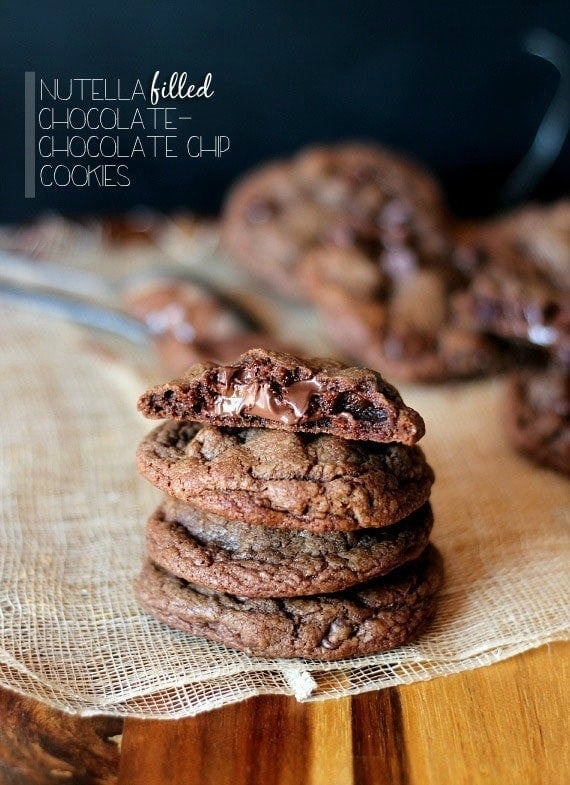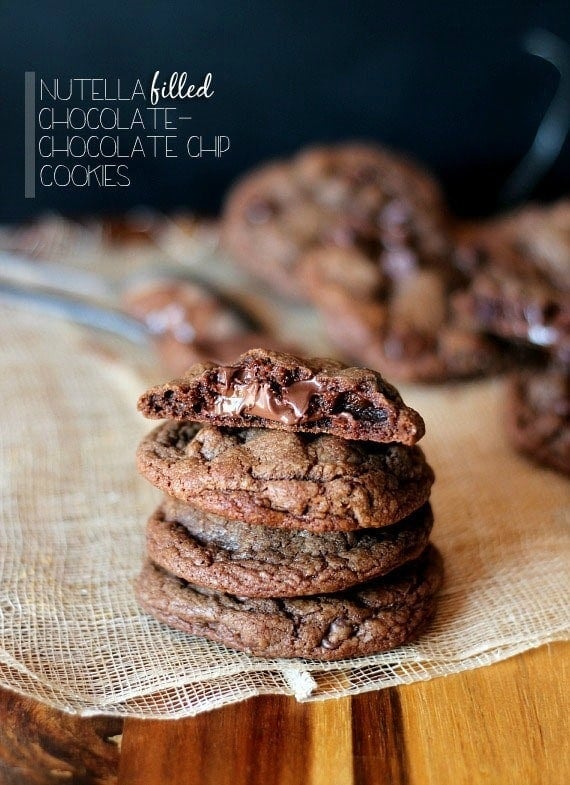 So I made some cookies.
They are totally worth every second it takes to makes them.
And also worth every calorie when you eat them.
Because it's a cookie. Filled with Nutella.
Really, that is all.
Nutella Filled Chocolate Chocolate Chip Cookies.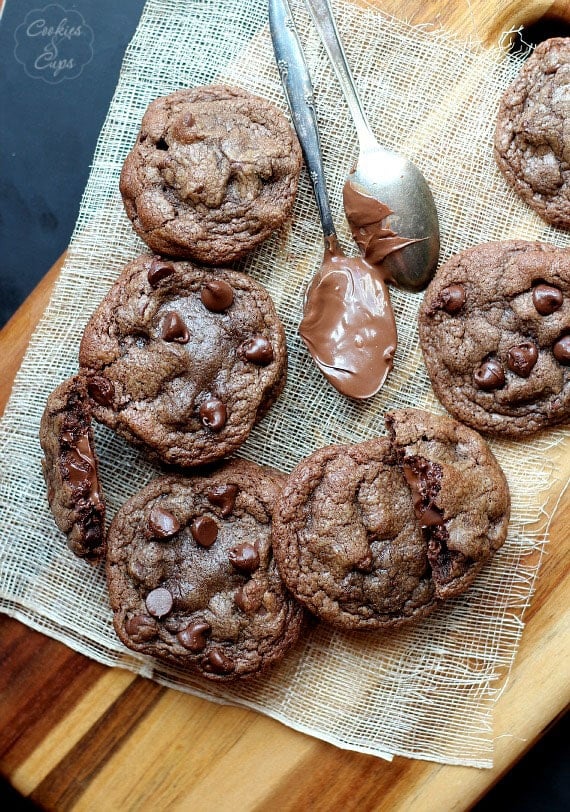 Let's take a gander at the details.
First, we'll need to talk about the cookies. They are chocolate chocolate chip.
AND I didn't use cocoa powder.
I used melted chocolate.
Because yes.
So in total I used 4 CUPS OF CHOCOLATE CHIPS!
Sorry for yelling.
But really. 4 CUPS!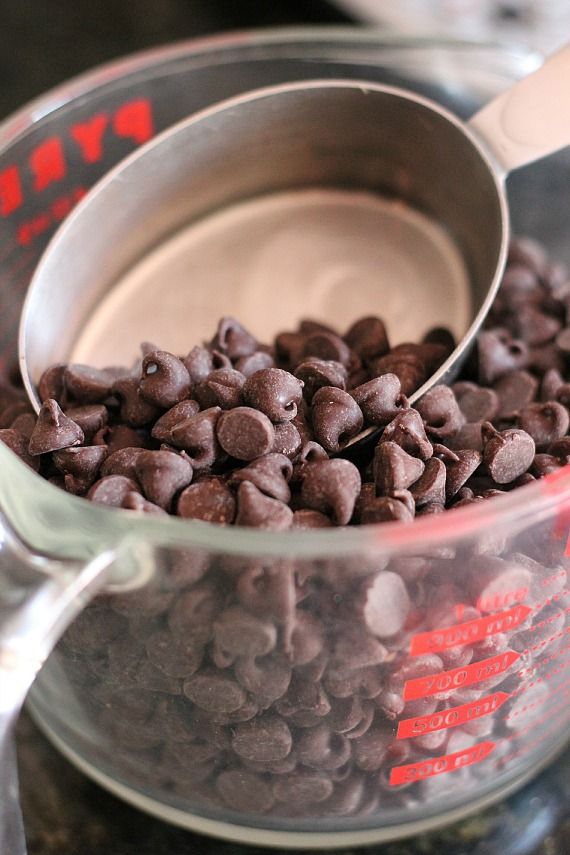 Melt 2 of those cups of chips over a double boiler or in the microwave…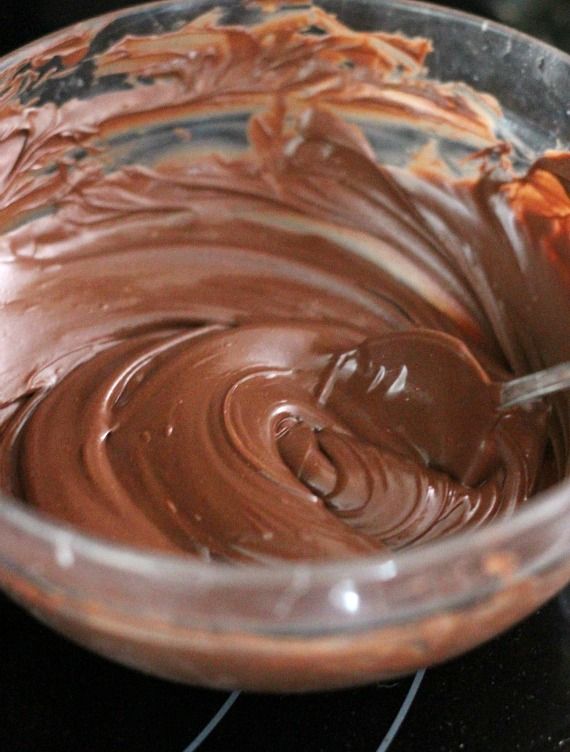 Pour that into your batter.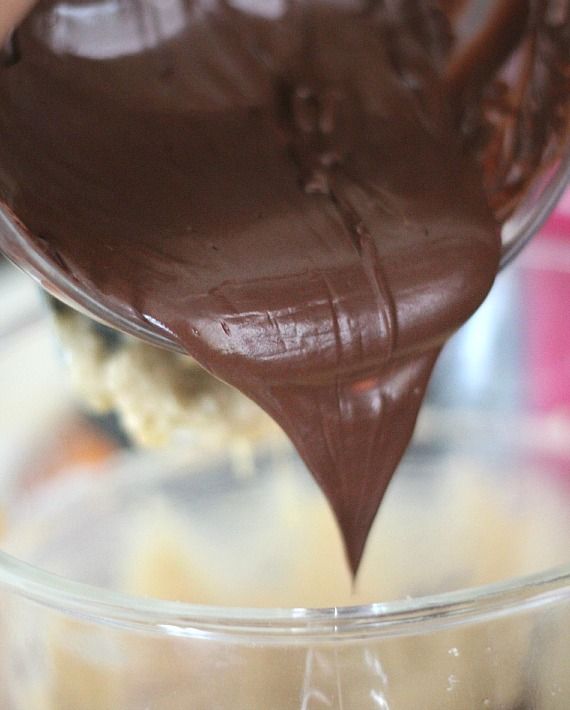 You'll need the remaining 2 cups of chocolate chips to mix in at the end, you know, when you usually add chocolate chips.
It's seriously delicious cookie dough.
Then let it chill for at least 2 hours. Sorry 'bout that.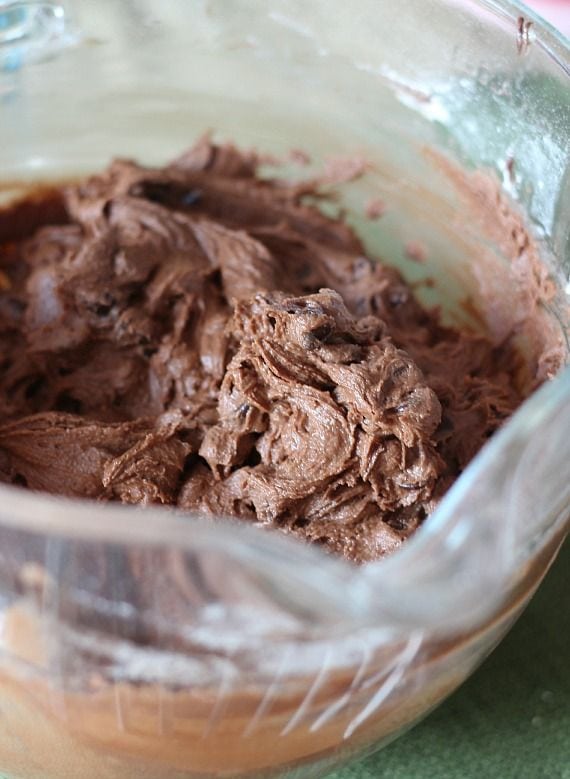 While you're waiting you should fill up a zip-top bag with Nutella and pipe little swirls about the size of Hershey's Kisses onto a lined baking sheet or cutting board.
Pop that in the freezer and let them chill too…for at least an hour.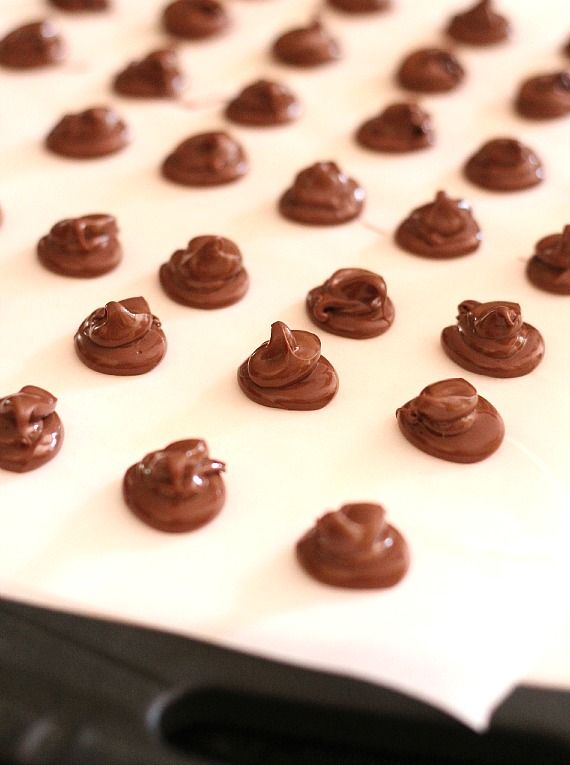 When everything's good and cold, or you've just lost all your patience, go ahead and make your cookies.
Form about a tablespoon of dough around one of the frozen Nutella pieces.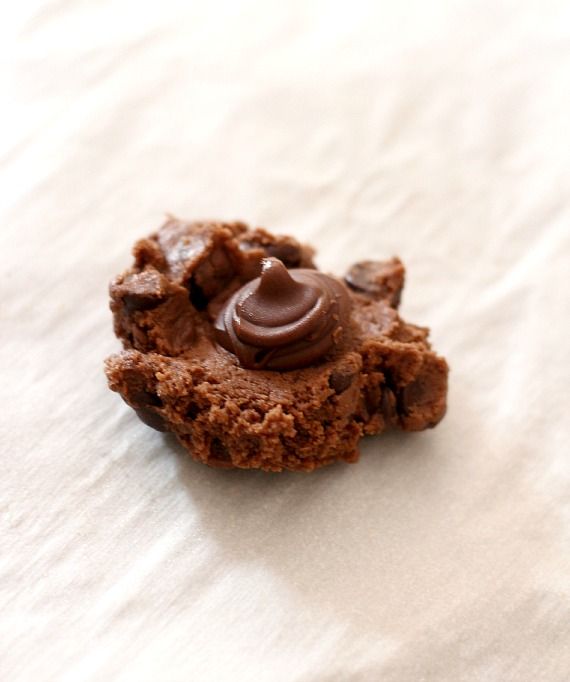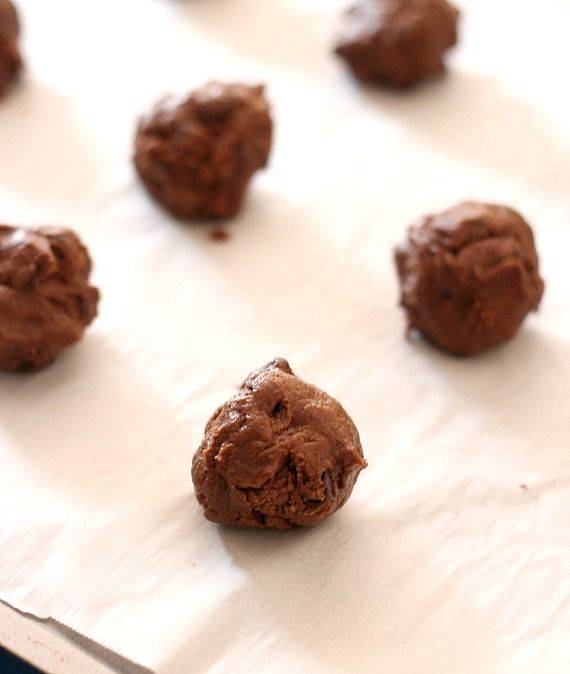 Form them into balls and bake for 7-8 minutes.Oh yum.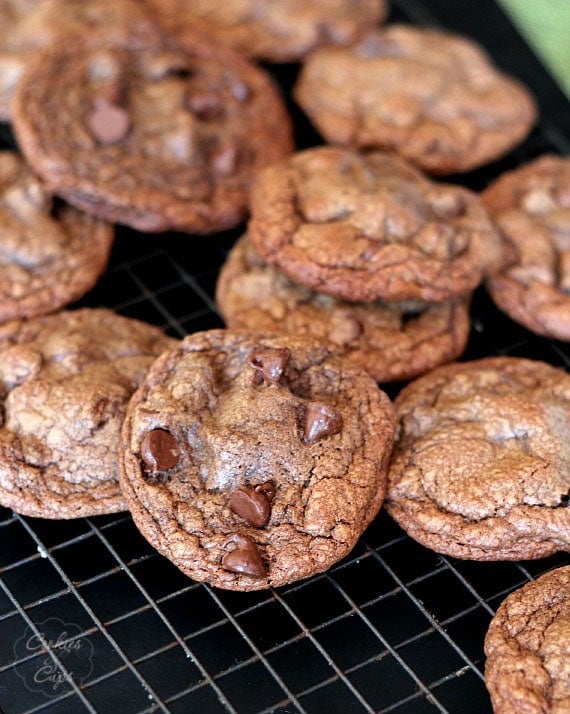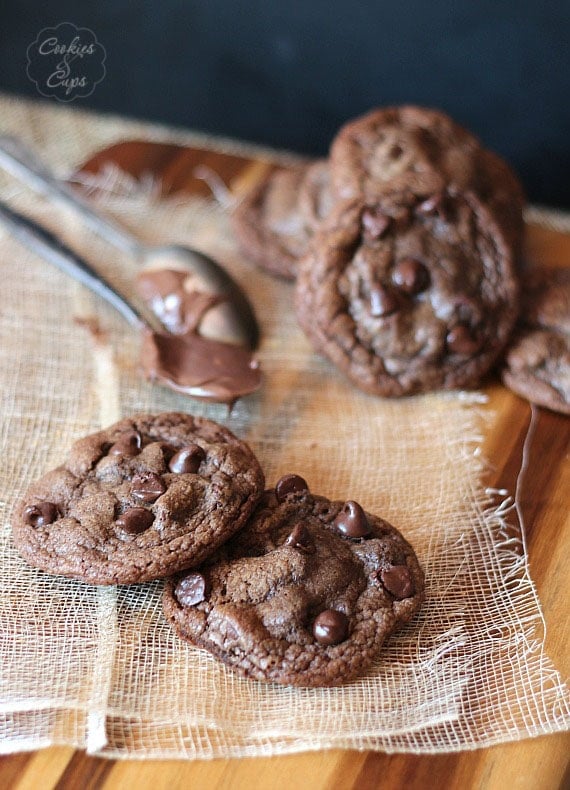 Did I mention these are totally worth it?Chilling your dough is super important in this recipe…make sure you don't skip that step, or your cookies will be much flatter than mine!
Print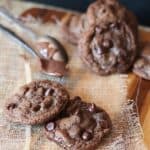 Nutella Filled Chocolate Chocolate Chip Cookies
---
---
2 2/3 cups

flour

1 tsp

baking soda

1 tsp

salt

4 cups

chocolate chips, divided

1 cup

butter, room temperature

1 cup

light brown sugar

1/2 cup

granulated sugar

3

eggs

2 tsp

vanilla

1 cup

Nutella
*optional flaked sea salt for garnish
---
Instructions
In bowl off stand mixer cream butter and both sugars for 1-2 minutes until light and fluffy.
Add in eggs and vanilla and continue mixing until evenly incorporated.
Melt 2 cups of the chocolate chips in microwave or double boiler.
Mix in melted chocolate into the butter mixture and evenly combine.
With mixer on low add in the dry ingredients and blend until dough forms.
Stir in remaining chocolate chips.
Chill dough for at least 2 hours.
Meanwhile, line a baking sheet with parchment paper.
Fill a zip-top or piping bag with Nutella and pipe teaspoon sized amounts onto parchment paper, similar to a Hershey Kiss. You will need 48 dollops of Nutella. Place baking sheet in freezer for at least an hour.
When dough and Nutella are chilled preheat oven to 375°
Line a baking sheet with parchment paper.
Form cookie dough around each Nutella piece using about 1 1/2 tablespoons of dough. Place on baking sheet about 2 inches apart.
Bake for 7-8 minutes.
While cookies are baking place Nutella back in freezer, as it will thaw out quickly.
Transfer cookies to wire rack to cool.
---
Want To Save This Recipe?
Find more recipes like this: