I declare Coffee Cake Cookies the new breakfast food. Stop what you are doing this second and Make. These. Cookies.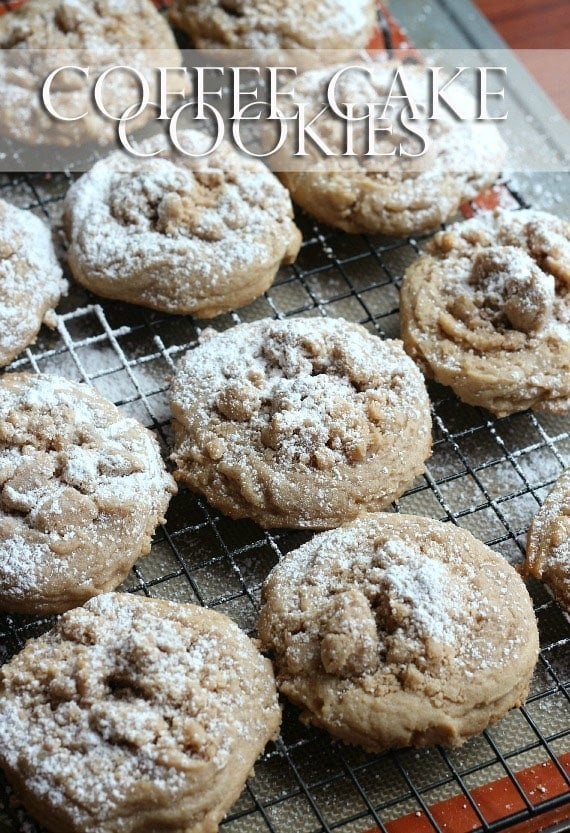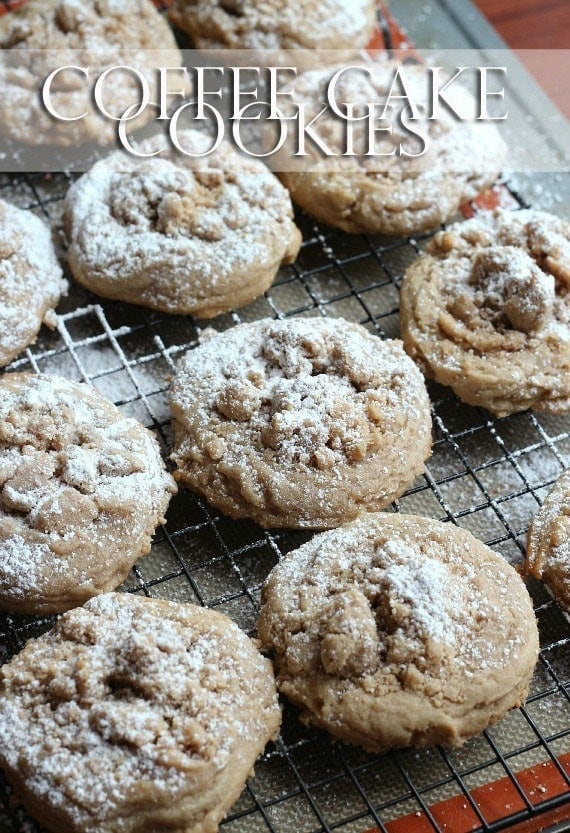 OK, here's the thing…coffee cake is not like a cool new dessert. Actually is old fashionedy and moderately boring. I don't care. I love it.
Especially when the crumb to cake ratio is way off balance. I never thought I would say this, but really the cake is not important… it's all about the crumb. So in the name of crumb lovers I bring you guys the cookie that ends all coffee cake.
Dah-rammm-ahh.
Move over weakly crumbed coffee cake. Move overrrr Cinnamon Brown Sugar Pop Tarts. You're getting faced.
Coffee Cake Cookies. Boom.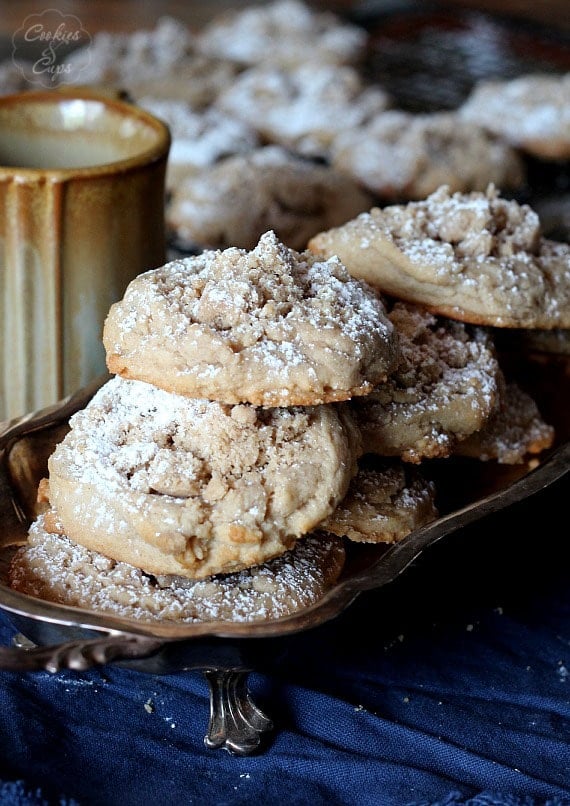 These are totally easy. And I know you will all be happy because there is no chill time.
Hear me? NO CHILL TIME FOR THE DOUGH! Rejoice!
Start by making your crumb topping…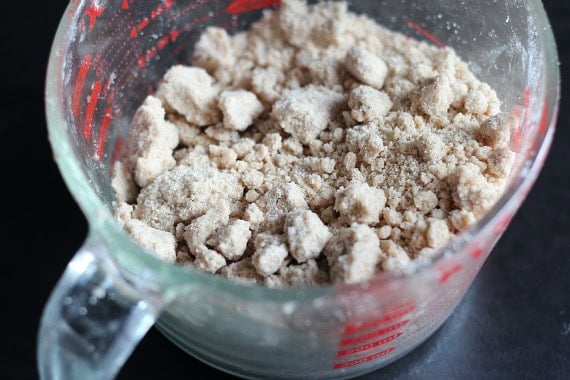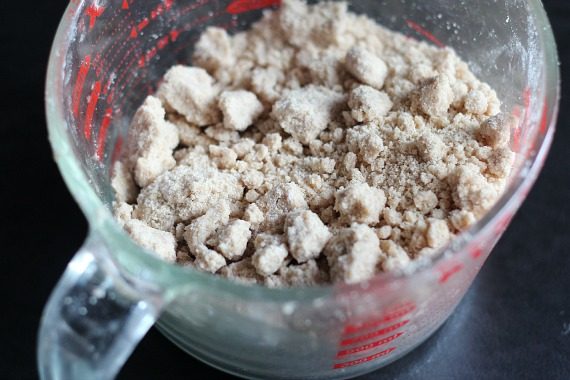 It's fairly basic…brown sugar, granulated sugar, cinnamon, butter, salt and flour. Chill the crumb topping while you make your cookie dough.
The dough will go together quickly. Also, please note that there is shortening in this cookie dough.
I know how some of you feel about the shortening, and yes you can sub in more butter. But ALSO know the shortening keeps these cookies from spreading, and you need a stable-based cookie to support all the crumb topping you put on.
So if you DO sub it for all butter, you might want to chill the dough to help keep the cookie thick.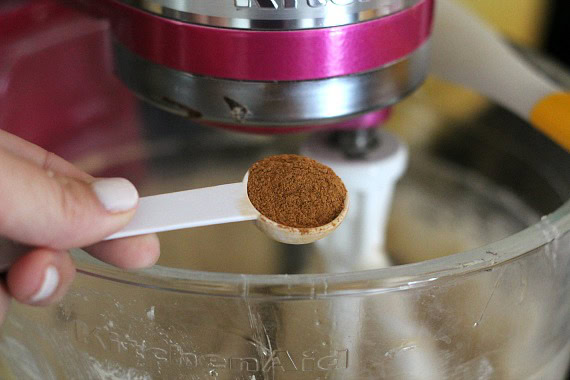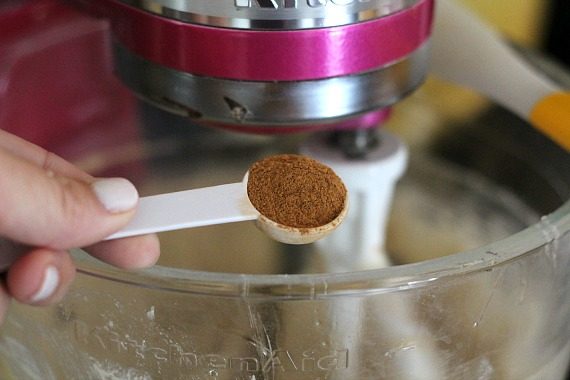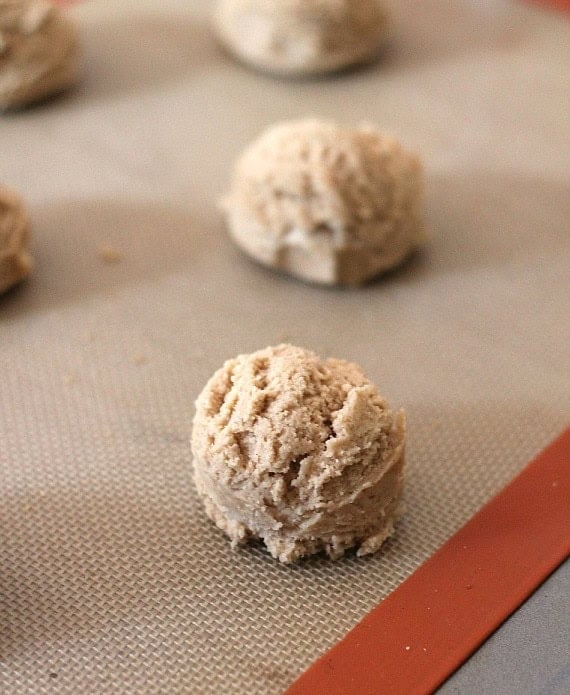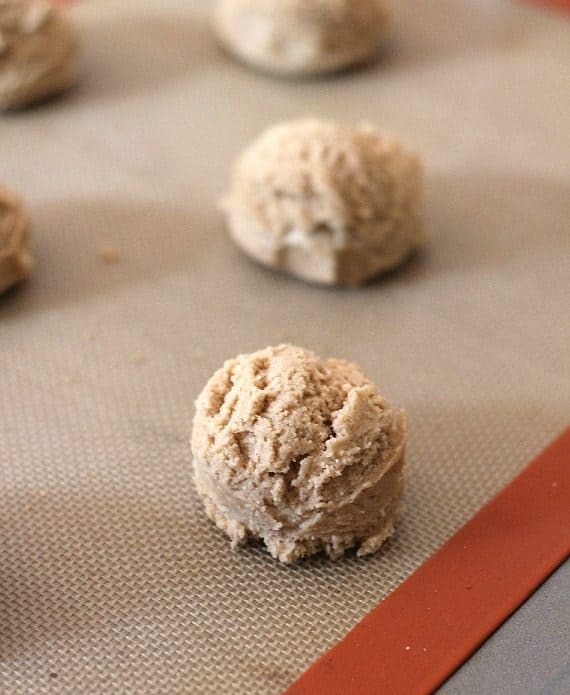 Moving on…the dough. You'll need cinnamon…

And then you go ahead and scoop it out onto a baking sheet.
I always line my baking sheet with either parchment or a SilPat…I like the way the cookies bake up when using a lined cookies sheet, and I also appreciate the clean up!

Please note I used a large scoop of cookie dough…3 Tbsp.
I bought this 3 tablespoon scoop a few weeks ago and I love if for nice big cookies.
Ain't nobody got time for a small cookie.
I used a spoon to make a large indentation in the dough…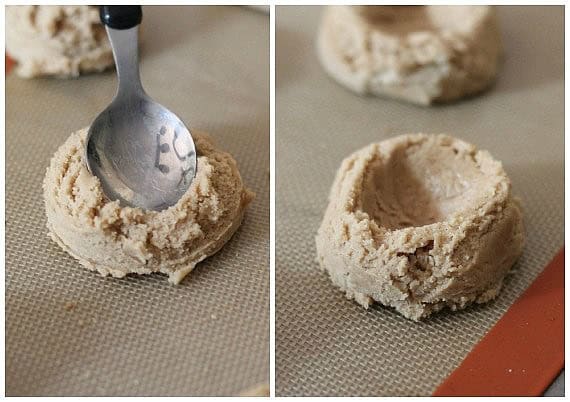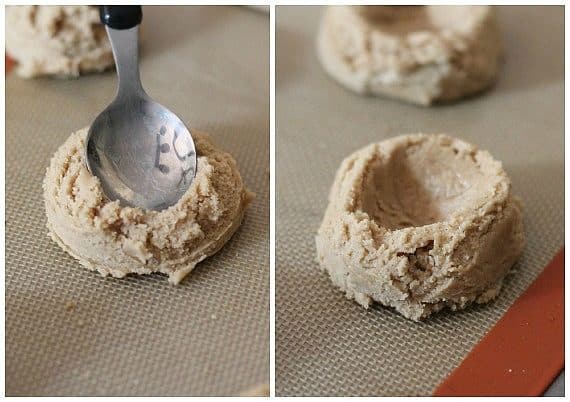 Then I filled the cookie with the crumb topping.
Use AT LEAST 1 Tablespoon of crumb…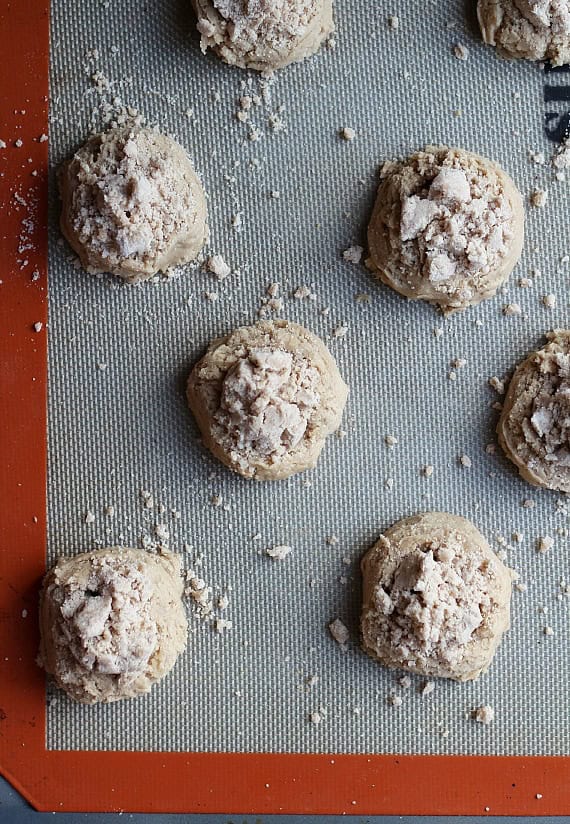 Bake them up and let them cool.
And if you want go ahead and add a sprinkle of powdered sugar.
Just enough to make them feel pretty.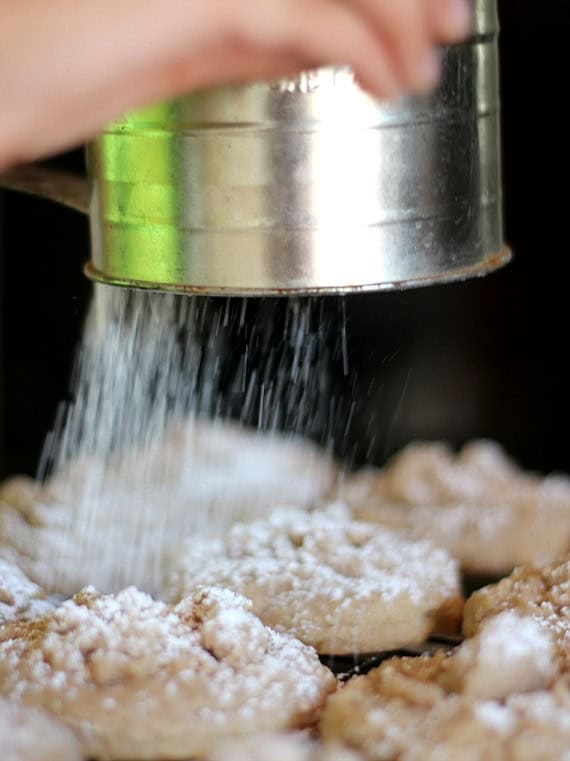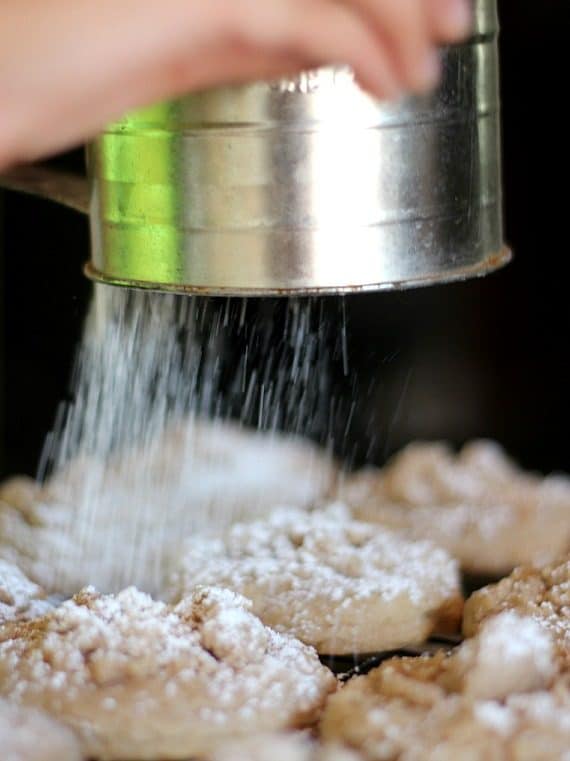 And you're done!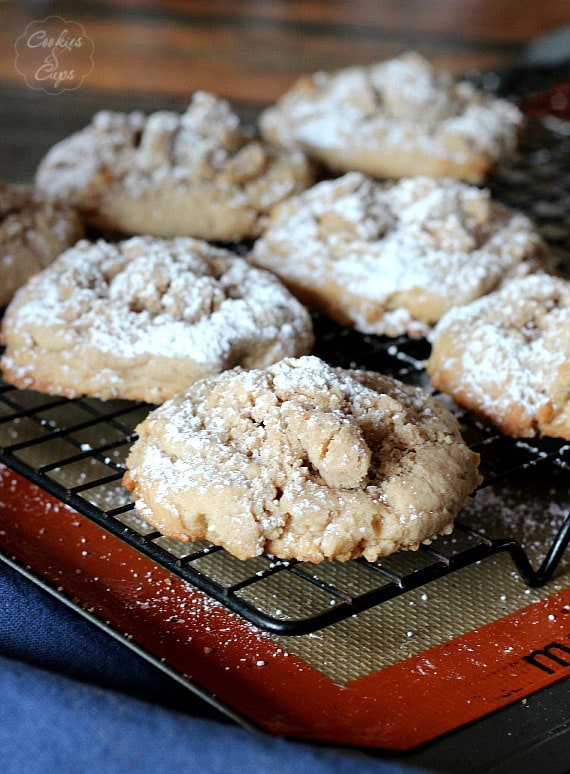 Let's have a look at the softest, most crumb-yummy cookie ever in all the land…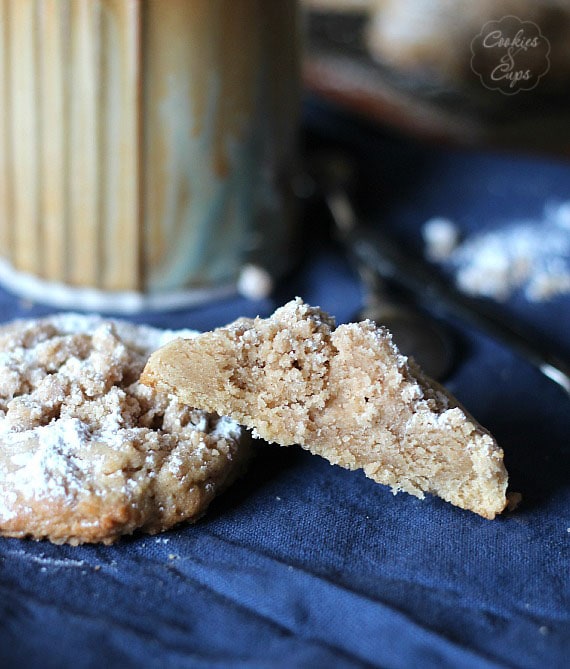 Gorgeous.
Now make them.
Print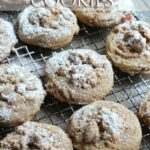 Coffee Cake Cookies
---
---
Crumb Topping
1/2 cup

butter, softened

1/3 cup

brown sugar

1/3 cup

granulated sugar

1 tsp

cinnamon

1/2 tsp

salt

1 2/3 cup

flour
Cookies
10 Tbsp

butter

1/3 cup

shortening

1 cup

light brown sugar

1/2 cup

granulated sugar

1 1/2 tsp

cinnamon

2

eggs

2 tsp

vanilla

2 tsp

baking powder

1 tsp

salt

3 1/3 cup

flour
optional ~ 1/2 cup powdered sugar for dusting
---
Instructions
Preheat oven to 350°
Line cookie sheet with parchment paper or silicone liner. Set aside.
Crumb Topping
Mix all the crumb ingredients together in a medium bowl and cut together with a pastry cutter or a fork until evenly mixed. Refrigerate while making cookie dough.
Cookies
Mix together butter, shortening and both sugars for 1-2 minutes on medium speed, until combined and smooth.
Add in cinnamon, eggs and vanilla and continue mixing until evenly combined.
Turn mixer to low and mix in baking powder, salt and flour, mixing until dough comes together evenly.
Scoop cookies out, using a cookie scoop or spoon (about 3 Tablespoons) and place on lined cookie sheet. If using a spoon, form the dough into rounded balls.
Make an indentation in the center of the cookie dough.
Scoop at least 1 Tablespoon of Crumb Topping into the center of the dough pressing lightly to stick. I added as much as I could get in there!
Bake cookies for 9-10 minutes, or until edges start to get golden.
Remove from oven and allow to cool for 3 minutes on cookie sheet, then transferring to a wire rack to finish cooling.
Dust with powdered sugar if desired.
---
Want To Save This Recipe?
Find more recipes like this: