This Coffee Cake Granola combines the best part of the coffee cake, the buttery CRUMB TOPPING, with a honey sweetened, crunchy, coconut oil granola!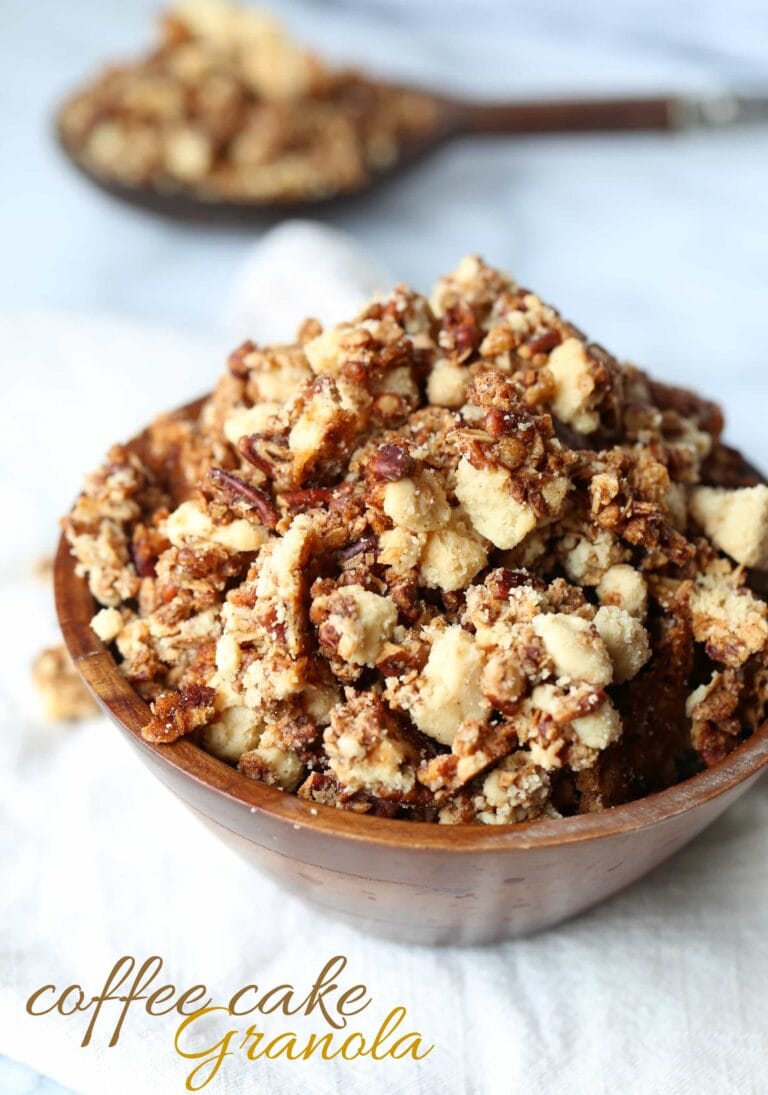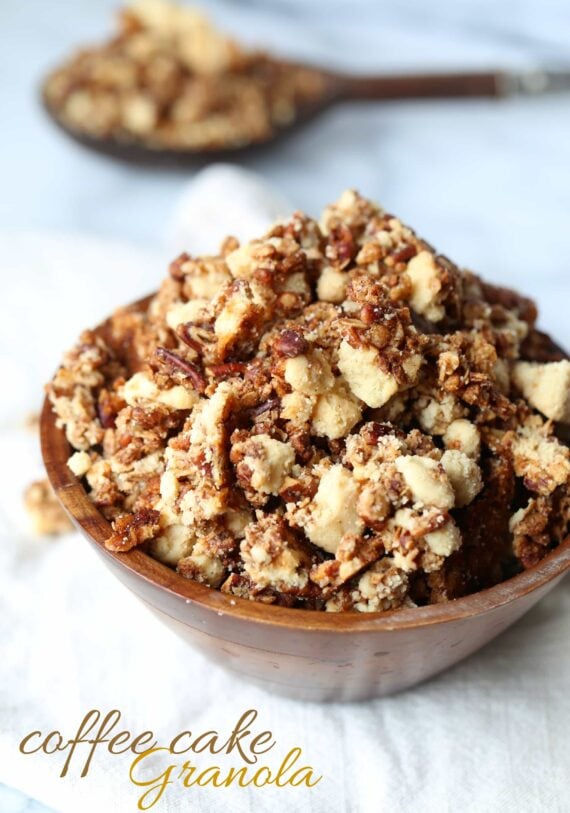 A few weeks ago my kiddo and I were in the kitchen together. He was helping me make Blueberry Muffin Cake, which is one of our favorites!
Well, while he was making the crumb topping he decided that he wanted to just bake the crumb and eat that alone.
Of course I thought that was possibly the most brilliant idea ever, because we all know the only reason to eat coffee cake is the crumb…so why not just omit the cake part and go in for the kill? I seriously have some smart kids.
Anyhow after a little brainstorming we thought that maybe mixing a crumb-type streusel with a honey-sweet coconut oil granola would be the perfect crunchy, buttery treat.
It worked out well.
The recipe is pretty simple. We made a streusel/crumb/shortbread hybrid first…We wanted to make sure it wouldn't melt at all.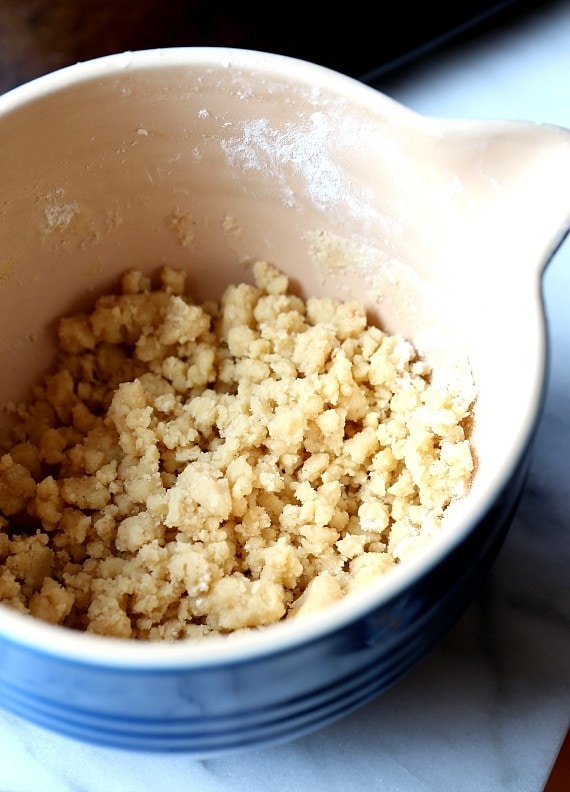 Then in a separate bowl we mixed up some honey, coconut oil (because I love the stuff), Rice Krispie cereal (for the crunch), pecans (again because I love them), cinnamon, a little brown sugar and oats…of course.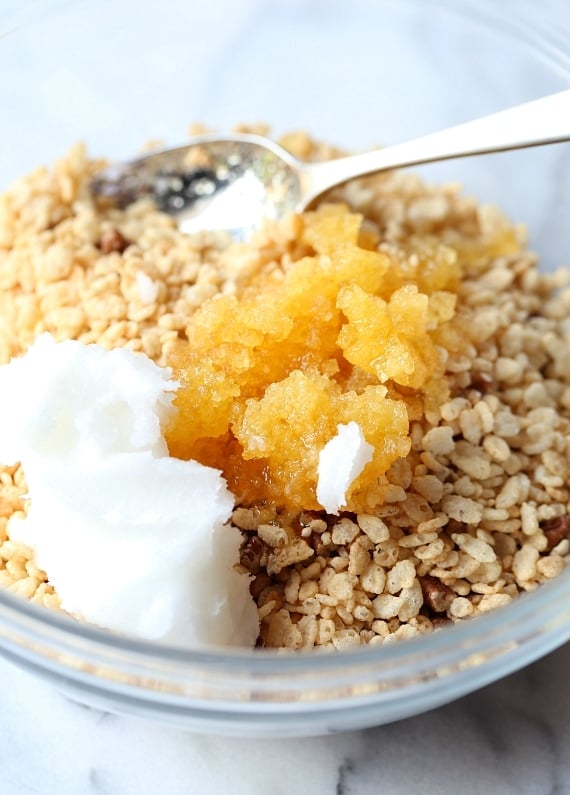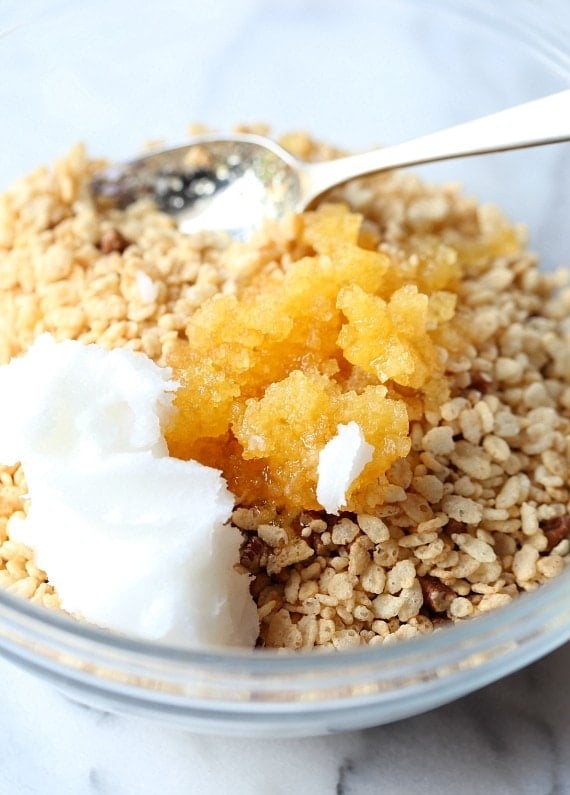 Now if the "coffee cake" aspect of this recipe doesn't intrigue you at all, this mixture alone will make a fab granola. Just bake it as per my recipe below without the streusel/crumb.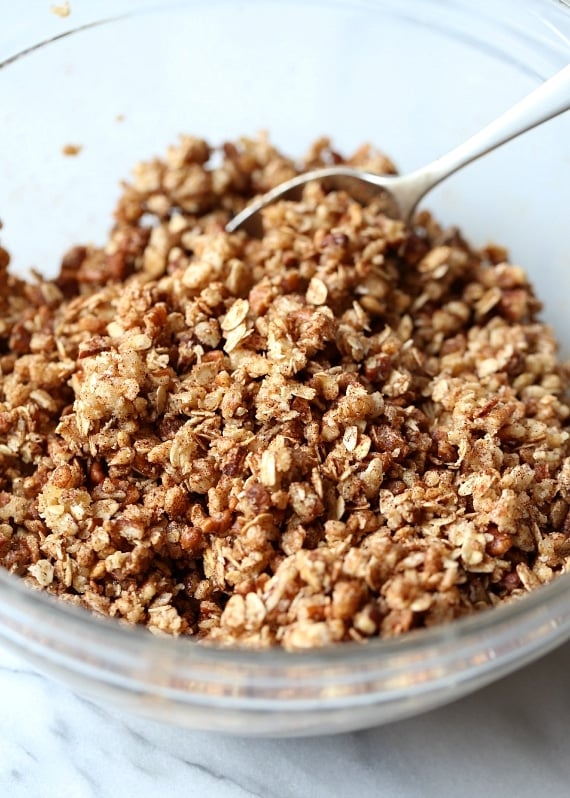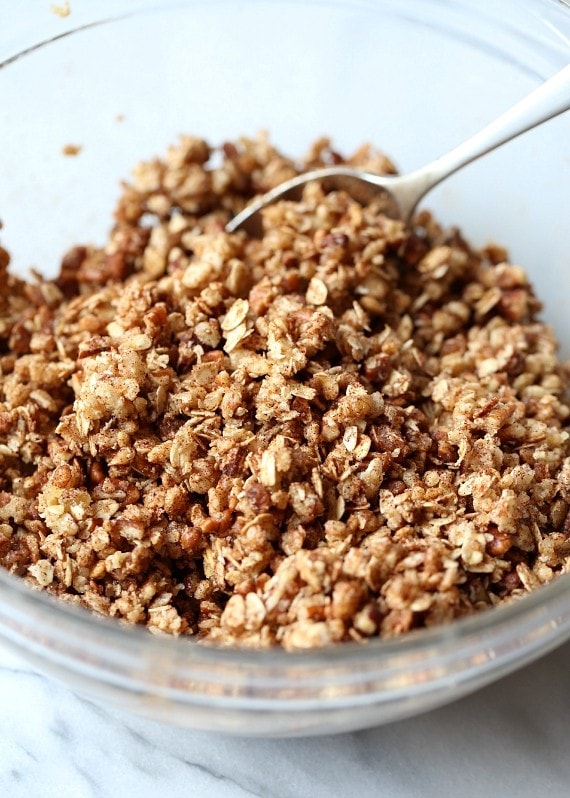 BUt if you're going for gusto mix the streusel/crumb in with the oat mixture…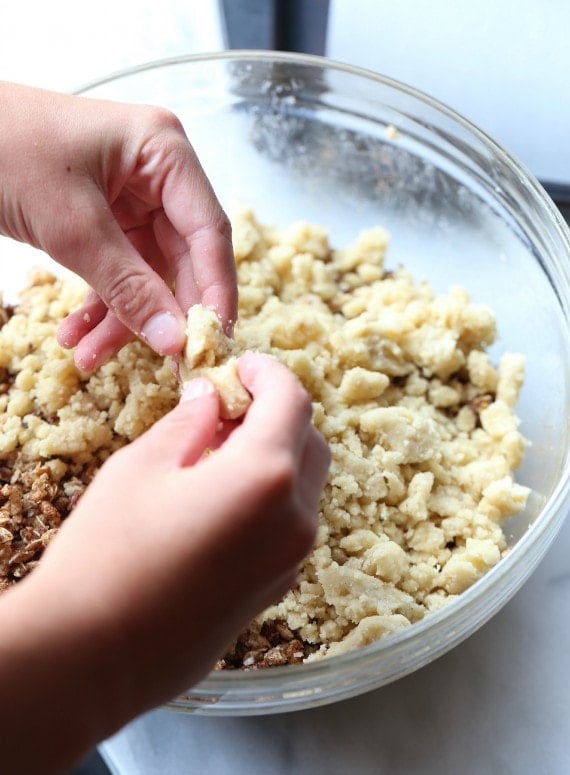 Just spread it on a lined baking sheet and pop it in the oven for a few…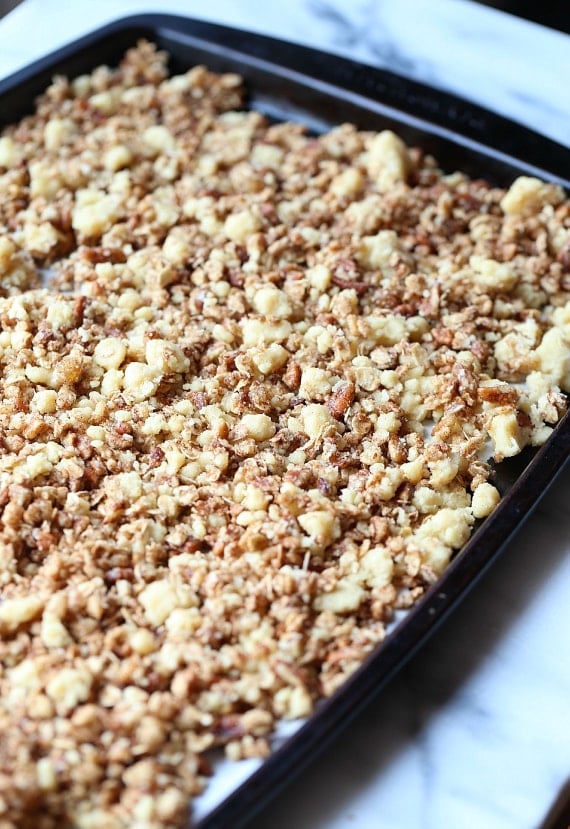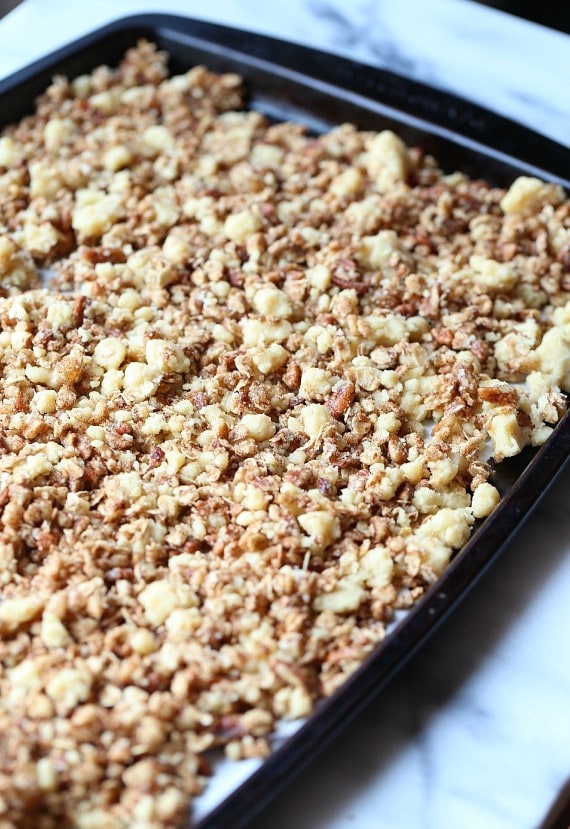 When you remove it from the oven you can let it cool pretty much completely so you will get large granola clusters. If you don't like large clusters, mix the granola immediately after removing it from the oven.
But like I said, if you're like me and snacking clusters are your thing let it cool and then break it up…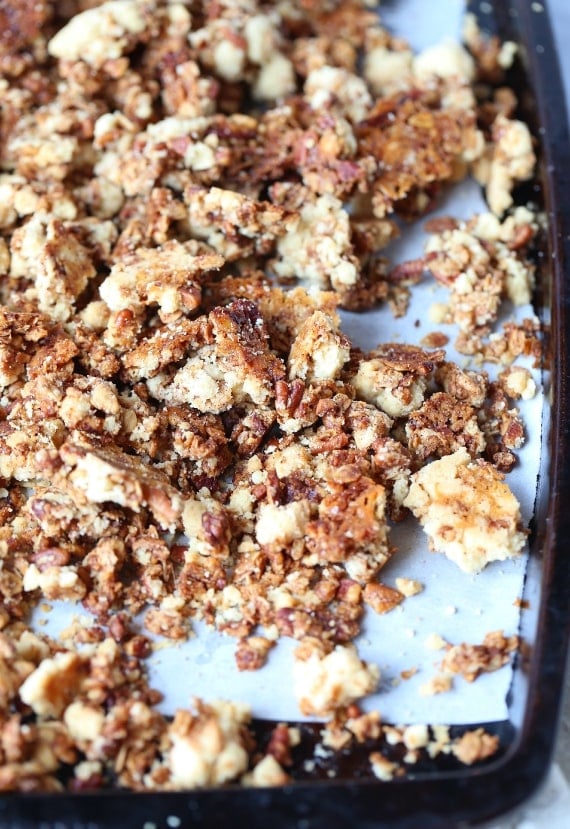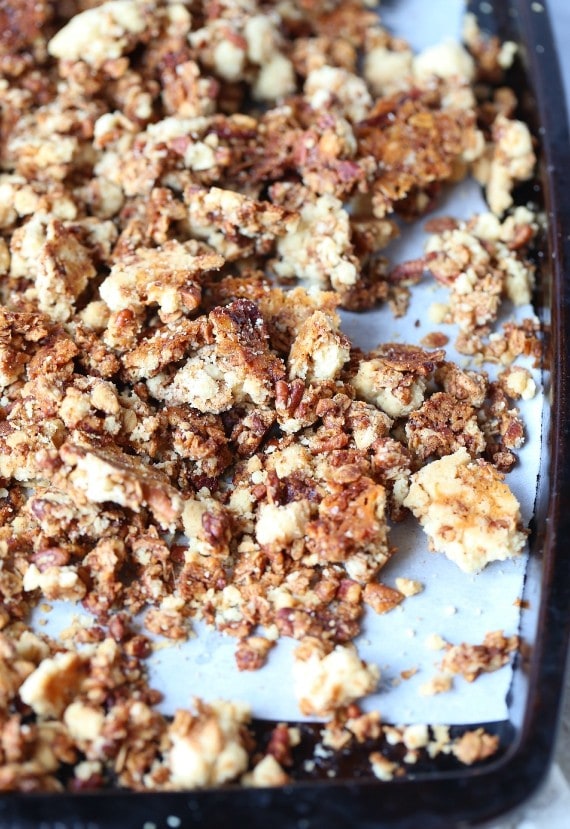 Also, yes I am aware this isn't the most visually appetizing granola, but what it doesn't have in looks it makes up for in taste. Believe.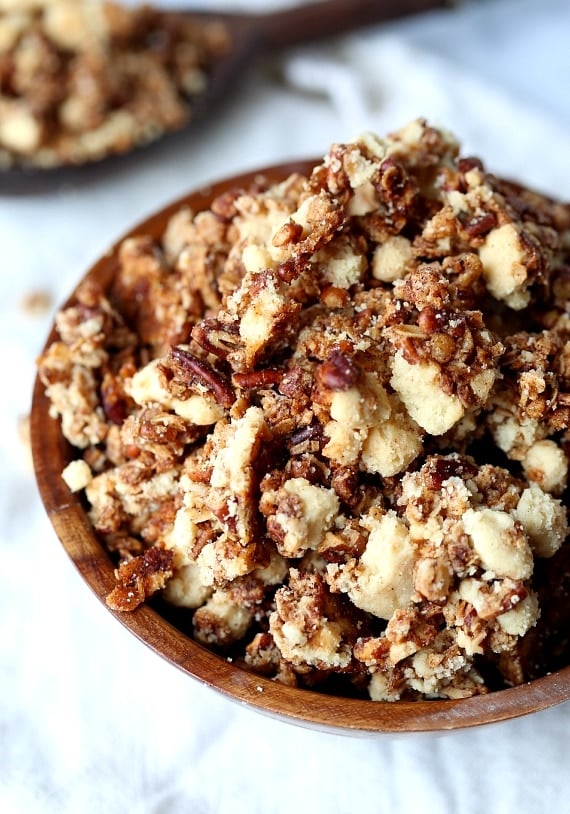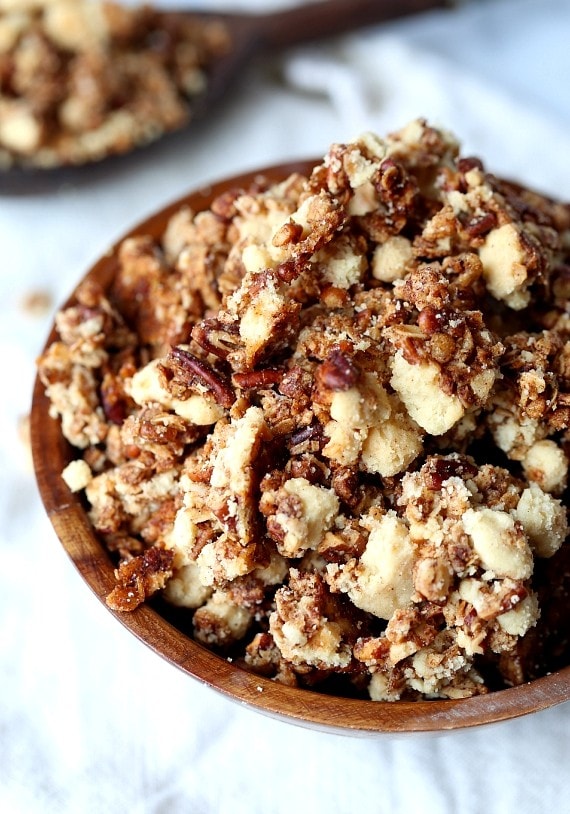 We LOVE granola in our house! You can check out my Snacking Granola too….it's a favorite of mine!
Print
---
Crumb
1½ cups

flour

2½ tablespoon

granulated sugar

1 teaspoon

kosher salt

¼ teaspoon

cinnamon

½ cup

butter, melted
Granola
1 1/2 cups

old fashioned oats

1 cup

chopped pecans

1 cup

Rice Krispie cereal

1/3 cup

honey

1/4 cup

coconut oil

2 tablespoons

cinnamon

2 tablespoons

brown sugar
---
Instructions
Preheat the oven to 325°F/165°C
Line a large baking sheet with sides with parchment paper and set aside.
In a medium bowl combine all the Crumb ingredients and stir until mixed. Using your hands form the mixture into small crumbs. Set aside.
In a large bowl combine all the Granola Ingredients and stir until combined.
Mix the Crumb Mixture into the Granola mixture and spread it evenly onto the prepared pan.
Bake the granola for 30- 35 minutes until it's lightly toasted. Allow the granola to cool completely on the pan and then break it into pieces.
---
Notes
store airtight for up to a week.
Want To Save This Recipe?