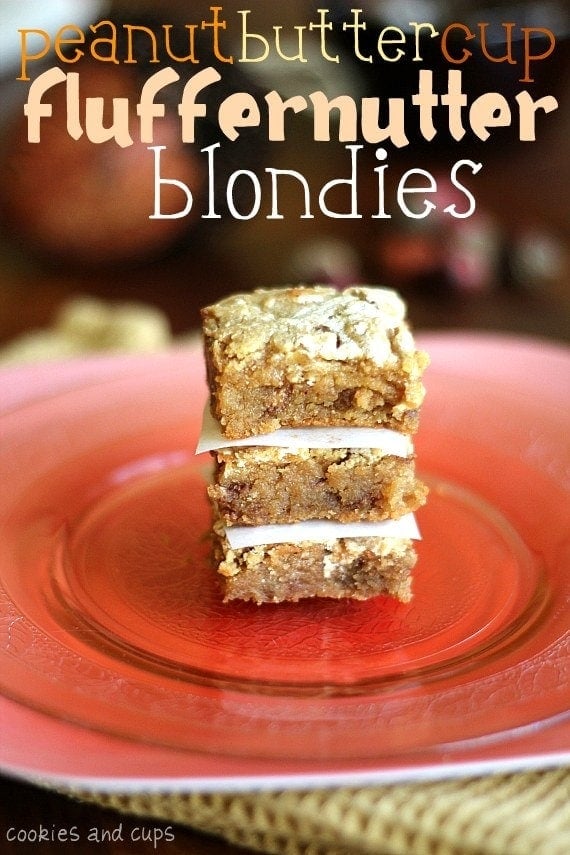 Last week I went to Ohio.
I had to fly there.
I'll tell you all about Ohio later, but today let's talk about airports/planes.
Going on a trip is all sorts of exciting, but the getting-there part, not so much.
Airports are scary and confusing places filled with weird, impatient people.
I mean, when did I become the last normal human?
First, I got into the wrong line to check-in…and the man behind me was obviously an expert traveler because he kept sighing at me really loudly when I kept forgetting to move 1 foot up in the maze line. Finally I made it to the front of the line only to be told by the super helpful woman behind the counter that I needed to go check-in at the other desk, by way of another, super-long maze line.
All this waiting to check my bag. Yes, I'm a bag checker, no matter how light my load. I get anxiety when I carry my bag on. What if there is no space in the overhead compartments when I get on the plane? I have been faced with that dilemma more than once. I end up standing in the aisle looking around for space, which never happens to be above my own seat. I start sweating and searching with panicked eyes for any sliver of space that I can squeeze my over-packed carry-on into, knowing that the long line of people behind me are getting annoyed by me standing there like an idiot. Also, I am 5'2″ which makes hiking my bag over my head hard enough. I have been hit in the forehead with my carry-on more than once. It is embarrassing and painful. So, I am a bag-checker.
After I got my bag checked, I had to take the air train to the other terminal. In my airport the train has little separate cars, which are great when you have your family with you, but if you are alone you're forced to sit in a tiny space facing some random stranger who will inevitably stare at you until you make eye contact. The thing is, once you've made eye contact it's like you have acknowledged their existence and now have to say something.
I always get alarmingly nervous in these situations and say the wrong thing…like if the stranger says, "Pretty cold out today", I usually come back with, "Nice to meet you." Then I sit there for the next 3 minutes feeling like a moron staring down at my feet. I really shouldn't be allowed in public.
On my day of travel I was running slightly behind and by the time I got to the gate I was starving. The only thing near my gate was a stand that sold nuts. I am allergic to almonds, so obviously I steer clear of those, but in general I avoid most nuts. But since I was so hungry I decided to throw caution to the wind and get a bag of cashews. I ate a few handfuls and boarded the plane. As the doors closed I started having trouble breathing. I was convinced I was going into to anaphylactic shock because of the cashews.
Here's my thought process: Ok, breathe, calm down. What if I am dying? What if I die here? Should I say something? Should I draw attention? People will be mad if I stop the plane. People might not notice if I die. I have a window seat. They'll think I am sleeping. What do I do?
Well, I settled on dying in my seat rather than embarrassing myself. As I sat there trying to breathe I realized that I was a complete idiot and should not be allowed out of the house by myself. Luckily, I gained my composure and realized that I was just panicking and I wasn't dying of an allergic reaction to cashews.
I am no good in pressure situations.
Don't even get me started on connecting flights!
Like I said, I'll talk about my trip another day, but among other things that I left Ohio with, was the idea for these blondie bars.
My kids love Fluffernutter sandwiches. (For those unfamiliar, Fluffernutter is peanut butter and Marshmallow Fluff.)
I decided to amp up the idea and add some Reese's Peanut Butter Cups to the mix as well…can't be bad!
I ended up with a buttery, peanut butter bar with Fluff swirled throughout and yummy chunks of Reese's to add a little extra pizzazz.
Peanut Butter Cup Fluffernutter Blondies
First you make you batter…really easy.
Don't forget to fold in your peanut butter cups. A whole entire 10.5 oz bag of full sized cups…minus one for tasting. You need to make sure they're not poison.
Spread your batter into a greased pan.
Now, get your Fluff ready.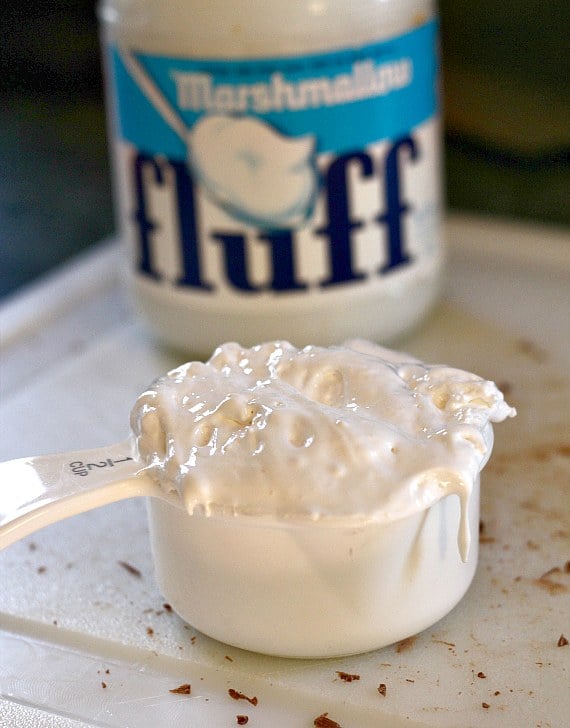 Drop that randomly on top of your batter…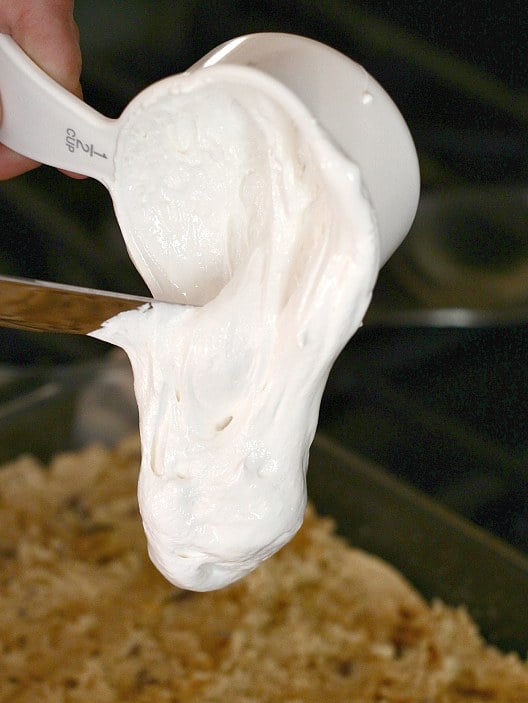 and swirl it around…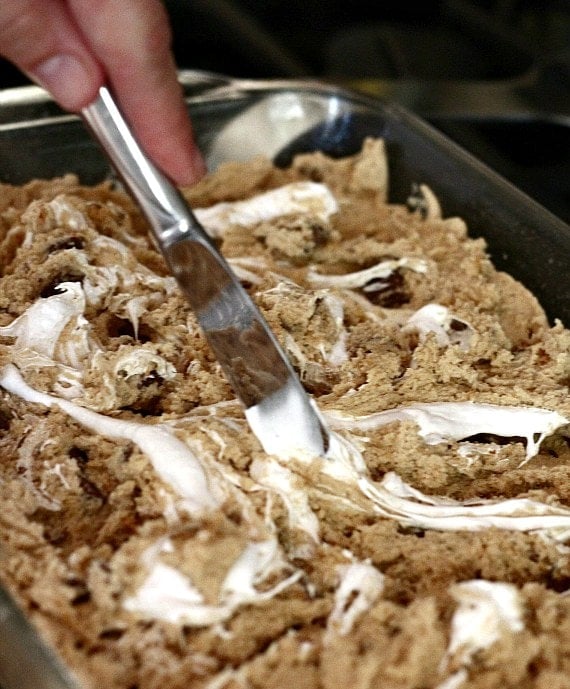 Bake it and eat.
Nothing wrong with that!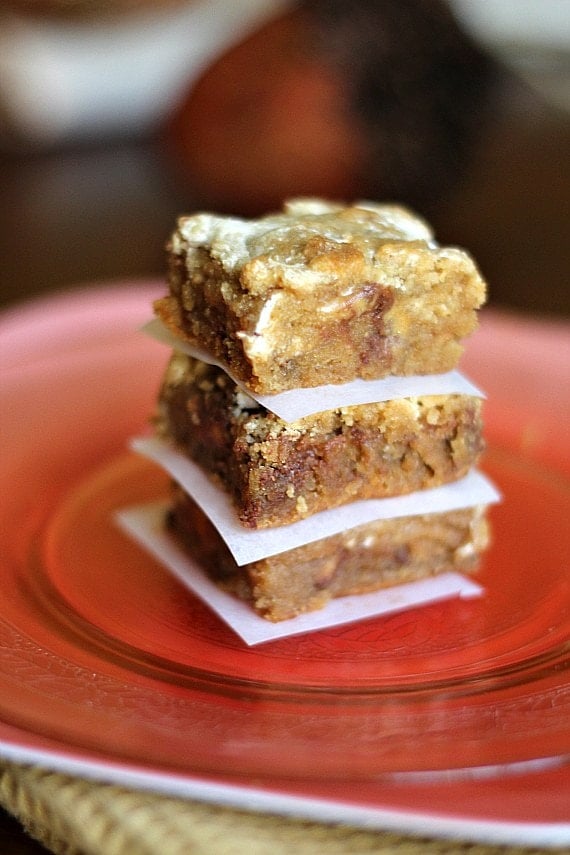 Now, sweets aside, you really need to hop over and check out my other site…we play pranks on our kids and video it, which isn't mean at all, we make crafts because we're kinda crafty, we snoop in people purses, we have fun meal plans and man-judging just to name a few. Seriously, it's kinda the perfect place!
And one more thing…don't forget to enter in my babycakes giveaway…it's open until Sunday, November 20th!
Thanks!!
Print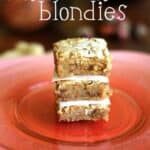 Peanut Butter Cup Fluffernutter Blondies
---
1 cup

butter, room temperature

1 cup

light brown sugar

1/2 cup

granulated sugar

1/2 cup

peanut butter

2 tsp

vanilla

2

eggs

1 tsp

baking soda

2 1/2 cups

flour

1 tsp

kosher salt

2 cups

coarse chopped peanut butter cups (

10.5 oz

bag)

3/4 cup

Marshmallow Fluff
---
Instructions
Preheat oven to 350.
Spray a 9×13 baking dish with cooking spray.
Cream butter and peanut butter together.
Add sugars and beat until light and fluffy.
On medium speed add in eggs and vanilla and mix until incorporated.
Stir in your baking soda, salt and flour until just combined.
Fold in your chopped peanut butter cups.
Spread the batter in your prepared pan.
Drop you Fluff randomly on top of the batter and swirl in with a knife.
Bake for 30-35 minutes until toothpick placed 1 inch from side comes out clean. Don't over bake.
Remove from oven and let cool on wire rack.
Cut into squares when cooled.
---
Want To Save This Recipe?
Find more recipes like this: