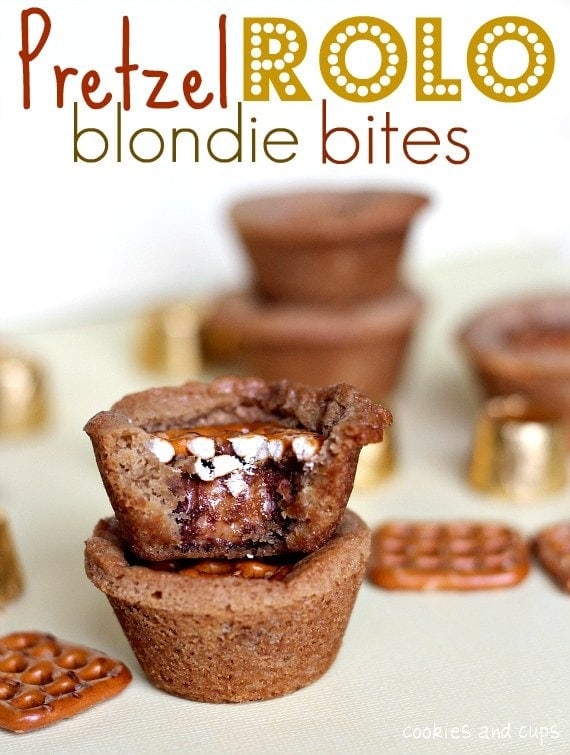 Have you ever heard candy talk?
Like, with words talk to you?
Well, it happens. It's a real thing.
Seriously, as I type this I can hear the leftover Halloween candy in my pantry talking to me.
If you listen closely you'll hear things like, "Please, come free me, I'm suffocating in this wrapper". And really, who am I to let something suffocate?
I'm a healer. A helper. A candy pleaser.
You too?
See, that's why we're friends. We all can hear the candy. It's a special gift.
I'm a candy whisperer. Again, it's a real thing.
So, in the vein of facilitating the candy's life's purpose I want to make sure it all gets eaten. The present dilemma being the correct vehicle for the consumption of the candy.
Some candy, certainly, is best in it's raw form. However, some are even better when surrounded by a buttery, brown sugary cookie bite and topped with a pretzel.
We're talking Rolos today…and it told me that's what it wanted.
I make dreams happen.
Good talk.
First make your simple blondie batter. Spray a mini muffin pan with non-stick spray and fill each cup with a rounded tablespoon of batter.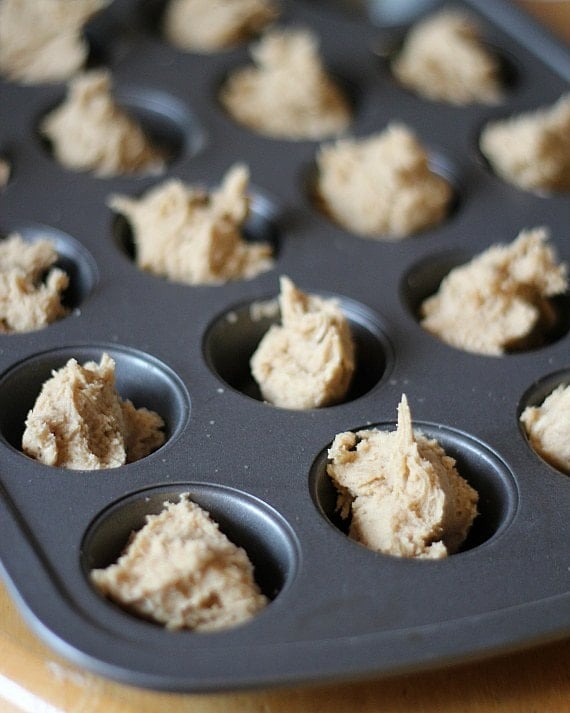 Press an unwrapped Rolo into each batter filled cup.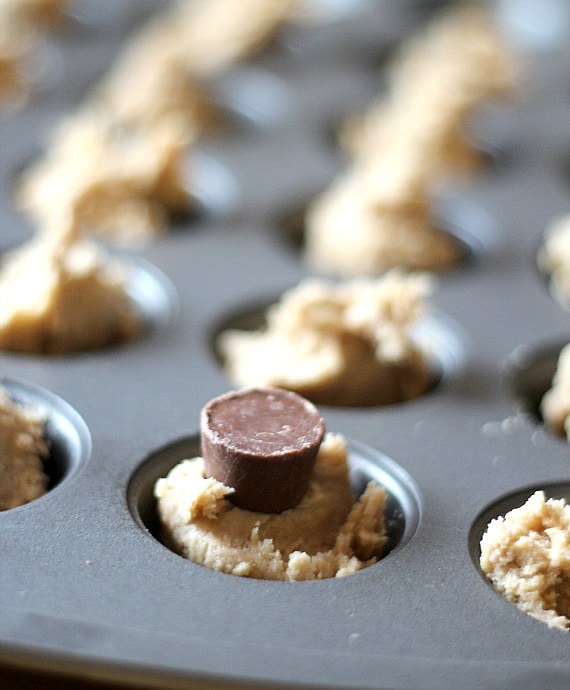 Don't worry about covering the Rolo with batter…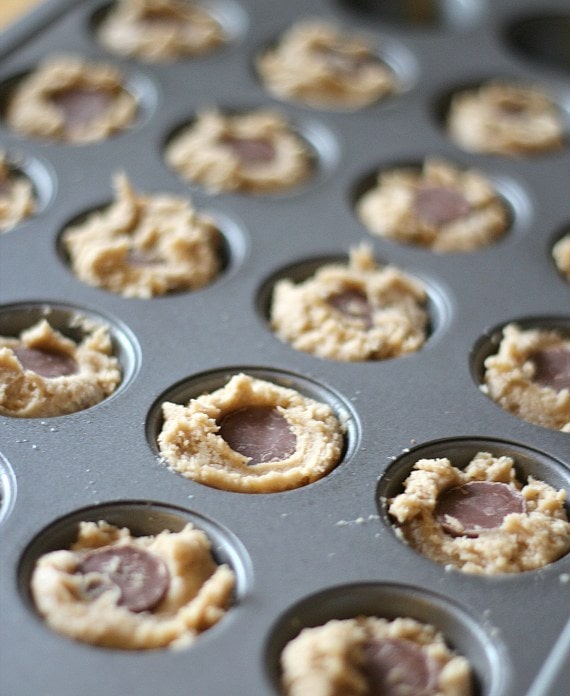 Now bake them up.
As soon as they come out of the oven press a waffle-style pretzel on top of the Rolo. Press just enough to stick to the chocolate of the Rolo.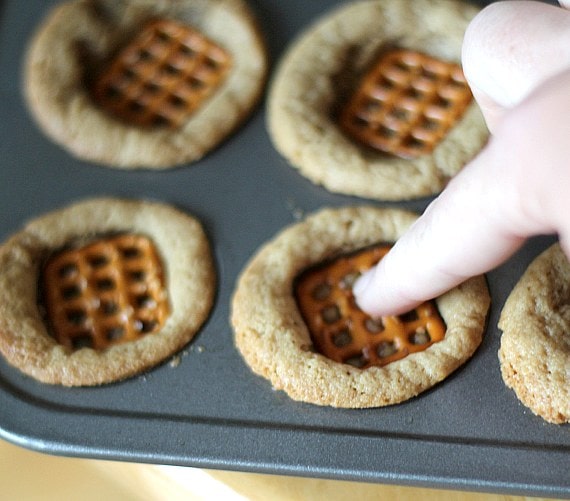 See? Easy!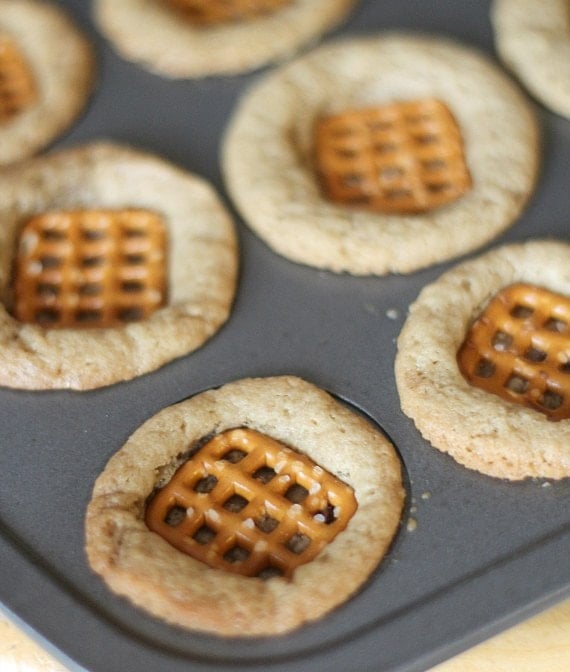 Remove them from the pan and let them cool on a wire rack until you're ready to eat them….which if you're listening to your candy, like I am, then that means immediately!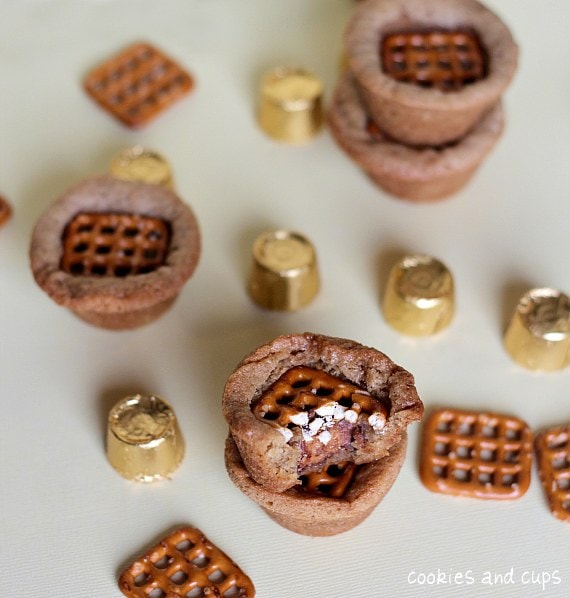 Now, while we're talking sweet and salty, pretzely and chocolatey hop over to Confessions of a Cookbook Queen and check out THESE Take 5 Brownie Bars!!
Print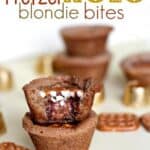 Pretzel Rolo Blondie Bites
---
Description
makes 40-45 Blondie Bites
---
1 cup

butter, room temp

1 cup

dark brown sugar

1/2 cup

granulated sugar

2

eggs

2 tsp

vanilla

2 1/2 cups

all purpose flour

1 tsp

kosher salt

1 tsp

baking soda

40

–

50

unwrapped Rolo candies

40

–

50

waffle-style Pretzels
---
Instructions
Preheat oven to 350
Spray a mini muffin pan with non-stick spray.
With mixer on medium cream butter and sugars together, mixing until incorporated evenly.
Add eggs and vanilla, beating until combined, about 30 seconds.
Turn mixer speed to low. Add in your baking soda, salt and flour. Mix until just combined.
Spoon by rounded tablespoon into prepared pan.
Gently press a Rolo into the center of each batter-filled cup.
Bake for 10-12 minutes or until the edges are golden brown.
As soon as they come out of the oven press a pretzel directly on top of the blondie bite into the melted chocolate of the Rolo.
Remove from pan, let cool on a wire rack.
---
Want To Save This Recipe?
Find more recipes like this: