Peanut Butter Ritz White Chocolate Fudge is crazy easy and over the top fun! Creamy white chocolate with crunchy, salty peanut butter Ritz cracker sandwiches!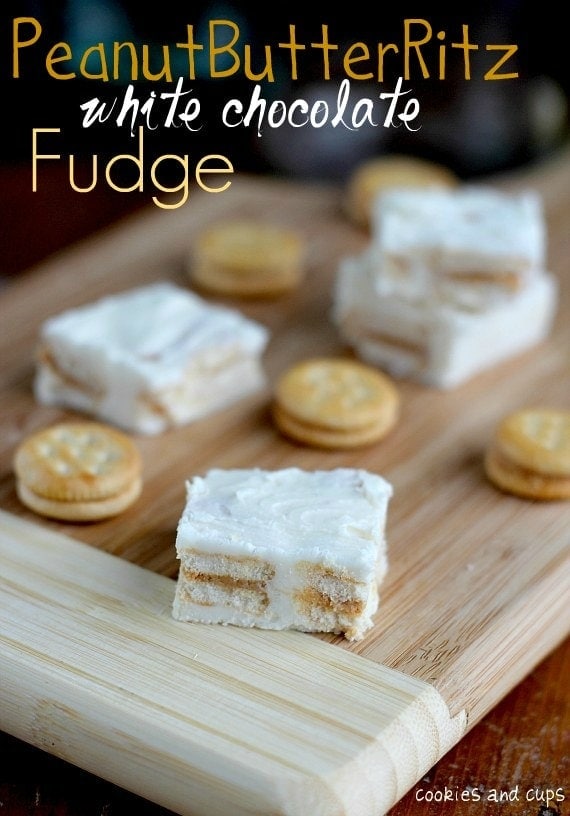 I have to say that the holiday season has completely snuck up on me this year. I feel like I was just doing back to school stuff..then it was instantly Halloween and now, boom…Thanksgiving.
I have friends who already have a good jump start on their holiday shopping. They are all pretty much brats if you ask me. I tried one year to get all my holiday stuff done early…and early for me is by the beginning of December… I even got up and did that crazy nonsense called Black Friday…
NEVER AGAIN PEOPLE, never again.
I can't deny that there are deals to be had, but I will NOT, again in my life wait in a line to get into WAL-MART.
Nope. Not me. Ever. Again.
There was like a for-real waiting-area-corral-system. So yeah, I was corralled with the "People of Wal-Mart". And yes, they do get up at 4:00 a.m. Nothing against Wal-Mart, I'm just sayin'…
So back to my point. I got all my holiday shopping done early and only had to give one woman a black eye. So it was great.
BUT. What happened then was my dear children changed their minds. A good 70% of the toys that they had on their list were crossed off and replaced with all new toys that they HAD TO HAVE. I am still dealing with Santa-believing children, so according to them they have up until Christmas Eve to change their mind.
I ended up making multiple returns that year, along with spending a good $300 more than I had planned, because I kept picking up cute things that I would see along the way.
So, yeah, I wait til about mid-December to start. Clearly I am not disciplined enough to plan ahead.
So with procrastinating in mind, I have decided that this week will be a week of short-cuts. We started out with 2 ingredient cupcakes…and now we're gonna do 2 ingredient fudge.
Oh yes, 2 ingredients.
Now, this wasn't my invention…I first saw it a few weeks ago over at my friend Lori's site, Recipe Girl. She made a completely sweet candy corn fudge. I about fell off my chair when I read the ingredients…white chips and canned frosting! How had I never heard that this was a thing before? So after a few quick internet searches I learned that it IS a thing and people have been doing it for years. Talk about feeling left out!
So I spent a week feeling like a fudge pariah. I got a fudge-complex. People have been keeping fudge secrets from me and it doesn't feel good.
In trying to comfort my fudge-outcastness I got to thinking that maybe I didn't know about the crazy frosting fudge because it's gross, no -good, yack-worthy…
Yes, that's it…no one was keeping a secret, it was just no good, which is OBVIOUSLY why I hadn't heard of it. The universe knows I don't like gross stuff, so it has kept the existence of this miracle fudge far, far away from me.
But since I can not leave well enough alone, I decided to go against the universe and try the fudge…strictly for research.
Well, I am here today to begrudgingly tell you that it's delicious. Completely yummy. It certainly is a bit different than a traditional fudge, but seriously, you are using a can of frosting and chips, so get over yourself fudge connoisseurs.
I am currently angry at the universe.
What is completely and totally wonderful about this frosting fudge is that there are SO many possibilities. Use chocolate frosting and milk or semi-sweet chips. Use white frosting and butterscotch chips. Hey, use chocolate frosting and peanut butter chips…don't mind if I do!
And you can fold in nuts, candy…whatever!
So, what I did was made some frosting fudge using white chips, vanilla frosting and Peanut Butter Ritz Bits.
Now, before you get all crazy on me that I added Ritz Bits into fudge, just hang on. It's good. I mean, REALLY good. You get salty, sweet, peanut buttery fudge.
Make it. Love it.
Here's all you need…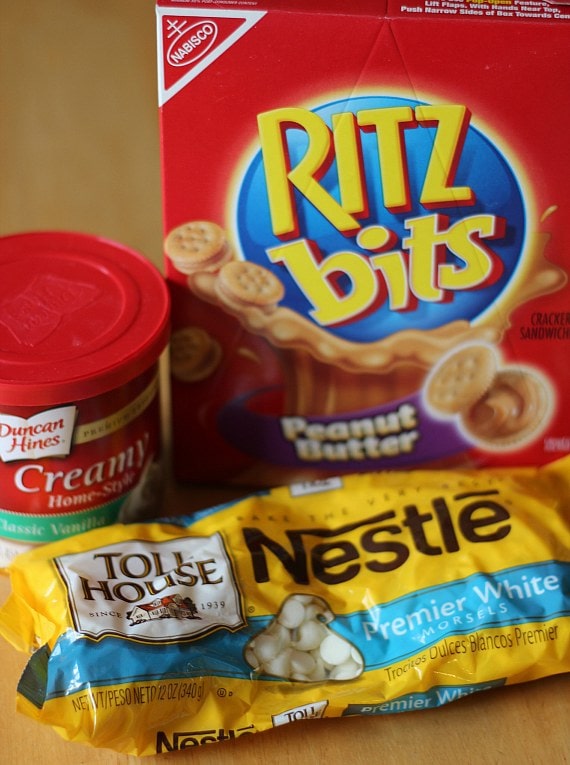 1 can frosting, 1 bag chips and Peanut Butter Ritz Bits.
Melt your chocolate. I prefer the double boiler method for white chocolate because I burn burn burn the heck out of that in the microwave. But if you aren't microwave impaired like I am, melt it how ever you want.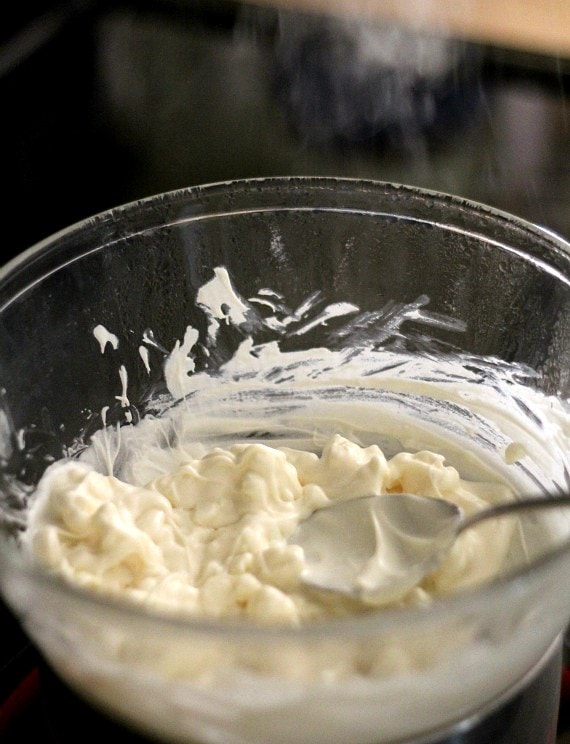 As soon as it's melted, remove from heat and dump in your frosting. Stir it until it's smooth.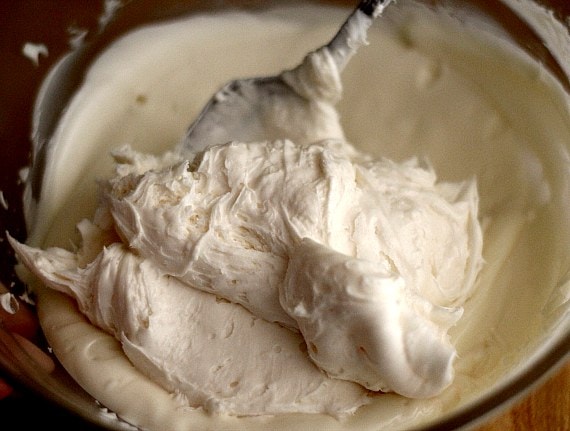 Get your Ritz Bits ready, it's their time to shine.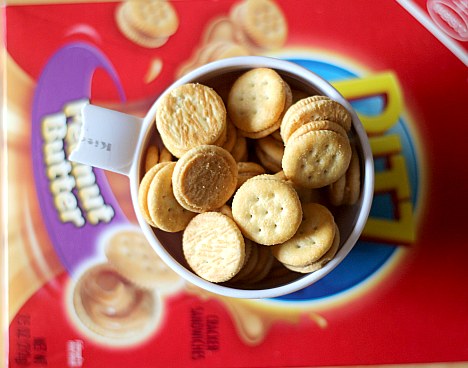 Don't mind my broken measuring cup. It's had a hard life.
Fold them into your fudge.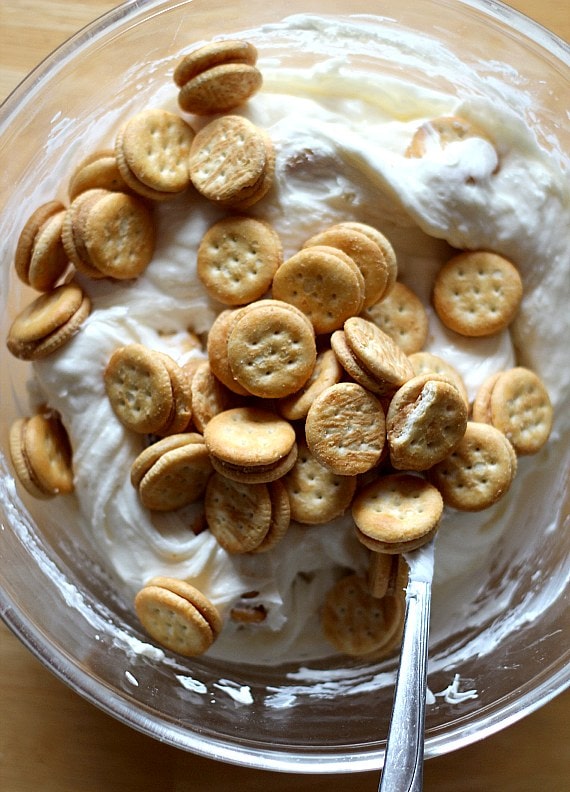 Now spread your fudge into a prepared pan.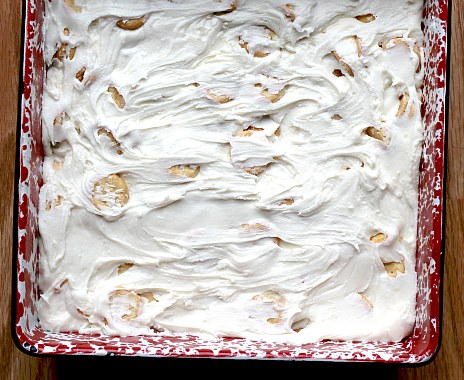 Let it chill for about 30 minutes and then cut into squares.
That's it, almost instant fudge.
My life is officially complete.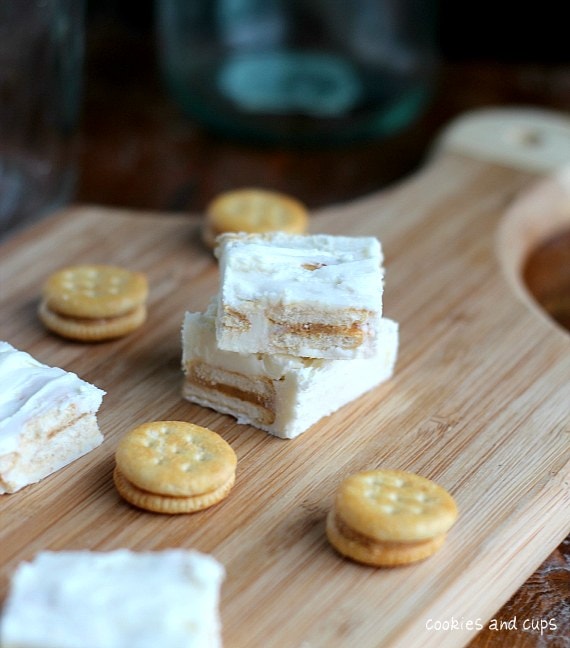 Print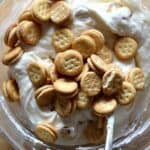 Peanut Butter Ritz White Chocolate Fudge
Author:

Prep Time:

10 minutes

Cook Time:

0 minutes

Total Time:

10 minutes

Yield:

25

pieces

1

x
---
1

(16 ounce) can vanilla frosting

1

(12 ounce) bag white chocolate chips

2 cups

Peanut Butter Ritz Bits
---
Instructions
Grease or spray lightly a 9×9 or 8×8 pan, depending on the thickness you desire for your fudge.
Melt the white chips in a heat safe bowl over a pot filled with 1 inch of simmering water, stirring very frequently, careful not to let the bowl hit the water.
As soon as they are melted, stir in your entire can of frosting.
Fold in your Ritz crackers.
Spread into prepared pan and chill for 30 minutes.
When firm, cut into squares.
---
Notes
Store in an airtight container for up to 1 week.
Try different flavors of chips with different flavors of frosting, along with different add-ins.
Want To Save This Recipe?
Find more recipes like this: