These Personal Snowman Pizzas are such a quick and adorable twist for pizza night! Make family meals more fun for everyone with this tasty holiday dinner recipe!
Personal Snowman Pizzas Recipe
This post is part of my partnership with Fleischmann's® Yeast.

Has everyone recovered from the holidays? I took a little time off, and I loved every minute of it. I hope you guys are off to a fantastic 2018!
January has been ridiculously cold here in New Jersey, and we've been spending a lot of time indoors baking, cooking, and enjoying sweatpants. It seems like the longer I live in this state (I'm from Houston originally) the more I grow to appreciate the colder weather. I used to HATE the long winter…and no doubt that my April I am pretty over it, right now I am embracing the cold temps. And it's an excuse to wear elastic a little while longer. It's all about positivity, right?
ANYHOW…back to time in the kitchen! One of my favorite nights of the week is Friday…for obvious reasons, of course…but also because PIZZA! I grew up eating pizza every Friday and it's a tradition I've carried into my little family. And today I'm sharing a super fun way to, not only enjoy pizza, but also get your kids involved in the process! I mean, who wouldn't love a pizza SHAPED LIKE A SNOWMAN?!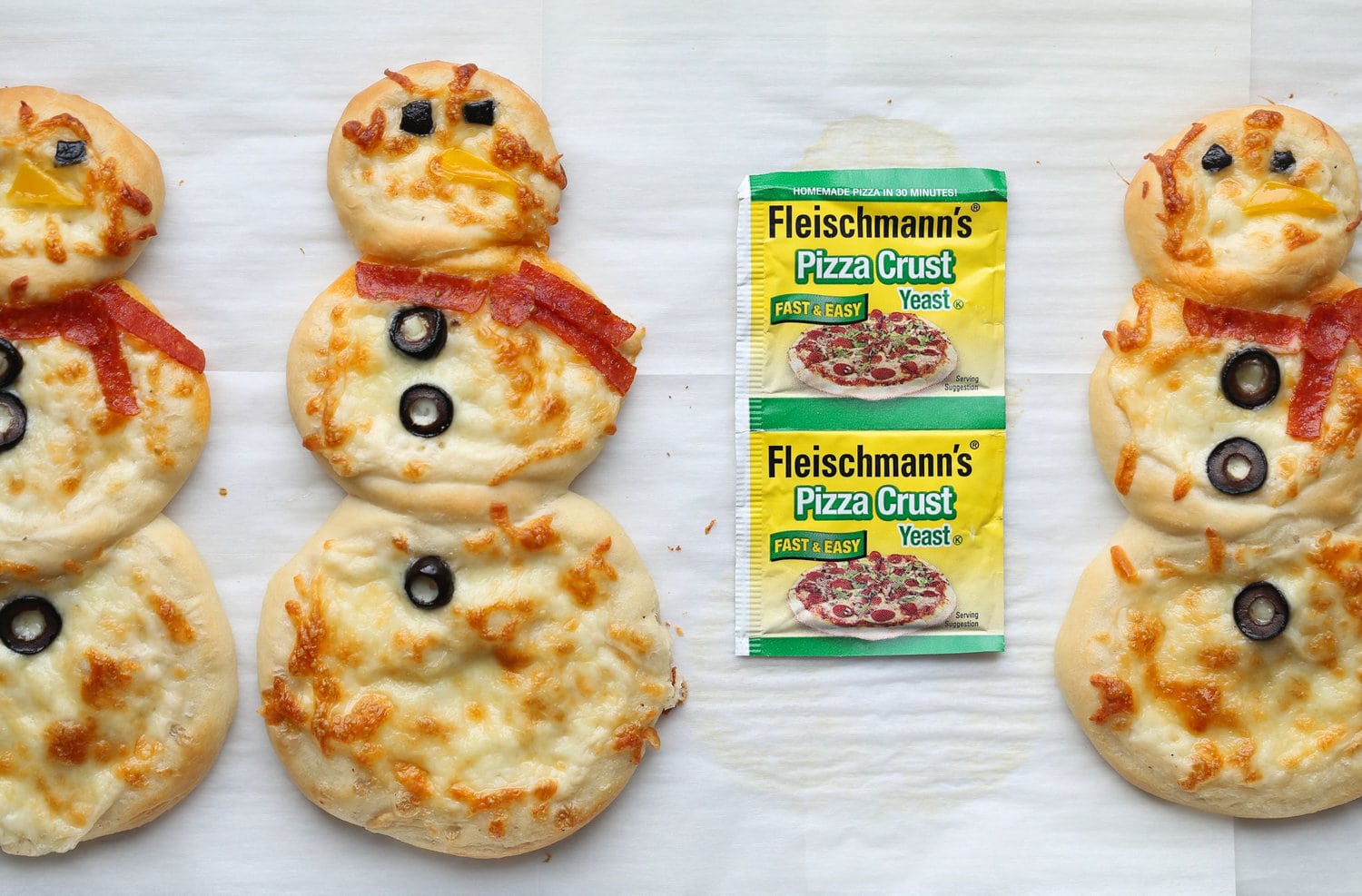 Today, I used the Snowman Pizza recipe from my friends over at Fleischmann's® Yeast which is such a great recipe that I only adapted it slightly by making the pizzas mini! Getting your own personal pizza that you or your kids can help decorate is a creative, "Bake It Yourself" moment to share with your family. And baking pizza from scratch is easier than you'd think, especially when you use Fleischmann's® Pizza Crust Yeast.
You can actually use Fleischmann's Rapid Rise™ Yeast or Pizza Crust Yeast in this recipe, which is great if you happen to have any leftover from all of your holiday baking. The fantastic thing this recipe is that the dough comes together so easily and quick, which means you will have this pizza made from start to finish faster than you can call for delivery! Plus, you get bragging rights for making your own homemade crust.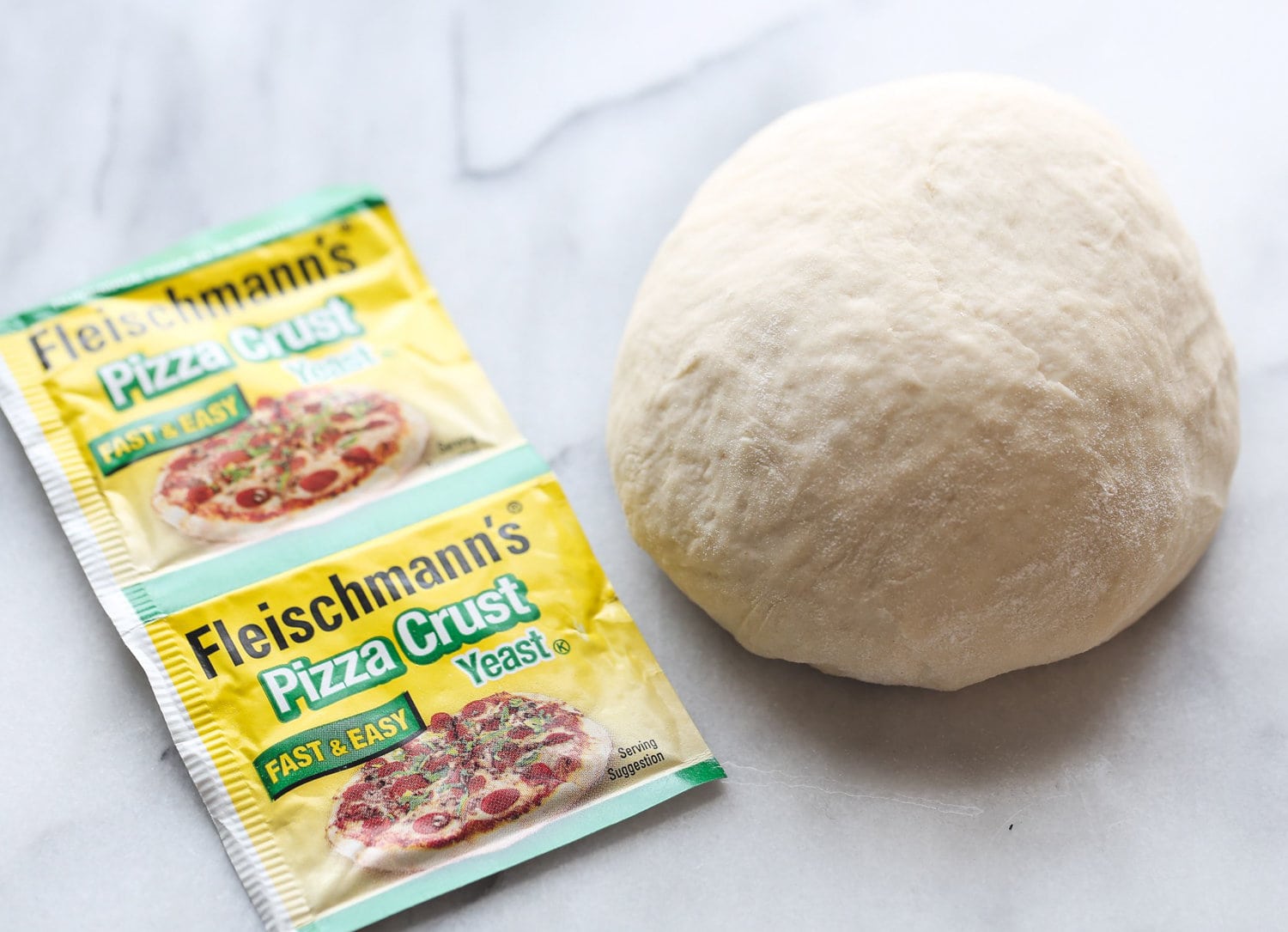 How to Make These Personal Pizzas
You can use your stand mixer to make the dough, or a bowl and some elbow grease. A dough hook on your mixer is a great way to knead the dough, but you only have to knead for 4 minutes, so I saved myself the extra dishes to wash and did it the old fashioned way!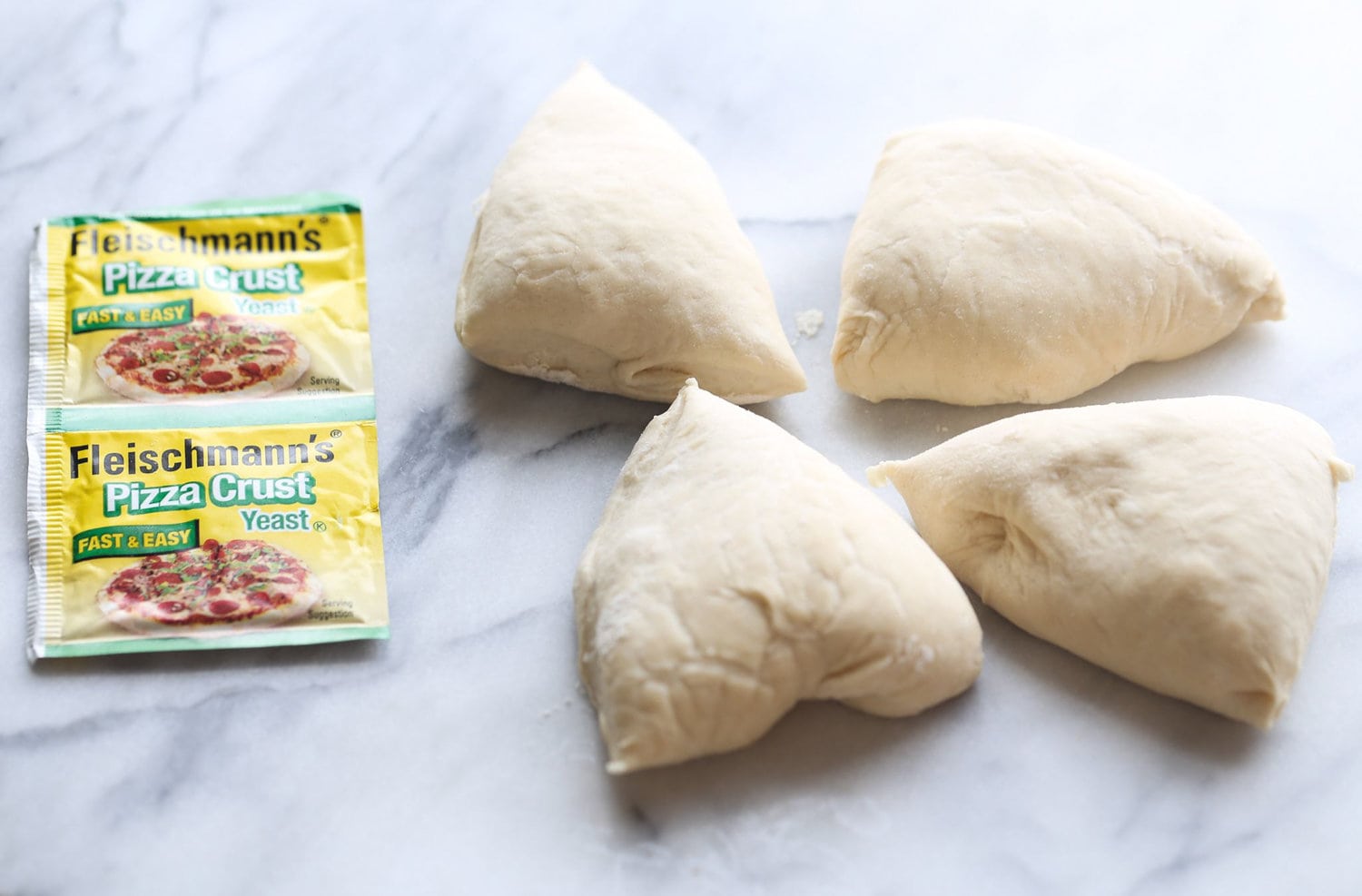 Divide your dough into 4 equal parts, and then you will form each part into small/medium/large circles to form snowmen!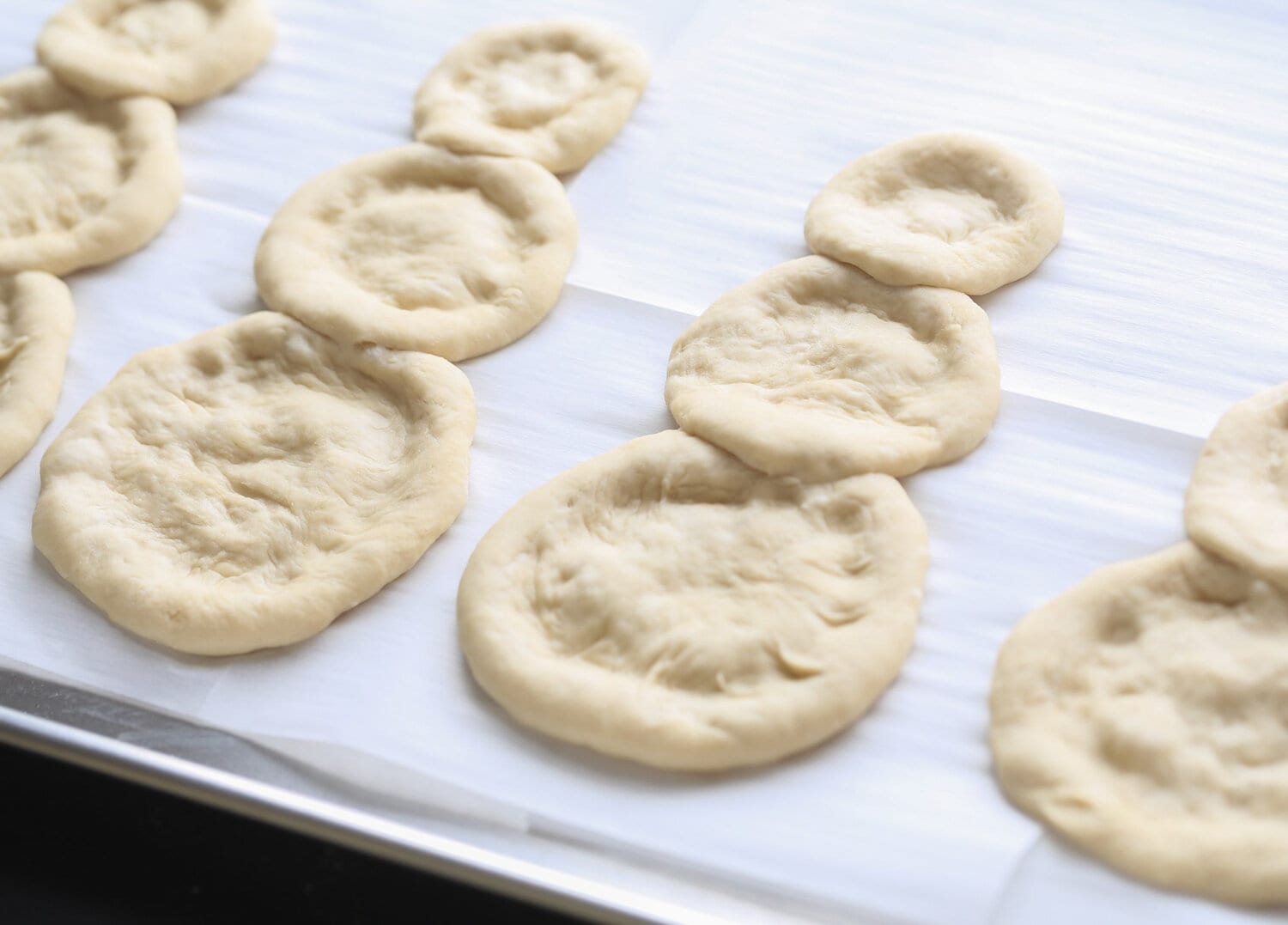 Pinch the edges to form a rim, so your sauce stays put. You can use Alfredo sauce, like I did, or you can certainly use traditional pizza sauce!
And of course cheese!!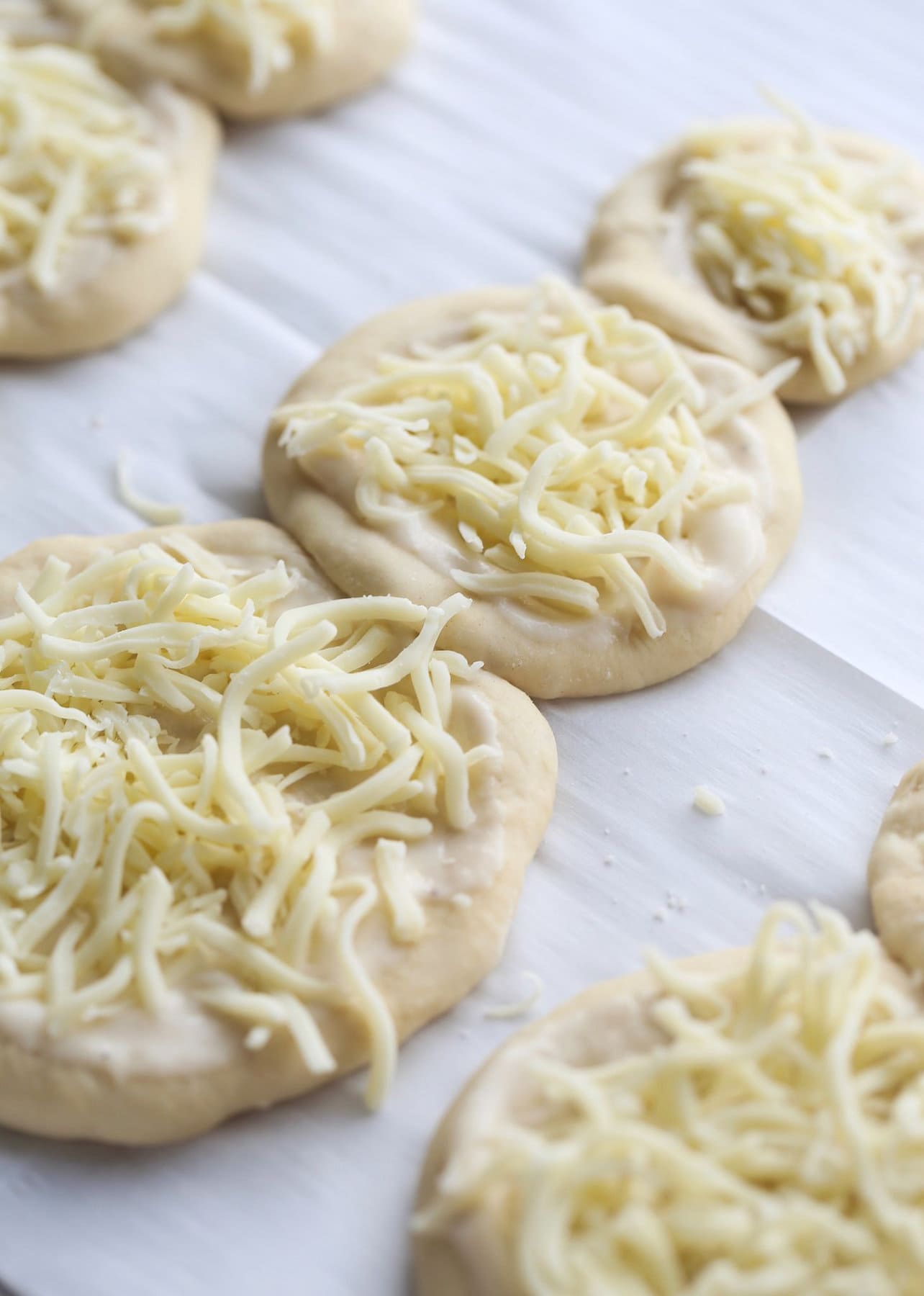 Decorate the snowmen with your favorite pizza toppings! You can get really creative with this step!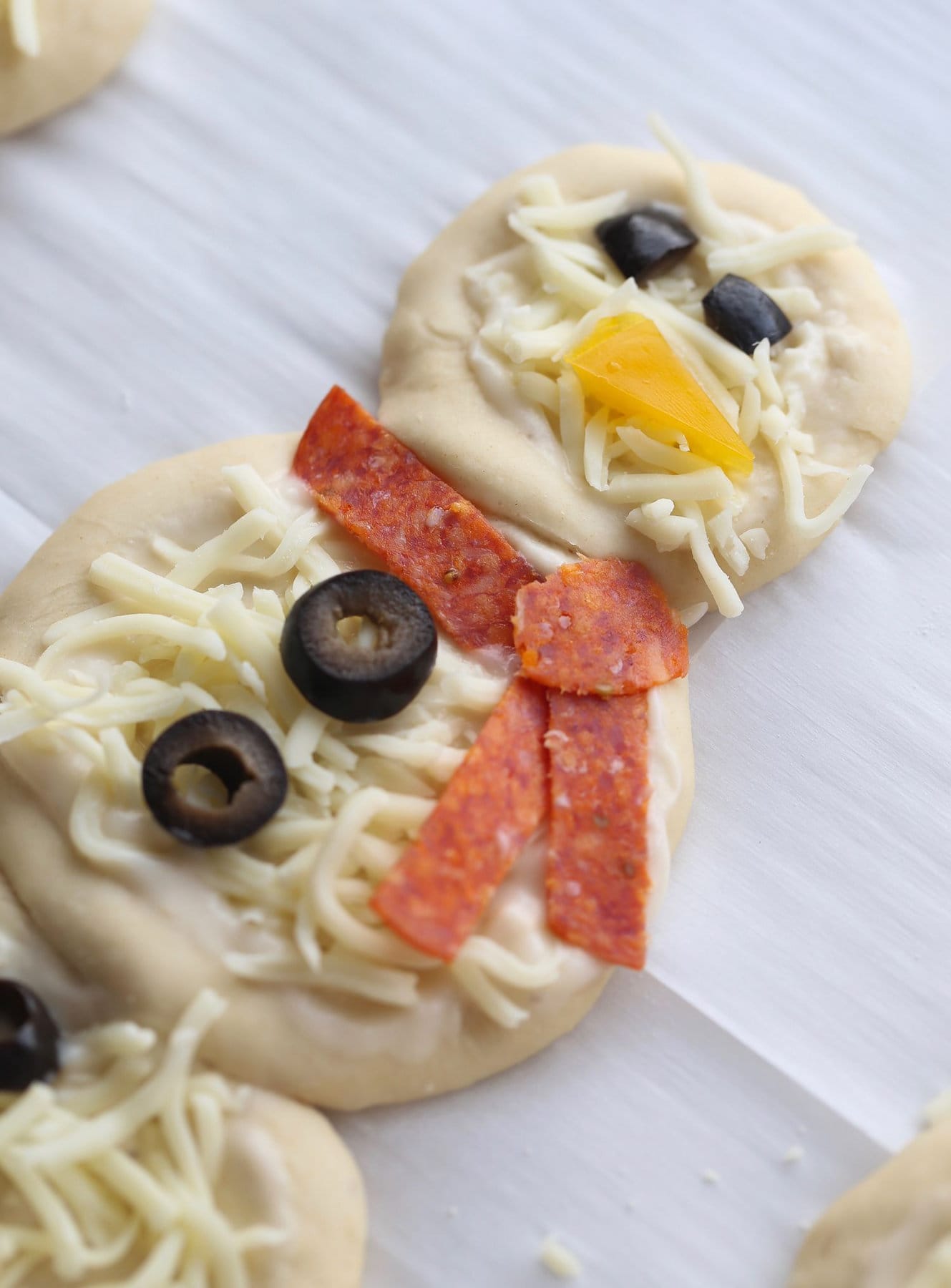 They only take a few minutes to bake, and voila!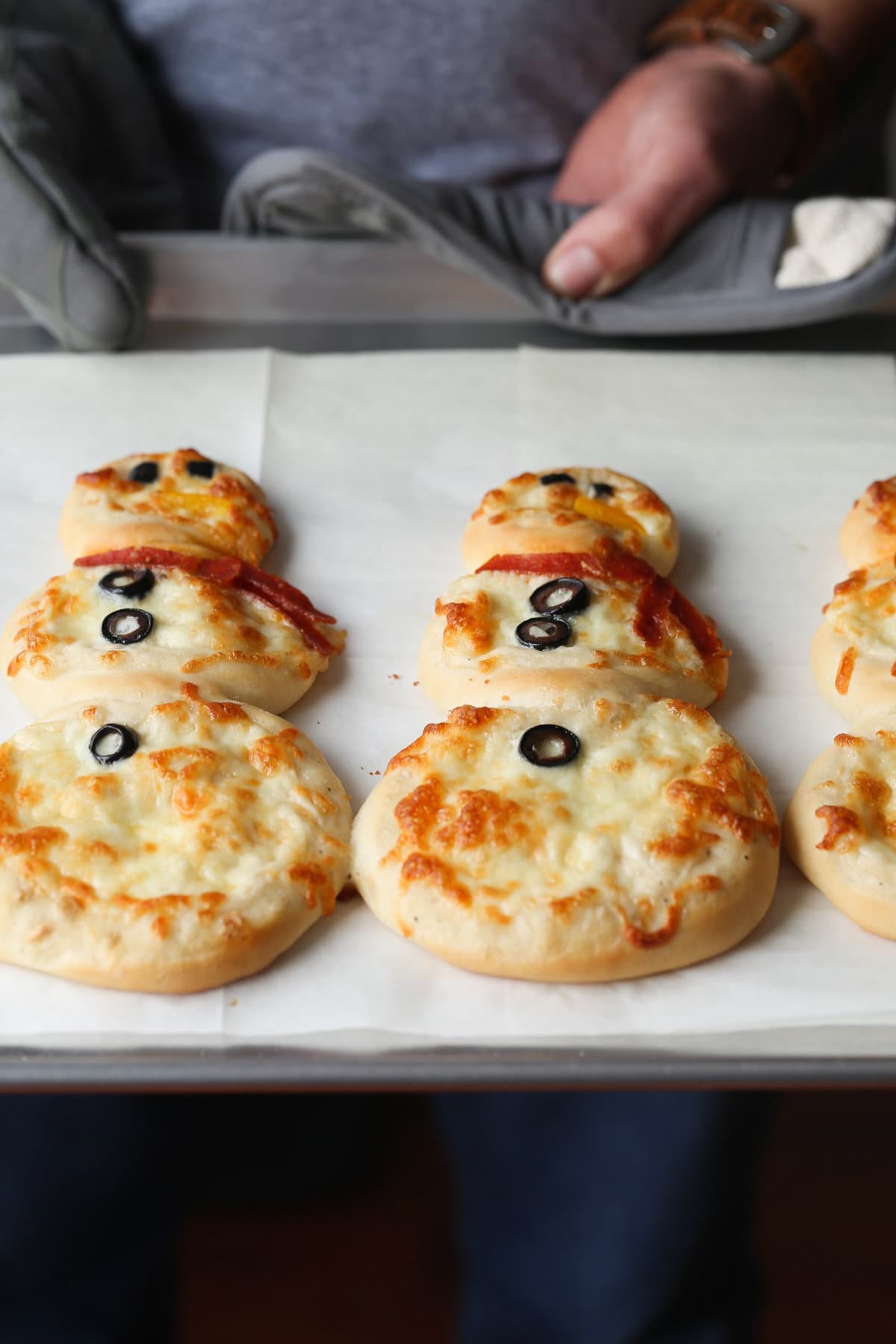 And you can sprinkle them with a little extra Parmesan cheese, which is not only delicious, but an adorable "snow" garnish.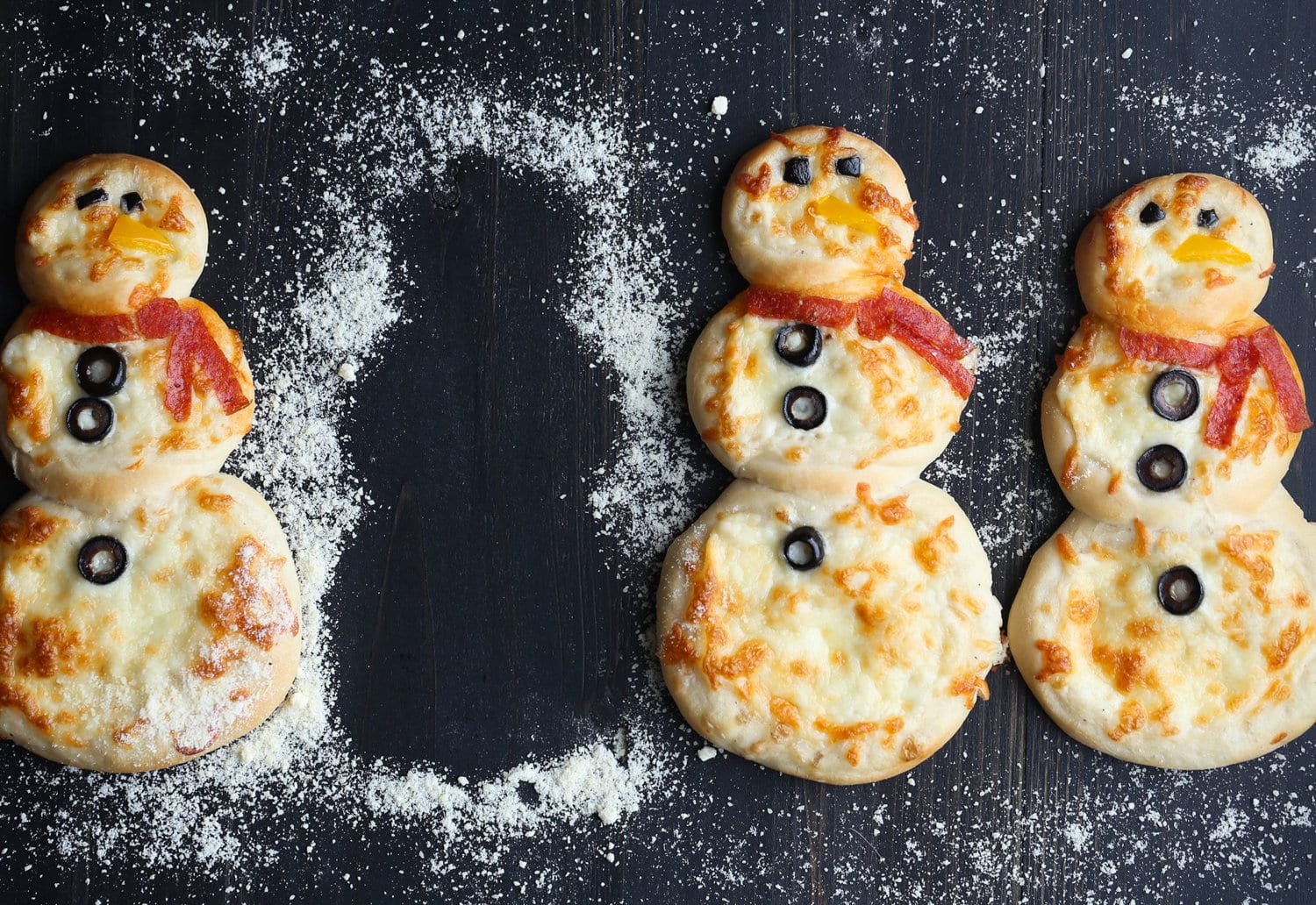 Enjoy and I would love to see your creations, so don't forget to post your pictures on social media and use the hashtag #cookiesandcups
Print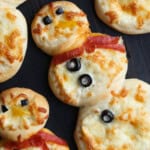 Personal Snowman Pizzas
Author:

Prep Time:

20 minutes

Cook Time:

15 minutes

Total Time:

35 minutes

Yield:

4 pizzas

Category:

Dinner

Method:

Oven

Cuisine:

American
---
Description
These Personal Snowman Pizzas are such a quick and adorable twist for pizza night! Make family meals more fun for everyone with this tasty holiday dinner recipe!
---
1-3/4 to 2 1/4

cups

all-purpose flour

1

envelope Fleischmann's®

Pizza Crust Yeast OR Rapid Rise™ Yeast

1 1/2

teaspoons granulated

sugar

2/3

cup

very warm water (120 to 130°F)

1 1/2 cups

shredded mozzarella cheese

Decorations: Parmesan cheese, sliced black olives, pepperoni, and yellow bell pepper.
---
Instructions
Preheat oven to 425°F. Line a large sheet pan with parchment paper and set aside.
In a large bowl combine one cup of the flour, packet of yeast, sugar, salt, water, and oil. Stir to combine using a wooden spoon. Alternately you can do this step in the bowl of your stand mixer fitted with the paddle attachment. Add more flour, a little at a time, until the dough is still slightly sticky, but forms a ball.
Place the dough on a lightly floured surface and knead for 4 minutes, until the dough is smooth and elastic. If you are using your mixer, switch out the paddle attachment for the dough hook attachment and knead using the dough hook for 4 minutes on medium speed.
Divide the dough into 4 equal portions. Place one portion on a lightly floured surface, and cover the remaining dough loosely with a clean dish towel. Divide the portioned dough in half. Pat or roll one section of dough into a 4- inch circle and place onto the prepared baking sheet. Take 2/3 of the remaining dough and pat or roll it into a 3- inch circle. Place this slightly overlapping the dough on the baking sheet to create the body of the snowman. Pat or roll the remaining portion of dough into a 2- inch circle and place that slightly overlapping the the second portion of dough to create the snowman head.
Repeat this process to create 3 more snowmen.
Pinch the edges of the dough to form small edges to hold the sauce.
Spread the alfredo sauce onto each piece of dough.
Decorate the snowmen, using black olives as buttons and eyes, pepperoni for the scarf, and yellow bell pepper cut into long triangles as the nose.
Bake the pizzas for 15 minutes, or until the crust is lightly golden and the cheese is melted.
Sprinkle with Parmesan cheese and serve warm.
---
Nutrition
Serving Size:
Calories:

502

Sugar:

2.7 g

Sodium:

958.7 mg

Fat:

22.7 g

Carbohydrates:

49.1 g

Protein:

24 g

Cholesterol:

21.6 mg
Keywords: personal pizzas, holiday dinner, holiday recipe, easy pizza recipe, mini pizzas recipe, easy homemade pizza, homemade pizza recipe, best homemade pizza, homemade pizza
Want To Save This Recipe?
Find more recipes like this: