Skillet Chicken Parmesan is a great dish that's easy enough for a weeknight meal but special enough to serve at a dinner party!
Chicken Parmesan is a family favorite at my house…I mean, what's not to love? The great thing about this dish is you can really prep most of it in advance, making meal time a breeze.
Of course Chicken Parmesan makes a regular appearance on our weeknight dinner rotation, but I really think it's a special enough dinner to serve to friends at a dinner party too!
I have to admit that when I have friends over we usually eat buffet-style on (gasp) paper plates. I know, I know… but my friends don't mind, I promise…well…I mean if they do mind they don't say anything…so…
Anyhow, let's talk about this Skillet Chicken Parmesan and how to do it for your family or guests…or really whoever! What I love best about this recipe is so much can be done in advance, so if you are hosting you have the maximum time with your guests!
I bread my chicken way in advance. Just cover it and keep it int he fridge until you're ready to use it!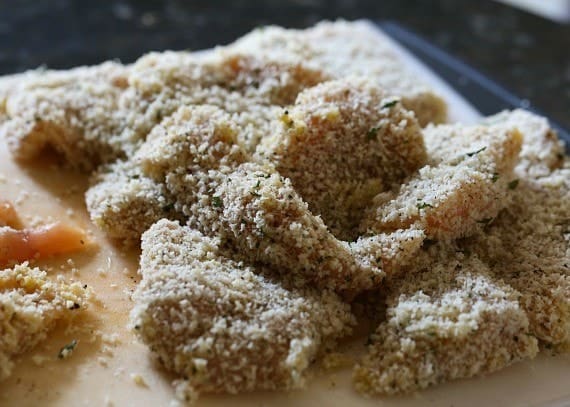 You can even fry your cutlets ahead too. That is a huge time saver!
If you do that just take them out of the fridge about 15 or so minutes before you place them in the sauce to take the chill off.
Another HUGE time save is using a pre-made sauce.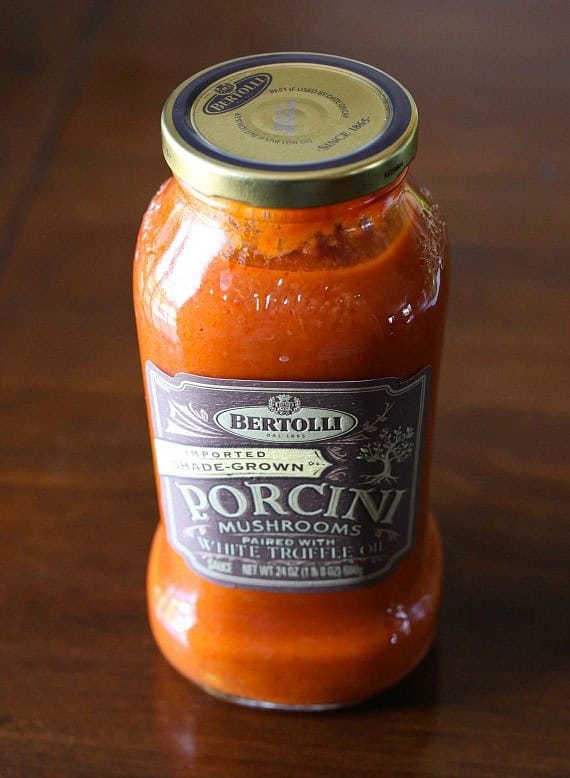 We are big time Bertolli fans in my house. They have really upped their game with a new line of premium sauces too. This Porcini Mushroom sauce with White Truffle Oil is amazing if you're a truffle fan. The Asiago Cheese & Artichoke is my personal favorite!
Anyhow, using the Bertolli sauce adds a huge amount of flavor, which is a great way to elevate your dish. Plus, they're easy to find at any of your local Ahold Stores like Stop & Shop, Giant or Martin's to name a few. AND Bertolli is at a reduced price from 10/9 – 11/5 at Stop & Shop, Giant and Martin's so wahoo for savings!
Just pour your sauce in your 10″ skillet (the same skillet I fried the chicken in) and nestle your chicken in it. Again this can all be done in advance!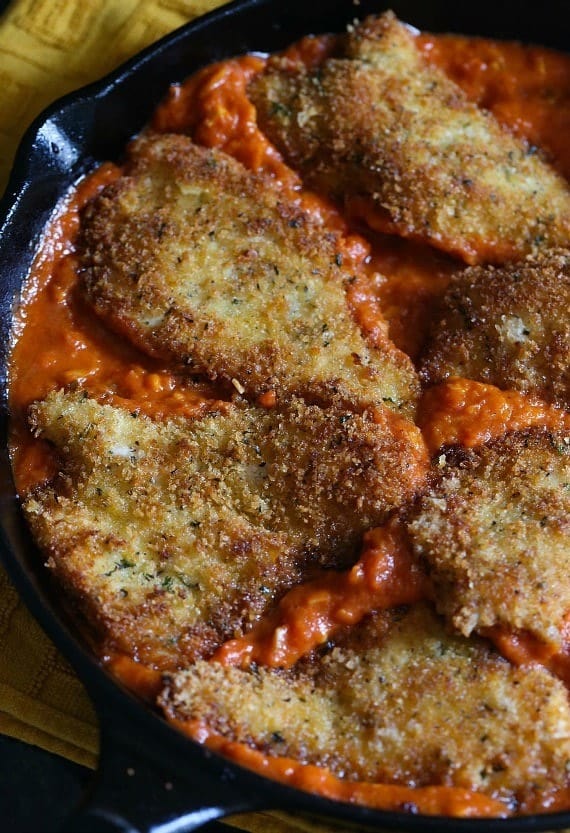 Go ahead and top the chicken with some mozzarella and Parmesan cheeses…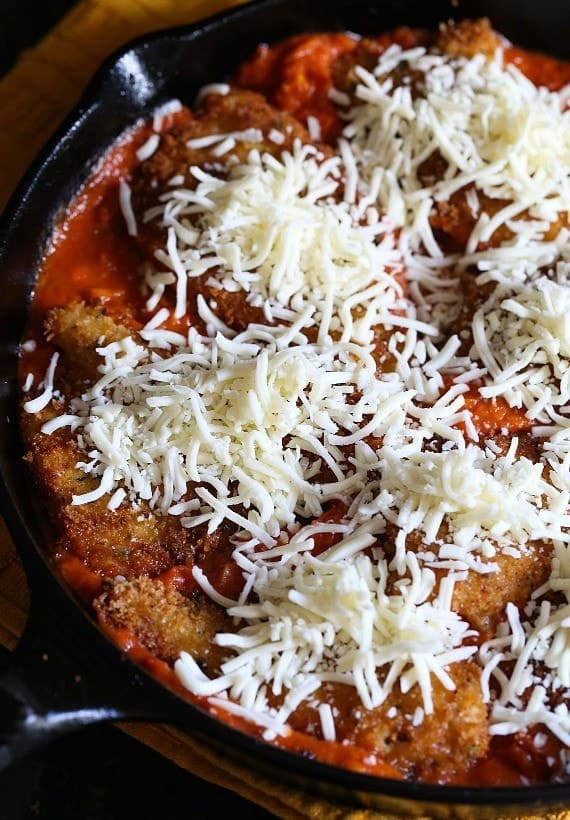 When you're ready to serve dinner just cover the skillet and heat it on the stove top for a few minutes to heat the sauce and melt the cheeses, then pop it under the broiler until it's bubbly and the cheese is lightly toasted…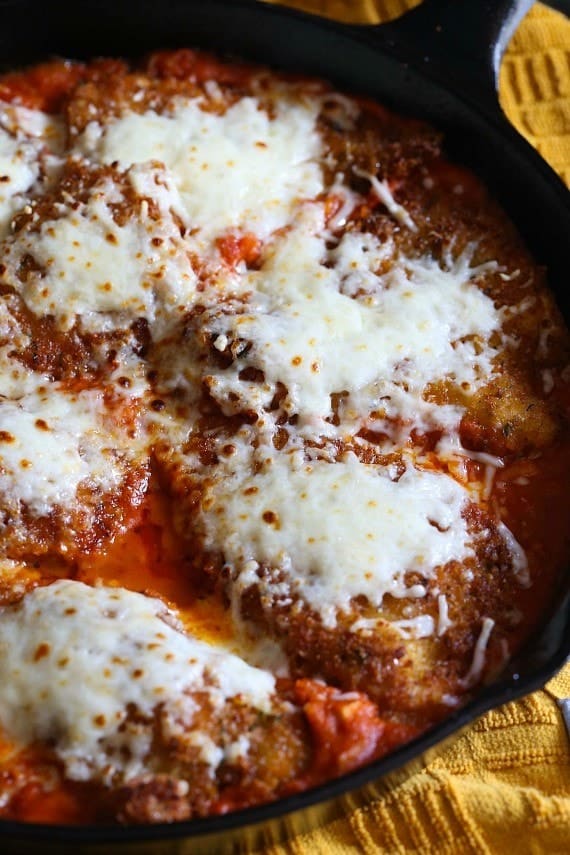 How gorgeous is that?
Now if you're having friends and family to dinner you'll need to set your table and make it a whole event. Luckily Chicken Parmesan is hearty enough you don't need a lot of other food. Just a bowl of pasta, a salad and some bread will round out your rustic and classic meal.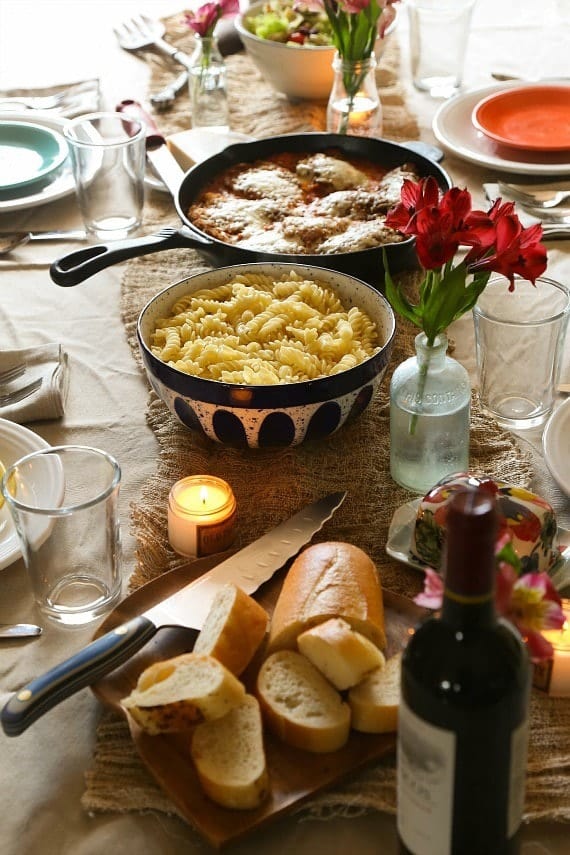 Have your guests get involved in the meal…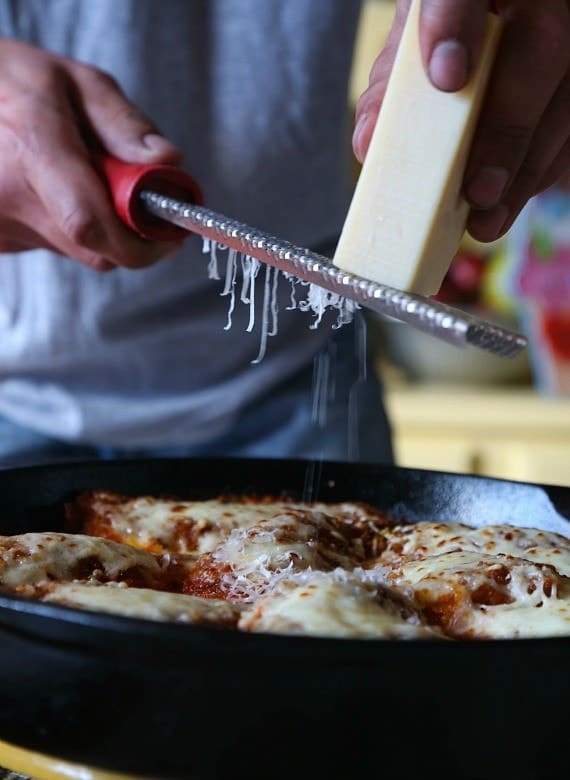 Family-style dinners are the best!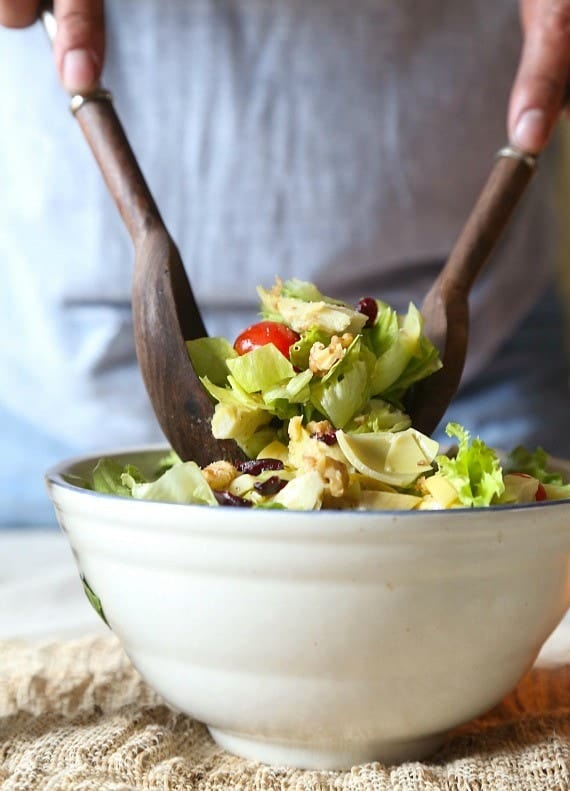 And enjoy!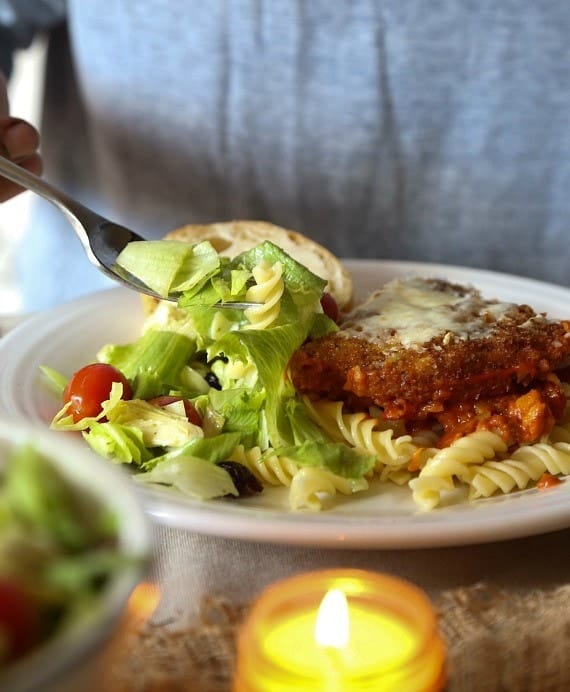 Another great tip is to freeze this dinner before you melt the cheese…just allow it to thaw out and heat!
Print
Skillet Chicken Parmesan
Author:

Yield: serves

6

1

x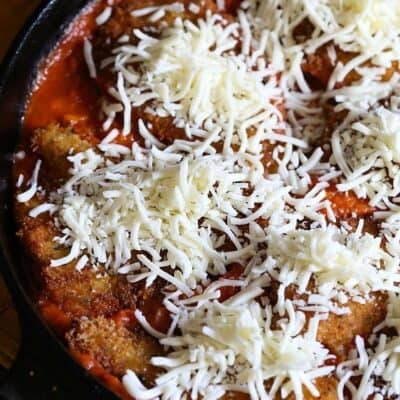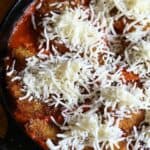 ---
Ingredients:
1 1/2

pounds chicken breasts, sliced into medium sized cutlets and sliced or pounded to 1/3- 1/2 inch thick
salt and pepper to season chicken

2 cups

panko bread crumbs

1 teaspoon

dried basil

1 teaspoon

dried parsley

1/2 teaspoon

garlic powder

2

eggs
vegetable oil to fry

1

(24 ounce) jar Bertolli sauce

1

1-1/2 cups grated mozzarella cheese

1/4 cup

grated Parmesan cheese

1

pound pasta cooked according to package directions to serve
---
Instructions
Place your chicken breasts on a large cutting board, trimming any excess fat. Season the chicken liberally with salt and pepper on both sides.
In a shallow bowl mix together the bread crumbs, basil, parsley and garlic powder.
In another shallow bowl whisk together the 2 eggs.
Creating a working station dip each cutlet into the egg and then into the bread crumb mixture, coating evenly.
Repeat this process with all the chicken.
In a 10- inch skillet add enough oil to cover and fill the pan until it's 1/4- inch deep. Heat the oil on medium until it's hot enough to fry. (To test the heat of the oil place the back end of a wooden spoon in the oil. If bubbles form immediately the oil is ready. If not allow the oil to heat a few minutes more.)
Line a large plate with paper towels and set aside.
Place 3- 4 pieces of chicken in the hot oil. Allow the chicken to cook for 4-5 minutes on each side until golden brown.
Transfer the chicken to the paper towel lined plate to soak up excess oil.
When all the chicken is cooked pour the frying oil into a glass container to dispose of. Wipe the skillet clean with a paper towel.
Pour the entire jar of Bertolli sauce in the skillet and nestle all the chicken into the sauce and sprinkle the chicken pieces with both cheeses.
Preheat the oven to broil.
Cover the skillet with a lid or foil and place back on the stove top and heat over medium-low heat for 7-10 minutes until the cheese is just about melted.
Finally uncover the skillet and place under the broiler for 1- 2 minutes until the cheese is bubbly and lightly toasted.
Serve immediately with pasta.
Want To Save This Recipe?
This post was part of a partnership with Ahold Stores (Stop&Shop, Giant, Martins) and Bertolli. As usual, the recipe provided and all opinions are completely my own.