Toffee Glazed Macadamia Nuts..these are crazy addictive and SO easy, made in just minutes on the stove top!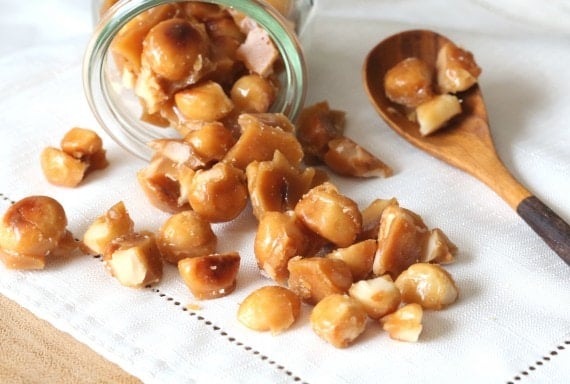 Over the last few years I have developed an addiction to sugary, glazed nuts. I blame all the magazine articles on "celebrity diets" and how skinny celebs eat 16 almonds at 4:00 pm for an afternoon snack. Let me explain…
While I think the prospect of eating 16 almonds is just precious, I thought I would give it a try and see if it worked.
So it didn't.
I mean, first off I am allergic to almonds, so there's that…but even if you sub in 16 pecans you do NOT get full. Trust me. 16 nuts is a snack for ants, not human people.
In an attempt at cracking the celebrity nut case I took a little liberty with the portions of my nut snack…I feel like "16" might be more of a loose suggestion, not a hard limit, right?
Also, I found that nuts are MUCH tastier if they are coated in sugary, buttery toffee or nestled inside of a chocolate chip cookie. Who knew?
So yeah, 16 almonds for Jessica Alba = 1 cup of Glazed Macadamia Nuts for Shelly. It's celebrity math. I looked it up.
AND turns out that making your own Toffee Glazed Macadamia Nuts is majorly easy. It literally only takes minutes and then you too will be on your way to being a chubby version of Jessica Alba. We'll be twins!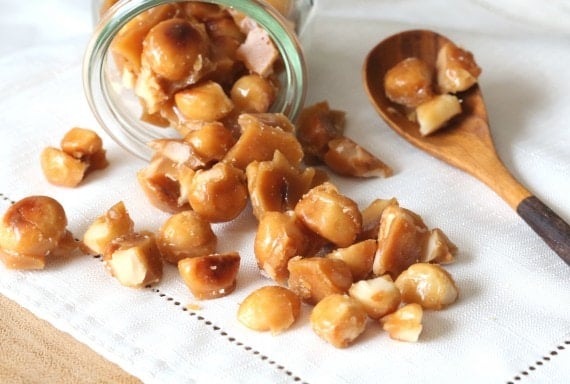 I'm sharing the full recipe today over at Imperial Sugar!
Hop over to get all the details!!