We had another birthday in the family and an Oreo cake was requested. My newly crowned 6 year old loves chocolate, and is, in fact, the only one in our family of 6 that likes chocolate cake. BUT, when it's your birthday, you're king ~ so, Mama made a chocolate cake!
He loves all things Oreo, and wanted the pantry staple somehow incorporated into his cake. No prob! Taking some inspiration from all you creative bakers out there I made him a Chocolate cake with layers of Cookies and Cream buttercream. Frosted with vanilla buttercream and some leftover Oreos.
It was a very rich cake and only a sliver was enough, but packed into that small sliver of a piece was enough Oreo-goodness to last me til next year!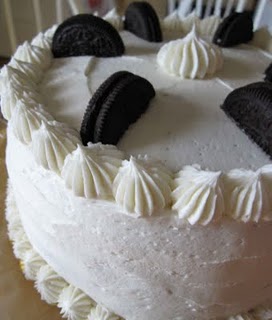 Chocolate cake
recipe adapted from Ina Garten
~ The Barefoot Contessa

makes 8″ layer cake or 15 cupcakes
3/4 cup room temp butter (1 1/2 sticks)

2/3 c. white sugar

2/3 c. packed light brown sugar

2 eggs

2 t. vanilla
1 c. buttermilk

1/2 c. sour cream

2 T. brewed coffee

1 3/4 c. AP flour

1 c. cocoa
1 1/2 t. baking soda

1/2 t. salt
preheat to 350
Grease cake pans with butter and line bottoms with parchment rounds. Butter the parchment and flour entire pan, dusting off excess.

Cream butter and sugars until light and fluffy (approx 3-4) min on med-high speed. Add eggs one at a time, then add vanilla. Mix well.

In a separate bowl sift together dry ingredients (flour, cocoa, baking soda, salt). In another bowl whisk together buttermilk, coffee and sour cream.
On low speed add in alternating thirds beginning with buttermilk and ending with flour. Scrape down sides when necessary. Mix until just incorporated.

Bake 20-25 min until center is set.
Cool in pan 10 min and remove from pans.

Buttercream
2 sticks unsalted butter room temp

1 cup veg. shortening (Crisco)

2 lbs powdered sugar sifted
approx
1/2 cup heavy cream

2 t. vanilla
30 Oreos crushed (2/3 of pack)
On med-high speed in stand mixer beat the butter and shortening until smooth (approx 4 min). Slowly add the the powdered sugar, scraping the sides when necessary. Add the cream and vanilla and beat at med speed until consistency you like, adding more cream if you prefer.
Set aside 2 cups plain buttercream. Now on low speed combine the crushed Oreos into the frosting until they are mixed in thoroughly.
When the cake layers are completely cooled cut each in half to make 4 layers. Layer the cake with the Oreo buttercream.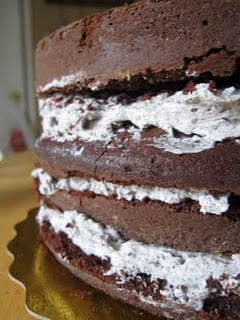 Once layered take reserved vanilla buttercream and cover the cake. Decorate as you like!