Pourable Chocolate Ganache is an extra easy, and silky ganache that has so many uses! I love it on top of a cake, dripping down the sides creating a dramatic and beautiful cake, all while tasting delicious!
Try this chocolate ganache on top of my Chocolate Cake Recipe for the ultimate chocolate experience!
Pourable Chocolate Ganache Creates Gorgeous Drip Cakes!
I am by NO means a fantastic cake decorator. I just don't have the patience. Trust, me I wish I did….and I even threw my hat in the ring many moons ago. But after a few delicious disasters, in terms of decorating, I decided I was more about how the cake TASTED, rather than how it looked.
I've made peace with it.
But since then, I have found a few tricks to make my tasty cakes LOOK as just as pretty with very minimal effort. Enter the chocolate ganache pour…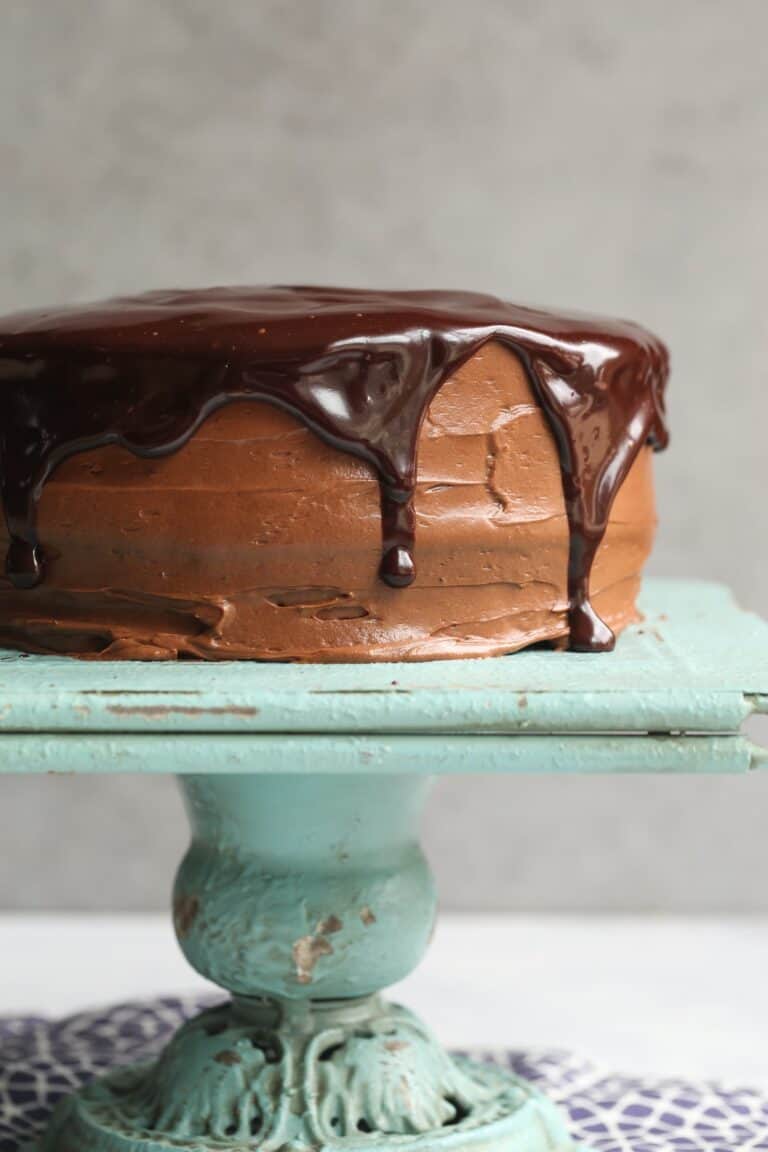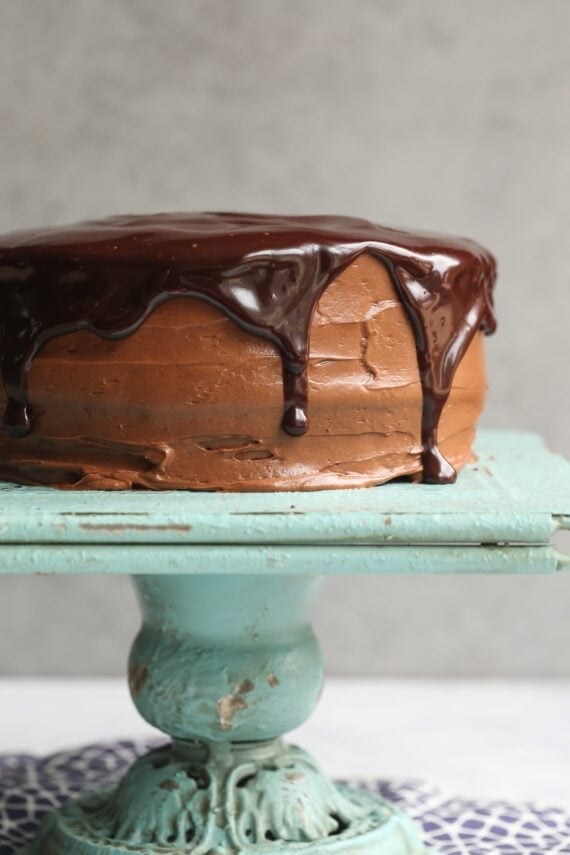 Hide All the Imperfections With A GORGEOUS Chocolate Ganache Covered Drip Cake!
Drip Cakes have become very fashionable in recent years, and it makes me so happy, because they're so easy! You can bake just about any type of cake. Frost it with just about any type of frosting. And then cover it with a pourable chocolate ganache to cover all your sins.
How To Make Chocolate Ganache…
It's so easy, with no real effort involved! Here's what you do:
Simple add some chocolate (or chopped chocolate) to a microwave safe bowl.
Add in some heavy cream.
Heat in the microwave for 30 seconds. Stir, Heat again for 30 seconds. Stir. Repeat until the chocolate is melted, and it's combined and smooth when stirred.
Add in the corn syrup and stir.
Let it cool until it reaches your desired thickness. The longer it cools the thicker it will get.
What Type Of Chocolate Should You Use?
For ease, you can use chocolate chips, as stated in the recipe. But you can also chop up chocolate if that's what you have!
If you're looking for a more whipped-style ganache frosting, try my 2- Ingredient Chocolate Frosting!
Why Do You Add Corn Syrup?
Corn Syrup adds shine to your finished ganache, and it keeps it from becoming too solid when completely cooled! It adds a nice viscosity to the ganache that I haven't been able to duplicate otherwise.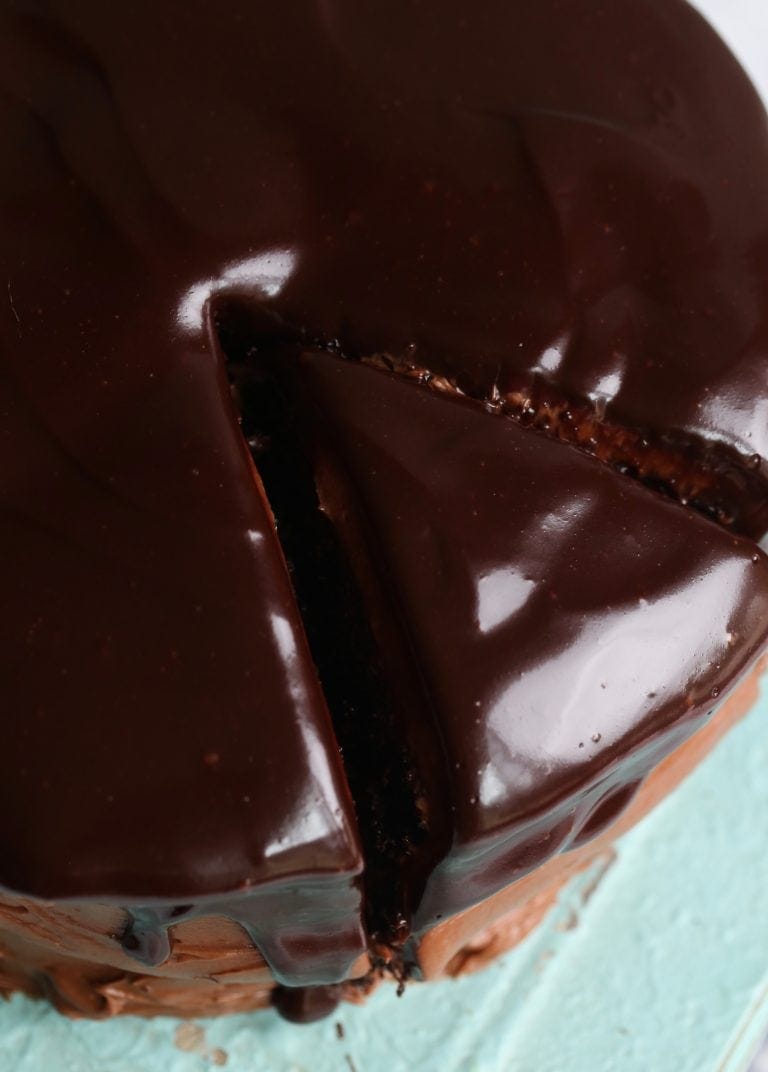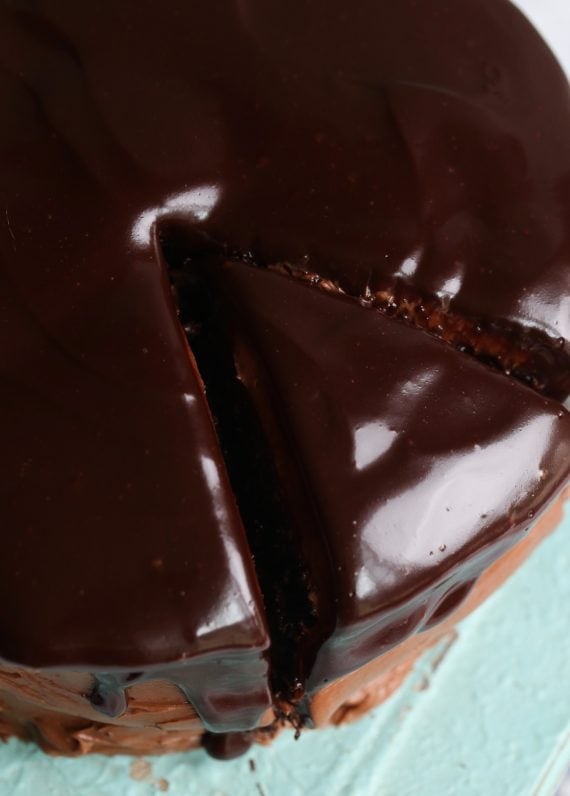 How To Make A Drip Cake…
This is the fun part! Here are the easy steps:
Bake your cake and frost it with your favorite frosting. Or don't…a layer cake with just a poured ganache on top is also beautiful!
Allow the frosting to set up completely. You can also place your cake in the fridge to set the frosting and also chill it. This step helps with drip cakes, as it cools the ganache instantly and you have thicker "drips". BUT it's not necessary.
Make your ganache and let it cool to room temperature, or slightly warmer. You don't want your ganache to be hot, as it will melt the frosting on the cake and create a mess!
Slowly pour the ganache on the center of the cake.
Using an of-set spatula spread the ganache to the edges of the cake, and allow it to naturally drip down.
Add more (and spread more) ganache until desired effect is achieved.
Can You Add More Decorations Onto the Ganache?
Of course! Allow the ganache to almost set up, and then pile some chopped candy, chocolate chips, dried fruits, chocolate curls…whatever you want, actually…on top! It will create a gorgeous, bakery-style cake that is not nly easy to decorate, but fancy enough that people will be impressed!
What Frosting Can You Use Under a Pourable Ganache?
You can use just about any type of frosting! I prefer a butter or shortening based frosting, as it holds up best. Here are a few to try:
Print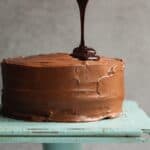 Pourable Chocolate Ganache
---
Description
Pourable Chocolate Ganache is the perfect chocolate accent to make any cake look dramatic!
---
1 cup

semi-sweet chocolate chips

1/2 cup

heavy whipping cream

2 tablespoons

light corn syrup
---
Instructions
In a microwave safe bowl, combine chocolate chips and heavy cream. Microwave in 30 second increments, stirring until smooth until chocolate is melted combined.
Stir in corn syrup and allow to cool until slightly thickened.
Pour over top of the cake and spread to the edges to allow the ganache to drip down the cake.
---
Notes
You can add more chocolate or more cream to achieve desired consistency.
Want To Save This Recipe?
Find more recipes like this:
Save