Last month my family and I went on a little weekend adventure to San Francisco. It's a city that we had wanted to visit for a few years, and I have to say it did NOT disappoint. I am SO excited to share our trip with you and hopefully encourage you to take a little trip yourself!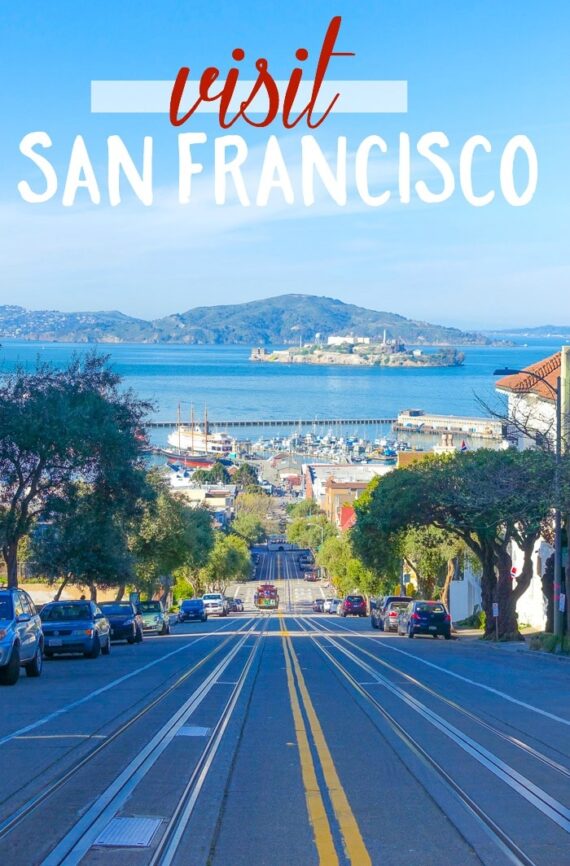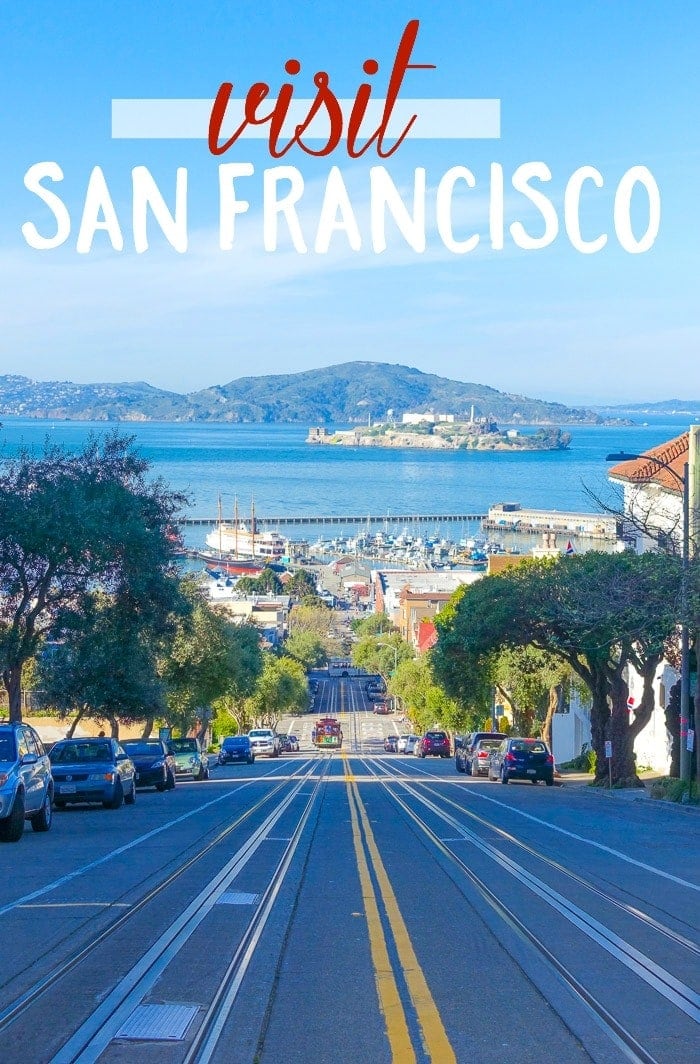 Like I said, San Francisco is a place we had wanted to visit for a while. The backstory on this is we were watching an episode of a show called Unique Sweets on the Cooking Channel and it featured a place called Bi-Rite Creamy. They were featuring the epic ice cream and their famous chocolate pot de créme. My (10 year old at the time, now 12) has a minor obsession with chocolate mousse, pudding, custard….you name it. So the pot de créme spoke to his soul. That was the beginning of our San Francisco journey. He made it his personal mission to get us there.
The thing is, flights from New Jersey to San Francisco aren't exactly inexpensive. Hello cross country. And flying to California to get a jar of chocolate pudding seemed a little extravagant. So the past few years I checked airfare on and off to see if there were any great deals. This past January I did my quarterly search and low and behold there was a weekend in February where I could get nonstop flights from Newark to San Fran for $214 on Virgin America. I KNEW I could not pass them up. (Generally a nonstop Newark –> San Fran flight goes for $500-$600).
I booked the flights and we got to planning. And by planning I mean I got to mapping our food adventure through the city. I consulted my favorite travel friend's website to get her recommendations first.
Also, I LOVED flying Virgin America. Obviously the cost was great, but the whole experience was so nice. The flight attendants were super friendly and their safety video is pretty amazing.
We stayed at The Omni in San Francisco and I can NOT recommend this hotel enough. The location is fantastic (just under a mile walk from The Fisherman's Wharf) and really central to everything you're going to want to do. Plus, it's stunning.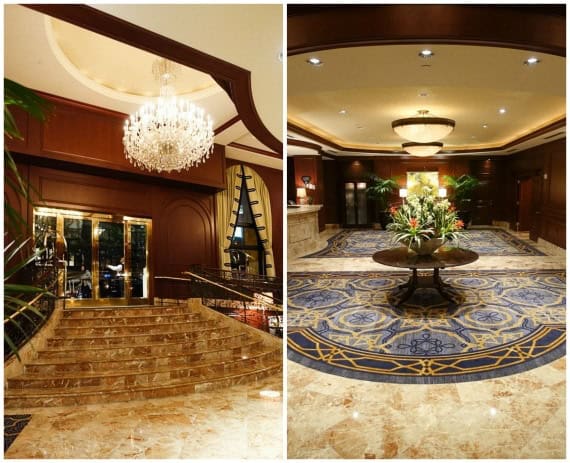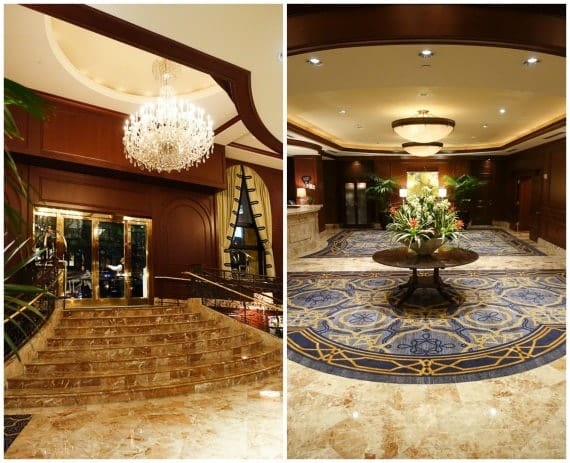 The room was perfect for us and their staff is so helpful. Plus, they delivered cookies and milk to our room every afternoon for the kids to enjoy. Needless to say, Max and Jake loved this place.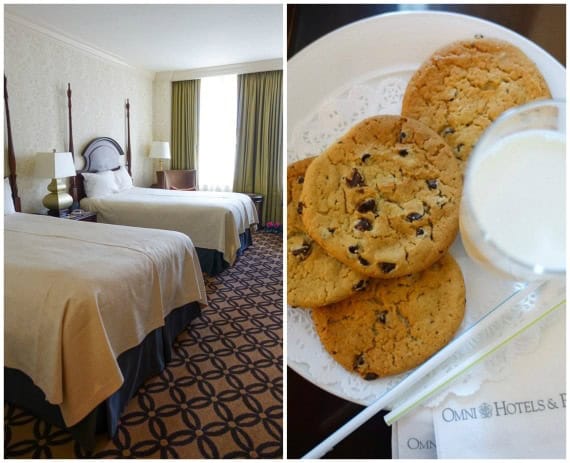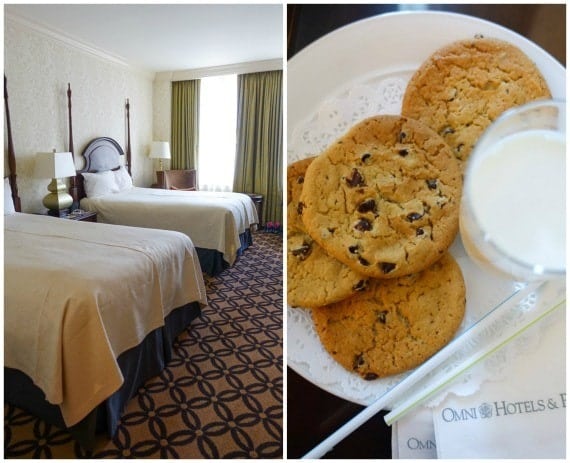 When we arrived the boys were DYING to get over to Ghirardelli Square for an ice cream sundae. I had promised them dessert before dinner on our first night there. But on the way there from our hotel we decided to take the walk up to Lombard Street.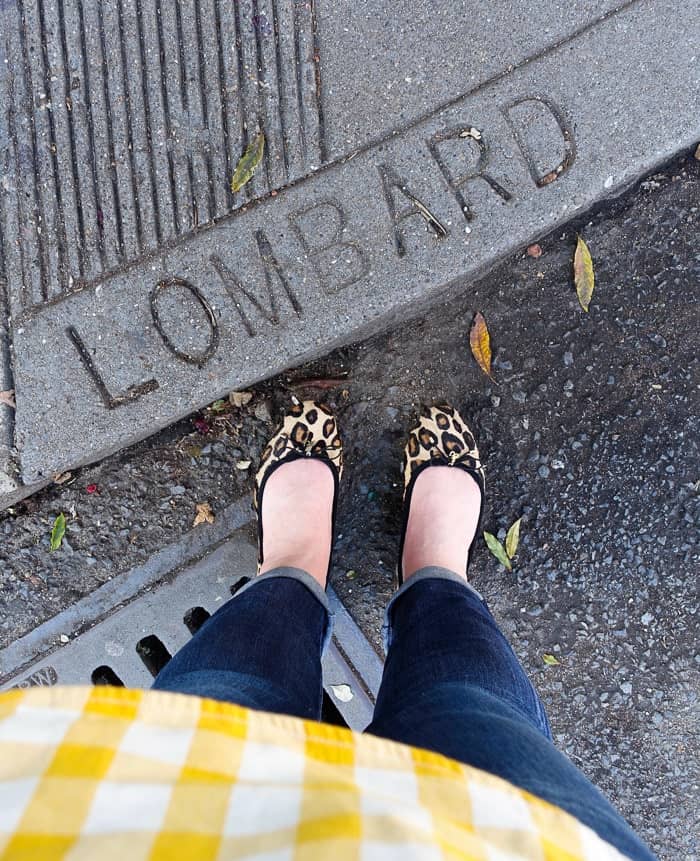 If you aren't familiar, Lombard Street is one of America's most crooked streets. It's SO steep, in the 1920's a property owner suggested they the crooked design for aesthetic appeal and also safety! Lombard Street boasts some of the city's most expensive real estate as well. I was breathing heavy for sure on my walk up. Of course my kids zoomed past me…but the walk was worth it because it's a gorgeous view up top.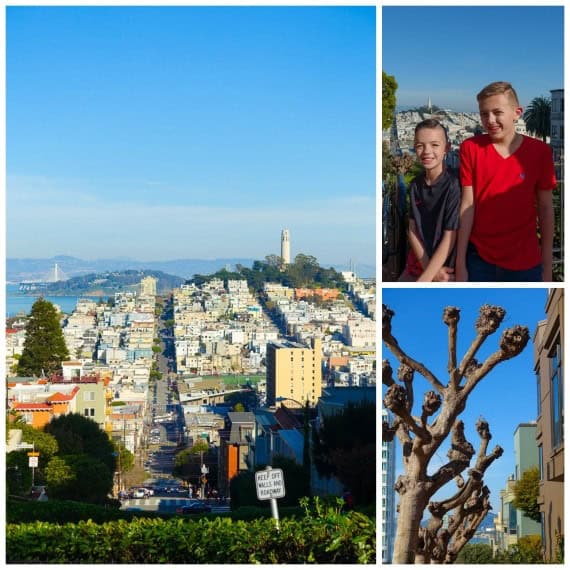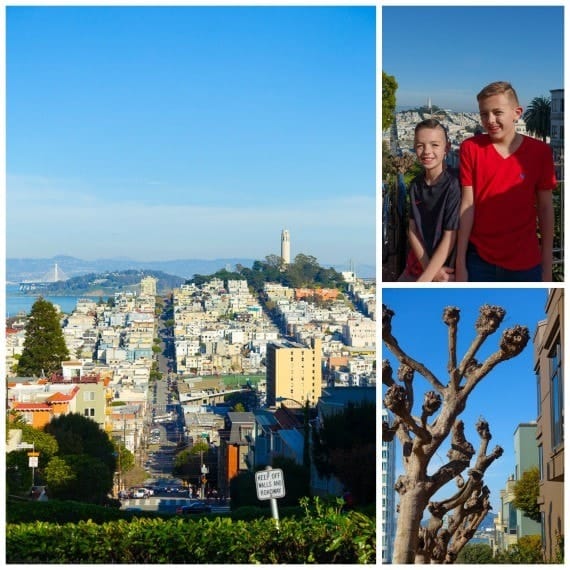 After that walk I felt like I EARNED my trip to Ghirardelli!
I have to tell you, my "Ocean Beach" Sundae was possibly the best ice cream sundae I have had in a LONG time…if ever. It was THAT good. It's vanilla ice cream topped with caramel, homemade hot fudge sauce topped with whipped cream, sea salt more caramel and a Ghirardelli square. I'm telling this was delicious.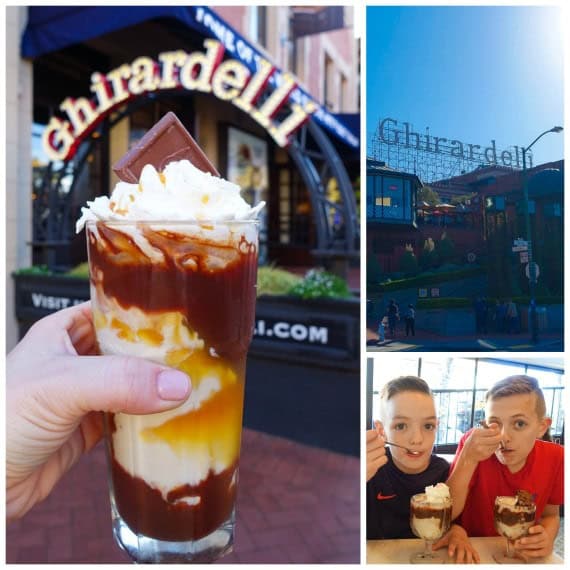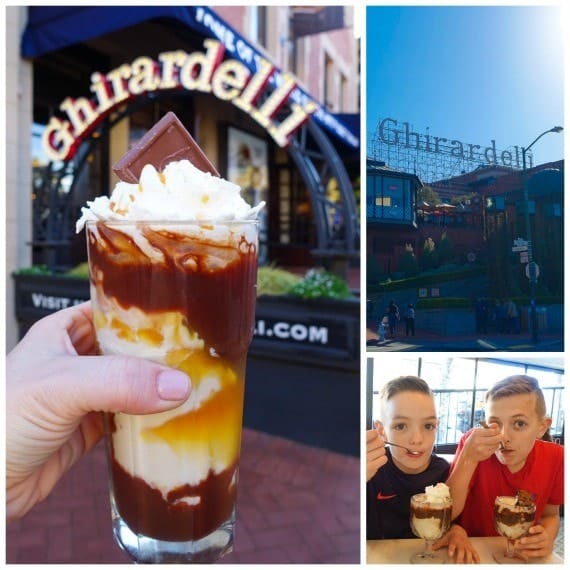 My boys devoured their "Treasure Island" Warm Brownie Sundaes too. Their hot fudge there is something I will dream about!
The Cable Cars that go all around the city are a must. If you're planning a trip to San Francisco THIS website will answer all your questions. I used it as a resource the entire time we were there!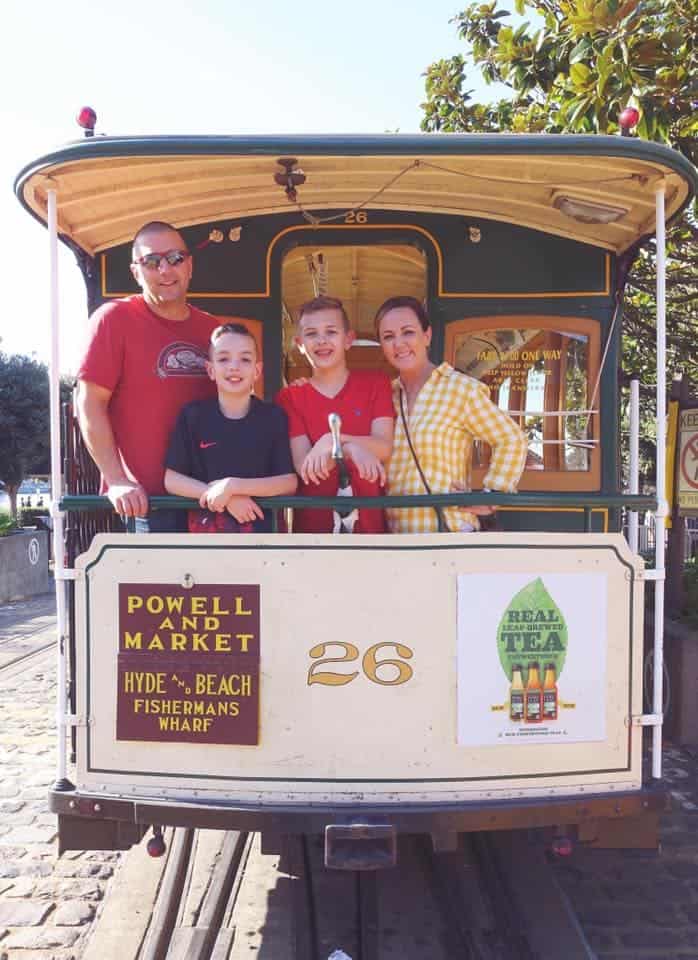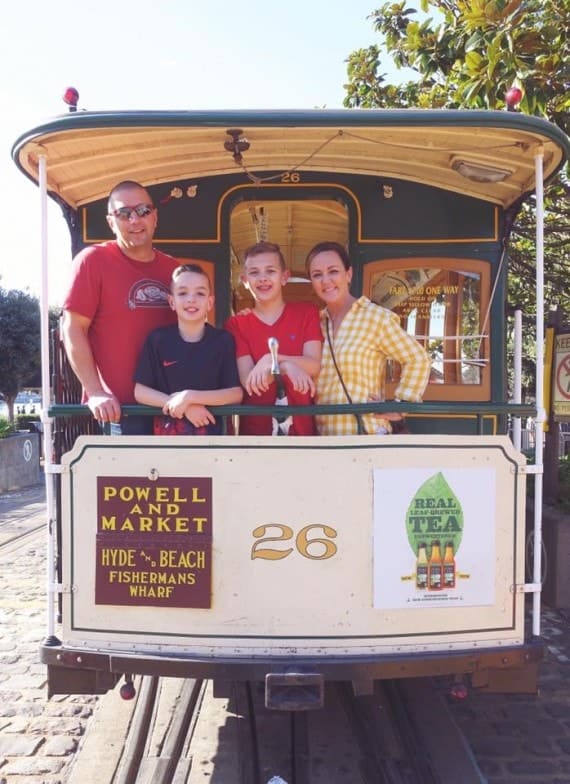 From there we walked down to the Fisherman's Wharf. The weather was stunning and we really enjoyed seeing all the boats and the crazy people watching!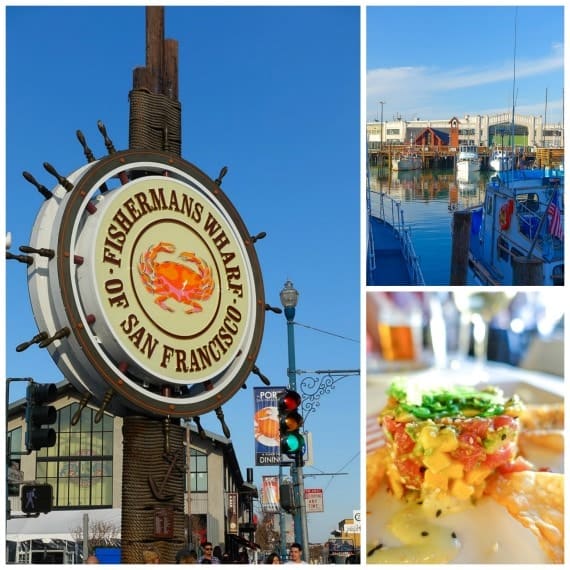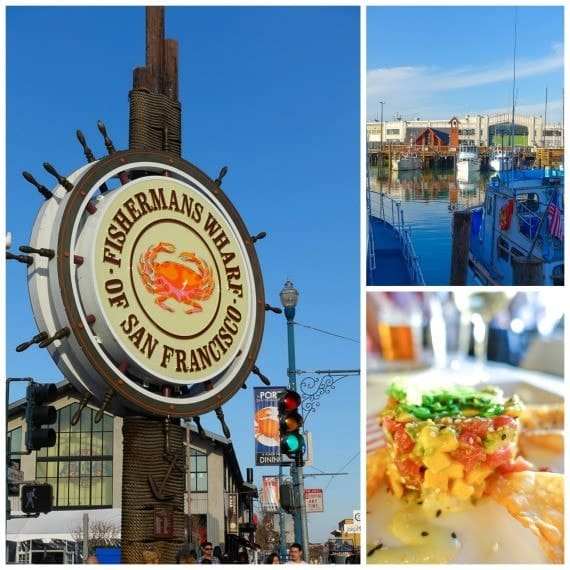 We had dinner at Fog Harbor Fish House, where I ordered this tuna mango stack that was SO good. The seafood at Fog Harbor is super fresh and we really enjoyed our meal.
We got our table right around sunset and our table by the window was perfect because the view is gorgeous.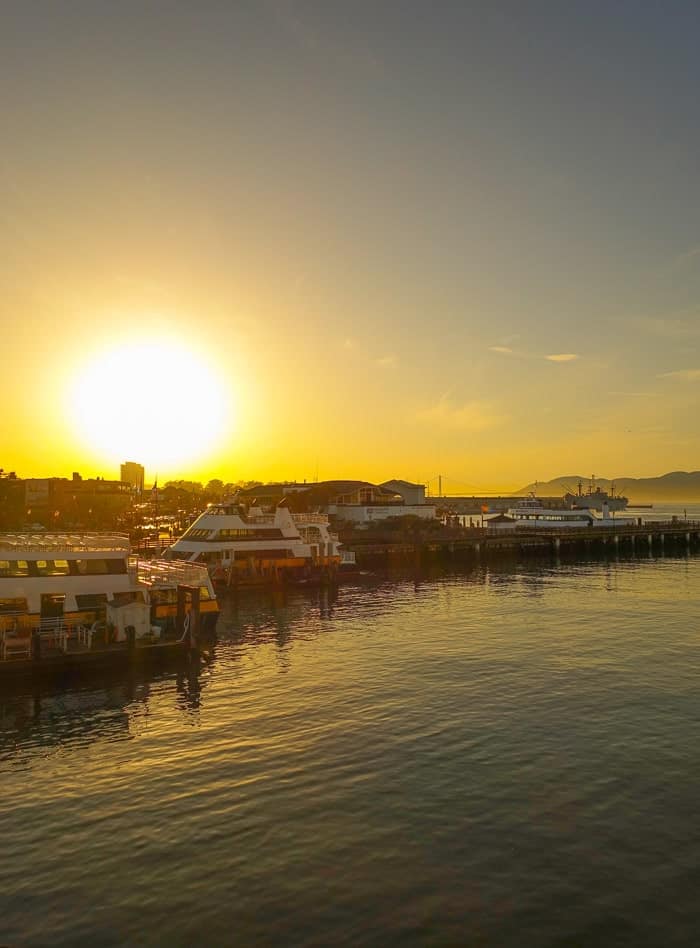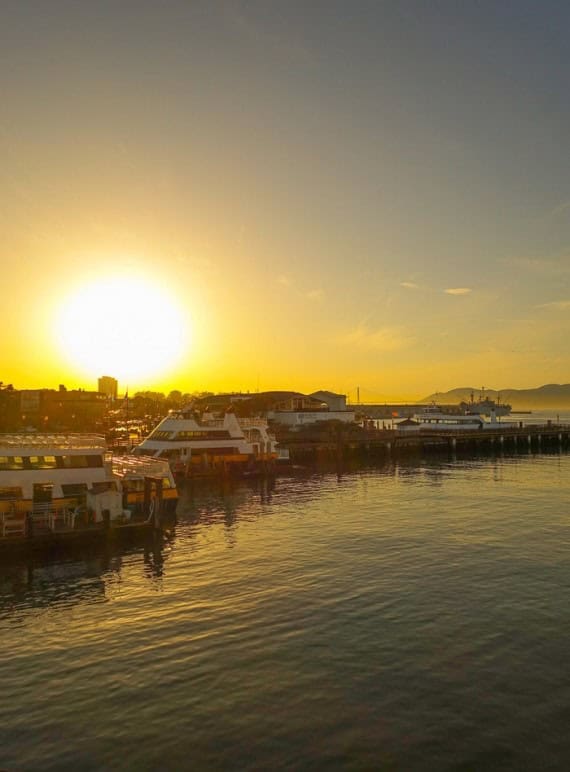 We strolled around some of the shops after dinner, which was really fun…
I mean there was a little shop that was ALL Biscoff!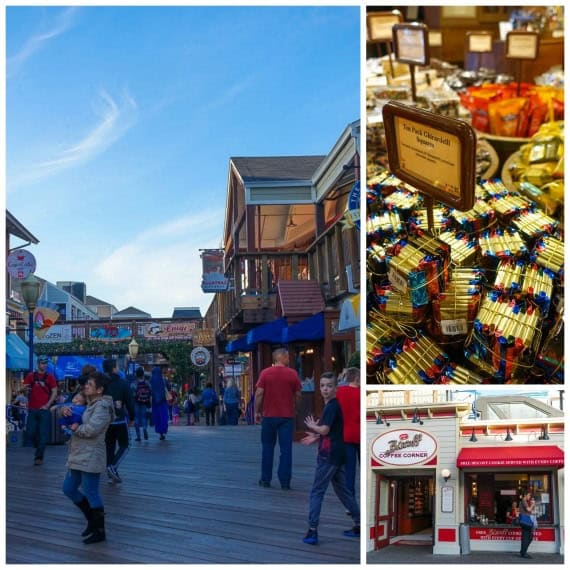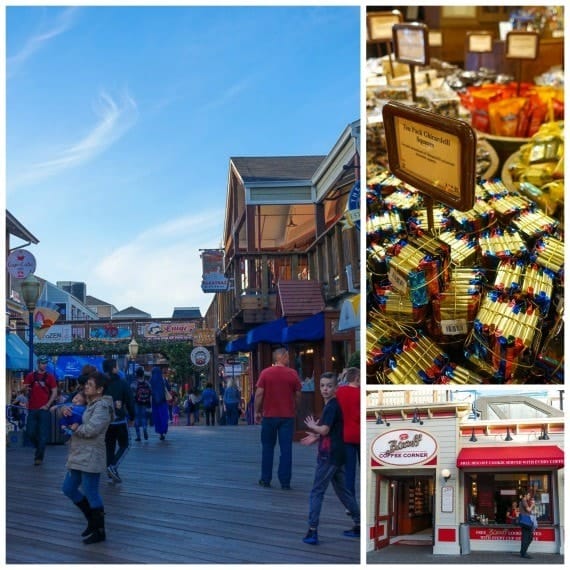 After dinner we were exhausted. The long flight, the walking (and hills) and the time change caught up to us. We wanted a good night's sleep for our jam packed next day.
Walking back to The Omni was a gorgeous walk, though.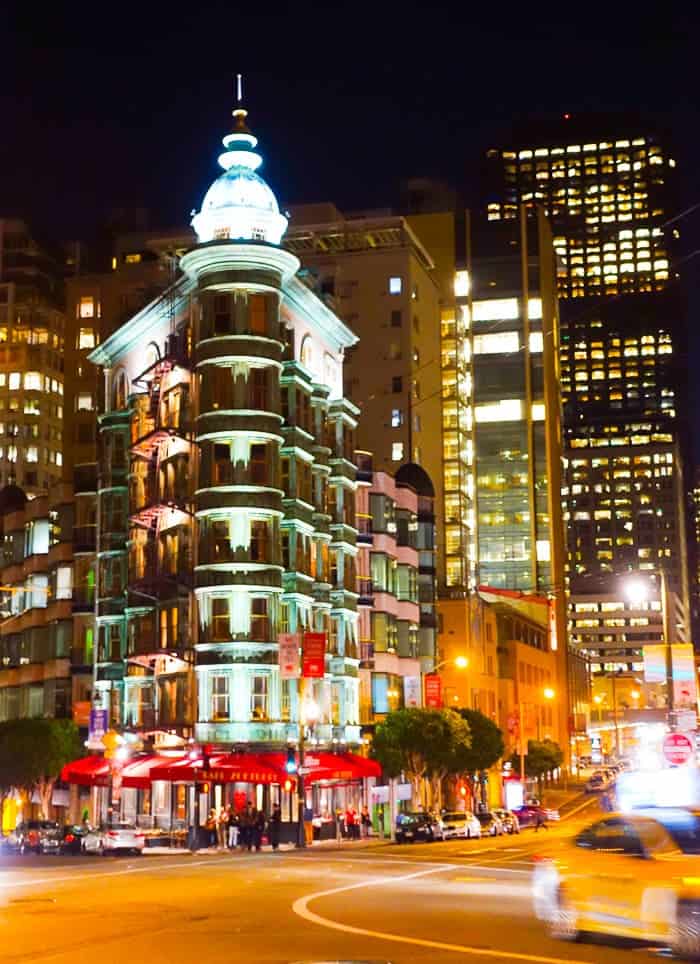 When we woke up the next morning we headed over to the Ferry Building for a walking breakfast. We sampled lots of goodies, but my FAR the waffle at Blue Bottle Coffee was the highlight. I never knew I could enjoy a waffle without syrup so much. The coffee is amazing and that waffle will haunt me!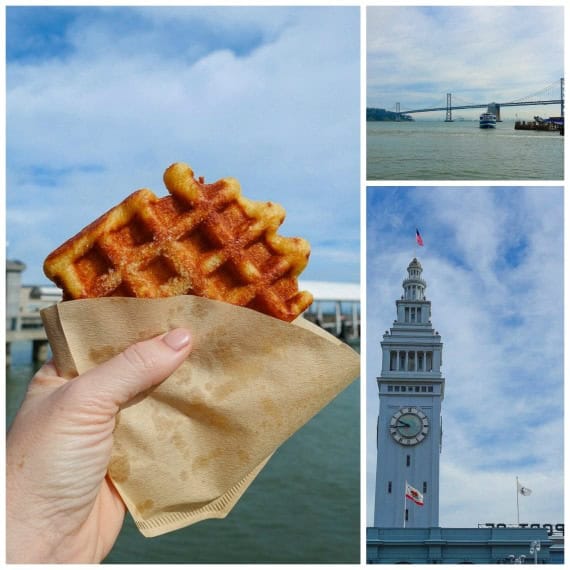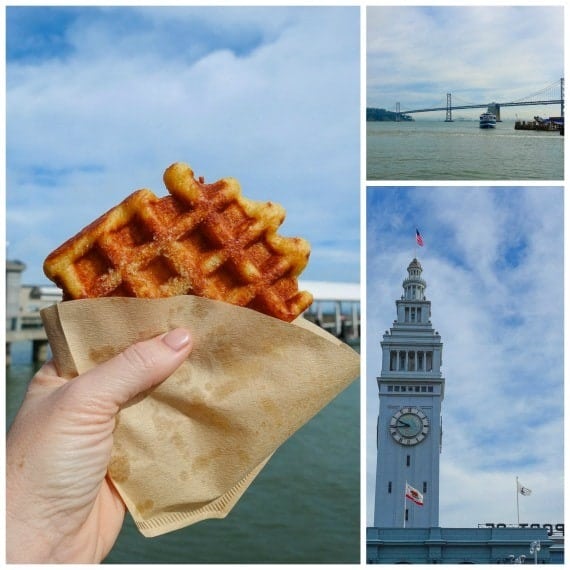 Inside the Ferry Building are lot of vendors, but my favorite was Miette.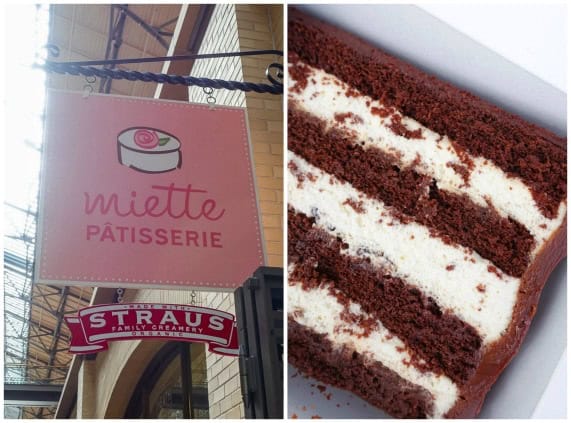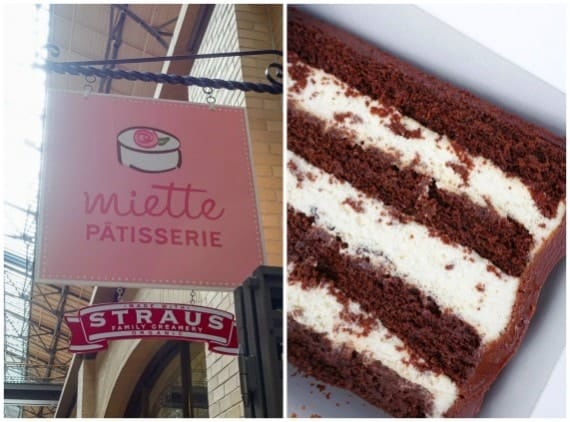 After our waffle we got this chocolate cake slice and all grabbed a fork. It was delicious.
Of course my kids were most excited about our trip to Alcatraz Island. What would a trip to San Francisco be without visiting Alcatraz?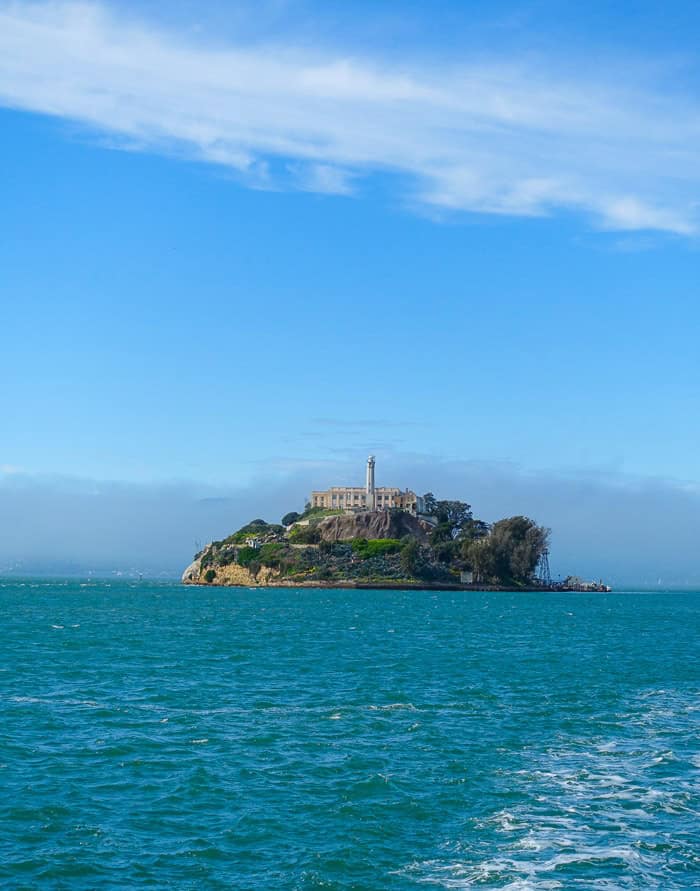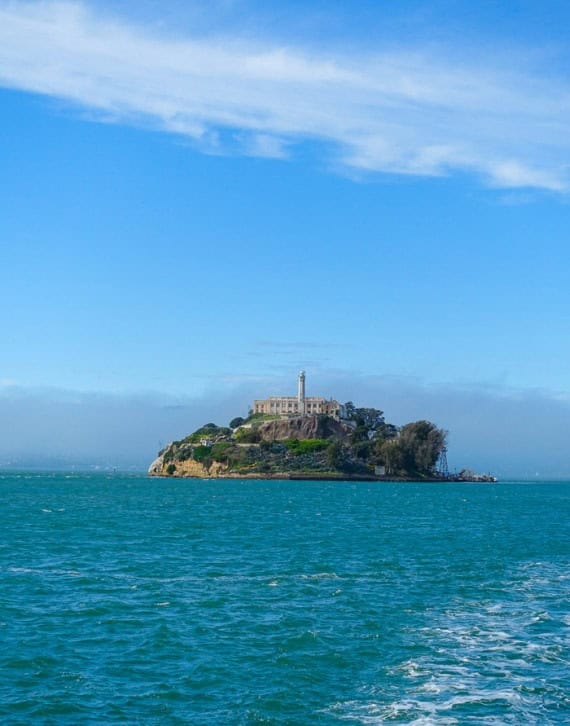 Alcatraz Cruises is the way to get to the island. You take a cruise over and you can tour the island for as long as you want. There are guided tours, or you can just walk around and explore on your own.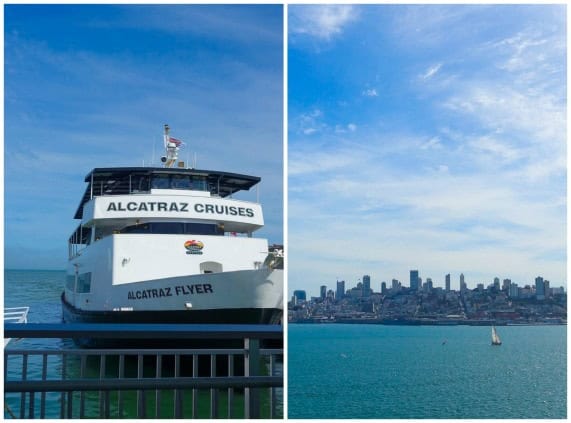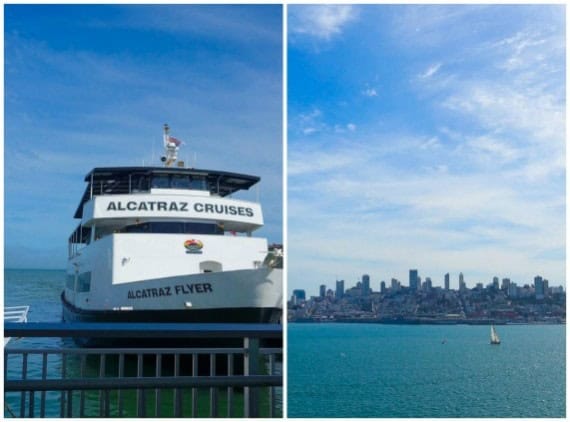 We had such a fun time visiting Alcatraz. My boys LOVED seeing the jail cells. Now that I think about it, they might have enjoyed it a little too much…hmm…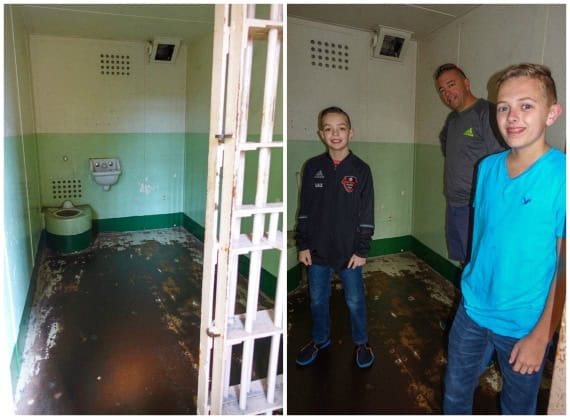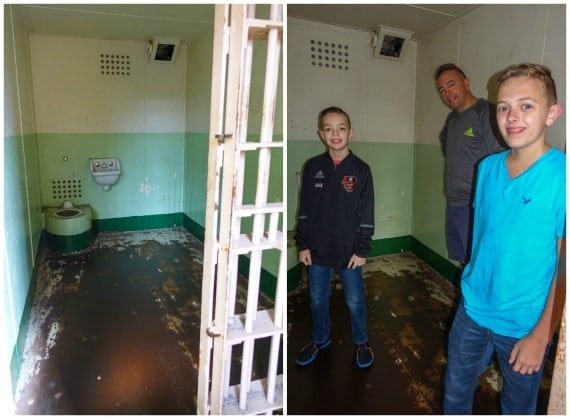 I have to say that if you are going to go to jail Alcatraz might have been the place to be. I mean the view is pretty great.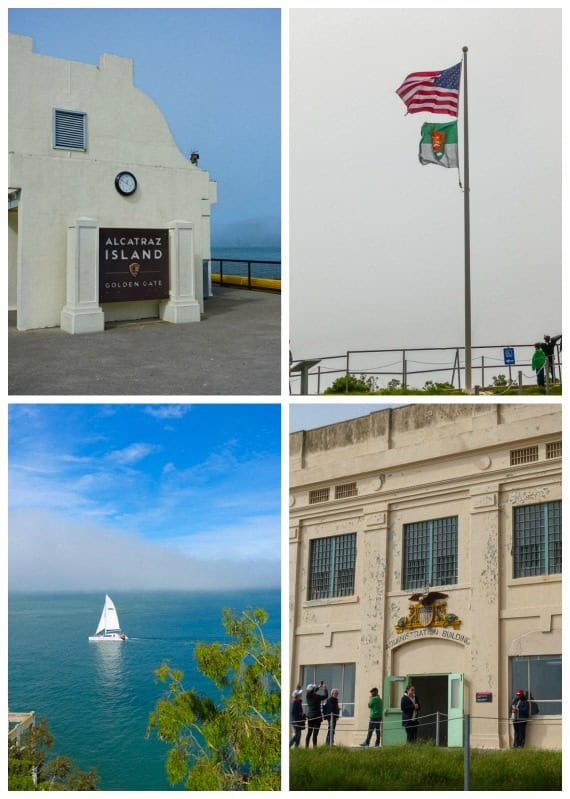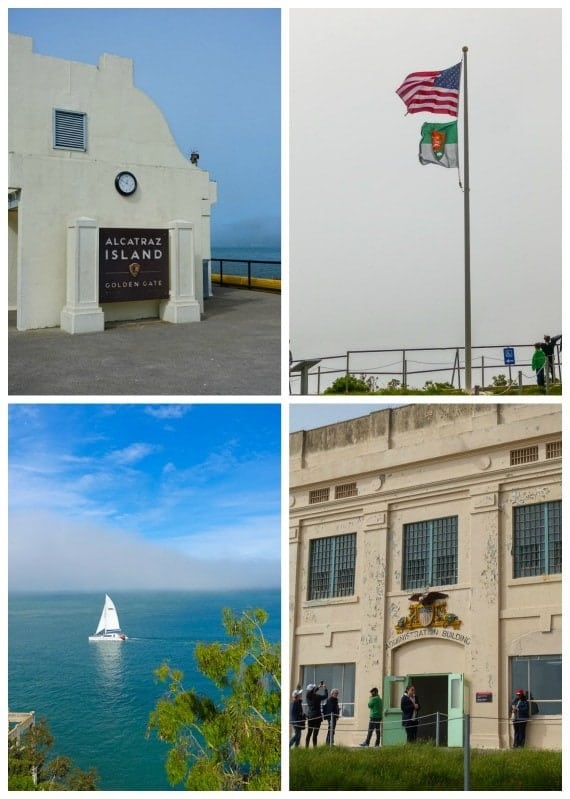 I will say it was smaller than I thought it would be…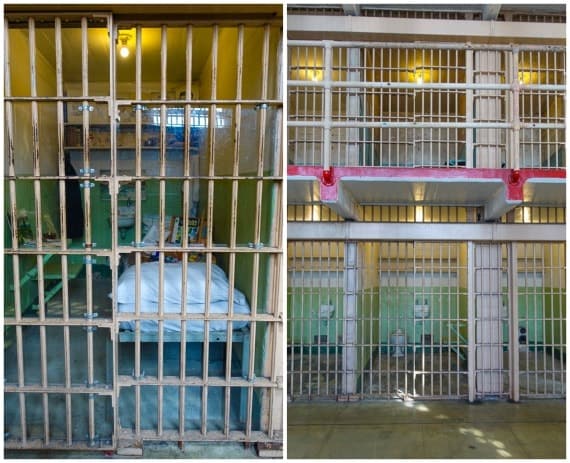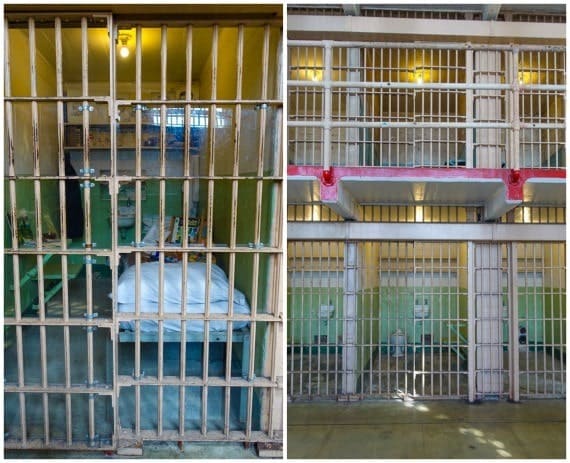 And there were some pretty infamous inmates that stayed here…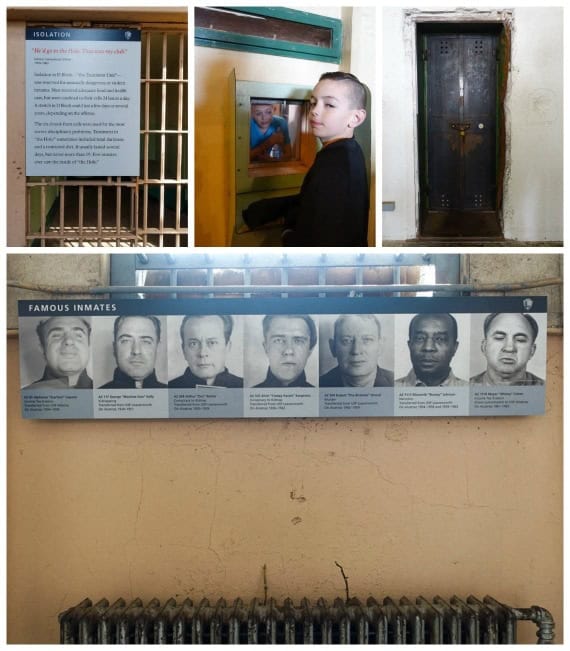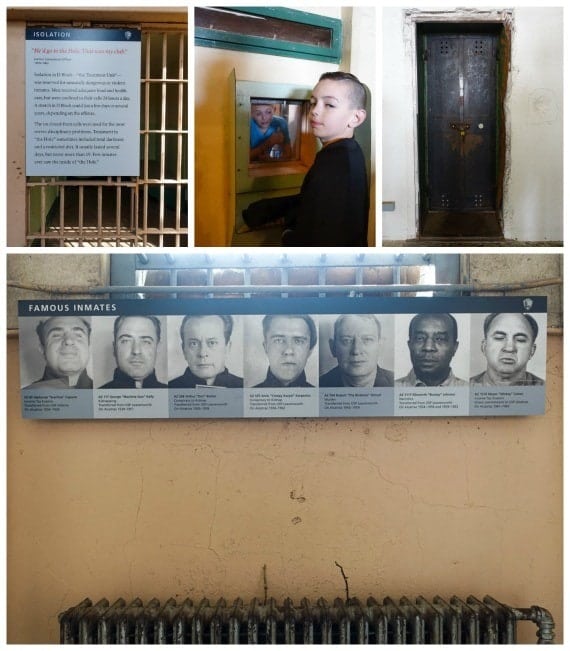 If you are planning a trip to San Francisco make sure to book your tickets in advance for Alcatraz. They sell out pretty quickly. We were there on Friday and they were completely booked through Monday!
And of course I am a sucker for a souvenir photo…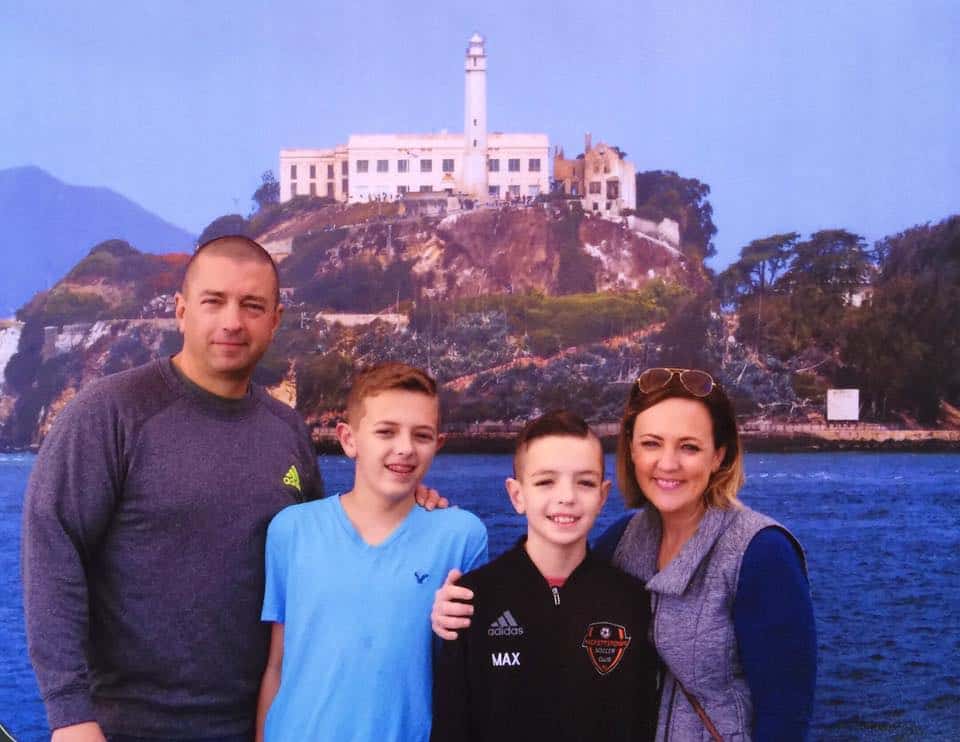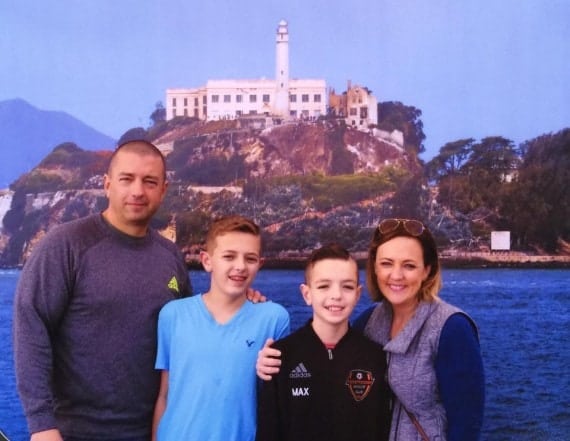 After Alcatraz we walked about down the pier…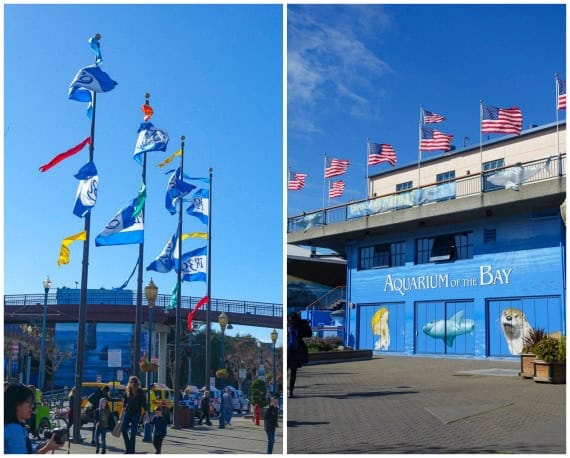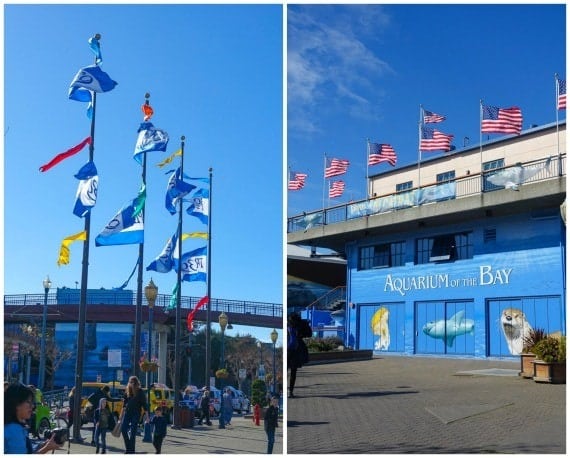 We had Boudin on our mind for an early dinner. The smell of sourdough bread in this place is enough to drive you crazy!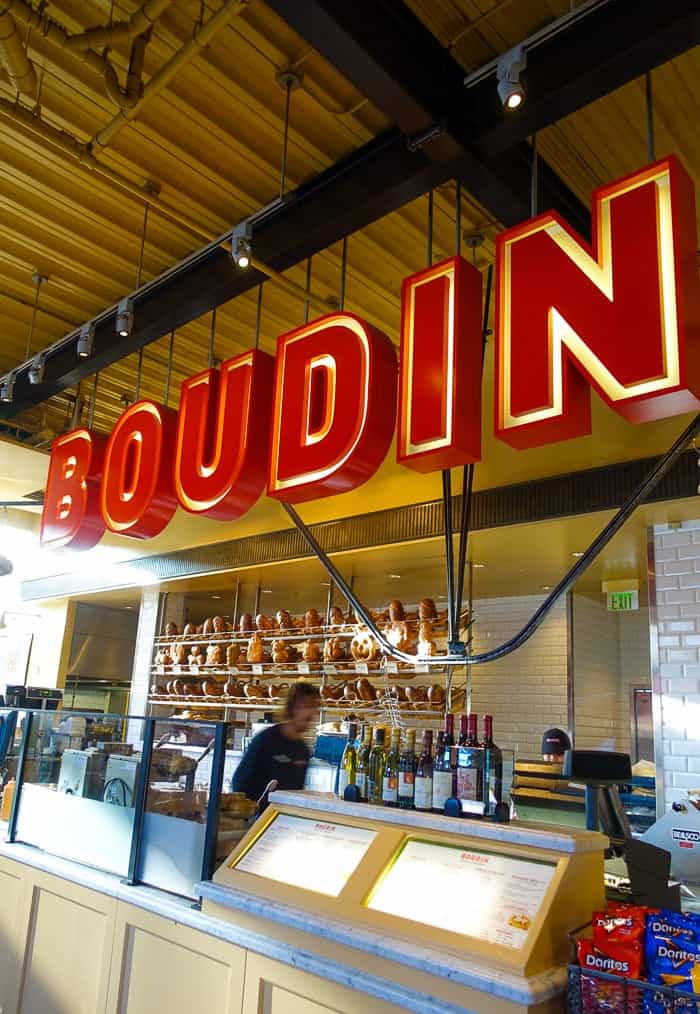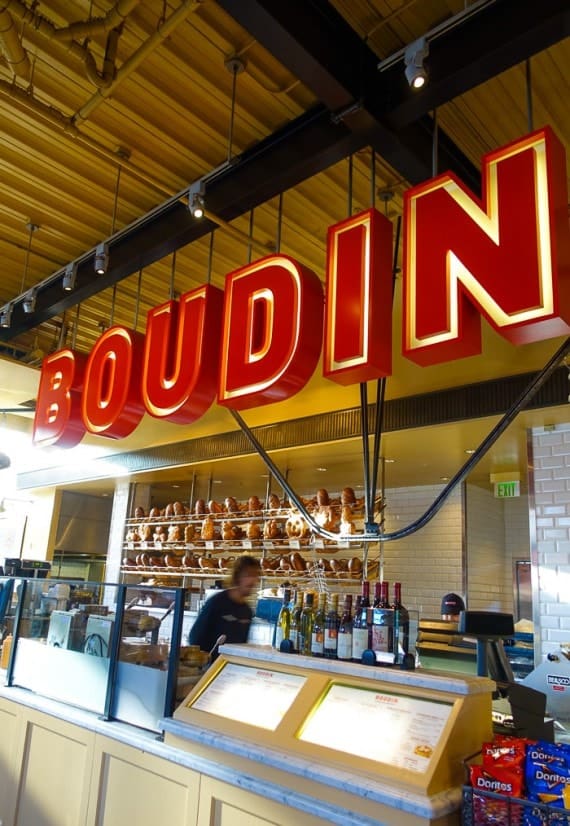 The next morning we got up bright and early for breakfast at Brenda's French Soul Food.
We LOVED this place…I feel like it's a must for breakfast if you're in San Fran.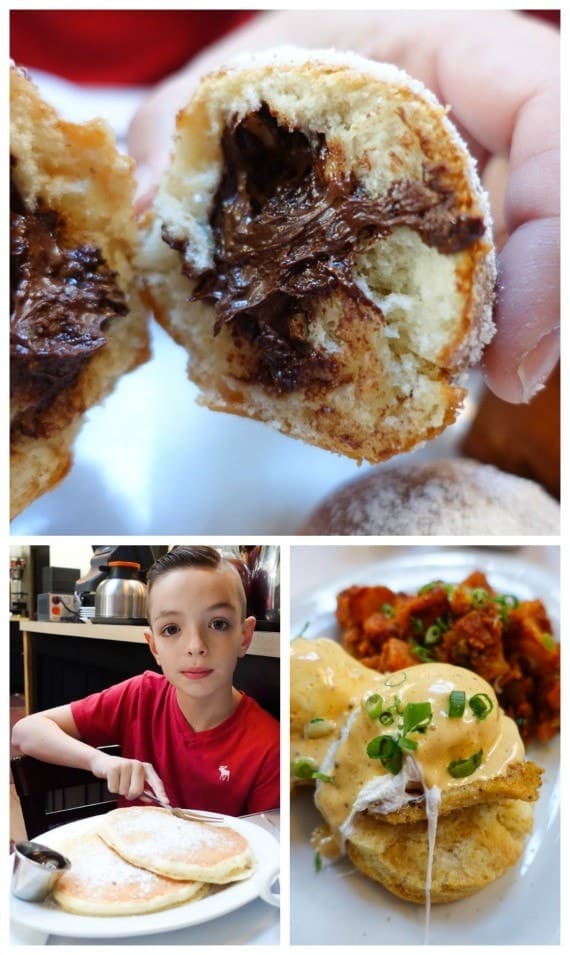 We got the Beignet sampler and our favorite was the Ghiradelli molten chocolate filled beignet. I MEAN! My kiddo went simple with pancakes and I ordered the Fried Chicken Eggs Benedict on a biscuit.
We were fueling up for our Bike Ride across the Golden Gate Bridge.
We rented bikes from Bay City Bike Rental. They have multiple convenient locations and many different bike tour options. We decided we wanted to do a "self-guided" tour to go at our own pace. San Francisco is pretty hilly, so we wanted a tour that would be good for all ages (and all biking experience levels).
We chose the Golden Gate Bridge and Saulsalito Tour. Even though it's probably the easiest of the tours there are still some hills I had to push my bike up. My kids had no problem, though!
I have to say that the bike tour was really a highlight of the trip. We lucked out and had a GORGEOUS 70 degree day.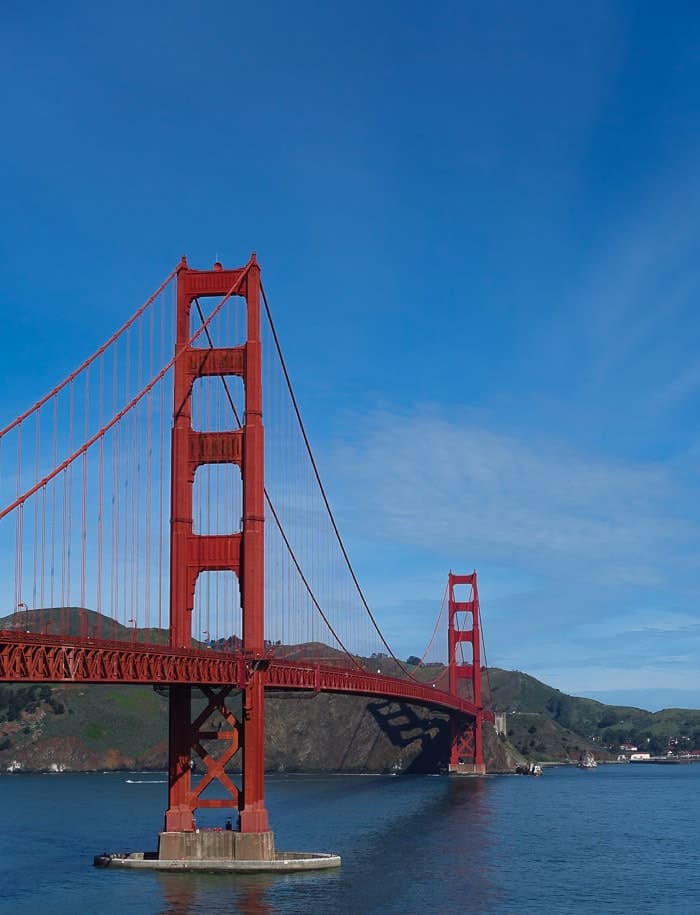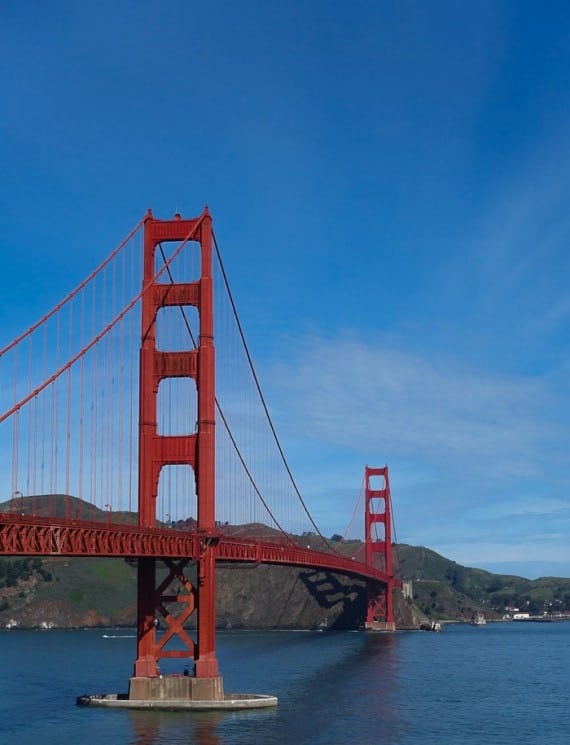 Plus the views of (and from) the bridge were phenomenal.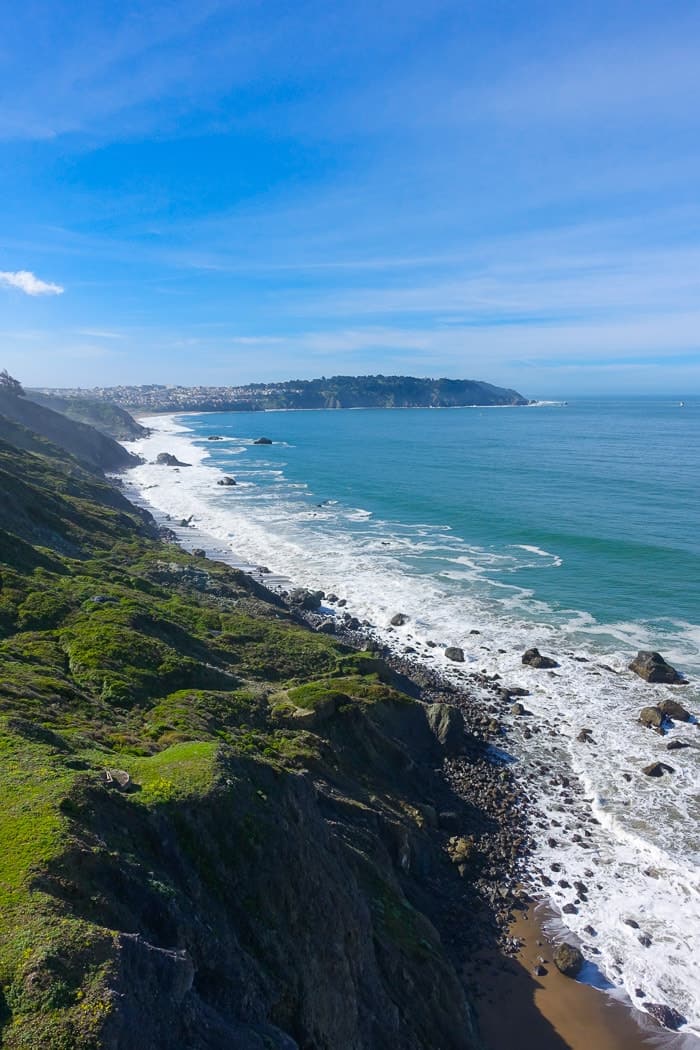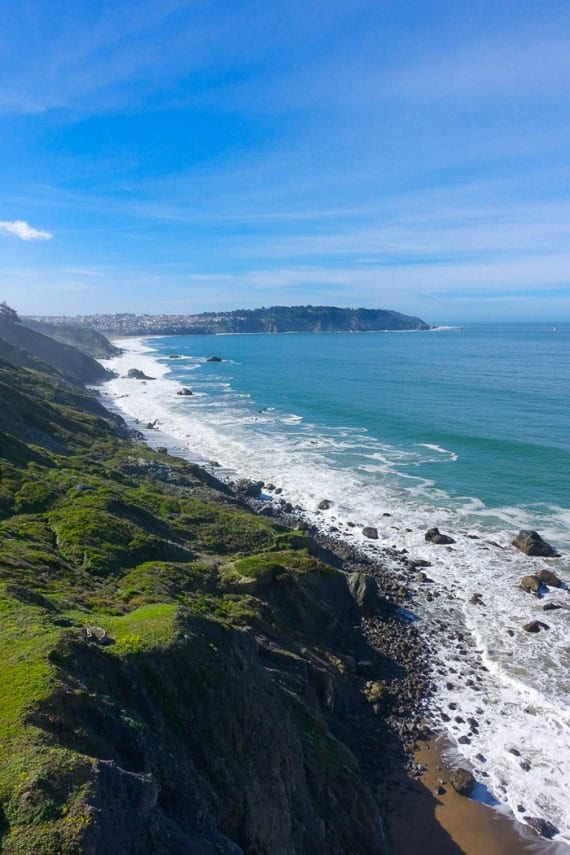 I would HIGHLY recommend doing the bike ride. It's an experience you won't soon forget.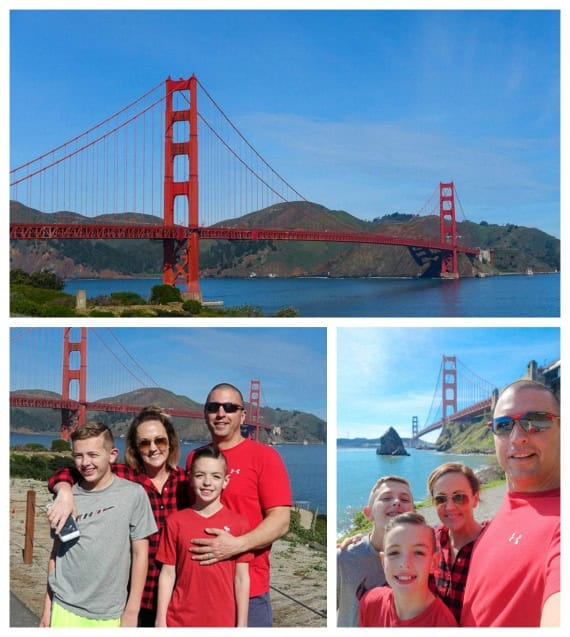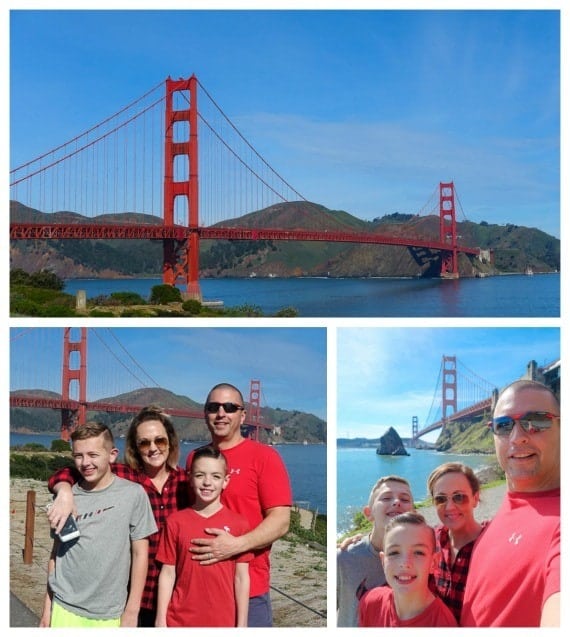 Thanks Bay City Bike for hooking us up with the bikes!
Once we got over the bridge we biked through adorable Saulsalito. My kids had already worked up an appetite, so we stopped at Napa Valley Burger Company for a burger. I wasn't super hungry so I just ordered Parmesan Truffle Fries. Oh yeah!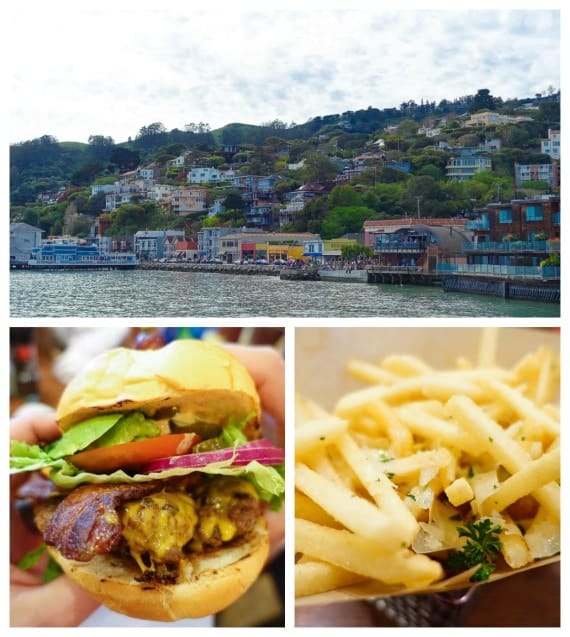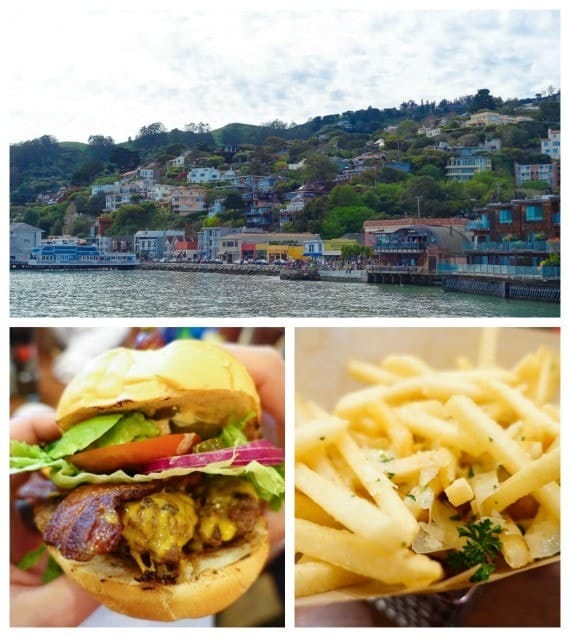 The tour was about 9 miles long and we were all ready to get off of our bikes. The great thing about the tour is you can put your bikes on the ferry and take the boat back to the Pier from Saulsalito. Love that!
Finally it was time…
We had been waiting to get to Bi-Rite Creamery and we took a cab down to The Mission to get our Ice Cream and Pot de Créme.
There was a pretty long line to even get IN the shop (which is tiny). But it was a Saturday afternoon and the weather was gorgeous, so we didn't mind.
I have to tell you the wait was worth it. I got a cone with Salted Caramel (OMG SO GOOD) and Mexican Hot Chocolate. But really the Chocolate Pot de Créme was the star. It was absolutely everything we expected…thick chocolaty and rich. And they're served in sweet little jars…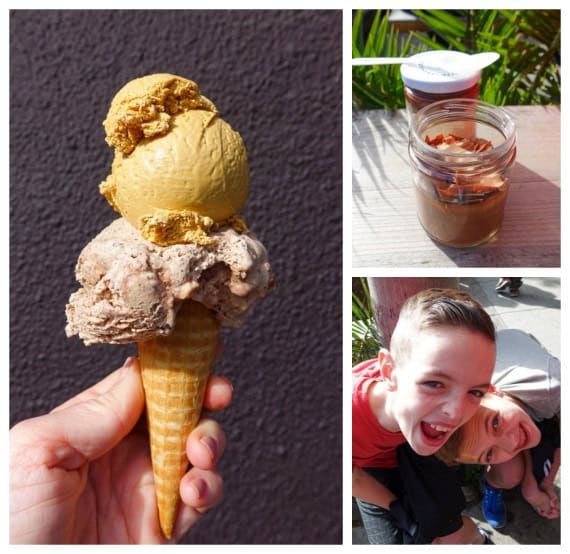 My kids were over the moon happy.
After a stop back the hotel to freshen up and rest we headed to dinner at Zero Zero. I want to go back to San Francisco just to go back to this great little spot. The food is AMAZING. The pizza is perfection and the dessert… you guys…
They have a Build Your Own Ice Cream Sundae situation that is everything. Like we hadn't eaten enough ice cream this trip, we went ahead and ordered a sundae to share.
All the toppings are made in-house. We got vanilla ice cream with Homemade Junior Mints and hot fudge…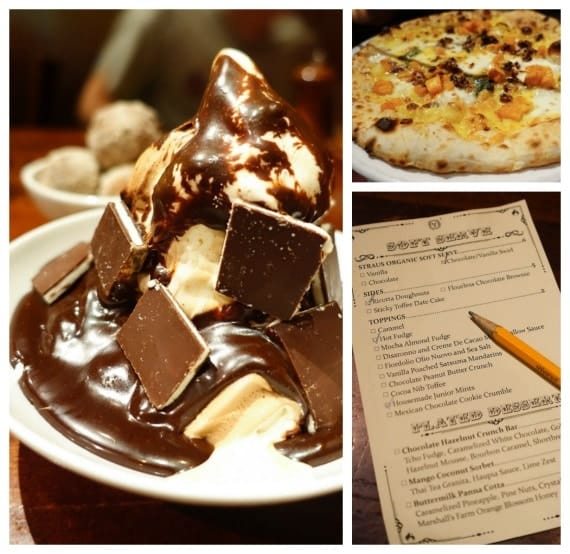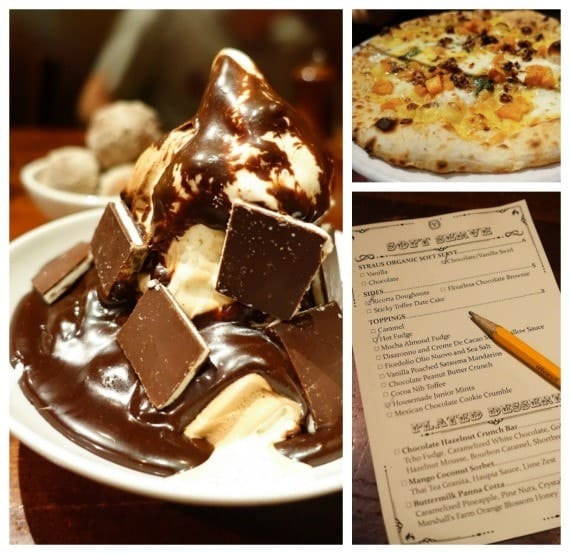 Oh yeah and a side of warm Ricotta Doughnuts. Sigh.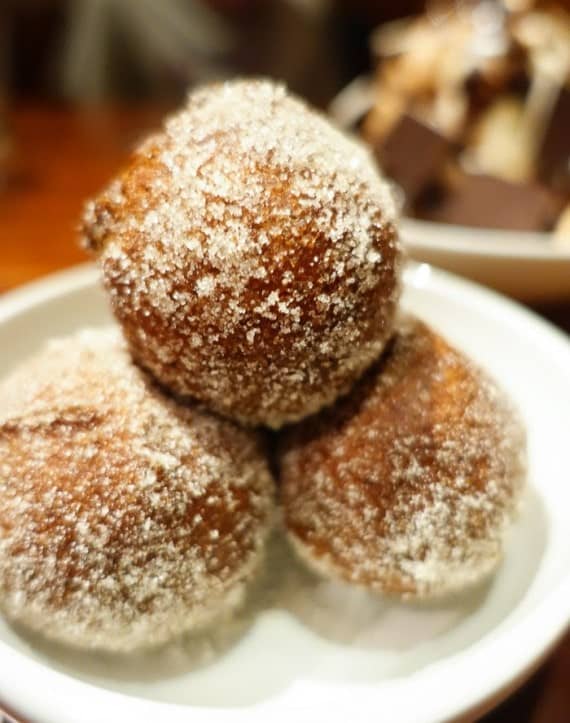 The next morning we got up pretty early and headed back to the East Coast.
Our trip to San Francisco was everything we had hoped it would be. We wished we could have stayed another day to visit the Muir Woods, but we'll save that for next time!
Here are the links to all my San Francisco recommendations:
Stay: The Omni San Francisco
Bikes: Bay City Bike
Tour: Visit San Francisco
Alcatraz: Alcatraz Cruises
Dining Recommendations: Ghirardelli, Fog Harbor Fish House, Blue Bottle Coffee, Miette, Boudin, Wayfare Tavern, Brenda's French Soul Food, Bi-Rite Creamery, Zero Zero.