These Triple Chocolate Oreo Bars are perfect for any chocolate lover!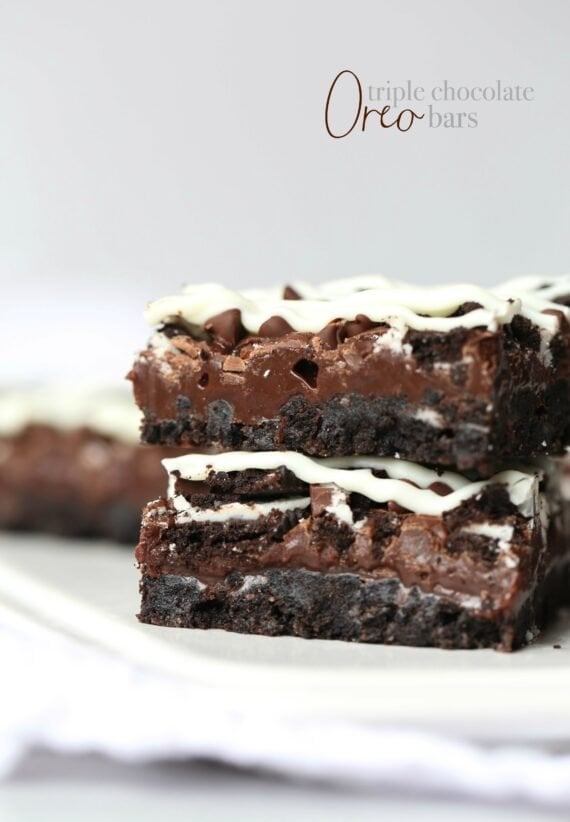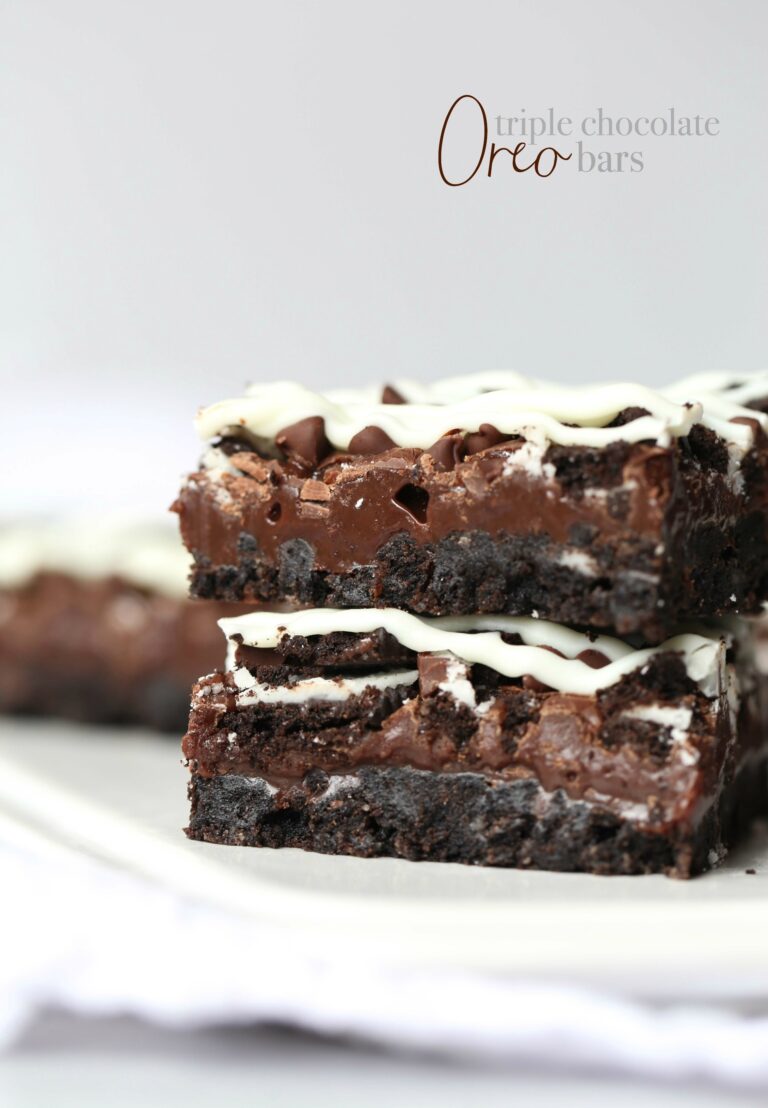 Today saying no to chocolate is not an option. Just like doing my laundry is not an option. Just like making my bed and unloading the dishwasher is not an option…
Ok, that's a lie. Making my bed is always an option. I just can't let it sit there unmade. Actually getting into crumply sheets is NOT an option for me. Ever.
But back to chocolate. Today chocolate is the only option. I mean, after making my bed.
These bars are an old recipe of mine that I've given an updated look. 2011 Shelly didn't know as much about taking pictures as 2015 Shelly, so we're dusting these babies off and giving them some better lighting.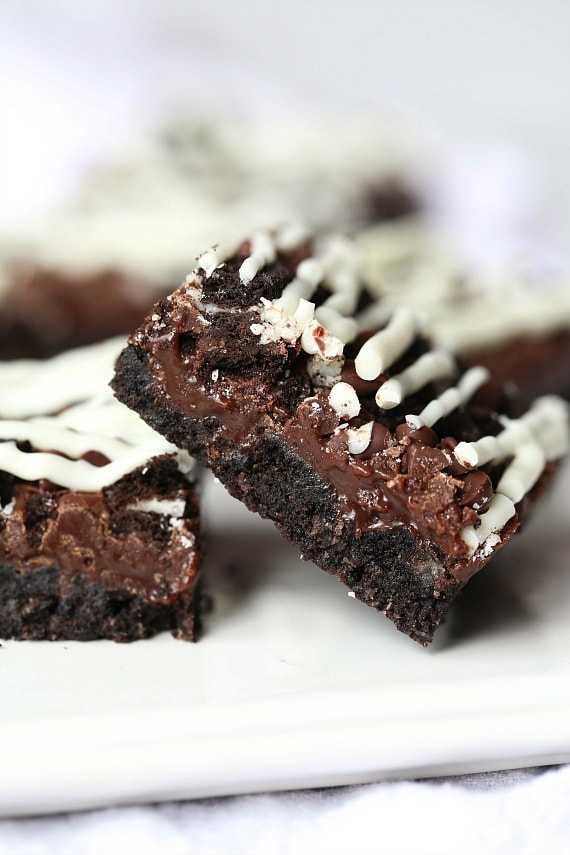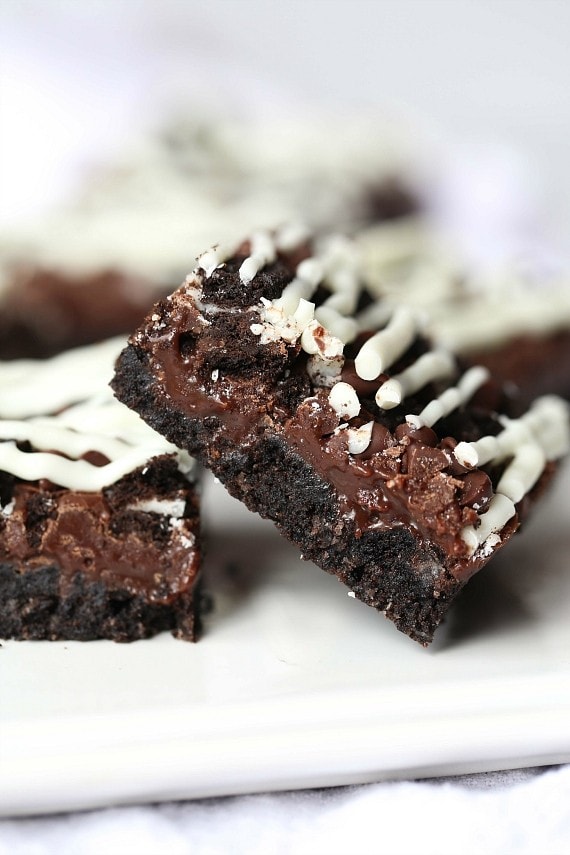 What you have here is a thick, crunchy Oreo crust with a rich and creamy fudge filling, topped with chocolate chips, MORE Oreo pieces and a white chocolate drizzle. Do I have you attention yet?
And beyond rich and delicious, these are really easy to throw together.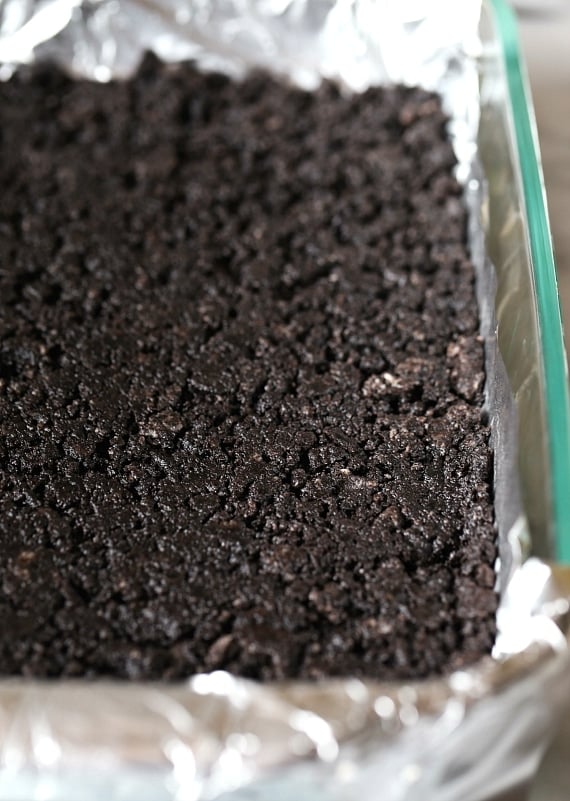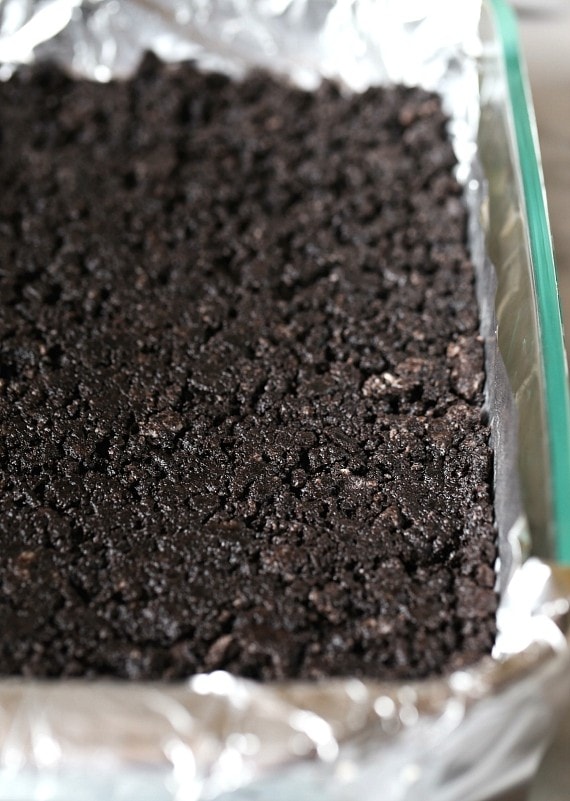 Make a simple Oreo crust and press it firmly into a foil lined 9×13 pan.
Next melt some milk chocolate chips and semi-sweet chips with a can of sweetened condensed milk. Oh yes I did…
Pour that all on top of the crust…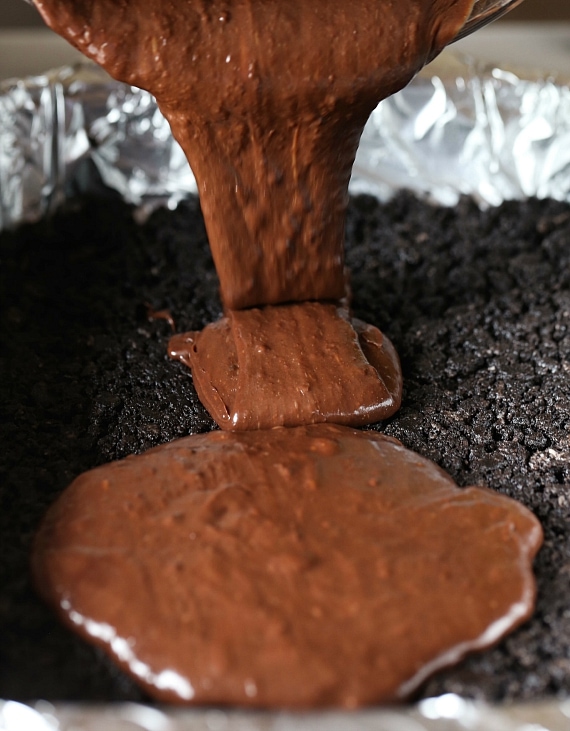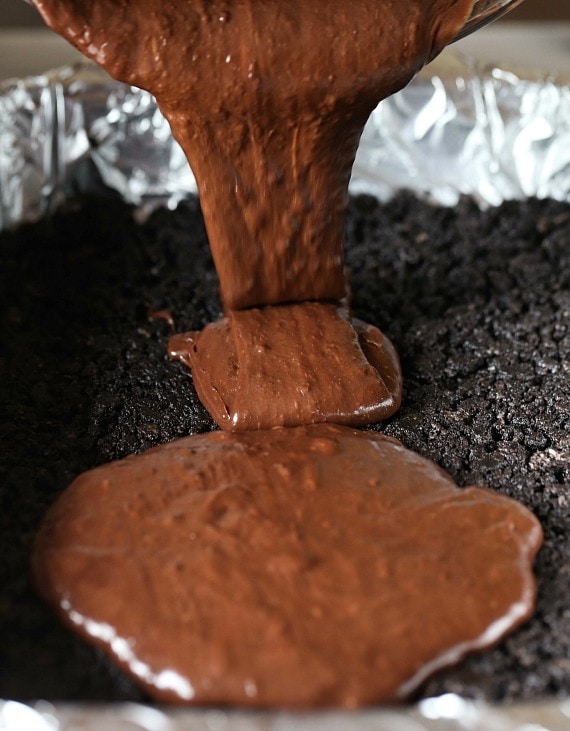 Chop up some more Oreos…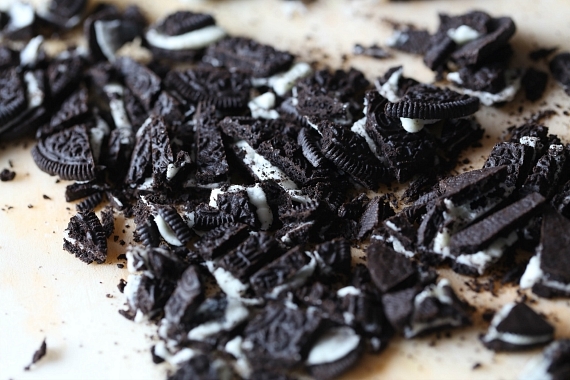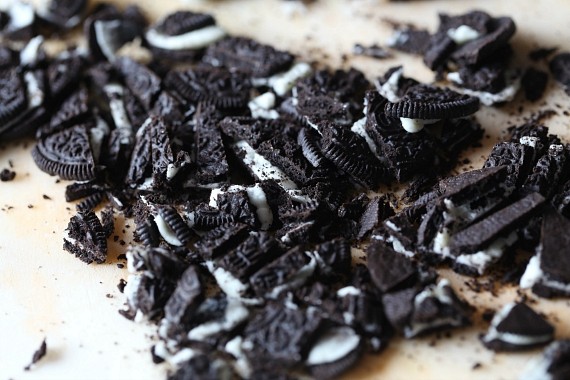 And press them, along with some mini chips into the fudge layer…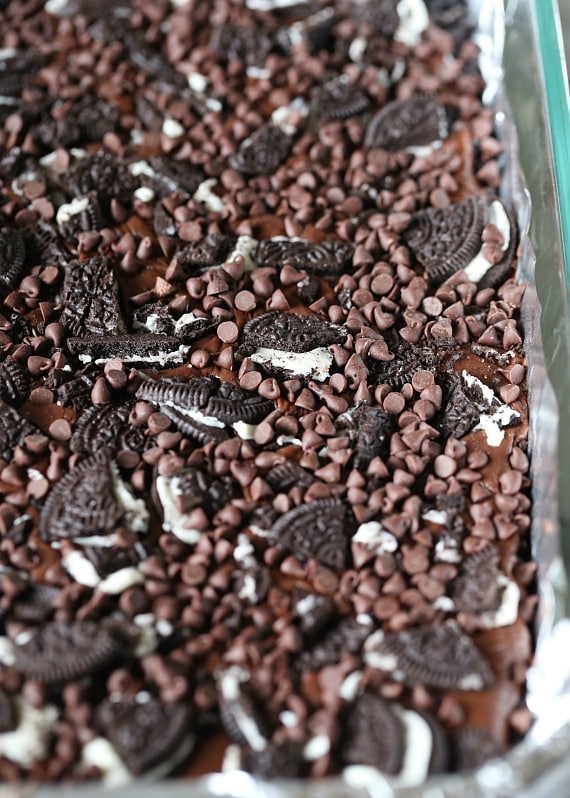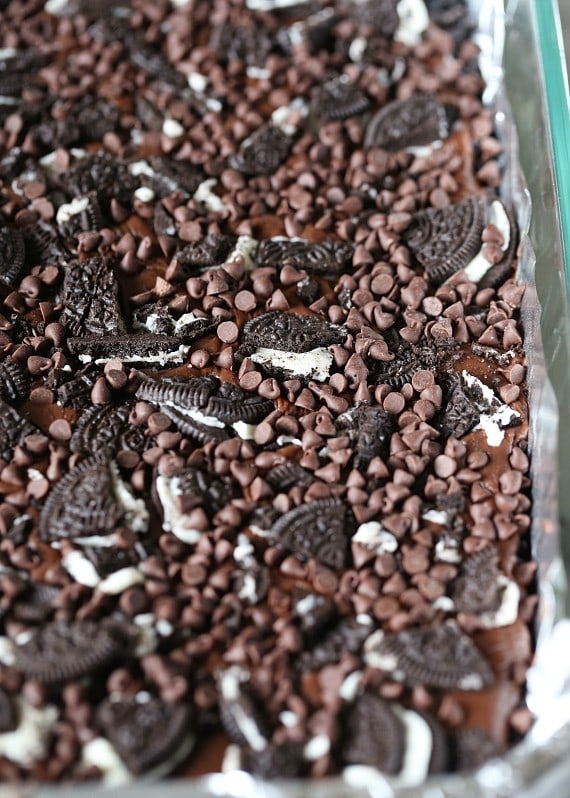 Bake that whole situation up and then drizzle the whole deal with white chocolate. Holy yes!
Pop it in the fridge to set up and then when you're ready, remove the whole thing from the pan, peel back the foil and bask in its glory.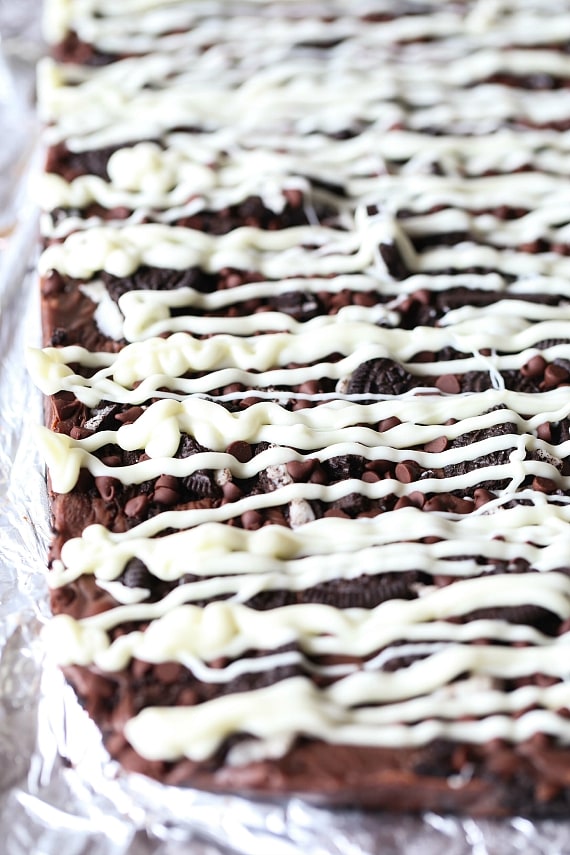 And of course slice it up and double fist it.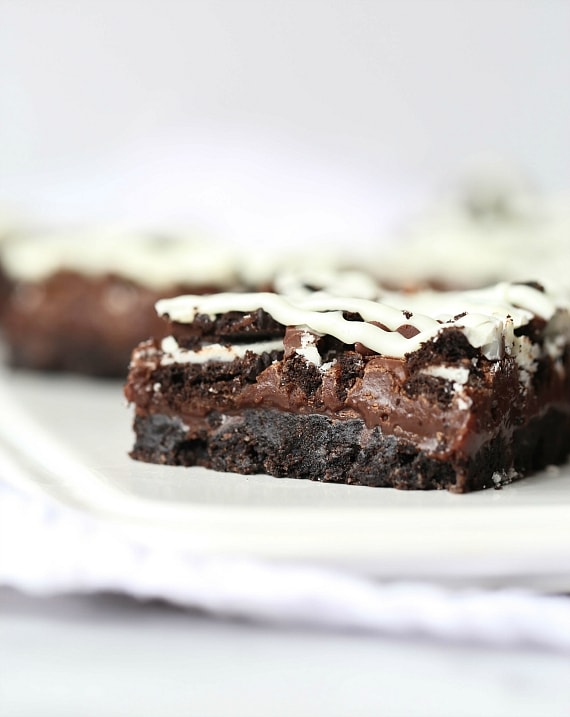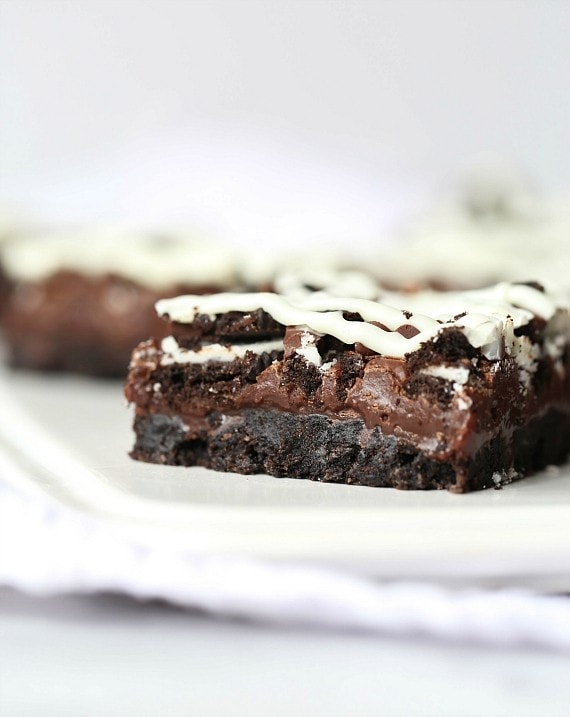 Making these bars was definitely the right option!
Print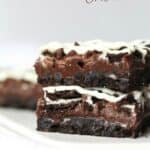 Triple Chocolate Oreo Bars
---
1

(16.6 oz) pkg of Oreo cookies

1/2 cup

butter, melted

1/4 teaspoon

salt

1

(14 ounce) can sweetened condensed milk

1 teaspoon

vanilla extract

1 cup

semi-sweet chocolate chips

1/2 cup

milk chocolate chips

1/2 cup

mini chocolate chips

1 cup

white chocolate chips, melted
---
Instructions
Preheat the oven to 325°
Line a 9 x 13 pan with foil (shiny side down) and spray with non-stick spray.
Set aside 8 Oreo cookies.
Crush the remaining Oreos with either your food processor or in a ziplock bag with a rolling pin or food processor.
When the Oreos are crushed transfer them into a medium bowl and add you salt and melted butter, stirring to combine.
Press your Oreo mixture into your prepared pan.
Chop your remaining 8 Oreos into coarse pieces and set aside.
In a double boiler (a bowl fitted over a pan of boiling water) add your sweetened condensed milk, the semi-sweet chips, the milk chips and the vanilla. Stir until all melty.
(OR you could do this in the microwave, stirring every 30 seconds until melted)
Remove from heat
Pour your melted chocolate mixture over the Oreo crust and sprinkle the mini chocolate chips and the Oreo cookies chunks over the top of the filling.
Press down gently into the chocolate topping.
Bake for 20-22 minutes in preheated oven.
Cool pan on a wire rack for approx 1 hour.
Melt the white chocolate chips.
Drizzle the white chocolate over the top of the bars.
Chill in refrigerator until completely cooled, an hour or two.
Make sure they are completely cooled, otherwise they are a bit mushy…still delicious, but hard to cut.
When ready to serve, using the foil remove from the pan and cut into squares.
---
Want To Save This Recipe?
Find more recipes like this: