Today we're talking about all my favorites for Valentine's Day! My husband and I don't generally exchange gifts on Valentine's…but that doesn't stop me from buying a few cute things for myself! I have lots of new goodies today that I LOVE and know you will too…plus a few things I've talked about before and am still loving just as much. Let's talk!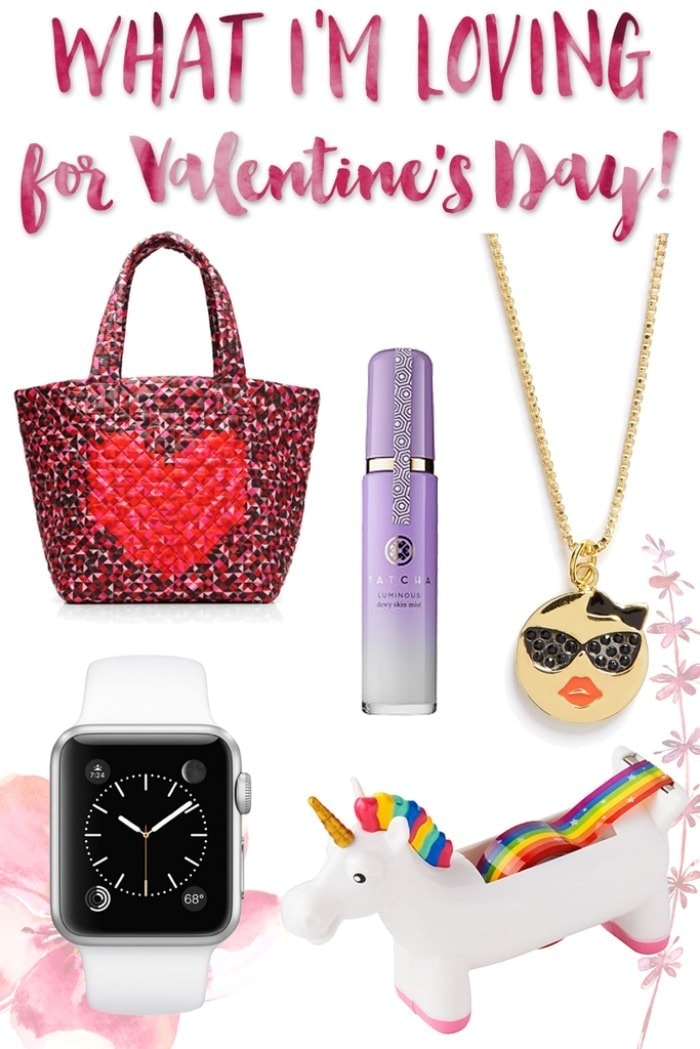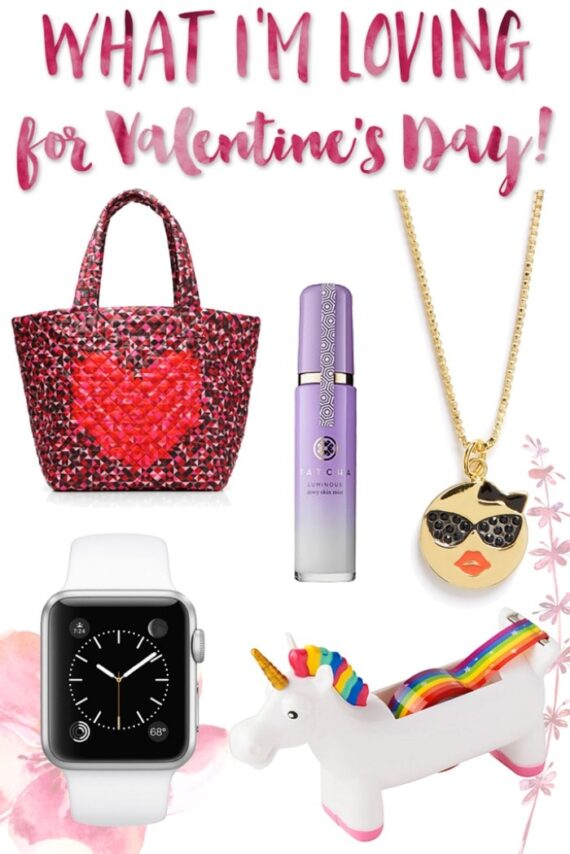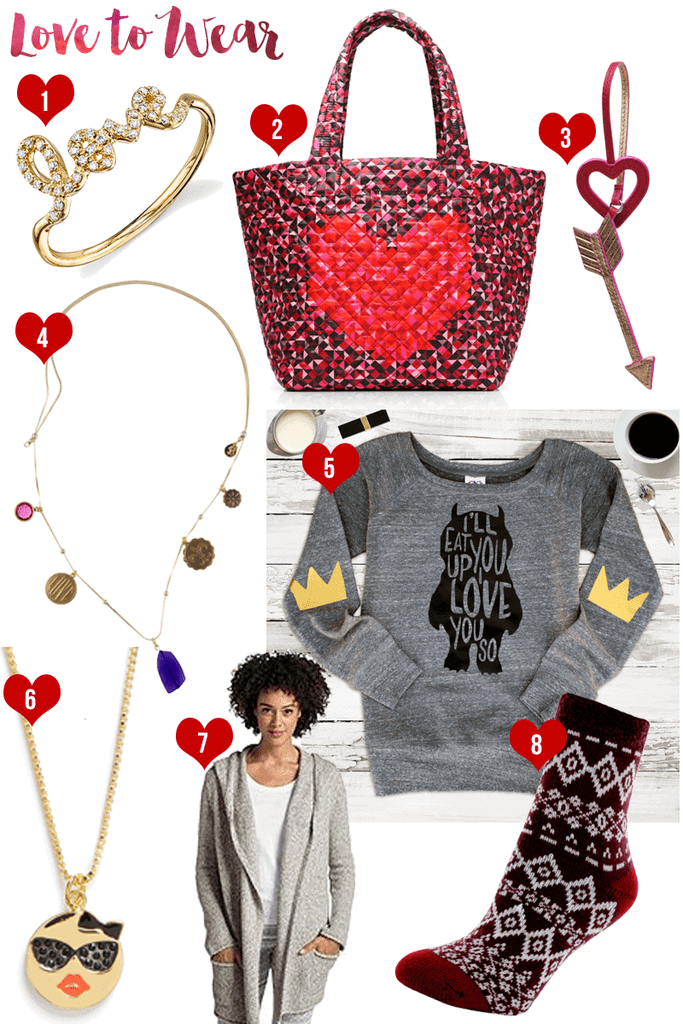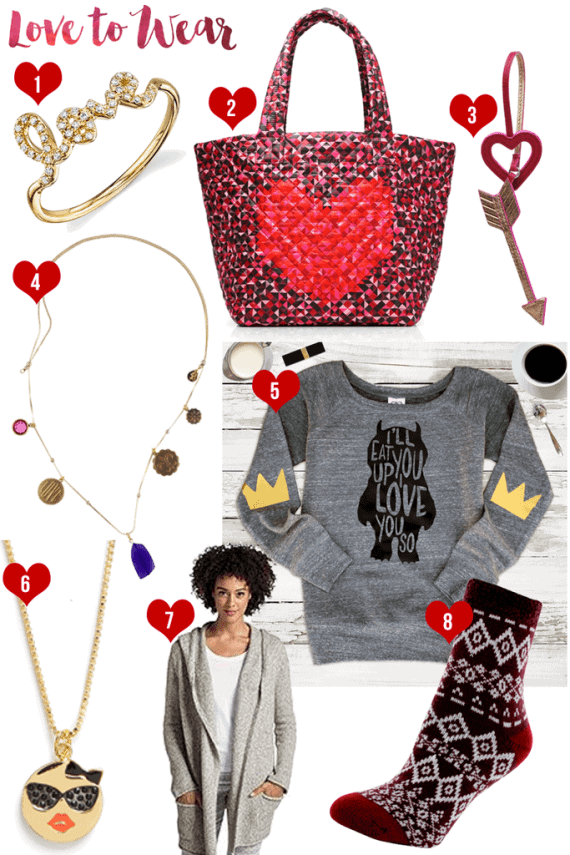 Is there anything sweeter than this Love Ring? My husband surprised me with it for Christmas and I wear it every. single. day. It's dainty and sweet but completely gorgeous and sparkly. Yes, it's a bit pricey, so if you're not looking for a huge investment piece I found this ring that looks super similar at a fraction of the cost!
It's no secret that I LOVE MZ Wallace bags. I own a few and they are my favorite go-to bag. The Metro Tote is the best tote out there right now…it's adorable, lightweight, super roomy and easy to clean. I use mine everyday, but it's PERFECT for traveling (it fits my laptop, a blanket, magazines and water with room to spare). I have a tote in the gorgeous color "Begonia", but OMG look at the limited edition Valentine's Pixel Heart Bag! Their limited lines sell out quick so make sure to get one while you can!
Speaking of MZ Wallace they make the CUTEST bag charms. I have this Heart and Arrow Charm and I've used it on a few different bags. It's seriously cute and I plan on using mine all year long!
I am a huge Alex and Ani fan. I have quite the collection of their bangles…but how great are their charm necklaces? You can adjust where the charms fall on the necklace…having them spaced out like the picture or they could all hang at the bottom of the chain. I really love these!
My favorite children's book of all time is Where the Wild Things Are. My youngest's name is Max, named from the book. I always felt like Max was the perfect amount of mischief and sweet. Anyway when I saw this precious sweatshirt on etsy I knew I had to have it. It is SO cute on and totally cozy.
AHHHH this Gold Smitten Kate Spade necklace is perfect for Valentines! The "heart-eyed" emoji is probably my most used. Kristan bought this necklace for me for Christmas and it's so precious.
Ok, I have to tell you about this sweater…I have had it for a year now. It's called a "Sleep Sweater" and I wear it NONSTOP. The exact one pictured, which is the one I have JUST sold out completely (annoying) BUT they have THIS version that looks very similar and is ON SALE!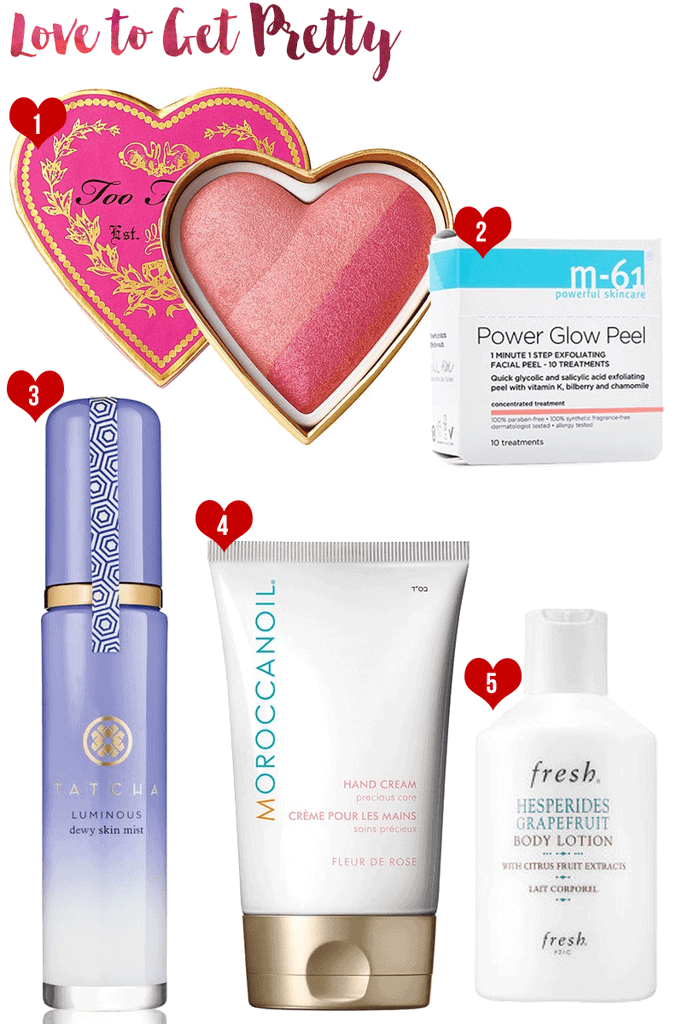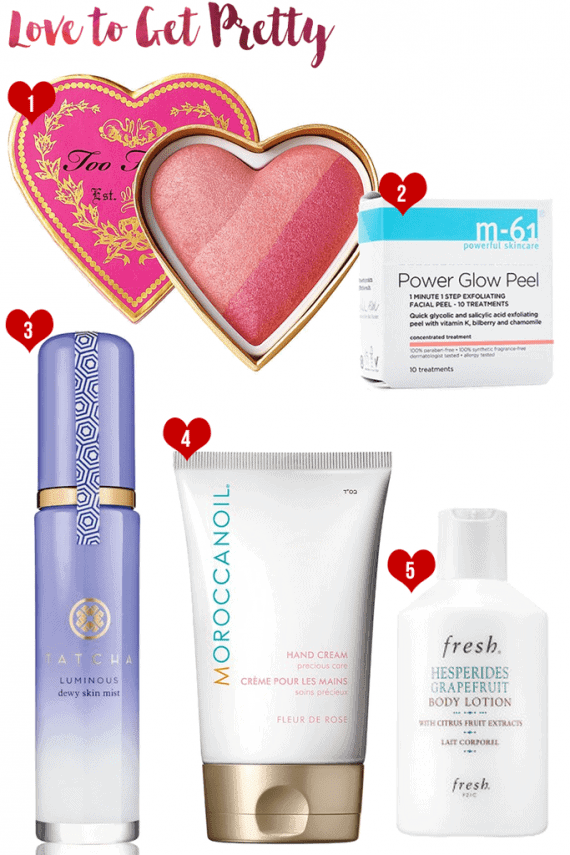 It's no huge secret that I love makeup. I am always posting new purchases over on Snapchat (username: sjaronsky). With that said, blush is probably my least favorite of all my cosmetics. I used Nars for like 15 years straight. But now I am SUPER into this Too Faced Sweethearts blush. Obviously it's adorable packaging. I am using the "Something About Berry" shade and a little goes a long way, but it's just the most perfect flush in my opinion.
This time of year wreaks havoc on my skin and these m-61 Power Glow Peel pads have SAVED my skin. I have been using them every single day since May and I can't tell you how much they have helped. Every winter I would get dry, patchy, red and angry skin. Not this year and I have to say that these are the reason. Start off using them 3 times the first week and build up to everyday. I am telling you they are THE BEST.
I have never been a huge fan of setting spray, but my world was rocked when I tried the Tatcha Dewy Skin Mist. I've been following this method lately and the results are dewy, pretty and the Tatcha spray works perfect!
Ugh my hands are a hot mess right now. I have had gel nail polish on my nails for years with really no long breaks. I recently removed the gels just to give my hands a break and dear lord the situation is not good. This Moroccan Oil Hand Cream (in the original scent not the rose) is SO good. A lot of hand creams are greasy which make them hard to use regularly (for me) and this one is simply perfect. Try it, you'll love it.
Speaking of lotions I just bought this Fresh Hesperides Grapefruit Body Lotion and ADORE it. Yes, it smells grapefruity, so if that's not your thing, it's not for you…but I LOVE it. It's pretty, bright, citrusy and clean smelling. Plus, it's just a great lotion….not heavy, but perfectly moisturizing!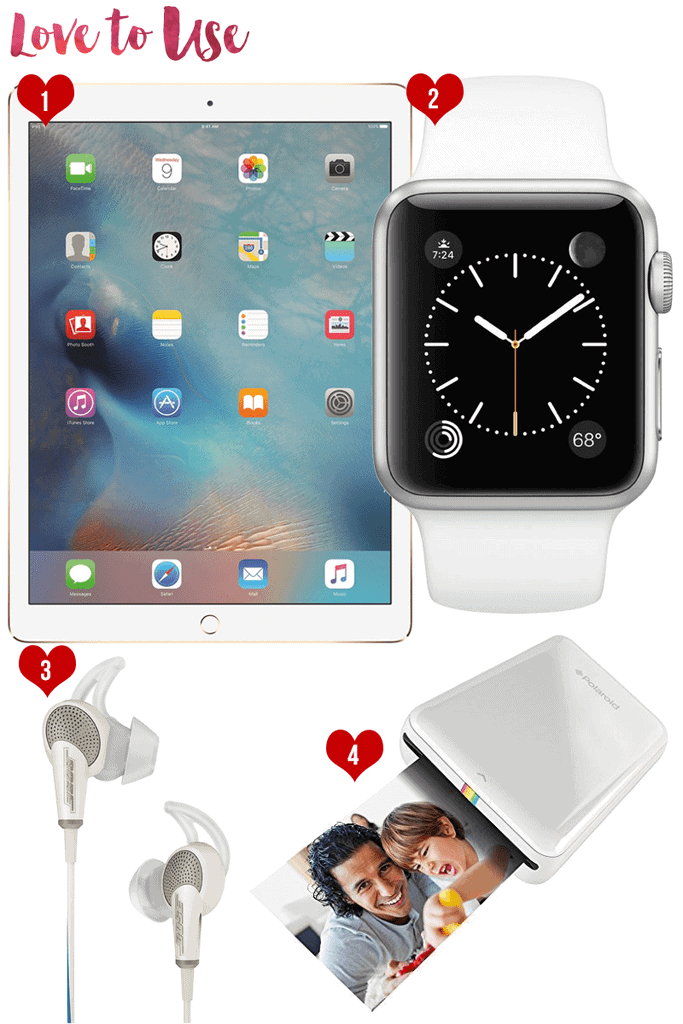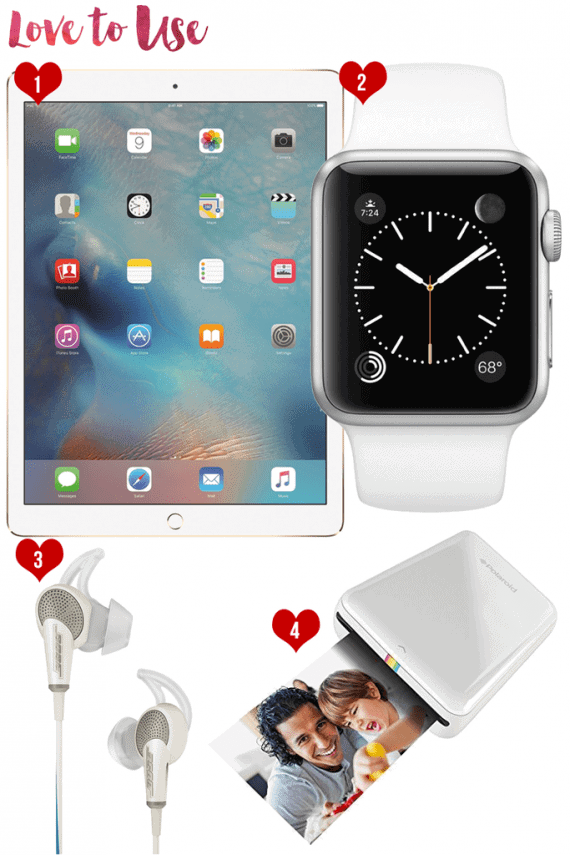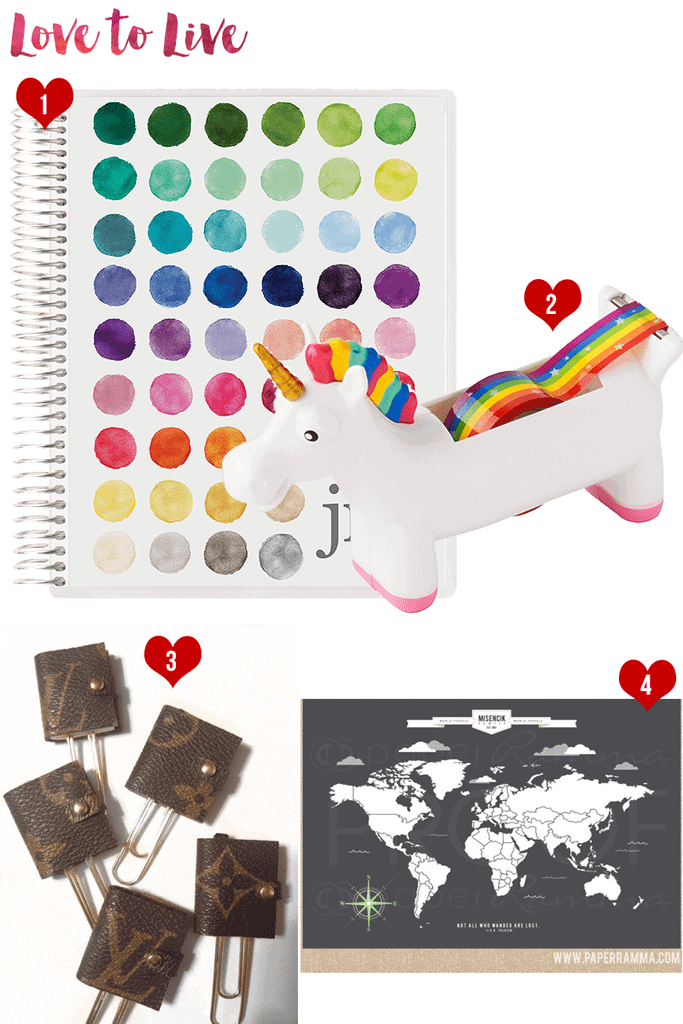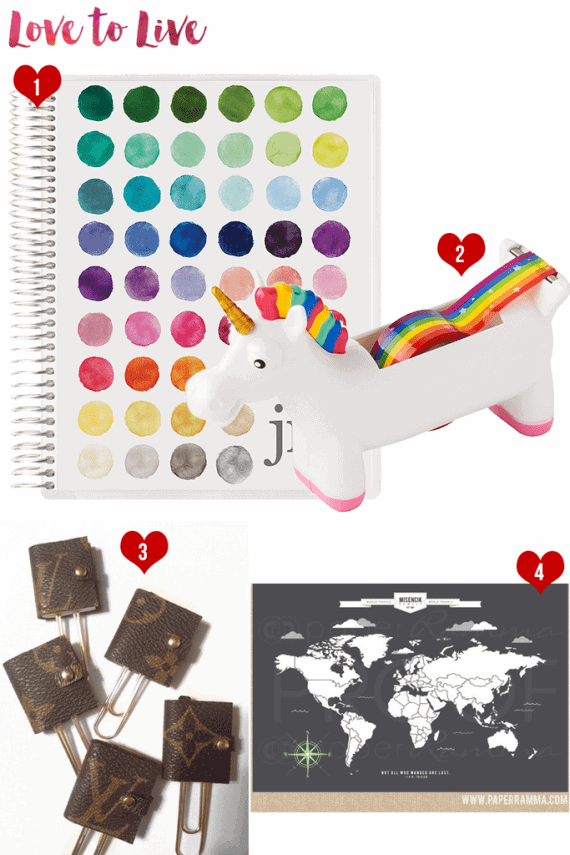 This year I vowed to get ORGANIZED! So far, so good…although we are only a few weeks into 2016. I have been using an Erin Condren Notebook as my planner/scheduler/list making/grocery planning catch-all. I've tried planners in the past and they never seem to give me everything I want, so I decided to go ahead and make my own, a lot like the Bullet Journaling system, but a little less structured. I start every week writing my schedule for the week with lots of room to add things. I make my meal plan, grocery list, to-do lists for the week etc. The freedom of not having small little calendar blocks to write things has been great for me. I still use my icalendar for practices, appointments, game schedules etc…but at the beginning of every week I rewrite those plans into my notebook. It helps me see things all laid out.
Ok, so who DOESN'T need a Unicorn tape dispenser on their desk? Seriously people, this one is not optional.
Totally silly, but I love these! I have been using paper clips a lot in my notebook to group pages together for easy reference. I found these upcycled Louis Vuitton paper clips on etsy. Owning a LV planner is a dream, but since I don't have an extra $800 to spend right now, these clips are the next best thing.
I bought my husband this Interactive Family Map for his birthday in January. It is SO great! I had it personalized and you can pick the color of the map and writing too. I bought the 30×40 size and it's really perfect. We chose a few different color tacks to use, one for family travel and a specific color for each person and places they have been. We are already planning out next tack!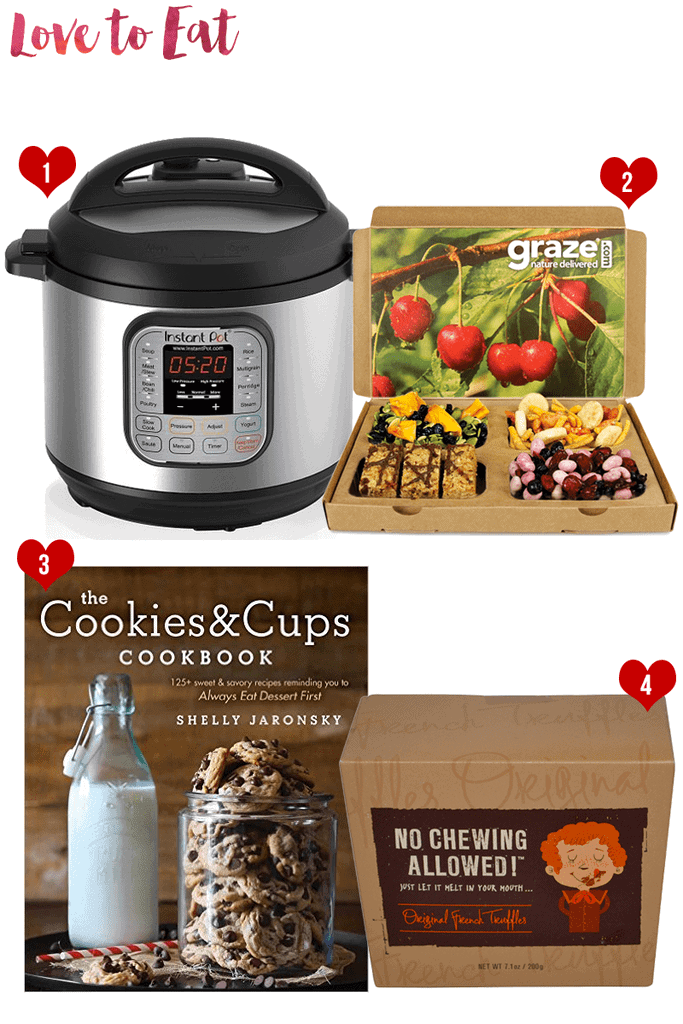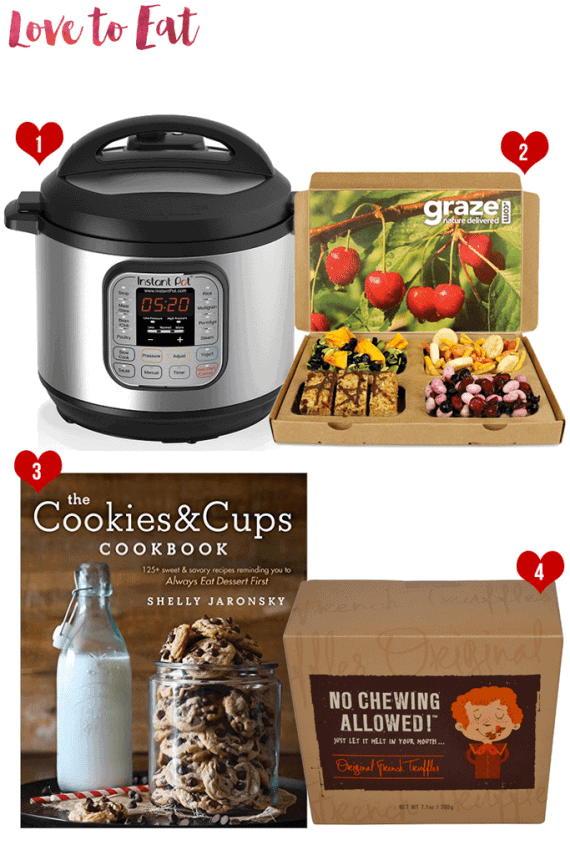 Hope this has given you a few gifty ideas for your sweetheart or YOURSELF! I'd love to know what you are loving these days and if you have anything on the list, let me know what you think!
Also, this post is not sponsored, but does include a few amazon affiliate links. MZ Wallace has been generous with giving me products to try, but I have purchased their bags on my own as well. All opinions are completely my own.