Baked Apple Chips are the perfect crunchy, sweet snack!
I don't know about you, but we have a lot of apples on my counter right about now. We got a little overzealous at the farmer's market last week with all the intentions of apple pie, apple cookies and applesauce…
Well. Life happened and I made 1 apple pie, which was delicious. But now I'm left with 11 hundred pounds of gorgeous apples with exactly zero percent pie motivation.
Soooooo. We made Baked Apple Chips.
It was a super excellent idea, because not only are they delicious, they're crispy, sweet and you really need to use a fair amount of apples to get a decent amount of the chips…
In other words…apple situation solved.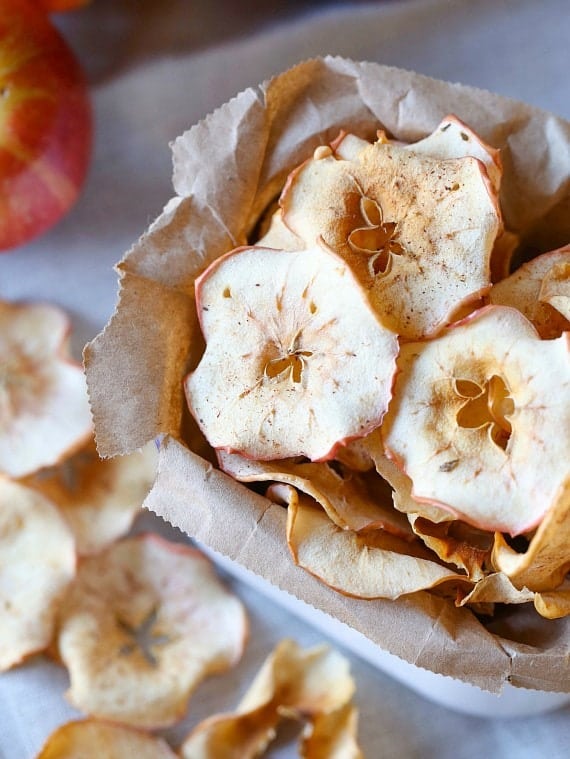 I used Gala Apples for my chips… Granny Smiths and Golden Delicious also work really well for baking. They have less moisture, making crispy chips!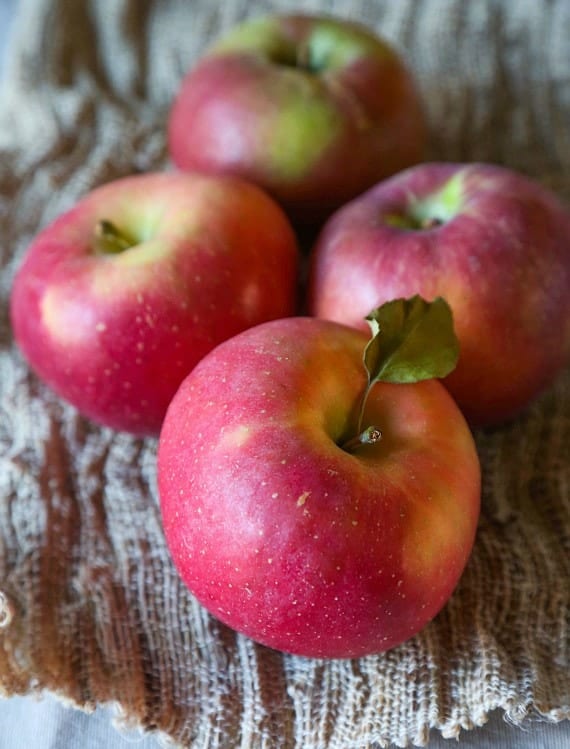 I highly recommend using a mandoline slicer for making these…you can slice them super duper quick, plus you need them pretty thin and with a mandoline slicer every slice will be the same. I set my slicer to 1/8 thick, which worked perfect! I sliced up all my apples in like 2 minutes.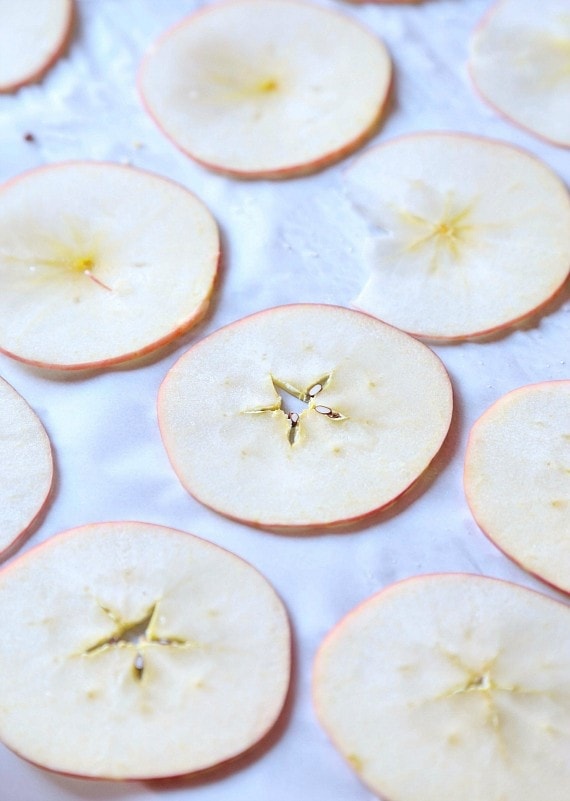 Just lay your slices flat on a parchment paper lined baking sheet. At this point you can sprinkle your slices with a little sugar, some cinnamon sugar, a tiny bit of salt…or any spice you would like! I bet a little curry would be amazing to make them savory!
I baked mine at 225°F for 45 minutes, flipped them and baked them for another 45 minutes and they were perfectly crispy!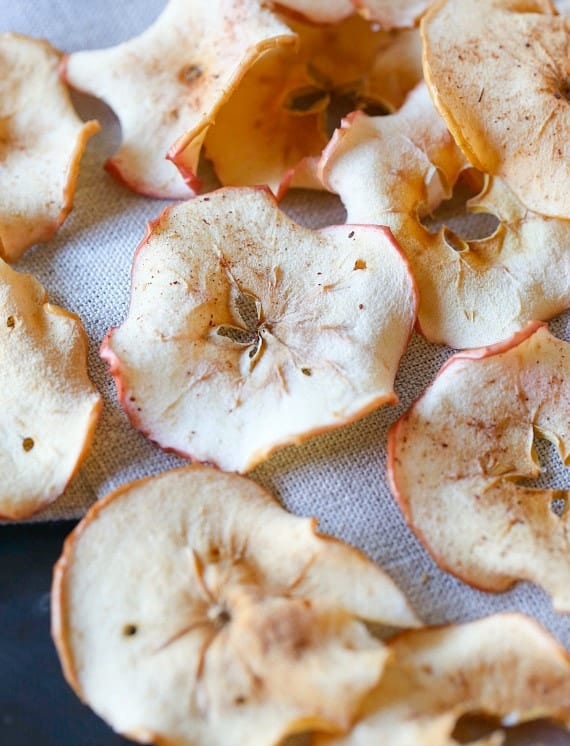 My kids eat these by the handful.
A few tips I have for you:
If you choose to season the chips, make sure you season both sides evenly.
You don't have to season them at all…completely plain are equally delicious!
Baking on parchment paper or a silicone mat is a MUST. Your chips will stick to your pan if you don't line it.
Make sure all the slices are even. If they are different thicknesses the bake time will vary.
Flipping them halfway through is not optional.
Once they start curling at the edges they are getting close to done. You want them to be very lightly golden brown as well.
Bake time is listed at 1 hour and 30 minutes. If your chips aren't crispy add on bake time. It could vary oven to oven between 1 hour 30 – 2 hours. But don't hesitate to add more bake time if necessary.
1/8″ on the mandoline slicer is the perfect thickness. Any thinner they will stick and any thicker they will take much longer to bake.
Don't peel your apples!
Of course I also recommend making my Apple Cider Caramel Sauce to dip!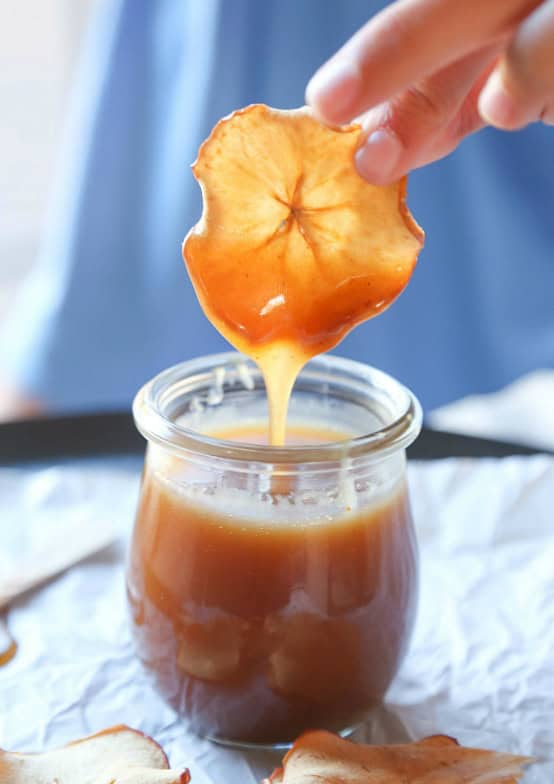 Print
---
2

–

3

Gala Apples, washed and dried

2 tablespoons

granulated sugar

1 teaspoon

ground cinnamon
---
Instructions
Preheat oven to 225°F
Line a large baking sheet with parchment paper.
Using a mandoline slicer set the thickness to 1/8″ and slice the apples evenly.
Lay the apple slices onto the lined baking sheet. They can overlap sightly.
Mix the sugar and cinnamon together
Sprinkle both sides of the slices liberally with the cinnamon sugar.
Bake for 45 minutes. Flip the apple slices over and bake for another 45 minutes until lightly browned and crisp.
Remove the pan from the oven and allow the apple chips to cool on the pan.
---
Notes
Sprinkling cinnamon sugar on these is optional.
Golden Delicious, Pink Lady and Granny Smith Apples also work well.
Store airtight at room temperature for up to 1 week.
Want To Save This Recipe?