These EASY Baked Chicken Legs have basically zero prep time and come out delicious, crispy and flavorful every time! This chicken leg recipe is sure to be a favorite weeknight dinner idea in your house!
Easy Baked Chicken Drumsticks
Today I'm showing you how to bake chicken legs in the oven and I will tell you it's one of my most favorite easy, weeknight "recipes". I put recipes in quotes, because it's actually less a recipe and more a method. BUT either way, it's simple, quick, and great leftover. I make 4-5 pounds of these chicken legs at a time, and we eat them for a few days on the go. I'm telling you, it does not get more simple than this chicken dinner idea.
What makes this recipe so stellar? Well, the chicken legs are full of flavor with perfectly crispy skin and tender meat. You can serve them with all sorts of easy sides and they're also wonderful eaten cold and packed into a summertime picnic basket! Just add some potato salad and maybe some coleslaw!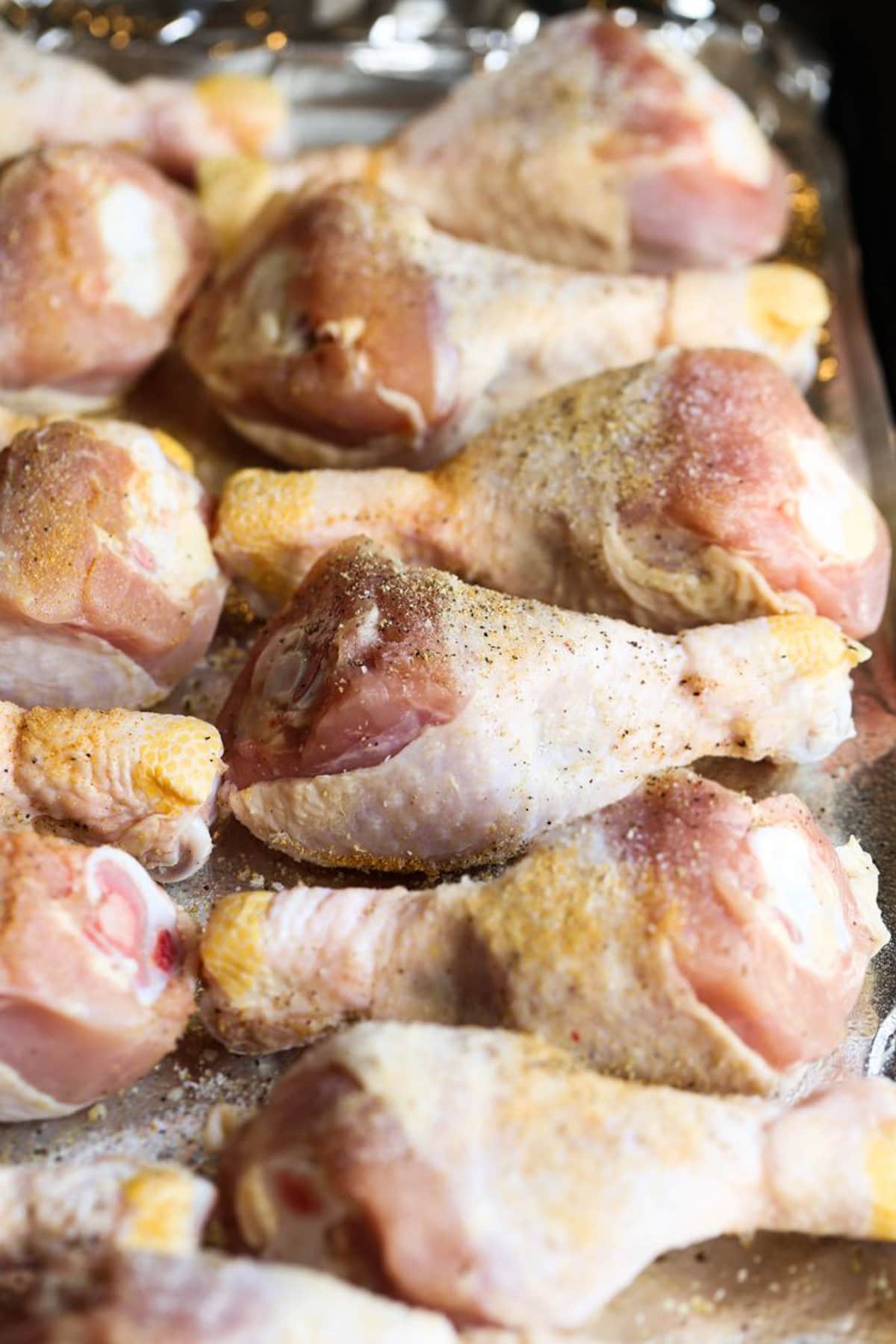 How To Bake Chicken Legs in the Oven
Ok, this is SO easy! And for anyone who has never baked drumsticks before, you are going to love me! haha! Let me walk you through the most ridiculously simple steps to the best baked chicken legs ever.
Prepare Your Baking Sheet. I use my largest baking sheet, and line it with aluminum foil. Coat the foil liberally with cooking spray as well. The chicken will stick to the pan if you don't spray it. And I use the foil for easy clean up. You could do it without, or even use parchment paper.
Season your chicken legs. You can mix your seasonings together beforehand, or sprinkle them as you go. I use the VERY simple mixture of salt, pepper, and garlic powder and season all sides of the chicken legs so it's nicely coated.
Bake for 40 minutes. I definitely recommend turning the chicken over halfway through baking, so the skin gets cooked on all sides. By the end the skin on top should be nice and crispy, but if you prefer it even crispier, set your oven to broil and place the chicken under the broiler for a minute or 2 on each side!
How Do You Know When Chicken Legs are Done Baking?
Chicken is done when the internal temperature is 165°F. If you don't have a meat thermometer, you can also tell if the chicken is done when the juices run clear.
Chicken legs are harder to tell visually if they are done cooking, because dark meat is darker in color and also the meat around chicken bones can be red or pink hued due to bone marrow leaking out during baking, staining the meat slightly. This is totally normal and has nothing to do with doneness.
What if you don't have a meat thermometer? The best way to gauge if the meat is done if you don't have a thermometer is when the tendons pull away from the ankle of the bone. When the meat and tendons start to pull off the bone, likely your chicken is done!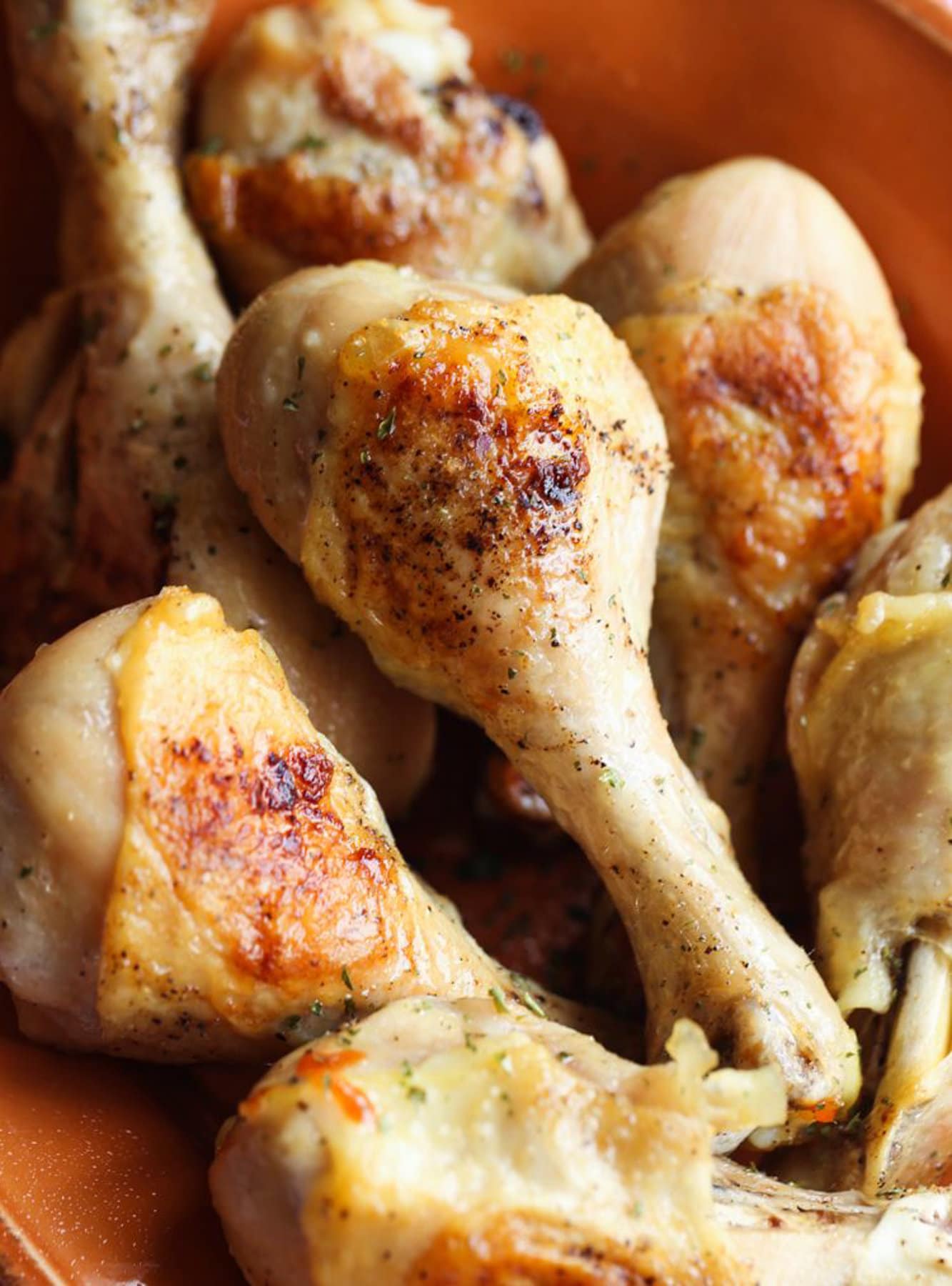 Why Is There So Much Liquid in the Pan?
Don't worry!! This is the complaint I see most often with all chicken recipes, the chicken released so much liquid and now everything is watery!
Here's the deal, it's gonna happen. There are a few different reasons for this, and it will vary from chicken to chicken, depending on what type you buy…or even buying the same chicken one day will produce more liquid than on another day. It's just what happens. But here are a few things I've learned about it along the way:
Crowding your pan will create more liquid just due to the fact that there isn't as much surface area for the liquid to heat up and evaporate. So typically a more crowded pan will seemingly produce more liquid.
Not searing the meat is another reason you get a little more liquid, and with these chicken legs, you aren't searing them before baking. Searing the meat seals in the liquid and locks in the juices.
The quality of meat you use can also be a factor. This can potentially be a debatable issue, but from my research, there are some chicken producers that soak their chicken in a chlorine-water solution during production to kill bacteria, and this can be absorbed into the meat causing more liquid. This should be labeled on the packaging, so check that out as a potential reason you are getting an excess of liquid.
What Do You Do If There is Too Much Liquid in the Pan While Baking Chicken?
This one's easy! Just drain it! For this recipe specifically, you flip the chicken legs over halfway through baking. This is a great time to drain the liquid in the pan. It won't do any harm in the pan, but you will produce a crispier chicken leg if you keep the liquid to a minimum!
Seasoning Ideas
Totally get creative here! I wrote this recipe the way I always make it, but that doesn't mean other seasonings and spices won't be great too, although I do feel like salt is a must! Here are some ideas to get you started!
Cumin. Because I love cumin on just about everything!
Italian Seasoning. Give these a little Italian flair with the yummy blend of spices!
Any Dry Rub you love! If you have a dry rub that you like to use on meats, this is a great time to use it as well!
Lemon Pepper. Yep, it's a no brainer!
Fajita Seasoning. This is a great all around option for chicken as well!
Montreal Chicken Seasoning. I always have Montreal Seasoning in my cabinet for both steak and chicken. I find that they are just a great "everything" kind of seasoning!
Adobo Seasoning. This is another great all-purpose seasoning that is great on chicken!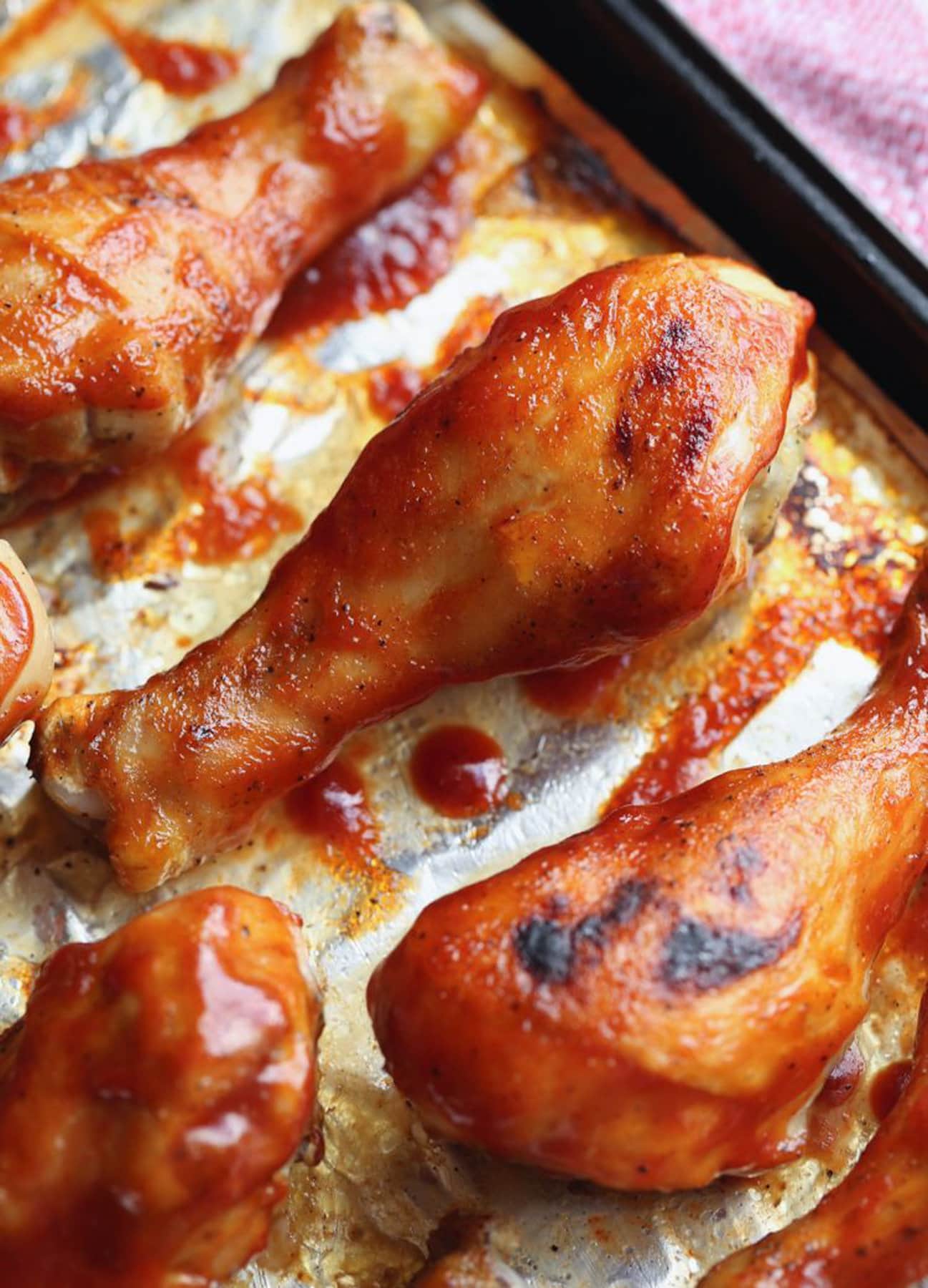 Can You Make BBQ Chicken Legs in the Oven?
YES! I do this all the time! I still like to season my chicken legs, as written in the recipe, but you can absolutely use any BBQ sauce or glaze on baked chicken legs. Here's how I like to do it.
Prep and bake the chicken according to the recipe.
When you have 10 minutes left on the timer, pull the chicken out and brush it on all sides with BBQ sauce. Continue baking until he chicken is done.
If desired, turn the broiler on and broil chicken on both sides for 1-2 minutes to brown the BBQ sauce, and give it that "grilled" effect!
Serving Suggestions
Chicken is a pretty versatile dinner, so it's great with all sorts of side dishes! Here are a few ideas:
Print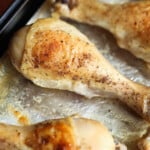 Baked Chicken Legs
Author:

Prep Time:

5 minutes

Cook Time:

40 minutes

Total Time:

45 minutes

Yield:

serves 8

Category:

Chicken

Method:

Oven

Cuisine:

Dinner
---
Description
This easy baked chicken legs recipe makes tender drumsticks with crispy skin in a snap!
---
4

–

5

pounds chicken legs (drumsticks)

1 tablespoon

kosher salt

1 teaspoon

black pepper

1 teaspoon

garlic powder
---
Instructions
Preheat oven to 400°F. Line a large baking sheet with aluminum foil, and coat with nonstick spray.
Place all the drumsticks evenly onto the prepared pan.
Mix the salt, pepper, and garlic powder together in a small bowl. Sprinkle the seasoning mixture onto tall sides of the legs evenly.
Bake for 40 minutes, or until the internal temperature is 165°F and the tendons have shrunken away from the ankle, indicating doneness.
---
Notes
Store airtight in the refrigerator for up to 3 days.
Nutrition
Serving Size:

2 chicken legs

Calories:

274

Sugar:

0 g

Sodium:

1090 mg

Fat:

9.6 g

Carbohydrates:

0.5 g

Protein:

43.5 g

Cholesterol:

206.3 mg
Keywords: baked chicken legs, baked chicken drumsticks, easy chicken dinner idea
Want To Save This Recipe?
Find more recipes like this: