These Soft Banana Split Granola Bars are the perfect homemade lunchbox snack! Delicious and filled with healthy ingredients, you'll love sending your kids to school with these!
So I am taking a detour from the usual stuff today. Well, just a minor detour.
These bars are jam-packed with sweetness, that's for sure…so, no detour there.They are incredibly tasty…no detour there. They have quinoa in them…
Hello?
Are you still there? Helllllerrrr???
Don't be scared y'all. Stay with me here.
My kids are about to start school and I am determined to try and sneak some healthy-ish stuff into their lunch boxes. We love our Oatmeal Cream Pies around here, but sometimes I like to act all earth-mothery. And make granola bars. With quinoa.
It's like a challenge.
These bars, are called Banana Split Bars, and I got the recipe from THIS book that I just bought.  I don't know the author and wasn't sent a free copy.  I bought it.  With my own dollars.
I thought it might be a great book to have to make snacks for my kiddos in between their school and sports activities.
Once school starts we are on the run non-stop, like a lot of you guys, so I thought I could find some great recipes that would help give my kids the energy they need after school and keep them sustained through their soccer practices.
They really like the Homemade Clif Bars I've made in the past, and since protein/health bars ain't cheap it's nice to have a homemade alternative. Plus, you can freeze these and they will keep for a long time!
Plus, these Banana Split bars are really tasty! A little like banana bread in bar form…filled with dried cherries, walnuts, oats, honey…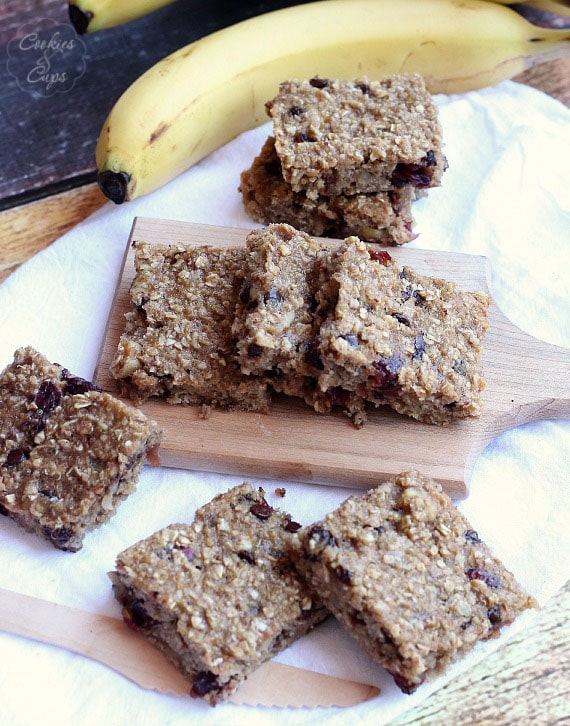 Ok, let's get started…
Like I said there's quinoa in these.  If you don't like quinoa you can totally sub in some brown rice.
The reason quinoa is great, though, is because it's a little higher in protein than the rice.  You can't taste the quinoa at all and honestly, you won't even know it's in there. And if you've made some for dinner and have leftover, you can use that too!  I mean, as long as it's not seasoned.  No one wants an onion and garlic banana split bar.
Ok, get your quinoa out…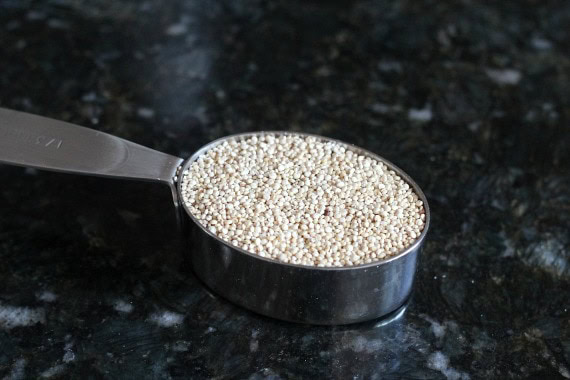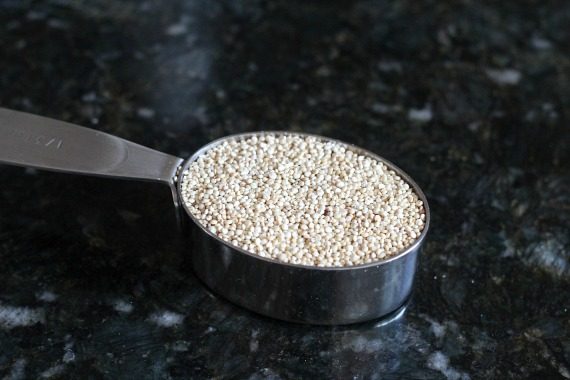 Cook it up and transfer it into a bowl to cool completely.  It won't take too long at all.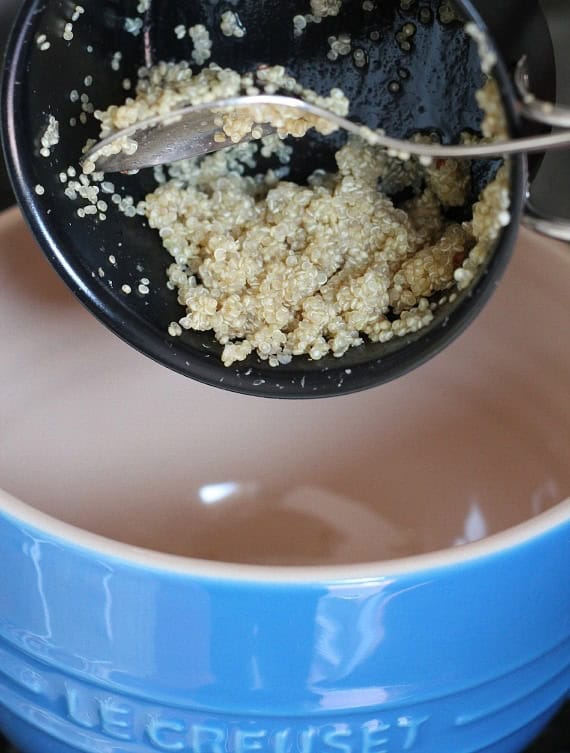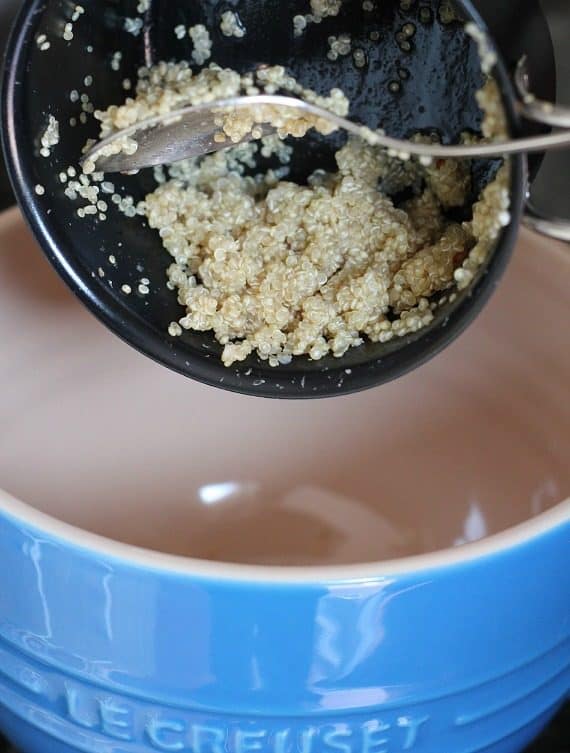 While it's cooling get your other ingredients ready.
Quick Oats…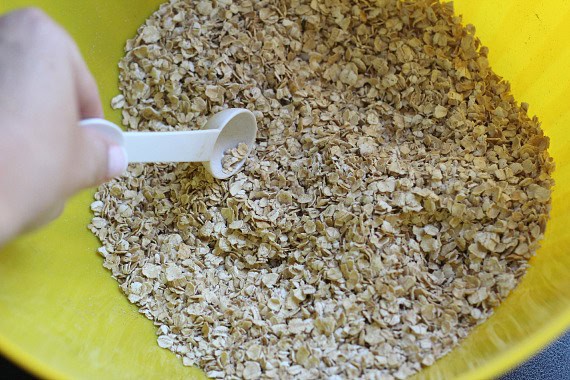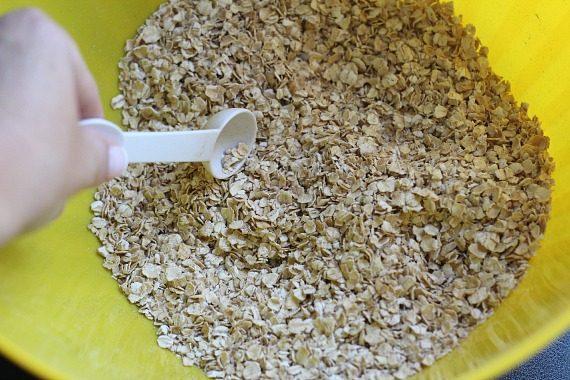 Some mashed banana…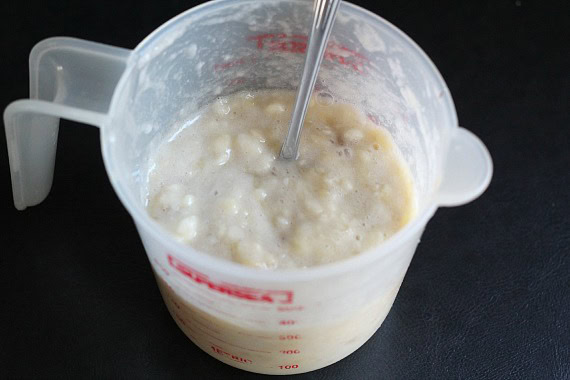 Honey…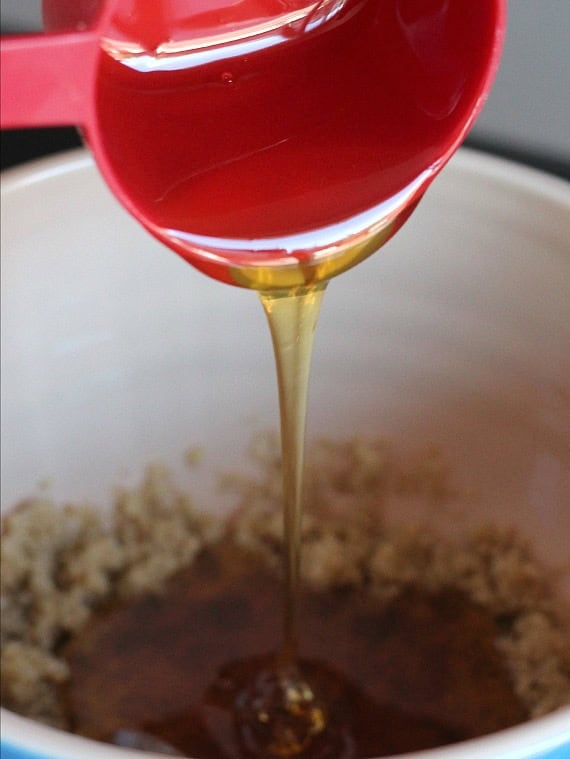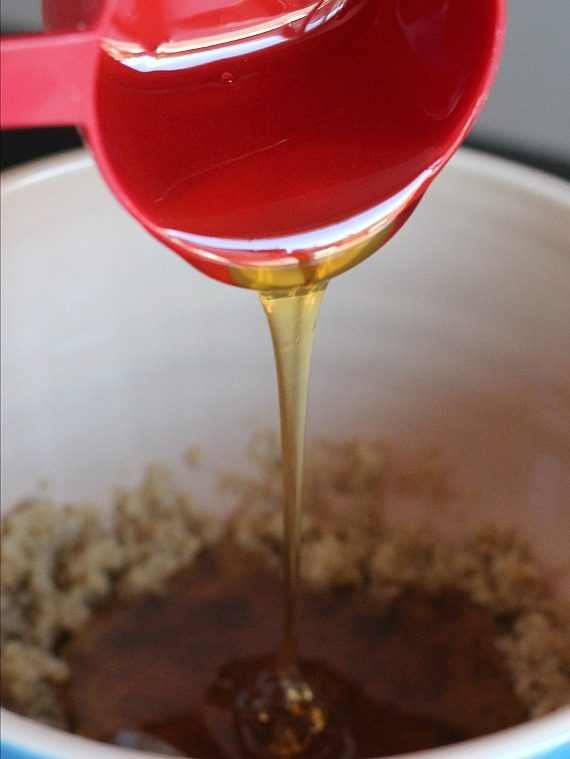 Now the yummies… dried cherries, walnut and chocolate chips.  I mean, what would a Banana Split be without the chocolate?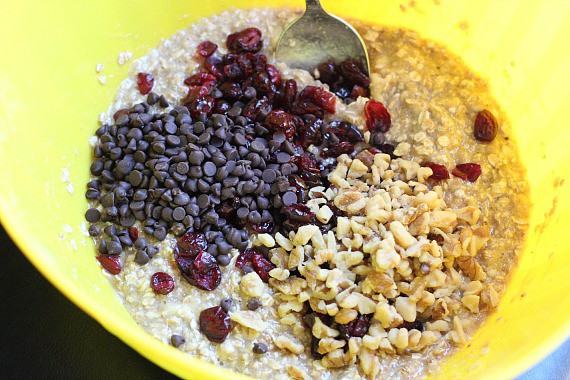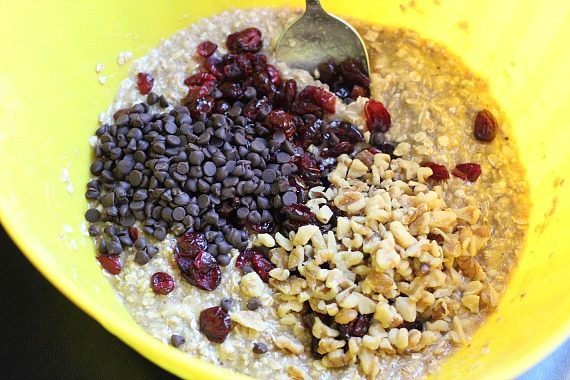 Spread that into a lined 9×13 and bake it up.
Let them cool and then cut into bars!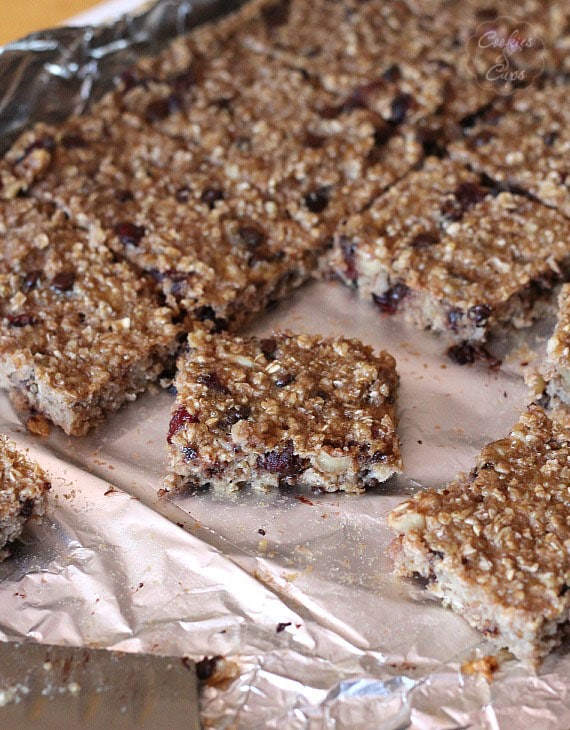 These are really good, and your kids will love them!
Print
Banana Split Granola Bars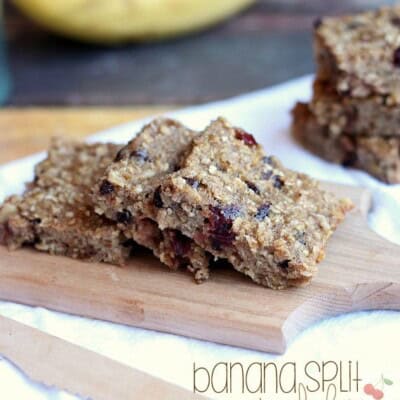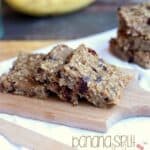 ---
Description:
makes 16 bars
---
Scale
Ingredients:
1/3 cup

quinoa

1/2 cup

water

2 cups

Quick Cooking Oats

1 tsp

cinnamon

1/2 tsp

baking soda

1 tsp

kosher salt

1 1/2 cups

of mashed ripe bananas, about

3

medium

1

egg

1/4 cup

honey

1 Tbsp

Canola Oil

2 tsp

vanilla

1/2 cup

dried cherries (you could also use Craisins or raisins)

1/3 cup

chopped walnuts

1/4 cup

mini chocolate chips
---
Instructions
Line a 9×13 pan with foil and spray lightly with cooking spray. Set aside.
Preheat oven to 325°
In a small sauce pan heat 1/2 cup until boiling over high heat, add quinoa, reduce to a simmer and cover for 9 minutes. Remove from heat, allow to sit for 5 minutes and fluff with fork.
Transfer cooked quinoa into medium bowl to cool.
In a large bowl combine oats, cinnamon, baking soda and salt.
When the quinoa is cooled add mashed banana, egg, honey, Canola Oil and vanilla to bowl with quinoa. Stir to combine.
Pour quinoa mixture over oat mixture and stir until all combined.
Stir in dried cherries, walnuts and chocolate chips evenly.
Spread mixture into prepared pan.
Bake 20-25 minutes until top is golden and set.
Allow to cool completely before cutting into bars.
---
Notes:
recipe from Power Hungry
Store airtight refrigerated for up to 5 days
Want To Save This Recipe?