Super easy warm, gooey, glazed Biscuit Cinnamon Rolls…so easy and ready in under 30 minutes! A new favorite!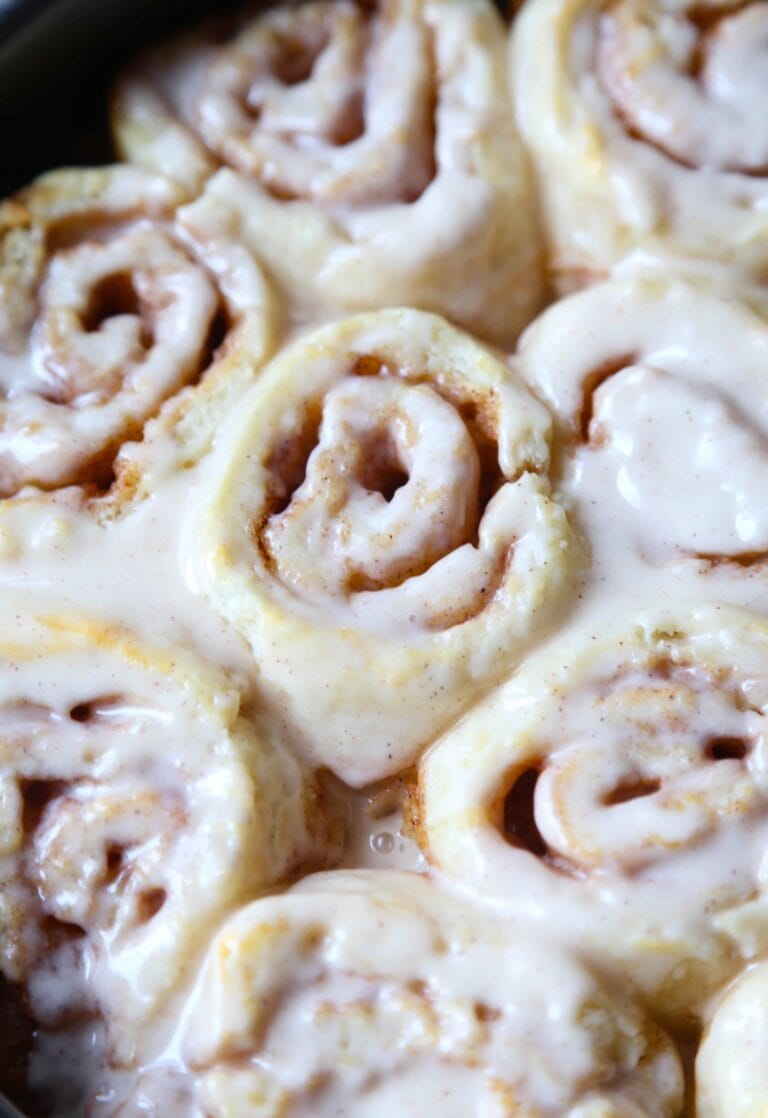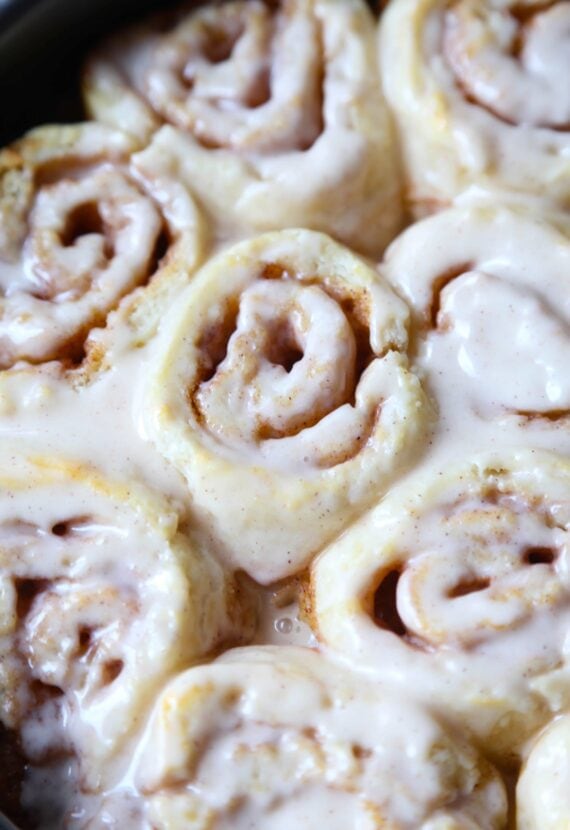 If ever you take my advice on anything, please oh please make these Biscuit Cinnamon Rolls. I beg of you.
I mean, obviously only make them if you're into delicious things. If you aren't into gooey, glazed, buttery biscuits filled with cinnamon sugar love and topped with sweet creamy glaze…well, then fine…yeah skip this recipe.
BUT if you have a pulse and you aren't "on a diet" this is the food for you.
Heck, even if you are on a diet make these and have one. It's worth it, I swear on my love of The Bachelor you won't regret it.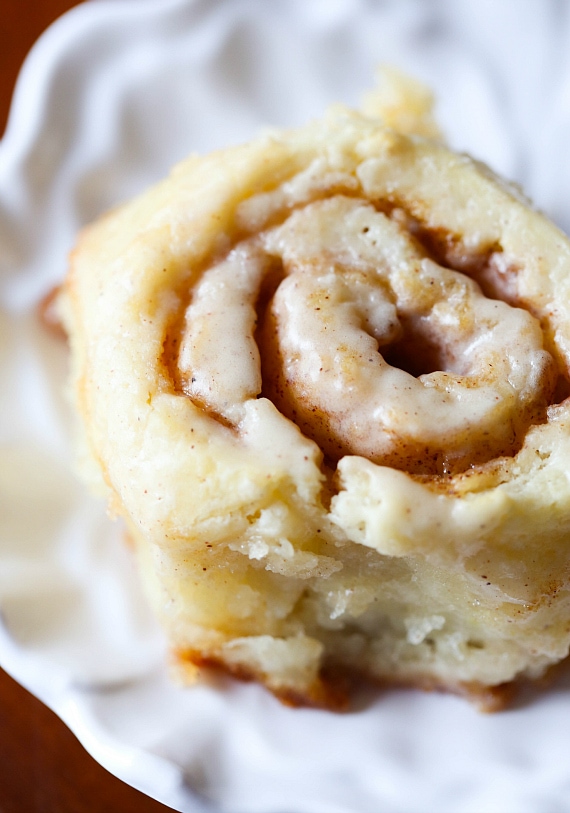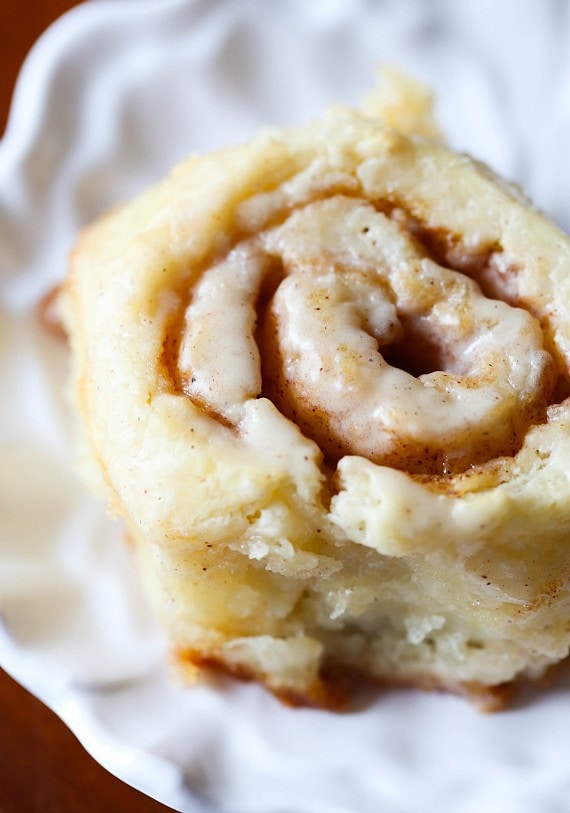 Biscuit Cinnamon Rolls have been on my bake list for a while now. I feel like over the past year I have perfected the yeasty cinnamon roll…but with all the rising and waiting I'm not always up for the process. Well. These rolls solve that problem times 15. If you have all your ducks in a row you could potentially have these made and baked in 30 minutes.
Yep, it's a really dangerous recipe. AND it has earned the coveted current spot in my brain of "Favorite Recipe on the Blog". Thems big shoes to fill.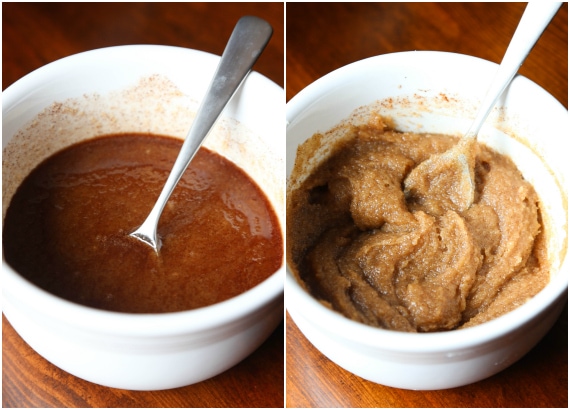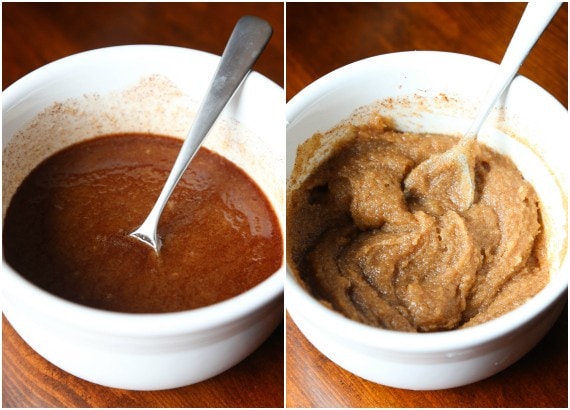 First just melt some butter and mix in light brown sugar and cinnamon. Set it aside while you make your dough and it will thicken slightly to the perfect spreadable consistency.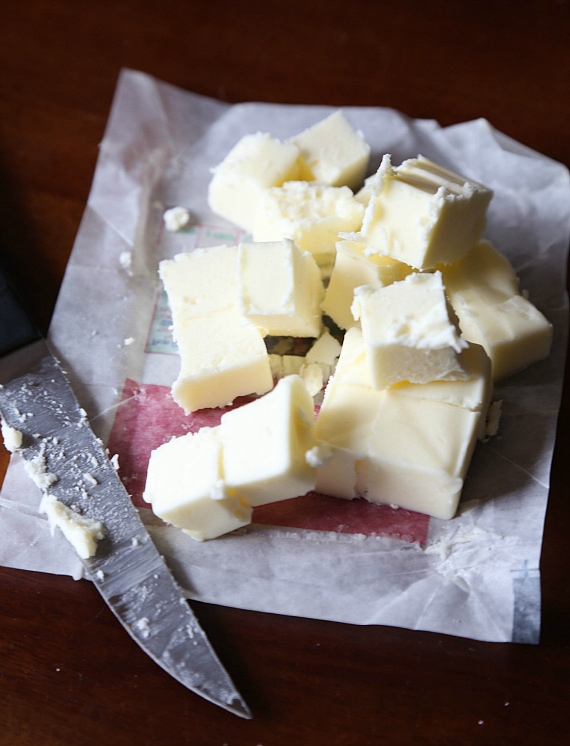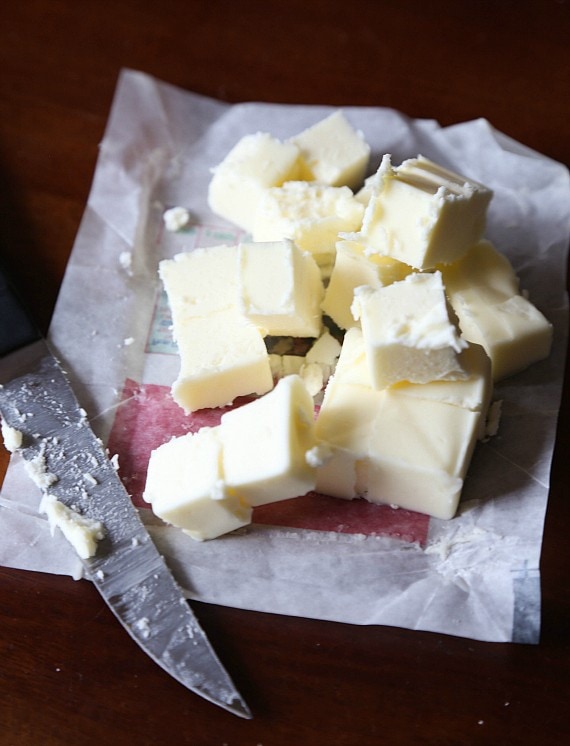 Then grab some cold butter and cube it. Cold butter is key to making biscuits (as well as pie crust). You want the butter to be cold, so it doesn't melt into the flour. LIttle butter pieces are what makes a biscuit super flaky.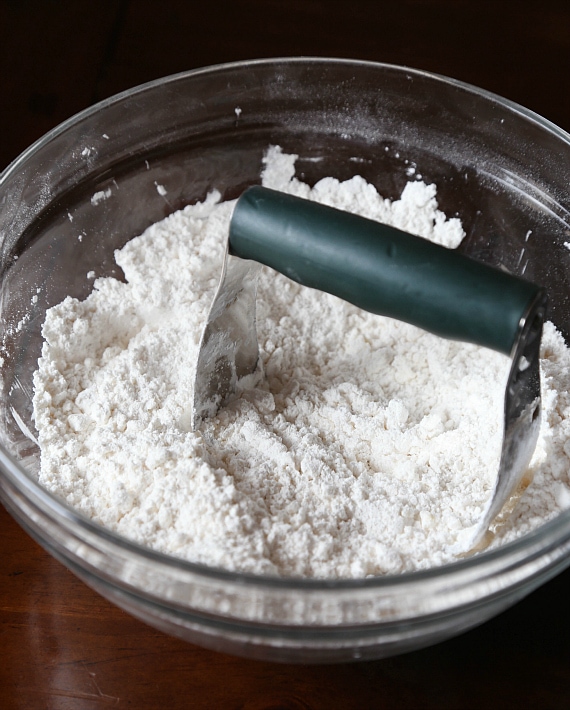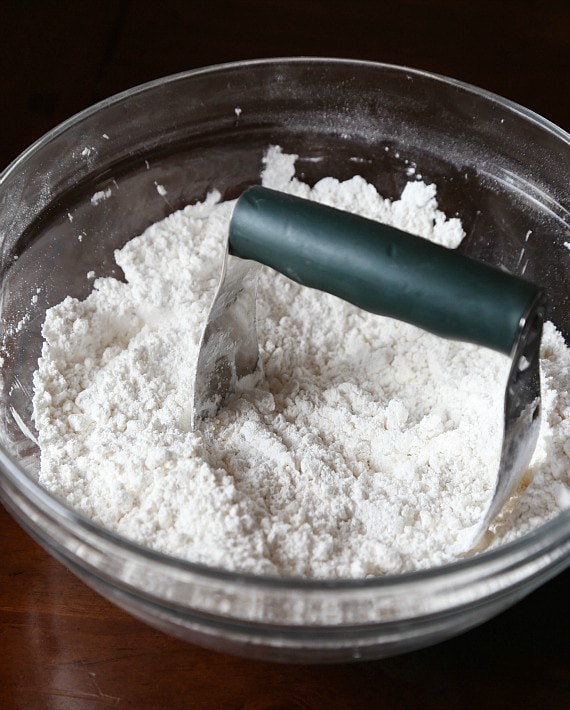 Use a pastry cutter (or a fork) to work the cold butter into some self rising flour. It should resemble coarse sand.
Then add in some cold buttermilk…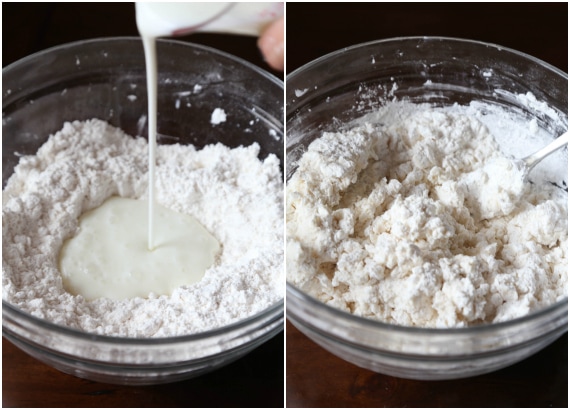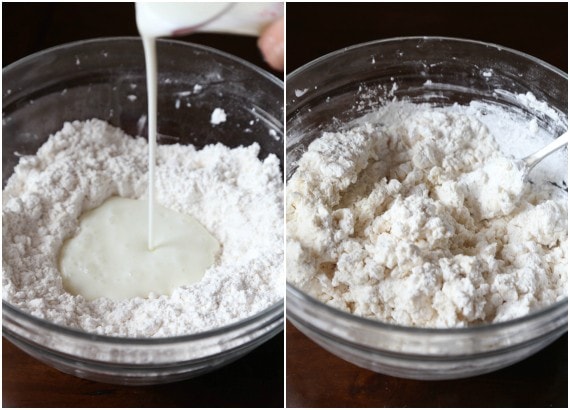 Mix it up until its just combined and place it on a heavily floured work surface.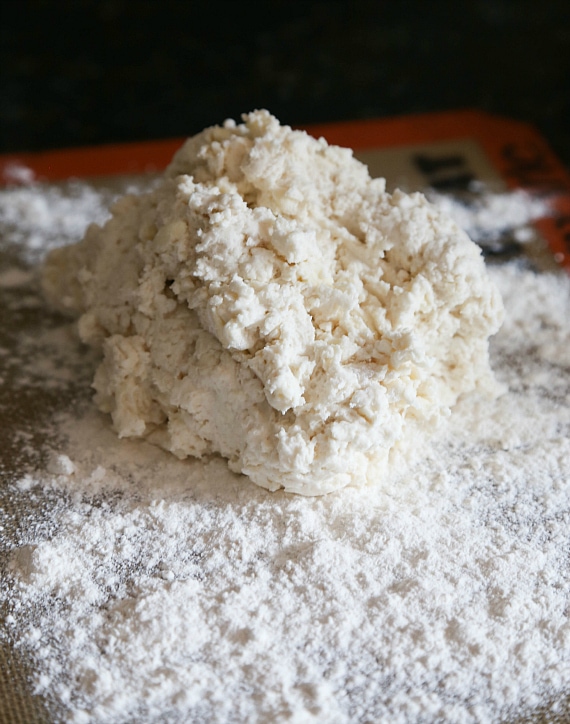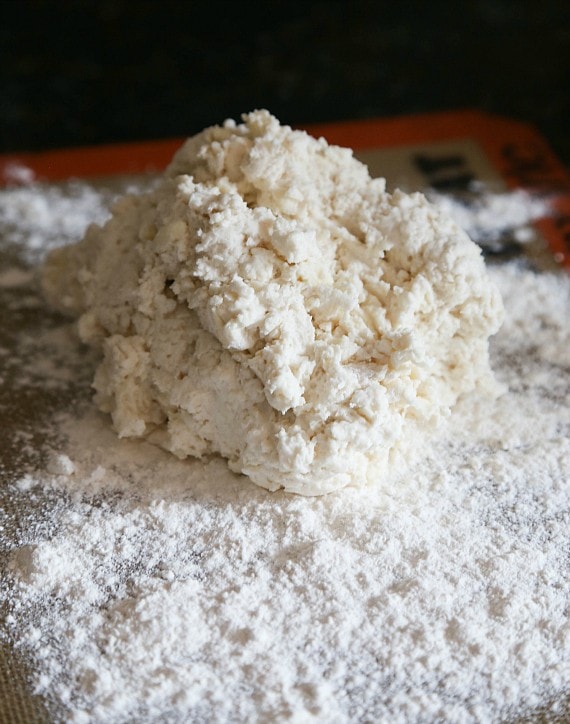 Knead it a few times until it is a little less sticky and then roll it out onto a heavily floured surface.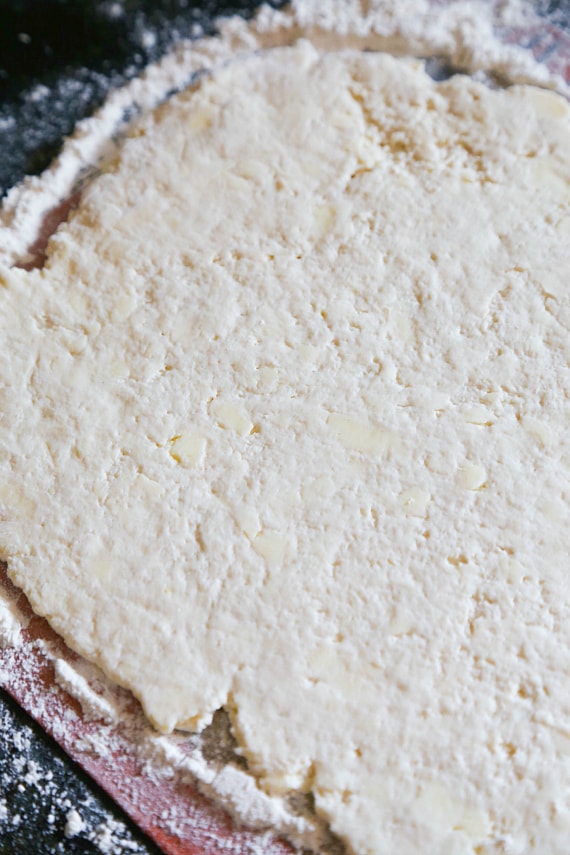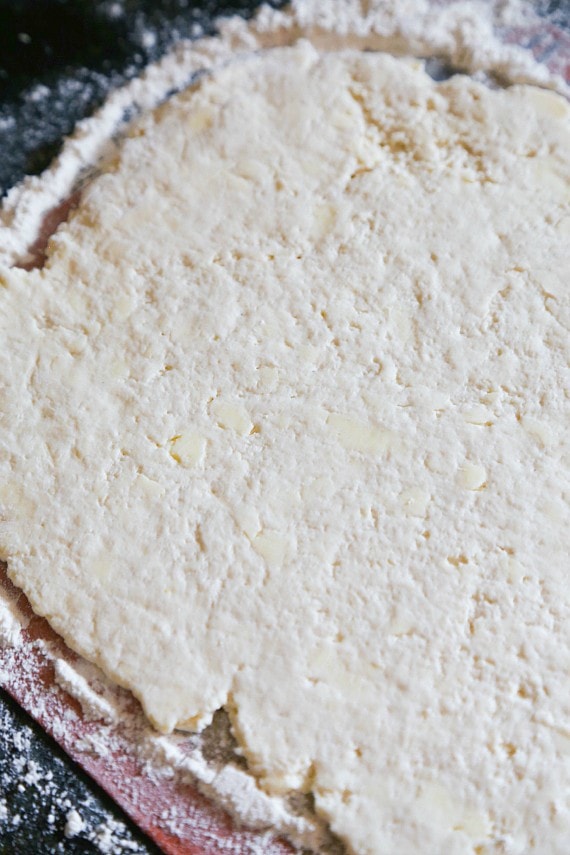 See the pockets of butter in there? Yes.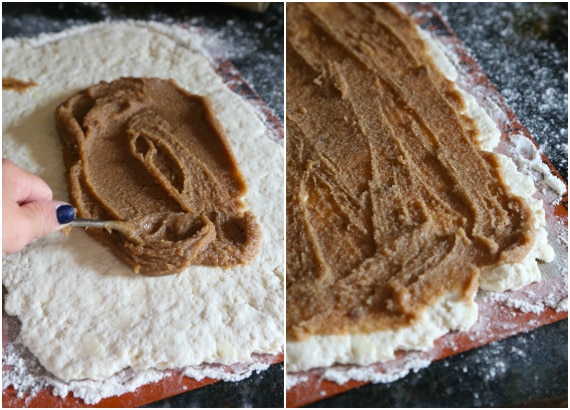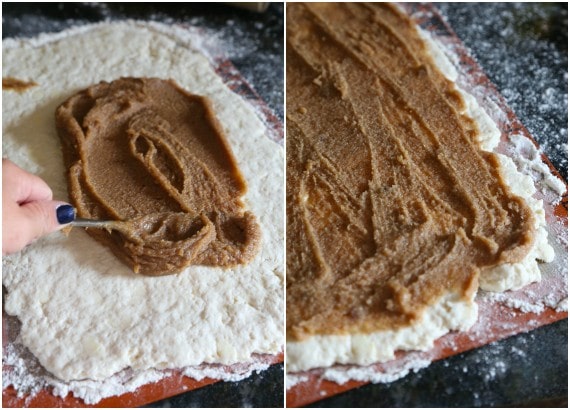 Now spread your butter and sugar mixture onto the dough carefully. Leave a small border at the edge, so when you roll it up it doesn't squish out.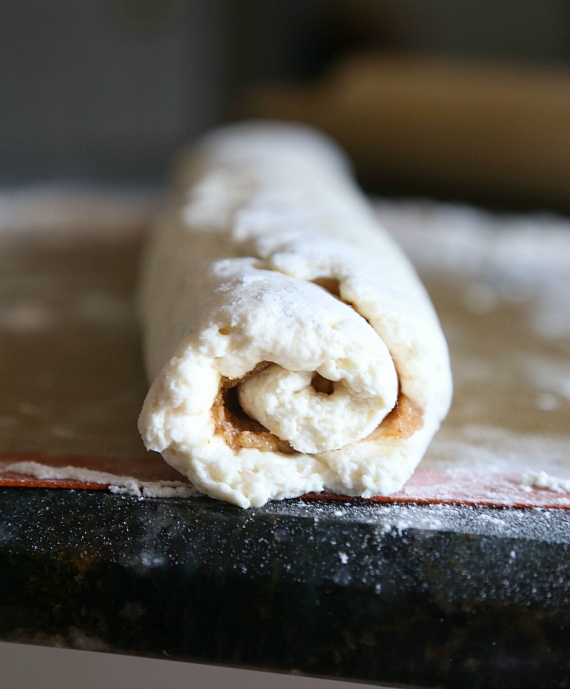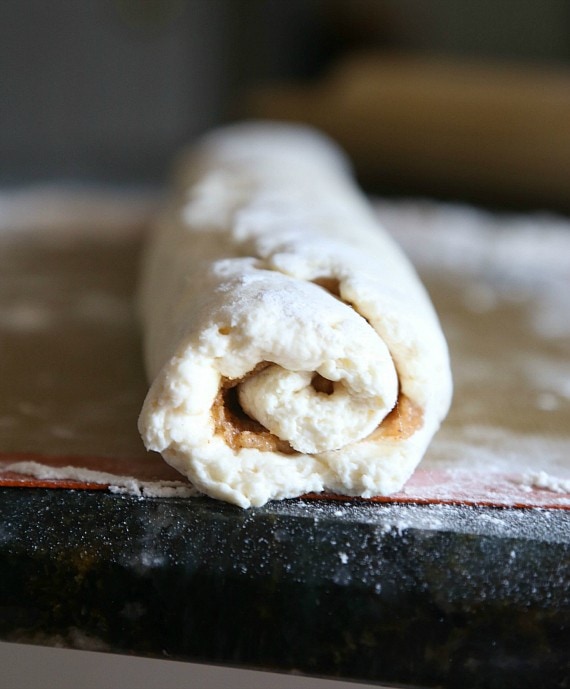 Yep, then roll. Start with the long side.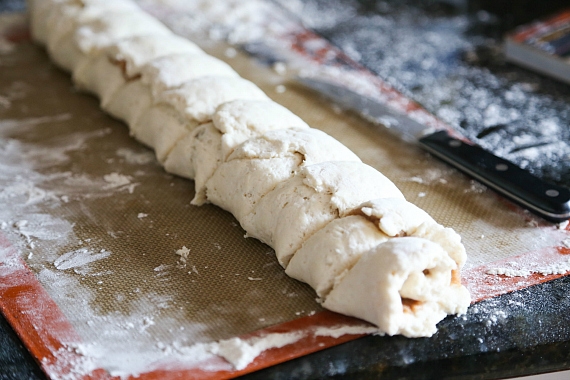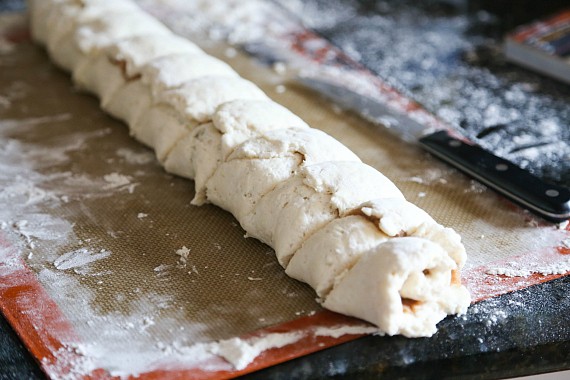 And cut it into slices.
Place those in a heavily greased 9″ round pan. I highly suggest you line the bottom of the pan with a round-cut piece of parchment to help prevent sticking.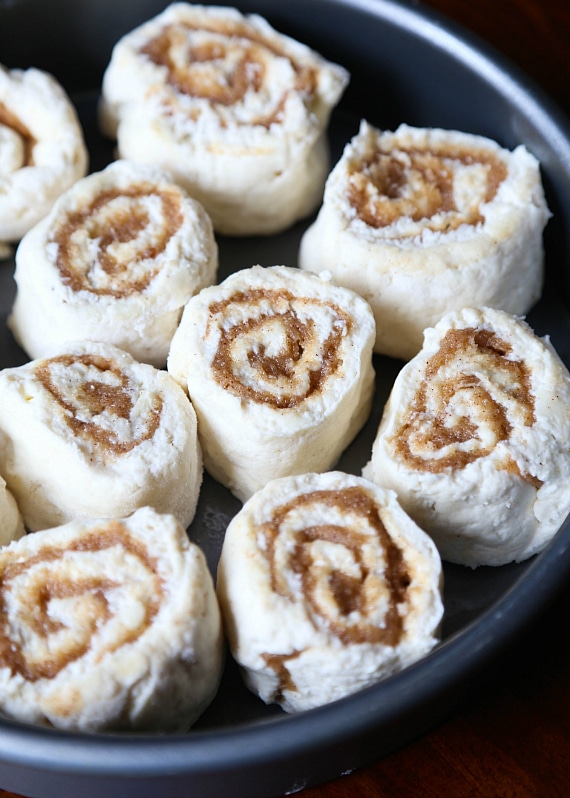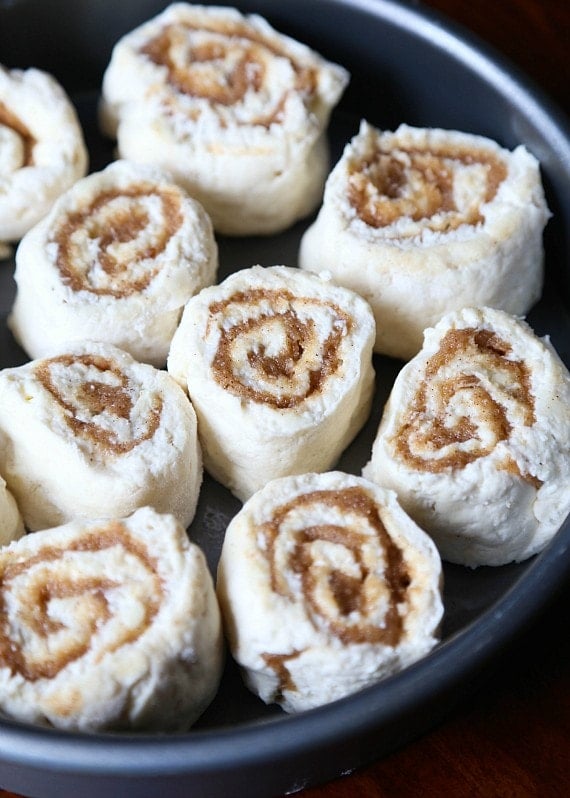 They'll only bake for about 15 minutes…they just need to be lightly golden brown…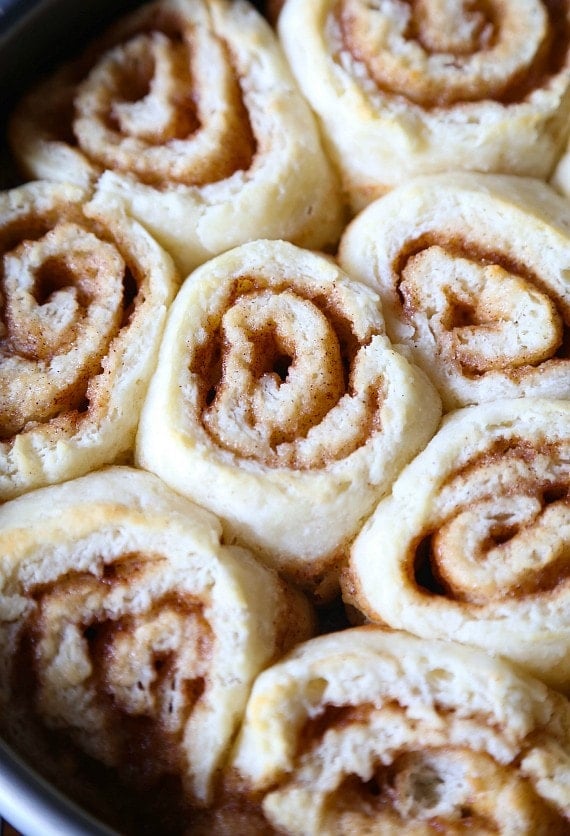 And and why stop there? Let's top the whole situation off with a creamy cinnamon-sugar glaze.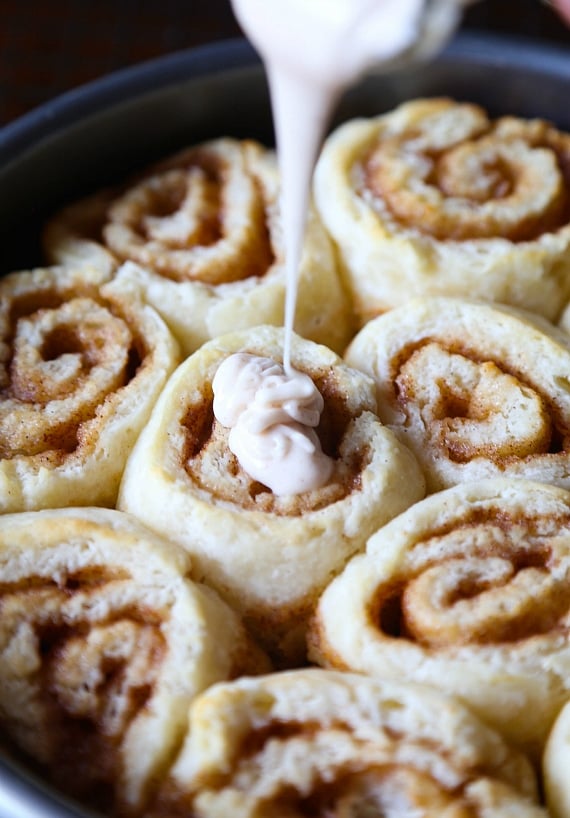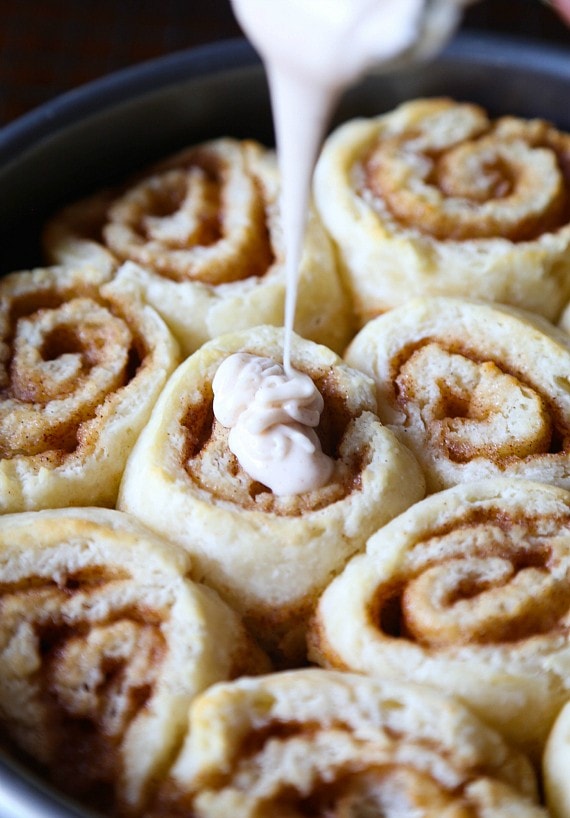 Stunning.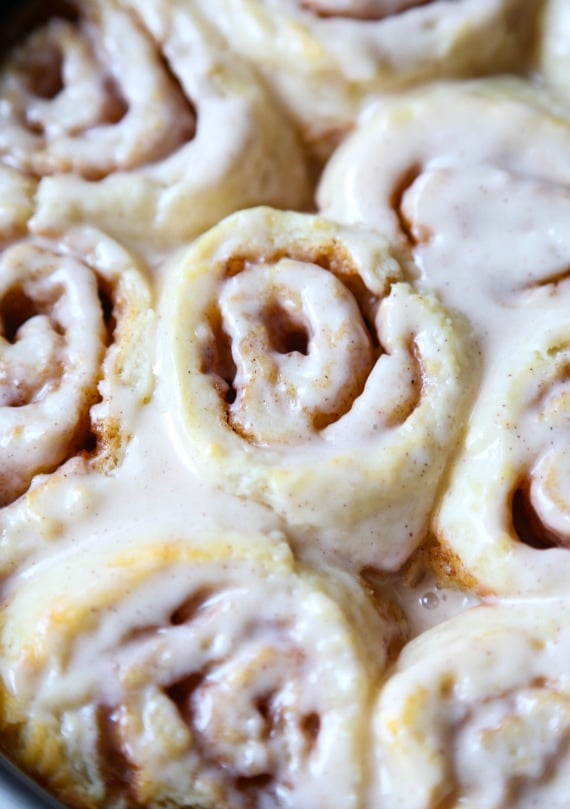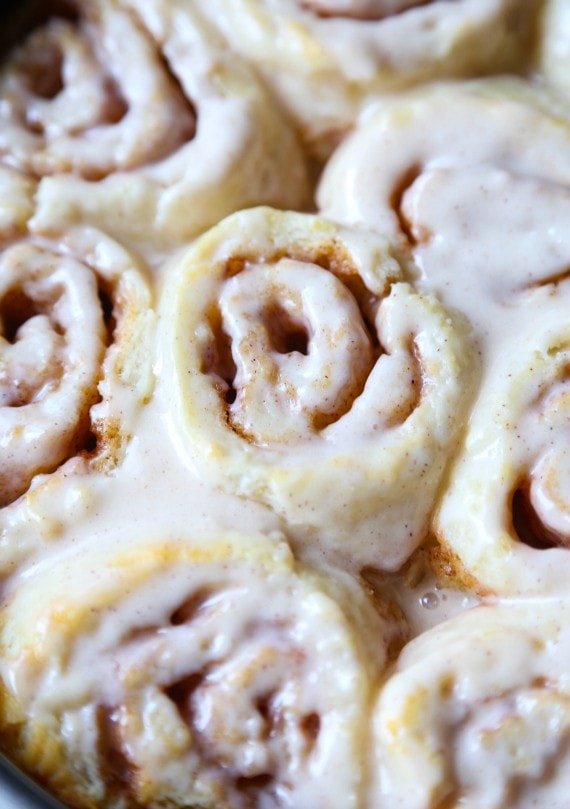 And please don't wait. Dig in!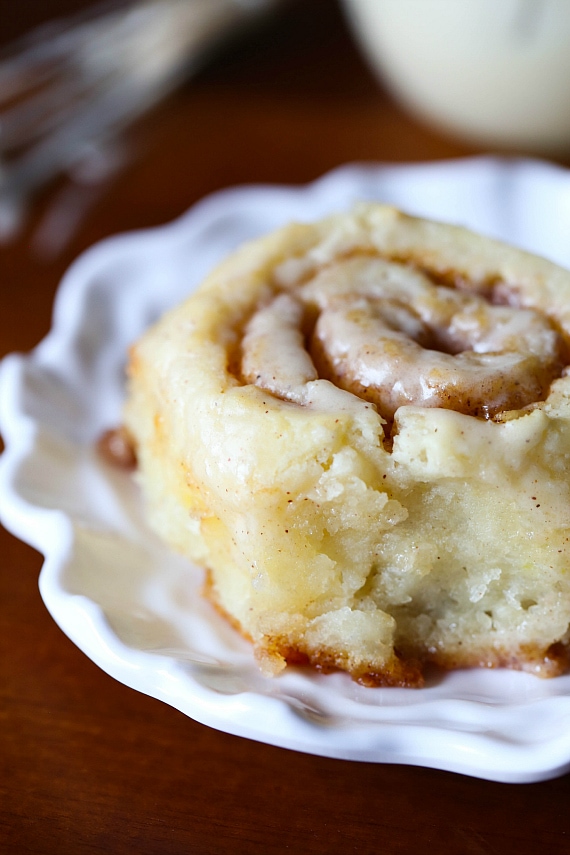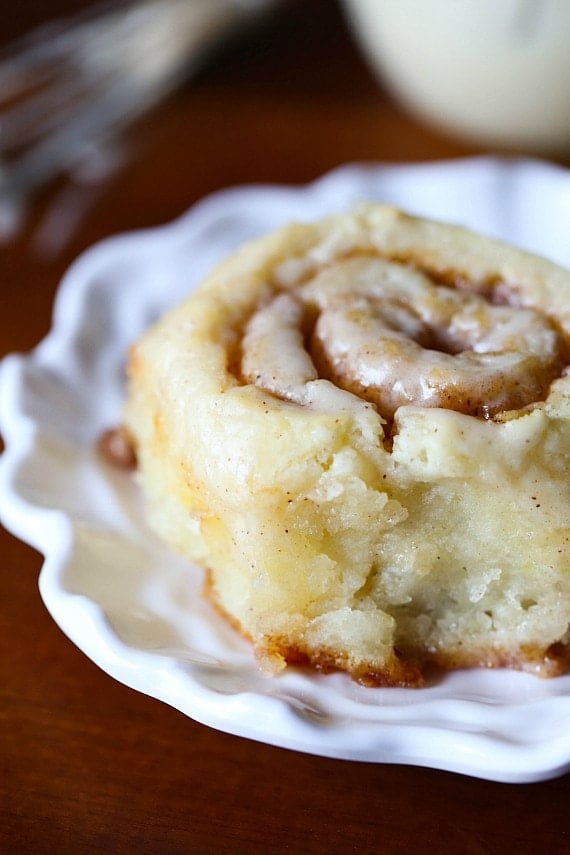 You will literally groan when you bite into the warm, flaky sweet biscuit. These are truly the best!
Print
Biscuit Cinnamon Rolls
Author:

Yield:

12

rolls

1

x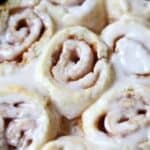 ---
Ingredients:
Filling
1/2 cup

butter, melted

1/2 cup

light brown sugar

1 teaspoon

ground cinnamon
Dough
1/2 cup

cold butter, cut into cubes

2 1/2 cup

s self rising flour

1 cup

cold buttermilk
Glaze
1 cup

powdered sugar

1/2 teaspoon

vanilla

1/4 teaspoon

ground cinnamon

3 tablespoon

s heavy cream
---
Instructions:
Preheat oven to 450°F
Spray a 9″ round baking pan with nonstick spray. Line the bottom of the pan with a parchment paper round. Spray again and set aside.
Filing
In a medium bowl combine the melted butter, brown sugar and cinnamon and stir until smooth. Set this aside while you make your dough.
Dough
In a large bowl combine the cold butter and the self rising flour with a pastry cutter or fork until it resembles coarse sand. Make a well in the center of the mixture and pour in your buttermilk. Stir this until the dough just comes together.
Place the dough onto a heavily dusted work surface. Knead the dough about 10 times until it is less sticky. Flour a nonstick silicone liner, parchment paper or wax paper. Place the dough onto this surface and roll it out into a rectangle shape that is approximately 1/3 inch thick. (about 12″x15″). This doesn't have to be exact.
The filling mixture will have thickened up at this point making it easy to spread. Spread it all over your dough leaving a small border at the edge. Roll the dough up starting at the long side.
Once it's rolled up slice it into 12 -14 1″ slices.
Place the slices into the prepared pan and bake for 13-15 minutes until golden brown.
When the rolls are done allow them to cool for 10 minutes before glazing.
Glaze
Whisk together all the ingredients and pour onto warm rolls.
Serve warm or room temperature
---
Notes:
best if served the same day
Want To Save This Recipe?
Helpful Tip… Out of buttermilk?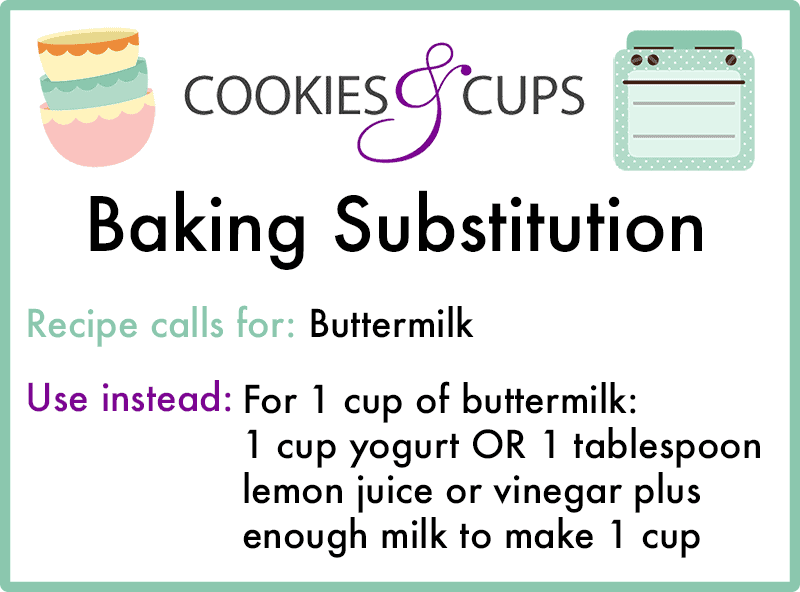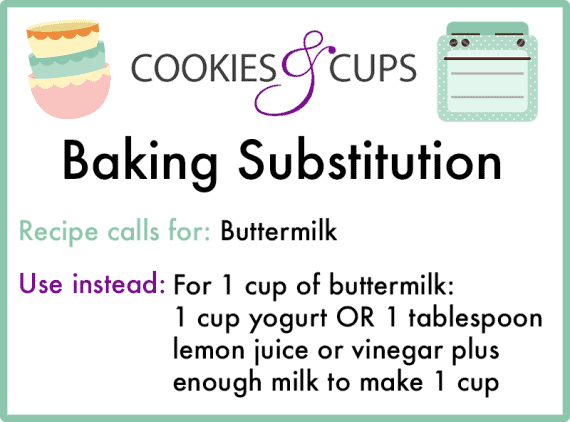 Save