Well, let me tell you guys, I am lucky to be alive right now.
Yes, of course that is a dramatic statement.
But let me tell you the story…
So the other night I was home alone minding my own business…the husband took my little guys to their respective sporting activities…
Anyway, I was busy baking cookies and suddenly I heard an unfamiliar cell phone ringing.
FROM THE BACK OF MY HOUSE!
So yeah, I got scared, convinced that an intruder had broken in and was hiding out, just waiting until my husband left to murder me…
But his cell phone gave him away.
I started panicking, grabbed my phone and a kitchen knife and started walking…wait for it…
TOWARDS THE NOISE.
WHAT IS WRONG WITH ME?
Turns out that the noise was my kid's iPod "ringing" because he friend was face-timing him.
Luckily I didn't stab my dog or my foot in the meantime…
Anyhow, the realization that I am the stupid girl who gets killed first in horror movies, is not an easy pill to swallow.
I wouldn't stand a chance against a murderer person.
Luckily, though, I didn't get killed and am here today to share these cookies with you.
Theeeeesssse Buckeye Brownie Cookies.
They are brownie cookies stuffed with a peanut butter ball and topped with chocolate frosting.
So yeah.  They are quite good.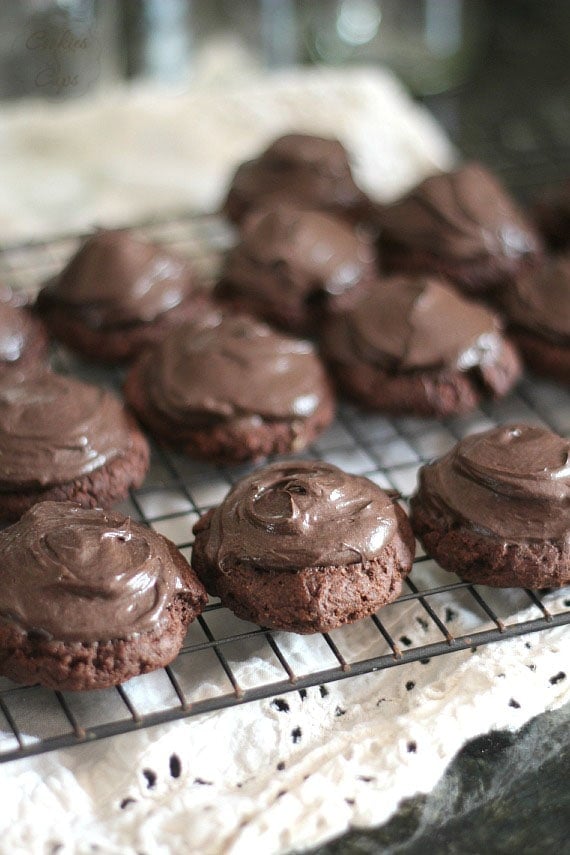 AND I made a short little video to show you how I made them!

Here's what you do…
Mix up a box of brownie mix with some cream cheese, melted butter and an egg…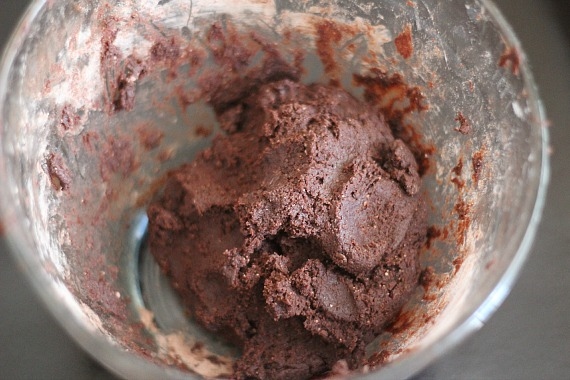 It'll be sticky and thick. I actually used my hands to mix it together.
Then mix up some peanut butter and powdered sugar…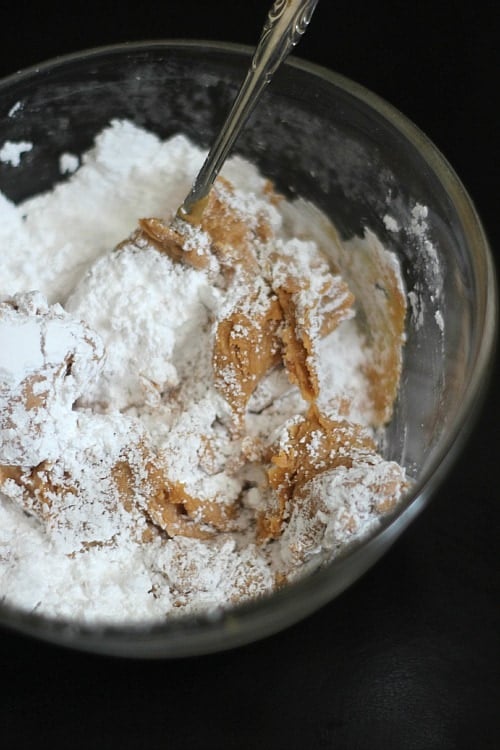 It'll come together like this…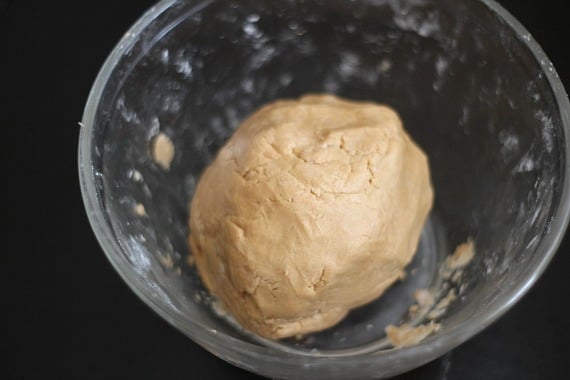 Form the brownie dough into balls and make an indentation in the top.
Then roll the peanut butter into balls also and press those into the brownie dough…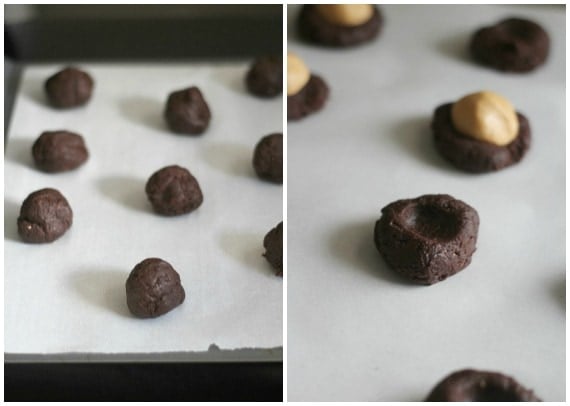 Press them down slightly.
And bake them just like that…
They will look kinda the same before and after baking. The cookie won't spread too much and the peanut butter ball pretty much stays intact.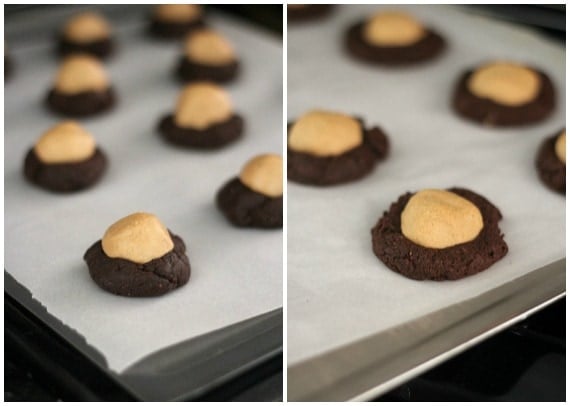 Once they're cooled, I spread some chocolate frosting on top.  Here's my recipe for Easy Fudge Frosting.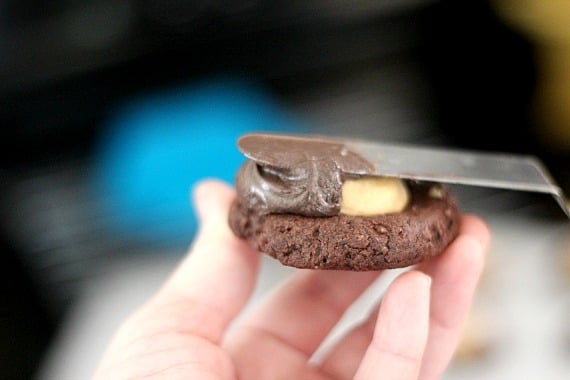 That's it.
I even sprinkled a bit of flaked seas salt on top, but you don't have to.
They look pretty unassuming at first glance.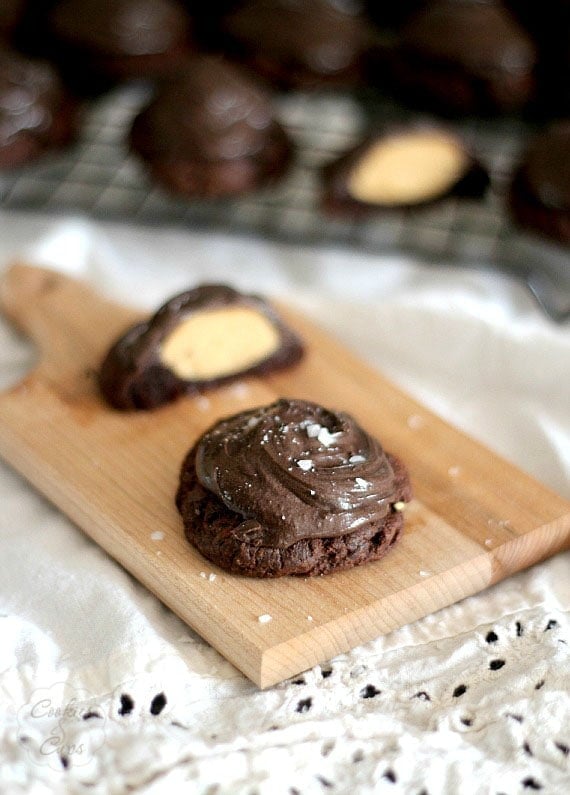 But the inside is kind of magic…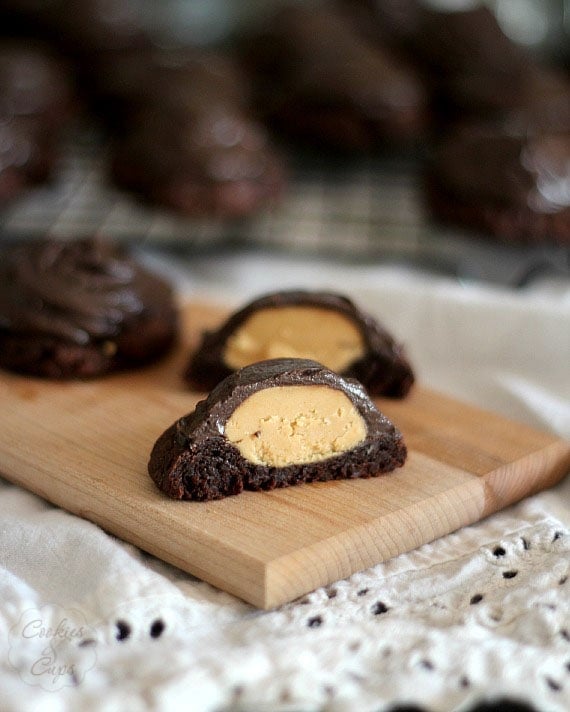 You need to make these.
Print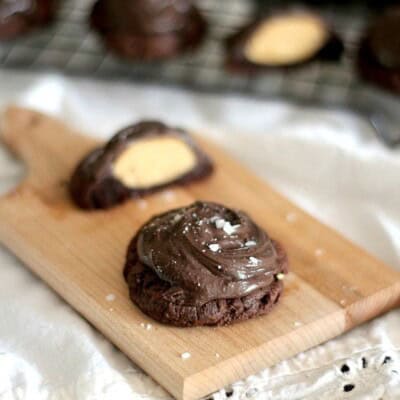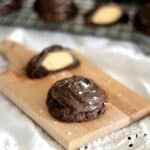 ---
Description:
makes 24 cookies
---
Ingredients:
1

box (18-19 oz) Brownie mix

1/4 cup

butter, melted

1/2 cup

cream cheese, room temperature

1

egg

3/4 cup

peanut butter

3/4 cup

powdered sugar

3/4 cup

chocolate frosting
---
Instructions
Preheat oven to 350°
Line baking sheet with parchment paper.
In a medium bowl combine brownie mix, butter, cream cheese and egg. Stir until dough comes together, it will be very thick and sticky. I used my hands.
Form rounded tablespoons sized portions of dough into balls, placing on baking sheet about 2 inches apart, making an indentation with your thumb in the center of each.
In another bowl stir together peanut butter and powdered sugar. Form peanut butter into teaspoon sized balls and press into the indentations in the brownie cookies.
Press peanut butter down slightly because the peanut butter won't spread and you don't want the cookies to be too tall.
Bake for 10-12 minutes until edges are set.
Transfer to wire rack to cool.
When cooled top each cookie with about a tablespoon of chocolate frosting.
---
Notes:
I used my recipe for chocolate frosting, but you could also use canned frosting.
Adapted from Pillsbury
Want To Save This Recipe?
Save