Is there anything better than chocolate and peanut butter? Not in my house there isn't. I made these this past week when I needed to make a quick dessert. I love no-bake recipes especially in a pinch, the only thing I always forget is that a lot of no-bakes require set time. Not so good with the waiting.
Here's a recipe that is so good and relatively quick to prepare…just give it a good 2 hours to set, if not you get chocolate peanut butter mushiness, which is ok all by yourself sitting in front of the television with a spoon and a 9×13 (please, no judgment), but to serve to the masses firm squares are much better.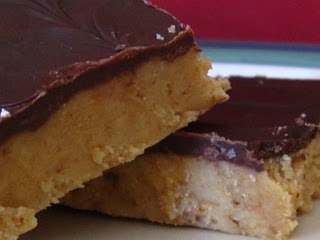 This is a recipe that I adapted from
Paula Deen
, so you know it's loaded with butter..but you also know it's
GOOOD
. I tweaked a few things just for my own ease.
Enjoy!
1 cup (2 sticks) butter or margarine, softened
1 cup crunchy peanut butter
3 cups confectioners' sugar sifted
1 1/2 cups graham cracker crumbs
1 1/2 cups semisweet chocolate chips
Spray a 9×13 lightly with Cooking spray and then wipe it with a paper towel, so you have a very light coating on the pan, but your bars won't be greasy.
Combine the butter, peanut butter, sugar, and graham cracker crumbs in a food processor. Process until the mixture forms a ball. Press into pan using your hands or a spatula.
Melt the chocolate chips microwave-safe glass dish in the microwave for 1 minute on high (100%). Stir. If the chocolate has not completely melted, microwave for 10 seconds more, then stir. Spread evenly over the cookie layer with a spatula. Chill for several hours.
Paula says to let it come to room temp, but after making these several times I have always served them cold and they have been better…again, don't let them sit out too long because they get too soft to pick up.