Danish Coffee Cake is buttery, flaky, sweet, and best enjoyed with a cup of coffee or tea! Also known as a "Kringle," it's easy to make and absolutely delicious!
This recipe is made in partnership with Imperial Sugar. Find the FULL RECIPE HERE!
Easy Homemade Danish Coffee Cake
Anyone else have a sweet tooth no matter what time of day it is? Dessert is great and everything, but dinnertime feels so far away when its 9am and you're craving sugar. That's when coffee cake, aka dessert for breakfast, comes in really handy.
But not just any coffee cake – this Danish Coffee Cake, which is also traditionally called Kringle. It's light and flaky, and topped with the perfect amount of sweet vanilla icing. Paired with a cup of coffee, this homemade pastry is the perfect way to kick off your day!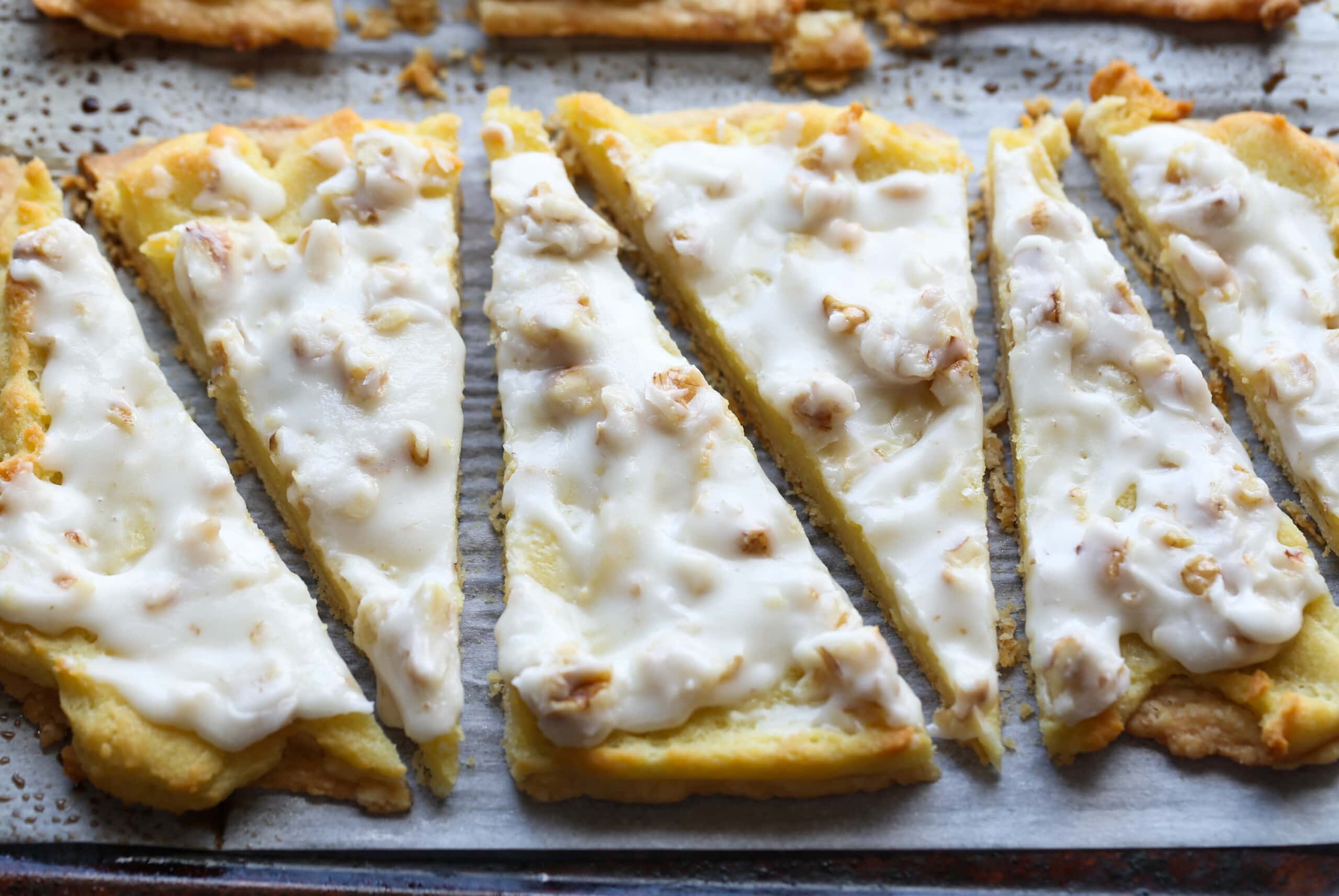 What is Danish Kringle?
Danish Kringle is a Danish pastry that is traditionally made up of multiple layers of buttery dough, and topped with icing. Some people like to put nuts and fruits inside of the layers before baking, but I prefer to top the whole thing with chopped walnuts at the end.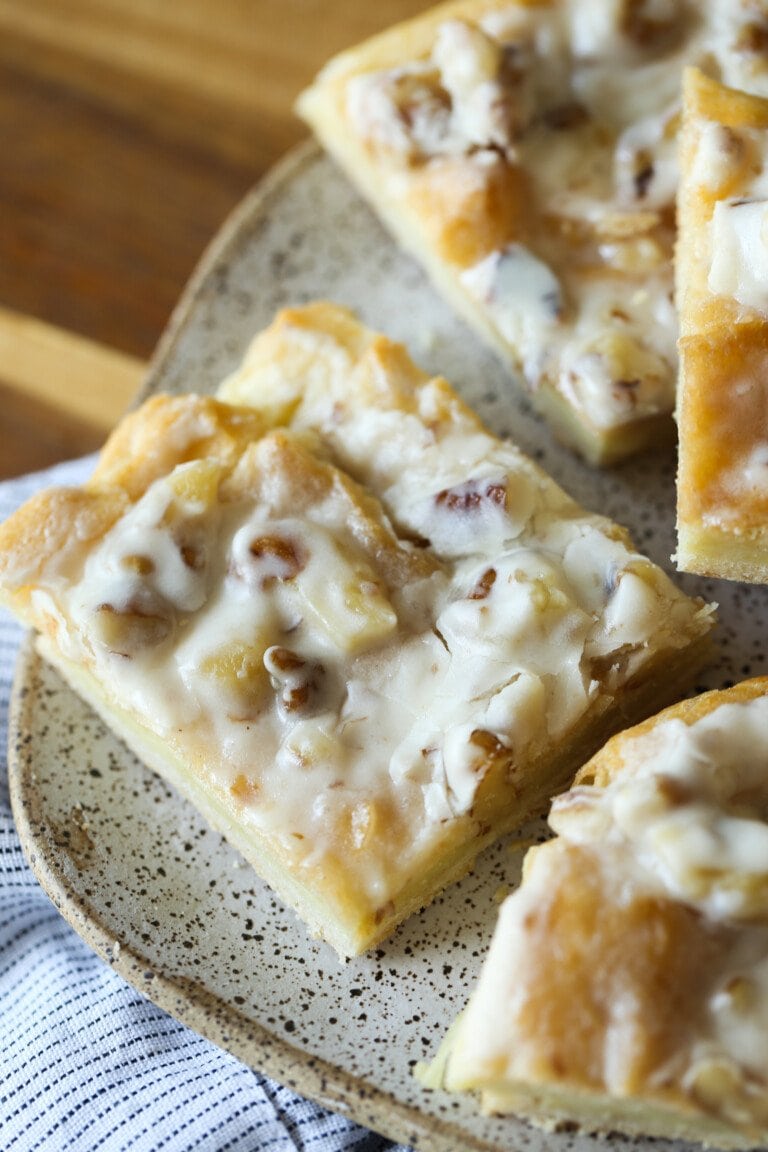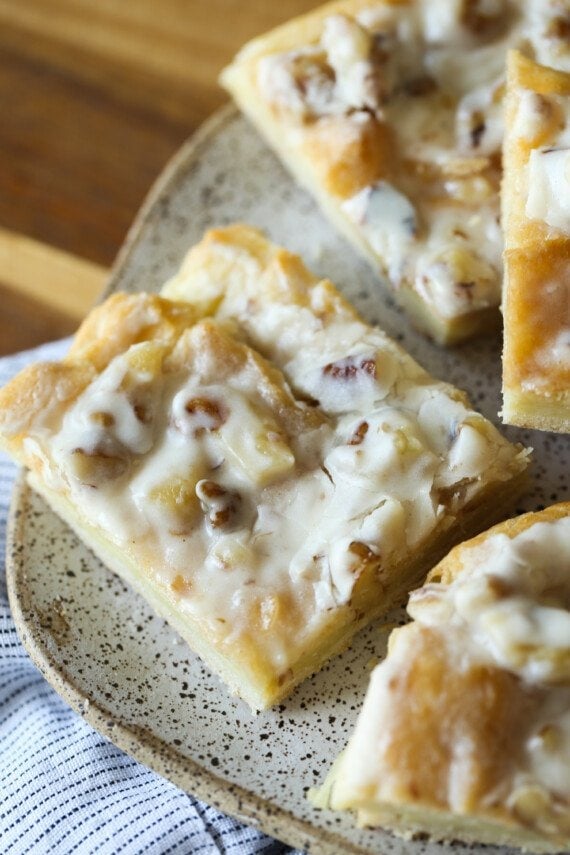 Variation Ideas
This Danish coffee cake recipe has sweet but subtle flavors. The dough becomes a buttery, pastry-like base, tasting somewhat like a homemade pie crust. It's then topped with a filling made from butter and eggs, baked in wide strips, and drizzled with sweet vanilla icing. When you mix in the walnuts there is a delicious nutty crunch in each bite, which ties the whole thing together!
I love the simple vanilla flavor when enjoying this pastry with a cup of coffee, but there are other flavor combinations that you could try! Here are a couple of ideas:
Orange: You could make an orange-flavored icing with a little orange zest. The same thing could be done with lemon juice/lemon zest.
Chocolate: Add chocolate chips to the pastry, or make a chocolate glaze instead of a vanilla one.
Add-Ins: Throw some pecans, almonds, raisins, or other fruit into the pastry dough.
Tips for the Best Danish Coffee Cake
Check out the FULL RECIPE HERE, but first, here are some tips on how to make the best Danish Kringle! Here are some of my suggestions:
Forming the Kringle: Traditional Kringle usually takes the shape of an oval, but I like to bake the dough in recatngles instead. You're just going to cut it up anyway in the end, so why not make life a little easier?
Have a Mixer Handy: To make the base layer you're going to need to combine flour and cubed butter, which is a pain to do by hand, so I recommend having an electric mixer handy.
For a Lighter Cake: If you're looking to cut some calories off of this coffee cake, drizzle thin lines of icing back and forth over the Kringle, instead of spreading it on the whole thing.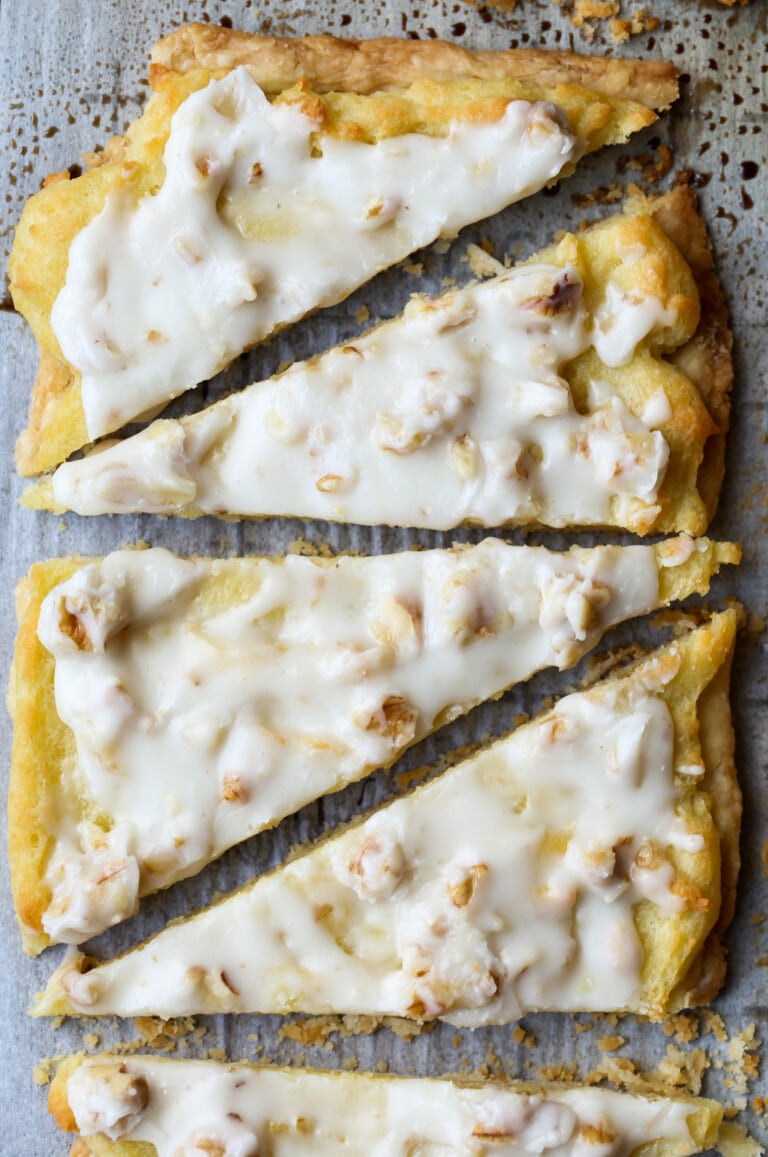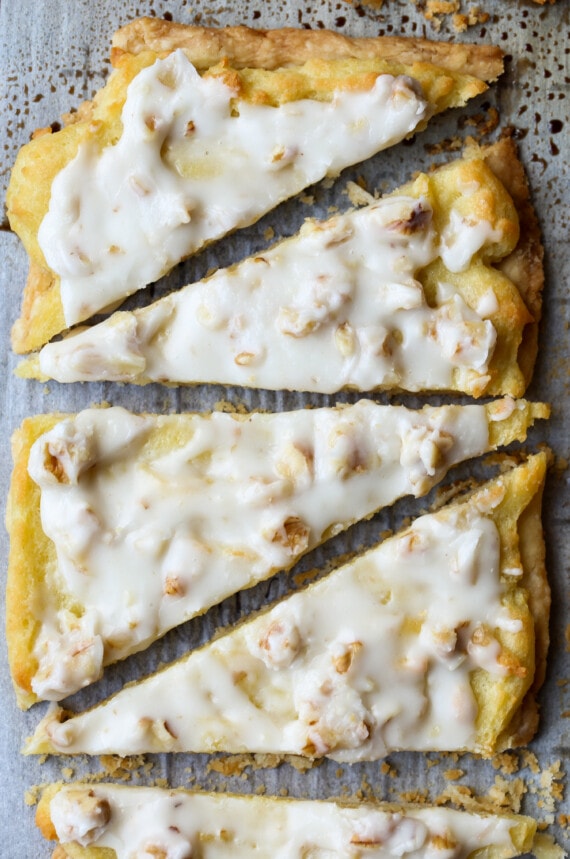 How Do You Serve a Kringle?
I like to enjoy this Danish coffee cake with coffee, obviously, or a nice cup of tea. If you've got kiddos, I suggest serving this pastry with a big glass of milk. Kringle can be served cold, at room temperature, or warm – add a small drizzle of caramel or a little cinnamon if you want to!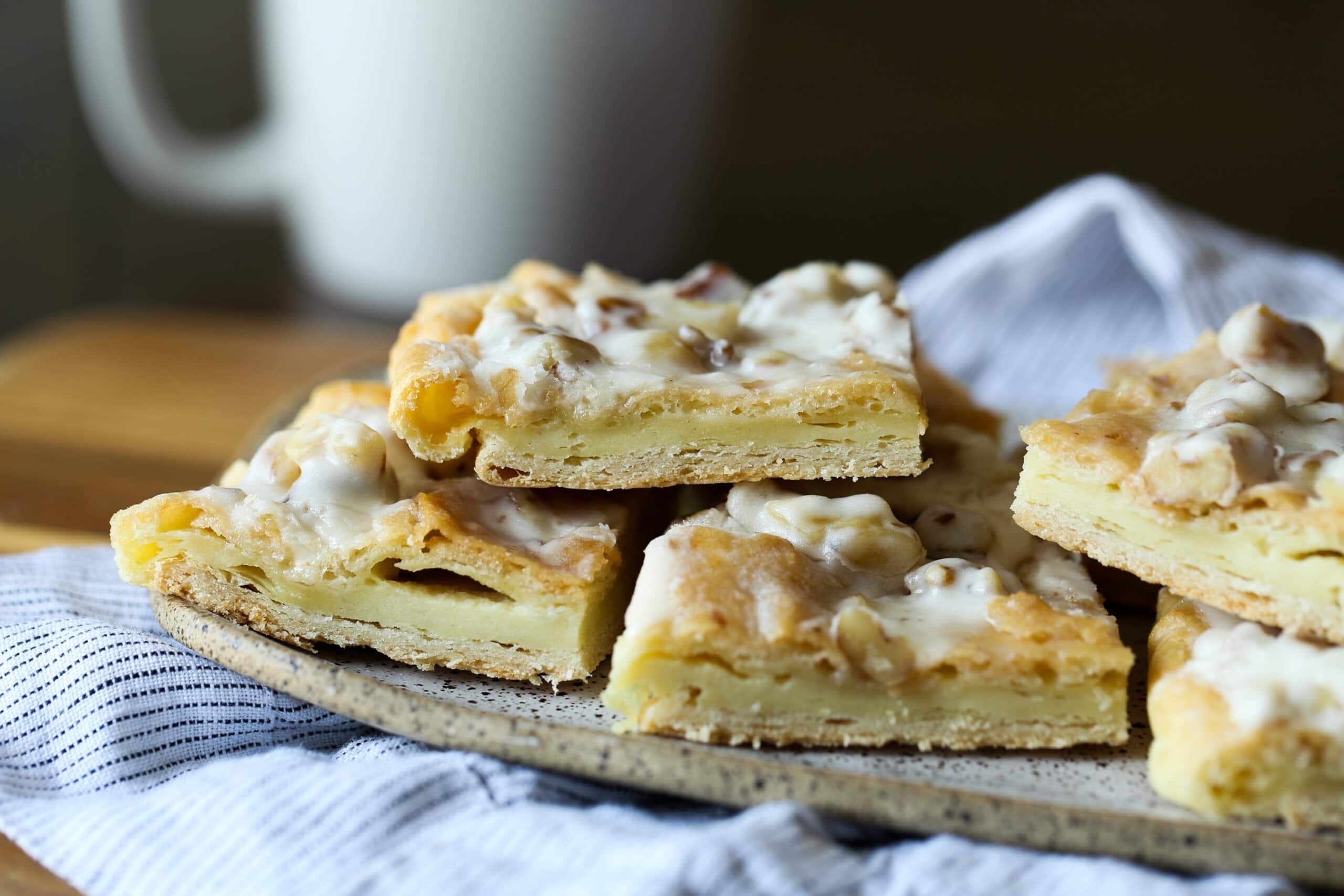 How to Store Danish Coffee Cake
Store Kringle in an airtight container in the refrigerator for up to 3 days. Because the icing is made with dairy, you don't want to leave it out at room temperature.
CLICK HERE FOR THE FULL RECIPE
More Pastry Recipes to Try
Looking for more easy pastry recipes? Try some of these: