This Cadbury Egg Cake is super simple…the effect coming from the frosting colors alone! Use a boxed mix or a scratch recipe, either way it will be delicious!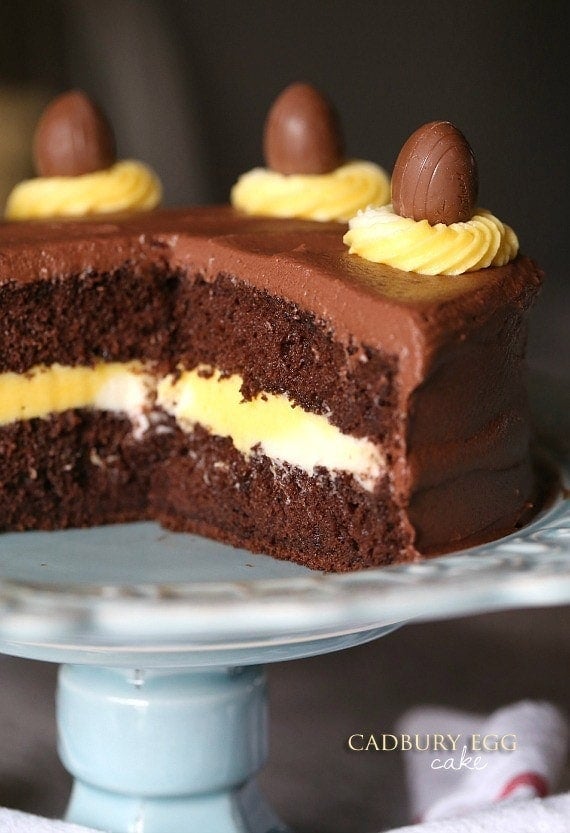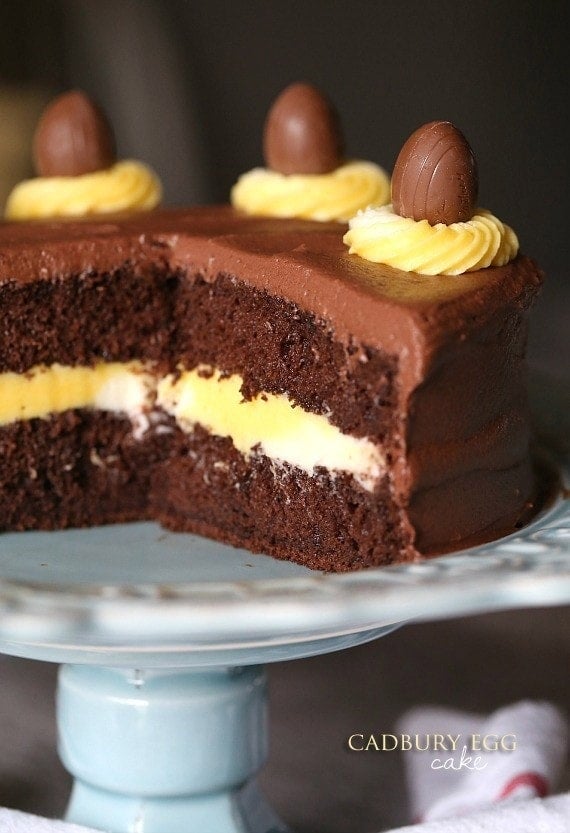 Cadbury Eggs are my fave.
Thank the Lord above that they are only available one time a year. Because it could be disastrous for me, otherwise.
I do remember a time, not too long ago, that Cadbury tried to make the eggs a Halloween thing too, by putting green filling in the middle.
Do they still do that?
Well, if they do, they need to stop it now. Because they don't taste the same.
Cadbury Eggs can only be enjoyed while simultaneously suffering from seasonal Spring allergies.
It's a fact.
Also, I am aware that there are people out there who don't enjoy the Cadbury Egg, to which I say, Good day, sir. Good. Day.
But here's the thing, even if you don't love a Cadbury Egg and all it's gloriously delicious goopy filling, you can still enjoy the cake. Because it's just food coloring people. Food coloring and frosting. Everyone's a winner.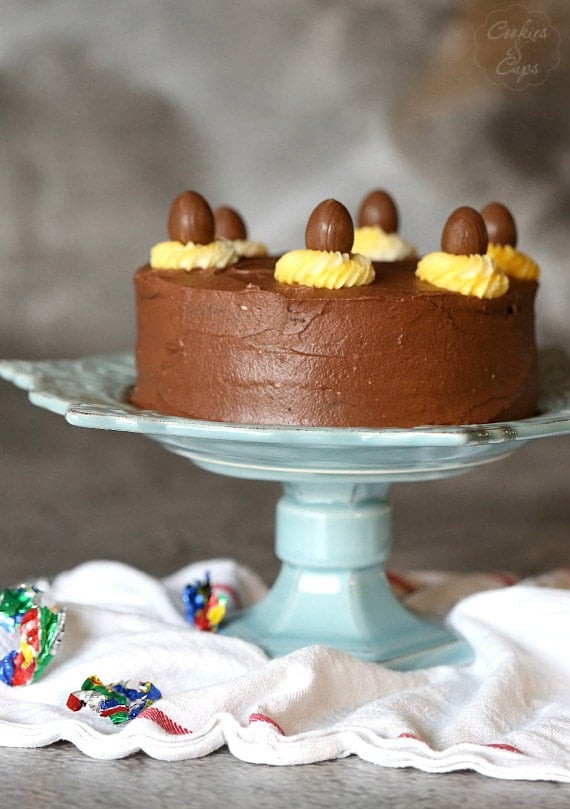 All you have to do is make a chocolate cake in 2 round pans. Go ahead and use my favorite chocolate cake recipe, or even a boxed mix.
THEN make some frosting. Here's my recipe for my favorite fudge frosting (make half the recipe)
AND make some vanilla buttercream frosting. (make half the recipe).
Divide your vanilla frosting into 2 portions, 2/3 leave white and 1/3 color yellow.
When the cake has cooled, level the cakes, if necessary. Fill up a zip zip-top bag (or piping bag) with your white frosting. Cut a large corner of the bag to pipe.
Go around the edge of the cake and then make stripes with the white…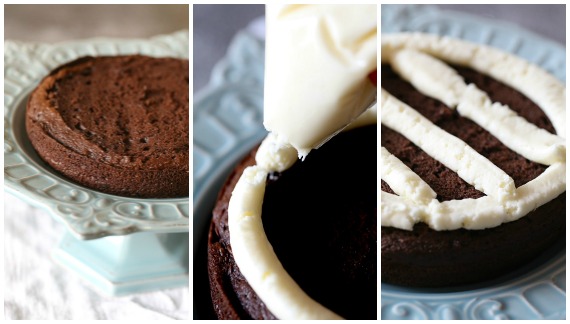 Next up fill another zip-top bag with the yellow frosting and fill in the unfrosted parts with yellow…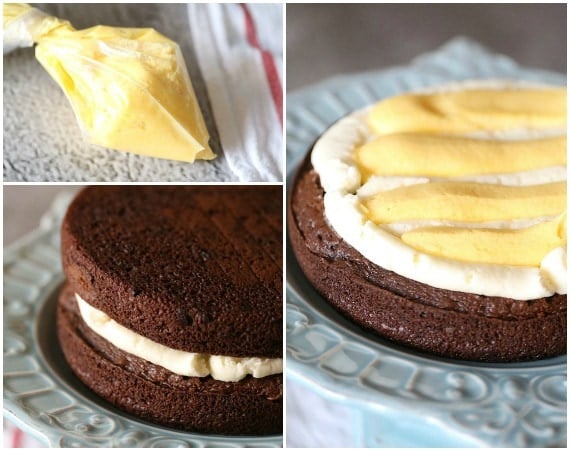 Placing the remaining cake layer on top when done.
Frost the cake with the chocolate frosting…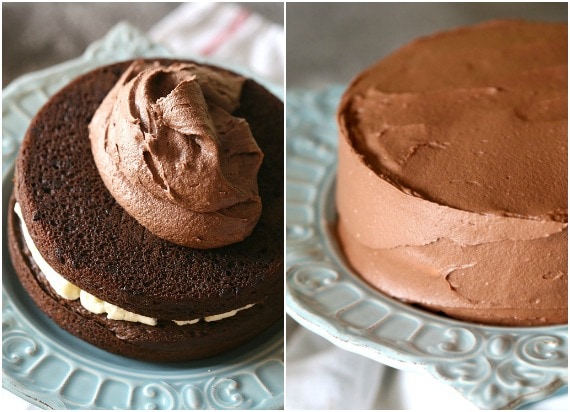 Now you could stop there and place a few Cadbury eggs on top. But I had a little vanilla frosting leftover and decided to swirl the yellow and white for garnish.
I placed them both on opposite sides of a piping bag fit with a large tip…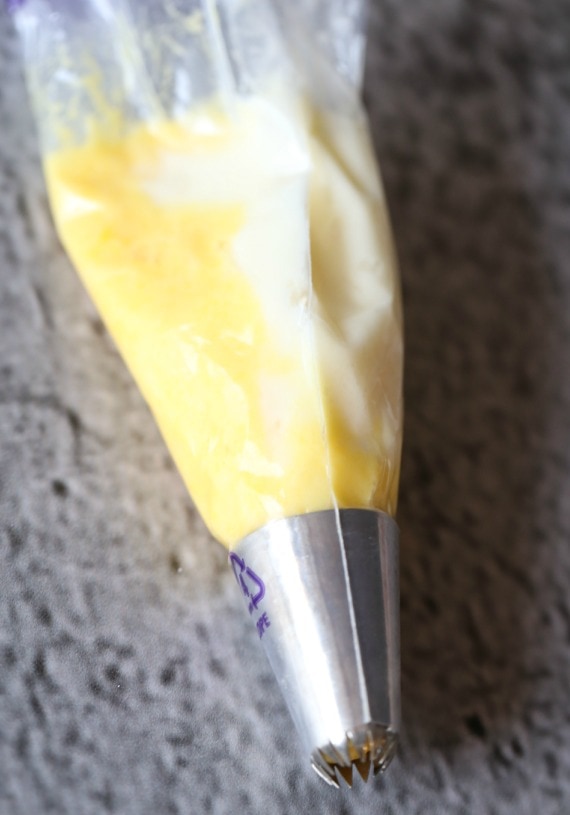 And just swirled the remaining frosting on top…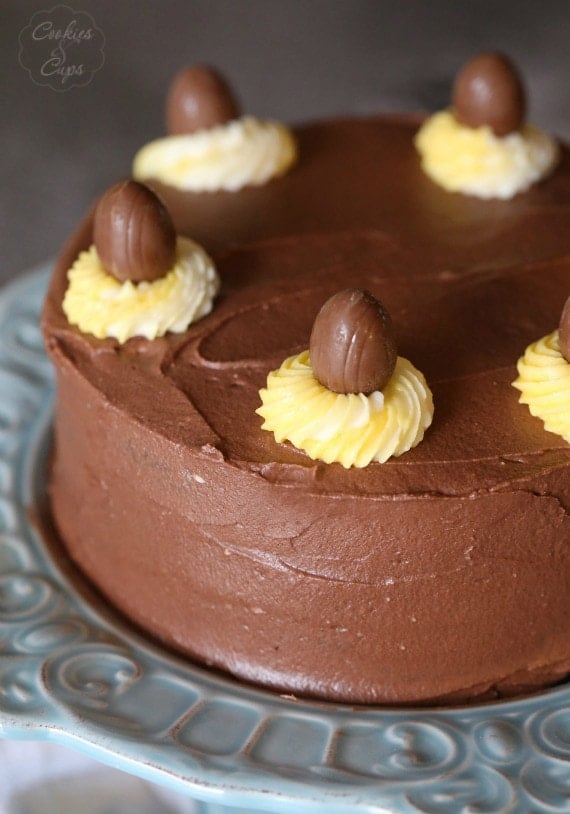 I placed a mini Cadbury Egg on top of each swirl to look cute!
Then of course I ate 1 or 2 or 3 slices…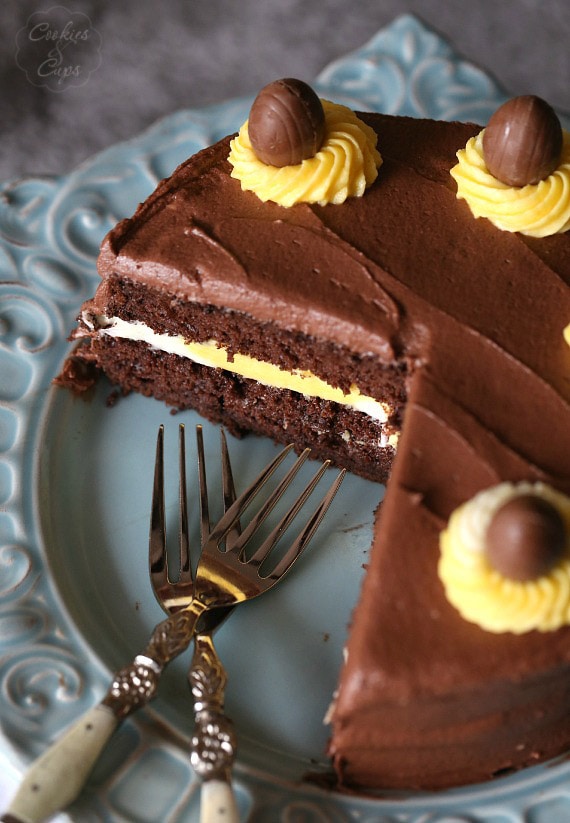 Here are the recipes you'll need:
Chocolate Cake (make HALF of the recipe)
Fudge Frosting (make HALF of the recipe)
And of course some Cadbury Eggs to use as garnish!!