Cake Batter Blondies might be the best invention ever. These are topped with delicious Marshmallow Buttercream to make everything in the world right.
Are you guys on Pinterest?
It's such a fun site where you can consolidate fun things you see on the internet.  You "Pin" the pictures to boards you make and you can share them with people.  And you can follow others and see what they pin and vice versa.
Anyway, while it is fun and great and you can find all sorts of cool things it makes me a little crazy because there are so many talented people out there coming up with tons of things I wish I thought of!
BUT I learned at an early age not to be envious of what others have.
It was a hard lesson.
It involved sausage.
Would you like to hear?
Thought so.
Ok, the year was 1985.  I was in the 5th grade.
I had a friend named Michelle.  She was really a nice girl.
Well, we sat next to each other everyday at lunch.  We both brought our lunches pretty much every day.
Her lunches were always awesome…everything was in its own reusable container…no plastic baggies for her.  AND her mom always put in a napkin and a plastic utensil.
I asked my mom one day why she didn't give me a napkin in my lunch box…
I will never forget her response…"That's why we pay taxes, so you can use napkins at school".  Hmmm, really mom?
Moving on…one day Michelle pulled out her lunch and her mom had packed her a small little can.  The label on the can read "Vienna Sausages".
I sat and stared.  It was such a cute little can with its own pop top.  And it was from Vienna…where ever that was.
I looked down at my lunch…a tuna sandwich, Capri Sun, and  applesauce.  SO American.  Not Viennese at all!
I watched her open the can and eat the little sausages one at a time…laughing and joking.  Which translated to my 10 year old mind, "These sausages are so delicious and gourmet and INTERNATIONAL".  She may as well have been wearing a scarf and a beret smoking a long thin cigarette.
Of course I went home and told my mom that I MUST have Vienna Sausages in my lunch.
Mom:  "Ack! No way!"
Me: "But MOM!  Why don't you want me to learn about other cultures?  Sure, you take me to the Chinese Buffet…but what about EUROPE?  I want to learn about Viennese people!"
Mom: "No way, they're gross, like dog food." (the sausages, not the people)
Me: "MOMMMMMMM!  PLEASE!  I need these Vienna sausages to learn about the world!  You won't buy me Bongo jeans and you say jelly shoes are bad for my feet..so PLEASE let me have the sausages!"
Well, she gave in.  I suppose she decided that the Vienna sausages were less of an investment than the Bongo Jeans.
So I went to school proudly with my can of Vienna sausages for lunch.  She even packed me a plastic fork and napkin.  Embarrassingly enough I decided that on this day I would wear my black and white striped shirt, I assume to look like a gondolier…I apparently thought Vienna was in Italy.
Finally when lunch time rolled around I proudly removed my can of sausages from my box.  I popped the top and stared down at the flesh colored sausages floating in water and promptly dug in.
I speared the first sausage with my plastic fork and took a bite.  I guess I was anticipating something more along the lines of a hot dog but what I got was a mouthful of meaty, mealy grossness.  NOT European.
I gagged as inconspicuously as possible and watched my friend as she ate her sausages one at a time, seemingly savoring each bite.
In hindsight I know why my mom packed me a napkin on that day…it was an escape plan.  I aborted Operation Eat European into the neatly folded napkin and placed it back in my lunchbox.
When I arrived home my mother asked me how the sausages were?  To which I replied, oh they were delicious.
I could never let her win.
It was in that moment I realized that while Vienna Sausages sound exotic and fancy they aren't for me.  I am neither exotic or fancy and should stick with tuna on whole wheat.
The end.
So while I browse Pinterest and see all the creativity of others I try not to be envious of what they have created.  You wanna know why?  Because as nice as they are they're probably at home eating Vienna Sausages.
That, my friends, is a life lesson.
Now, with every rule there is an exception…because I found these delicious looking bars on pinterest and pushed my Vienna sausage fear aside.
I decided I must make them.  Immediately.
These are easy and it all starts with a cake mix!
Cake Batter Blondies with Marshmallow Buttercream.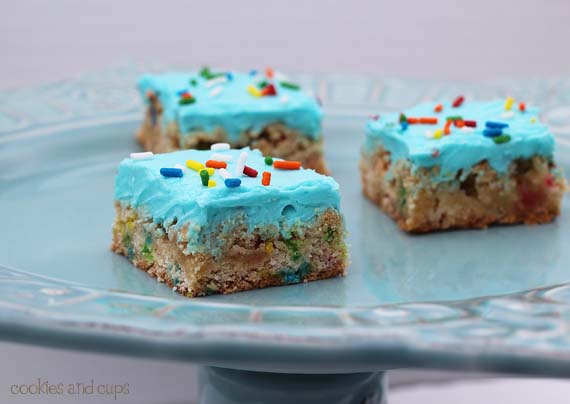 You need an egg, a cake mix, 1/4 cup of oil and 1/2 cup milk.  I added in some white chocolate and marshmallows for good measure 🙂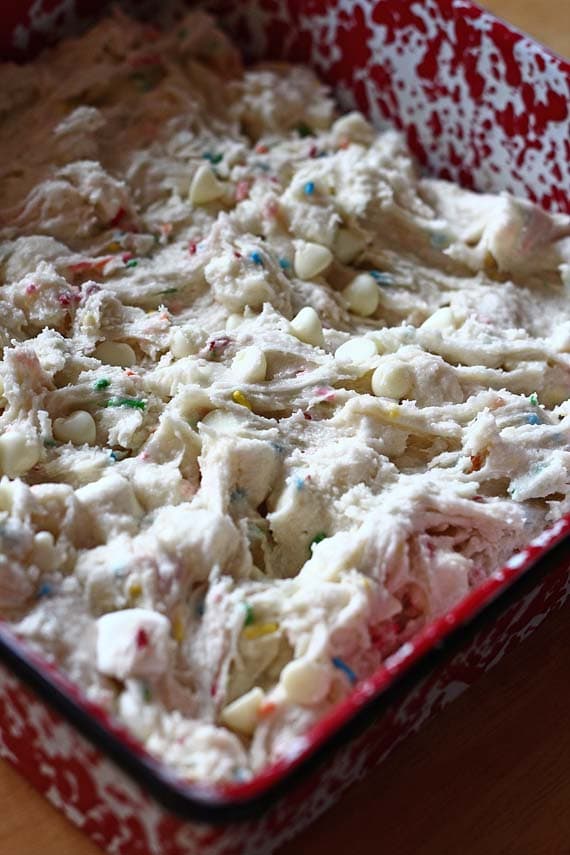 Then I baked up…simple!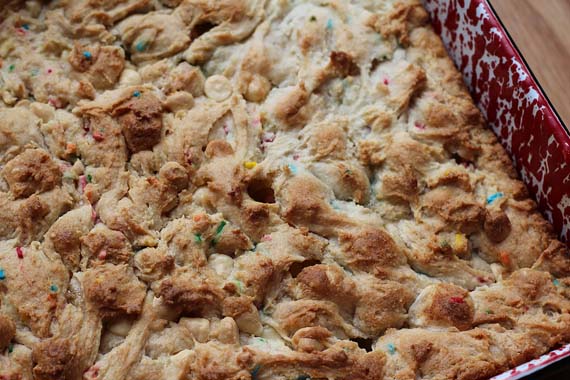 And then I frosted them!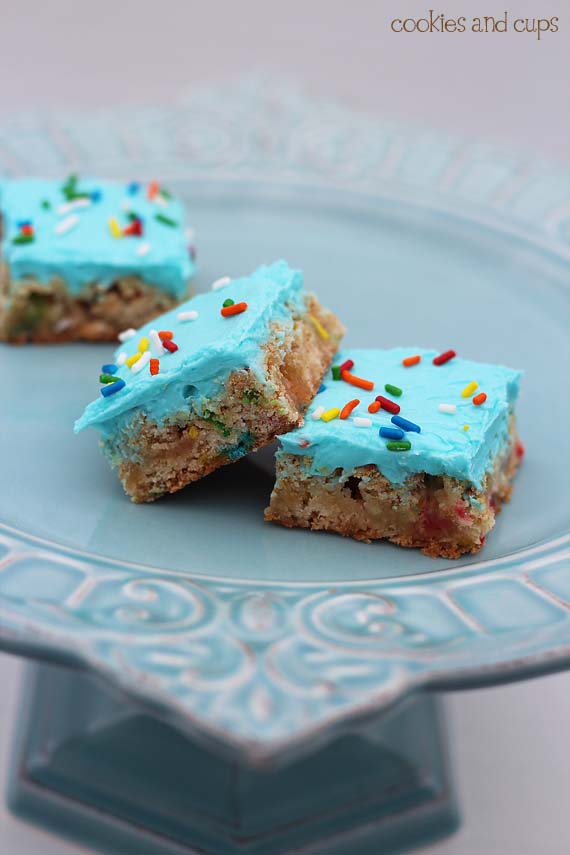 Thanks Six Sisters and girl meets life for letting me use your recipe!!
Print
---
Ingredients:
1

box vanilla cake mix (I used Funfetti)

1/4 cup

vegetable oil

1

egg

1/2 cup

milk

1/2 cup

white chocolate chips

1/2 cup

mini marshmallows
---
Instructions:
Preheat oven to 350°
Prepare a 9×9 pan with baking spray
In a large bowl combine cake mix, vegetable oil, egg and milk. Mix on medium low speed until the ingredients are just combined. Batter will be dense.
Stir in your chips and marshmallows until distributed evenly.
Spread in your prepared pan.
Bake for 25 minutes until center is just set.
Want To Save This Recipe?
Print
---
Ingredients:
1/2 cup

butter room temp

1 cup

Marshmallow Fluff

2 cup

s powdered sugar

2 Tbsp

milk
---
Instructions:
Mix butter and Fluff until smooth on medium speed until smooth.
Slowly add in powdered sugar with mixer on low.
Add in milk and turn speed up to medium and mix until all combined and smooth.
Color frosting if desired.
Spread over cooled blondies
Want To Save This Recipe?