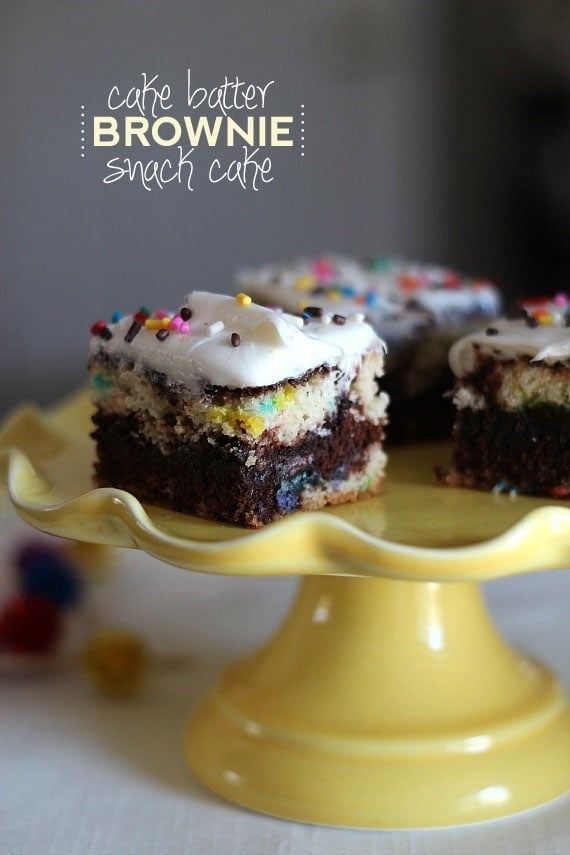 Ok, so don't be confused.
This recipe is brownies.
2 different kinds of brownies
Baked together.
BUT when they bake together they kind of form a cake.
It's weird, I know.
But it happened.
It wasn't what I was expecting, but then again, most things aren't.
Anyhow. Cake Batter Blondies baked with regular Brownies makes cake.
I have no idea how it does it, but it's kind of magic.
Cake Batter Brownie Snack Cake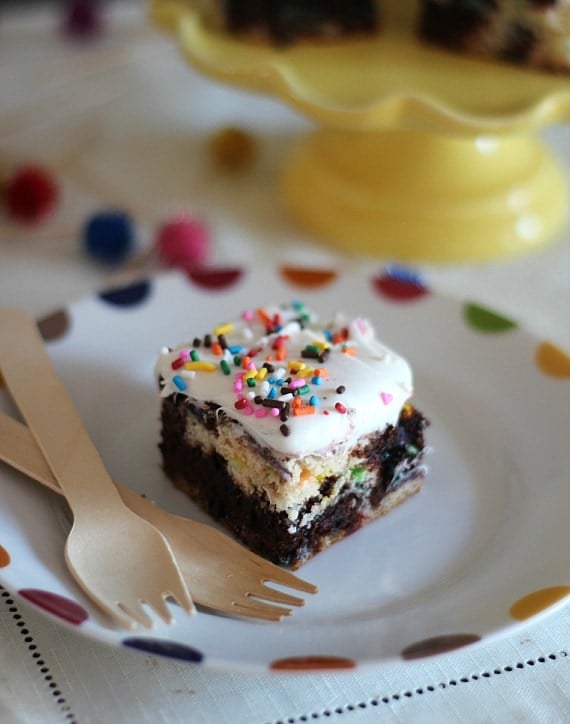 SO this isn't really that much of a recipe.
Well, I mean it IS, but it isn't.
It's actually more of an assembly process.
Here's why…
I made the brownies according to the package directions.
Buy the "Family Size" Brownie mix. The kind you would bake in a 9×13 pan. (I happened to find "Funfetti" Brownie mix, but you don't have to…it was just a fun option. The only difference is that it included "rainbow chips" to sprinkle on the brownies.)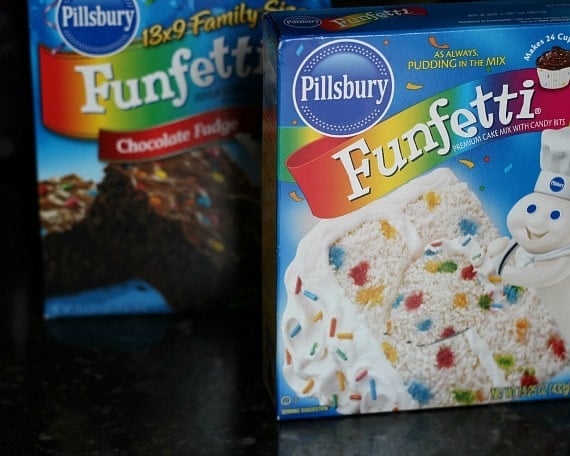 Also, you'll need a box of Funfetti Cake mix.
I used THIS RECIPE FOR CAKE BATTER BLONDIES using the Funfetti cake mix.
BUT I omitted the white chips and the marshmallows. Don't be confused.
Whip that up and spread it into a greased 9×13 pan…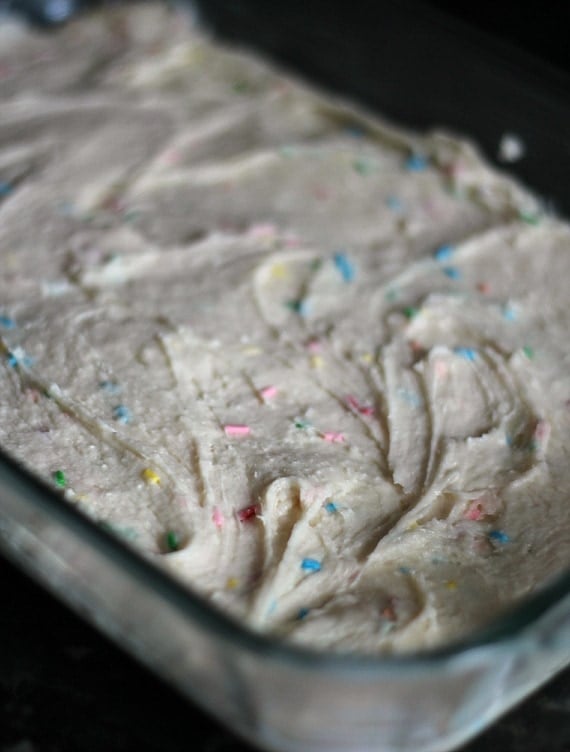 Then make your brownies, according to the package directions…
Pour that on top of the Cake Batter part…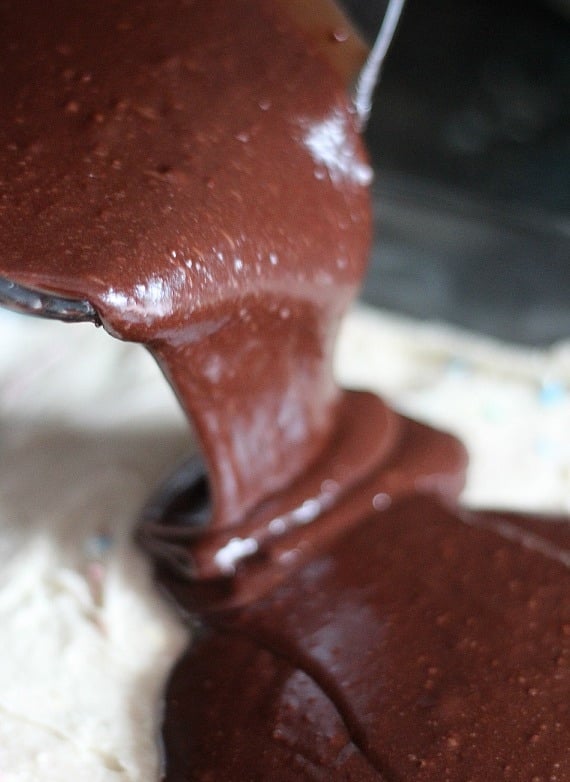 Then, only if you want, sprinkle the top with rainbow chips, or sprinkles. Don't worry about this step too much because you're going to frost over the top anyway.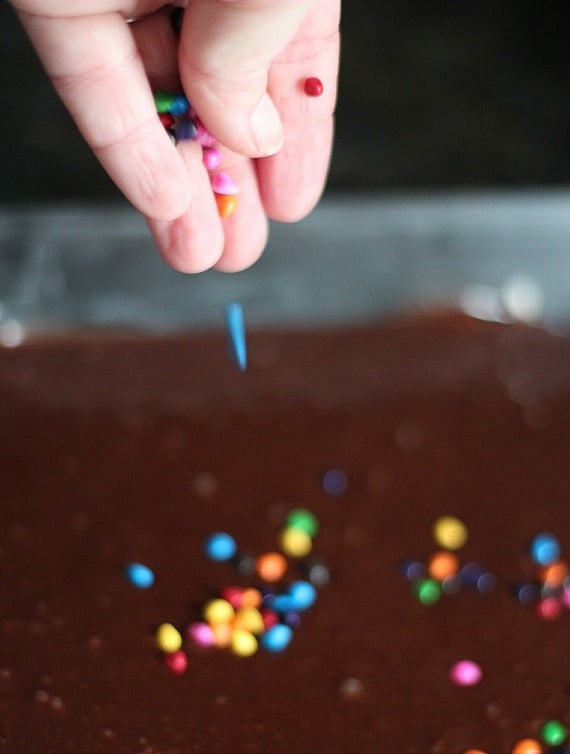 Now they're ready for the oven.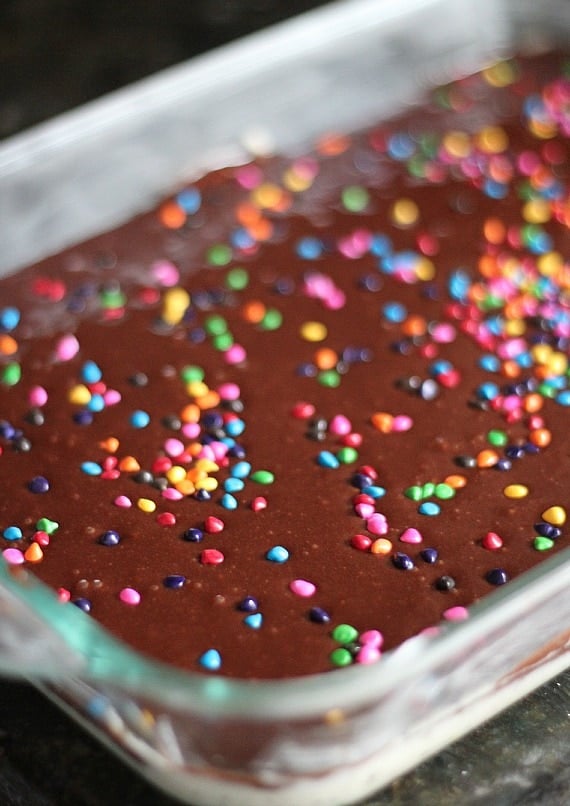 When they're baked the layers get all swirly, and in some cases flip to brownie on bottom, Funfetti layer on top.
It's basically a science experiment.
Then, when it's cooled, you should frost it.
I mean, it IS cake and all.
I used this recipe cut in half. Or use a can of frosting. I mean, who are we kidding here?
Then you should definitely add more sprinkles.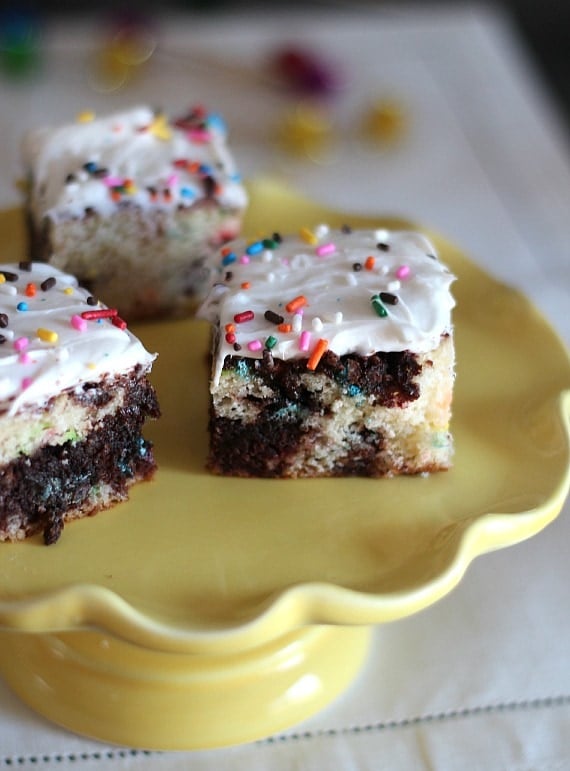 Definitely.
Print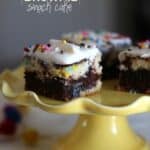 Cake Batter Brownie Snack Cake
---
1

(15.25 oz) box "Funfetti" Cake mix

1/4 cup

vegetable oil

1

egg

1/2 cup

milk

1

"Family Size" box Brownie mix, batter prepared per package directions.
---
Instructions
Preheat oven to 350°
Spray 9×13 pan with cooking spray
In mixing bowl combine Funfetti Cake Mix, oil, egg and milk. Beat together for 1 minute, until ingredients are incorporated. Batter will be dense.
Spread batter in the bottom of the prepared pan.
Now make your brownie batter according to the directions on the box.
Pour the brownie batter on top of the Funfetti layer.
Bake approx 25-30 minutes until center is set.
Let cool completely and then frost, if desired.
---
Want To Save This Recipe?
Find more recipes like this: