Since the holidays I have to admit that the space between my two ear holes has been mostly empty.  Besides the idea for these cookies all I've got rattling around in there is my weekly battle with my kid's bunk bed.
Now if you don't have a bunk bed, then you won't understand why this simple issue is taking up brain space that should be reserved for way more important issues, like the Golden Globes and Bachelor Sean.
But let me tell you, that darn bunk bed and I aren't friends.  Not even a little.
I have decided I am gonna become at least a thousandaire when I come up with a better way to put clean sheets on the beds.  Seems simple, but just how?
Forget about the near-concussions from the ceiling repeatedly banging into my head.  Forget about the pulled muscles from trying to tuck the sheets under the mattress…that back corner is the devil's dwelling…let's first focus on the weight limit situation…
I know in my normal brain that I am fully supported by architecture of the top bunk.  However, it doesn't stop my unnormal brain from convincing me that I will break the support slats falling partially through the top bunk, trapping me there, hanging in a mattress taco, awaiting my husband's return from work to free from imminent death via mattress suffocation.  And honestly we all know when he finds me there hanging, being eaten by the mattress he will inevitably fall a little bit out of love with me.  It's only human, I can't fault him.
For the sake of my marriage I need a better way to come up with putting new sheets on my kid's bunk beds.
But in the meantime I decided on the next viable option…the cookies.  Not all life's problems can be fixed in one day.
If you're not familiar with a Caramelita, it's a yummy oatmealy, caramelly cookie bar.
My friend Kristan made some not too long ago with Rolo Candies, which I thought was a pretty inspired idea!
So I thought instead of making them the usual bar-way, why couldn't these be cookies?
Well I did it…here's how…
Caramelita Cookies.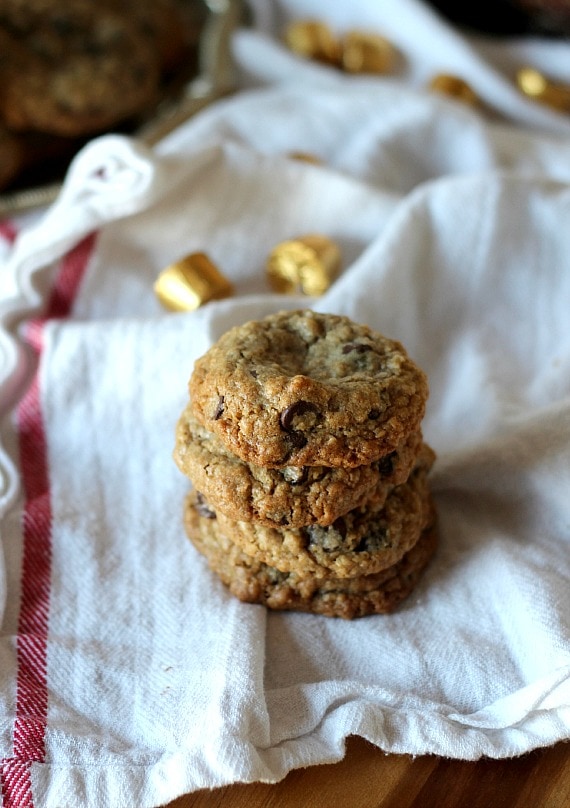 I used lots of brown sugar…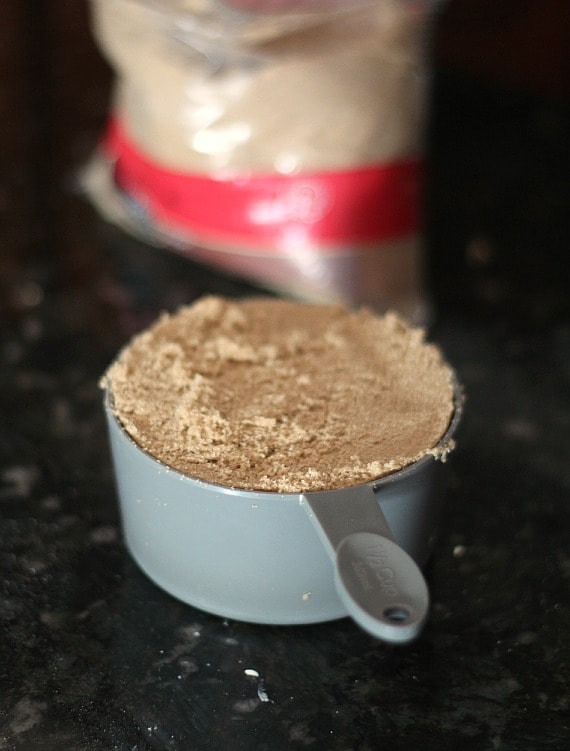 And also lots of oats…
It's a quick dough…very similar to an oatmeal chocolate chip cookie…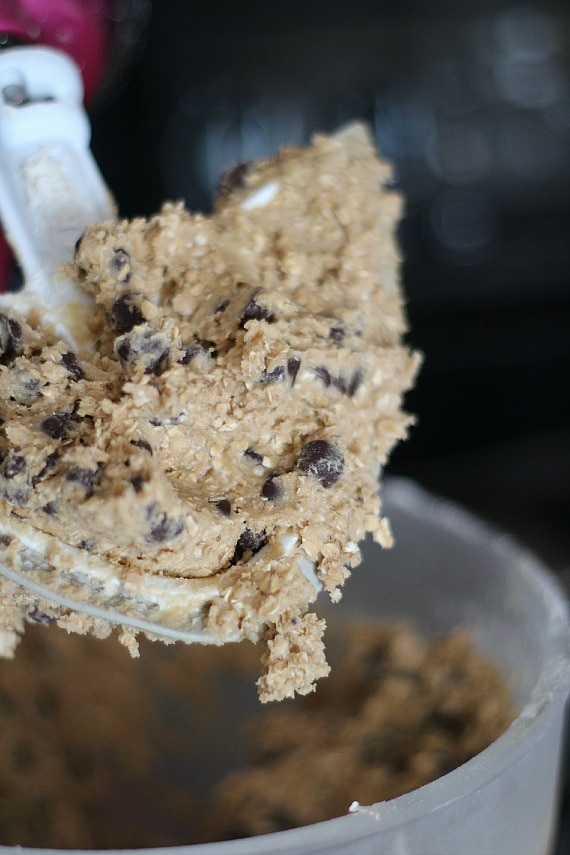 Well, here's the trick.. chill the dough.
I know, you don't want to, but it's important here.
THEN you'll need to grab your Rolo candies and stick those in the freezer…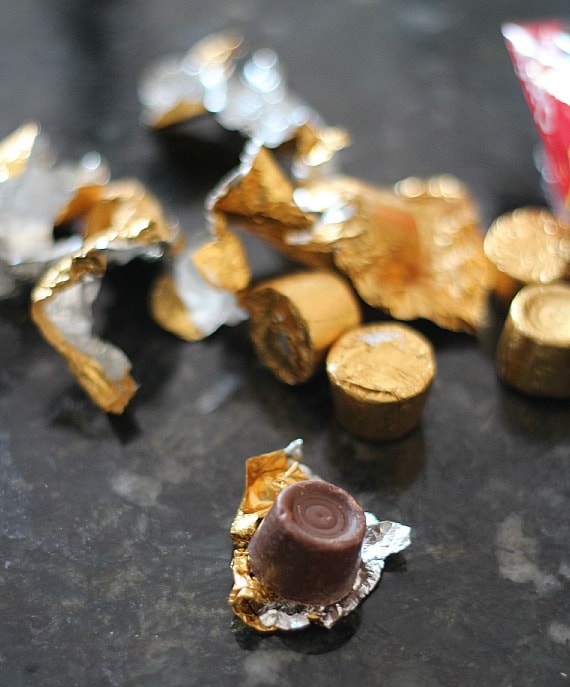 Amber told me the importance of freezing your candy…if you don't, the caramel will ooze out and leak out of the cookie, sticking to the baking sheet, creating a big old mess.
Also, chilling the dough keeps the cookie shape, holding the caramel inside, not letting it escape!
I tried these cookies with caramel squares also.  Didn't work, guys…at least the regular Kraft caramels.  After they baked, the caramel got super hard and too chewy for the middle of a cookie.  The Rolos stay much softer, perfect for the filling!
Another tip.. if you are impatient and don't want to chill the dough or freeze the Rolos, you can bake them, and let them cool completely on the baking sheet before moving them.  That will help the caramel set up and not fall through the cookie.  I speak from personal experience.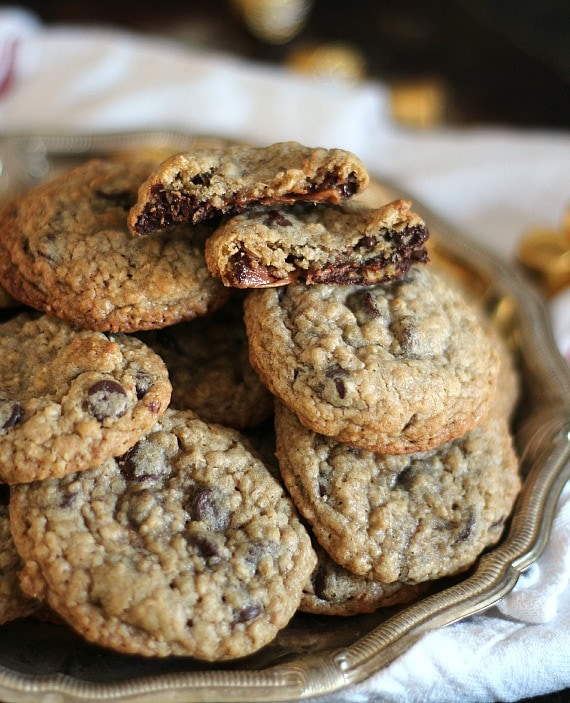 Print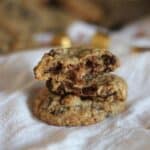 ---
Description:
Makes about 40 cookies
---
Ingredients:
1 1/4 cups

butter (

2 1/2

sticks) room temperature

1 1/2 cups

brown sugar

2

eggs

1 tsp

vanilla

1 1/2 cups

flour

1 tsp

baking soda

1 tsp

salt

3 cups

quick oats

2 cups

chocolate chips
approx

40

unwrapped Rolo candies, frozen
---
Instructions
In stand mixer cream butter and brown sugar together for about 1 minute. Add in eggs and vanilla and mix until incorporated and smooth.
Turn mixer to low and add in flour, baking soda, salt and oats. Turn mixer up to medium until evenly mixed. Turn mixer down to low and add in chocolate chips. Mix until evenly distributed.
Chill dough for at least an hour. During this time freeze your Rolo candies.
When dough is ready preheat oven to 350° and line baking sheets with parchment paper.
Take about 1 1/2 Tablespoons of cookie dough and wrap it around a frozen Rolo, forming a ball. Place your dough balls about 2 inches apart on lined baking sheet. (Make sure that you have enough dough on the bottom of the cookie that none of the Rolo is exposed)
Bake for 10-12 minutes until edges are golden and tops have just set.
Let cookies cool on baking sheet for 4-5 minutes before transferring them to a wire rack to finish cooling.
---
Notes:
Freezing candies and chilling dough is recommended because the Rolo will sink to the bottom of the cookie and stick to your pan.
If you forget to freeze the candies and chill the dough, allow the cookies to cool completely on the baking sheet.
Want To Save This Recipe?