Carrot Cake Earthquake Cake is a fun spin on classic carrot cake, starting with a cake mix. The cream cheese frosting is baked right into the cake!
This recipe is in partnership with Imperial Sugar. CLICK HERE for the full recipe!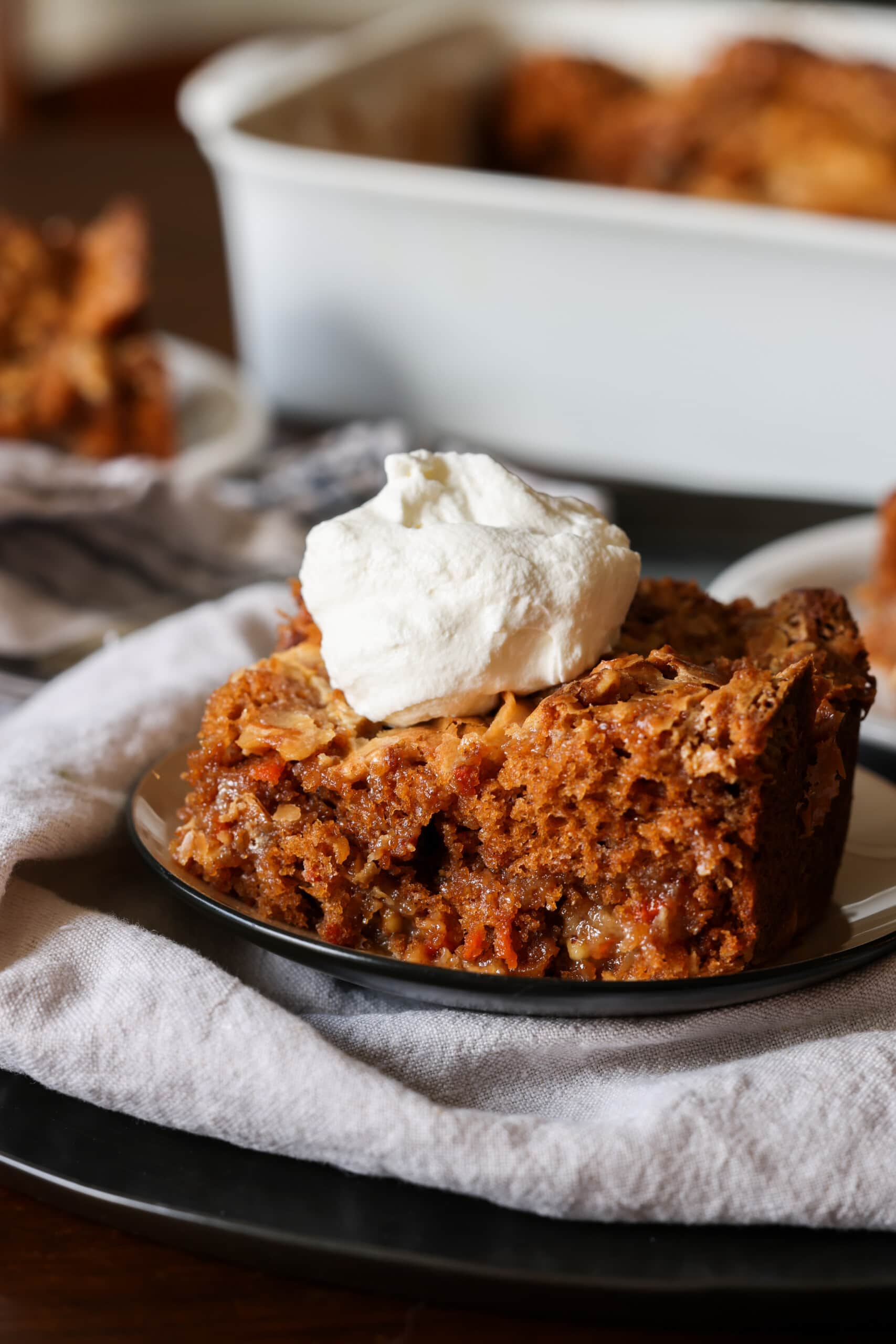 Carrot Cake Earthquake Cake
I am so excited about this recipe for Carrot Cake Earthquake Cake. I have a few great Earthquake Cake recipes already here on my site: my Chocolate Earthquake Cake and my Pumpkin Earthquake Cake. They are all so easy to make, since they start with a cake mix, and they are so incredibly delicious. What I love about earthquake cakes is that you can eat them warm since the frosting is baked right inside. Warm cake? Yes please!
This cake recipe is a great alternative to classic Carrot Cake as well. Not only is it easier, you don't have to worry about making it pretty with icing because it's baked inside. I love bringing this to friend's houses or for holiday dinners because it is great to travel…no worrying about the cake falling over, or transporting it because you serve it right out of your 9×13 baking dish that it bakes in!
What Is Earthquake Cake?
An earthquake cake is a cake recipe that cracks open after baking, revealing rich crevices of sweet cream cheese. Traditionally, it's made with cake mix, shredded coconut, pecans, and a buttery, crackly cream cheese layer. The great thing about earthquake cakes are they are really adaptable, and you can get pretty creative, which brings us to today's recipe for Carrot Cake Earthquake Cake!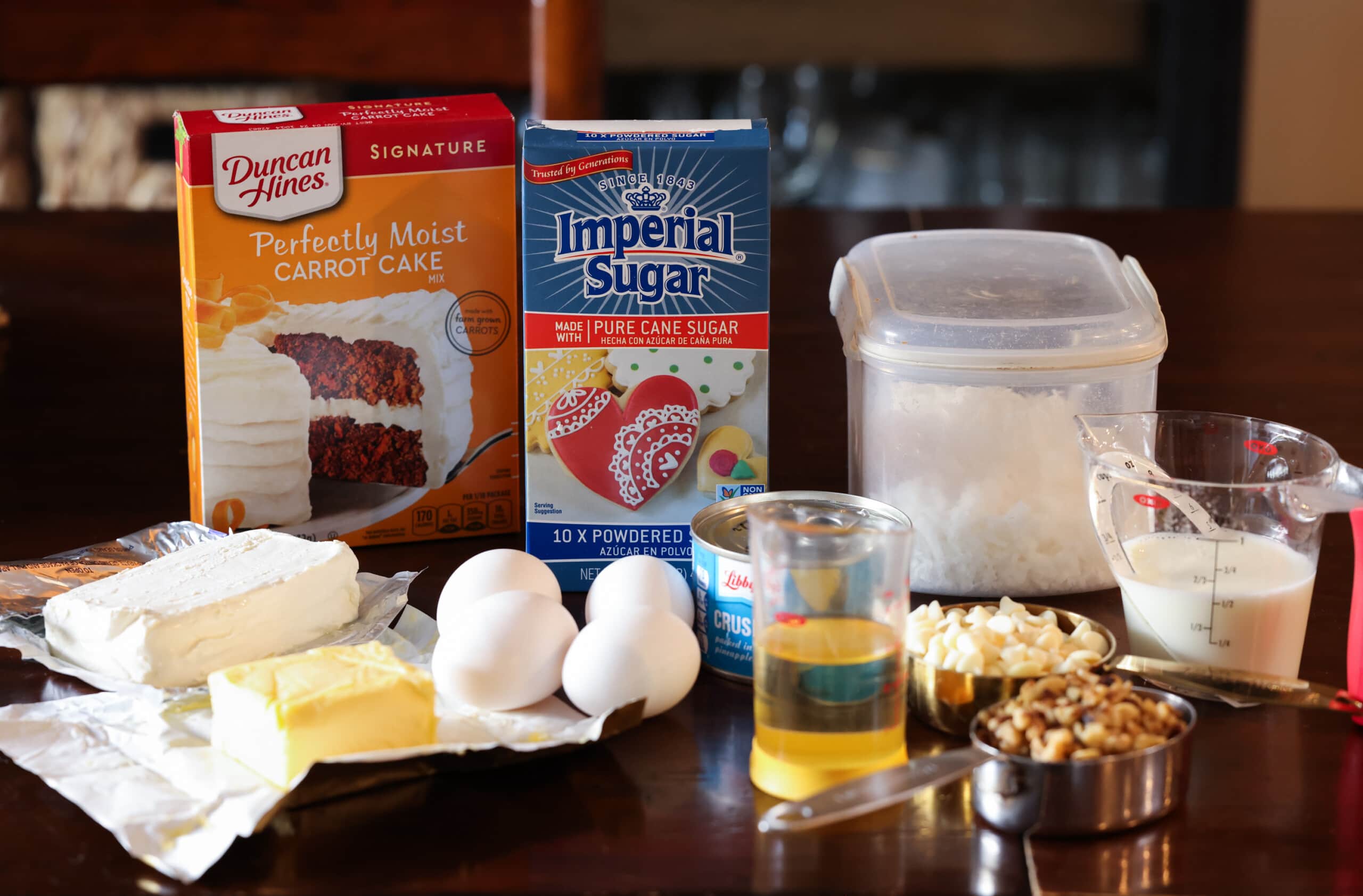 What You Need For This Earthquake Cake/Ingredients:
CLICK HERE FOR THE FULL RECIPE with the ingredient measurements and instructions.
Shredded sweetened coconut
Box of carrot cake mix. Do not prepare the cake according to the package directions. Just use the dry cake mix as another ingredient and follow my recipe as stated.
Milk
Vegetable oil
Large eggs
Crushed pineapple, drained
White chocolate chips
Chopped walnuts
Cream Cheese
Butter
Powdered Sugar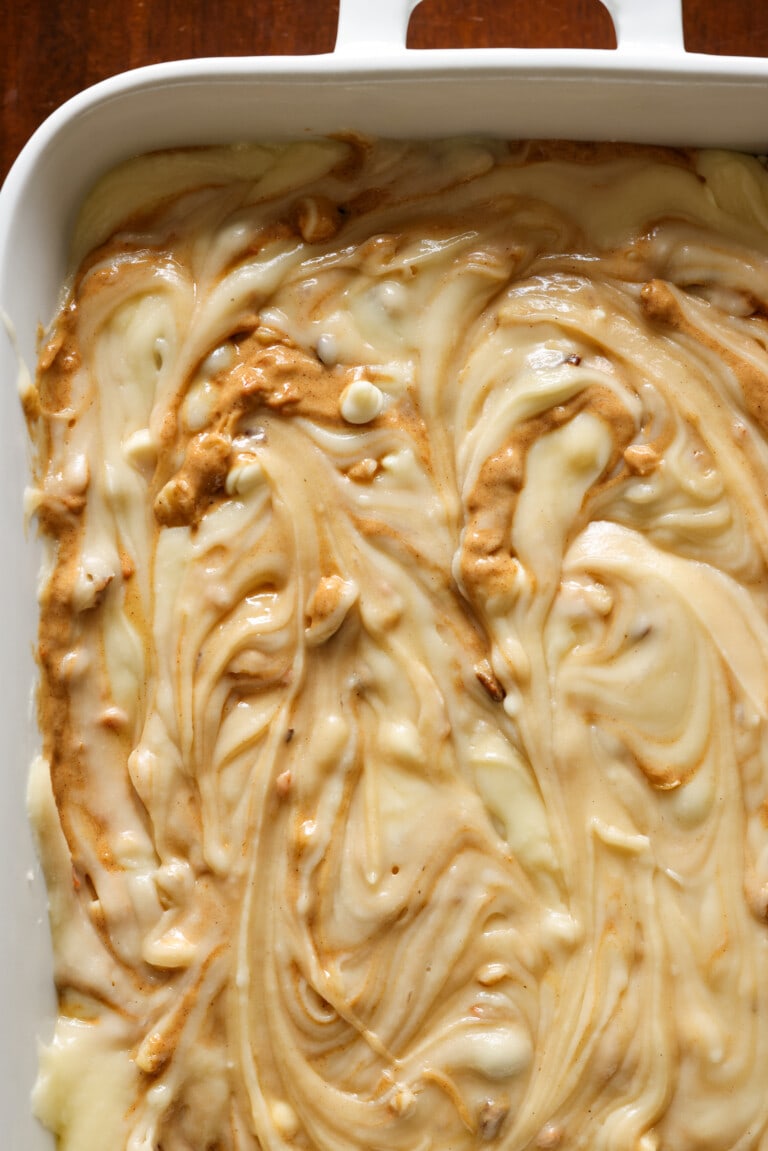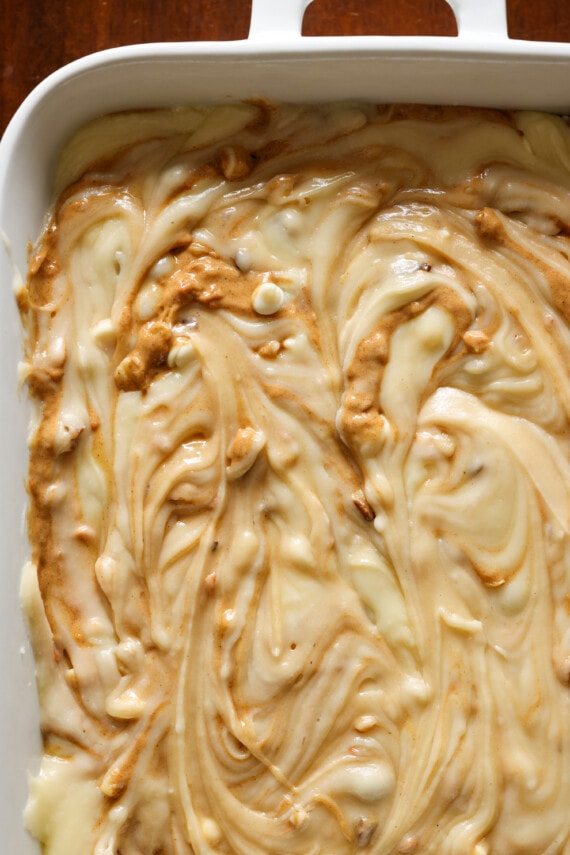 How To Make Carrot Cake Earthquake Cake/Instructions:
Preheat the oven to 350°F. Coat a 9×13 inch baking pan with nonstick cooking spray and sprinkle coconut in the bottom of the pan. Set aside.
In the bowl of your stand mixer fitted with the paddle attachment mix the dry cake mix, milk, oil, eggs, and drained pineapple on low for 30 seconds. Increase the mixer speed to medium and mix for 2 minutes, scraping the sides of the bowl as necessary. Alternately you can do this in a large mixing bowl with a hand mixer.
Pour the cake batter on top of the layer of coconut evenly in the pan and then sprinkle the white chocolate chips and walnuts on top. Set aside.
Place the cream cheese and butter in a medium saucepan over medium-low heat. Stir constantly, melting the mixture together until smooth. Remove from the heat and immediately whisk in the powdered sugar until combined and creamy.
Pour the cream cheese mixture evenly on top of the cake batter. Using a knife, lightly swirl the cream cheese mixture into the batter.
Bake the cake for 45 minutes. The edges will be set and the center will be slightly loose. If the top starts to brown too quickly, lightly tent the pan with foil.
Allow the cake to cool for about 30 minutes and slice and serve for a gooey cake. You can also allow the cake to cool completely before serving.
Tips for Success:
This is a pretty difficult recipe to mess up, with very minimal prep time. But of course there are a few tips I can share that are good to note:
Don't over-bake! Isn't this the case with any dessert, really? The thing about earthquake cake is that it will be a little loose in the center when it's done. The edges will be set and golden, but it will still jiggle a little. The gooey cream cheese swirled in will set up as it cools. Think of it like cheesecake, the center shouldn't be all the way set when it's time to take it out of the oven. You can insert a toothpick in about 2 inches away from the edge and it should come out clean.
Depending on how your oven bakes you might want to rotate the pan halfway through baking. And if you notice the top is getting too brown before it's done, simply tent a piece of aluminum foil over the pan to prevent the top from browning more.
No matter what flavor you make your earthquake cake: chocolate, vanilla, carrot cake, pumpkin…you can use the exact same method!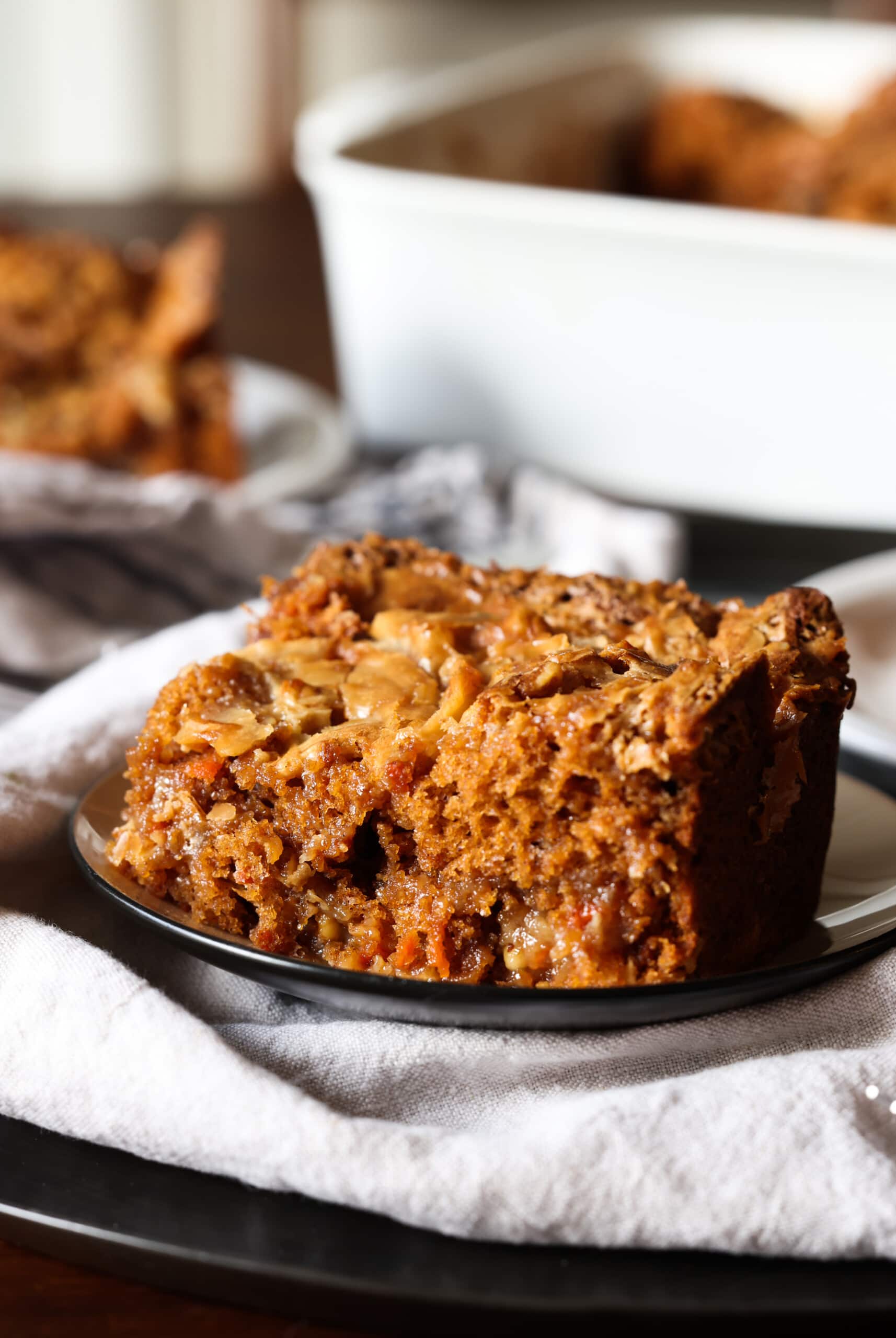 Add-Ins & Variations:
The add-ins in this carrot cake version of earthquake cake really work well, but here are some ways to switch it up:
Not into nuts? Leave them out!
Only have pecans? Swap those into the recipe instead of walnuts!
Don't love white chocolate? No problem, just omit the addition of white chocolate chips.
Can't find a box of carrot cake mix? You could use spice cake instead!
Toppings: Top this with whipped cream or a scoop of vanilla ice cream. Maybe even a drizzle of caramel or a sprinkle of cinnamon!
How To Store Earthquake Cake:
Cover the pan airtight with a lid or plastic wrap and store at room temperature for up to 3 days. You can also store this in the refrigerator if you are concerned about the cream cheese for up to 5 days.
CLICK HERE FOR THE FULL RECIPE!
PIN for later: