This chocolate lover's Earthquake Cake is a delicious and EASY chocolate cake recipe, made with simple ingredients, starting with a cake mix. It's gooey, rich, and completely over-the-top in the best possible way!
If you're a chocolate cake fanatic like me, be sure to try this ridiculous chocolate cake, this Nutella crunch cake, and this chocolate poke cake, too!
An Earthquake Cake For Chocolate Lovers!
We're shaking things up around here! In more ways than one. Firstly, we're making earthquake cake, so pun very much intended. Secondly, I've brought this incredible chocolate coconut cake recipe out of my mom's recipe box and into a new millennium.
This cake is chocolatey, it's coconutty. There's loads of gooey chocolate everywhere, and a sweet cream cheese layer that oozes out when it's warm. Unless you dislike chocolate (who ARE you?) and delicious desserts, there is so much to love about this scrumptious, moist, dreamy earthquake cake.
I hope you make this chocolate cake recipe, and then make it again, and again. It's sure to be an all-time favorite!
Why You'll Love This Earthquake Cake Recipe
Earthquake cake is simply the best! Here's why my family and I love this chocolate cream cheese cake:
Chocolate, chocolate, chocolate. Made with both chocolate cake mix and chocolate chips, this cake is filled with sweet chocolate flavor.
Fun to make and eat. This chocolate cake is filled with sweet cream cheese surprises, shredded coconut, and more, if you like (see variations below).
Quick and easy. You can make this cake in less than an hour, and it only takes 10 minutes of prep time! Easy peasy.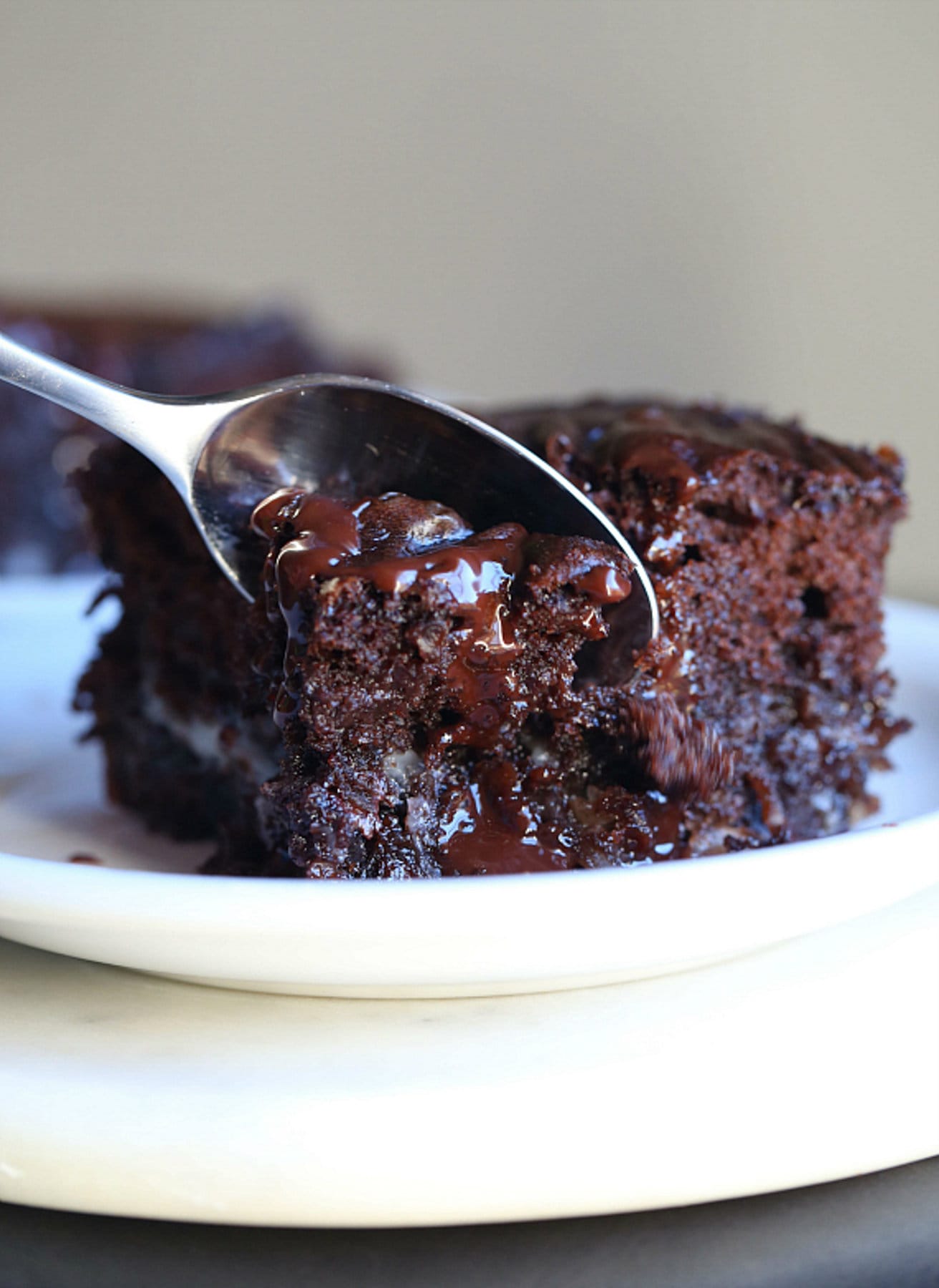 What Is Earthquake Cake?
If you grew up in the 80s, chances are you already know what earthquake cake is. I can't speak for all Eighties babies, but it was a quintessential dessert from my childhood, and a staple at functions like church potlucks. In essence, an earthquake cake is a cake that cracks open after baking, revealing rich crevices of sweet cream cheese. Traditionally, it's made with cake mix, shredded coconut, pecans, and a buttery, crackly cream cheese layer.
Recipe Ingredients
Since this recipe is extra 80s-tastic, we're going all out with boxed chocolate cake mix as the base. Gotta love a throwback! Here's everything you'll need, and be sure to check out the recipe card for the full amounts:
Coconut: I recommend using sweetened, shredded coconut.
Chocolate Chips: Feel free to use either semi-sweet or dark chocolate chips.
Chocolate Cake Mix: Add in your choice of boxed chocolate cake mix, and don't forget to pick up the ingredients called for on the package!
Cream Cheese: Use the cream cheese that comes in blocks, and not the spreadable tub kind. You'll need to cut it up into cubes.
Butter: Also cut up your butter into cubes. You can use salted or unsalted butter, whichever you prefer.
Powdered Sugar: To sweeten the cream cheese layer while keeping the texture silky smooth.
What Kind of Cake Mix Should I Use?
I used a triple chocolate cake mix (because my name is Shelly, and I'm a chocoholic). But you can really make this recipe with just about any kind of chocolate cake mix. Other good options include Devil's food cake, dark chocolate, Swiss or German chocolate cake mix, etc.
You don't have to limit it to only chocolate cake mixes either. Go ahead and try vanilla, strawberry, or lemon cake mix. How about funfetti earthquake cake? Sign me up. I'd love to know your favorite mixes for earthquake cake in the comments below!
How to Make Earthquake Cake
Let's get this recipe in motion! Get your oven preheated to 350°F while you prepare a 9×13 inch pan with a light coating of nonstick spray. Then, get started on assembling your cake:
Make the coconut layer. First, dump a mixture of coconut combined with chocolate chips into the bottom of your prepared pan.
Prepare the cake batter. Next, prepare your chosen chocolate cake mix batter according to the package directions. Pour this over the top of the coconut and chocolate layer.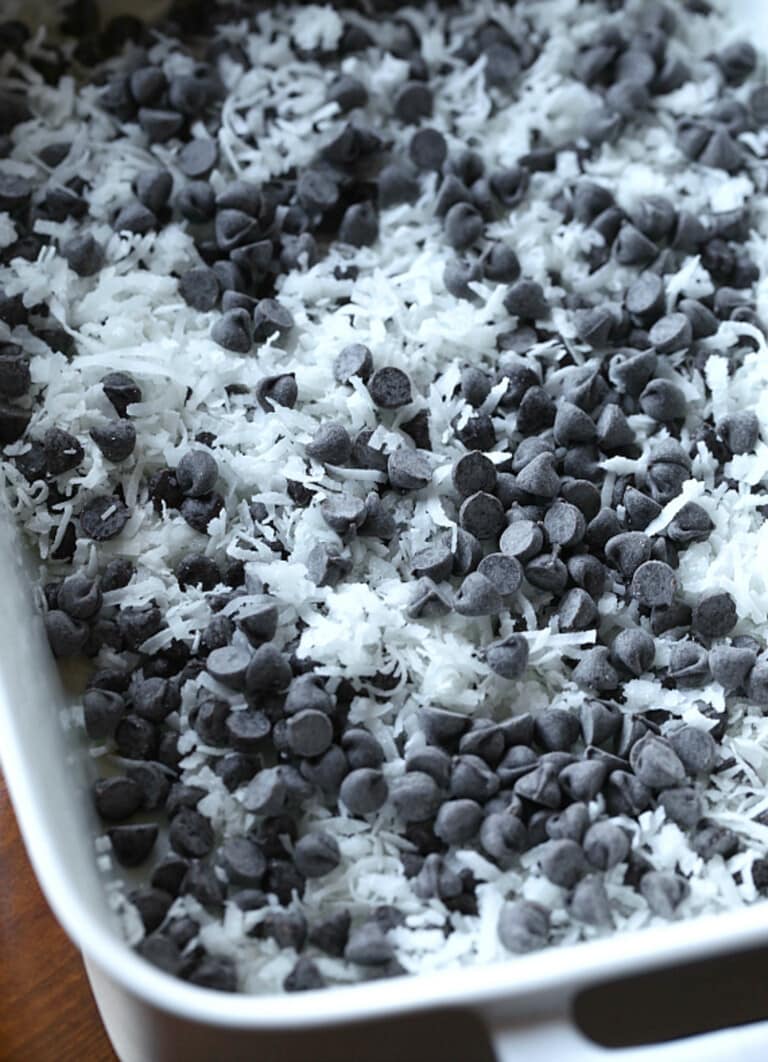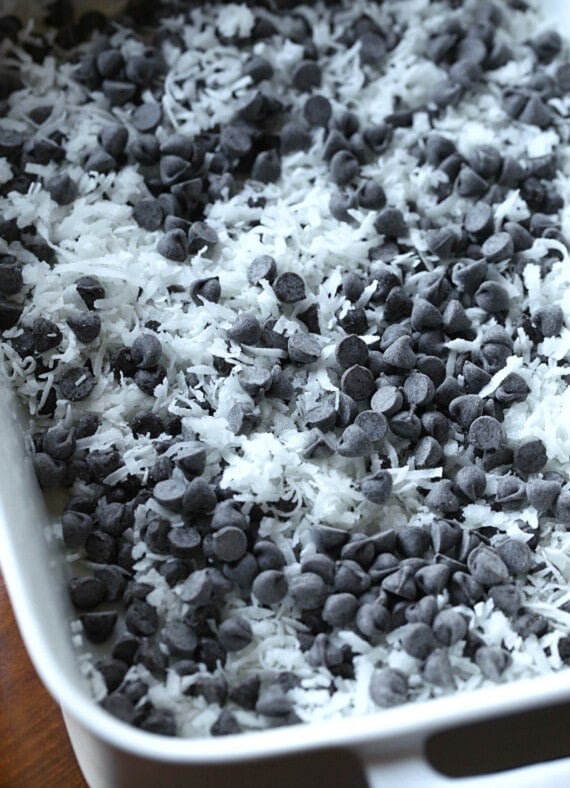 Add the cream cheese layer. Melt cream cheese and butter together, then stir in powdered sugar. Drizzle the mixture over the cake batter, and smooth it out a little. Don't worry if you notice that it's sinking a bit – mine always seems to. The charm of this cake is totally in its imperfection!
Bake the cake. Pop your cake into the oven until the edges are set, about 45 minutes should be perfect. Make sure the center of the cake still has a bit of wiggle.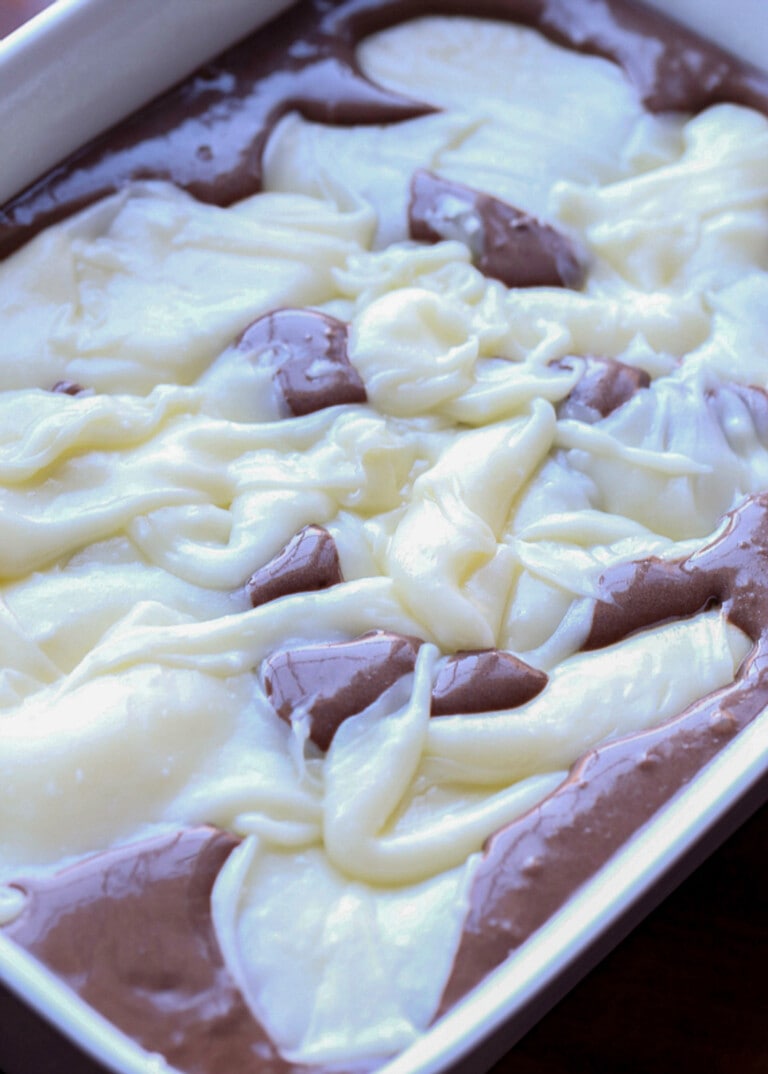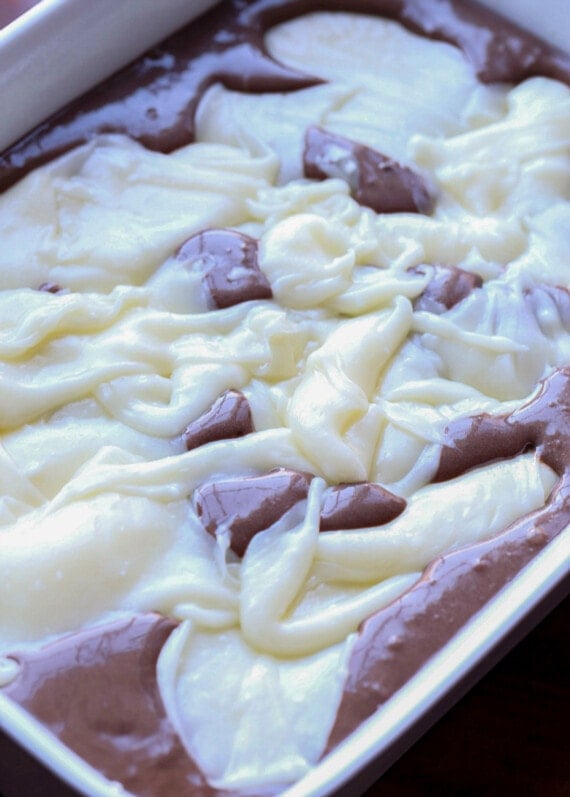 Cool and serve. Allow the cake to cool a half hour or so before slicing. Serve it warm for a molten, gooey cake (which is glorious with a scoop of ice cream, just saying), otherwise leave it to cool completely for cleaner slices. Either way you're going to LOVE it. Be sure to check out the section below for serving suggestions!
Watch This Earthquake Cake Come Together!
This video will show you how an earthquake chocolate cake comes together step by step:
Tips for Success
Your cake will, without a doubt, turn out amazing. I just know it! Here's my two cents to make sure this chocolate cream cheese cake is a definite success:
Don't over-bake. With earthquake cakes, the easiest way to check for doneness is to go by eye. Look for set edges and a slightly loose center. The classic toothpick test will not work for earthquake cake, since a toothpick won't come out clean even if the cake is ready! So use your judgment, but don't leave the cake in too long, as you still want that nice, gooey middle.
Embrace the imperfection. This cake isn't exactly "pretty" when it leaves the oven, but that's kinda the whole point! Besides, it's beautiful on the inside, with all it's ooey-gooey, chocolate flavors. And that's what counts.
Make sure the baking dish is big enough. It's best to use at least a 9x13x2 baking dish for this recipe so the batter doesn't overflow in the oven.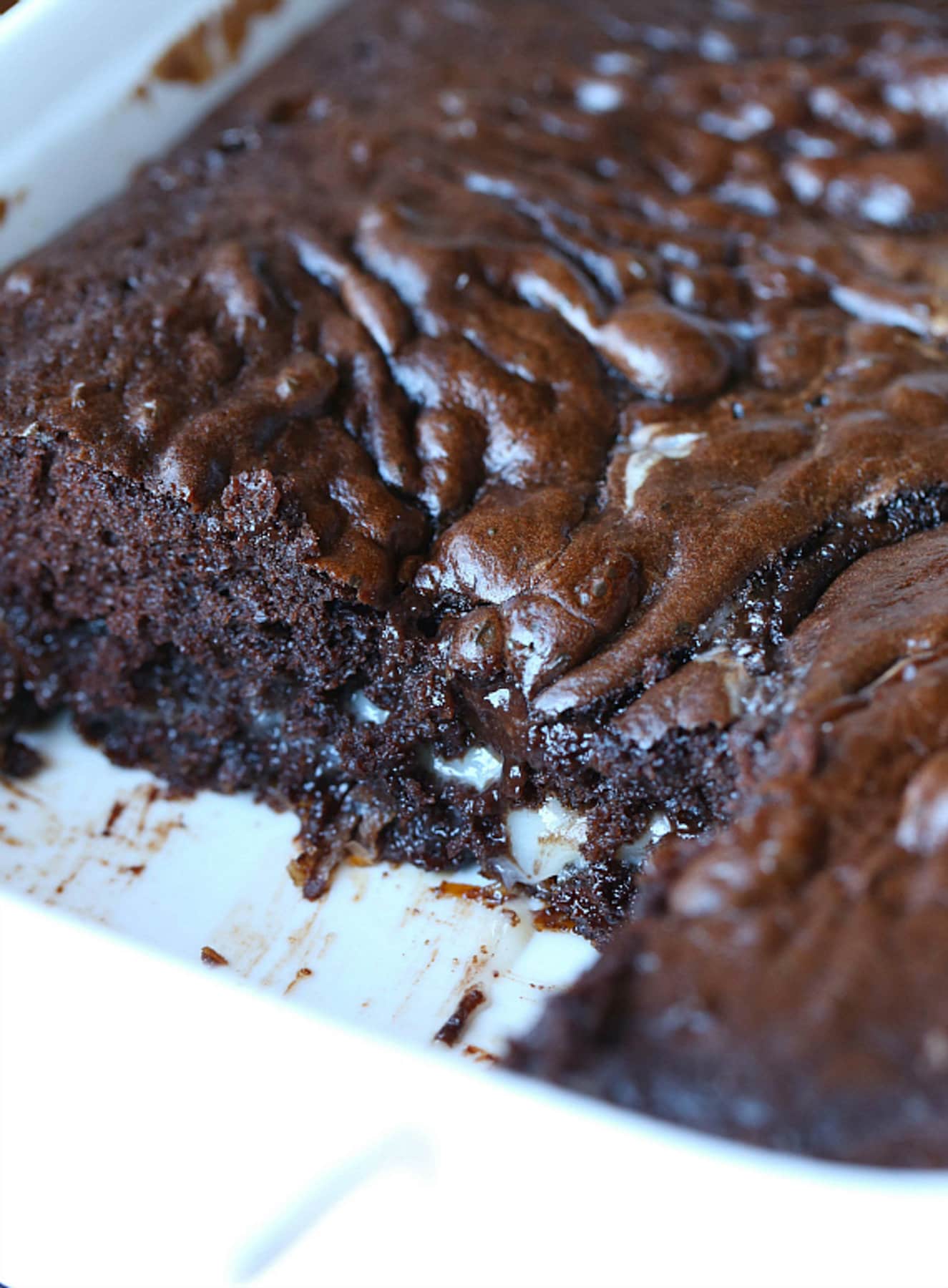 Substitutions & Recipe Variations
Try these easy ways to make this decadent chocolate cake recipe your own:
Pecans: At last, let's address the elephant in the room. You may have found yourself asking "but where are the PECANS?" It's true, most earthquake cake recipes include pecans. My mom's recipe even had nuts in it. I, however, have never liked nuts (who am I?), so I left them in the 80s for this recipe. All this to say: if you love your earthquake cake with pecans in it, please go ahead and add them back in!
Other Nuts: This recipe will also work with different nut varieties like almonds, hazelnuts, and walnuts. Live your best nut-loving life, I won't stop you.
Oreos: Make Oreo earthquake cake by swapping out the chocolate and coconut layer with a layer of Oreo cookies instead. Then assemble the rest of the cake as normal, sprinkling crushed Oreos overtop before baking.
Peanut Butter: Melt a spoonful or two of peanut butter into the butter and cream cheese mixture. Go all out and sub in peanut butter chips in the chocolate chip layer!
Strawberry Earthquake Cake: Trade the semisweet chocolate chips for white chocolate chips, and the chocolate cake mix for strawberry cake mix. As mentioned earlier, you can also try this variation with lemon or vanilla cake mix!
Pumpkin Earthquake Cake: I have an awesome recipe for pumpkin earthquake cake that uses yellow cake mix and pumpkin puree. It's the ultimate fall dessert!
Serving Suggestions
Looking for ways to serve your hot mess of a cake? You can go as simple as enjoying a slice of earthquake cake with a glass of milk, or up the ante with these easy serving ideas:
Ice Cream: This recipe is completely bonkers served warm with a scoop of vanilla ice cream. Try it and see!
Sweet Sauces & Syrups: Max out the goo factor and drizzle your earthquake cake with hot fudge sauce, strawberry syrup, or caramel sauce.
Whipped Cream: Top it with whipped cream, because why not.
Coconut Flakes: Sprinkle your cake with coconut flakes (toasted or not).
How to Store Earthquake Cake
Store this cake in an airtight container in the fridge for up to 3 days. I like to warm the cake in the microwave for a few seconds before serving, but that's optional.
Can I Freeze This Cake?
You bet! Freezing earthquake cake is as easy as wrapping it tightly in plastic wrap, either whole or in slices. Take your cake out of the freezer to thaw in the fridge before warming and/or serving.
More Chocolate Cake Recipes
Can't get enough when it comes to chocolate cake? Me neither! Here are some of my favorite recipes:
Print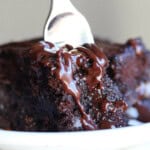 Chocolate Earthquake Cake
Author:

Prep Time:

10 minutes

Cook Time:

45 minutes

Total Time:

55 minutes

Yield:

1

2

1

x

Category:

Cake

Method:

Oven

Cuisine:

Dessert
---
Description
Shake up your dessert routine with this chocolate lover's Earthquake Cake! A delicious and EASY chocolate cake recipe that's gooey, rich, and completely over-the-top in the best possible way.
---
1 1/2 cups

shredded sweetened coconut

1 1/2 cups

semi-sweet chocolate chips

1

box chocolate cake (plus ingredients called for on the box)

8 ounces

cream cheese, cubed

1/2 cup

butter, cubed

4 cups

powdered sugar
---
Instructions
Preheat the oven to 350°F
Coat a 9×13 pan with nonstick spray.
In a large bowl combine the coconut and chocolate chips. Pour this mixture evenly into the bottom of the prepared pan. Set aside.
In the bowl of your stand mixer fitted with the paddle attachment prepare the cake mix according to the package directions.
Pour the cake batter on top of the coconut mixture.
Place the cream cheese and butter In a medium saucepan over medium- low heat. Stirring constantly melt mixture together. Remove from the heat immediately and stir in the powdered sugar until the mixture is smooth.
Carefully drizzle this on top of the cake batter. Try and smooth it out so it covers all of it. If it sinks it's fine.
Bake the cake for 45 minutes. The edges will be set and the center will be slightly loose.
Allow the cake to cool for about 30 minutes and slice and serve for a gooey cake. You can also allow the cake to cool completely before serving.
---
Notes
To store. Store airtight, refrigerated for up to 3 days. I like to warm the cake in the microwave before serving, but you don't have to!
To freeze. Freezing earthquake cake is as easy as wrapping it tightly in plastic wrap, either whole or in slices. Take your cake out of the freezer to thaw in the fridge before warming and/or serving.
Nutrition
Serving Size:

1 slice

Calories:

668

Sugar:

70.1 g

Sodium:

400.3 mg

Fat:

35 g

Carbohydrates:

87.1 g

Protein:

6.5 g

Cholesterol:

90.6 mg
Keywords: earthquake cake, earthquake cake recipe, chocolate cream cheese cake
Want To Save This Recipe?
Find more recipes like this: