Cherry Coconut Bars are the ultimate nostalgic cookie bar. A buttery shortbread crust is topped with a chewy coconut and cherry filling, baked to perfection.
Make sure to try my Chewy Coconut Bars too!
Cherry Coconut Bars Are A Classic!
Stop what you are doing right now and make these bars. Even if you don't like cherries. Even if you don't like coconut. These Cherry Coconut Bars are literally one of my latest obsessions. I don't know what makes them SO GOOD, but they are. They ARE.
Disclaimer: I DO like coconut but DON'T like cherries…especially maraschino cherries, and these are STILL a 10/10 from me. I promise you, there's magic sprinkled inside.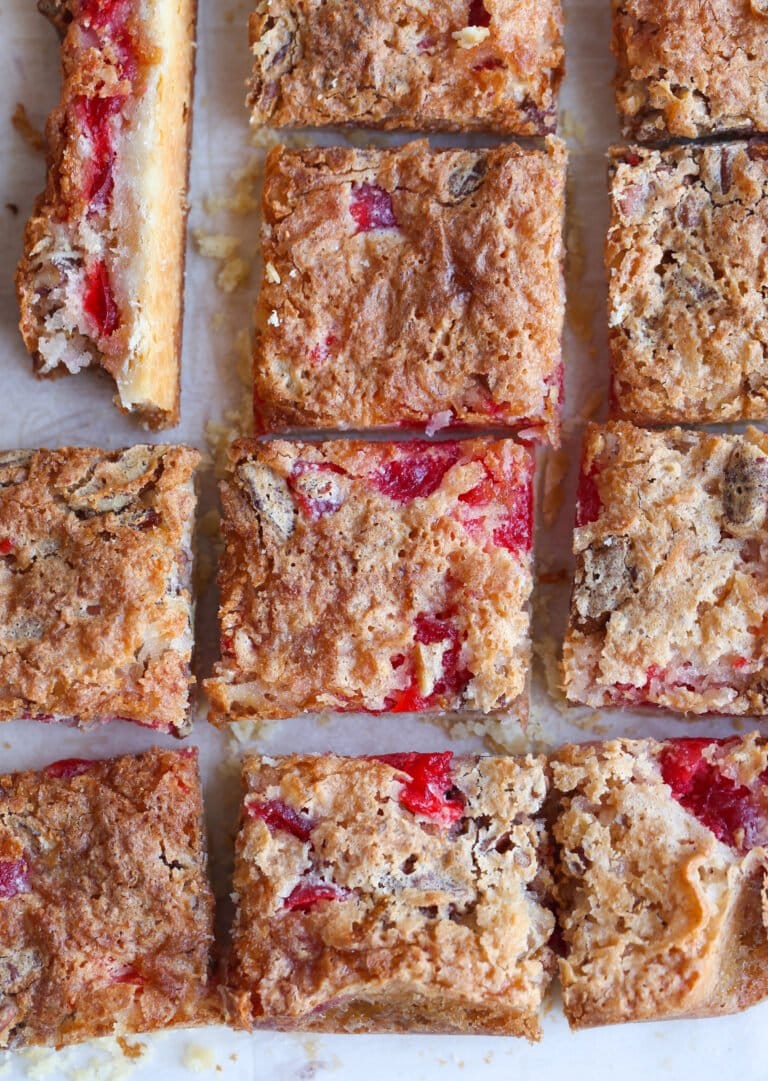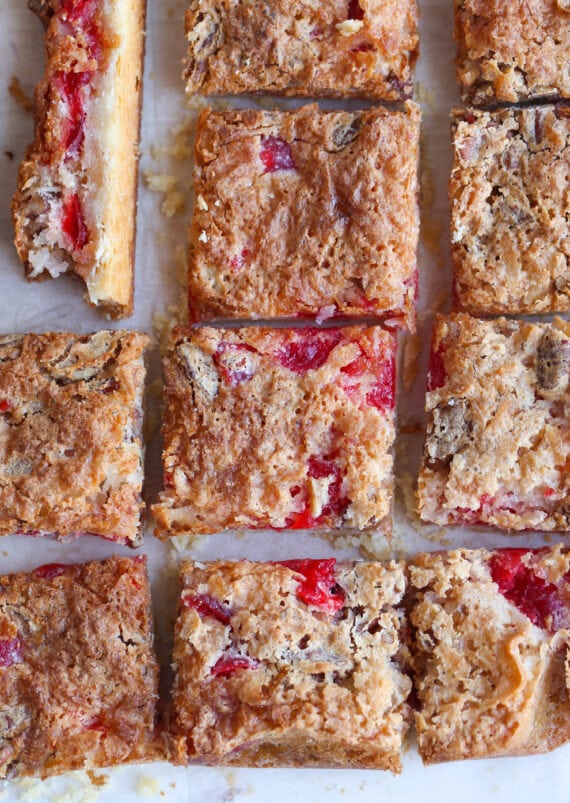 Ingredients You Will Need:
For the Crust:
1 cup all purpose flour
1/4 cup powdered sugar
1/2 cup salted butter, cold and cubed
For the Filling:
1 cup granulated sugar
2 large eggs
1 teaspoon vanilla extract
1/2 teaspoon baking powder
1/2 teaspoon kosher salt
1/4 cup all purpose flour
1/2 cup chopped walnuts
1/2 cup chopped maraschino cherries
1/2 cup sweetened flaked coconut
Step By Step:
Crust: Preheat your oven to 350°F. Line a 9×9 pan with parchment paper and coat lightly with baking spray.
In a medium bowl combine the flour and sugar. Add in the cubed butter and using a pastry cutter cut it in until combined and crumbly. Then use your hands to press and squeeze the mixture together.
Press the mixture into the prepared pan and bake for 12-13 minutes until lightly golden.
Remove the pan from the oven and place on a wire rack to cool slightly while you prepare the filling.
Filling: In a medium bowl mix together the sugar, eggs, vanilla, baking powder, and salt using a rubber spatula until evenly combined and smooth. Add in the flour and stir until just combined. Stir in the walnuts, cherries, and coconut until evenly mixed.
Spread the filling on top of the crust and bake for 20 – 25 minutes until set and lightly golden.
Allow the bars to cool completely in the pan before cutting.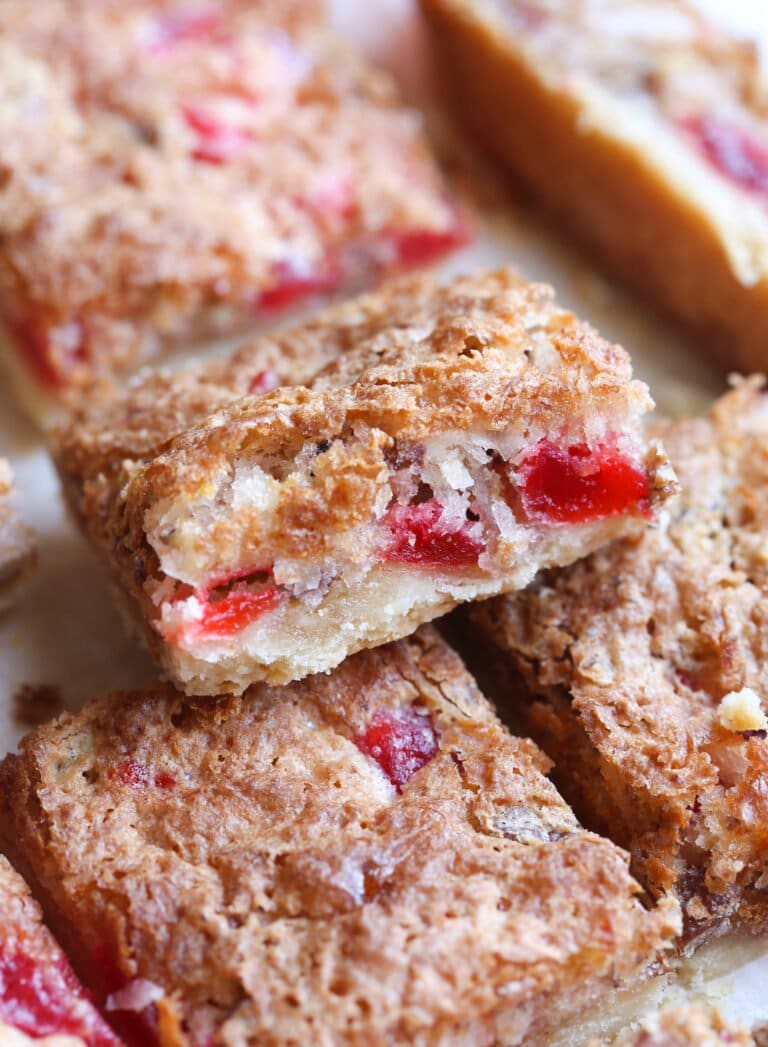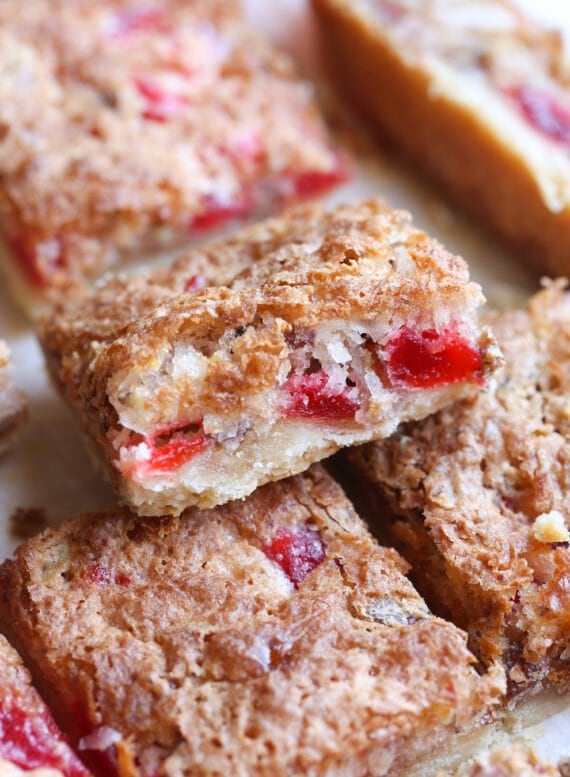 How To Store:
Store these airtight at room temperature for up to 3 days!
Do Cherry Coconut Bars Freeze Well?
Absolutely. These bars will freeze beautifully. You can freeze them cut or uncut for up to 30 days for best freshness. Just store them airtight in your freezer!
But What If You Don't Like Coconut?
Well…I think you might be out of luck here. The coconut is an essential part of the filling and the flavor profile, so I might recommend trying another recipe!
Can You Use Another Type Of Fruit?
Sure! I would recommend blueberries. They would be great here. You don't want to use a fruit that has too much liquid, as it will add moisture to the bars, changing the texture.
Are the Nuts Essential?
Kind of. But you can leave them out. Or yes, you can replace them with another nut, like a pecan!
Disclosure:
I partnered with Imperial Sugar on this recipe, so make sure to hop over to their site to PRINT THE FULL RECIPE.