My Chicken Salad Recipe uses a secret ingredient that you will LOVE! I'm going to show you how to make the best chicken salad with easy, simple ingredients and shredded rotisserie chicken!
Chicken Salad Is My Go-To Lunch!
Chicken Salad is one of those simple recipes that everyone makes differently. I have been making my version of chicken salad for years, and I felt like it was time I shared it with you! You don't need a lot of crazy ingredients to make the best chicken salad, which is why I make it so often. It's one of my go-to lunch recipes that can be made with very minimal effort.
I usually enjoy mine on a bed of lettuce, but on a croissant, some whole grain bread, or even a Sweet Dinner Roll would be delicious!
What's The Secret Ingredient?
Yep, I teased you on the secret ingredient and I am ready to spill it! I LOVE adding pickles to my chicken salad…not just pickle relish, but diced dill pickles, but that's not super unusual. What I like to add for that extra flavor is a splash (or two) of pickle juice!!
Why Add Pickles?
Diced pickles add salty flavor and crunchy texture. I am a pickle girl, and while this recipe calls for 1/2 cup of diced pickles, I usually add some extra. And I will add that I have found that crunchy "New Pickles" or the brand Claussen are my favorite. They are not quite as briny and extra crunchy. BUT I also think Bread and Butter Pickles could be super good and take this in a different direction, so get creative!
Pickle Juice, Really?
Stay with me here…pickle juice is basically seasoned vinegar that is used to brine the pickles. AND lots of chicken salad recipes call for lemon juice, which is also acidic, so it's not a huge jump! Plus, you get the salty flavor from the pickle juice as well, which helps season the chicken salad! I'm telling you, try it!!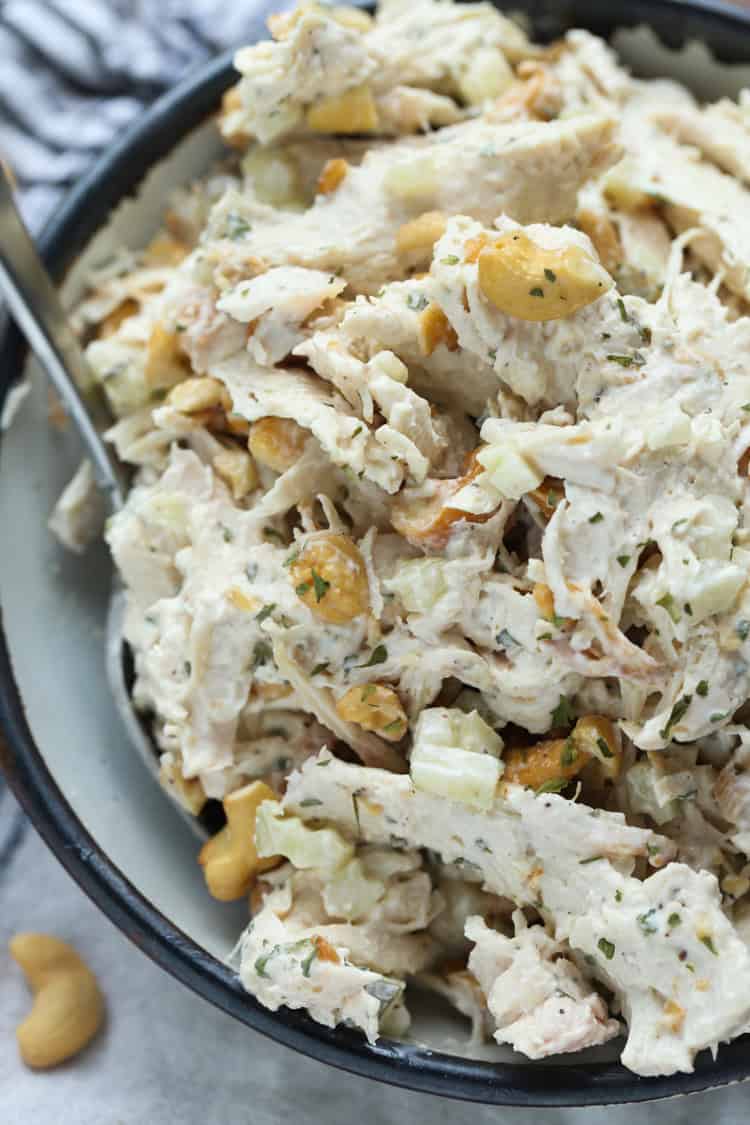 What Ingredients Do You Need?
Luckily you probably have everything you need in your kitchen right now…as long as you have the chicken! Here's what else you will need:
Mayonnaise: I always prefer to use Hellmann's mayo. No low-fat or (gasp) Miracle Whip for me!
Seasonings: I keep mine simple with just salt, pepper, parsley, garlic powder, and onion powder. I don't like raw onions, so the onion powder gives great flavor without the crunch of the onion. If you do like onions, you can add in 1/4 cup of diced onions!
Cashews: I LOVE adding lightly salted nuts into my chicken salad for texture. You can use other nuts in place if you're not a cashew fan, or obviously omit altogether.
What Type Of Chicken Do You Use In Chicken Salad?
My favorite way to make this is with a rotisserie chicken. I pick them up at the supermarket pretty much every time I am there. BUT if you don't have a rotisserie chicken you can easily make shredded chicken at home in under 25 minutes!
PRO TIP: Shred the rotisserie chicken while it's still warm, it's SO much easier!
If you have leftover baked or grilled chicken you can absolutely use that too! AND if you plan ahead I absolutely recommend using my chicken marinade if you're preparing the chicken yourself. It makes the chicken salad super flavor-packed!
What Else Can You Add To Chicken Salad?
This is where you can get creative! Use my recipe as a base and let play with ingredients to find your favorites! You can easily switch this up from being a savory to, simply by omitting the pickles and pickle juice and adding in diced apples, or grapes and add lemon juice or apricot preserves! Here are some other ideas:
Olives
Capers
Diced Bell Pepper
Diced Celery
Diced Onion
Mandarin Oranges
Chives
Seasonings: Basil, Oregano, Tarragon, Curry Powder,
Avocado
Raisins or Craisins
Hard Boiled Eggs
Cucumbers
Do I Have To Add Cashews To This Recipe?
Of course not! You can add pecans, walnuts, or pistachios if you liked the idea of adding nuts. If you are allergic to nuts or just don't like them, absolutely leave them out!
Also note that if using cashews, the longer they sit in the salad, the softer they will become. So if you have this leftover the cashews lose a bit of their crunch. It's still delicious, but worth noting.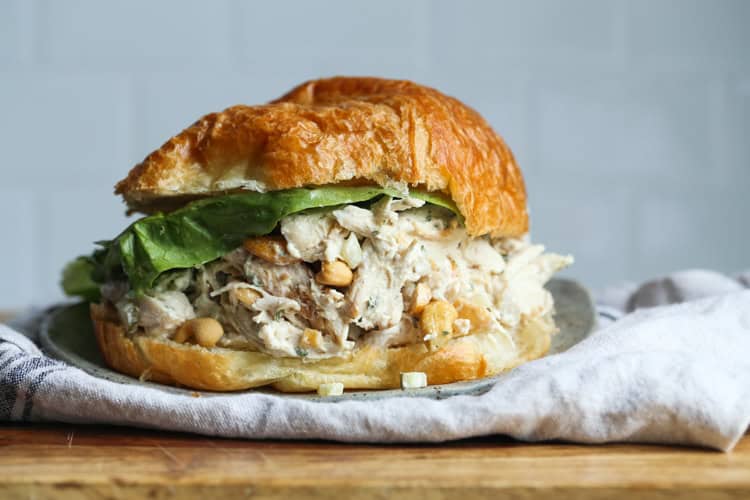 How Long Does Chicken Salad Last?
There are a few answers to this. If the chicken is cooked the same day that you prepare the chicken salad, it will be good for 3-4 days in the refrigerator stored in an airtight container. If you're using leftover chicken, the chicken salad will be good for 3-4 days from when the chicken was cooked.
Looking for More Salad Ideas? Try These:
Print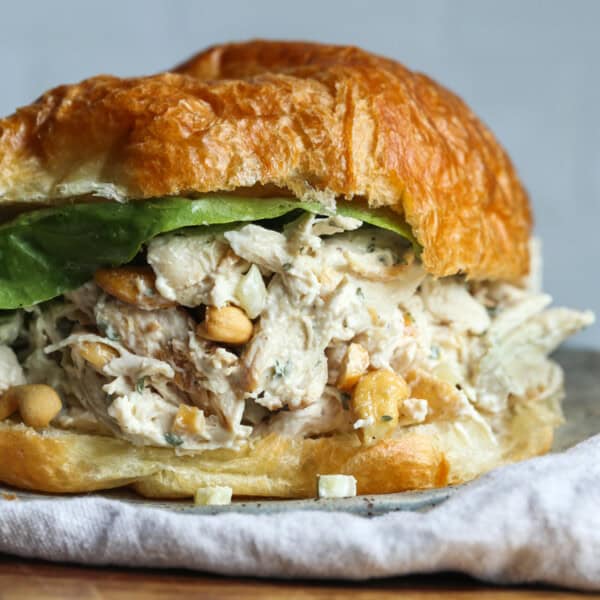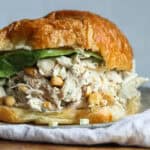 Chicken Salad Recipe
Author:

Prep Time:

10 minutes

Cook Time:

0 minutes

Total Time:

10 minutes

Yield:

serves 4

Category:

Salad

Method:

Mixing Bowl

Cuisine:

Lunch
---
Description
My Favorite Chicken Salad Recipe Ever!
---
4 cups

shredded chicken (approximately

1

Rotisserie Chicken)

1/2 cup

mayonnaise

1/2 teaspoon

kosher salt

1/2 teaspoon

ground black pepper

1/4 teaspoon

garlic powder

1/4 teaspoon

onion powder

1 tablespoon

dried parsley

1/2 cup

diced dill pickles

1/2 cup

chopped cashews
splash of pickle juice
---
Instructions
In a medium mixing bowl combine the chicken and the mayonnaise until evenly mixed.
Add in the salt, pepper, garlic powder, onion powder, parsley, pickles, and cashews. Stir until combined.
Add a splash of pickle juice, about a tablespoon. Mix in. Taste and add more if desired.
Serve over lettuce, or on a sandwich.
---
Notes
To make this a sweeter chicken salad, omit the garlic powder, onion powder, and pickles. Add in diced apples or grapes in place of the pickles. And add in a tablespoon of apricot jam in place of the pickle juice.
You can also sub out the cashew for walnuts or pecan if desired.
Store airtight in the refrigerator for up to 3 days.
Nutrition
Serving Size:

1 cup

Calories:

371

Sugar:

2.1 g

Sodium:

488.1 mg

Fat:

33.7 g

Carbohydrates:

9.9 g

Protein:

9.5 g

Cholesterol:

21.2 mg
Keywords: chicken salad, cookies and cups, chicken, chicken recipe, pickles, cashews, chicken salad recipe
Want To Save This Recipe?
Find more recipes like this:
PIN for later!