Homemade Chicken Stock is an absolutely incredible base for making recipes flavor-packed, or even good enough to sip on its own.
After you make this stock, make sure to try my Chicken Noodle Soup Recipe! It's THE BEST!
Nothing Compares To Homemade Chicken Stock!
I have been making Chicken Stock for years. It's one of those recipes that I try to make often, but not often enough. Ever since the quarantine began last March we have been making this on repeat. I had always used Ina Garten's chicken stock recipe, so mine resembles hers, but over the years I have tweaked it to exactly how I like it.
Is Chicken Stock the Same As Chicken Broth?
This is a very reasonable question. We see in the stores boxes of chicken broth sold next to boxes of chicken stock and wonder what's the difference…at least I have!
Here's the easy explanation:
Broth: Chicken (or any kind of broth) is a liquid that has had meat cooked in it, for example poaching chicken breasts in water with some spices and vegetables with create a broth. Broth is thinner in viscosity, a little lighter in flavor than stock, and is quicker to make!
Stock: Stock is made from simmering meat on the bones (like in this recipe whole chickens) along with veggies and spices. The bones release collagen into the liquid as they cook which adds extra health benefits, but also will give it a gel-like texture when it's chilled. This can be a little jarring the first time you make it and go to reheat the leftovers, but know that as soon as it's warmed it becomes liquid once again! The process of creating stock (or bone broth) takes much longer than a broth, which can be done relatively quickly!
Why Doesn't the Store-bought "Stock" Become Gel In the Box?
I have often wondered this and the only explanation I can find is that the amount of liquid that is used in the mass production of "stock" outweighs the viscosity of the collagen left behind from the bones. This is why homemade is so much more flavorful…because you aren't watering it down!
Also I will note that good brands of stock will be a little thicker than their broth counterparts, which is good to see from a shelf-stable stock.
You can also find stock in the refrigerated (or frozen) sections of certain supermarkets. These brands are generally more like a homemade stock.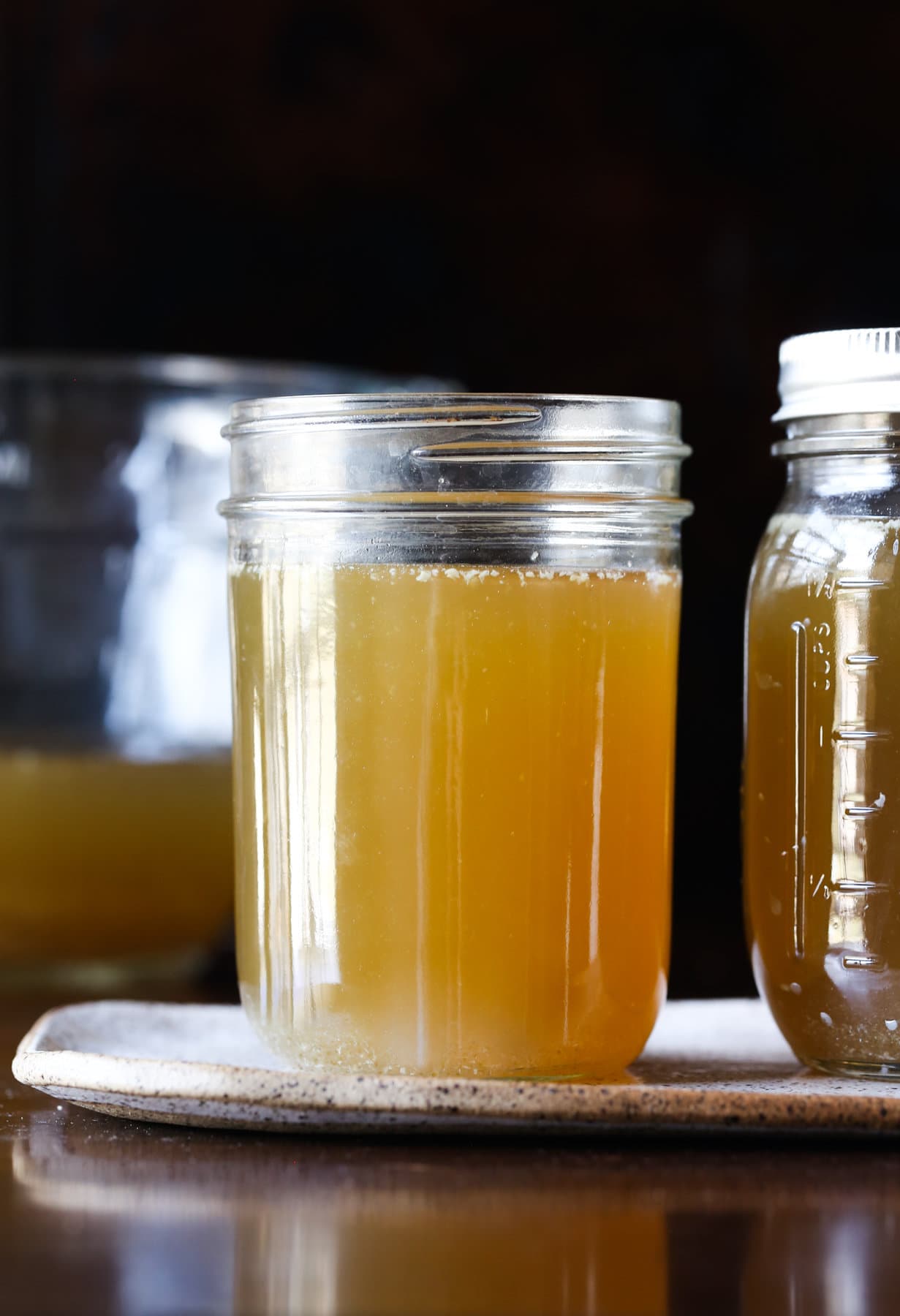 Ingredients:
whole roasting chickens
carrots
yellow onions
celery
fresh thyme
fresh parsley
fresh sage leaves
garlic
water
kosher salt
whole peppercorns
How To Make Chicken Stock:
The steps are super simple, and the prep time is minimal for homemade stock. I've outlined it in detail below in the full recipe, but long story short you simply put all your ingredients in a stock pot and boil them uncovered for 4 hours. That's literally it!
When the four hours is up, remove all the solids, meat and all, from the pot and discard. Then strain the stock using a colander or sieve to strain out all the little bits that remain. I prefer using a mesh sieve, as it strains it better than a colander (the holes are smaller). This makes the clearest, prettiest stock!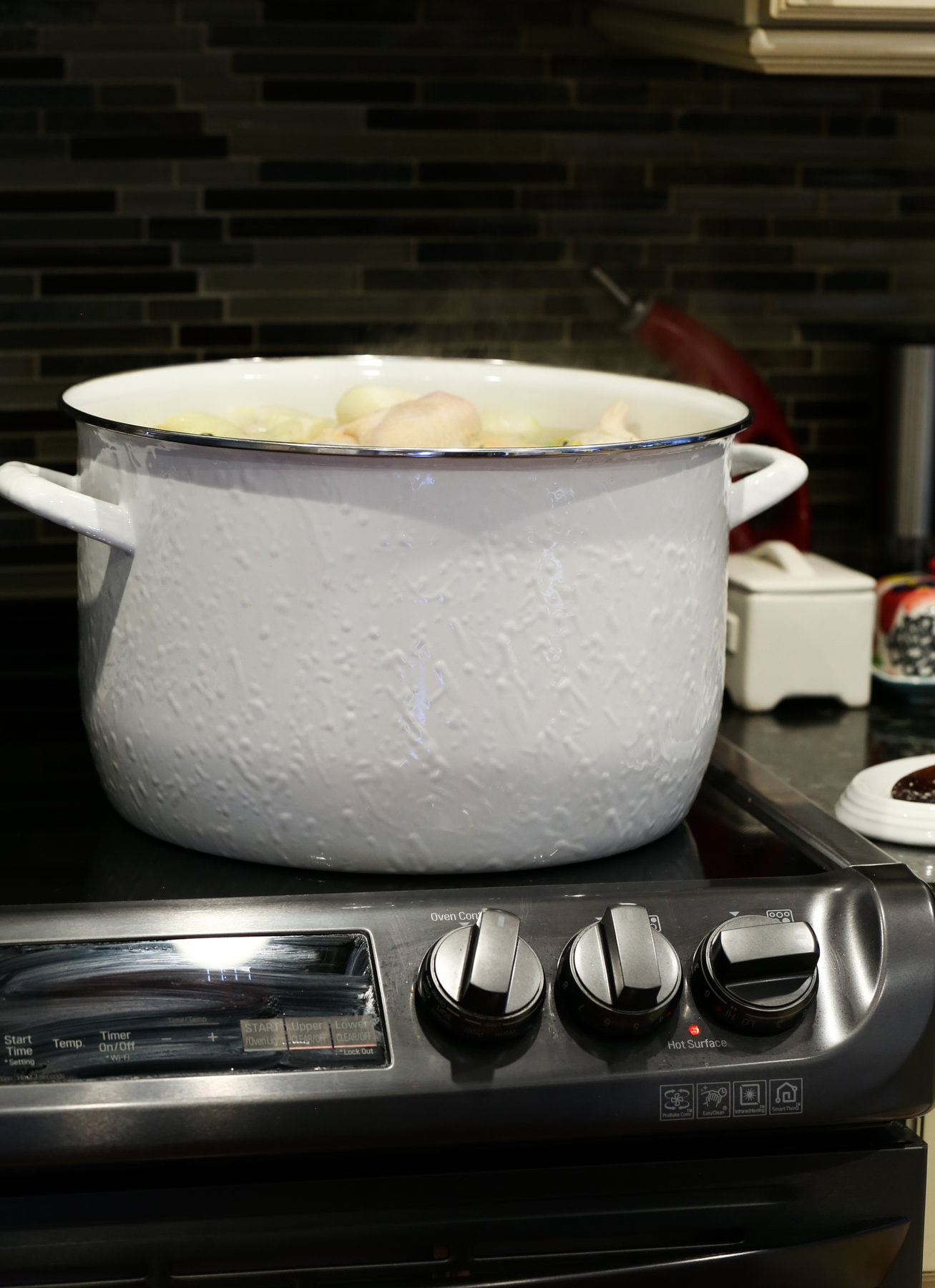 TIPS:
Make sure you skim off that yucky foam that comes to the top as it begins to boil. These are impurities from the ingredients and if you don't skim them your stock can become cloudy.
You don't have to stir your stock very often while it's cooking, just adjust the ingredients using a spoon occasionally, ensuring that nothing is sticking, and that all the ingredients are submerged.
You can adjust the seasonings as you like. Try adding in other aromatics as you prefer!
Simmer your stock uncovered, as this reduces the liquid as it cooks, intensifying the flavors!
What Size Pot Do You Use?
So this recipe makes a large amount of stock. Since it's an all-day process making it in bulk is nice to do, but yes you do need a large pot. Know that I used to always half the recipe before I found a pot I really liked, making it in a smaller pot. But having a large one is nice.
So many large pots are super tall, which I always hated, but I found THIS POT that I have been using and I love it so much. It's super pretty, but a really great weight…not too thin and not too thick.
You want to avoid a a very thin-metal pot as it can cause sticking and hot spots in the pan.
But You Really Throw Out All the Ingredients?
I know it seems like a huge waste of ingredients…it was a whole thing I had to come to terms with too.
The vegetables will be very soft and there isn't a ton you can do with them at this point. The chicken will be very soft as well, maybe to the point of being a little mushy. It's a texture thing for sure. Everything is SAFE to eat, but it's just not ideal. I have heard that you can chill the chicken and use it in a chicken salad, which would probably be the best way to use it if you really are opposed to tossing it.
If you don't want to spend the money on whole chickens to make stock with, you can use a combination of wings, necks, and backs which are generally less expensive.
Removing the Fat…
A lot of fat will come from 3 whole chickens, and you don't need this for flavor in your stock. Here's how I like to remove the fat:
After straining the stock, allow it to cool and then store it airtight in the refrigerator for 4 hours or overnight. The fat will rise to the top, and when it's cold it's very easy to remove.
If you would like to enjoy the stock immediately after making you can skim the fat off of the top while it's warm. You will see it on top, creating a glossy appearance. Just use a large spoon and spoon it out as best you can. This won't remove as much as the chilled method, but it works!
OR you don't have to remove the fat at all if you really just don't want to…but I have a feeling after it's chilled and you see it become solid on the top, you will want to toss it.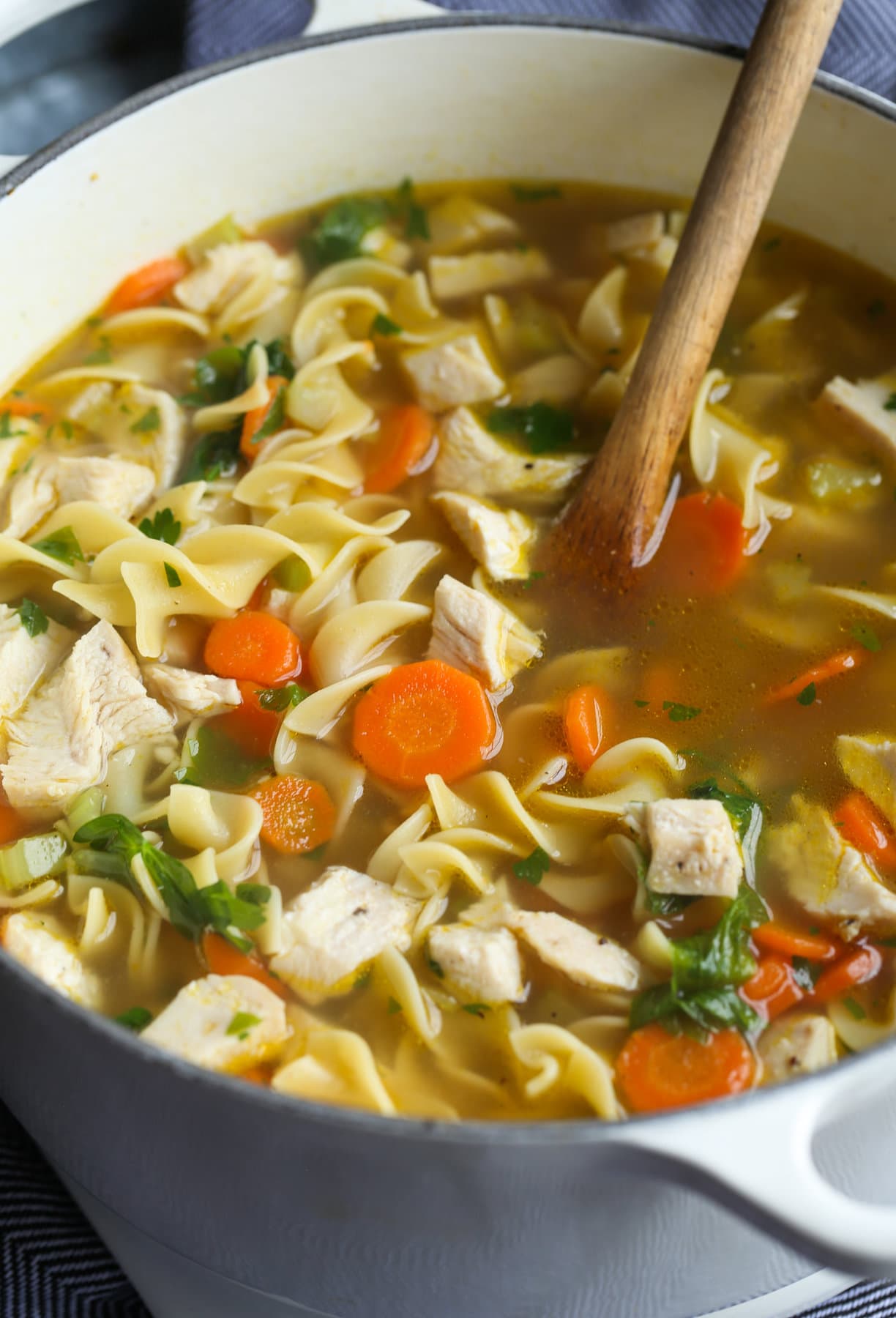 What Can You Make With Chicken Stock?
Besides the obvious, Chicken Noodle Soup, just sipping it by itself (delish!), in gravy, or to replace water in rice or pasta dishes, here are a few more of my recipes that use chicken broth/stock. And like I mentioned above, stock and broth can be used interchangeably, so whenever you see chicken broth listed as an ingredient, use this homemade stock instead. It makes a HUGE impact!
How To Store…
This recipe makes a lot of stock, about 6-quarts. You can portion it out and store it in airtight containers or zip-top bags to refrigerate (for up to 3 days) or freeze for later use (I recommend 30 days for best taste, but it will be safe to eat for up to 3 months.)
I like to store it in 2 cup portions. The boxes you buy at the store generally contain 4 cups, so if you find yourself using that much regularly, you can portion it out in large quantities. I just always find that I use stock or broth in 1 or 2 cup amounts.
If you are planning to use this only for soup, obviously storing it in larger container would work best!
I have even seen people freezing the stock into ice cube trays. This would be great when you need very small amounts of broth, or even like to use it to enhance dog food!
Is It Supposed To Look Like Jello?
Like I said above, the chilled stock will be like gelatin. This is due to the collagen from the bones. As soon as you heat the stock it will become liquid again, so don't let this worry you! The gelatin lets you know you have a ton of collagen in your stock, which is offer tons of health benefits regarding your bones, skin, hair, muscles, tendons, and ligaments. Definitely take the time to research the benefits of bone broth!
Print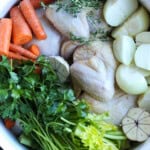 ---
Description
There is nothing like Homemade Chicken Stock. Once you start making it yourself you'll never go back to store bought. It's a process, but so worth it!
---
3

(5 pound) whole roasting chickens, bag of giblets discarded

8

whole carrots, unpeeled and halved

4

medium yellow onions, peeled and cut in half

6

celery stalks, cut in thirds with leaves

30

sprigs fresh thyme

25

sprigs fresh parsley

10

fresh sage leaves

1

head garlic, unpeeled and cut in half

7 quarts

water

2 1/2 tablespoons

kosher salt

1 tablespoon

whole peppercorns
---
Instructions
Place chicken, carrots, onions, celery, thyme, parsley, sage, and garlic in a large (18 – 20 quart) stock pot.
Add in water, salt, and peppercorns. Heat over medium-high heat until boiling. Reduce heat and simmer for 4 hours uncovered. Skim off the foam and discard as the stock boils.
After 4 hours, use a slotted spoon and remove all the solids from the pot and discard. Strain the stock through a sieve or colander to remove any small remaining solids. Cool stock before storing.
Recommended – chill the stock overnight and remove the fat that forms on top. Store in the refrigerator or freeze for up to 30 days.
---
Notes
Stock will solidify in the refrigerator creating a gel-like texture. This is due to the collagen extracted from the bones as you boiled the stock. Once heated it will become liquid.
Refrigerate for up to 4 days.
Freeze in large zip-top bags to save space!
Want To Save This Recipe?
Find more recipes like this:
PIN for later: