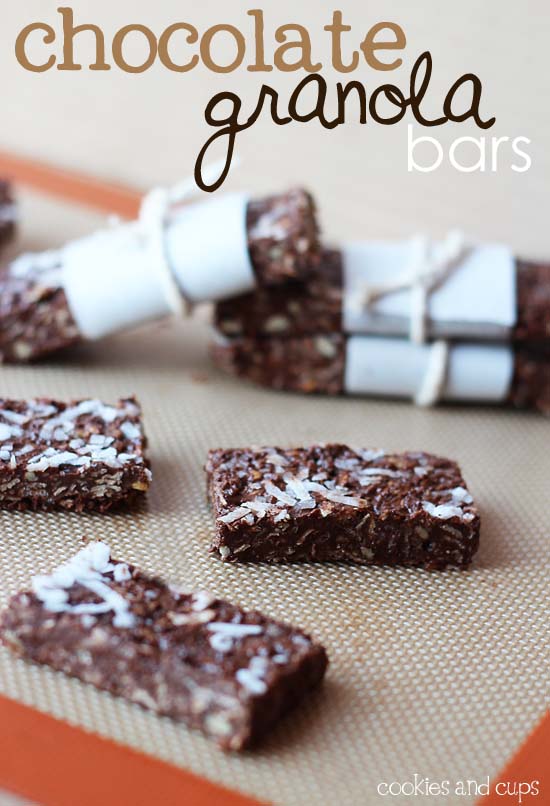 I am not an outdoorsy person.
When I was younger I tried to convince myself that I was.
So many of my friends would plan camping trips, or river excursions, or hikes.
I would pretend to be excited.  Because I am what the world likes to refer to as a joiner.  Camping out?  I'm in!
Hiking through the woods?  I'll be there!
Floating down a river in a tube?  Umm, ok!
I'm still unsure of why I had so many outdoorsy friends.
My early 20's were obviously a time of soul searching.
What I learned from those days of experimentation is that I am not a happy person in the woods.  I do not enjoy the sounds that critters make before they jump out and try to scare the bejeezus out of me.
I don't enjoy the dark wilderness.  I've seen The Blair Witch Project.  Things don't end well.
Leaving a weekend with mosquito bit legs fills me with resentment.
Mostly, though, the sleeping situation is unforgivable.
Why would I want to endure a night's slumber in a sleeping bag on the ground with the only protection I have from Grizzly Gus being a flimsy tent purchased from Wal-Mart.
And honestly, how much work is camping?  I mean, seriously?
It SEEMS like a weekend trying to simplify would be, well, simpler.
The food shopping, the packing, the UNpacking, the set-up, the clean-up, the prevention measures so wildlife doesn't steal food, the non-bathing…
I don't get it.
Plus, I will tell you that I am not a cute camper.  I need electricity to make the cuteness happen; a humidity free zone where I can use a blow dryer and a flat iron.

MY OTHER RECIPES
No, effortless beauty is not something I possess.
Just pulling on a pair of shorts and twisting my hair back in a messy ponytail looks really great on some people.
I am not part of that club.
Plus, peace makes people attractive and since the outdoors give me a sense of unrest I pretty much always look disheveled and grumpy, from the inside out.
The closest I like to get to camping is sitting by a man made fire pit in a neighbors backyard with a kitchen and bathroom a stone's throw away.
SO while today is a recipe for granola, know that it's really the indoor version of granola…not really meant to take camping or on a hike.
It's for sitting on your couch and watching Survivor and wondering why in the world would people put themselves through that nonsense?
The recipe is actually VERY easy and will allow for more time doing other non-outdoor related things, like a puzzle or knitting or laundry.  The world is your oyster, really.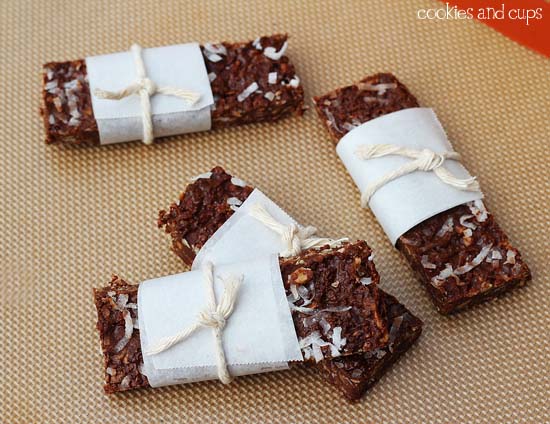 First mix your dry ingredients in a bowl.  Stir them together so they can get familiar with each other.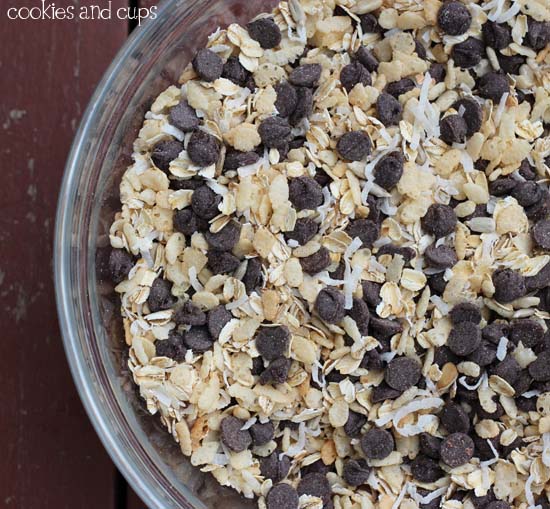 Then melt you butter and honey together…sweet deliciousness.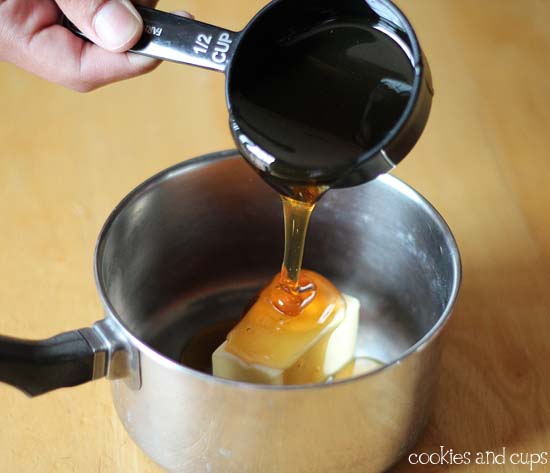 Boil them for 5 minutes and then add some peanut butter.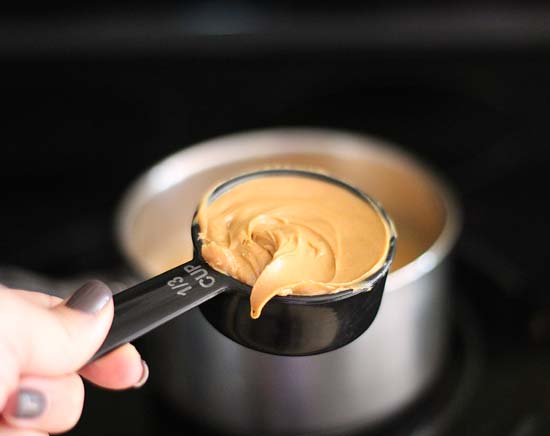 Stir it all together and pour over your dry stuff.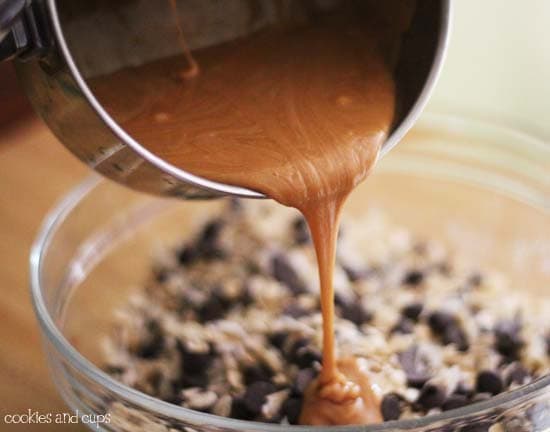 Give it a stir.  The chocolate will melt.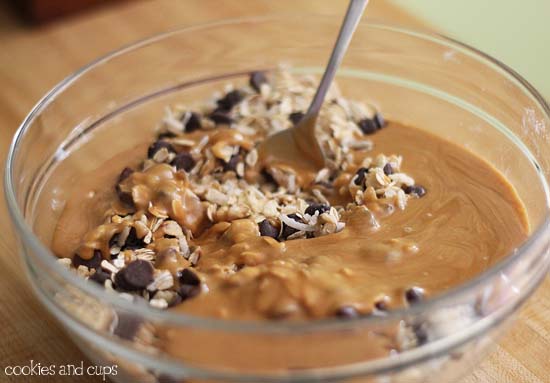 Then press into your pan.  I used some wax paper so it didn't stick.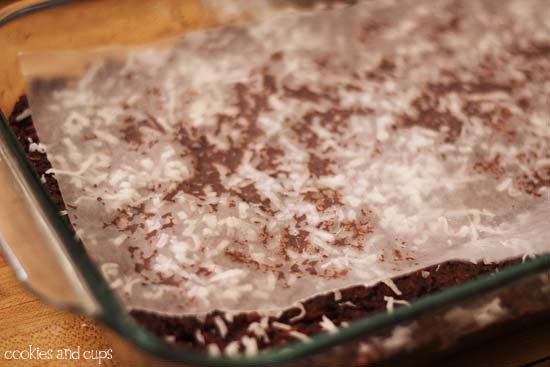 Then chill it for about an hour.  Cut into squares or bars or eat it with a fork.  Whatever makes you happy.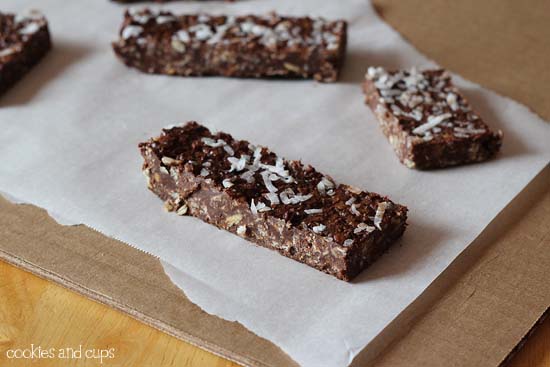 I dressed them up a bit to look fancy…but you don't have to because nekkid granola bars are easier to eat.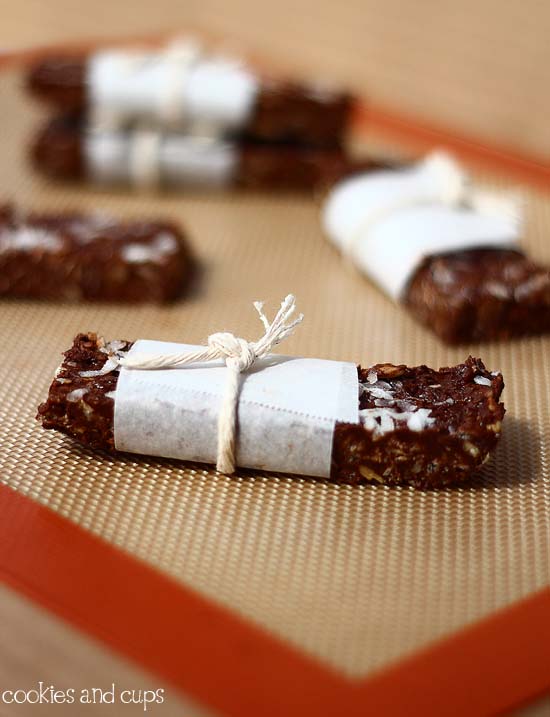 I do have to say that these are a yummy after school or lunchbox treat for your kiddos!
[print_link]
Recipe: Chocolate Granola Bars
Ingredients
2 cups semi sweet chocolate chips
1 1/2 cups Rice Krispies
1 1/2 cups Rolled Oats
1/2 cups sweetened flaked coconut + 2 Tbsp for garnish
1/3 cup shelled sunflower seeds
1/2 cup honey
1/3 cup creamy peanut butter
1/4 cup butter
Instructions
Spray 9×13 pan lightly with cooking spray
In a large bowl combine chocolate chips, krispies. oats, coconut and sunflower seeds.
In a small saucepan combine the butter and honey. Bring to a boil and boil on medium heat for 5 minutes.
Remove from heat and add peanut butter.
Stir until combined and pour over your oat mixture. The chocolate chips will melt.
Once combined press evenly into prepared pan using wax paper.
Sprinkle with 2 Tbsp remaining coconut.
Refrigerate for 1 hour and then cut into bars.
Store in a covered container in the fridge for up tp a week.
Preparation time: 10 minute(s)
Cooking time: 5 minute(s)