So, I am not one to "do things the hard way".
I like easy things.
Putting forth my full potential has never been a problem of mine, much to the chagrin of my parents.
Don't get me wrong..I like to do well, but the whole "work" part that goes into the well-doing isn't my thing.
But, every once in a while I surprise myself…
AND I cannot master pie crust.
AND I am pretty much against fruit in dessert.
So, since I generally bake things that I like to eat (I know I'm selfish) you won't be catching me baking a pumpkin pie (sorry, dislike) or a rhubarb pie (eeek), or a blackberry pie (all wrong).
Are you sensing a theme here?
I am not a pie person.
Except maybe chocolate chip pie. Ok ~ stay focused.
But, with every rule there is always the exception.
I think these little yummies skate by my "pie rule" because….wait for it…
you can eat it with your hands.
And I'm not talking pie-eating-contest no hands.
I am talking, pie in BAR form.
Did you just hear me? Pie in BAR form.
Seriously, people..a little enthusiasm!
Pie that's easy to eat, and semi-easy to make!
Plus there is Cinnamon Toast Crunch inside, and I love me some Cinnamon Toast Crunch!
Let's get started.
You must make crust.
You'll need:
2 1/2 cups flour
pinch of salt
2 stick cold butter
1 egg, separated keeping both the yolk and the white.
2/3 cup whole milk
In medium bowl combine the flour and salt.
Add the butter.
Using a pastry cutter, combine the butter, flour and salt until crumbly.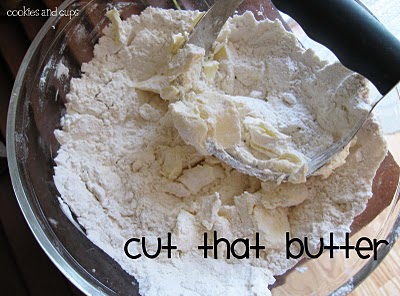 Lightly whisk the reserved egg yolk and add it to the 2/3 cup milk.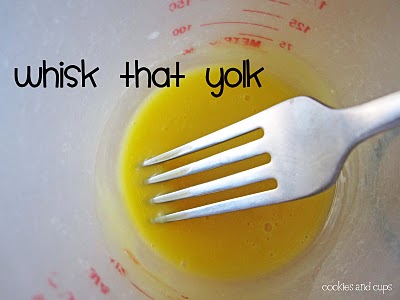 Pour egg mix into the flour mix and with your hands combine to make a sticky dough.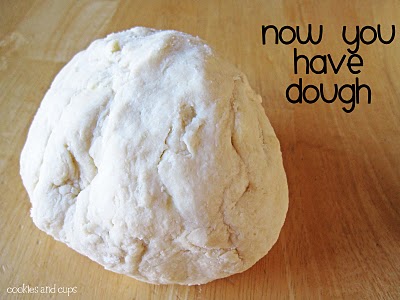 Divide the dough into 2 equal portions and flatten into disks.
Cover with cling wrap and refrigerate for a minimum of 30 minutes.
For filling:
1 3/4 cup Cinnamon Toast Crunch
8 cups peeled and sliced apples (I used Granny Smith)
1 cup powdered sugar
1 teaspoon cinnamon
Heat oven to 350
Crush Cinnamon Toast Crunch into a fine crumb.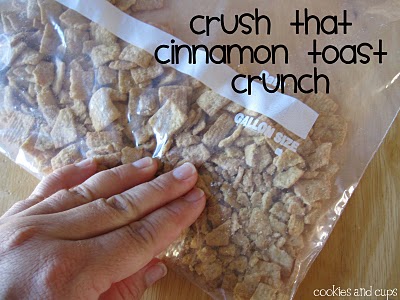 Peel and slice your apples into thin strips
Remove one chilled dough disc from refrigerator and on sheet of waxed paper roll into 15 1/2″ x 10 1/2″ rectangle.
Transfer over to jelly roll pan or 10″x15″ glass pan with about 1/2″ of dough coming up the sides of the pan.
Pour your crushed Cinnamon Toast Crunch on top of dough.
Now spread your apples.
Mix powdered sugar and cinnamon in small bowl and sprinkle on top of your apples.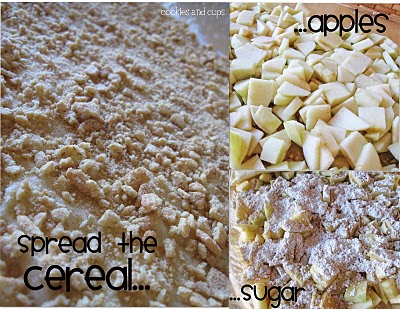 Now remove your remaining dough from refrigerator and roll into 10″x15″ rectangle.
Place on top of apples and using a fork or your fingers seal the edges of dough.
Topping:
reserved egg white
1/2 teaspoon cinnamon
2 Tablespoons sugar
Whisk egg white until foamy and brush on top of top dough.
Mix cinnamon and sugar in a small bowl and sprinkle on top.
Bake in preheated oven approx 45 minutes until pastry is lightly browned.
Let cool for 45 min. to an hour.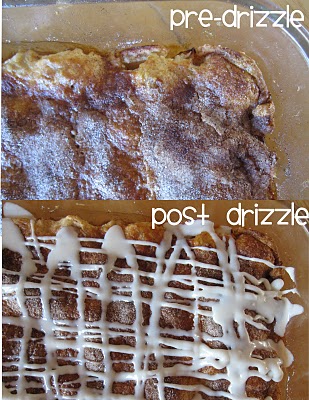 Glaze:
1 cup powdered sugar
2 T. milk
Mix powdered sugar and milk together until smooth.
Drizzle over top of crust.
Let cool for 2 hrs until completely set and cut into bars!
Makes approx 18 bars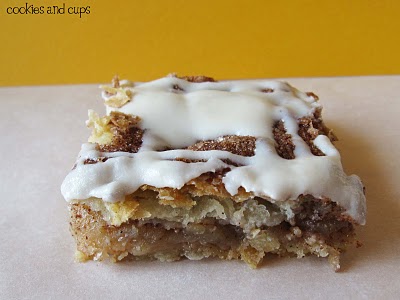 Store covered in refrigerator.
These treats are pretty yummy whether you are a fruit in dessert person or not…
and like I said, you can eat it with your fingers.
So go ahead and get your apple on!