My kid's are scared.
Maybe scared is not the right word…
they have a healthy respect for the power that is Santa.
What they ARE scared of is the possibility that Santa won't bring them presents on Christmas.
That's fear in it's most primal form.
As a parent, I have learned how to take their "fear" and harness it into ways that will benefit me.
The origins of my Santa manipulation are rather innocent, only over the years have they evolved into something slightly more self-serving.
Let me break the scenario down:
A random day in December 2007
A 2 and 4 year old fighting over the noise-making-toy-of-the-day.
Mommy pleasantly asking them to knock it off.
Fighting obviously continues.
Mommy threatens time-outs, no desserts and corporal punishment in the form of push-ups.
Fighting obviously continues.
Mommy about to have a nervous breakdown because of the screaming and noise making.
Fighting has turned to crying.
A worn down mommy looking around for help and/or inspiration.
A-ha! Santa! Santa won't come to little boys that are fighting.
4 year old smart alleck – How can Santa see us?
Mommy goes blank because kid's fighting kills brain cells. It's true.
Enter Daddy, fresh from his child-free day…
Santa can see you through this…
Daddy pulls out an old web-cam circa 2001, places it on the counter and deems it "The Santa Cam".
Santa can see you through this super secret camera that he sent in the mail.
Children silenced. Noise Maker silenced.
Kids ~ He can see us through that?
Daddy ~ Yes, and if you are misbehaving he will send us an email letting us know that he saw you.
The
fear
healthy respect was then born.
Never mind that the camera wasn't plugged into anything…
Kids don't care about the details when Santa is involved, obviously.
Ever since that day, the "Santa Cam" comes out every year with the holiday decorations.
It sits perched on our kitchen counter as I type this.
I might have abused the "Santa Cam" a little over the years.
"Santa Cams" now exist in stores in the form of security cameras.
So, I can pull out the "Santa is watching" card pretty much wherever I go.
The first thing my little guy does when we walk into Target et al is look up at the ceiling to see if the "Santa Cams" are there.
Genius.
Feel free to use my idea. It works and you will thank me.
Here's another thing you are going to thank me for…
Actually, you will need to thank Melanie Noe from
Noe Place Like Home
. She posted the recipe back in September and Amanda from
i am baker
made a different version of them, which is where I first saw the idea.
I knew there was no way that I wasn't going to make them.
Seriously, cookie dough and brownies…it's the kind of recipe that makes you a little loopy with excitement.
Print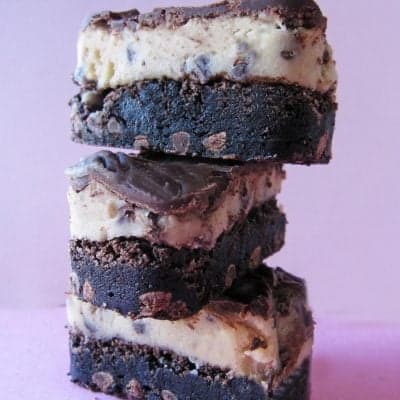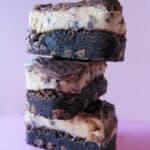 ---
Ingredients:
For Brownies:
1

c. butter

3/4

c. unsweetened cocoa powder (I used Hershey's Special Dark)

2 1/4

c. granulated sugar

1/2 tsp

. salt

3

eggs

1 tsp

. vanilla extract

1 1/4

c. all-purpose flour

1/2 tsp

. baking powder

1/2

c. mini semi-sweet chocolate chips
Cookie Dough Filling:
1

c. butter, softened

1

c. packed light brown sugar

1/2

c. granulated sugar

4 Tbsp

. milk

2 tsp

. vanilla extract

2

c. all-purpose flour

1

c. mini semi-sweet chocolate chips
For Chocolate Topping:
1

c. semi-sweet chocolate chips

1 Tbsp

. Crisco shortening
---
Instructions
Brownies:
Preheat oven to 350°
Line 9×13 baking pan with foil, so the bottom and sides are covered. Spray with cooking spray.
Melt 2 sticks of butter in a medium saucepan; add cocoa, stirring until smooth.
Remove from heat and cool slightly. Add sugar, salt, eggs, and vanilla; beat with a spoon until combined. Add flour and baking powder; mix well. Stir in chocolate chips. Spread batter into pan.
Bake for 20-25 minutes.
Allow brownies to cool completely before moving on to the next step.
Cookie Dough Step:
Combine first 5 ingredients in a mixing bowl and cream together. Add flour and stir until combined. Stir in chocolate chips. Spread in an even layer on top of cooled brownies. Chill for at least 15 minutes in fridge before adding the chocolate topping.
Chocolate topping:
Melt chocolate and shortening in microwave for 1 minute, stirring until smooth.
Spread over the cookie dough layer and chill until topping is set.
Keep refrigerated until serving.
---
Notes:
*Good tip for brownies is remove from oven when toothpick inserted 1-2 inches from edge comes out clean.
Want To Save This Recipe?