These fun Fruity Pebbles Rice Krispie Treats are sweet and colorful, with double the marshmallows! This is a quick and easy dessert that's great for kids, but just as loved by adults!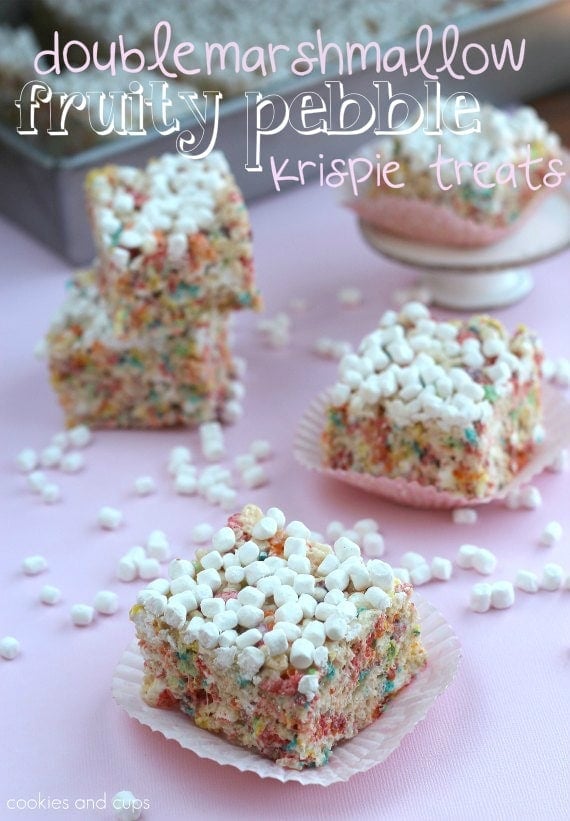 My husband is one of those guys who isn't super concerned with style. If it's comfortable, he will wear it.
Except sweatpants, he won't wear those, which makes no sense to me.
For the most part he'll wear what I buy for him. BUT left up to his own devices, even the most carefully and lovingly selected items can quickly go awry.
For example, the cargo pant. My husband is the one with his cargo pant pockets fully loaded. I have told him that you're not supposed to actually fill the pockets, that they're just a style. This logic makes no sense to him. If a pocket is there, surely it is meant to be used.
He's trying to help the pants live up to their full potential, he says.
Next up, work-out wear. To him, this can be anything. He came home from a "run " the other day dressed in jeans, a belt, boots and a tucked in T-shirt. He literally went running in a belt. I was telling my girlfriend about it and how weird it is to run in jeans and she asked me who he was running from…because the only time anyone should be running in jeans and a belt is when they fear for their life. I tried to explain to him that if there are buttons or a belt loops you shouldn't be exercising in them, but my logic fell on deaf ears.
This brings me to my next point…jeans. My husband has yet to retire the "carpenter style" jeans that were popular back in the early 2000's. My husband isn't a carpenter and doesn't regularly carry around a hammer, so any pant with a hammer loop is really unnecessary in our daily lives. BUT since these jeans are so baggy I am assuming that running in them isn't as hard as say, a pair of skinnys.
He doesn't understand why I get embarrassed. And honestly, the more embarrassed I get, the more he tried to push the envelope.
A few weeks ago we had a cold day…in the 20's. He and I had to run to the store together and he went to get in the car dressed in a shirt and shorts. Basically like it was Spring Break. I told him to go put on his clothes, to which he replied, "Yeah, this is what I am wearing."
He refused to change into weather-appropriate attire. I was so embarrassed. I tried to pretend that he was my father when we went to the store, instead of my husband…shaking my head and calling him "dad" really loud…which totally backfired when he started saying completely inappropriate sexy-time comments to me. I can't win.
So anyway, I ask you, please..am I the only wife who has to deal with this?
I need intervention tips!
Now to comfort myself from the carpenter jeans humiliation I have to endure daily I make sweet treats. It's a coping mechanism.
Today we have my most favorite thing of all, the Fruity Pebbles Rice Krispie Treat.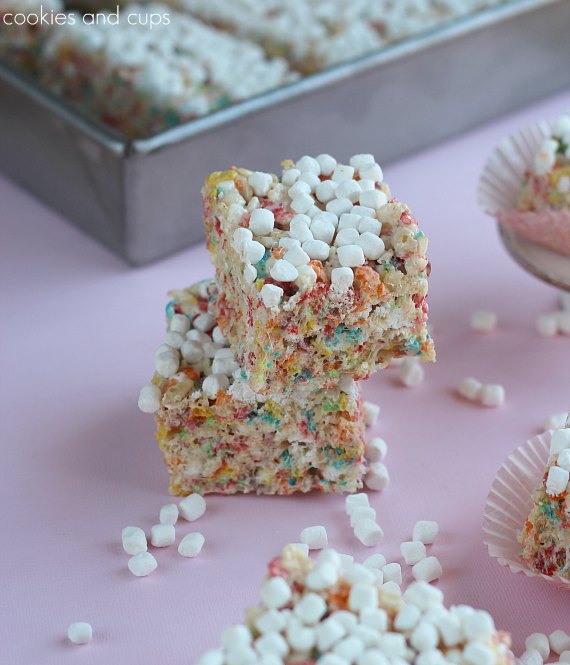 I have been making Rice Krispie treats with Fruity Pebbles for years and years and years. It's my most favorite variation on the usual Rice Krispie Treat. And in the case of trying to keep things fresh I adapted my recipe slightly to accommodate for more marshmallows. Because the more the merrier. Plus, when I saw these mini "Mallow Bits" at Target a few weeks ago I knew exactly how I wanted to use them.
Here are the stars of the show…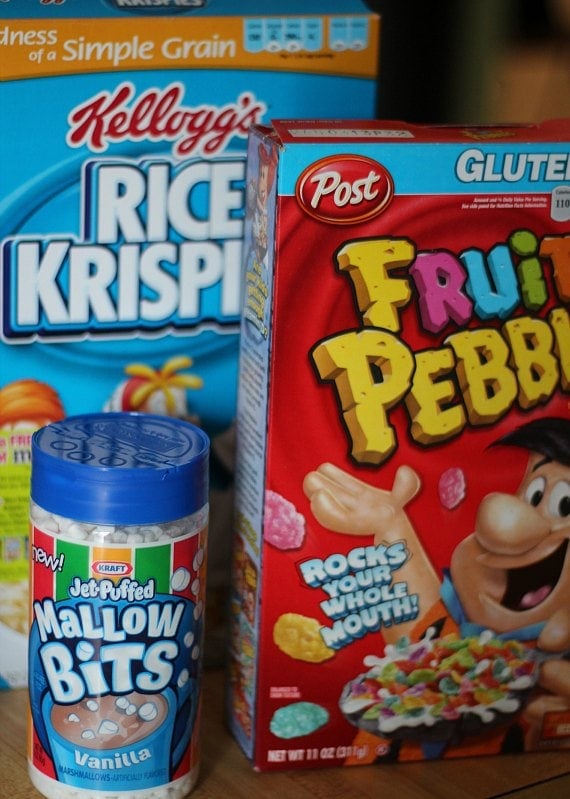 Being the self-proclaimed Krispie expert that I am, I like to use a combination of the cereals. Through years of research I have perfected the ratio of Rice Krispies to Fruity Pebbles, for the best Fruity Pebbles Treats! *ahem.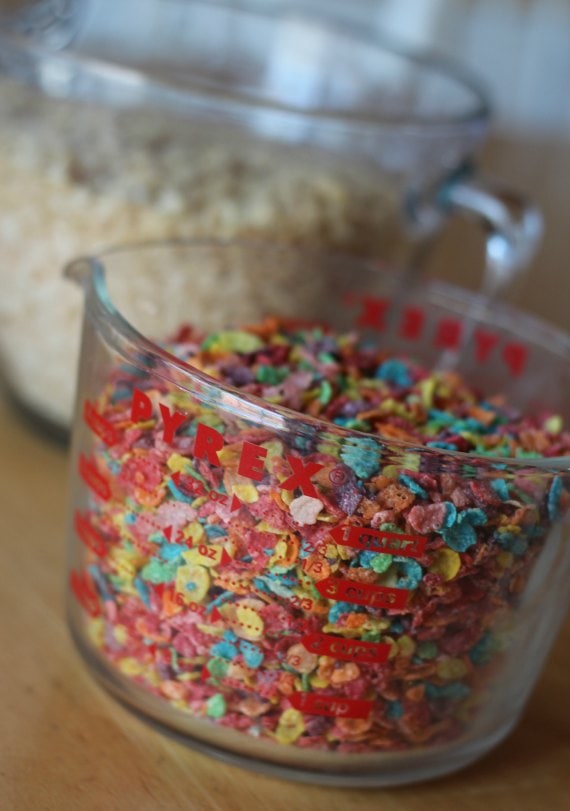 Once you do the usual Krispie business: melting the butter, melting the marshmallows, stirring in the cereal you will need to take these to the next level by adding the Mallow Bits…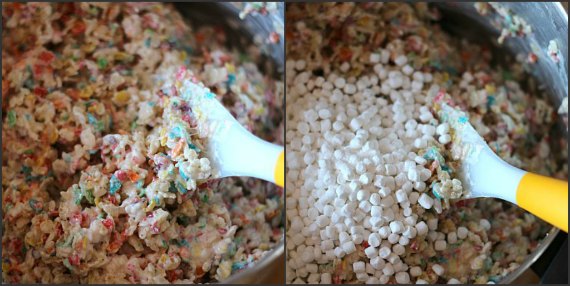 Stir that up and press the yumminess into a greased pan.
And if you bought an extra jar of the Mallow Bits you can pour some more on top for a pretty garnish. Pretty garnishes are important.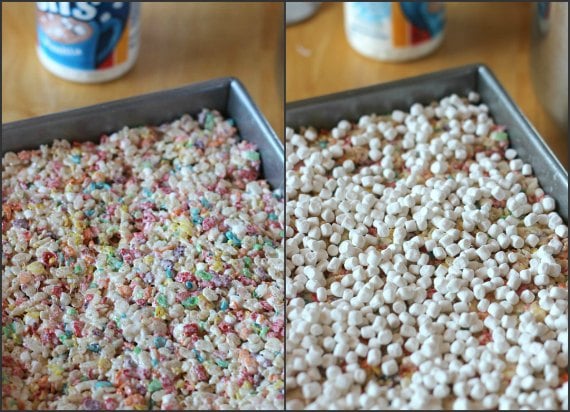 Cut them up and eat to help soothe the pain of living with your fashion crime of a spouse.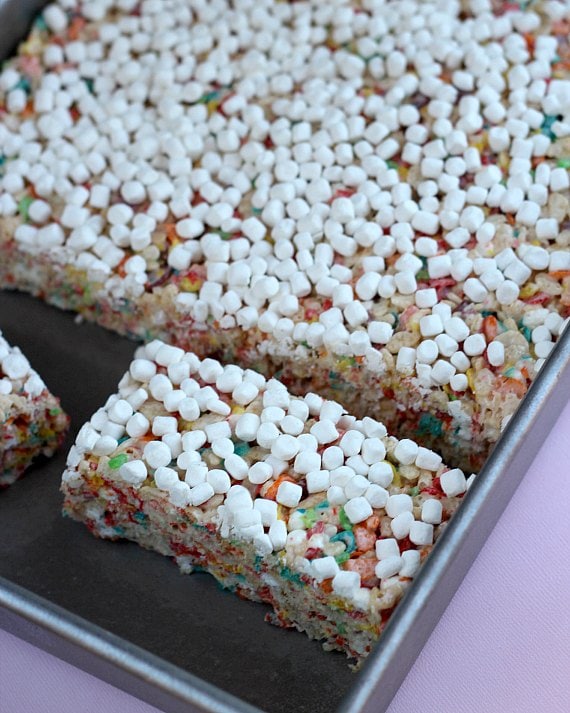 My husband begrudgingly approved this message.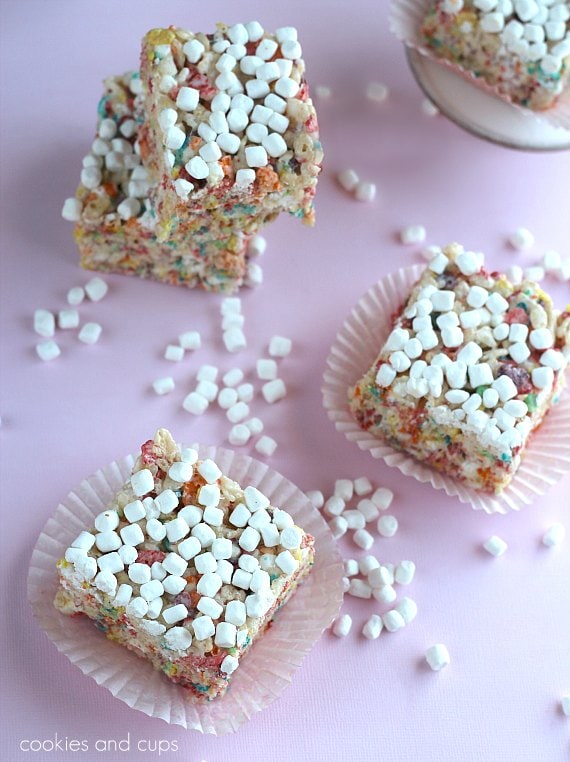 Print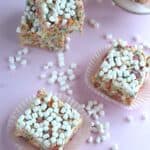 Double Marshmallow Fruity Pebble Krispy Treats
Author:

Prep Time:

5 minutes

Resting Time:

15 minutes

Cook Time:

5 minutes

Total Time:

25 minutes

Yield:

35

treats

1

x

Category:

Dessert

Method:

Stovetop

Cuisine:

American
---
Description
These fun Fruity Pebbles Rice Krispie Treats are sweet and colorful, with double the marshmallows! An easy dessert to make with kids!
---
8 cups

Rice Krispies

4 cups

Fruity Pebbles

1/2 cup

butter (

1

stick)

2

(10.5 oz) bags of mini marshmallows.

1

container of Jet Puffed Mallow Bits, plus more for garnish
---
Instructions
Spray a 9×13 pan with cooking spray
In a large sauce pan melt butter over low heat. When butter is melted add both bags of mini marshmallows (not the Mallow Bits). Stir until melted, remove from heat.
Pour in your Krispies and Fruity Pebbles, stir to combine evenly.
Pour in your entire container of Mallow Bits and stir until incorporated.
Press evenly into your prepared pan.
* optional garnish ~ sprinkle extra Mallow Bits on top and press gently to secure.
Let cool for 15 minutes and cut into squares.
---
Notes
Store in an airtight container for up to 2 days
Keywords: rice crispy treats, easy dessert recipes, easy kids recipes
Want To Save This Recipe?
Find more recipes like this: